The advantage of web-enabled mobile devices in compilation with the ecommerce surpasses every other technology inventions. T he mcommerce is turning out as a vernacular term in the ecommerce industry. The busy consumers are moving towards this wireless ecommerce as a method of online shopping. The flexibility, seamless navigation of mobile optimized web store with its unique functionality of gratifying the on-the-go consumers affirms the m-commerce revolution. Mobile commerce thus, is no more a speculation. The massive increase in growth of traffic and revenue from mobile stores recognizes it as the most sophisticated system.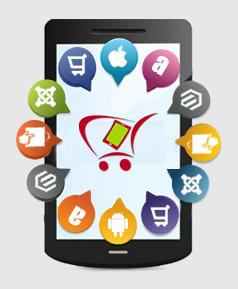 Giving an app for your ecommerce store is much easier with ready made native apps. Mob eCommerce is the best of breed mobile solution for Magento ecommerce, Opencart, Woocommerce, Joomla Virtue mart, Prestashop and Apptha Shopping cart. Mob eCommerce allows you to provide an iPhone/Android app of your ecommerce store which lets the user to shop diligently from your web store through their smart phones even while moving at any required time.Mob eCommerce is an ineluctable app that has the ability to synthesize each customer's aesthetics as well as store owner's requirements.
The mobile commerce solution is flexible to be integrated with any custom store, respective of the used platform. The must have app will be extended to work with other ecommerce platforms such as Open Cart and Uber Cart in the near future. Your vision of exploring the mobile world is achieved by landing up on the App Store and Android Market as a native app of your ecommerce store, branding it with your own logo.
Mobile Commerce Daily published recently that "Fifty-six percent of consumers surveyed said they would use their mobile device to find a store location, compare prices, research deals and coupons, find a product or make a purchase" which eventually describes their negligence of standing in long queue at the mall for purchase and favoritism towards the mobile ecommerce system. Go mobile with the best native app for your ecommerce shopping cart and reach your target audience at ease.