With the limited natural resources of crude oil worldwide, the demand for gasoline prices with the imposed different taxes is sure to shoot up and never going to come down.
Almost 80% of the Electric buses are expected to occupy city fleets by 2040.
The fleet adoption of electric vehicles (EVs) has increased as the world targets to cut carbon emissions and reduce costs. Recent research by Geotab discovered 78% of fleet managers plan to electrify half of their fleets within the next five years. Whereas, 33% might preferably want to convert 51% to 100% of their vehicles to an electric model.
Electric vehicle adoption is expected to keep on growing, particularly in delivery and service company fleets. Because of this, sales of EVs did not see degrowth this financial year, even during the current pandemic of Covid-19. EVs registered a 20% increase year-on-year, with the surge driven largely by two-wheelers, as per the Society of Manufacturers of Electric Vehicles (SMEV).
Electric Vehicle Monitoring and solution
Below are some of the stats from using an electric vehicle against the traditional vehicle.
80% Electric Buses will occupy the city By 2030

85% Reduce the CO2 emission paving way for a greener revolution

65% Of the total Cost is saved annually
1. Reduced Costs
EVs are an outstanding investment for motorists and offer monetary value. Rather than purchasing gasoline or diesel vehicles, purchasing an electric automobile reduces a large fraction of fuel costs. EVs price may vary based on the characteristics and model. However, there are EVs made to match virtually every budget. Also, fleet management solutions for electric vehicles are cost-effective compared to gasoline or diesel vehicles.
2. Reduced Fleet Maintenance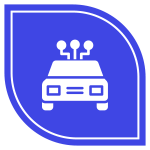 While the price of an EV may be similar to a petrol or diesel car, the cost of maintaining one is significantly cheaper over the lifespan of the vehicle. Also, tax incentives, government grants, enhanced fuel efficiency, lower price of energy, and reduced maintenance requirements can overall reduce fleet maintenance costs. Generally, there are three chief components of power in an electrical vehicle. Those are the motor, inverter, and the on-board charger. This means that there is less wear and tear on the engine of the car and small strains with fewer moving parts lead to nominal repair costs.
3. Environmentally Friendly
Fully electric automobiles have zero emissions which makes them more economical, cleaner, and better for the environment. The fleet management solutions for electric vehicles are designed in a way to facilitate plug-in hybrid pairs or diesel combined engines. Plug-in hybrids exude the electrical range and also have zero emissions. Fewer emissions imply decreased greenhouse gases, allowing us to move towards renewable sources of power. With advances in hydrogen, newer technologies helping produce more environmentally-friendly batteries and more efficient EV motors, driving in the future is bright and clean.
4. Power Sustainability
Sustainable power is an energy that can be replenished within a human lifetime and cause no long-term damage to the environment. Electrical vehicles are true to the concept of power sustainability because they are driven by electric power, which produces no emissions to pollute the air. Hence, EVs are ideal substitutes for the existing gasoline-powered vehicles, which not only pollute the air but also consume precious non-renewable petroleum resources.
A day out with an Electric Vehicle: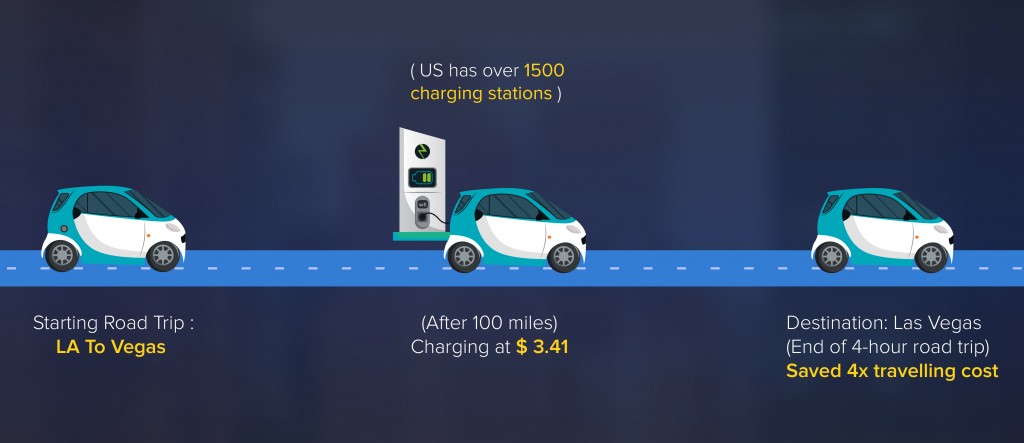 Sam, an automobile engineer working at Los Angeles decided to get first-hand experience in driving an electric vehicle. He decided to go for a weekend drive to Las Vegas, NV which is generally a weekend getaway hub for him. He was quite surprised to get extra bucks from his saved fuel money and get a pair of running shoes on his way back home!
Curious to know how he saved the money?
He started off with a fully charged electric vehicle for a 4-hour road trip.
Out of his twice pitstop, he only required to get some fuel for him, not his vehicle. For every 100 miles, it cost only $3.41 for him to charge his EV whereas a gasoline vehicle usually charges him $12.16. Do the math and you may now realize how many electric vehicles saved him in just one trip.

IoT in Electric Vehicle Fleet Management
In addition to the usual traditional fleet metric like utilization, there is a whole new set of metrics for Electric fleet systems like charge status, charging session details and new plug-in created exclusively for hybrids and electric miles are some of the distinct fleet metrics for Electric vehicles.
However, there are some key factors to consider for better adoption. Cost is one of the most important factors for transferring from a gasoline vehicle to an electric vehicle. Annual fuel expenditures can be reduced greatly just by switching to electric vehicles.
Also, One of the factors which hold back the customers from using the Electric vehicle is the lack of charging stations, which is commonly referred to as Range anxiety. Though it may be less prevalent in some parts of the cities or state highways, to avoid any stranded situations, it is always best to analyze the vehicle's driving details like the distance traveled, amount of fuel consumption gives a clear and informed idea.
Electric Vehicle Monitoring:
First, it fetches the users' route details and creates a detailed analysis from starting to destination points. Next, it makes a tailor-made recommendation route data which is best for each vehicle.
How CONTUS' IoT Solution Helps in Electric Vehicle Monitoring
Monitoring fleet performance is a simple combination of GPS and data analytics that enables to track, assess, store data, and make predictions. Electric vehicle fleet management solutions based on telematics are increasingly mobile-friendly and simple to use.
CONTUS being an IoT solutions company, provides efficient IoT enabled EV monitoring solutions for a better Electric Vehicle management system for real-time fault analysis. Here are the factors that monitoring your fleet performance easier with telematics: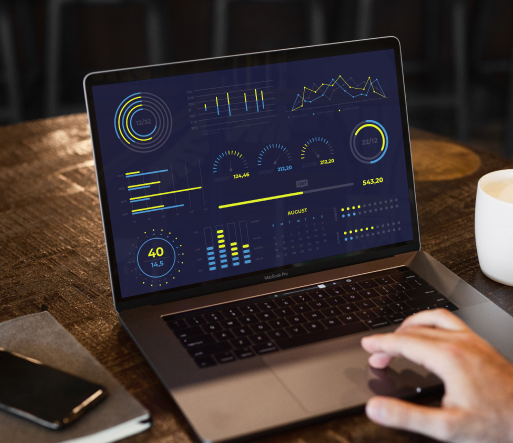 Battery usage data
Telematics for electric vehicles allows us to monitor real-time battery usage data. This data offers analytical insights to improve battery life and monitors vital parameters like current and temperature to reduce battery breakdowns. Battery usage data can be recorded and transferred to the remote server, which enables to create personalized battery configuration and alerts for best charging practices.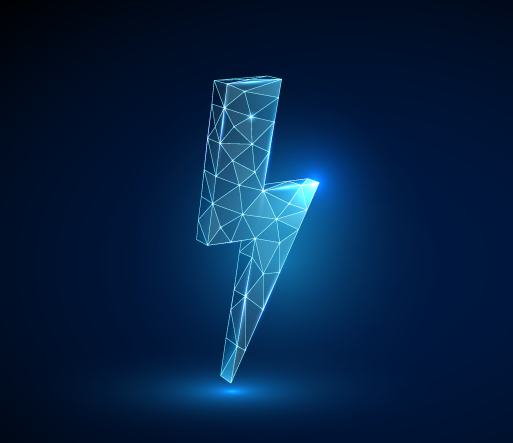 Charging report
The charging report for electric vehicles through telematics provides all the details from the charging session that a fleet might have gone through in its lifetime. The charging report includes where and when the EV was or is being charged. The time and the duration for which the vehicle was charged at a certain location and the percentage of charge the EV received is also generated in the report.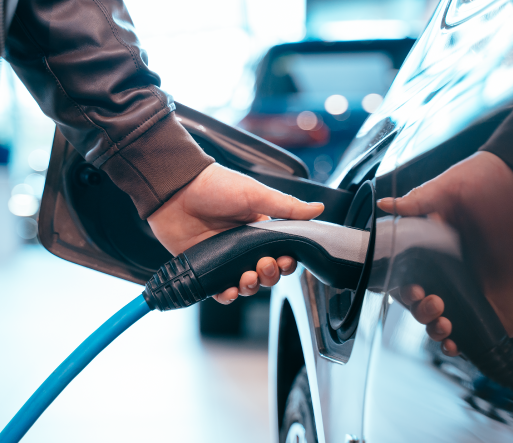 Nearby charging stations alert
Using the EV without knowing their state-of-charge (SOC) or driver is responsible for determining when and where to charge are some of the challenges faced by the fleet managers. Electric vehicle monitoring solutions with telematics do not only notify low EV battery levels but also notify locations of nearest charging stations. This alert is essential as it prevents "bricked" vehicles.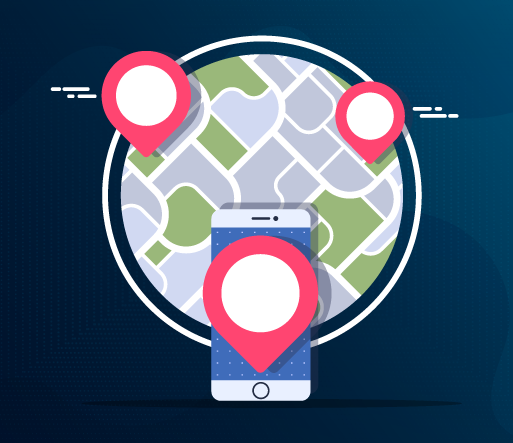 Route tracking
Apps such as the asset tracking feature that comes built-in with EVs and Google maps offer the best route tracking and management solutions. These route tracking systems make it possible for a fleet to locate the most efficient and quickest route to its destination. It also forecasts traffic management through route analysis.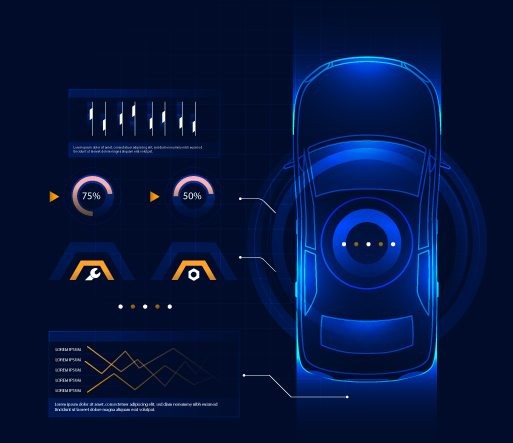 Vehicle performance data
Vehicle performance data enables the communication between a vehicle and an established network. This data also aims to solve issues effectively through telematic solutions. Measuring vehicle performance data makes sure that all the vehicles in a particular fleet perform optimally. The data analyses fuel, electricity, and hybrids.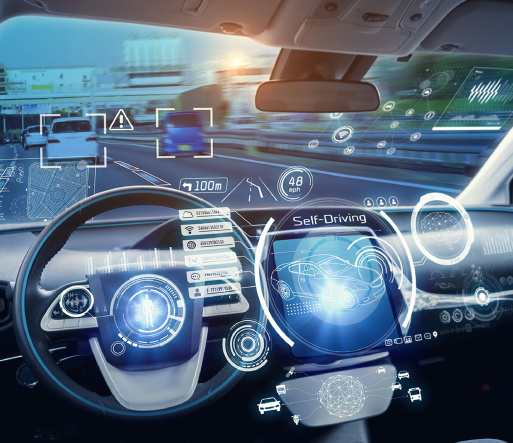 Driver behaviour data
Electric vehicle fleet management solution providers are shifting their attention by not just analyzing the data of the EVs but also concentrating on the motorists. Smartphone apps, the 'black box', and systems that offer instant feedback through telematics have been effective in encouraging behaviour change among drivers to improve fleet safety. Through driver behaviour data it has become easier to monitor and enforce secure driving habits and decrease accident risks.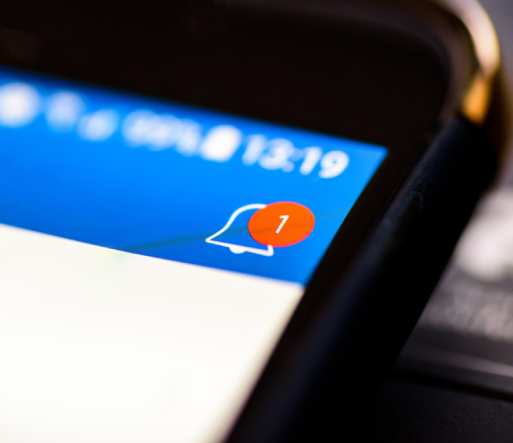 Custom alerts
Custom alerts and notifications can be programmed with various data generated by the electric vehicle. Telematics allows us to create these custom alerts. Whether you want to get an alert when the battery of a car reaches a significant level or want to receive email notifications for rule violations – it is possible to create fully customizable alerts with telematics for electric vehicles.
Electric Vehicle's Dashboard using CONTUS' Monitoring Solution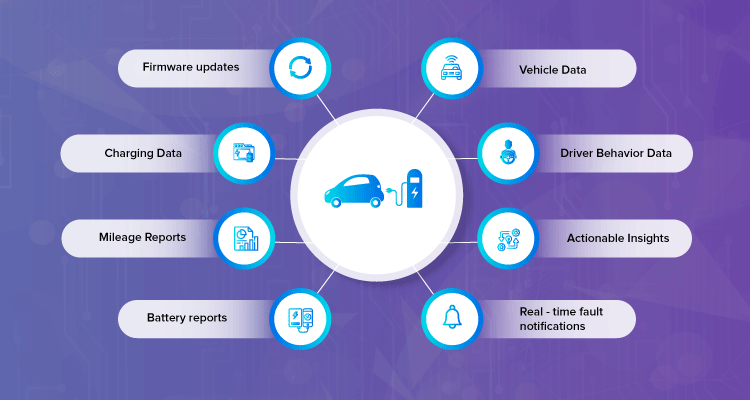 Choosing the right company to monitor your fleet is important. The company must monitor EV operations related to maintenance and mechanical issues. Also, the company must improve productivity through innovative IoT solutions that focus on vehicle efficiency, driver management, government regulations, and vehicle insurance among others.
And who better than CONTUS, the best company to offer IoT solutions in electric vehicle fleet management systems.
Here is how CONTUS helps in Electric Vehicle Management:
Contus provides systematic IoT enabled EV monitoring options.

Offers interactive dashboard to output as well as input functions.

Help with increasing the competence of EV batteries.

IoT solutions for EVs log data with significant details to improve efficiency.

EV diagnostics can help in measuring metrics such as gasoline usage and provide real-time info about the vehicle's fleet.

Contus protects against any downtimes which automatically reduces the maintenance expense.
These IoT solutions are compatible with many devices be it iOS or Android cellular and net devices.
CONTUS guides with easy EV adoption as well as exceeds sustainability and fleet electrification goals. They are committed to providing innovative and industry-leading IoT solutions to monitor electric vehicles. Experience yourself, book a consultation with experts right away!
It provides Vehicle Data at-a-glance and it helps to optimize your transport systems with our in-depth dashboard model.
CONTUS Electric Vehicle Dashboard system brings to your table a collection of useful data including firmware updates, charging data, mileage reports along with real-time fault notifications and actionable insights. These stats help to make a better and informed business decision about your vehicle's maintenance routine and optimize your transport system effectively.
Wrapping Up
Reducing the carbon emission and global awareness regarding the same is much bigger and louder than the previous decade. It is the need of the hour, switching to electric vehicles is not only good for your wallet but you are helping to build a green ecosystem for future generations as well.
Explore our connected vehicle solutions to get a telematics platform where you can get all the information at one single dashboard and get benefitted by saving a fortune for your electric fleet.