Word of mouth and personalized recommendations show great performance in driving in customers. Social integrations have become a marketing trend in the current ecommerce world. Realizing the penetration of social networks in our daily life, Apptha recently released a Facebook Social extension for Magento CMS. The extension enables to promote your products and store to the consumers facebook network by displaying the purchase details on the customers wall.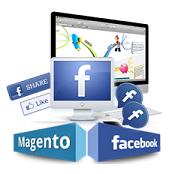 The Facebook social extension uses Facebook new thing, Facebook open graph protocol. When the customer login to your store via Facebook account, all purchase details featuring the product name, product information and store information gets displayed in the customer's Facebook wall. This way you achieve to promote your products to the network circle of the Facebook consumers. The Facebook Social extension enables customer to login with their Facebook credentials in just one click.
The Facebook Social extension enables a Facebook like and Share button on the detail product page where the customer can give a like or share the favorite product detail. The extension provides complete control to the administrator to enable/disable the Facebook share button, show face image of the consumer when a product is like, enable Recommend button etc. The social extension allows Facebook comments in your store, thus letting an effective Facebook integration leading to social shopping.
Help your innovative ecommerce store gain maximum visibility with the means of Facebook with the most effective viral marketing tool and enjoy the taste of success!!