Mobile commerce is no more a future trend, rather a revolution, which is changing the way eCommerce businesses approach customers. To make things clear, let's clarify on what is Mobile commerce. Mobile Commerce, or in short Mcommerce, can be described as, 'business transactions that are made via mobile devices' or optimizing your online business for mobile phones as an application. We have come up with such an explanatory line in order to clearly state that Mobile commerce is not confined to eCommerce industry alone.
So, How Does Mobile Commerce Benefit Businesses and What's Hot in It?
In-app Messaging – Know your Customers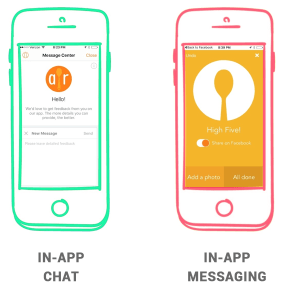 A new era of the customer relationship is the in-app Chat with the automated platform. It helps to provide an instant messaging solution, customer query clarification through text, images, Voice & Video calls etc. Major sales occur at in-app messaging that depends on user engagement. In the absence of customer support, Bot takes up the role to respond the users actively. Thus, both in-app messaging and AI builds a huge connection between the users and sales.
Personal touch – Push notifications
Notifications are the delivery systems, which bridge the gap between a business and its potential customers. They are more prompt in delivering offers and reaching audience better as mobile devices are often carried along almost wherever a person goes.
"According to a survey by Responsys, 76% of mobile shopping consumers between the age group of 18 to 34 have enabled push notifications. mCommerce apps with push notifications can improve conversion rate of a business by targeting the potential customers precisely."
Instant contact – One-step calling
Instant contact option helps customers reach a business instantly with ease. Real-time chat assistance, one click calling feature and toll-free help desk benefit customers by improving accessibility towards business as an when they like. Triggering mails and awaiting response is no more a scenario in terms of customer handling as even a slightest of delays will encourage a customer to change his/her preference.
Complete Access
Providing customers a complete access to a business is a key to its success. A little bit of hiccup in accessing information or a delayed response from a business owner will result in a customer jumping over to thousands of other options available.
One of the most keenly focused areas in mobile commerce is offering multiple channels of communication to a customer to solve their problems in real time.
While using mobile devices, irrespective of the operating system they belong to (iOS, Android, Windows etc), a customer does more of research and engages more. A mobile application is the only gateway, which lets customers to access information quickly, get instant responses for queries, offer searching convenience and much more.
Everything they need, right from shopping convenience to support service can be provided precisely and in a compact way.
Live chat assistance, demo videos, detailed pricing, discount information, out of stock notification, service details and everything else customers find handy while shopping, can be integrated into a m-commerce application and fed to their finger tips.
Location Tracking – The must-have advantage to triple conversions
Location based notification pushes help local businesses, or businesses in general, to offer personalized discounts targeting procurers who purchase with a certain regularity. A study by Responsys has that notifications are considered to be more personal and enjoy 50% higher open rates and 2x higher conversion rates compared to marketing emails.
Location tracking can also help in providing assistance for customers in navigating directions or helping them find the nearest transportation service, etc.
Payments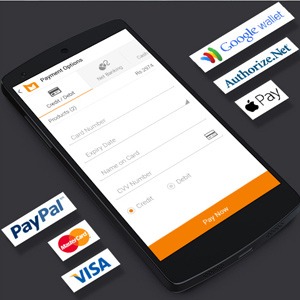 Security and convenience is mandatory for business in all mediums, be it web or mobile. Coming to the "what's hot?" part of payments there are a few things which can be discussed. First comes the in-app payment.
In-app payment allows a customer to pay within an application to avail more personalized or premium offerings from the service provider or to purchase add-ons of an app. In-app payment transactions doesn't require third-party payment gateways and are hosted by the platform itself. For instance Android users can pay via Google Wallet, while iOS users can pay via Apple Pay.
Mobile wallet is another concept, which allows customers to maintain a pre-paid account from which amount can be debited for a purchase. Such improvisations on online payments have allowed business to attract more customers and sell product or provide services based on subscription basis.
"According to statista.com's predictions, global mobile payment figure, which was 325.2 billion US Dollars in 2014 will reach 430 billion mark in 2015 even reach a higher value of 560 billion in 2016."
This figure directly reflects the rate at which consumers have started buying via smartphones and mobile devices and hence the urgency for mobile ecommerce is on a high.
Promotional Mediums – Omni-channel experience is the new trend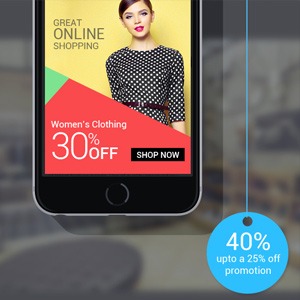 eCommerce stores or businesses powered via mobile commerce have plethora of opportunities to promote their businesses. Apart from notification pushes, businesses offer discount coupons, daily deals, special prices for registered customers, free shipping and much more to improve user registration and earn new customers. Thus a business's marketing gets viral and customers start to pour in heaps.
It contributes towards a seamless omni-channel experience. Customers, who access a brand or a company via social media apps or the exclusive app of the brand, are given an uncompromising user experience. It is about optimizing the content and interface on the devices, which they carry all the time and consider very personal.
"A recent research from eMarketer (July 2015) states that the mobile ad spending in 2015 constitutes to 49% of total digital ad spending revenue by brands and companies. It also states that mobile ad spending will propel to 57 billion USD in 2018 which is 29 billion USD more than what it is in June 2015."
The future – Investments towards bettering customer experience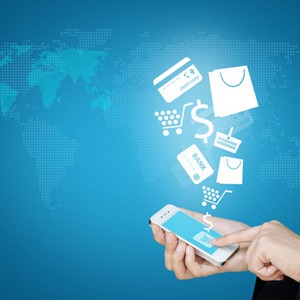 The heavyweight competition in mobile ecommerce has left behind one of the major aspect, which is customer experience. The focus is completely on making products, data and services available for consumers but they are yet to feel the convenience and enjoy advantages of traditional product and service procurement.
The spending on creating new business models or products will not help companies to have a competitive advantage. So, the future of mobile commerce will be extensive research and spending on technology to improve customer experience.