We continue to develop updates to our extensions' arsenal of features and this time we are announcing the update of our Joomla HD VideoShare extension. This most popular video sharing script is now updated with an advanced feature- My Channel. Please note, The My Channel tab is viewable only for the registered user, i.e. after login, the user can create their own channel to manage their video collection with a sophisticated video management system. The Channel Page appears as shown below.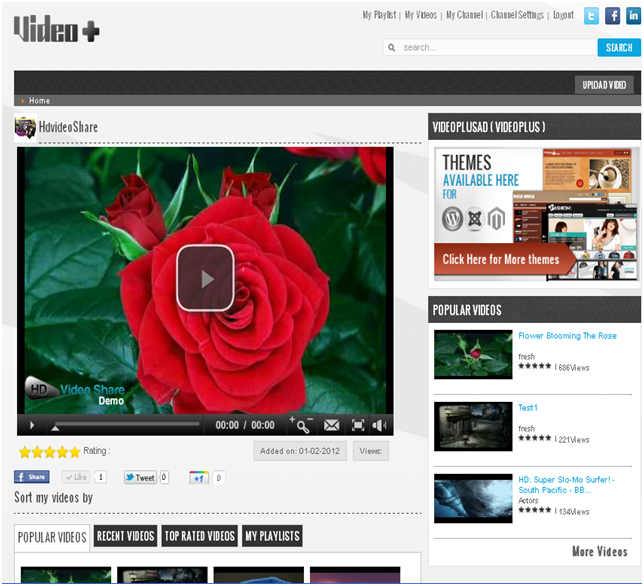 'My Channel' allows users to create their own channel page, upload videos to their channel , sort videos in categories such as Popular Videos, Recent Videos, Top rated Videos and My Playlists. The user can edit the Channel details that show details about the Channel page such as channel views, channel name, total uploads, about me, etc. The user can add other user's channel to their Favorite Channel list and view their channel videos. The My Playlists option in the Channel Page allows the users to create their own Playlist and add any number of videos to their Playlists.
A separate tab for Channel Settings is available adjacent to the My Channel tab, allowing the user to control the Channel Page settings such as set the player height, width, number of rows and columns to appear in the category list, enable/disable access to Private/Public, enable/disable any category, show/hide Facebook Comment option, choose video that should play in the channel page by default. The user can upload own logo to their Channel Page which will appear just above the Player.
Make use of the best video sharing script loaded with utile, effacious feature and create your own YouTube-like site and let your users enjoy the charisma of video sharing!!