Well! You open a browser and type in the URL and press the enter. The site loads instantly, So what do you see? Yes, it closely takes you to an intuitive, lucidly constructed pages and hypnotizing visuals.
Very Greatly, The people & tool is more responsible for delivering every part of the experience? Web Developers.
As the web technologies and range of mobile devices gets modernized, the access to it swiftly grows. The Web developers and designers are the extremists who get their works to be done in more complex and complicated way.
The abrupt changes in every single thing which is seen by the user and processed with interaction put a way to the development of new technologies in front-end development such as frameworks, tools and libraries.
This significantly connotes that the technology rises in the regions of development and design pop-ups every year and letting the older ones get aside.
After the couple of discussions with the developers of CONTUS, we have made a closer look at bringing the top front end development technologies that businesses are focused on intensifying their user experiences.
Here comes a list of top front end technologies used in CONTUS to bring superlative results.
1. Angular Js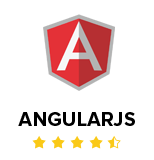 Considered as one of the most widely appreciated and used front-end development tool. It's being a Google's Product, the versatility in its versions is huge.
This Javascript based open source front-end web development framework is managed by a community especially to come across in developing single page application.
The powerful and efficient Javascript is a much-used framework to create Rich Internet Application (RIA) and also assist every developer to build a client-side application in a most intelligible MVC (Model View Controller) view. Angular JS have been rated as 4.6/5 by the developers of CONTUS for its intelligibility and Performance.
2. React Js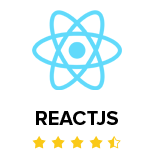 The most popular Javascript library for building exquisite user Interfaces and rich web apps. Known for its simplicity, Scalability and utmost speed.
React Js is managed by Community of developers, Facebook and Instagram. According to recent research on Google trends, React Js has been considered as more demanded and Popular development tool due to its extra flexibility that assists in the construction of machine-reading codes and compounding of components into a single-time verifiable file that one of the greatest feature JSX to create UI in real-time.
Owing to its inimitable features and outcome-oriented performance, CONTUS developers have rated 4.8/5 for React JS.
3. Bootstrap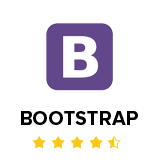 The second most starred project on GitHub with having more than 123,000 stars. Bootstrap, one of the popular free open source library meant for designing intuitive and powerful cross-browser.
An HTML and CSS based design template for interface components, Navigations and typographies. It consists of several tools and extensions such as jQuery UI Bootstrap, jQuery Mobile Bootstrap theme, BootSwatchr and much more resources.
Since the Bootstrap framework is known for its customization, it has dozens of CSS frameworks to choose from, to design a website and supports popular CMS like WordPress, Joomla and Drupal.
Due to its extreme popularity and performance, Bootstrap thrived its favorites from 800% to 1,000% in recent years, CONTUS Developers have rated 4.2 /5 for the Bootstrap framework.
4. Ember Js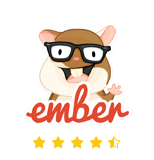 An Open-source JS web framework with less coding that updates the underlying changes automatically.
The open source JS is based on Model-view-viewModel (MVVM) pattern which assists every developer to build an astonishing and scalable single-page web application that incorporates common idioms to focus on special features on developing web applications.
The framework that has the potentiality to bring a lot of modern JS concepts and other technologies into one single bunch of API's.
Yet, the Ember js framework is meant for building Web, but it has the potentiality to serve in creating user-friendly and ultimate mobile and desktop applications.
The two-way data binding feature which improvises the performance of complex UIs is rated as 4.1 /5 by the adept developers of Contus.
5. Knockout Js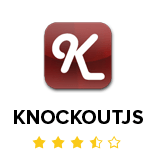 A solid open-source Javascript that works with any sort of web frameworks. This standalone JS is a Model-view-ViewModel pattern implementation that consists of several templates.
The JS library assists in developing rich and responsive display with editor user interface that provides a clear underlying data model and automatically updates the UI parts whenever the data model changes.
Possessing to its versatile features such as Declarative bindings and implementation of custom behaviors to reusable codes, CONTUS techies rated as 3.8 / 5 for Knockout JS.
6. Vue Js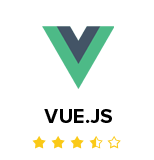 A simple framework having a powerful library to build modern Web interfaces. This open-source JS based known for its Integration into the projects that completely use other known JS libraries.
The framework has the potentiality to power advanced Single page applications since it's been designed for functioning as a web application framework.
This adaptable architecture is focused on bringing web UI developments ideas such as declarative, components, time-travel debugging etc.
Thus, the core libraries work on handling complex applications, lightweight in nature and easy to learn, CONTUS developers have reviewed 3.9 / 5 for this top front-end development tool.
7. Polymer Js
A lightweight library that assists to create reusable custom elements that interoperate seamlessly with the browsers.
This open-source JS take the advantage entirely in providing Web Components and put way to build web applications. Polymer Js is developed by Google developers and popular contributors on GitHub.
This JS helps in providing a set of great features to create custom elements in much easier and faster way which functions like Standard DOM elements.
Thus, Polymer js is rated as 3.9 / 5 by the CONTUS developers for its computed properties of features and outstanding results.
The Bottom Line:
Thus, the burgeoning popularity of front-end development technologies is on the rise due to the transformation of modernized devices. In the upcoming years, there might be huge transfiguration of web applications in cross platforms.
The list of front-end development tools mentioned above is meant to be in certain consideration that CONTUS developers are using, yet there is a vast list of front-end technologies which are about to be implemented in the on-going Projects.