"95% of smartphone users use their device to conduct restaurant searches and 60% of those convert within an hour", says The Nilson report, a world renowned and trusted resource for its global news about the payment industry.
With the dependency on smartphones and mobile devices increasing rapidly, food tech app development in iOS, Android and all available platforms have seen a hand-in-hand increase as consumers use these applications for accessing a variety of restaurant services right from locating a restaurant place to dining and everything in-between.
On a broader classification, these applications fall into categories namely aggregator apps, on-demand food apps, food delivery app and develop native mobile apps developed exclusively for restaurants.
Well the question is how these apps let consumers find their desired restaurant service.
Food aggregator apps – Providing food choices in abundance

A Food aggregator app works as a link that connects customers to popular food destinations. However, now the scenario has undergone a change as these applications are evolving with an aim to provide better facilities for users while searching for their favorite dishes.
Let's chip into some of the food aggregator apps that are setting benchmark in terms of customer experience.
Zomato – Operating in Operating in 22 countries, Zomato is a popular on-demand restaurant search and discovery service available in iOS and Android. The app is built to facilitate on-demand food ordering and simultaneous cab booking facility easier for customers through a tie-up with Uber.
Foodpanda – Food Panda has launched a corporate programme through which companies which provide free meal services can control and manage budget by setting allowances, order frequencies etc.,
Considering these emerging trends we could say that aggregator apps, instead of providing a plethora of services under one roof, have become more specific in their services like delivery, table reservations etc. Such transitions have provided choices of consumers to go for apps which suit their frequent mode or style of dining.
Food on demand apps – More than just restaurant cooked food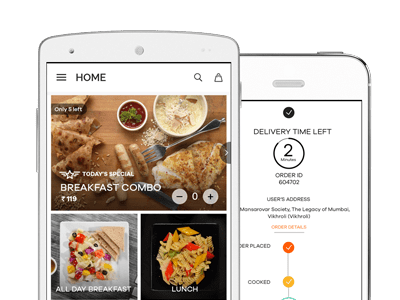 Food-on-demand applications basically bring freshly prepared food to your home. Collaborating with the best chefs from global cuisines to prepare fresh food these applications serve you professionally prepared fresh and hot food to the doorsteps of consumers.
Faasos is a restaurant app which operates in 12 major cities in India. It is popular for its sumptuous choice of on-demand dishes that span right from breakfast to dinner.
Zupermeal is yet another food aggregator app which lists home-cooked meals prepared by homemakers on its app and delivers it to their customers.
Food delivery apps – More than just bring prompt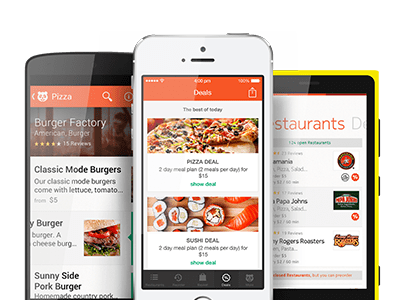 Having food delivery app make it easy for users to access their favorite dishes easily and quickly. These apps favor most those who want food to be delivered right at their door step, that too within the shortest time.
Swiggy is one such popular food delivery app with greater fan base in Bangalore. The app is built to help customers place orders at their favorite local food joints without any minimum order value restrictions. Much to the delight of foodies using iOS and Android devices, the app assures delivery within 15 to 20 minutes of placing the order.
Custom-made restaurant apps – Being exclusive and specific
The main purpose of building a restaurant app is to make available all of the restaurant's services and facilities at customer fingertips. Moreover, there is a need to create a marketing mechanism to promote their brand which will keep customers coming back. This adds more responsibility while developing a branded restaurant app.
Actions typically performed by users while using restaurant apps as of February 2015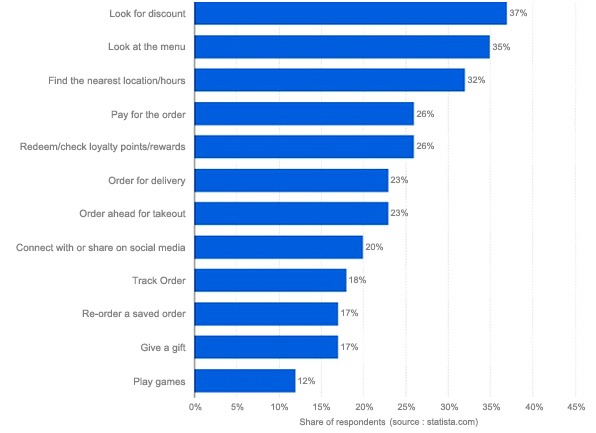 The above statistics show that these features are essential to build a restaurant app that will appeal to present day customers.
Checklist of features to be considered while developing a food tech app
Loyalty Program – Retain your loyal customers by rewarding them with loyalty points
Discounts – Discounts and deals to stir buying interest
Push Notifications – Delivering deals and discounts on time to your customer base
Images and Videos – Engage with images and videos while customers access your restaurant menu
Location Navigation – Navigate the way to your restaurant
Online Payments – Provide a secured payment mechanism for ensuring safe transactions
Online Ordering – Online ordering system to choose and order desired delicacies on the go
Social Media – Create social channels for customers to share connect and engage
Cab Booking – Cab booking provision for providing transportation to customers
Order Tracking – Keep customers informed about the status of their orders
How a food tech app that houses the above discussed features would be?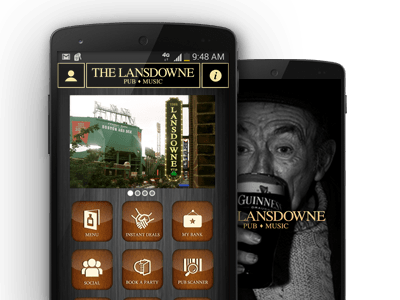 Lansdowne pub, a native restaurant app built on iOS and Android platforms for a Boston-based chain of restaurants and pubs has a plethora of mechanisms which serves its customers in all angles.
Interactive technologies like augmented reality, location-based technologies like geo-fencing have been used along with push notifications to build a mechanism that keeps users glued to the application and informed about the latest deals and happenings of the restaurant.
Customer Retention – Pub scanner based on augmented reality technology that reveals discounts while scanning pub related logos and signs
Menu – Access to restaurant and pub menu
Pub Services – Cab booking, table reservation, party booking, ticket reservations for live events
Deal Deposits – A deals saving feature for customers to save and use deals as per their convenience
Push Notification – Notification pushes for deals and discounts
Geo-Fencing – Geo-fencing limited areas located near pub to push notification
Social Channels – Facebook, Twitter, Instagram, YouTube, Flickr, Spotify social channels for the restaurant customer base to engage, interact, share and form a community
Pub Facts – Interesting facts and tidbits on the legacy and achievements of the restaurant
To sum it up, there is plenty of scope for building mobile apps for restaurants with a wide range of options. In the future, they can again be upgraded to maintain consistency with technological advancements. Foodies will always reasons to cheer as long as restaurants continue to launch mobile based food apps.