Contus makes this year's New Year celebration memorable with the children of 'Home of Hope'. In spite of throwing parties at star hotels (like we do every year), this year we decided to take into consideration the social responsibility aspect. Contus is very much concerned towards humanity and meriting to this New Year the company has adopted the children of 'Home of Hope', one needy orphanage in our nearby locality. With over 30 orphans/under privileged kids, we made our New Year's Eve a good cheer.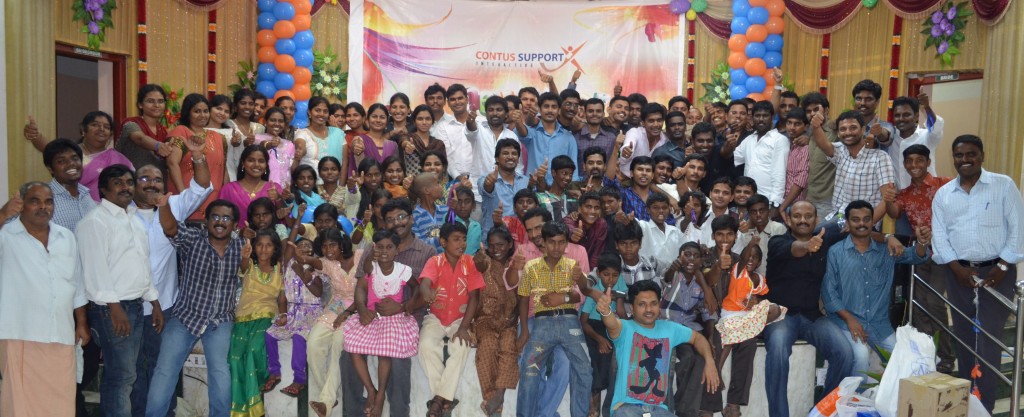 The children were extremely delighted to get into the act of events which we conducted for them. With loud cheers and applauses, the children introduced themselves with enchanting smiles. It rained smiles and laughs, and the children did really cast a magic spell on everyone with adept dancing, miming, and eloquent speaking skills.  Shortly after our Managing Director, Mr. Dinesh Kumar gave the inaugural speech, some exciting and interactive events started to begin with. Both the children and Contusians were segregated into teams and events were conducted based on this. Apart all, the real party mood stirred up when people started to shake their legs and hands for dancing.
The party ended with the speech of Mr. Dominic, the founder of "Home of Hope" who appreciated Contus for the step it has taken forward. He was taken by surprise when our Managing Directors declared that the children at Home Of Hope will be offered constant support for the education, health care, basic style, etc. One of our MDs, Mr. Amal assured that any graduate emerging from "Home of Hope" will be offered employment with Contus.
"I've never seen my children so happy and enjoyable throughout the day and I thank Contus for making it factual. This day is gonna be a memorable day for us, as we didn't expect Contus would extend a much lengthy hand to serve our children at Home of Hope," says Mr. Dominic as he extends his heartiest gratitude towards Contus. Staff who performed tremendously throughout the year 2012 were later facilitated with certificates and trophies amidst thundering applauses. With delicious dinner offered at last, we lit good bye to the celebration.
Contus deems much fortunate to have started the year in a sensible way. 'Home of Hope' is just a beginning and we have decided to take social commitments much crucial in the upcoming days and years, as a part of our responsibility. !