"If you have the passion to grow then CONTUS is the best place to boost up your career ladder. Awesome place to showcase your talent where you learn, work & grow." – Employee Review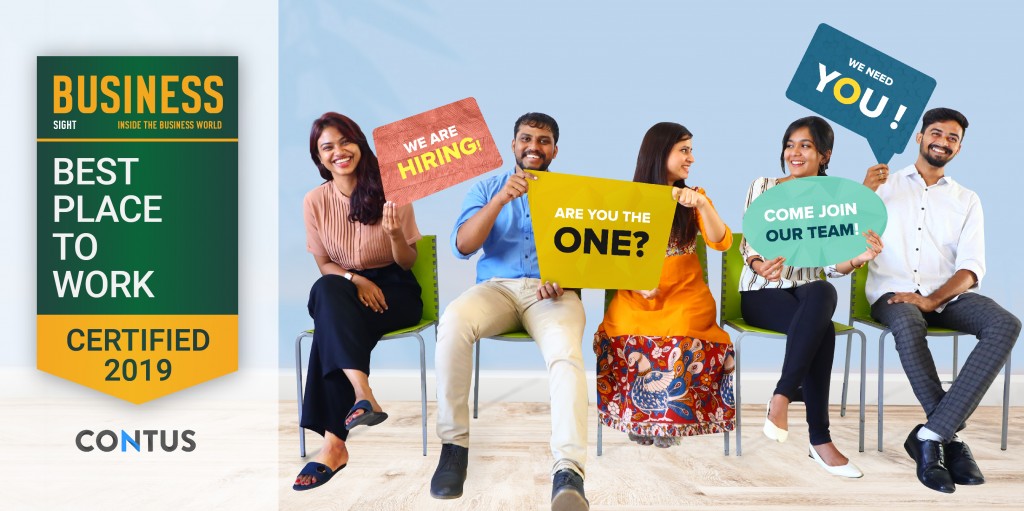 We at CONTUS are thrilled to be recognized as "Best Place To Work in 2019" by Business Sight Media, a leading business solutions magazine. These awards assures us that we are headed in the right direction with the right people and technology. This recognition is a testament that we hire skilled talents even if they are from grassroot level.
At CONTUS, our culture code speaks volumes of how easy it is for employees to switch between the teams if they have the right attitude and talent! Yes, it's indeed a cake walk! The Business Sight rankings are based on the Leading B2B Companies which offers a great place to work for the employees through their valuable culture, opportunities, education and training for upward mobility.
Business Sight Media focuses distinctly on emerging as well as established companies across business verticals & collaborative solutions to strengthen the market value. With 55000 qualified global subscribers, the primary audience are top-level leaders like CIO, CTO and VP and CEOs.
At CONTUS we provide many perks to our employees to make them feel they belong! One of our core values is, we practise flat hierarchy by respecting and nurturing any ideas no matter from whom it comes from! We encourage diverse work culture with absolutely no gender-biased. Hence we offer our employees flexible work timings which provides them a perfect work-life balance. At the end of the day, the result only matters!
We value individual's time and follow a simple and straightforward hiring process by providing the candidate with the same day result. No false hope or gimmicks! CONTUS employees are resilient to any situation where they look at the bigger picture when the going gets tough.
Learning and knowledge sharing is always fun, with no room for stressed environment. Our Employees are the sole reason which makes CONTUS the best place to work. We thank all our employees for giving us this privilege and happy to be a part of their career growth. Want to be a part of our family? Join our Team!