Would you believe that Burger King restaurant ordering app's average user rating is just below 3 out of 5.
Well, if iconic brands like Burger King are missing out on meeting customer expectations via their dedicated food ordering apps it raises a question of what customers actually expect from a custom restaurant ordering app?
What does a First Time User Look Out for in a Custom Restaurant App?
Of course it will be the food first. Less seems 'more' compared to leaving customers confused with too many choices.
Food aficionados and lovers basically look out for day specials and restaurant specials. Make sure they are placed right.
Beginning with food ordering, users would lookout for value added services as well which they could make use of using the app.
What are the Essentials that an Exclusive App has and Restaurant Finder Apps Miss?
Third party restaurant listing and food ordering apps deny a great deal of offering which a dedicated app can and those include customizability, liberty of listing your local special food and unique service listing.

What do your Customers Expect from your Restaurant's Mobile App?
Exclusivity – Build a Branded, Exclusive Restaurant App

Your restaurant app development should be exclusive. Exclusivity as such is a dedicated mobile app on iOS and Android and for your restaurant. However, listing your app in restaurant finder apps like Zomato, Foodpanda, Burrp could will definitely serve as an additional advantage by increasing the number of access points to your restaurant services.
Social Media Friendliness – Social Media to Share Their Experience
Your restaurant's social profiles can drive in remarkable change in the way people see, recognize and feel about your brand. Build a restaurant app that allows access to your social profiles. Login and signup process can be hosted through social logins and users sharing their dining experience acts as personal recommendations which augments your customer base and brand image.
Reward Programs – Recognize Your Loyal Customers
Using technologies like Augmented reality would help you create engaging loyalty programmes and there will not be a need for a study specific to the mobile app development platform used for your restaurant apps as visuals always derive desired user actions.
Rewards for ordering done via your restaurant apps can be managed completely through mobile. A track of purchase history in the restaurant app developed throws light on loyalty of every customer so that you can recognize and reward within the app.
Deal Deposits – Flexibility in Enjoying Deals and Offers
Deals are sudden surprises and often go useless if a customer is not ready to avail it instantly. Many customers feel disappointed on this compulsive 'take it or leave it' attitude of vendors. A slight improvisation of this will make it very much customer-friendly. Option for customers to save deals and redeem it at their convenience will remarkably improve customer retention.
Value Added Services – Bookings, Cab Rides, etc
"Zomato has tied up with Uber to serve in 27 cities across 13 countries"Make provisions for incorporating value added services while planning for your restaurant app development. Providing cab booking service along with restaurant ordering in your app can turn out to be a game changer for your business as commuting to the dining venue is a problem faced by many.
Push Notifications – Notify at the Right Time
Offers always attract and notifications are those which make them count. So, you must be on the run when it comes to publicizing it. Notifying customers about your discounts yield more customer responses and eventually a lot more will be ready to take up the offer. Remind customers about the discounts they can avail at the right time and everything else will be a fairy tale.
Sensible Location-Based Notifications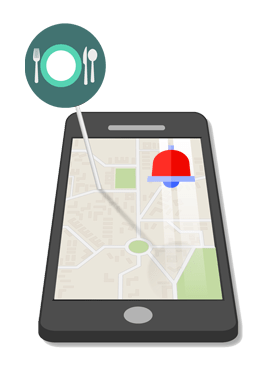 Build on demand delivery app for restaurants apps equipped with geolocation technology. It will simplify tracking the location of the users to provide meaningful discounts. Based on a user's current location, you can push discount notifications of your restaurant that's nearest to where they are currently located. Thus the chances of a user grasping the deal becomes naturally high.
Show Off – From Dining Space to Kitchen
Obviously a customer is going to get disappointed if your dining space is not as good as what your ads boast it to be. Provide a sneak-peek of your restaurant's dining, cooking and other hospitality areas through images, videos or digital walkthroughs to your customers and let them decide themselves about dining at your place.
Technologies like augmented reality has become a part of restaurant app development process as they help in providing a digital walk through experience.
Payment Conveniences – Ease of Ordering and Paying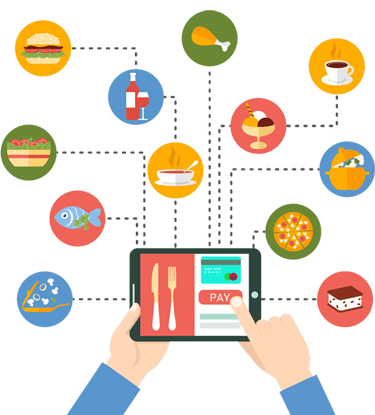 Customers can be given e-wallet options through which they can prepay in specific amounts and hold a balance which can be debited for bills. Make sure your restaurant ordering app that demands online payment provides a single-page checkout for a zipy payment experience. Try providing split payment facility and multiple mobile payment modes to improve their payment convenience further.
How Contus can help Building a Custom Restaurant App that Users Love to Connect With?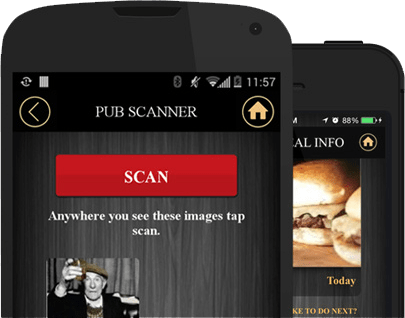 To assure of the possibilities of developing an app with the above discussed features, we'd like to show you a real example.
Lansdowne Pub app was developed by Contus for a Boston based restaurant and pub chain. Using technologies like augmented reality, geolocation, push notifications and much more, this restaurant app was developed with the sole purpose of encouraging customers to view, engage and interact with the app.
Access to pub services like table booking, intuitive rewards mechanism powered by AR, personalized discounts via push notifications and access to all social channels of the restaurant through the app were a few of the compelling features that helped the restaurant augment its customer base.