If you have a decent smartphone, a reliable Internet connection and a good content idea, you can start live video streaming now!
Yes! Live streaming is no longer reserved for the league of deep pocket television channels. If required, anybody with a smartphone and decent Internet bandwidth can begin a live video stream today and win over the Internet.
But, there are some questions that you will run into when you plan to start live streaming for the first time on your own. Particularly with live streaming equipment and the most often question on "how much bandwidth is required for video live streaming?"
There is no single answer to it. However, the ground rule is that you want a HQ video quality, your bandwidth requirement will be higher. The Internet speed for live streaming increases each time you step up the video quality. Like from 360p to 480p or 480p to 720p or 720p to 1080p or higher.
Understanding Live Video Streaming Bandwidth Requirements
The Broadcaster Side And The Viewer Side
Bandwidth required for live video streaming and live streaming watching are drastically different. By default, the broadcaster will require manifold bandwidth than a viewer. Live video streaming requires more video heavy-lifting as video needs to be processed by the encoder in countless data packets before they reach the user screen.
Secondly, there is the measure of upload speed and download speed. Upload speed is the speed at which the live streaming video and its contents can be uploaded to the server. Download speed is the speed at which data gets downloaded from the Internet into the network.
For smooth live streaming, both download and upload speed is of utmost important. Cutting corners on either can definitely toss the entire live streaming into a fit of buffering issues.
Upload Speed and its importance
Upload speed is the internet speed required for broadcasting live streaming from the camera is uploaded to the Internet. It is more of concern to the broadcaster who is recording the live streaming real-time from the event location.
A higher video upload speed translates into more data being sent to the Internet from where it can travel to the user screen, which brings us to the importance of download speeds.
Download Speed and its importance
Download speeds are important to live stream audience. It is the speed at which the video gets buffered or downloaded into their network before being broadcasted on the screens. The video quality of the live stream is directly proportional to the download speed.
Like we said before, higher the download bandwidth the user had, lesser will playback lags and buffering issues.
The Ideal Bandwidth Requirement
How Much Is Good Enough?
How many mbps is good for streaming video? There is no exact measure as to how many mbps constitutes an ideal bandwidth for online video streaming platform. However, there is one thumb-rule that you can follow:
Have at least twice the upload speed for a glitch-free live stream
So, if you are streaming a 2.5 mbps live stream with both video and audio combined, the minimum internet upload speed for streaming must be at least a 5 mbps upload speed.
Also, upload speeds are generally slower than download speeds. So, maintaining a twofold upload speed is essential for buffer-free streaming.
The upload speed as promised by your Internet Service Provider in their promos is the highest possible speed. On an average, you might get half the speed or maybe just a quarter of it. So plan your bandwidth requirement accordingly. If planning your volatile bandwidth is proving to be a challenge, pick a live video streaming platform that can handle the fluctuation dynamically.
Here is a table that charts out how many mbps it takes for streaming various kinds of video: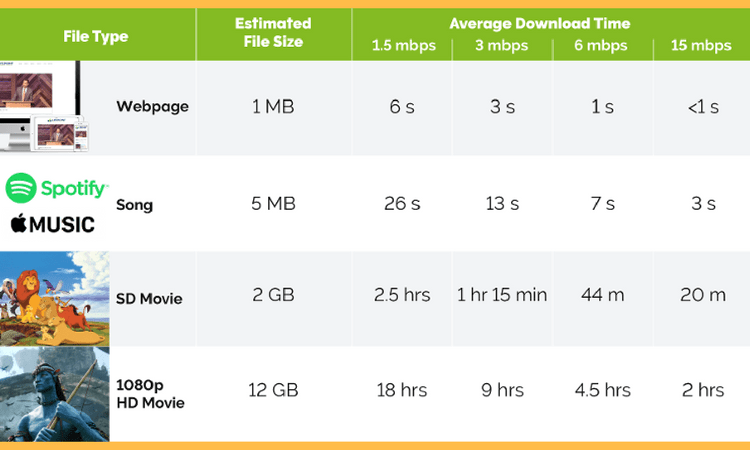 Other matters that really matter for smooth live streaming
In addition to bandwidth there are also other matters that helps in efficient live streaming.
Have a dedicated Internet connection. Shared connections can cause buffering issues.
Also, opt for a wired connection whenever possible. Wireless connections can face interference from other networks that can disturb the smooth flow of the live stream from encoder to CDNs.
Recommended Reading: How To Put a Full Stop to Your Live Streaming Buffering Problems