Real-Time Reply can convert a potential buyer into a loyal customer.'
As per statistics, '90% of Online Business fails in the first 4 months itself.' This disturbing figure can prevail due to a combination of reasons, and one reason behind it is a lack of attentiveness. Merely, shifting business online will NOT help out! One must make appropriate and efficient use of features like In-App Chat.
In-App Chat means developing a feature wherein the back end or front end the team can have a conversation with customers. It's leverage between customers and the company.
Customers tend to make use of the In app chat to place an inquiry or share feedback or communicate and In-App Chat messaging strategies allow them to communicate with the representative of the company.
Incorporating In-App Chat Features Can Add an X Factor to Your Business!
The basic rule of being an ace company in this competitive world is to make sure that the relations with clients. Clients generally keep complaining about After-Sale Services or delay in dispatch or Communication gap.
According to a survey, '80% of buyers demand a quick response time of under 10 minutes from their vendors.'
To cope with this demand of customers it is not feasible to appoint 24*7 human resources, but making an In-App Communication API can help out the best!
The Benefits of In-App Chat Can Change the Graph of Business
1. Enhances Mobility and Accessibility to give maximum return
Visiting a store or company personally is no longer required, everything is available on the phone itself. No matter where you are , all it takes is just a phone to stay connected. It's accessible anytime, anywhere.
2. Convenient for Group Chat as it simplifies the communication:
The communication factor is not limited person wise, it allows more than one person to communicate at the same time. So more than one executive can also be part of the communication. It allows multiple users to edit, add, or delete information simultaneously. It facilitates group work and allows team members to provide instant feedback.
3. Provides Real-Time Communication to improve relations with customers
Real-Time Communication is being an epicenter of the communication channels nowadays. In contrast to conventional email or SMS, with continuous visits, clients can send messages and get reactions all the while.
Instant Messaging is presently a center component for social, dating, clinical, and commercial center applications as a device for coordinating clients and empowering smooth and compelling cooperations among them.
Also Read: 6 Best Dating APIs To Build Your Own Dating Apps
4. Saves Space and Cash balances the cost
No extra cost is to be incurred from either of the ends, it's easy to make use of In-App Chat. Filing a grievance can be a time consuming and lethargic task but thanks to In-app communication SDK the entire system of communication has changed.
5. Reduce support costs, indirect way of increasing profit
On the company's end, In-App chat for business can reduce the cost. No personal visits are to be done by the team to solve the issue. Moreover, the task of communication is done by the bot so a person is not required to be hired for the same task.
6. Keeps a Record for future reference
If every communication is done verbally then it will be very difficult to keep a track. But the In-app Messaging API for iOS and android can help to maintain a word to word record of the communication between employee and client. Even for further reference, it will be of great help.
7. Increase Conversion Rates
If the communication is carried out immediately then there are higher chances of a customer turned out to be a loyal client for lifelong. At the point when clients raise their interests and find agreeable solutions continuously without exploring endlessly from your application, there is a higher chance that they would make the buy.
Here comes the part of live talk administration, which opens a passage for the clients to cooperate and in this way give them the best correspondence.
In the Digital Era, In-App Chat Feature Can Unfold Some Unexpected Gains Making it a Must-have Feature!
'Customer is the King.'
As mentioned in the above image, customers can be impatient at times. Or they may bring in focus some urgent complaints which are required to be solved immediately. As shown in the image 80% of the customers prefer an instant reply, by instant they mean within the time frame of 10 minutes.
To deal with urgent communication needs developing In-App chat API or In-App chat SDK can serve the purpose.
What Makes In App Chat Feature a Must-have in Current Times?
1. PUSH NOTIFICATIONS are unignorable!
We generally keep on getting notifications from certain applications or sites that we have allowed to send us updates. Those notifications are labeled as Push Notifications.
Customers will get push notifications about the company, it will be in a direct way of getting engaged with the customers. The company's name will always be fresh in the customer's mind.
EXAMPLE
Uber sends push notifications to advise travelers that drivers are showing up soon. Uber likewise effectively utilizes push notifications to coordinate travelers with drivers by sending vehicle numbers so travelers can perceive their rides.
2. REAL TIME FEEDS can give a better and update experience
An in-application feed that refreshes following new substance is distributed is an absolute necessity for all interpersonal interaction applications. On Instagram, Facebook, Snapchat, and Twitter, clients see new substances and remarks without refreshing the channel. An ongoing feed makes your application clingy since clients get the most recent and most important data right away.
Stories, which previously showed up in Snapchat and afterward were actualized on Instagram, have become the most captivating type of client produced content.
3.A BETTER Communication experience is just a click away
Best in-app chat solution never fails to give theE-COMMERCE best communication experience as the communication carried out will be without any delay and completely updated format will be exchanged in terms of information. Using Transcript can help to give better after-sales experience to customers.
Is In-App Chat Useful for a Particular Industry or it is Omnipresent?
"73% of live chat users are happy with live chat process and are satisfied than any other communication channels like email or phone.''
The customer satisfaction ratio based on various industries states that 3 modes can be used for communicating with the customers rapidly.
Use of In-App Chat is done in many fields or rather we must say in every field it's done. Because every field would like to hold the cluster of their clients or customers. Moreover, it has been needing an hour for every field.
These are three modes preferred by the clients or customers for communication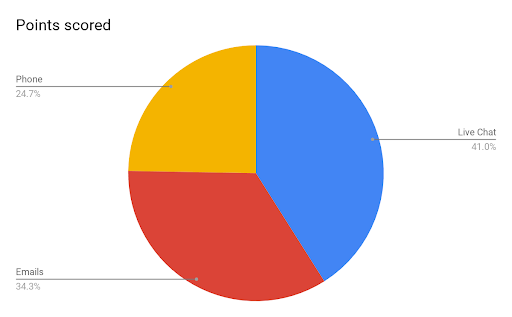 However, the major industry that can make the most out of this dynamic feature is the E-Commerce Industry!
A combination of E-Commerce and In-App Chat has broken some amazing earning records.
1. E-commerce & Marketplace Industry
It is hands down a very dynamic industry with most of the competition arising with the launch of every single product and service. One can not deny that though it's a growing industry, every day new challenges are faced here.
Highlights of eCommerce Industry
1. Using In-App Chat features can help to add these characteristics to your business!
2. It gives a human and personal touch to your business and especially your website. Wherein everything is done digitally on E-commerce websites, using a feature that has some human touch will help.
2. On-Demand Industry
On-demand Industry are those who are serving us based on our demand, like OLA & UBER, They get us a ride as per our demand.
Highlights of On Demand Industry
1. On-Demand Industry needs constant communication as they have to constantly keep updating about the status of the work or demand.
2. Push notifications are always on the top priority, one can easily share an update about the offers and schemes.
3. Live Streaming & Broadcasting Industry
Live Streaming industry is blooming and incorporating In-App Chat features can change the entire level and statistics of engagement.
Highlights of Live Video Streaming Industry
1. Live Streaming can use the most of this feature as interaction is the key ingredient of conducting live streaming.
2. Moreover, one can scalability & Flexibility are two features that can help the most. Consider using cloud services that will help you in achieving high scalability. Flexibility to handle live streaming as well as video on demand.
4. Online Social & Communities
Social & Communities need a friendly communication option, one can not stick to some rigid funda for communication and this In-App chat feature can fruitfully highlight the communication prospects.
The Perks of In App Chat Will be in Bain if it's not Developed or Placed Properly, so Taking Help from Industry Experts Will be Better!
When we talk about Industry experts some limited names come to mind who can provide the best solutions in the context of In-App Chat features. Though customers want a quick reply they want a valid and rational response, there are higher chances of people ignoring the In-App Chat feature if they don't get the desired reply. Here are the most popular messaging apis provider to be considered for your web & mobile app
CONTUS MirrorFly – A Leading In-App Chat APIs & SDKs Provider
The live chat solution provided by MirrorFly is unique, as you can connect it to your website, as well as to messaging apps like WhatsApp, Facebook Messenger, and Telegram and chat with your customers over those channels. It offers one central place for all of your customer messaging.
Compared to other chat apps, it is flexible and customizable. With help of 300 developers team and 3 tier security plan, It offers a wide range of APIs, for example, which makes it a popular solution among more tech-savvy users. It also has a wide range of standard integrations, so you can easily embed it in your existing processes.
Who should use it?
It is highly reliable for those who have a business or are operating all across the globe. Even those who are into multiple and franchise business can gain a lot of benefit from this feature provided by Mirrrofly.com
100% Relying on External Messaging Services Can be DANGEROUS
Nonetheless, texting applications are probably going to pull in huge clients towards a brand or administration. In any case, there are drawbacks completely depending on outsiders informing applications as the ideal business correspondence channels.
1. Interpersonal communications can be hampered in a way that the essence of communication can be monotonous and irrelevant.
2. In-App Chats solutions offer restricted observing and examination frameworks, which don't give business visionaries an unmistakable knowledge into the brand advertising execution.
3. At the point when huge clients impart through outer couriers, there are chances that they may skirt the administration and change to another tab.
In nutshell, Enterprise in-the app messaging solution can provide two benefits, reduction in cost and retention of customers.
Are you Planning to Make In App Chat a Part of your Business Strategy?
Well, if all the above-mentioned data, facts & figures have given you a clear picture of how In-App Chat or real-time in-app chat for website can change the business tactics, then you are all set to rock the profits with Best in-app messaging platform
That has all the features which can claim the platform as Top in-app chat solutions.
1.Real time Chats are needed for an hour, a person visiting your application or website can be your potential customer, and a needed communication can never let you miss any footfall or web impression! All you need to do is place an In-App chat feature with proper visibility.
2. Video Calling is nothing less than a personal chat window! With the best video chat app option, the application proprietors can quickly answer the clients' questions without having them change to another stage or even outsider courier.
3. Voice call ill help to stay away from any misinterpretations, a lot of times it happens that written communication may not be sufficient to address the client's need, in such case, Voice call is helpful.
4. Push Notifications will keep users or clients updated.
5. Sharing encrypted files is also possible, so sharing of pdf, images, files, audio, videos can be just done in a few seconds.
6. End-to End Encryption keeps the entire communication safe and the data of details will be saved for future reference.
Summing Up:
So, figuring out that which is the best live chat solution i.e In App Chat solution for you?
Well, that depends on your company's current status and requirements as well as goals. But one thing is clear no matter whichever solution or platform you select, In App Chat is turning out to be the smart trick of getting a better business!
In-App Chat solution for android, ios or website is a Must-Have communication tool, if you haven't yet gel up with this trend then it's high time to make it part of your plans & if you have already, make sure you yield the BEST OUT OF IT!
Interested in learning how MirrorFly's In-app APIs can help improve your Business? Sign up for a free, 21-day chat trial today!