Do you know that over 1.2 billion children are out of the classroom due to COVID-19 pandemic?
The entire education system is drastically changing from physical classrooms to virtual classrooms. Online education is experiencing a vast spike as ever in history. The sudden shift of physical classrooms, the adoption of eLearning platforms are seen high since the technology advancement and access of digital devices are decently high across the countries.
eLearning platforms integrated with virtual communication features seem to be huge in the market where connecting students and teachers in real-time is the ultimate objective of any elearning platforms. With features like, video conferencing, virtual whiteboard, virtual seminars, and interactive video calling will bring a personalized and classroom-like learning experience to students sitting right from their homes.
Establish a Strong Rapport Between Students and Teachers Virtually
Step into the world of effective communication between the student and the tutor by offering teacher and student communication app structured learning environment through MirrorFly Chat API & SDK.

Student to Student Communication
Peer interactions are made easy with education chats no matter where they are geographically put up. Now the students can collaborate with each other and discuss the subject and share the knowledge in a fun and secure platform providers.
Student to Professor
Connect to millions of tutors across the globe and get the most out of the chat apps for all your learning needs. Track the learning progress, record the lessons and get instantly connected to text, group chats or private chat through powerful SDK's and instant messaging APIs'.
Use Cases of e-learning Website & Apps
Take your learning experience to a whole new level with the help of MirrorFly Chat Platform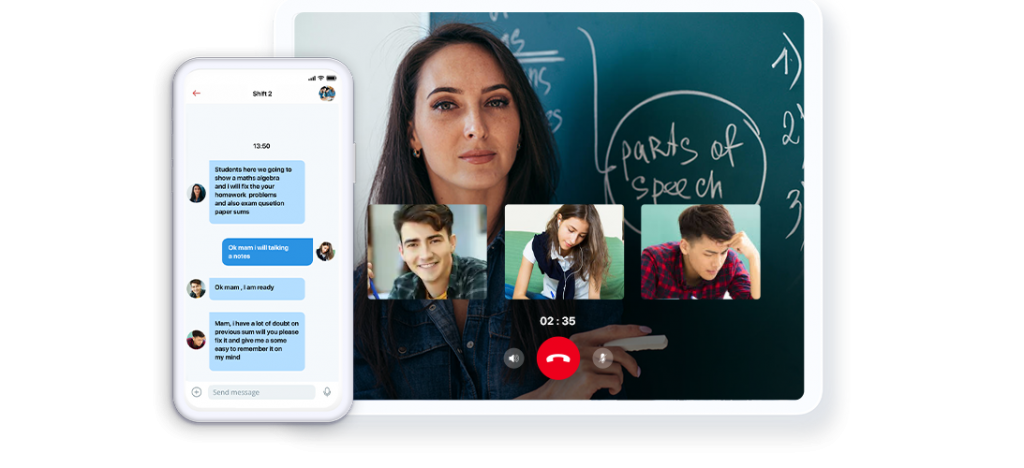 Online Tutoring Providing a user -friendly platform that is tailor-made to suit the individual requirements of the teacher and student in a completely secured end-end encrypted environment. Students can track all their learning progress, transfer the files and connect to the tutor in a one-one chat for a more personalized learning experience.
Virtual Classroom facilitates real-time communication effortlessly by implementing chat app into any mobile (iOS & Android) or web applications.. With the help of the top-tier infrastructure now you can host your classrooms remotely and record the sessions for future references and share the content across multiple students.
Webinars & Events With the help of the advanced encryption standard (AES) 256-bit, webinars are fast and reliable through cross-platform messaging and calling platform, no matter where the students and tutors are geographically located. Education chat apps provides a win-win solution to both tutor and the student.
Video Conferences With the powerful integration of WebRTC along with the help of audio & video chat API & SDK & the teacher student communication app provides an excellent video streaming quality in high definition standards and reach your global students in a seamless way.
MirrorFly's Innovative Approach in the Online Education Platform
Right from voice and WebRTC video chat app to the interactive live video call MirrorFly has it all within a secure environment.
Facilitates the Students and Teachers To be on the same page with virtual interactions
Communication is the key when it comes to the online tutoring and that is what exactly MirrorFly IM offers its customers with fast and reliable voice and video chats for students by successfully integrating chat app for online tutoring.


Make Every Group Discussion More Efficient and Classroom-feel like Experience
Build a strong team within the student community through powerful Group Chat features that not only help in knowledge sharing but also clarifies doubts and motivate each other.
Reliable Authorization Techniques To Protect the Integrity of Online Classes
Security comes first in MirrorFly solution which successfully integrates the chat app for online tutoring where the powerful end to end encryption and the highly secured 256 bit SSL model keeps the internet hackers and security crackers at bay.


Boost Up the Learning Curve With Virtual Whiteboard TechnologiesUsers can take complete control of the system by not only sharing the screens but also able to add text or diagram which helps the tutors and students to collaborate in a better way.
e-Learning is the Next New Face of Education System:
Explore here to know more how the interactive features will keep the eLEarning platforms in the loop during this pandemic. With multiple virtual communication features, eLearning platforms can leverage learning and teaching experience to students and teachers.
Impeccable Features Which Make MirrorFly to Stand Out From its Competitors
Customizable options for online tutoring enables students to get trained in a versatile environment and increase productivity to a greater extent.
Virtual Classroom Broadcasts : With effective audio/video streaming method which supports cross- VOD platform functionality paves the way to a dynamic learning space that facilitates both tutors and students.
One-to-One & Group Video Chat : Experience High definition video chats whether it is a one on one video chat or group chats. The salient in-built technologies WebRTC and VOIP can be integrated into any mobile applications without any hindrance.
Collaborative Whiteboard : Now students can get a classroom-like experience virtually with the help of collaborative whiteboard which is touch-friendly and allows the students and teachers to easily collaborate, draws sketches, edit content through smartphones, laptops or desktops and share among them by collaborative e-learning platform for students and teachers.
Live Training : Instructor-led training is possible by the live streaming method with a sleek communication channel without any interruptions
Screen Sharing : Online tutoring chat apps provides a visual representation of the subject through screen sharing, students can now understand the concept in a quick and better way.
Archiving & Annotation : Chat history is one of the inevitable features that is offered by MirrorFly Instant messaging where the students can retrieve any important information anytime.
Audio & Video Recording: Each student learns at his own pace. Thus MirrorFly facilitates the needs of every student by providing them with a video recording feature that can be used for future references.
File Sharing: Content sharing can be done instantly with the help of the file-sharing feature. Now the students can transfer the powerpoint presentation or documents without any hassle irrespective of its size or format.
Chat Admins: Get the maximum privilege where the chat admins can modify the access permissions to any member in the group or individual, enable or disable file uploads and has the ability to manage all chat rooms and view the histories of chats and shared files in the group chats.
Push Notification: The in-app messaging provide push notifications which help to connect the students and tutors 24/7. With these push notification facility, it sends alerts to the students about the upcoming classes, any discounts or offers for the online courses anytime . It also helps to notify when a student or tutor is online. However, these features are completely customizable where the student can limit the number of alerts they like to receive per day.
Virtual Whiteboard Teaching:MirrorFly comes with a real-time and interactive whiteboard feature that helps teachers and professionals to demonstrate problematic questions just by writing and drawing virtually. This gives physical classroom-like learning experience to students.
Seminar Hosting:With unlimited video conferencing technology, teachers can host discussions, seminars and online training with multiple number of participants up to 100 by default and has capacity to limit up to 1000 participants in VOD hosting.
Live Streaming & Broadcasting:The live VOD streaming technology helps to stream live online classes to thousands of students at the same time within any specific groups or channels consisting of 10,000+ students. Broadcasting gives additional add-on value to teachers to telecast recorded training, class sessions to any specific grades of students.
Read Also : A Complete Guide To Create a Chat Platform: Features, Monetization, Tech Stacks
Get a Multi-layered Secured Environment
All the education chat messages are encrypted in a highly secured network. Rest be assured with MirrorFly in-app messaging

End-to-end Encryption: Being proactive is one of the main USP's when it comes to the chat security system. Experience multiple layered security with an end to end protection where every single chat conversation is protected. It also ensures only authorized users to get access to the in-app messaging platforms.
SSL Encryption: A secured network channel is crucial from any unwanted intruders or hackers penetrating into the traffic. Hence SSL encryption provides a dedicated channel between the client and the web server and prevents any malicious activities.
AES 256 Encryption: MirrorFly includes an advanced encryption standard model which uses 256-bit SSL with a special algorithm to protect the in-app chats and facilitates an extra protection layer making it more robust and reliable.
Robust Authorization: The entire chat app for online tutoring right from the chat logs and the call records are safely has a back-up for future reference. The solid security model provides a secure environment to the users every time they log in to the chat application.
Practical Monetization Techniques to Increase the Revenue
Convert all your users into accountable customers through easy video monetization platform strategy methods with the help of these teacher-student communication app.
Role-Based Access Control: Role-based access control is one of the methods which prevents unwanted access to users from accessing any information which is not relevant to them. Role-based access also makes the sensitive details like account information restricted to the admin roles or any authorized users.
Credit Deduction
One of the quickest ways to monetize your in-app messaging application is making the user buy credits in order for them to use the chat app features like Video, Audio, Whiteboard,Screen share or any other feature.
Custom Advertisement
Now students can get the custom ads in their app where they get ads on any deals like combo package offers or ads related to new class enrollments based on their favourite subject and so on.