In an era where streaming and digital entertainment have taken center stage, one name has consistently shone brightly – Roku. This innovative company has carved its niche as a household favorite, but its journey began long before the advent of Roku TV apps.
Roku, founded in 2002, initially focused on hardware development, producing streaming devices that would revolutionize how people consumed content. Over the years, their relentless commitment to enhancing the streaming experience led to the creation of Roku TV.
Moreover, Roku doesn't just provide Internet streaming channels; it gives rise to a number of entertainment possibilities. With Roku, users can access video, music, and still image content from their PCs or media servers, seamlessly integrated into their home networks.
What Is Roku TV App?
A Roku TV App is essentially an all-in-one entertainment solution integrated directly into the television set, eliminating the need for external streaming devices. In fact, several TV brands incorporate Roku TVs within their product lineup, featuring the Roku operating system as an integral component.
The Roku OS, purpose-built for smart and connected TVs, allows you to access a plethora of free Roku content, with a dedicated "Featured Free" section for easy browsing. In essence, a Roku TV App transforms your television into a hub for seamless streaming and entertainment.
How Does Roku TV Work?
Roku TV has transformed how we engage with television content, delivering a smooth and user-friendly streaming journey. In this segment, we will guide you through the step-by-step process of how Roku TV operates, from the initial configuration to relishing your preferred streaming services. Let's commence.
Setting up Roku is a breeze:
Connect your Roku device and follow the on-screen instructions to choose settings.
Connect to your Wi-Fi and update the software if needed.
Next, add channels and apps:
Access the Roku Channel Store from the home screen.
Install free or subscription-based channels, like Amazon Prime.
Now, you are ready to enjoy content:
Launch your desired channel or app.
Log in if required.
Browse and start streaming.
---
Also Read: What is OTT? A Definition of OTT & Its Meaning
---
Note: It's worth noting that while Roku TV offers an extensive selection of channels and apps, a few may demand separate subscriptions for access to premium content. Furthermore, Roku TV's open ecosystem has spawned a number of Roku TV apps and channels, fostering a vibrant outlook for Roku TV app development.
Top 7 Roku TV App Developers
When it comes to Roku TV app development, there are a number of key players in the field. Each of these developers brings a unique set of capabilities to the table, making them stand out in their own right. In this section, let's explore each of the 7 Roku TV app developers individually to discover what sets them apart.
1. VPlayed – Fueling Your Roku TV Dreams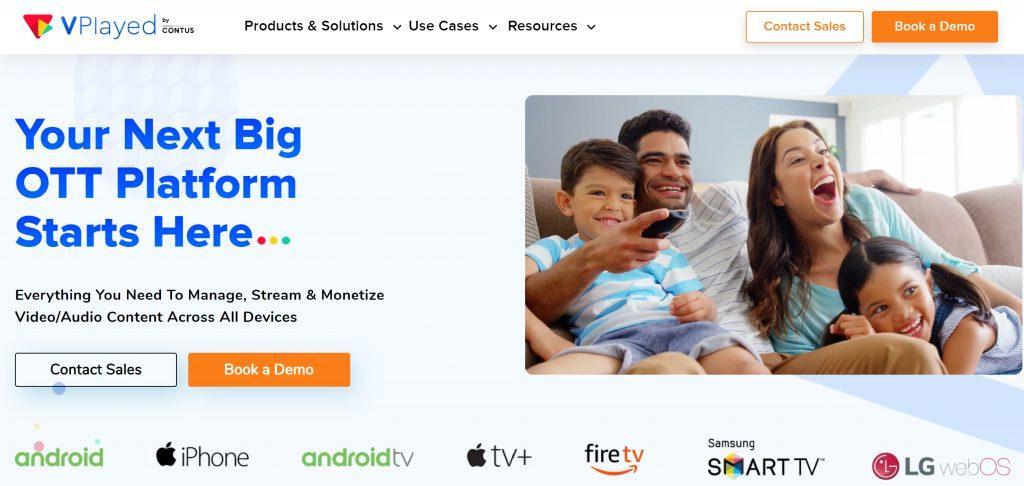 VPlayed stands as a leading Roku TV app developer, specializing in the creation of fully customizable solutions for your streaming needs. With VPlayed, you have the power to personalize every aspect of your Roku TV platform, ensuring it aligns perfectly with your vision.
The Roku TV app development is backed by a highly-scalable and reliable infrastructure, making VPlayed one of the best Roku TV app builders. With 100% customization options, an analytics dashboard, a robust CMS, and diverse monetization choices, VPlayed offers a comprehensive package for all of the streaming needs.
Top 5 Features Of VPlayed That Are Worth Mentioning:
Choose from a variety of revenue streams to maximize profits.
Gain deep insights into viewer behavior and performance metrics.
Stream content seamlessly in various formats for a broader audience reach.
Tailor your Roku TV app to your brand's unique style and user experience.
Ensure lightning-fast streaming worldwide with reliable CDN infrastructure.
2. CONTUS Tech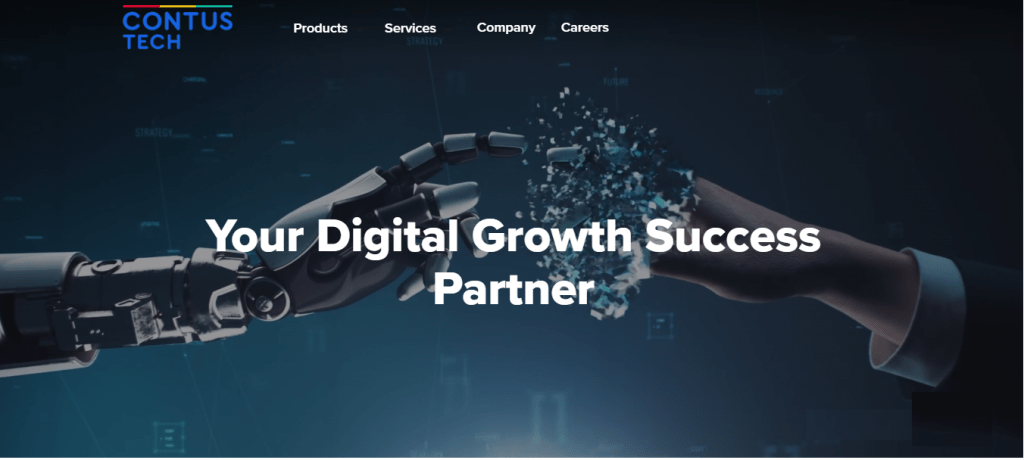 CONTUS Tech is an end-to-end Roku TV app development company. It develops OTT apps and smart TV apps, including the Roku TV app, for clients from diverse backgrounds. They include content creators, aggregators, media entities, and production houses.
Renowned for its proven track record, the company offers a holistic suite of OTT TV app services. These encompass multi-device support, scalable cloud infrastructure, and meticulous UI/UX design. CONTUS Tech, as a TV app provider, goes beyond mere functionalities and ensures complete platform customizations for a tailored user experience.
The company also provides team extension services. The Roku TV app built by CONTUS Tech OTT app developers features flexible 10+ monetization models, a user-friendly content management system, robust HLS streaming support, and a seamless transition from existing ecosystems.
Notable CONTUS Tech Roku TV app features include
1. Global Video CDNs: CONTUS Tech ensures optimal content delivery through global Video CDNs for flawless streaming performance worldwide.
2. HLS Streaming Support: Seamless integration of HLS streaming support for a high-quality, adaptive streaming experience in Roku TV apps.
3. 100% Lossless Migration: Achieve risk-free transitions with CONTUS Tech, ensuring a 100% lossless migration of your OTT TV app.
4. Roku Mobile and TV Apps Deployment: Deploy services for Roku mobile and TV apps at once with CONTUS Tech.
5. 200+ Third-Party Integrations Support: Enhance functionality and compatibility with an extensive array of third-party integrations.
3. Muvi – Pioneering Roku TV App Development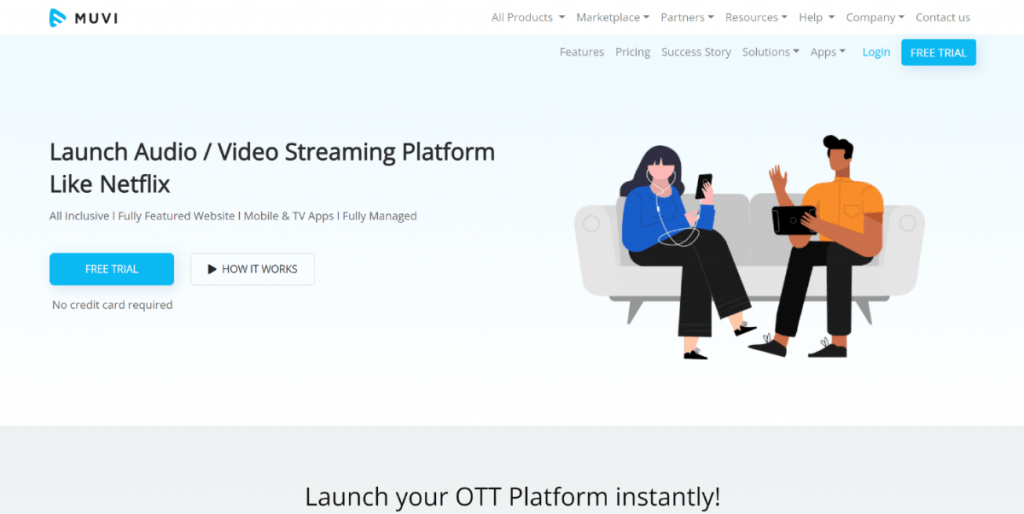 Muvi simplifies Roku TV app development with its no-code platform, allowing you to create your Roku TV app in no time. With Muvi, you can effortlessly deliver a wide range of media content (video as well as audio content) to your end audience.
Muvi's Roku TV app developers can craft your channels from scratch, offering both on-demand and live-streaming content options. Above all, there is support for various monetization models, including SVOD, AVOD, Pay-per-view, Coupons, Vouchers, and much more.
Top 5 Features of Muvi That Are Worth Mentioning:
With Muvi, you retain full control of your Roku TV app's revenue.
Gain deep insights to refine your Roku TV app's content and strategy.
Explore various monetization options, including SVOD, AVOD, PPV, etc.
Streamlines Roku TV app creation, eliminating the need for coding expertise.
Offers 24/7 customer assistance, ensuring you receive help whenever you need it.
4. Uscreen – Empowering Your Roku TV App Journey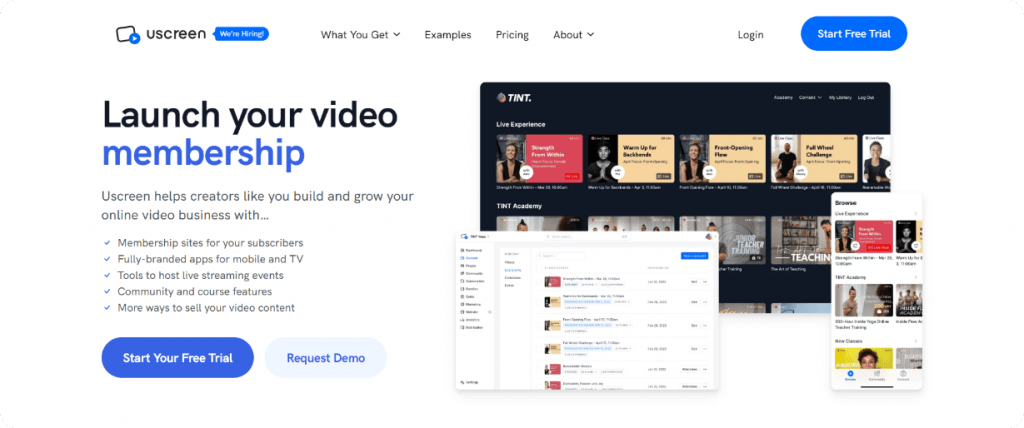 Uscreen excels in optimizing video content for seamless playback across browsers, smartphones, and tablets. When you partner with Uscreen, they develop and publish apps on your behalf, ensuring that your Roku TV app is up and running within 3 to 4 weeks from the order date.
With Uscreen, you benefit from a secure, integrated billing and payment system that enables you to create a paywall for your valuable content. Uscreen's feature-rich video player, marketing tools, live streaming capabilities, and extensive integrations with external platforms make it a comprehensive solution for Roku TV app development.
Top 5 Features Of Uscreen That Are Worth Mentioning:
You retain full control of your content and data.
Offers a secure system to create a paywall for your content.
They develop and publish your Roku TV app in a few weeks time.
Provides a rich set of features and integrates seamlessly with external platforms.
Uscreen ensures your videos play flawlessly on browsers, smartphones, and tablets.
5. Zype – Monetize Your Video Content With Ease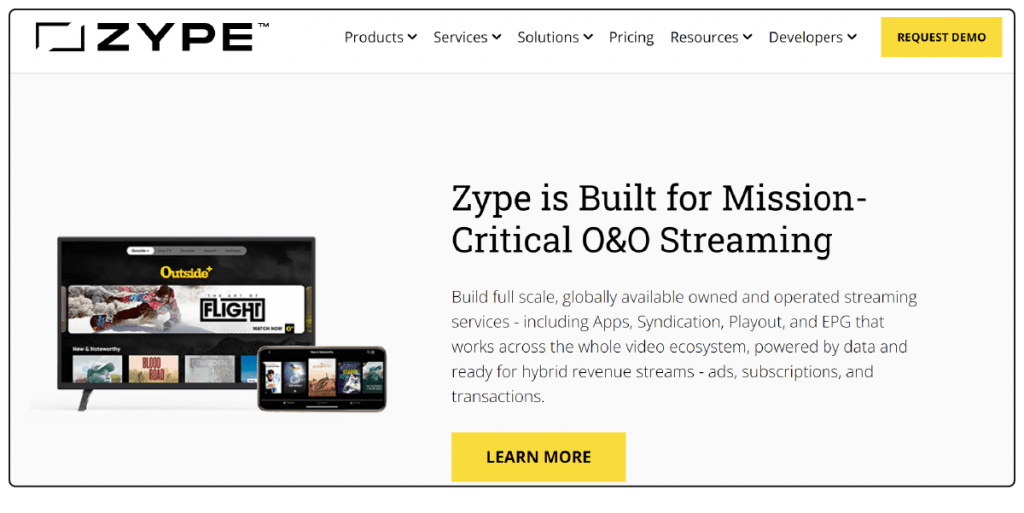 Zype is your gateway to a robust video content monetization platform, offering a refreshingly user-friendly interface. It supports various platforms, including web, mobile, and connected TV devices like Apple TV and Roku, ensuring that your content reaches a broad audience swiftly.
Zype's flexibility extends to its video solutions for content businesses. With app templates, multi-CDN support, and the ability to ingest video from any source for VOD or live streaming, Zype offers a versatile toolkit. It seamlessly integrates with numerous other services, including customer relationship management (CRM) software, and is optimized for all browsers.
Top 5 Features of Zype That Are Worth Mentioning:
Comes with user-friendly monetization tools.
Get to your end audience faster with rapid deployment.
Broaden your reach with Zype's cross-platform support.
Rely on dedicated experts for on the go problem-solving.
Provides an array of flexible video solutions and seamless integrations.
6. Brightcove – Powering Your Roku TV App Innovation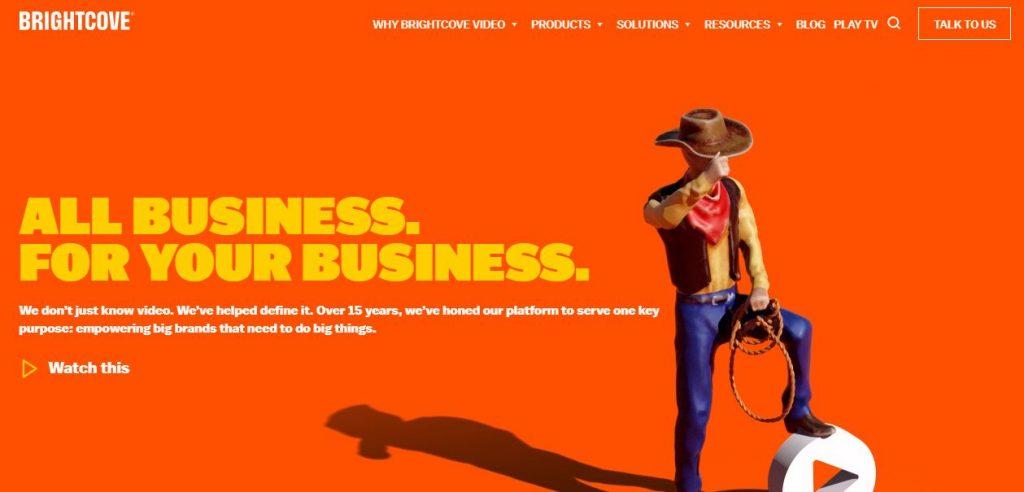 Brightcove, a seasoned Roku TV app developer established in 2004, empowers you to expand and engage your global viewership through customizable monetization options. Enjoy a seamless viewing experience across all platforms, ensuring consistent quality for your audience.
Brightcove's versatile capabilities encompass VOD hosting and live streaming, with specialized plans for video monetization. Nevertheless, it supports white-label streaming, ensuring that your branding remains prominent, and provides secure video storage, safeguarding your content.
Top 5 Features of Brightcove That Are Worth Mentioning:
Record and replay live streams for enhanced viewer engagement.
Access all-device viewing reports with Google Analytics integration.
Deliver a reliable viewing experience across all compatible platforms.
Manage your devices seamlessly with Brightcove's device management tool.
Customize your monetization strategy to grow and retain viewers worldwide.
7. Vimeo OTT – Streaming Excellence For Roku TV Apps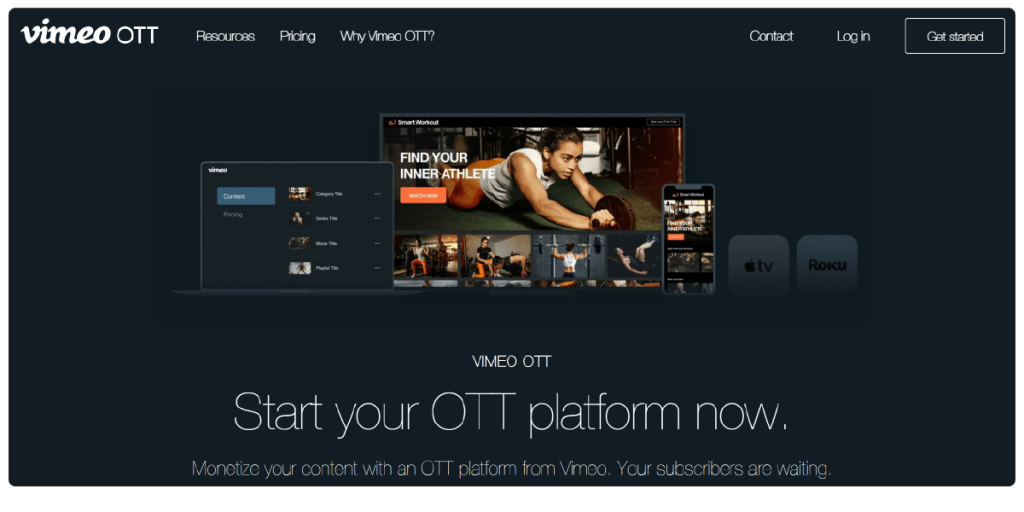 Vimeo OTT – a high quality video streaming platform since its launch in 2004, continues to lead the streaming industry with its exceptional Roku TV app development service. Vimeo OTT offers the ability to live stream, ensuring that your content is always accessible.
Vimeo OTT boasts advanced privacy settings, robust video analytics, and a customizable video player, offering strong content control options. Apart from this, you will have dedicated support for both your team and customers, making your Roku TV app development journey hassle free.
Top 5 Features of Vimeo OTT That Are Worth Mentioning:
High quality video hosting of up to 8K quality for clear playback.
Generous 60TB bandwidth to support your growing audience with ease.
Live streaming with auto-archiving ensures that your content is always accessible.
Seamlessly integrate with other popular third-party tools to enhance your workflow.
Zero downtime migration that enables transition of your content with no disruptions.
Final Notes
As we conclude this exploration of the top 6 Roku app developers, it is quite evident that this space is filled with a number of industry leading players. The journey of selecting the right Roku TV app developer is equivalent to choosing the ideal brush for a masterpiece.
Each Roku TV app developer brings its unique strokes, blending technology, and creativity into a canvas of streaming possibilities. From VPlayed's customization finesse to Uscreen's swift deployment, and Zype's versatility, there is a developer tailored for every Roku TV app dream.
Brightcove's long-standing expertise and Vimeo OTT's commitment to quality further enrich the palette of choices. Ultimately, the canvas is yours to fill. Whether you aim for seamless monetization, cross-platform reach, or unparalleled analytics, remember that your choice of a Roku TV app developer is the brush that will paint the picture of your streaming success.
"Choose your Roku TV app developer wisely, for they hold the keys to unlocking the boundless world of streaming possibilities."