Clothing and Fashion are never ending trend. The Fashion world being transitory with new innovations and esthetic qualities from the global fashion designers so as to attune with the changing life style reckons it as an eternal business. No matter how much ever trends hit the market, new fashions remains as a common interest. The change over in the buying style and the unrelenting craze over clothes and apparels are reasons for its popularity and growth.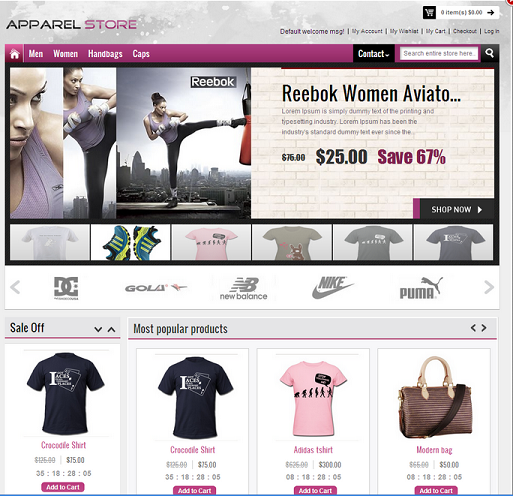 The apparel retailers have started bringing online presence for their store to connect with the online audience. The internet is now turning out as a large market place with increased selling of goods of various categories. Every merchandiser is getting involved with the ecommerce business to captivate the target audience. The premade template makes the job of putting up an online store without much complication. Apparel store is a clean magento template that is ideal to set up an online selling clothing store.
The theme shows up with an attractive banner with sliding show effect and thumbnail display. The banner becomes more interactive by giving short product description and Discount sale announcements, if any. Just below the banner is the brand slider which boasts about the available brands in your ecommerce shop. The theme has separate widgets for featuring the sale off products and popular products with relevant image and Add to Cart Link. The theme makes your store customer-friendly, secure and hot favorite. Take your apparel store to next level with this unique magento template.