Apptha, a successful venture of Contus Support Interactive serves millions of open source customers with its extensions, plug-ins and templates developed for Joomla, WordPress and Magento. After remarkable success in these CMS, Apptha adds to it "Prestashop module development" with the release of Out-of-stock notification extension in Prestashop CMS. Click to view http://www.apptha.com/category/extension/Others/presta-out-of-stock-notification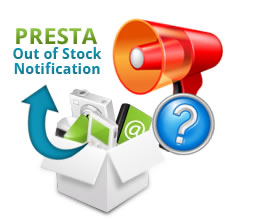 About Out-of-stock notification Module:
The out-of-stock notification is a stock availability notification module.ie. Once the Prestashop store owners integrate the module in their store, it starts showing a product quantity status such as in-stock/out-of-stock for the products that the customers attempt to purchase. For the out-of-stock products, a message box, Notify Me button and Enter Your Email text box appears intimating the customers to enter their mail id and get notified through email when the out-of-stock product is updated in the stock inventory. The consumers can choose to get email alert when the product quantity is validated to in-stock for future purchase or simply ignore them.
The Prestashop out-of-stock notification module helps you–
-Show an error message (out-of-stock message) when the customer attempts to purchase a product which has zero quantity in the stock inventory.
– Suggest the customer to get an email notification when the product quantity is updated back to in-stock.
– Allow the customer to request for notification of stock availability by entering their email address.
– When the stock quantity is increased and returns to the status "in-stock", an email indicating the stock availability is send to the customer's email automatically who all have requested for notification
– Win back your old customers/ get connected with your existing customers who have intended to buy from your shop and withdrew due to stock unavailability.
Purchase the Prestashop out-of-stock module and enhance your web store usability to drench in the rain of sales!!
Apptha Ventures Into Prestashop Extension Development
Adding more to our extensions in PrestaShop platform, we have come up with an additional development. A mobile commerce app building solution in PrestaSop mobile app for all eCommerce store owners named Contus M-Comm.
Contus M-Comm has the framework necessary to fasten up the process of a native business app build for ecommerce stores in iOS and Androidn platforms. We'd like to invite you to visit this page for more details.