Are you an educational institution, an ed-tech startup, or a tutor scouting for the best live streaming education?
If yes, then there's no better place on the internet to guide you better.
Well, you must be aware that investing in an online live class platform for education is a move that can immensely benefit your institution.
Learners increasingly prefer visual and interactive content in today's fast-paced digital landscape.
However, with a live streaming education platform, you can create engaging, immersive learning experiences. It makes complex concepts more understandable and retains learners' attention. Moreover, it caters to various learning styles and ensures inclusivity.
Above everything, a good tutor needs a solid foundation. With the potential to scale globally and the ability to reach a broader audience and monetize educational content at your convenience, a dedicated live-streaming lays a solid foundation for your business.
But what are the best platforms available to stream online classes? How to select the right one for your needs?
We will discuss everything in the next few minutes.
7 Best Live Streaming Education Platforms
What Should You Look for in a Live Streaming Education Platform?
Choosing the right platform is the foundation for the success of your business. But, when you're a beginner, you may not be aware of the practical difficulties you may face once you've started streaming. In that case, ensure your live streaming for education supports the following features.
1. Simple, easy-to-use platform
A user-friendly interface and intuitive navigation are crucial to ensure seamless adoption. The market is filled with complex live streaming with messy interfaces. ImaginA cluttered UI/UX can deter users, causing frustration and increasing dropout rates.
2. It should sustain necessary functionalities
Ensure your platform supports important features to live stream your online classes. It should include features like interactive quizzes, virtual classrooms, lecture capture, flipped classrooms, and – most importantly – an easy-to-use different types of content management system. The presence of these will sweeten the overall learning experience. Similarly, the lack of these functionalities can limit engagement and flexibility.
3. Privacy and security
Protecting user data and content should be of paramount importance. Weak security standards can expose sensitive information, eroding trust and potentially leading to legal complications. It's advised that your platform possesses features like AES encryption, digital watermarking, and SSL certificates protected with cryptographic keys. This way, you can ensure that your lectures live online sessions aren't pirated and accessed only by your students.
4. Integration with learning management systems and other software
Compatibility with some of the standard Learning Management Systems (LMS) like Google Classrooms and other educational software streamlines operations. Incompatibility can result in data silos and inefficient workflows.
5. Flexible video monetization options
A good live streaming education should provide versatile monetization tools such as pay-per-view, subscription models, or course bundles. Support for a flexible revenue model means you can diversify revenue streams and capitalize on your content in the longer run. This will ensure sustainability and growth.
6. Closed caption support
Closed captions is a feature that provides text-based transcriptions of spoken content. Simple as it may sound, this feature is indispensable for inclusive education. Closed caption helps you accommodate diverse learners for your live online classes. It includes those with hearing impairments, non-native speakers, or those in noisy environments.
Besides, they also align with accessibility regulations, preventing discrimination and ensuring equitable access to your educational materials.
Looking For the Best Online Live Class Platforms to Stream Educational Videos?
The 7 Best Live Streaming for Education to Stream Online Classes
Explore the 7 best live streaming for education to stream your classes online. Some of the online live class platforms are VPlayed, Dacast, Panopto, Vimeo OTT, Muvi, Kaltura, etc…
1. VPlayed
Elevate Learning Through Live Streaming Education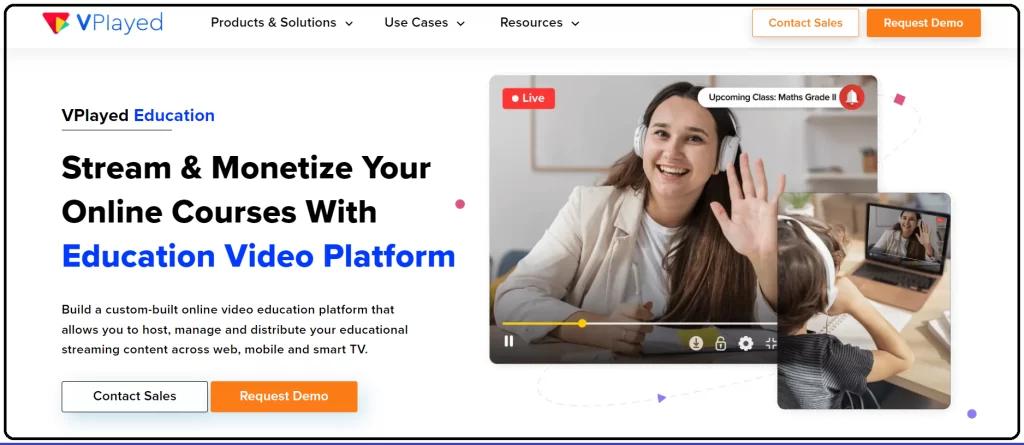 VPlayed is an exceptional platform to live stream online classes. It is the most comprehensive platform on our list yet and supports features tailored exclusively to live-stream online courses. This custom-built online video education platform allows you to host, manage, and distribute educational streaming content across the web, mobile, and smart TV.
VPlayed is 100% end-to-end customizable. So you can personalize the platform to your unique branding requirements. The platform also supports white-labeling options so you can create a seamless, branded learning environment, reinforcing your institution's identity.
Moreover, VPlayed goes beyond merely live-streaming online classes. It supports various educational methods — virtual classrooms, lecture capture, and flipped classrooms. The platform also includes a content partner portal that streamlines collaboration with content providers while simplifying the process of acquiring and sharing educational materials.
Key features of VPlayed include
Multi-device Support: VPlayed ensures seamless access to content across web, mobile, and smart TV devices.
Live To VOD: Easily convert live streams into on-demand videos for flexible viewing.
Live Q&A: Engage learners in real-time with interactive live question-and-answer sessions.
Content Partner Portal: Simplify collaboration by managing content partnerships efficiently.
Video Scheduling: Plan and automate video release schedules for a structured learning experience.
Closed Captions: Enhance accessibility and inclusivity with text-based transcriptions for spoken content.
2. Dacast
Connect, Educate, and Stream with Live Online Class Platforms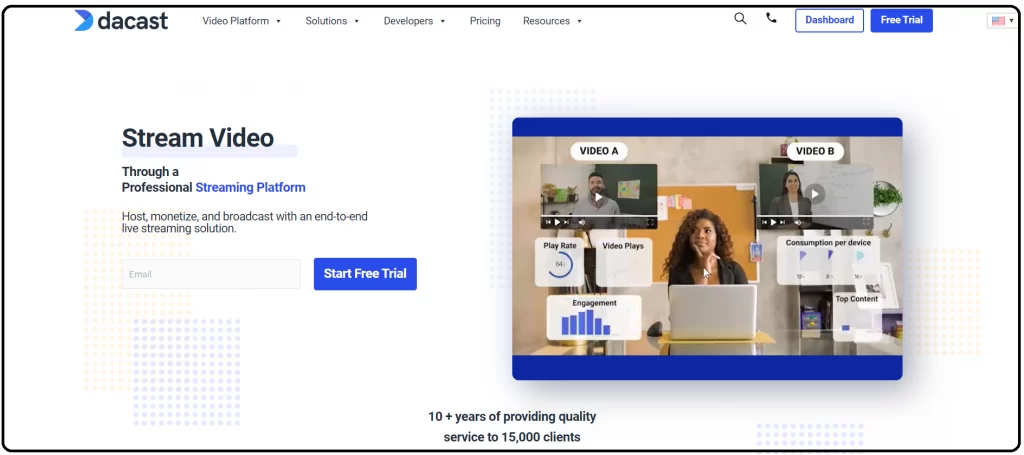 When it comes to live-streaming online classes for a limited audience, Dacast is a decent platform with the most necessary features. It offers a variety of monetization options, including pay-per-view, SVOD, and ad-based on-demand video, ensuring institutions have flexibility in their content.
Like VPlayed, Dacast also offers complete white-labeling across all plans so that institutions can maintain their brand identity. However, unlike VPlayed, you cannot customize the entire platform with Dacast, only the video player.
Plus, it is a SaaS-based platform with monthly recurring payments and user charges.
Dacast's robust features extend to powerful video uploading, an optimized CMS, advanced security measures, and specialized China video hosting. These features make it particularly well-suited for institutions and schools with extensive video-on-demand libraries.
Key Dacast features include
Access Video CMS Tools: Utilize comprehensive content management tools for efficient organization and distribution of video content.
Video Monetization with Integrated Paywall: Generate revenue by offering paid access to your videos through a built-in paywall system.
Advanced Video Analytics: Gain valuable insights into viewer behavior and engagement to optimize content and strategy.
Video Privacy and Security: Safeguard your content with various protective measures, including password-protected live streams, token-based security, domain/IP restrictions, and secure HTTPS delivery.
24/7 Technical Support: Enjoy round-the-clock assistance, ensuring seamless operation and troubleshooting for your streaming needs.
3. Panopto
Connecting Educators and Learners, Seamlessly For Live Streaming Classes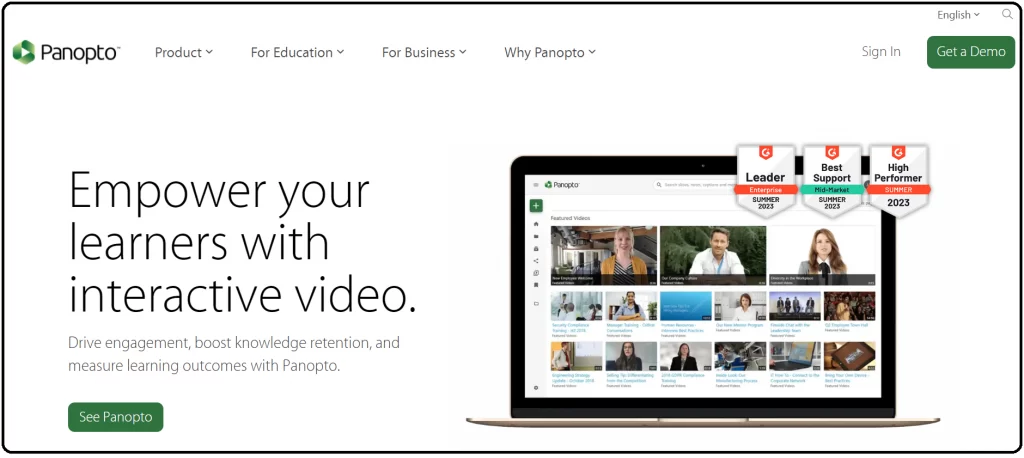 Panopto is a video platform designed mainly for education and online classes. It offers tools for creating, managing, and sharing video content.
Panopto allows users to easily record and edit videos and organize them into playlists and galleries. The platform also provides analytics and insights on video usage, allowing educators to tailor their teaching strategies and improve student engagement accordingly. Furthermore, Panopto integrates with other education tools, such as LMS and online conferencing platforms. So, in a way, Panopto is a complete solution for live-streaming online classes.
According to their website, 21 out of the world's top 25 universities use Panopto for their online classes and higher education needs.
Key Panopto features include
Virtual Classroom: Create an interactive online learning environment with collaborative tools and live streaming platform capabilities.
Video Accessibility: Simplify and reduce expenses for captioning videos, enhancing inclusivity and compliance.
Lecture Capture: Effortlessly record and archive lectures for on-demand access, improving student engagement and retention.
Student Recordings: Capture and store student presentations and assessments, facilitating review and feedback.
Video Content Management: Organize, search, and share video content efficiently for streamlined accessibility and content delivery.
4. Vimeo OTT
Empowering Education through Seamless Live Streaming.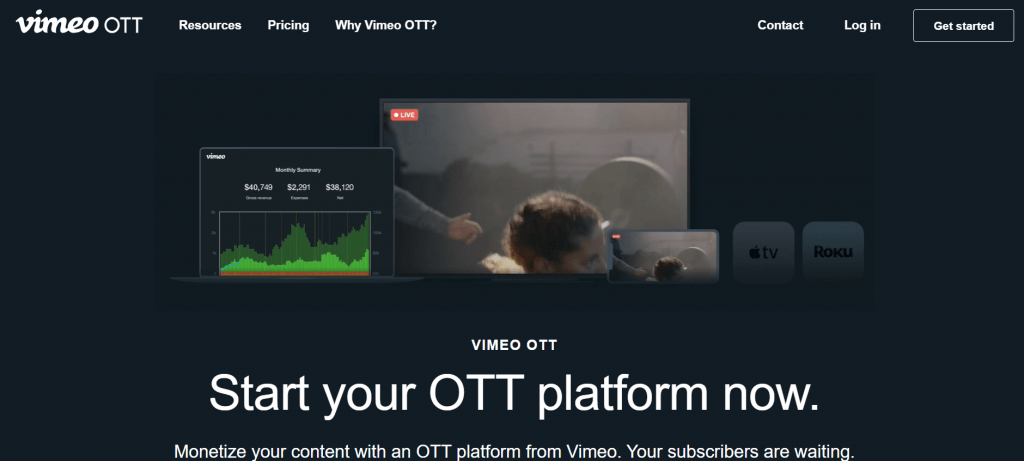 Vimeo OTT (Over-the-top) for education is a platform designed to help schools and colleges deliver top-notch video content to their students. It's easy for instructors to use – they can upload and handle videos effortlessly. Plus, it offers analytics so you can see how engaged students are. With Vimeo OTT, educators can craft personalized and interactive learning experiences. This makes it simpler for students to grasp tricky subjects and remember what they've learned.
Vimeo has some of the most reliable content delivery networks — meaning your online classes get delivered worldwide in an instant. You can also deliver high-quality video lessons accessible across devices with seamless content management and analytics.
Key Vimeo OTT features include
Branded Online Class Platform: Customize and brand your educational platform for a tailored learning experience.
Advanced Monetization Options: Utilize diverse revenue streams like pay-per-view, subscriptions, and advertising for profitability.
Viewer Analytics: Gain insights into viewer behavior to optimize content and engagement strategies.
Real-Time or On-Demand: Deliver content live or as on-demand videos for flexible learning experiences.
24/7 Customer Support: Access assistance round-the-clock for seamless platform operation and troubleshooting.
5. Muvi
Educate, Interact, and Excel through Live Streaming Education.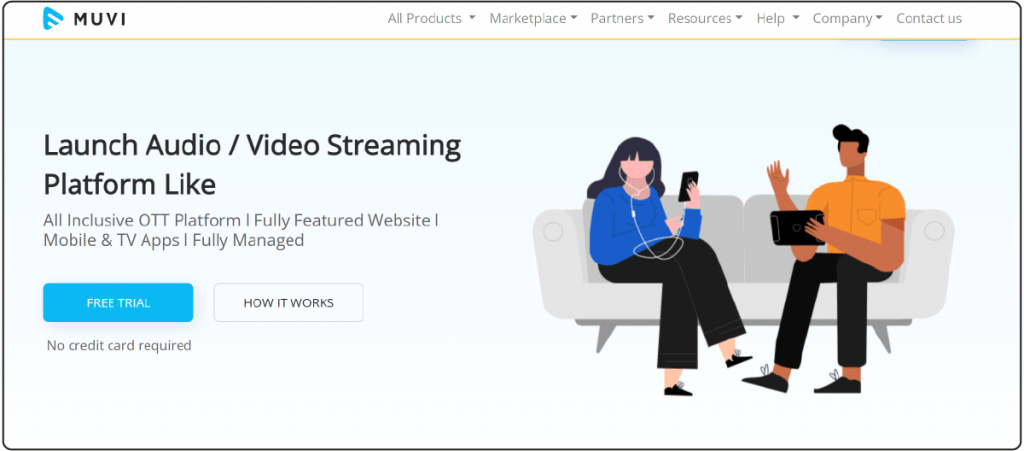 Muvi's education streaming solution is a live-streaming designed specifically for educational institutions to stream online classes, webinars, and lectures.
Like VPlayed and other platforms, Muvi provides a feature-rich, customizable platform that can be white-labeled. It includes features like custom branding, real-time analytics, and integration with popular Learning Management Systems (LMS) like Google Classrooms.
Muvi's live-streaming also supports unique and exclusive features like mobile streaming, which lets you go live right from your mobile without any extensive arrangements.
With Muvi, educators can also monitor student participation and progress, providing valuable insights into the learning process.
Key Muvi features include
Record Live Classes: Capture and save live educational sessions for on-demand access and review.
Educational Webinars, Podcasts, and Events: Host and share various educational events, fostering interactive learning experiences.
Live Chat for Learners: Enable real-time communication, promoting engagement and support among students.
Online Store for Educational Institutions: Establish an official e-store (Muvi Kart) to distribute seamless, dedicated course material.
Teach with Multi-language Subtitles: Provide content with subtitles in multiple languages to accommodate diverse learners.
6. Kaltura
Live Education, Where Knowledge Meets You Anytime, Anywhere.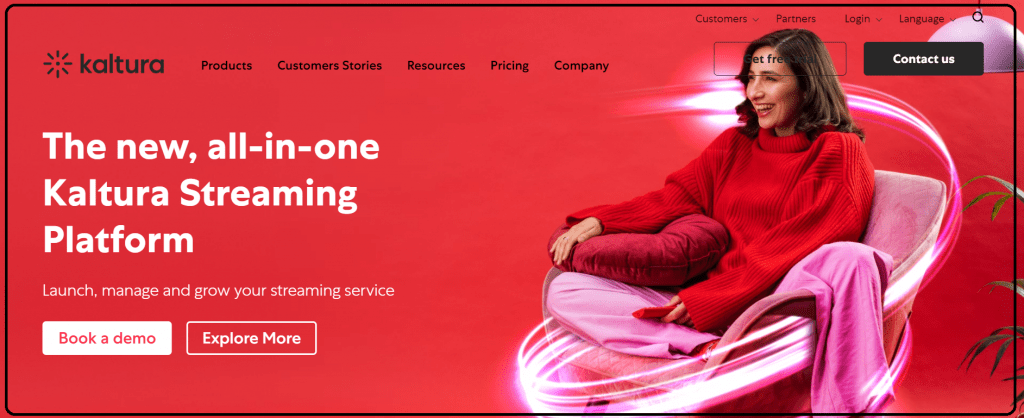 Kaltura calls its live streaming for education "Kaltura Virtual Classroom."
As you would expect with any other solution, It is a powerful online video platform for lecture capture, video conferencing, and virtual classroom experiences—the platform sports features such as live and on-demand video recording, interactive polling, and remote accessibility.
With Kaltura Virtual Classroom, educators can create engaging and super-personalized lectures and webinars for students, regardless of location. Plus, instructors can also create and manage courses, assignments, and quizzes.
Instructors can track student progress and feedback as well. Additionally, Kaltura Virtual Classroom provides a user-friendly interface that is easy to navigate — making it simple for instructors and students.
Key Kaltura features include
Video Conferencing: Instructors can conduct live virtual classes or meetings with students through high-quality video and audio.
Screen Sharing: Instructors can share their screens to demonstrate concepts or showcase presentations. This makes it easier for students to follow along with the content.
Collaboration Tools: Tools for interactive collaboration like virtual whiteboards, breakout rooms, and chat functionalities.
Student Progress Tracking: Instructors can track students' progress in real-time with attendance records, participation levels, and assessment scores.
Communication and Feedback: Students can engage in discussions with peers and instructors through text chat during live sessions. Instructors can also provide feedback and guidance to students.
Recording and Playback: Instructors can record sessions for later playback, allowing students to revisit the content at their convenience.
7. Zype
Interactive Live Streaming Education for the Modern Learner.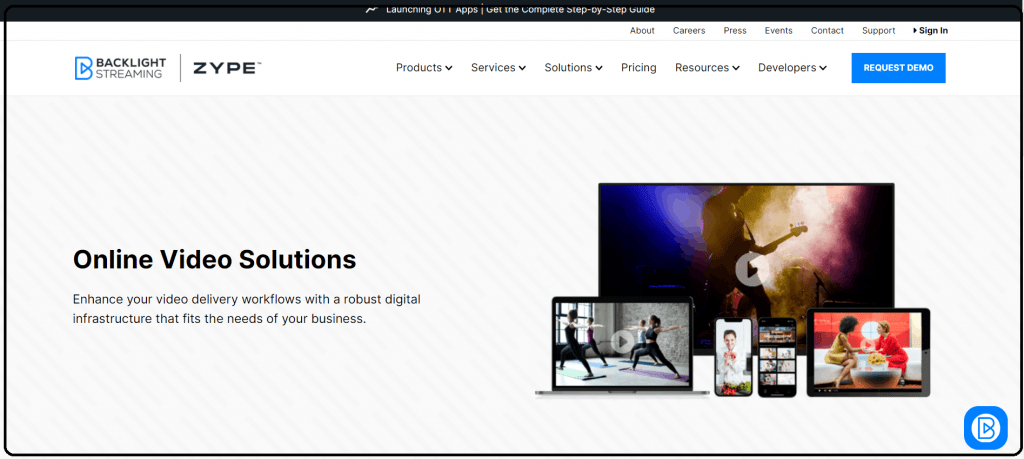 Zype's live streaming education offers one of the best education solutions in the market. It offers a wide range of courses spanning various subjects, allowing users to explore diverse topics of interest. The platform offers flexible pricing plans to accommodate users from different budgets and preferences. And with a user-friendly interface, Zype makes it super-easy for learners to navigate and enroll in courses.
Zype promotes lifelong learning. It provides resources beyond courses, including articles, forums, and community features to support this. Zype is particular about distributing quality content. So, it curates courses from reputable sources and partners with experienced instructors. Other features like Interactive learning, mobile accessibility, and a special focus on user engagement further sweeten the Zype learning experience.
Key Zype features include
Course Catalog: Zype offers a wide range of courses spanning various subjects to cater to diverse interests.
User-friendly Interface: Zype's platform is designed with easy navigation, clear course details, ratings, and reviews for user convenience.
Flexible Monetization Plans: Users can choose from one-time purchases and subscriptions, and even access free courses on Zype.
Lifelong Learning Resources: In addition to courses, Zype provides access to articles, forums, and community features for continued learning.
Quality Content and Instructors: Zype ensures high-quality content by curating courses from reputable sources and partnering with experienced instructors.
Interactive Learning Experience: Zype incorporates interactive elements like quizzes, assignments, and discussion boards to enhance learner engagement.
Mobile Accessibility: Zype is accessible on various devices, including desktops, laptops, tablets, and smartphones for on-the-go learning.
Conclusion
As we have seen, there's no such thing as a perfect live streaming education that suits all audiences across use cases.
However, when it comes to live streaming for education, you should choose a platform that caters to your demand.
Or, you can simply choose the platform that checks the most boxes for live streaming education.
VPlayed, for example, offers a solid, reliable live-streaming for education.
You can customize every part of the platform to fit your needs while casting your brand identity.
And above all, VPlayed is the only platform with no usage fees or monthly recurring payments.
Once you've built the platform, you get access to its source code and use it for a lifetime.
If You Have Educational Content And Want To Make Money, Schedule A Free Demo And We Can Assist You!