When spoken about technology in audio streaming it is impressive to know that it has grown at great heights over these last few years, right! In the past, walkman & CD drive used to serve as a luxury for listening to the latest on demand audio streaming, and now its history. Today, a personalized audio streaming platform is the go-getter for readily available online assets. Music downloads on phones or listening to online radio station at your own convenience has proved to be the best takeaway to self- build an audio business platform.
There was a time when downloading music on phones or listening to radio was the only means were we could rejoice audio playbacks back & forth. Now, with the power of internet connectivity, all you need to make sure is that it is connected actively with a device were you can search for your favorite live or on demand numbers to play them.
Spotify being the largest market leader accounts for nearly 30% of world's music streaming revenues and has 33% of paid subscriptions having highest global market share. (ventuno)
Things have developed immensely now, where Spotify and a diverse hosted groups of other comparable applications are accessible for clients in pretty much all aspects of the globe. Particularly, after the upsurge of COVID-19 pandemic sent the worldwide crowds inside, the quantity of sound streaming endorsers has helped to reach new revenue peaks sharply in the line.
What Is Audio Streaming?
What is audio streaming? It is a One-way online audio platform that exports over a data network is known as audio streaming. On PCs, tablets, smartphones, wearable devices we utilize it to listen to audio clips & radio broadcasts from the Internet. Set up an advanced streaming infrastructure to broadcast a user's music library to a digital media hub connected to a stereo or home theatre system. There are different types of audio streaming solutions that are discussed below.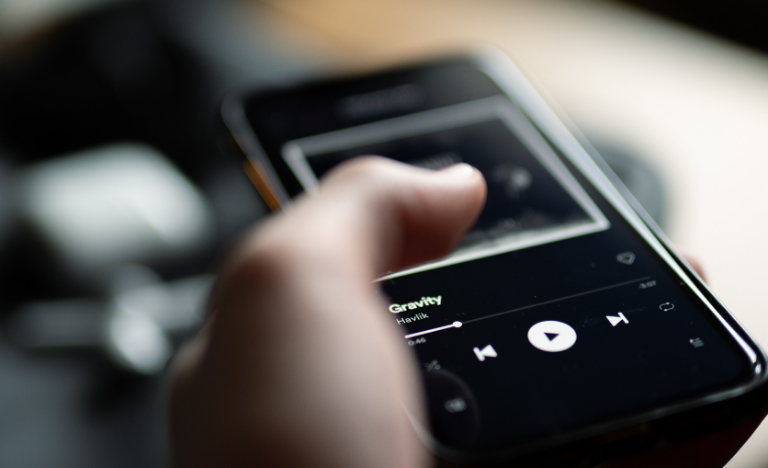 Difference Between On-Demand Vs Live Audio Streaming?
What Is On Demand Audio Streaming?
In on-demand audio streaming, streams are prepared in a way where they get easily delivered wherever users choose to play the content of their choice at their own flexible timeslots. Once a particular audio content is selected the online streaming experience is enhanced by provisioning accessibility to start, pause, rewind, stop or change it to the next playlist at their discretion. Some of the examples of on-demand music streaming service providers are Apple Music, SoundCloud, Spotify, etc.
Benefits Of Streaming Audio On-Demand:
Users can always hand-pick their favorite music which they would prefer in listening to. This is advantageous for service providers due to high rates of user retention.
The user engagement is high, due to the recording of audio files and the desired file being played on-demand at any point in time.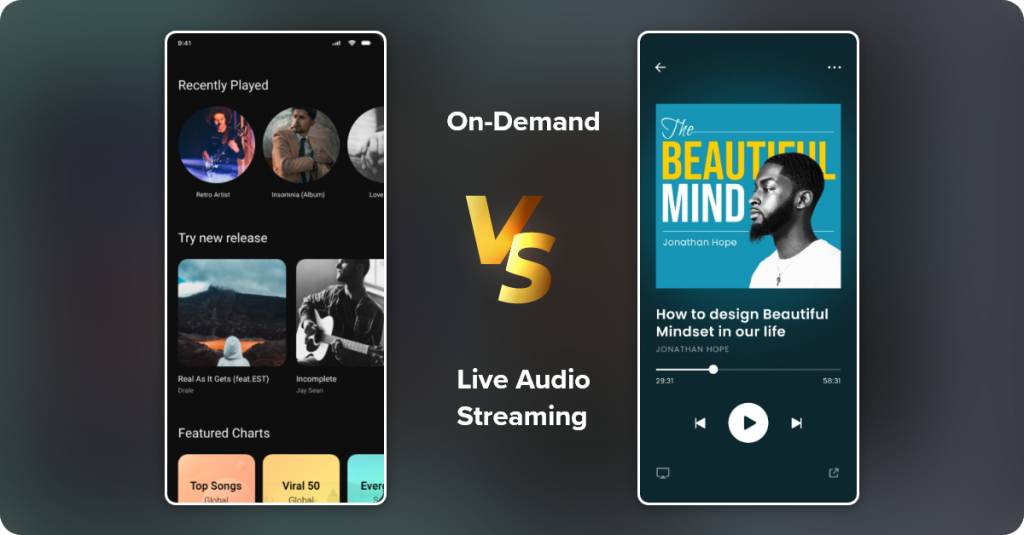 What Is Live Audio Streaming?
In contrast, to on-demand services live audio broadcasts offer content that is streamed in real-time, where users can also record the content while being broadcasted then & there. At the time of streaming any live event, talk show, or conducting a live audio show on air gives users a chance to listen to them from anywhere at any time irrespective of any barriers. Some of the top-most benchmarks of live audio streaming platforms are BBC Live Audio, Capital FM, Radio X, etc.
Wondering which one would be better for you? I would say, there isn't any particular one to pick between the two, since both showcase its uniqueness & highlight its significant benefits.
Benefits Of Live Audio Streaming:
Now with advanced live assistance of audio streaming software, you can deliver a linear stream of music, ads, and other audio content that can be used 24/7.
In the case of streaming live audio, it supports any genre of business industry such as sports, news, etc.
How To Create An Audio Streaming Platform?
To create an audio streaming platform you can embed & host your own audio streams which gives you a complete centralized ownership of your content managed without any middle entity interruptions. All you need to do is integrate your audio content into a platform with an embedded audio player. Once you'll have your customized platform hosted, to get started with shaping your entire platform infrastructure at VPlayed, you'll need the following: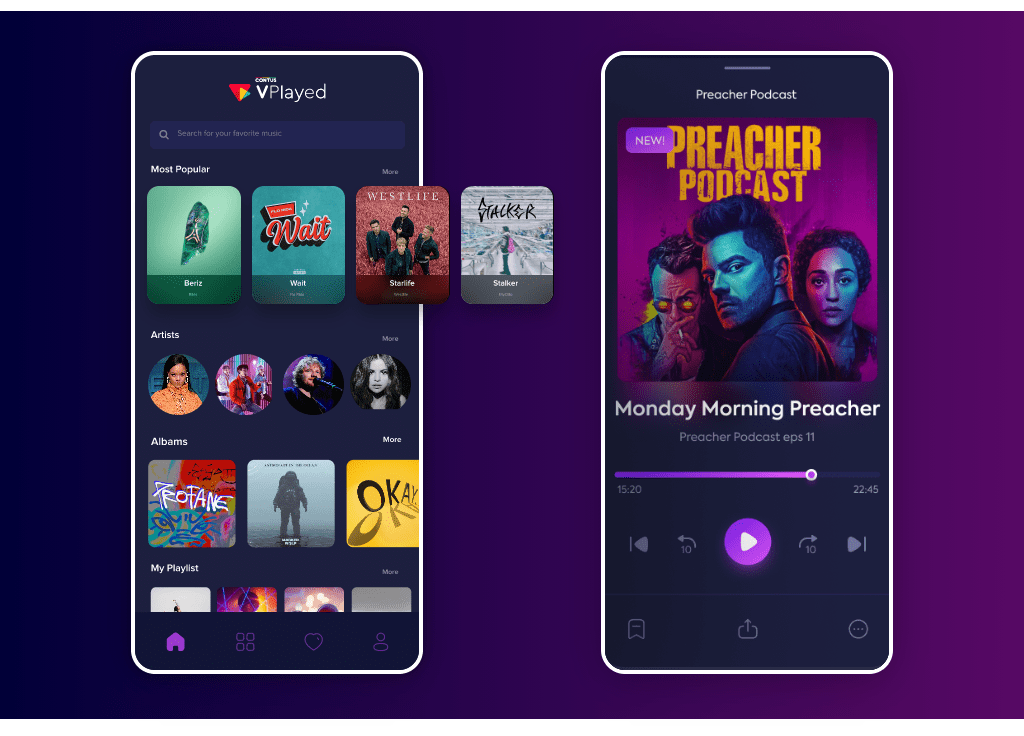 1. Choose A Service Type Of Audio Streaming
First, you need to decide what type of streaming service you would like to offer to your potential customers. It is highly dependent on the appealing service facilitated with intelligent curation of content having a vast catalog mixed with high sound quality integrated into your audio streaming software.
2. Streaming Platforms Of Music & Podcast
This is said to deliver the best audio streaming service amongst others. You can ensure access to your viewers with a huge collection in an organized music library or podcasts here. Based on your conditions – whether it is free or paid subscriptions, users can hear songs or engage with podcasts of their choice.
3. Platforms For Distribution Of Audio Streams
After that, you need to decide which platforms you would want to list out to distribute for your loyal users while building a music streaming website. Additionally, you can build your branded live apps for audio streaming delivering it sonic for every user worldwide creating a blissful experience. Either Spotify, Pandora, or Apple Music seem to gain applause for every single service they deliver. Its success leads let's broadcasting entrepreneurs to think about how to start their own audio-based or music application/website.
In fact, the market has plenty of room for such an amazing streaming services that bring core innovativeness. But reaching the set heights by the market leaders is quite challenging. What makes them tick to successfully grow? Take extra attention to have the most essential streaming features to create an OTT app/platform.
Want To Build A Top-Notch Audio Streaming Platform For Your Business?
Features To Consider While Creating A Audio Streaming App
Industry giant players like Spotify, Apple Music, Pandora are admired by the audience who are much awaited for what's in there in their audio streaming platforms for any new arrivals!!
Indeed, their repeated journey of success makes ingenious entrepreneurs wonder, how to create a brand-new audio streaming live app combined with on-demand streaming services? Even though it gets much harder to reach industry market heights, they always pave the way for you to reach it. Let's have a prime check on key features to build a music streaming app like Spotify.

1. Registration Of A User
It is always better when your users are given access to your content only after they successfully sign in to your audio on demand platform. Give them the option to sign in either from Gmail, Facebook or register separately with detailed data.
2. Create A Search Bar
This is the key component of your streaming solution where users can easily navigate their searchers smartly. While entering the platform, potential users would make use of the search bar, & find audios at a jet speed for which they were looking.
3. Dynamic Audio Player
Any kind of streaming website will definitely need an audio player. Make it customizable, with options like play, pause, rewind, stop, shuffle, etc. along with its lyrics. The creation of these, enable audios to play in the background while users are engaged with the same device for a different purpose.
4. Prepare Organized Playlists
When you're looking to create specific genres of your audio content, a playlist for top videos developed through cutting-edge streaming software will help to play numbers according to the user's most-liked choices like a favorite artist or trendy songs.
5. Play Audios At Offline Mode
Even though this feature isn't a compulsion to add, it might be useful while creating audio streaming apps to facilitate users with download & offline content play. Users can utilize this option when they are on the move, anywhere anytime.
6. Suggestions That Users May Like
Shaping better user eligibility is proportional to great value-addition to your users. A recommendation engine can help your users to know what's on-trend at the moment for which you can recommend audiobooks, or music selectively, based on the user's past activities.
7. Device With OS Compatibility
When you plan to launch your best audio streaming platform, surely it needs to be compatible across a wide range of music devices that you think to offer it on. Easy installation of your music app on various devices right from laptop to mobile or tabs, smart tv apps, or other media boxes is a necessary requirement.
8. Multi-Format Rendition Support
Just like an over-the-top platform requires multiple format support, likewise when releasing your audio-based platform as streaming content owners you need to support your audio files in formats like .mp3, H.264, HEVC, VP8, & others. These can be rendered in different bitrates for smooth playability.
9. Storage Capacity
The number of tracks & audio pieces is primarily dependent on the amount of storage you can provide in the broadcasting software so that these are categorically accommodated. Many streaming platforms charge for every bite of storage & some offer a starter plan along with a restricted number of audio uploads.
10. Fairly Monetization Models
Monetize audio content within your custom-built streaming website using Subscription-based, Ad-Supported else a combination of the three making it Hybrid. Apart from that, you can select a platform that's integrated with one-time or multi-use generic coupons, & many more.
11. Own Your Audio White label Platform
Definitely, you may aim to build a white label music streaming platform. This means that your website & apps will carry your own trademark (logo) that is created using the best audio streaming software. You can self-host the platform branding your domain to increase your platform credibility completely.
12. Streaming IT Infrastructure
Make sure that your personalized branded platform provides an end-to-end solution that's equipped with frontend & backend technologies supported through robust IT infrastructure. Every IT infrastructure platform providers should provide servers, storage, processing power, etc. to run your audio-based platform.
13. Plug-in Playlist & Queue
You can also provide your listeners with a flexible option to create customized playlists based on their choices of genre, artists, moods, bands, etc. Tracks can be highlighted on a number of parameters in playlists. Compiling according to the different tastes is an effective way to queue them precisely.
14. Audience Reach With Social Sharing
As audio streaming apps for varied devices are increasingly becoming popular it's clear that listeners want to share their enjoyable content in the social environment. Therefore, with just one click of a button, it might help you to promote & acquire better traffic via your listeners to your platform.
How To Monetize Your Audio Streaming Platform?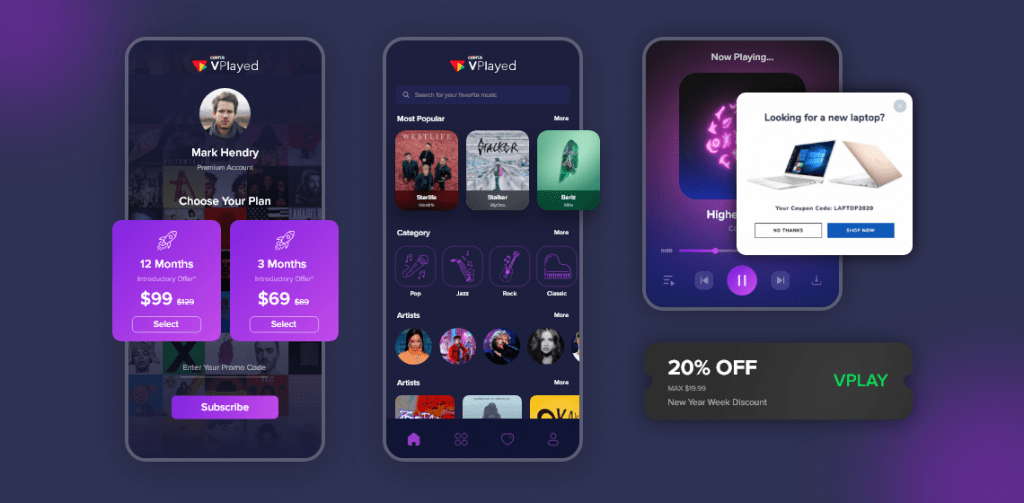 1. In-App Advertisement
Harness the power of limitless commercials as images or video stories in the midst of streaming tracks by utilizing sound streaming servers and quantify your income with over-rated utility or service ads.
2. Premium AOD Model
Reserving exclusive content for a premium service either for on demand or live services within your audio streaming business can offer you with premium customers carried with lump sum money.
3. Turn Your Visitors Into Paid Subscribers
Now that you have gained freemium users from the beginning converting them into paid ones through your audio streaming custom-built app would love to upgrade their plan & pay for uninterrupted streaming.
4. In- Stream Ads
Many content providers who are exploring ways in how to create a audio streaming website earning millions are trying to capitalize on the new medium of audio. However, what if you don't have access to a studio? Creating an audio ad for your business is easier, faster, and less expensive than you might expect. Now distribution of short commercials in audio format via top online streaming platforms has made it achievable through audio advertising. Podcasts or music streaming apps have created a big opportunity for leveraging better ways of monetization.
5. Leverage On Situational Opportunities
Guarantee to leverage specific occasions were you can bring significant yields with your live audio platform content through coupon codes and limited time promotional offers pitched to have better effective monetization outcomes with improved brand engagement with customers.
How Much Does It Cost To Develop An Audio Streaming App?
The cost to develop an audio streaming platform can vary depending on customization in every functionality during the development phase of the app. However, overall development cost at the initial stage cannot be estimated in the first place. For the mobile version, the development of the audio streaming app takes a longer time. Other deciding factors that come into play are your location, ownership costs, deployment options like on cloud/on-premise & much more.
Conclusion
The vibrant market of streaming has created additional opportunities for innovation in recent years due to neck-to-neck competition. In business development models the importance of consumer experience has become more essential than ever before. This gives more attention to the trend towards any kind of audio streaming on platforms as well as mobile apps.
Due to consistent OTT app upgrades, people's involvement has increased. The development of the audio streaming app integrates improvised and highly responsive. Therefore music/audio streaming apps will be a more profitable undertaking in the coming years.
If You Already Have An Idea About Starting An Audio Streaming Platform, Schedule a Free Demo And We'll Get You On The Road To Audio Streaming Success