Video streaming technology has seen its growing popularity and we know that in upcoming years it is going to go a long way. Musicians, and content producers are increasingly using white label ott streaming services in order to engage the mindset of audiences.
Using videos to reach out and touch audiences large & small, whether live-streamed or on-demand, it is transforming how we all connect with entertainment, education, and everything in between.
They would be able to personalize the complete interface to fit their brand requirements with a brandable video platform. When businesses use videos to reach out to external audiences, branding is crucial.
It's counter-intuitive to showcase your customers, the videos to promote your media business on an elevated platform that can boast another brand. It's critical for you to keep your viewers engaged on your content as a broadcaster.
And so, it is supportive to one of the primary aspects that plays a huge role in the streaming business. And, that talks about content original showcasing, its capacity to support ownership with many more factors in the line.
I am sure, you must be knowing about whitelabelling that potentializes streaming business owners in a preconditioned way…. Let's take a throwback at it again..
13+ White-Label OTT Platforms In 2023
What is White Label Streaming?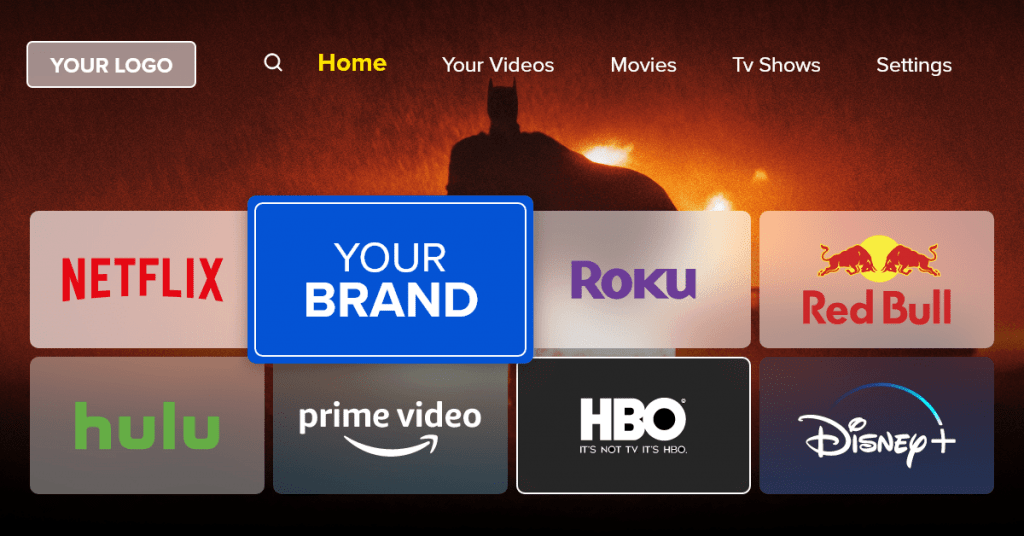 A white-label OTT solution is a pre-built video streaming platform. Streaming companies use them to launch their branded streaming service without building one from scratch.
Companies can customize the platform with their own branding and features with a white-label solution.
It provides the flexibility to add or remove functionalities as needed. It is a cost-effective way to launch a streaming service.
It saves them time and money and allows companies to offer their unique streaming service.
The vendor providing the white-label OTT solution handles technical support, maintenance, and upgrades. The vendor also ensures that the platform remains secure and up-to-date.
Some Benefits of using a white label OTT solution include:
Faster time to market:
With a white-label OTT solution, no extensive development works is needed.
Custom branding:
Companies can customize the platform with their own branding. It allows them to create a unique identity in the crowded streaming industry.
Scalability:
White label OTT solutions are built to scale. So, companies can easily add more content and users as their service grows.
Cost-effectiveness:
Using a white label OTT solution is generally more cost-effective than developing a custom solution from scratch.
Technical support:
The vendor provides technical support, maintenance, and upgrades, ensuring that the platform remains up-to-date and secure.
---
Advantages of White Label Streaming Services
They usually provide more flexibility in terms of branding, video monetization, content organizing, and so on.
When compared to streaming on a free platform like YouTube, white-label streaming gives a more professional & reliant impression to viewers.
This type of platform allows you the ability to distribute video material that is devoid of distractions.
Third-party branding, unwanted commercials, & video suggestions from other service providers are all eliminated with a white-label streaming service.
Many white-label streaming companies let you sell your video content online with ads on your own video selling platforms terms.
Build video streaming app functionality using our technology within your platform is a sure way to create legions of committed users.
Whether they're looking for music clips, live streaming of concerts, sporting events, executive meetings, vlogs, etc your users can have access to all kinds of content.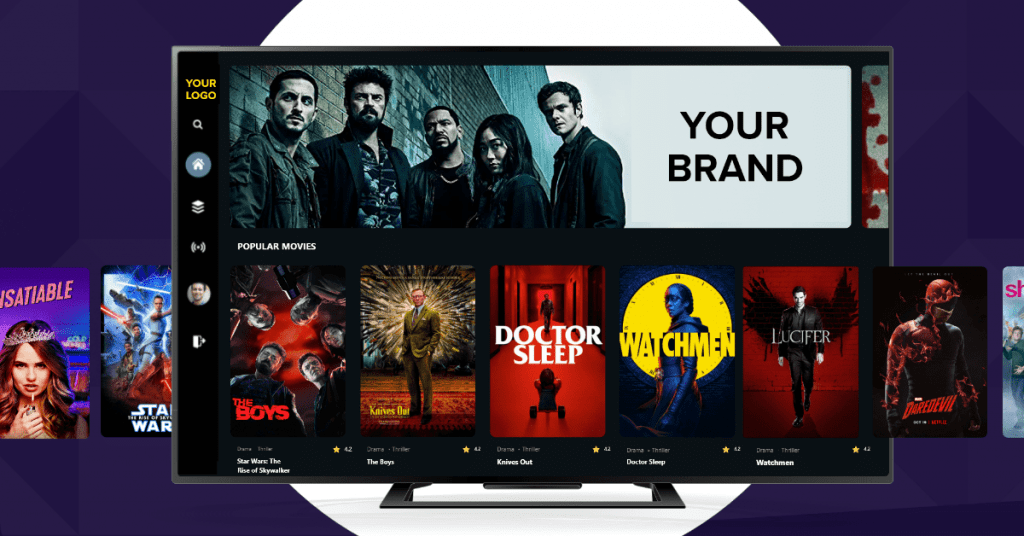 Why you Need to Choose White-label Streaming Services?
Whitelabel's solution lets you have everything.. It allows your publishers and content creators to fine-tune their video ad revenue and monetization.
We believe it is the ideal answer for OTT service providers and marketing agencies, as well as other businesses looking to provide a cost-effective and dependable video hosting and monetization platform.
Get to have, a white-label solution includes all features that make our video platform and HTML5 player with powerful and cutting-edge technologies.
Instead of repeating the process, you may use our White-Label live & VOD platform to benefit from an eminent platform provider efforts.
That's right, you can buy our White-Label solution and rebrand it as your own, with access to all of the built-in features.
In the upcoming segment let's look into..
13 Best White-label OTT Platforms & Streaming Services in 2023
The ideal move for your OTT or VOD services is to use a white-label video platform. Why? Because it enables you to have a cost-effective video platform with cutting-edge capabilities all in one go.
Everything is taken care of end-to-end while you can focus on growing your business.
Here is the rundown list of top white label ott platform providers such as VPlayed, Dacast, Vidyard, Wowza, Kaltura, Vimeo, JW Player and more to empower your content with scalable video streaming infrastructure.
Let's see each of the white label vod platforms in detailed with features.
1. VPlayed
All-in-One White label OTT Platform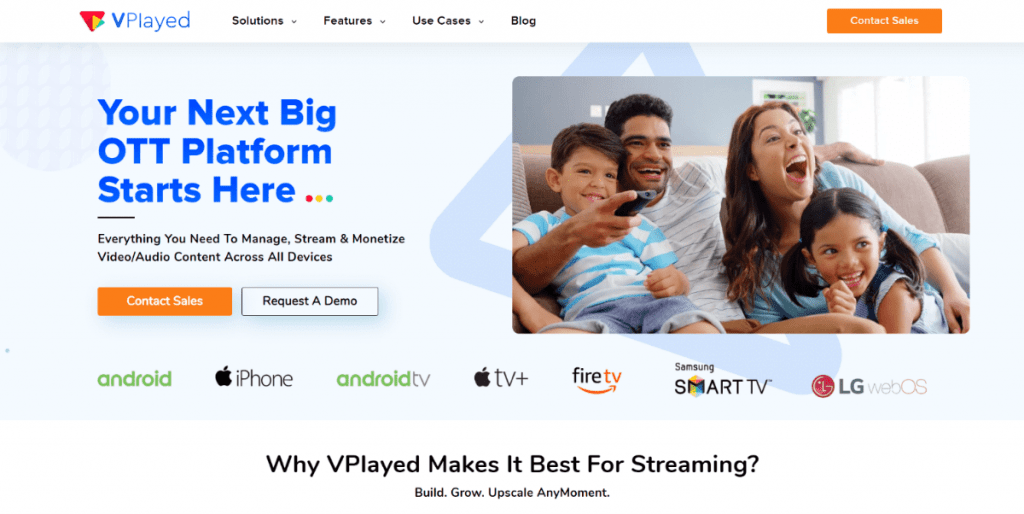 VPlayed is a single white label ott platform that provides a flexible streaming solution for businesses that includes cutting-edge features and end-to-end encryption.
Their digital security mechanisms, together with 150+ streaming capabilities, deliver exceptional consumer interaction, boosting your video on demand software platform with 6+ revenue-generating monetization models.
VPlayed's Video Streaming Solution Has The Following Highlighted Features:
Ensure flawless streaming with the help of a dynamic video player
Robust video DRM technologies are capable of eradicating all forms of digital piracy
Increase your revenue potential by using a variety of monetization techniques
Expert streaming tools assist you in completely customizing the platform at any level
Ensure seamless platform integration with on-premise or cloud alternatives
For quote-based plans, fill out this inquiry form, You may also opt for white label OTT Platform Free Demo Here
2.
Dacast
Professional Whitelabel VOD hosting platform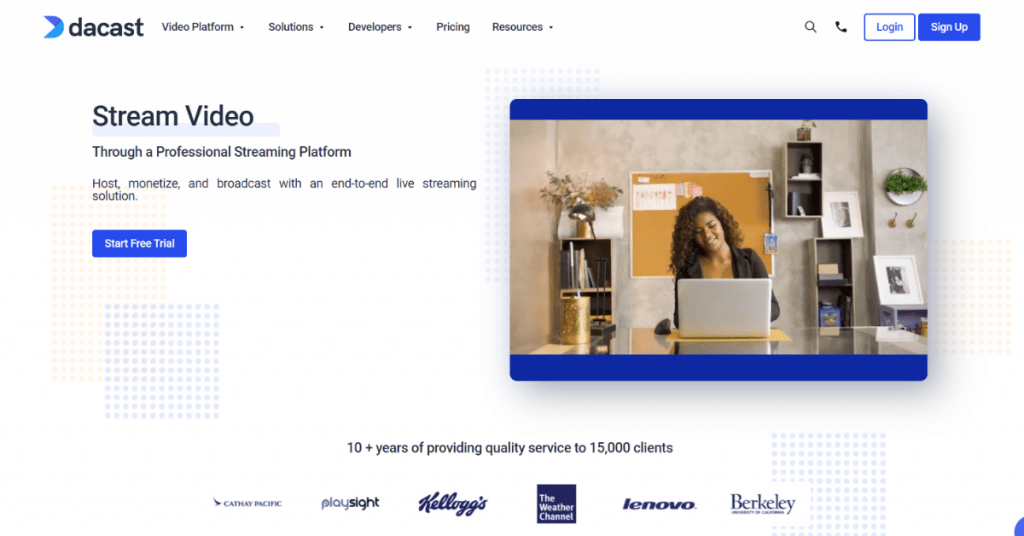 Dacast is a unified whitelabel video streaming solution that includes VOD hosting as well as live streaming setup. It has a number of advanced capabilities for internet video hosting.
Video monetization, top-tier security, video API global video distribution, & top-tier video delivery are among the advanced features on Dacast.
It's perfect for enterprise firms and other professional groups who want to conduct high-quality live and on-demand video broadcasts.
For Online Video Sharing, Use Dacast's User-friendly Feature Platform
:
Top CDNs that are trustworthy and appropriate for live events
Broadcast the best

video

using a security-graded

whitelabel software
Streams are guaranteed to be latent & buffer-free while using the HLS HTML5 player
For real-time content delivery, support for live encoding is essential
Third-party players with a wide variety of system compatibility are integrated
Multi-bitrate streaming with adaptable internet connection rates
Tired of using Dacast?
See why Dacast is not suitable to manage your OTT platform and why you need a
Dacast Alternative
3.
Vidyard
Powerful Whitelabel TV Streaming Service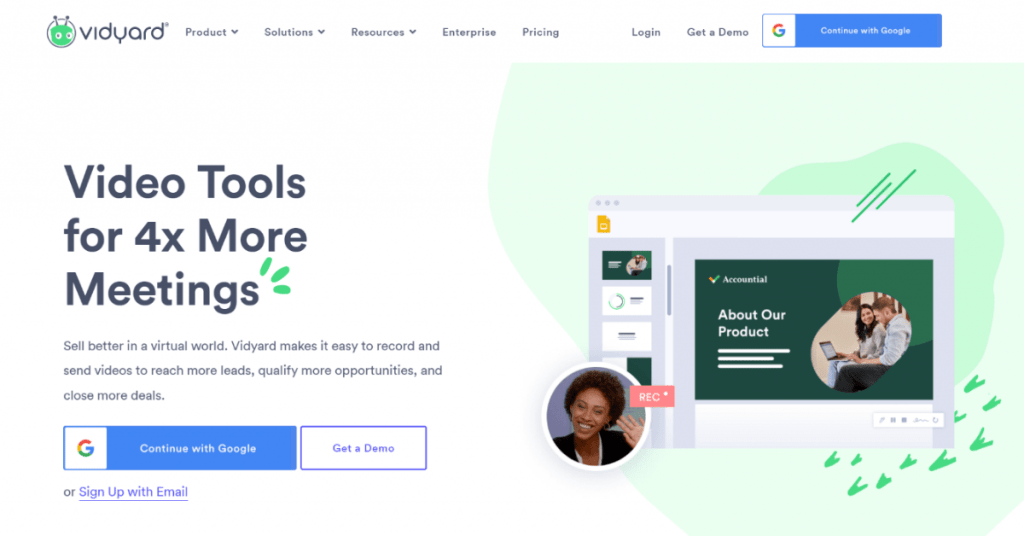 Vidyard is the simplest way to record and transmit videos that help your business survive in today's virtual environment by fostering personal connections.
From simple video creation to advanced video analytics, from small business to enterprise, they have got you covered.
Their white label online video platform includes all the tools you'll need to engage your audience, no matter who they are or where they are.
Highlight Features Of Vidyard white label VOD platform Includes:
Users may easily record videos up to an hour long on any device

Playlist creation with combined content in

white label video player

With or without your camera, users can record screens

Create a 3-second GIF preview to embed in emails automatically

Trim the beginning, middle, or end of your video to make rapid adjustments

Viewers can use the same sales engagement platform to create & send videos
4.
Wowza
Best Whitelabel Business Streaming Opportunities
Wowza enables you to deliver consistent and smooth streams to a variety of destinations using a single source of high-speed connectivity, as well as broadcast high-quality content material all over the world.
Wowza's white label live broadcast video on demand server software assists in increasing viewership.
They also place a strong emphasis on providing free trial video on demand TV streaming services in a variety of formats, including movies, music albums, television shows, virtual events, and so on.
Features Distinguishing Wowza As A Top-Notch Whitelabel Video Streaming Platform:
Get an accurate data of viewers sorted based on country, location

Allow live streams to be distributed through a CDN in a seamless manner

Users may now run their 24×7 streams for only $500 per month

Adaptive playback can be enabled at any bandwidth

Top-of-the-line digital-first video security & access control
5.
Brightcove
Full-scale Whitelabel Video Monetization Solution
Brightcove is an internet video platform geared toward major businesses. Its product line is separated into several categories.
Brightcove also includes Zencoder, a cloud media processing application. Video Cloud is Brightcove's streaming and hosting platform, among other things.
This white label platform has a multi-screen player and allows for monetization.
Brightcove's main characteristics are:
HTML5 video player ensures high-quality video playback

Organic traffic has increased as a result of the use of key video marketing techniques

A media player suite that works with all compatible devices

Video monetization via client-side interactivity

Management of video libraries using CRM connectivity

Video on demand hosting and hybrid digital TV with live streaming
Tired of using Brightcove?
6.
Kaltura
Whitelabel video content management platform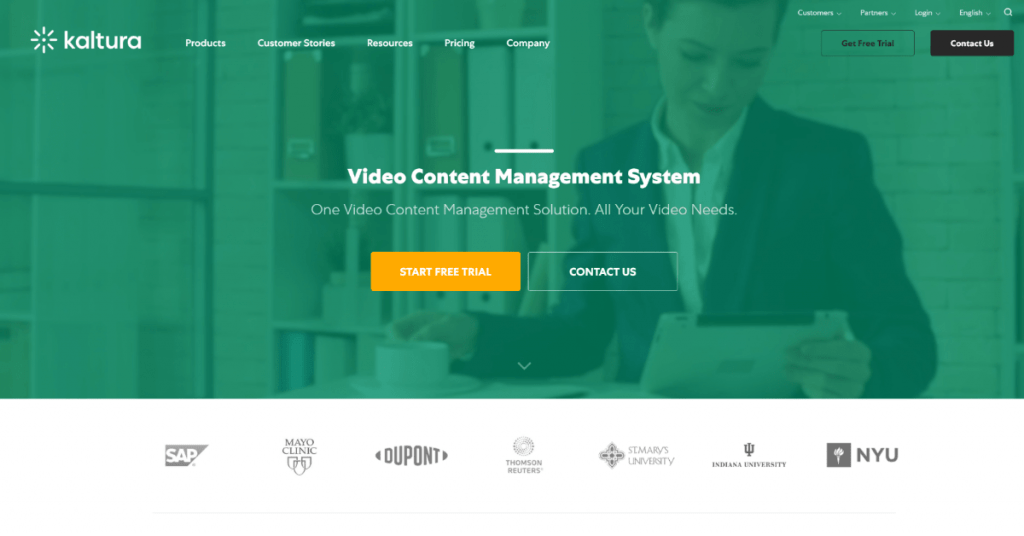 Kaltura's open-source software incorporates a video management component, providing it a significant advantage in the OVP market.
This business has extensive experience working with education streaming institutions. Kaltura uses a cloud-based white label online video platform to deliver on-demand and live streaming distribution, as well as hosting services.
Kaltura stands out from the rest of the market when it comes to personalization. Because their software is open-source, a user community can create and share a variety of add-ons and custom integrations.
The following are some of the features of Kaltura's video streaming platform
:
Live streaming and video on demand are hosted on the same server
Adaptive streaming and other best-of-breed streaming protocols are supported
7.
JW Player
Whitelabel End-to-End Video Solution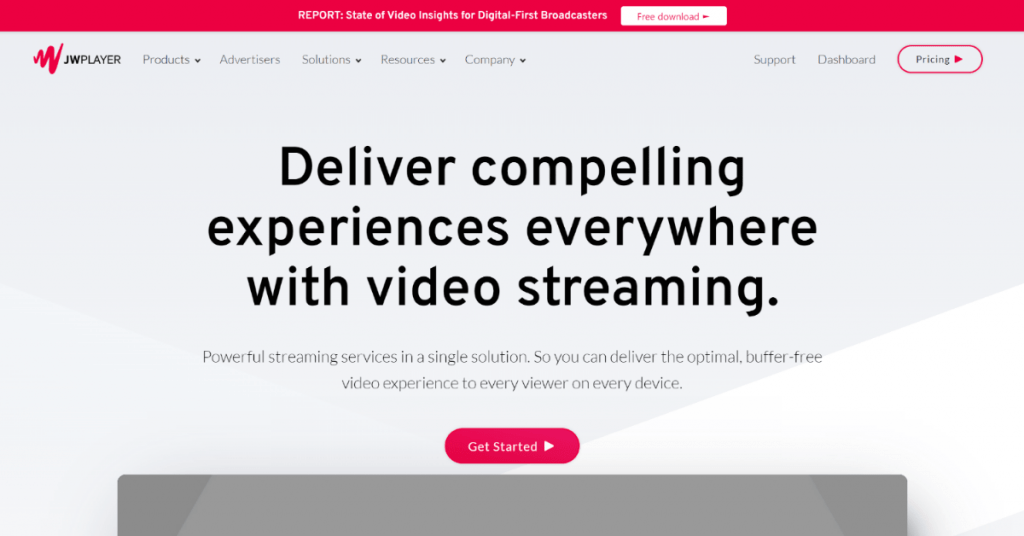 JW Player was designed to provide exceptionally stable video streaming services, making it an excellent alternative for media companies.
In contrast, the platform has subsequently expanded to include vod meaning, video hosting and distribution, as well as live and on-demand streaming possibilities.
In JW Player, video material may be played back in a number of formats and resolutions with acceptable quality.
JW Player's ability to assist video companies to communicate and connect with their target audiences through their whitelabel community platform & allows publishers to have a truly immersive viewing experience.
The following is a list of JW Player's OVP Platform Features
:
With a global delivery uptime of 99.99%, they can deliver to any location
Allows you to create personalized video galleries using a cloud-based platform
Allows for 1080p high-definition streaming
Multi-bitrate and adaptive streaming provide high-quality output with no interruptions
You receive full access to the video API with all plans
8.
Vimeo
Top White label Video Marketing Software Tools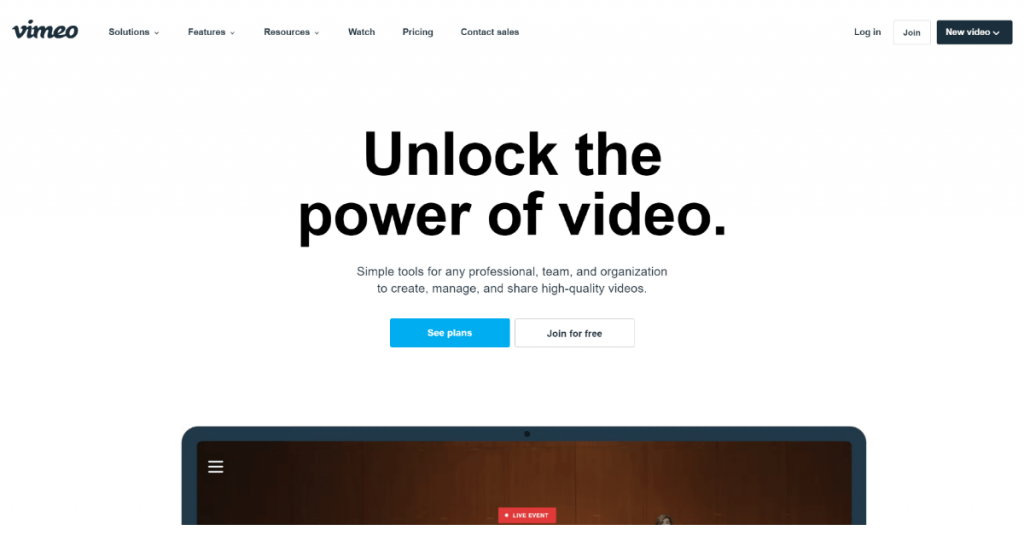 Vimeo's online video platform, originally launched in 2004, enables media producers, video influencers, and company owners to construct their own subscription-based OTT app or website and generate money on a continuous basis.
Vimeo has made a big breakthrough in the B2B sector after acquiring Livestream in 2017. Livestream was a prominent service provider for whitelabel live streaming service.
Vimeo has a number of important features, including:
High-quality video is delivered using a world-class video HTML5-based player and CDNs.
Using a powerful content management system, you can upload, organize, & encode your movie streaming.
To have a powered monetization solution, use branded in-app development tools like subscriptions.
Stream live content to viewers on any device, including real-time events and VOD.
While the content and database are being moved, there will be no downtime.
Tired of using Vimeo OTT?
9.
IBM Video Streaming
Whitelabel Online Video Platform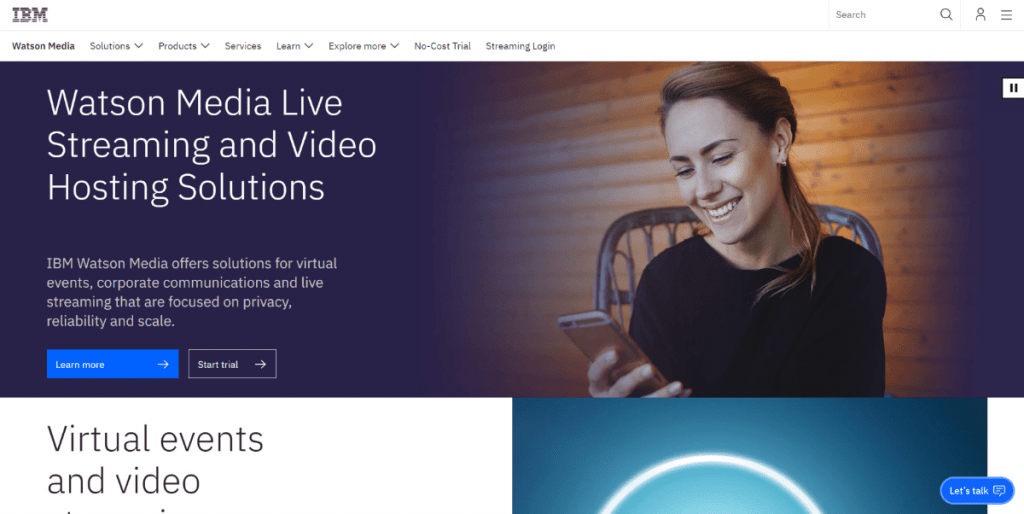 Using powerful video on demand streaming technologies, IBM Watson Media SaaS software provides AI-driven solutions for live streaming, interactive corporate communication, content management, and more.
If you want to improve your entrepreneurial conversations with virtual town halls, exclusive product releases, live stream events, and other tools, IBM Cloud is one of the best online video platforms suppliers for doing so.
Here are a few of its standout qualities that help it stand out as a top pick

:
A solid foundation for increased business streaming opportunities
Complete support throughout the process, with excellent customer service
Internally, get a content delivery server allowing seamless dissemination
Best solutions for professional broadcasting, provide 4K streaming
In a virtual event platform, a comprehensive video monetization solution is available
10.
Muvi
Whitelabel Live Video Streaming Service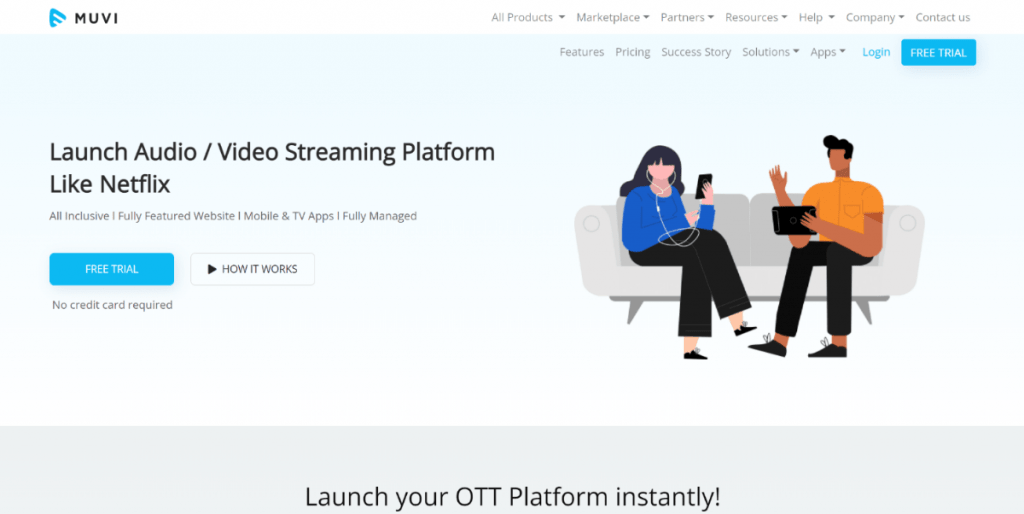 Muvi is an internet video platform that allows you to create branded multi-screen video and music streaming platforms.
It provides IT infrastructure, an online video player, DRM for websites, mobile and amazon fire TV apps, and video hosting, among other services.
The Muvi server allows you to host, manage, and send multi-format audio streaming and video to any device or platform.
Let's take a closer look at the capabilities of the platform

:
Muvi hosting includes a CDN, a CMS, a player, and analytics

Muvi is a company that specializes in website migration

Pursue videos that may be delivered in a variety of formats

With a modular encoding platform, DRM is enabled

Content is empowered with zero-lags thanks to the Transcoding SDK
11. Oxagile
Enterprise-grade video streaming solutions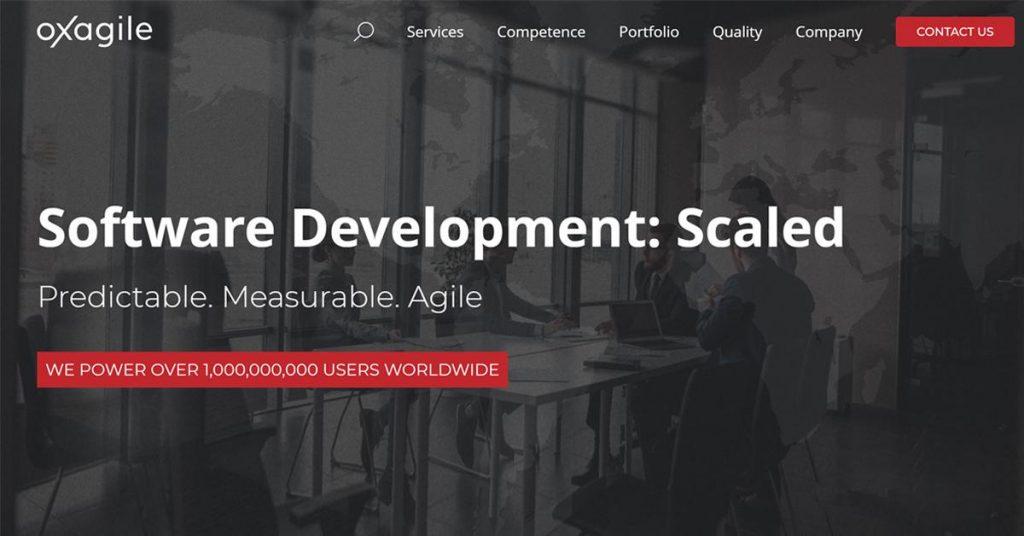 The catch-term for the next generation holds attention with the level of entertainment is offered by Oxagile.
Their custom-built white label solutions allow audiences to access any genre of content such as music, movies, news, eduction, & more.
The major highlight is leverage when audiences can access content at their own pace on any device of their choice. Business requirements are tailored to according to unique needs with next-gen personalization.
Significant Features of Oxagile White-label OTT Platform:
Complete customization for web applications to serve particular needs
AI-based audience targeting for every streaming project
Constant value delivery with faster time to accelerate process automation
Low latency solutions for streaming live or on demand streams
Hyper-personalized Video marketing solutions for digital optimization
12. Vidizmo
Branded video streaming across the globe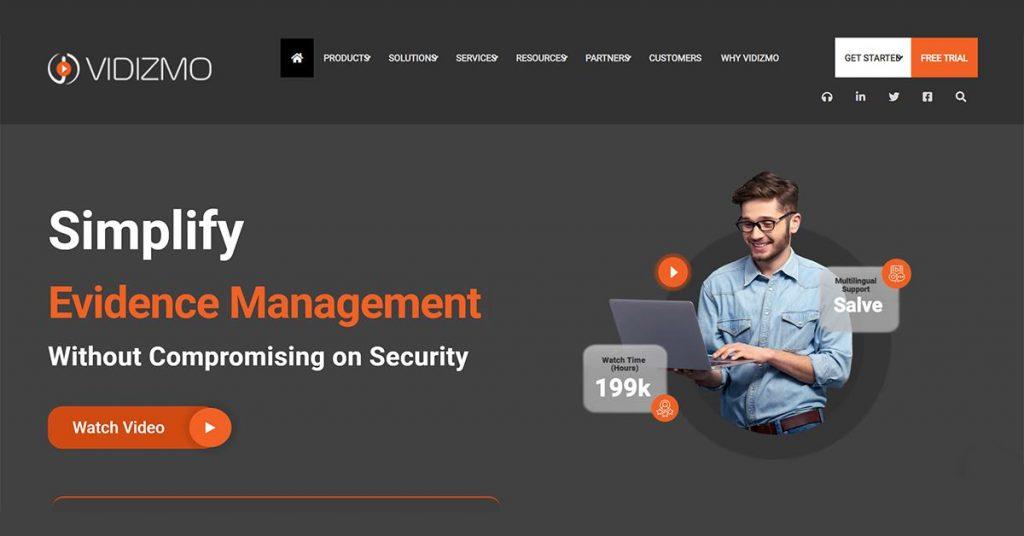 Vidizmo is a whitelabel video streaming platform that goes one step further with on-demand streaming to business of all niches.
They tend to deliver content using powerful AI & digital video solutions for entrepreneurs & mammoth brands.
Some of the significant aspect of the platform is while you could own streaming content with advanced API integration & multidevice compatibility.
Vidizmo offers the ability to customize right from logo color to reflect brand's identity.
Some of its Significant White-label VOD Features are:
Authentication of single sign-on or role-based access control
Customization of domain URL with a whitelabel video platform
Video platform integration services of any kind
Low latency live streaming across devices on the go
Download & store content on user's devices for offline viewing
13. Brid TV
Video platform for online streaming business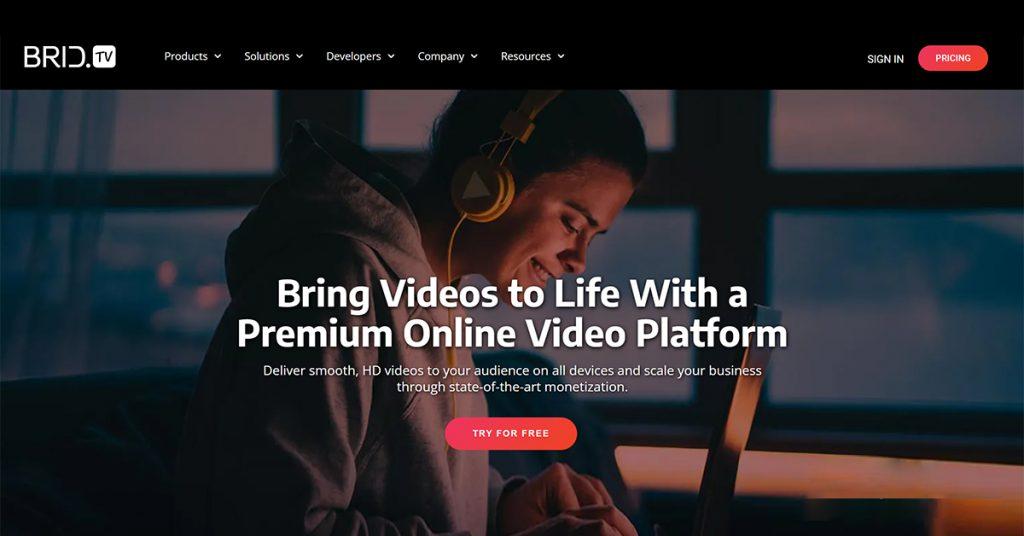 Brid TV offers you a turnkey whitelabel video streaming solution with a pre–built infrastructure with which you can monetize your thousands of content completely hassle-free.
Customize your brand image as the way you like & take complete control with the techy-grade solution. With unlimited number of content, they can be managed in a video library effortlessly.
With extensive platform entire access to API allows to integrate 3rd party services easily without any much effort.
Here are Some of its Key White-Label Video On Demand (VOD) Features:
Secure cloud servers with global CDN ensure smooth content delivery
Handles all encoding & transcoding process to save bandwidth
Reliable security of streams that includes uptime at server-side
Platform maintenance around the clock with team of experts
Configurable payment flows that's customizable to business needs
Conclusion:
You may brand your video player, choose your desired color scheme, add paywalls, and more with the help of a white-label streaming platform.
The video player should be yours as well, since the content is already yours. Professional video hosting and broadcasting require white-label video streaming services in the long run for the business.
It's the only way to own your material and post it on a video platform without leaving a trace.
If You're Ready To Incorporate White label VOD Platform Into Your Video Content Streaming, Get In Touch With Us Right Away.
Frequently Asked Questions (FAQ)
1.What Is White Label Video Streaming?
Content broadcasters can now refine or revamp their video content with unique branded casing. Services are labelled under your name, delivering professional experience along with robust streaming platform upgrade. In other words, the former creates an app without a logo, owning characteristics. But with the necessary functionalities, while the latter sells it under their defined brand.
2. How Does White Label Streaming Work?
White label ott streaming works as an online video platform which is equipped with advanced player & necessary tools to customize it according to business needs. The key element comes into play when your set of targeted audience watches your content, they will directly associate to your brand but not the service by which you stream it. You will then have a complete control over your viewer's watching interests & tailor the streaming services accordingly.
3. What Are The Features To Look For In White Label VOD Solution?
White label VOD solution has the basic features that you'll need to fit your business needs are: complete branding freedom to empower your videos, 100% customizability according to your streaming goals, fastest platform integration, reap revenue at its maximized potential with lifetime ownership value. This can allow you to create quality content instead of creating software to stream limitlessly.
4. How To Choose The Best Whitelabel OTT Platform?
When you use a white label ott platform, you need to make sure you have complete ownership of the platform. Ultimately, the whole aspect of whitelabelling services is to procure full control over your platform where you can determine its core essentials. Also, make sure to have access to your OTT content metrics, where you can find ways to improve the viewing experience of the target market. All in all get flexibility to run your video streaming business on your own style.
5. What Are The Benefits Of Building A White Label Video Platform?
The foremost thing is you can freely host services & control its viewing quality. By default you can use the cutting-edge media delivery technologies within the video player. Also white label OTT platforms help you to retain all of your branding elements & can ensure to build user loyalty towards your platform by enabling immediate video access. A major plus point comes into play when you can monetize your content to earn from advertisements & assure to deliver them without any interruptions in-between.