Thinking to take your streaming business to the next level? Here is your ultimate checkbook on OTT TV app development, which can help you to deliver a remote multi-channel experience to your viewers swiftly!!
Nowadays mobile has become on the verge of setting in digitization as people are keener to use mobile apps for individual benefit. Since everything happens at the click of a button all enterprises have come to an understanding that this instant requesting service works faster in handling the business.
Therefore the paradigm shift from personal computers to mobile devices has brought a greater impact on the business economy.
Later came the successful mobile-next technology, the invention of apps!
The amazing user interface and its customized personalization enticed the end-users & proved to be a great advantage for content proprietors to invest in!!
Here comes an interesting fact for you to consider while developing a mobile-centric business regime
By the year 2023, mobile apps are expected to have a sharp revenue growth by $935 billion 🎯 Source: BuildFire
Having said that, over the past few years the traffic of video platforms on mobile & smart TV has seen a significant increase due to their popularity
Okay now, let's talk about the most happening thing in the media & broadcast world!!
The catchword is "OTT" The word everybody is hanging on to…
Let's get into this interesting scenario & know more about it!!
What is an OTT App?
Of course, it's a golden egg that has fallen on the platter of the content creators or streaming experts, bringing opportunity galore!!
Yes, OTT apps builder have served to be the best vehicle in terms of driving revenue growth for broadcasters or content creators where content variables like on-demand videos, and live streams are showcased to your audience's laptop, smartphone, connected TV, etc. Most popular ways to monetize app content are:
Branded content streamed via wireless internet
Design your app in the most attractive way
Audiences prefer branded apps for the best UX
Best fit-bit for easy navigation & searchability
Ensure custom-centric content delivery
Some of Its types are:
Audio Streaming is a genre of streaming where live audios, podcasts, radio broadcasting, etc would help platform owners like you to entice a large volume of subscribers & have potential patent growth
This is a medium of OTT streaming app that gives an enriching experience capped with fine-tuned video player, flexible playbacks, navigational content & on the go available services to capture your viewership base with ease
To enliven a real-like experience with live & VOD views you can also integrate Mirrorfly's in-app chat or messaging features while facilitating OTT platform app content to your users, as they can have multiple interactions & do brainstorming with their peers on group chats too.
Scrolling down, you can check out the next segment of pivotal beneficiaries of OTT branded apps!!!
What are the Benefits of the OTT Application?
When you tend to micro-target your viewers and welcome them to your native OTT app it increases a high sense of engagement and flexibility as they would reach you in no time and stay connected with you as paying subscribers.
OTT app platform can be your likelihood entice you in and around media consumers where a huge aspect of "content monetization" lets you garner the highest rates of returns.
The ardent use of OTT development has been always consumer-driven, so due to this, the prevalence of enhancing your best online video platforms will always be abreast of the latest trends in the tech-savvy world.
Authority over Advertising
Advertising your brand's objective depends upon addressing the particular taste-specific needs of your consumers which makes it a viable component of media mix performance. This helps to facilitate user conversions with micro-targeting & ads justify & hold viewer's attention.
Monetization Models to Upscale Revenue
Building an OTT platform app is directly related to the aspect of video monetization strategy that is recommended for you to sky-high ROI. As a profitable OTT app development company majorly you can double your revenues through various membership plans or new subscription packages
Extend Connections to Gain better Engability
The better your video streaming services get flexible, it becomes faster to deliver VODs in the OTT market. Communicating with your audience through social channels is the key to improving engagement & build faster connections.
Actionable Insights To Measure Performance
The analysis of your over-the-top app business is dependent on essential data. So go for a video on demand platform that helps you to make informed decisions that are holistically analyzed for developing your own OTT video app.
Smooth Content Transmission Process
The broadcast-quality streams can be transmitted via advanced CDN networks. Content delivery can be promptly delivered with smooth transitions giving a buffer-free experience. Also, you can assure your VODs, Live & linear videos are rendered latency-free on a global scale.
OTT live streaming to Connect in Real-Time
The best aspect of OTT apps is that you can offer live video streams anytime simultaneously on multiple devices targeting niche-specific audiences. It has been proved to be the best medium to capitalize with creative word-of-mouth campaigning & appeal to specific target categories.
Industries Taking Leverage by creating OTT App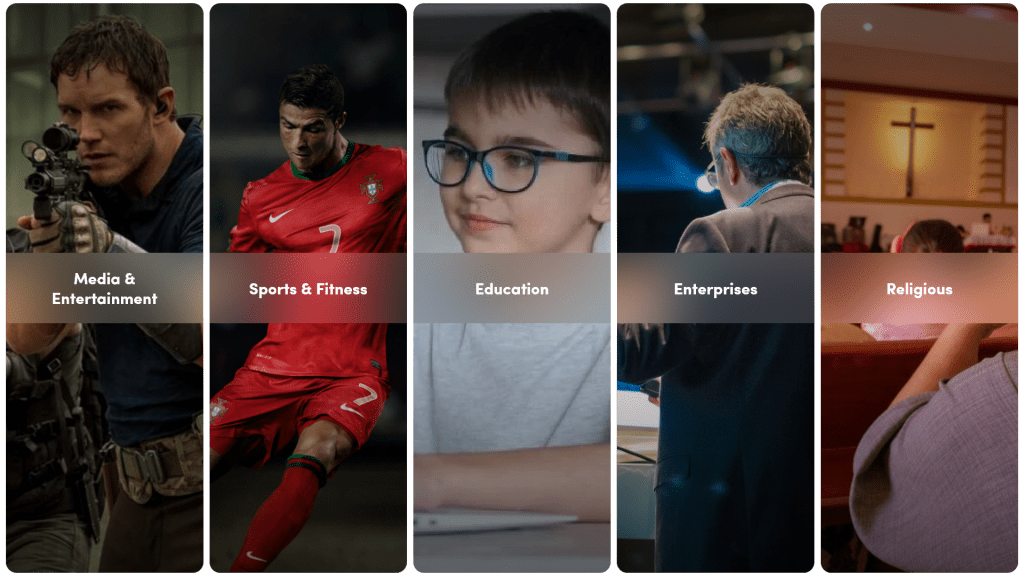 Since the outbreak of the pandemic has brought the normal routine industry operations to a standstill mode. As a result of several halts, for the time being, content providers, distributors & broadcasters utilize the OTT platform as well as the app industry as their lifeline where they can get to stream extensive libraries & also increase their user-base by delivering hyper-personalized experience via these dynamic OTT apps.
Content Creators & Brand Marketers
They are the backbone of every creation that is showcased using OTT platform development. These content creators have diverse openings to showcase it time and again whether it is a VOD, movies, virtual events, seminars, etc. all using the power of mobile technology.
Health Advisories & Wellness Practitioners
In this pandemic, the only source of guidance to be healthy & fit is delivered through fitness practitioners who are streamlining their precious skills of workouts through the video streaming app builder offering expert advice & monitored regimens.
Enterprise Owners & Corporate Businesses
Every organization has now become touch-friendly in terms of interactive communication. Also streaming with visual presentations using OTT app developers has embarked on a remarkable revenue rise as it has a huge impact on the strategical exhibition of ideas that delivers practical solutions
School Tutors and University Trustees
The evolution of technology has given "virtual wings" to connect & catch up with learning! Therefore using the power of smart apps curriculum tutors & university chairpersons can now leverage the eLearning mobile OTT platform & have live sessions, webcasts sessions, etc.
Sports Professionals & Athletic Clubs
Now sports personalities or daily athletes can have an easy source to broadcast their never-to-miss matches or tournaments through mobile connectivity facilitated by launching their own sports-based OTT apps. Let every sports fan enjoy the evergreen relays or VODs.
Personal Trainers & Fitness Enthusiasts
Make a personalized OTT app through leading streaming solution providers like CONTUS VPlayed where you can customize your workout platform with live streams, one-to-one personalized video sessions, physical online fitness platform courses & much more
Non-Profit Organizations & Charitable Institutions
As they say, charity begins at home as community helpers or NGO activists. You can reach the needy in much faster means than you expect just like popular celebrities have fundraising campaigns via real-time streams, motivational on-demand videos, vocational streaming courses, etc.
Now you know that you can have diverse choices for building an OTT IPTV app that can convert your self-hosted video streaming platform into a million-dollar online space!
Progressing further, let's look into what kind of apps in the over-the-top industry can help you to shape your mobile business
Are you planning to create an OTT app for your business?
What Kind of OTT Apps Can You Build?
There are many options to explore just as popular apps like Sony Liv that promote family-focused content, and Netflix or Disney Hotstar, which target native and International audiences.
With each genre that you choose like Education, Fitness, or Sports you can build a dedicated OTT app and enjoy your showcased content at any moment any place.
Other than that, there are other types of OTT apps you can build
Create an Android & Apple TV app that is custom-fit
Mobile apps to video stream your movies, tv shows, etc
Web apps are a great resource for your OTT platform
Desktop apps paired to Mac & WindowsOS is 100% worth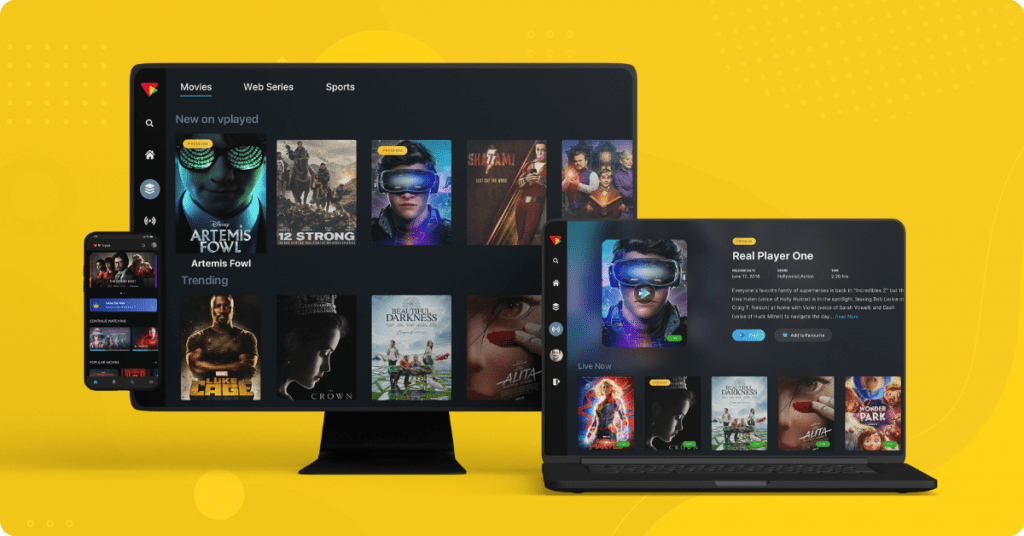 Getting started with a similar Netflix-like app will fetch you great numbers. You can create all of this without any sort of coding. Right from adding personalized templates, adding features, or discard that you don't require, everything can be done using a SaaP solution completely owned.
Some examples are Android TV, Smart TV, Roku TV, Apple TV, Amazon Fire TV, etc.
Fit your brand ideas completely in an enterprising mobile app for both Android & iOS using VOD app development. Now just like ordering a pizza is effortless, building the source of streaming entertainment is quite simple & targetable on the go! Inclusive of this have varied insights such as consumer behavior, demographics, site views, to furnish on-demand requests.
The primary medium of your platform streaming is directly related to the web presence. Certainly, you can build video streaming app or website with number one streaming specialists who can help you to have dedicated content via progressive web apps.
Now you needn't worry about capturing the attention of desktop users as you can have an option of creating OTT apps for them. They can conventionally fall in love with your streaming content using any interface, either Windows OS or macOS. Start your video streaming business journey today.
Okie folks, let's move on to the next part of this ride to check how you can actually launch it!!
---
---
How to Launch an OTT App For Your Streaming Business?
Now it is possible to easily start off with your own professional OTT app in addition to a fully-featured customized platform. Get to launch all of them covered with a single cost.
That content you spent much time and money generating can turn into a significant source of income, either as a stand-alone business or as a supplement to other revenue streams.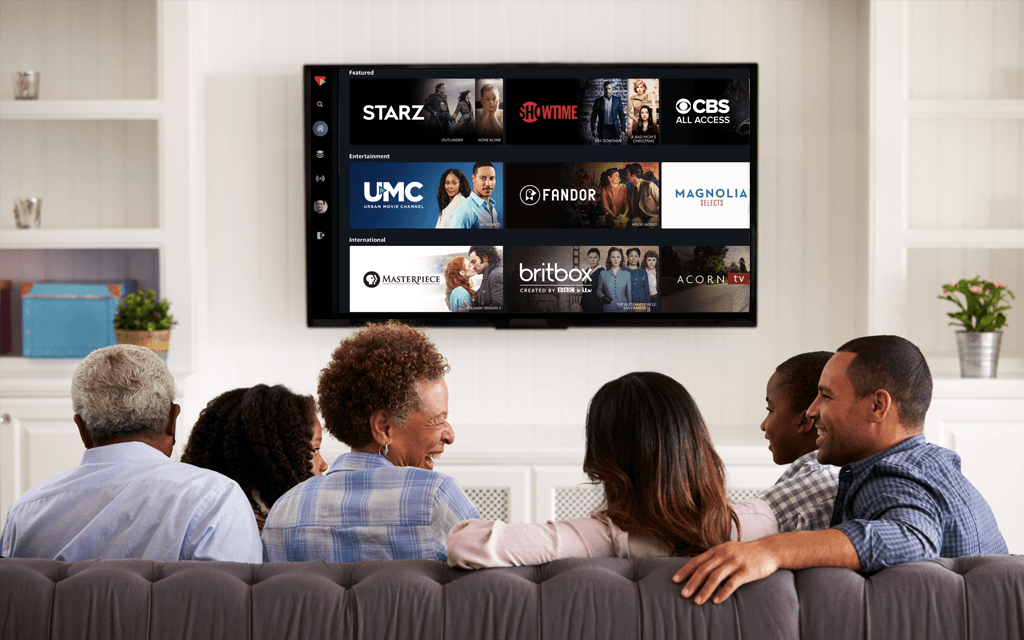 Be Where Your Target Audience Is
Giving an enthralling viewing experience with high-end quality is seamless due to advanced streaming capabilities. Therefore, you can reach out to your audience easily through any pair of devices such as smart TV, mobile phone, tablet, PC, etc, and cater to their likings accordingly.
Personalization Is The Key To Engagement
Your audiences remain consistently engaged only when you keep serving them with new streams of content. For eg: if you are broadcasting a blockbuster movie every Thursday, then they will allow their schedule to watch it all the time. So, decide in which type of personalization you would grab their attention & stick to its strategy for some time.
Each Screen Has Its Own Unique User Environment
Streams in every device have their own special viewing experience that is feasible & flexible for your users across the globe. Also, get a chance to target & analyze every device user with streaming analytical tools who can now easily use your platform & make any subscription purchase.
Help Audiences Find Your Content
Does your content categorically manage to have multiple choices? If you have done it, the best way to popularise it is setting a theme into your OTT TV app such as movies, music shows, kids, news, games etc so that it can help them to navigate your content under these lists when they surf generally & have no specific choices in mind.
The Way To Measure Success
You can constantly or periodically update your app features & control its efficiency run through analytical tools & feature-rich services enabled under a single white label video streaming platforms.
Moreover, now you easily collect insights such as audience tracking data, live custom metrics, etc, and upscale your revenues on the move!
Wow!! Till now we have discovered lots of things that give a good hold to start an OTT app platform. Furthermore, we'll educate you on what are the necessary features to be included in it!!
---
If you're thinking of creating your own OTT app for your brand?
---
Let's go!
Must-Have Features For an OTT Application
When you are in the mindset of developing an end-to-end streaming platform with dedicated IT infrastructure you need to make sure it is unique and makes it different from the competition.
To narrow it down further, OTT applications are not only concerned with video displays… There are different types of services that are created using OTT development technologies that are: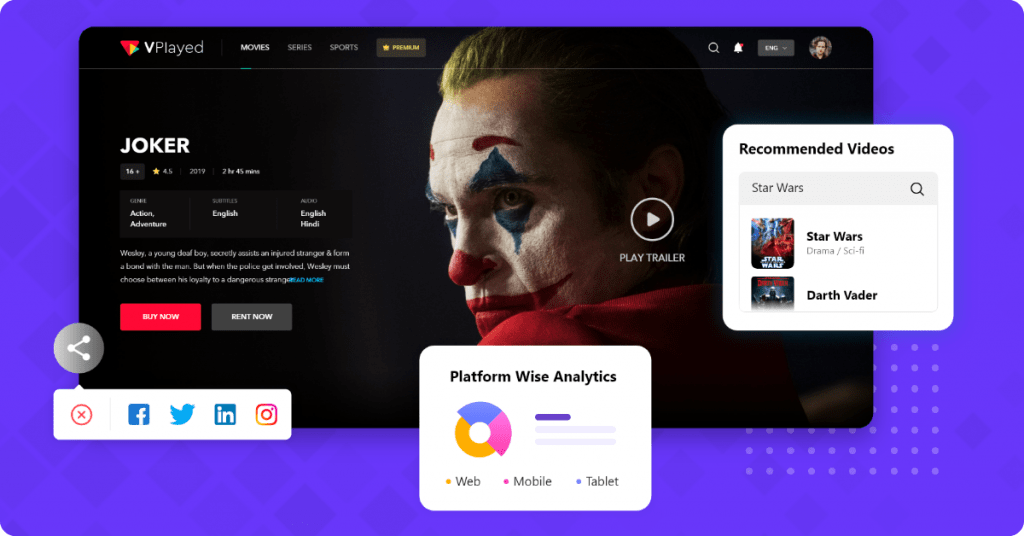 Improve your user's overall app experience by making their registration, verification process & profile building within a few clicks. Make it viable for them to register via social media sites too
Make your video streaming platform navigational-friendly for finding their preferred content in the rack of +millions. It's a must-have feature that you can personalize with genre, language, etc
Support your app users by making it multilingual & stream content in local languages too. Unleash your streaming potential across several borders to have an extensive audience base.
The watchlist integration app allows you to know that your audiences are interested to view content to watch later. This key aspect will help to set an in-app notification strategy & monetize.
Payment Gateway Integration
Add your own payment gateway service depending on the operating system that you would use, either google or apple. Your customers can make in-app purchases set in mobile frameworks.
Use pop-up messages to notify your customers about membership expiration dates or advertise new content that has come for an in-app purchase. This can increase the app engagement rate.
You can also freely advertise your innovative OTT TV apps by adding a button to share on social platforms and get the chance of having new users again & again via online marketing.
This feature allows your users to get engaged with non-localized content & increase its engability in your videos within OTT apps streamed for worldwide audiences.
Let your viewers have a chance to rate & review your content that they just saw to capture their thoughts to share it with other fellow users using instant clicks.
You can manage your app functionality with its everlasting growth seamlessly all-in-one live dashboard to know exact view counts, subscribers, etc & enhance UX with new features too.
You have everything now in your OTT app development platform… Next, you can have resources to generate revenue with them!!
Video Monetization Strategy for an OTT Application: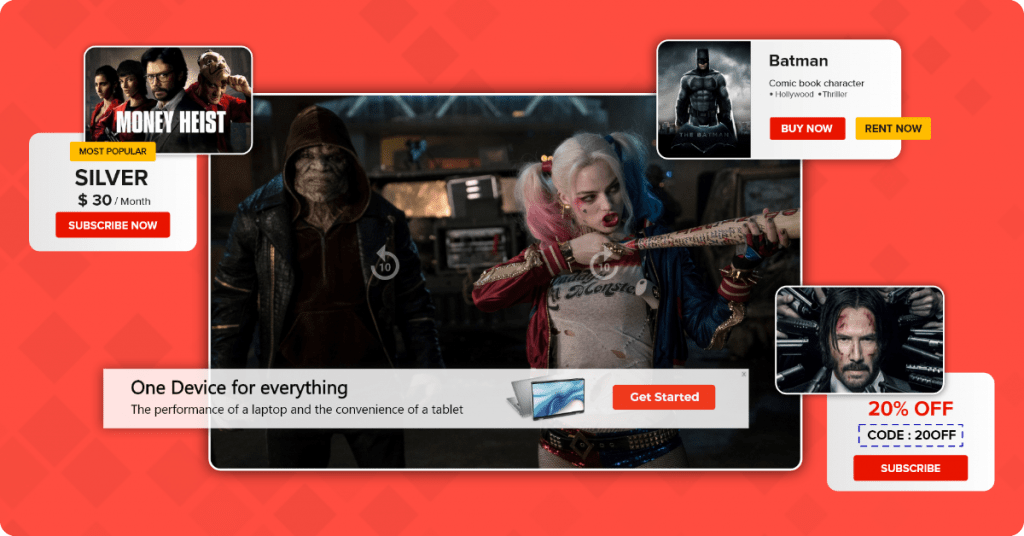 A personalized catalog of building increased spikes of revenue is always worth it with numerous capitalization options that circle around in knowing how to make an effective OTT app. Some of them are:
SVOD platform which is also called Subscription-based video on demand, the package can be leveraged on a specified allotted time such as monthly, quarterly, or on annual basis. Get recurring money flow for your streams and establish a loyal customer base.
What does AVOD mean? Advertising-based video on demand monetization which is popularly known as AVOD gives you an ad-supported streaming app. Now within the streaming app, you can have 3rd party ad integration apps to captivate large sums & gain increased viewership rates instantly.
Also Read SVOD Vs AVOD Monetization.
Transactional-based video on demand dias that's commonly known as pay-per-view gives you a perfect revenue-striking means for your premium VOD streaming. Showcase top-rated VOD, one-time watch videos by charging them per content & upscale drastic revenue in a jiffy.
Yes.. traveled a long way so far to get into knowing when the cat is out of the bag??
Yes you right, now you'll know what's the cost factor for the entire OTT app development!!
How Much Does An OTT Application Development Cost?
Over-the-top or OTT apps are built in a customizable way for you to deliver your seamless & branded content via the best networks. Hence, the OTT pricing plans will be tentatively based on wide variations of the OTT platform budget with respect to your niche streaming needs such as features, monetization, brand persona, etc. Apart from that, some of the other factors that determine the cost of over-the-top app development are
Platform on which OTT-based mobile app will be released
Size of the company along with their geographical location
Cost requirements of app development technology
Time period to develop the app
All the more, you can get a 100% guaranteed end-to-end OTT app development solution with nil hidden cost factors through VPlayed which maintains utmost transparency & provides promising deliverance.
Hire Our Developers For Creating Your Custom OTT Application
Amidst the ever-evolving digital landscape, entrust us to sculpt an OTT application that encapsulates your brand's essence. With our developers' expertise, your customized platform will bridge the gap between your content and eager viewers, thereby leading to brand loyalty.
Are you prepared to elevate your brand's content delivery? Constructing your personalized OTT application opens up doors to a dynamic platform that directly connects with your audience, delivers tailored content, and amplifies your brand's prominence.
At CONTUS VPlayed, we extend proficient OTT application development services that efficiently steer you towards achieving your streaming ambitions, all the while ensuring a seamless fusion of innovation and reliability in real time.
Why Opt For Our OTT Application Development Services?
Proficiency and Profound Expertise: Our adept developer team boasts a wealth of experience in conceiving OTT applications across diverse sectors. We comprehend the nuances of delivering top-tier video content, ensuring seamless streaming, and embedding user-friendly interfaces.
Tailored Solutions for Your Brand: We acknowledge the distinctiveness of every brand, and your OTT application ought to mirror that distinct identity. Our developers collaborate closely with you to grasp your brand's essence, target audience, and content spectrum. This empowers us to tailor the app's attributes, design, and functionality to harmonize seamlessly with your brand.
Effortless Integration: Whether you seek to integrate your pre-existing content management system or build one. Our developers specialize in offering seamless integrations that simplify content management and updates, ensuring your audience always enjoys the latest offerings.
Strategies for Monetization: Monetizing your OTT platform stands as a pivotal facet of your business strategy. Our team aids you in implementing diverse monetization models—subscription-based plans, pay-per-view, advertisements, and more. We guarantee that your monetization approach aligns with your business and delivers value to your viewers.
User-Centric Interface: A user-centric interface is pivotal for retaining viewers and sustaining their engagement. Our OTT app developers prioritize crafting intuitive interfaces that facilitate easy navigation for users of all age groups. From search functionalities to personalized recommendations, we concentrate on enriching the user experience.
Our Development Journey
Consultation and Blueprinting: We initiate by looking into your brand's vision, objectives, and content array. Our team of OTT developers collaborates with you to sketch out the app's attributes, functionalities, and design elements.
Design and Development: Our developers labor on sculpting the app's layout, design, and user interface. We meticulously attend to every detail, ensuring a visually engaging and user-focused design. Once the blueprint gains finality, we seamlessly transition into the development phase.
Rigorous Testing and Quality Assurance: We subject the app to rigorous testing across varied devices, platforms, and network conditions. This meticulous approach aids us in identifying and resolving any glitches or concerns. Our quality assurance regimen ensures viewers a seamless and untroubled streaming experience.
Launch and Sustenance: Following comprehensive testing and meticulous refinement, we unveil your OTT application across chosen platforms. Our support extends beyond the launch. Our vigilance over the app's performance persists, and timely updates are delivered to uphold its flawless operation.
Conclusion
If you are closely looking for building an app-based platform & need guidance on how to create an OTT app from scratch you can have a completely furnished OTT solution through CONTUS VPlayed. Find your skyrocketing OTT app development platform with increased revenue-generating strategies all with premium content, Taylormade content marketing with personalized monetization tiers under one roof!!
If you already have an idea about creating an OTT App, Schedule a free demo and we'll help you implement it!
Frequently Asked Questions(FAQ)
1. What Are OTT Apps?
OTT app services are usually related to media and communication, that distributes a product through the wireless Internet and bypasses traditional media distribution. For example, Disney+, HBO Max for video streaming replaces regular TV providers and are considered an over-the-top (OTT) application.
2. How To Create An OTT App?
You can now easily create and self-host your OTT app without any need for coding. Moreover, having your app white-labeled through in-hand streaming expertise where you can solely take charge right from the app's performance, qualitative content, customer service, etc. Launch your OTT app and procure licensed ownership.
3. What Are The Features Needed To Make An OTT App?
Pivotal features that you need to start building your OTT TV app with are In-app purchases, Multilingual support, Platform Searchability, User profile, Watchlist functionality, social-stack features, Resume Watching, Payment gateways, and much more. All of this you can acquire in a single unified OTT app & scale success on the go.
4. How To Take Leverage From OTT App Development?
Considering the short and long-term benefits of developing an OTT app can help your business to skyrocket using the advent of the video revolution. You can easily rely on expert developers whose specialty will favor you to have your OTT app from scratch according to your liking with custom branding, CDNs, tech support, etc giving a one-stop solution.
5. How Much Does It Cost To Build An OTT App?
When it comes to financial factors, making a full-stack OTT app depends on the time-frame-friendly option and budget scale that you have in mind, bespoke features, USPs that you require, streaming infrastructure built, hosting server that you prefer, maintenance charges and many others come into play.
6. What Are The Ways To Monetize The OTT Applications?
OTT apps give you 24*7 opportunities to stream, distribute and monetize your content like movies, TV shows, Series and facilitate the maximum benefits of video watching to your audience. You can leverage diverse monetization models such as Subscription, Advertising, Catch Up TV, Transactional or PPV, Seasonal Promotions, and much more.
7. Which OTT App To Launch First?
One fact that remains the same is, that what you tend to offer to your customers, is already known and owned by many. So, before launching an OTT app define what devices and where you are aiming to target them. Furthermore, through such specific data, you can decide which app to launch in the first place that's most suited for your business.