Group buying business has become the brightest performer in the E-commerce orbit today. The basic idea of the group buying business has become the most successful shopping strategy of the decade. Pioneers in other conventional businesses are also drawn towards this hot cake and are venturing in with sureness.
Since this concept is built upon deals – the better the deal the better the chances of people to flock to buy in your site (necessary homework needs to be done for better visibility). The success totally depends upon the network that you build and the attractive deal that you post in your site. Remember, people are coming for a deal and they expect a good deal and you need to give that good deal for making this work.
Now we know the potential of the group buying concept, but the next question that comes to our mind is – how do I get started or how do I start my own groupon-like site or group buying site similar to Groupon? Getting started is truly simple, there are very good ready-made scripts available in the internet, and after intense analysis and research you can get one and start within a couple of days. In fact, the Groupon Clone script from Contus Support Interactive – a web development company is far more superior in quality with very good features, and it would be the right decision to make. To know the features, you can visit – http://grouponclone.contus.com/
The beauty of this particular piece of software is that it allows you to take control of your business on your own.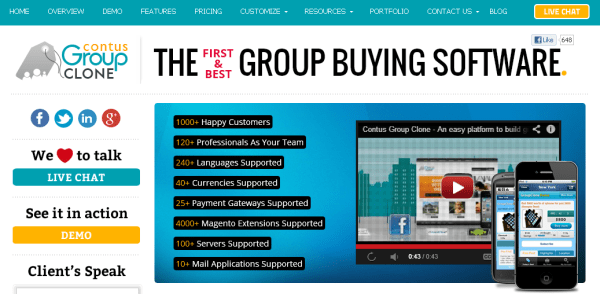 Also, we got to check for the following points which will prove to be helpful as the business gradually improves in the long run,
Customizable

100% unencrypted source code

Appealing design and easy navigation features

Reliable platform and framework

Additional unique features along with the clone

Post sales support

Reasonable Pricing
Again, this link http://www.groupclone.net/ has been helping a lot to give a preview into the groupon clone with the host of features and we can have a first hand experience of how it will be once it is installed in our server. The era of clone scripts have begun now. Nevertheless the demand for innovation will not end.