Online job search has become the most awing trend since the previous decade. Gone are the snail walk days when people used to wait for job offers in the newspaper classifieds and apply through posts. Today, all these time corroding processes are transformed into single mouse clicks, thanks to online job portals. Monster.com, Yahoo hot jobs, CareerBuilder.com, etc., are proving to be significant players in this area. Country-specific job portals are more in number today and they adapt various efficient strategies to analyze and discover the scope in this E- business to attract job seekers to their sites. Obviously, the fundamental strategy that would never change is to preserve the efficiency and attractiveness of the site.
The new trend of the easily available job script has raised the scope for the growth of people who want to start their own job portals. Rather than developing design and functionalities for a new site from scratch, the smart players prefer to buy clone job scripts instead, and save enormous amount of time and save good amount of cost.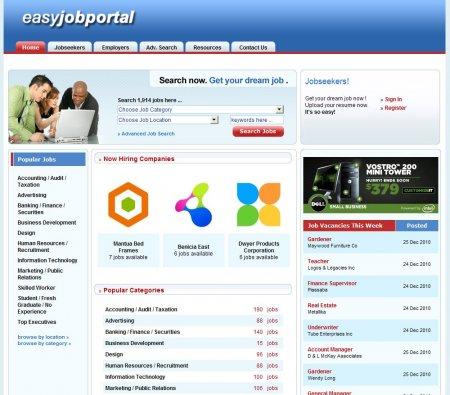 What is a clone script?
A clone script is the integral set of simulated programming code required to build the respective site similar to that of the related prominent sites online. Web application developers figure out how the unit is programmed and then design the required code in their own way after which the cloned script is packed for sale. These set of simulated programming codes are called cloned scripts.
Hence its big time now since the race to buy the best jobs clone script began and the top searches for clone scripts today in Google are monster jobs clone, yahoo hot jobs clone, etc. Of course, majority of the new steppers want to travel in the winners' road rather than risking to find a new path on their own which is rather unexplored and is having a high set of risks.
We at Contus Support Interactive have been conducting long time extensive research and have narrowed down on various declarations regarding what exactly are the required technical and functional characteristics to be included in a job requirement script. And this has become the backbone for our success in providing the best php job portal clone script. In fact, we have come up with features from different concepts and ideas that are much better similar to Yahoo Hot Jobs, Monster Jobs, etc., from which the end user benefits the most.
Advantages of the open source jobs portal from Contus Support Interactive:
– Utile features
– Faster loading of all features
– Developed in php with Zend Framework
– 100% source code
– Dedicated post-sales support
– Flexible and easily customizable
– All the above for a very reasonable pricing
Be wise to Choose Contus' Jobs Portal script to master the competition in this arena.