In today's fastly-moving digital world, data has become a valuable asset for both businesses and individuals. And lately, enterprises are constantly building chat software and other products that collect user information to foster their growth and revenue. However, in this tedious process, they often overlook the fact that the use of user information can compromise data security and privacy, and pave the way for cybersecurity attacks and data breaches. It is here, data ownership comes into play.
Plus, data ownership is particularly important when using third-party solutions such as chat or video SDKs. As, integrating them into your software can pose a risk to data transparency, leaving you with a choice of whether to buy or build chat apps from scratch. Nevertheless, some APIs are secured with end-to-end encryption protocols and are clear in their intrusion policies as said in their documentation guides.
Therefore, in this blog post, we will look into the concept of data ownership and its importance, and see why it is crucial for any business.
What is Data Ownership?
Data ownership refers to the guidelines and rules that any app developer or business must follow whenever they process or control user data. It also means that you as the sole person are responsible to handle all data, be it storing, modifying, or removing, from your on-premise server or cloud storage.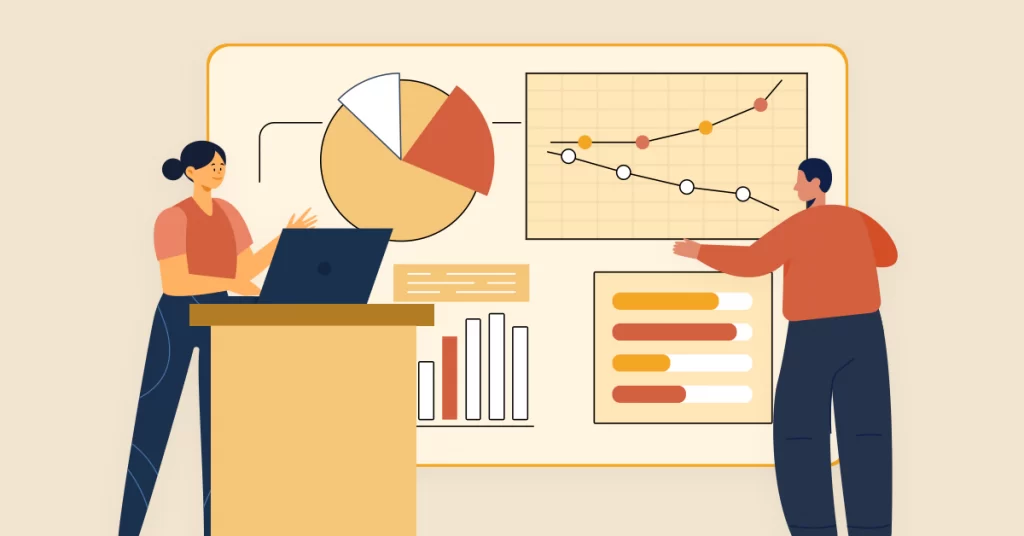 Well, this may seem to be practically difficult to understand and so, we will explain with an example. Imagine you have a car and your data is the car, then data ownership in this sample means, you alone hold the keys and title to your car and nobody else. So, why is it important to own a data?
Why do you need data ownership?
As a business, owning an app means a complete responsibility to own user data, right from their detailing to deleting. And below are some of the reasons as to why you need to own your app data: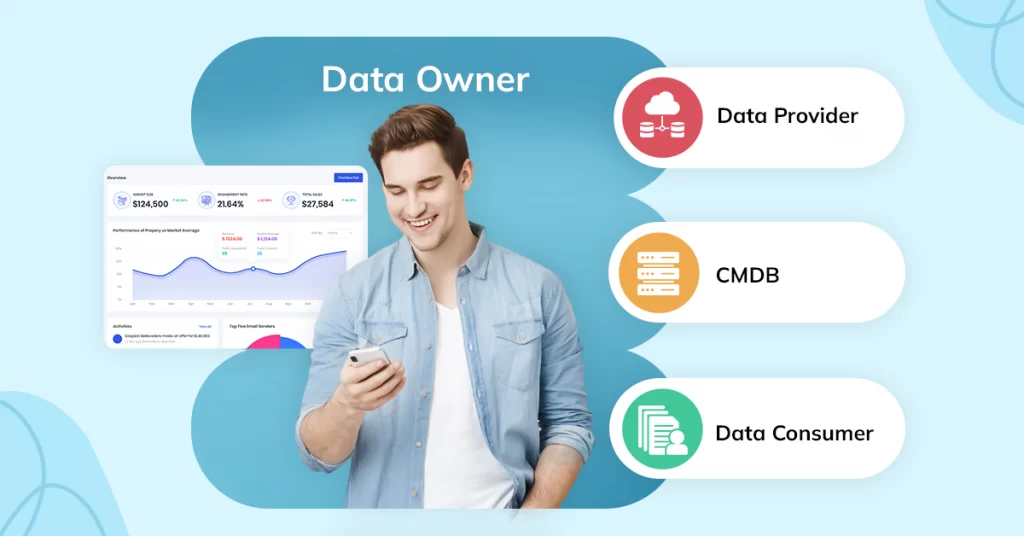 1. Data Portability
In simple terms, data portability means transporting or relocating your app data from one place to another physical or digital location at your own discretion. Many apps these days are pressured to offer data export options as a security measure when Google gave this option to users to delete or move their contacts, files, search history, emails, and other info stored in Google space a decade ago. In the meantime, other apps like Twitter, and Facebook had to bow down to take this step.
Similarly, it is mandatory that every business offers this switch-on option to users from moving from dedicated cloud storage to their on-premise server or to any competing platform by billing only for the bandwidth they would have used. With these, another reason data portability is important is because of its flexibility. When you do not like a service provider or a third-party vendor who is giving your cloud services, or when you see a competitive scope for your data, you can flexibly make a switch.
However, make sure that you are not locked-in, as the term 'Lock-in' has become a strategic component for many b2b providers.
2. Privacy
In Earlier days, data privacy used to be a niche topic for discussion for activists and people alike. But quite soon, it became a topic of sensation between the public and tech companies when news broke out about the way companies are using user data. A recent research by Pew suggested that 79% of Americans are not happy with the way companies are using data. Thus, it means that when you are an owner of an app that holds data, you must realize that people trust you and share their details.
So, privacy is a major concern and app owners or businesses should learn to not use data as commodities that can be transferred whenever they want. Also, a small leak in any information or wrongdoing can make you lose trust, respect, and finally your business.
3. Security
Just like how a small mishap in privacy can make headlines and so, stringent privacy measures are being taken to protect data. Similarly, the net is pinned by a range of security standards and protocols for the best data collection. Some of these standards like SOC2 are designed by private firms, while others like GDPR, HIPAA, and US are designed by lawmakers and government bodies to safeguard user privacy and security.
A complete adherence to these guidelines during app deployment can surely make a difference in the app's usage. As a result of which, many SaaS model and cloud service businesses have their business plan encircling these standards. Whereas, top in-app chat APIs providers like Stream and Sendbird have kept this compliance factor for an additional fee. Therefore, it is up to you to which standards you use based on your business and take appropriate steps.
Now that we see why a business needs to understand the basics of data ownership, our next topic is why is it a formal role for every enterprise.
Why is Data Ownership important?
Data ownership and data stewardship are the two important topics that many businesses often tend to miss from their schedule.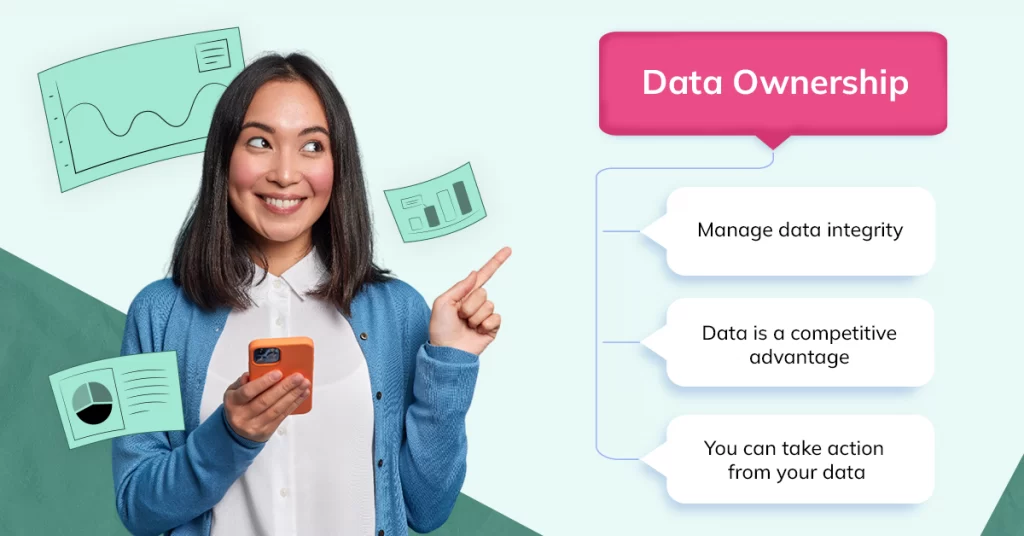 As they give their view on different roles, processes, systems, and market assets, neglecting their data for years or months. However, establishing data ownership is one milestone that all enterprises should adapt to.
And below are three major reasons why data ownership is important.
1. Manage Data Integrity
2. Data Is A Competitive Advantage
3. You Can Take Action From Your Data
Manage Data Integrity: Here, data integrity refers to maintaining the trustworthiness and accuracy of data until its entire lifecycle. That is marking whether data is valid or has become invalid. Many organizations fail to make data-driven business decisions on a routine basis without focusing on the integrity part and such decisions usually have a dramatic effect on the business's goals.
A recent report from KPMG indicates that the majority of the senior executives do not like the way businesses handle user data.
Data Is A Competitive Advantage: Many businesses these days use data to maximize their business goals and objectives. And via data ownership, companies can define, measure, and test the success of any ongoing project with the data in their hands.
You Can Take Action From Your Data:
To know what actions you can take from your data, you must know the main objective for each area where you hold your data. For example, if you are a manufacturing firm, your focus would be on machine runtimes, for B2B companies, it is to boost up leads, and likewise other firms.
Having cleared on the objective, you can focus on how to use data as it can scale business growth.
Thus, we saw the three prime reasons why data ownership is important. But, having said that, you may ask us if maintaining accuracy in data is that easy. Well, let us find out in the section below:
Looking to Build a On-Premise Chat App For Your Business?
Why is Data Ownership Hard?
Owning data can at times be hard because the owner has to enforce several factors like accountability, database scalability, and security, and must-see whether it meets the legal compliances.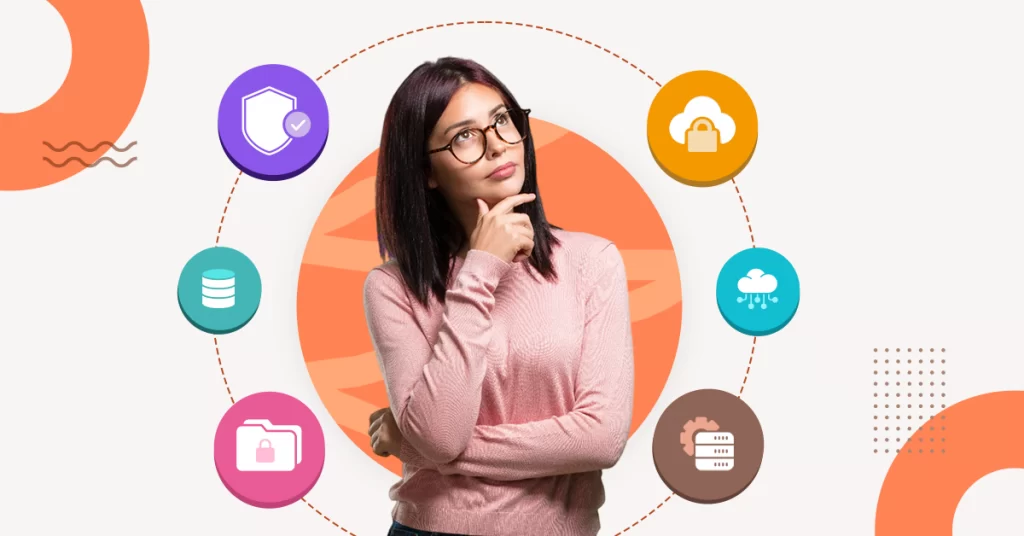 Additionally, upholding data accuracy can be vitally difficult as it has to go through several audits. Other reasons include:
1. Unclear understanding of Data Ownership, Data Stewardship, and Data Security
Data ownership can be hard if a business tends to misunderstand the above-said concepts and fails to realize how ownership fits into stewardship, governance, and security. We will explain you get a clear picture of this scenario:
Data Security is enabling security protocols and measures to safeguard data.
Data Governance includes policies, procedures, and structures to keep data functioning.
Data Stewardship is again a set of standards to keep data accurate.
Thus, without these three, data ownership can become difficult and a lost parameter.
2. Missing to find the correct Data Owner
Finding the right data owner is important and not anyone can own the user data as it may hamper the accuracy and safety of data thereby giving ways for security issues.
Therefore to find the right owner, it is always suggestible to assign senior officials like team leaders, department heads, or CEOs who know how to work with data.
3. Fear of Accountability
Yet another reason why businesses forgo data ownership is the fear of data breaches as none of the top enterprises wish to carry the blame for compromised data.
But, what they must realize is that by adapting to accountability can minimize data breaches. And even if it happens, they can take quick recovery steps.
4. Lack of maintaining Clean & Effective Data
Having data stocked up in your database repository for quite a while can make it go stale, inaccurate, and unorganized. Therefore, the only solution is to use proper data ownership and create new policies to keep data up-to-date.
5. Not adopting Stewardship Culture
This culture means that even if your business has top leads to handle data, you should not completely rely on them for the effective running of the database. Instead, business owners must also train database users to update data regularly.
Thus, it is everyone's responsibility to make data ownership possible.
Finally, if these points are taken into consideration, then data ownership can be easy.
Discernment of Data Ownership
Now that we are discussing the parameters to make data ownership easy and to be adaptable for every business. Can there be two owners for a data? Or should there be only a single data owner?
We know that data ownership is taking complete rights and responsibility to control data. And learning data ownership can help navigate ownership rules, control, authority, generation, and processing of data. That being said, data can have single owners, be it a person or an organization, or an entity. Or data can have multiple owners with rights to control them.
An example of it is a web portal that requires users to enter the information themselves (which is a single data owner) or gathers user information from social media pages (which is multiple ownership). Hence, below are three steps to identify whether data is from a single owner or multiple owners:
Is the data novel? Because new data always has a single owner.
Is the data processed or transmitted before? In such a case, there might be a possibility of multiple ownership.
Is the data coming from primary or secondary sources? While primary data is new and original, it must have a single owner, whereas secondary data is usually collected by someone else and may include multiple owners.
Thus, to get more insight into this and analyze the different data ownership rights, we will see below the paradigms.
Different Data Ownership Rights/Paradigms
Below we will see 10 different data ownership paradigms that best explain whether the data holds single ownership or multiple ownership.
1. Data owner is someone who creates data – If an organization, entity, group, or individual creates or generates data, then they must be the owner of that particular data which is indicative of single ownership.
2. When a consumer of data is its owner – This refers to multiple groups or entities like Walmart, Lowes, or Home Depot who collect user information from various sources to predict their metrics. This is indicative of multiple ownership.
3. Data owner is someone who compiles data: This is yet another example of multiple ownership where entities like Google, Yahoo, and LinkedIn gather data from different sources and make it available on their search engines.
4. An enterprise that accumulates data – Here, enterprises can claim ownership of data that they would have accumulated over time. And it is indicative of multiple ownership.
5. Fundraisers or organizations as data owners: This is an example of single ownership that depicts funding organizations that would have commissioned the creation of data for ownership.
6. Decoder of data as owner – Any person or entity who decodes the encoded data is said to be a rightful owner of that information and it is an example of single ownership.
7. Packager of data as an owner – Any person or entity who packages an individual's or group's product can claim ownership of data and it is an example of multiple ownership.
8. Reader of data as an owner – A person who reads and gains knowledge of any information from the repository and uses it for their future work is said to be an owner. It is an indicator of multiple data ownership.
9. Licenser of the data as the owner – A buyer or licenser who purchases or licenses data, respectively, could claim data ownership because of the investment. It is indicative of multiple data ownership.
10. All are data owners – This is a scenario of global or multiple data ownership.
Hence, these are the different paradigms of ownership. Our next topic is how a third-party API provider like us (MirrorFly) can be best for data ownership.
How MirrorFly helps you own Data Securely?
MirrorFly is one of the leading in-app communication provider of both SaaS and Self-hosted solution that is highly adopted by mobile and web developers for its quick integration capabilities, great security, high scalability, and ultra-low latencies. With us, you can easily build apps without any hassles and get the required integration support too.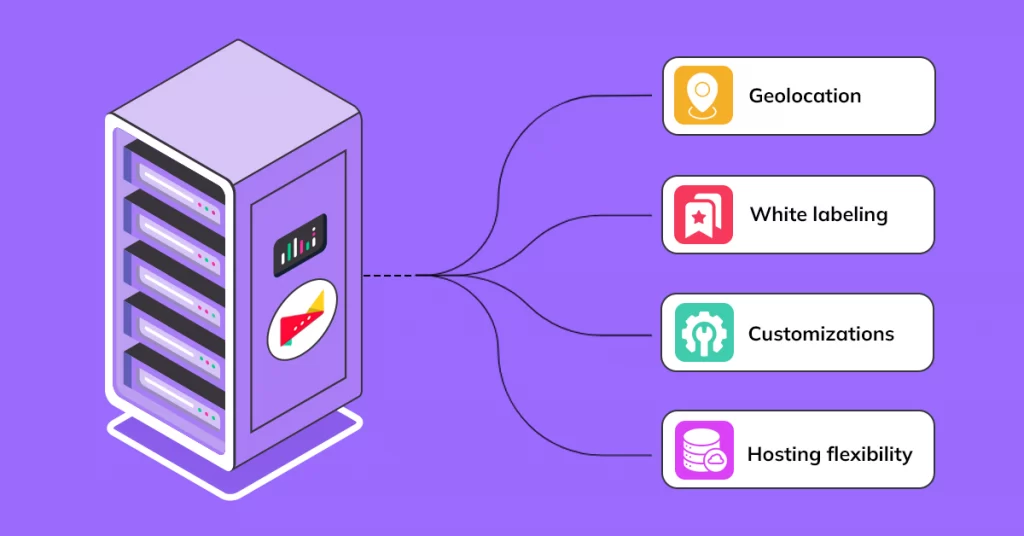 Now, coming over to our topic of discussion, there are several factors or reasons that best explain why MirrorFly is perfect for data ownership, starting with:
Geolocations: It being a #1 leader of Self-hosted SDKs lets app developers to own their data completely from A to Z in all use cases or verticals like e-commerce, social/dating, healthcare, edutech, logistics, or you name any.
Customizations: Plus, our self-hosted SDK is designed to take complete ownership of our 150+ call and chat features, and 100+ UI kits and use it as you need with 100% customizations.
White Labeling: Our Whitelabel SDKs allow you to build your branded communication apps that reflect your identity and logos, further taking complete ownership for a one-time license cost.
Hosting Flexibility: Above all these, our SDKs give you complete flexibility to host apps on your premises thus helping you get full control of both the app and data.
Therefore, it is these factors that upon integrating our self-hosted SDKs to your Android, iOS, or web apps can give you true ownership.
Wrapping Up!
Finally, here we sit at the end of the blog post and to conclude, data ownership is a budding process and is a topic that requires thorough insight especially after our lives are digitally entwined together.
As a result of this digital acceptance, our data is becoming more valuable and the need to establish data ownership is also pressing for many businesses to establish data security and privacy.
Further, if you wish to learn more about how we help achieve data ownership, contact our team of experts. Or, write to us on any topic that we missed explaining. Till then, happy integrating!
Frequently Asked Questions:
What are the three types of data ownership?
There are three types of data ownership,
1. Personal data ownership
2. Organizational data ownership
3. Public data ownership
Data ownership may be subject to laws, depending on the data privacy regulations. They also determine the rights and responsibilities associated with data ownership.
How does data ownership work?
Data ownership is directly or indirectly authorized by legal entities. Laws control the ownership of data for personal, organizational, and even public purposes. When you are legally entitled to data ownership, you have full rights to that data, subject to some privacy regulations. You can use the data based on the regulations, which may vary across countries.
What is the concept of data ownership?
In simple terms, the concept of data ownership can be defined as legal and ethical rights control over personal, organizational, and public data. The concept of data ownership involves control and decision-making, legal rights, privacy and consent, transfership and license, responsibilities, and intellectual property rights.
What features does data ownership include
Control, access, usage, transferability, protection, privacy, responsibility, and intellectual property rights are some of the primary features of data ownership. Data ownership is fully protected under laws and regulations; whenever an individual or organization feels their data is being misused, they can proceed with legal action.
Is there any limitation on data ownership?
Legal and regulatory limitations, data protections and privacy, contractual obligations, third-party rights, public interest, ethical consideration, and practical constraints are basic limitations for data ownership. Data is the most important asset of the digital era. Hence, these limitations are made to ensure the safety of the most important asset, so-called data.
What are the benefits of sharing data?
Collaboration and innovation, boosting research and development, data monetization, efficiency and cost savings, public interest and social impact, and quick decision-making are some of the huge benefits of sharing data. Meanwhile, data sharing should follow the laws of privacy and regulation protocols to ensure the safety of data and prevent it from falling into the wrong hands.