Modern web technologies demand workforce collaboration platforms such as video conferencing, real time messaging and more dynamic solutions.
Constant development of voice over internet protocol(VoIP) has eventually led to the consolidation of several features into the current video conferencing solution. The power of this solution is visible in it being a tool for communications and collaboration, all in your pocket, using just a mobile!
The evolution of VoIP technology has drastically brought down the costs of technical infrastructure and is now within the reach of every business regardless of its size. Small size businesses are also able to leverage this collaboration for in-person meetings or multiple meetings between client groups and presentations by case workers.
What is Video Conferencing?
Commonly video conferencing is defined as the type of online meeting where two or more people converse in real time. Using a strong and consistent internet connection the participants are able to see each other here and are able to participate from any part of the world without any lag or time differences or drop in communication quality.
Hence businesses are able to use video conferencing for collaboration communication and continued engagement with users outside of the organization. The need to use hardware that is highly recommended with video conferencing software is a necessity for these quality experiences.
Integrate our Video Conferencing APIs Into Your Any Existing Apps!
What Are The Types Of Video Conferencing?
Organizations are quickly adapting to the needed ecosystem for video conferencing. Meeting rooms are set up with cable internet connection and Powerful audio systems high definition cameras and peripherals. By using hardware that is specifically designed for video conferencing meetings the experience of the users is amplified along with seamless voice and video conferencing software.
Considering the extensive use of this communication mode, two types of video conferencing have emerged: point to point conferencing and multipoint conferencing.
1. Point-To-Point Conferencing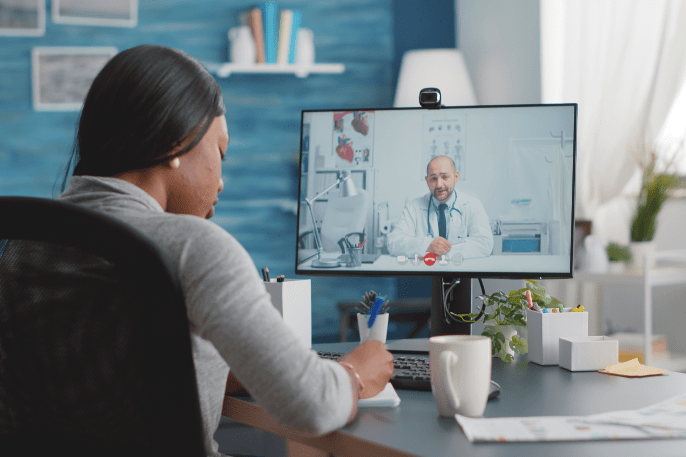 In this method only two participants can communicate in real time despite their geographic locations. In this type of video conferencing feature, the participants use the platform for face to face discussions. For example, it is an ideal method for job interviews to be conducted as top employers are able to speed up the hiring process and can complete the hiring procedures especially the job interview virtually through video conferencing.
This is already a much popular option in the covid situation and brings a lot of flexibility to companies that operate remotely. It also improves the modern customer experience that businesses offer at a personalized level. The ideal software and the video conferencing hardware always provide the actual connection between any concerns and enquiries raised by clients as well.
2. Multipoint Conferencing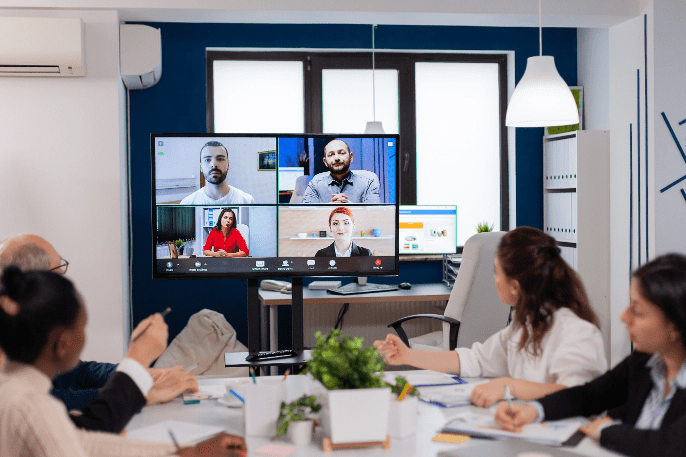 In this method of video conferencing 3 or more participants are involved in interaction creating the essence of group video conferencing. This is essentially a feature that is different from the traditional three-way calling that is typical of business phone systems.
In multipoint conferencing the host will provide links for participants to join meetings in larger groups. For example It supports businesses in several office locations and remote workers by becoming an office bridge for multipoint conferencing. For software and hardware bridging, creating a hub for large conference calls, multiple point conferencing is a solution.
Top Features Of Video Conferencing Software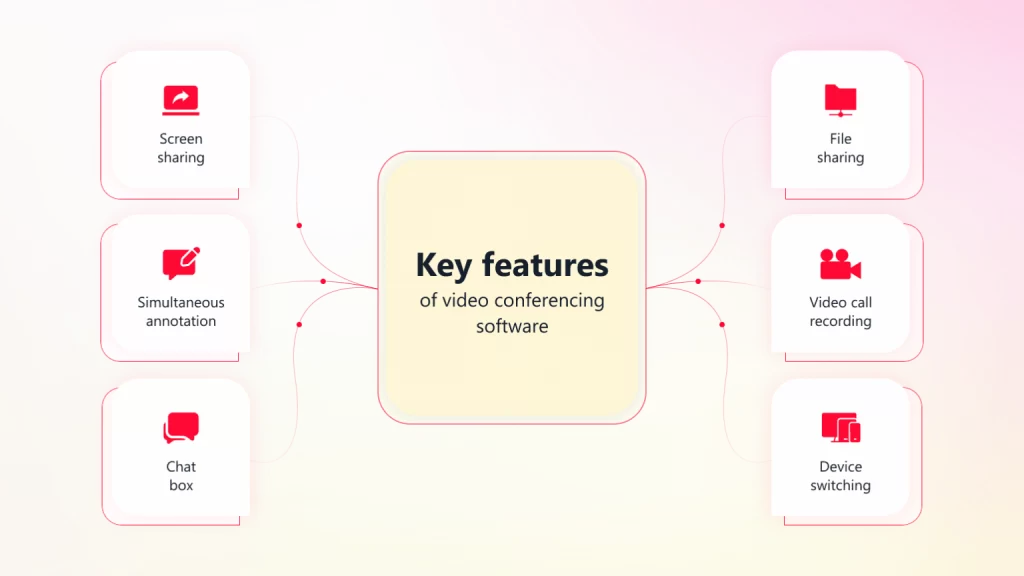 Video conferencing software is essentially VoIP Technology where transfer of audio and video signals between the two locations is based on special algorithms called codecs or coder decoder. In the first stage of data compression the image of the meeting or conference is captured by the camera analogue video Signals and speech and audio signals are all packaged into data sellers for the internet to understand and transfer to begin.
In data the compression or decoding of the transfer of the data over the internet and tourist destination is reached and changes back to analogue video and audio signals for attendees at the other side to hear and see. Video conferencing app are focusing on echo cancellation and other sound delays.
There are several features that makeup video conferencing software which are discussed in the following sections:
Screen Sharing
In video conferencing solutions, screen sharing is a critical must-have feature. It is necessary for sharing documents in common while presenting or discussing or representation of graphs or images during the video calling. Screen sharing enables the whole discussion to be centered on the visual on the screen while the speakers continue to speak about the contents on the page or referencing it for discussions.
It enables the whole team to brainstorm and effectively contribute to the discussion. It provides for a sufficient information exchange for the large group to arrive at necessary decisions. Point to be noted here is that some apps allow only the host to share the screen and others are allowed upon permission to present.
Simultaneous Annotation
In this feature the need to annotate on a shared screen is supported. In the middle of discussions and exchange of ideas points or concepts need to be annotated and shared on screen for discussion points to be made. Hence it is important that simultaneous annotation features are enabled for a video conferencing solution. Some apps allow only the host to annotate and simultaneous annotation is enabled upon permission.
Chat Box
In this feature the chat box supports multiple conversations between the participants. This allows a chat box to appear allowing the participants to mention and suggest without interrupting the speaker.
This could be for discussions among the listeners or for the speaker to observe and included within the conversation bus stop new paragraph while most apps offer private as well as group chat option apart from chat logs being saved at the end of the video conference.
File Sharing
This is one of the important features of video conferencing as it allows for secure transfer of files between participants on the live video call. It helps in providing the complete document transfer are video audio recording within the meeting itself and will not have to depend on third party solutions.
The most important aspect here is that a secure ecosystem is available for the transfer of data since businesses constantly use confidential documents with use for audio bytes.
Video Call Recording
A video conferencing solution is a necessary procedure for business operations. Firstly, recorded video calls will help those who have not attended the meeting or for others to evaluate and gather information, or gather business insights for further referencing and documentation purposes or simply streaming at a later point of time.
Typically, this video call recording feature is a must for documentation purposes and for later discussions.
Device Switching
One of the key features in video call recording is device switching. Device switching is a seamless ability to continue the video conference across different devices. An essential feature is that there is no description of a meeting needed, and the participants can have mobility and better access to quality internet that's enough for device switching conferences.
What Are The Advantages & Disadvantages Of Video Conferencing Solution?
Video conferencing solutions have changed the way organizations communicate and collaborate. Companies are able to rely on audio conferencing as well as video call recording to improve the communication of your organization.
Advantages Of Video Conferencing:
Collaborative work options are enhanced in video conferencing essentially allowing for screen sharing group chat file transfer collaboration which brings about improved output. It also builds on audio conferencing email SMS where everybody is able to synchronize and arrive at informed decisions at a faster rate and efficiently.
Communicators are able to see each other, in the video conferencing solution this visual aspect helps in improving the video conferencing experience and has become one of the most engaging forms for exchange of conversation. It helps in building body language and facial expressions and does not need a face to face interaction.
It is a fact that visual data is processed faster by humans than text data or audio data. Hence, in a video conference the participants have better understanding and information retained is also comparatively better to a telephonic call or a teleconference. At the same time, visual communication ensures that all participants are alert and there is focus on the discussion points.
It is identified that video conferencing are scheduled and follow strict start and end time. The participants have time bound discussions and conversation and the primary focus on their gender is updated consistently.
Also Read: Best Free Chat Apps For 2023: Our Top 10 Picks
Disadvantages Of Video Conferencing:
While video conferencing is a good solution, it fails in the one aspect of perception – that of personal interaction. The virtual space face to face interaction is highly technology -laden and possibilities of missing out on the vital body language in a pixelated image and stuttering videos.
The most important factor of video conferencing is the difficulties of technical glitches. Whenever there is a failure in hardware or software on a network there are no smooth transitions available. This results in failure of remote connections and hampers the change in the settings of the video calls.
Video conferencing solutions are very expensive to set up. The simple features available on a tight budget will be insufficient to support advanced features that require substantial expenditure in the process.
Fundamental issues with video conferencing are the different time zones in which year the communicators are attending. However, this is not really a video conferencing solution drawback but more towards the working capacities of the organization. The comparison of the advantages and disadvantages of video conferencing solutions leads to the conclusion that the advantages far outweigh the disadvantages. Business using video conferencing solutions is of vital importance both strategically as well as monetary.
Why MirrorFly Video APIs Are The Most Wanted One For Your Video Conferencing Solution?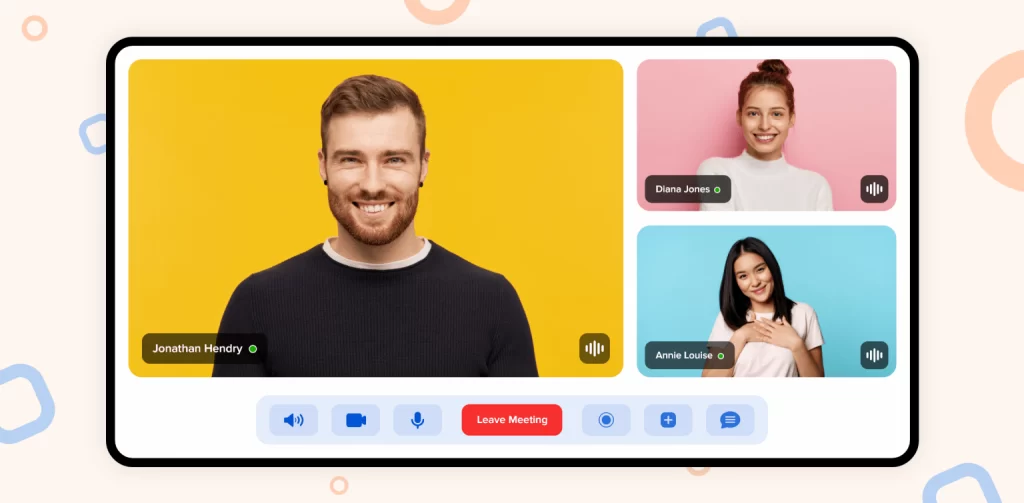 When you consider using a business tool the cost effectiveness apart from the technology compatibility and its long term life cycle needs to be analyzed.
A much recommended provider in this category is MirrorFly SDK and APIs that have ready-to–use UI, secure video conferencing, add-on, hosting customization and more. Some of the top-features this complete solution will provide are as follows:
Video recording

Best HD video quality

Video broadcasting

Screen sharing

Low latency technologies & Easy scaling

Cross-platform support
As the top-rated video conferencing solution for Enterprises, MirrorFly allows unlimited conferencing with data usage and participants to collaborate at the highest level.
Best video for conferencing solutions will lead businesses to these customizable features as per their business needs using their APIs and SDKs. The video conferencing platform for industrial conferencing standards can be achieved with reputed highly secure platform providers such as MirrorFly.
Hope this post would have helped you to grab more insight on the entire journey of APIs with its pros and cons for better approach while planning to build your video conferencing app. All the Best!
Are You Ready To Build Your Video Conferencing App?
---
FAQ's – All About Video Conferencing
What is video conferencing where is it used?
How important is video conferencing nowadays?
Today video conferencing plays a vital role in all sectors. It allows people to have direct face-to-face interaction with anyone around the world which indeed improves the overall user engagement and retention with more productivity in less time.
How many types of video conferencing are there?
There are four types of video conferencing among which two were considered to be the most important one – point to point conferencing and multipoint conferencing. You can have a detailed study on these over here.
How does video conferencing software work?
Video conferencing software works with components, data compression, transfer of data, and more. Its core consists of elements that allow the capture and transfer of video images and audio sounds. In other words, the technology transfers safe analog videos and audio files by compressing them into digital packets which are later decompressed at the receiving end and so on.

What is the difference between a Web conference and a video conference?
Web conferencing is basically an online presentation or event which involves unlimited attendees, where anybody can join the session using the meeting link and share their topic related data. Whereas, video conferencing is an online meeting that requires at least two members or more depending upon the server capacity, where the participants can join the meeting upon host permission.