If you have been using Pinterest for a while and thinking about starting your own social sharing website like the Pinterest, our latest update will certainly elate you. We are delighted to bring to you the new Pinterest Clone . This Joomla component can be used to create an online social networking site dedicated to image sharing and video sharing. The Joomla Pinterest Clone Script includes an interface and functionality quite similar to Pinterest website, which eventually gives an opportunity to to run a fully functional social site without much hardships.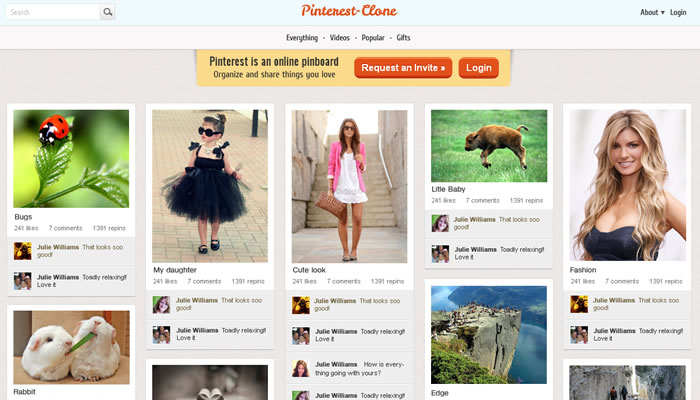 The Joomla Social Share plugin is tagged with several utile features. To highlight a few,

– Allows users to create board on any topics, share and manage images/videos on topics
– Supports "invitation-only" process – allows users to register only upon invitation.
– Create any number of boards on diverse topics
– Add any number of pins(images/videos) to boards
– Facility to repin the pins that attracts users
– Login with Facebook and Twitter account
– Allow users to invite friends, find friends, edit profile settings and manage boards, pins and likes
– Shows all categories pins under "Everything" in home page
– Categorize most liked pins/ most re-pinned items as popular
– "Pin It" button to start pinning images/videos on board.
– "Follow" button to follow other users pin boards and activities.
– Effective admin management

The Pinterest script incorporates a design which takes social sharing to next level. With 100% visible source code, any type of enhancement is possible as per your requisite. After successful installation and configuration, you are set to run your own social pinboard which allows people of various demographics from different walks of like to share their interesting pics, videos or URLs they bumped at while scouring the web.
View the demo and check how the Pinterest clone script looks. For details, visit http://www.apptha.com/joomla/social-pinboard-script or email to bdm@apptha.com