Cloud video streaming is ideal for most online video marketers who look for directly scalable professional video hosting infrastructure. With the rising popularity of video streaming platforms, brands can now focus more on delivering qualitative video content without the need to deal with other technical challenges.
Cloud video platforms have certainly reduced the infrastructure needs much compared to traditional streaming technologies. They are potentially being recognized for features like limitless storage, convenience, security and lots more.
Another major situation that has contributed to the shift of video cloud platform owes to the current COVID scenario that is prevalent across the world. As a result people are consuming a lot more content than ever before. Hence, more businesses are thinking to launch their scalable cloud video platform on a rapid pace.
Keeping these criterions in mind, in this blog we'll be taking you through a basic overview of video cloud platform and their workings, along with its essential features that you should know while selecting a popular cloud platform in 2023.
Top 6 Cloud Video Platforms in 2023
What Is Cloud Video Streaming?
A cloud video streaming service delivers streams of varied kind and store your data in the cloud. A good cloud video streaming service will host video, deliver it reliably whenever your viewers need, be scalable for it to reach millions of users. Some of the popular cloud video streaming services include Netflix, Hulu, YouTube, etc. If you are only interested in content production and not get into the technicalities of hosting, then cloud video streaming is apt for you.
Are you planning To Create a Cloud Video Platform For Your Online Streaming?
Advantages Of Cloud Video Streaming Solution
As cloud streaming is becoming more prevalent, lots of media companies are utilizing their potential and help in seamless delivery of videos. It is undeniable with the fact that not every provider can build and maintain the infrastructure and its complexities associated with it. Hence cloud video streaming solution will work as a boon to them.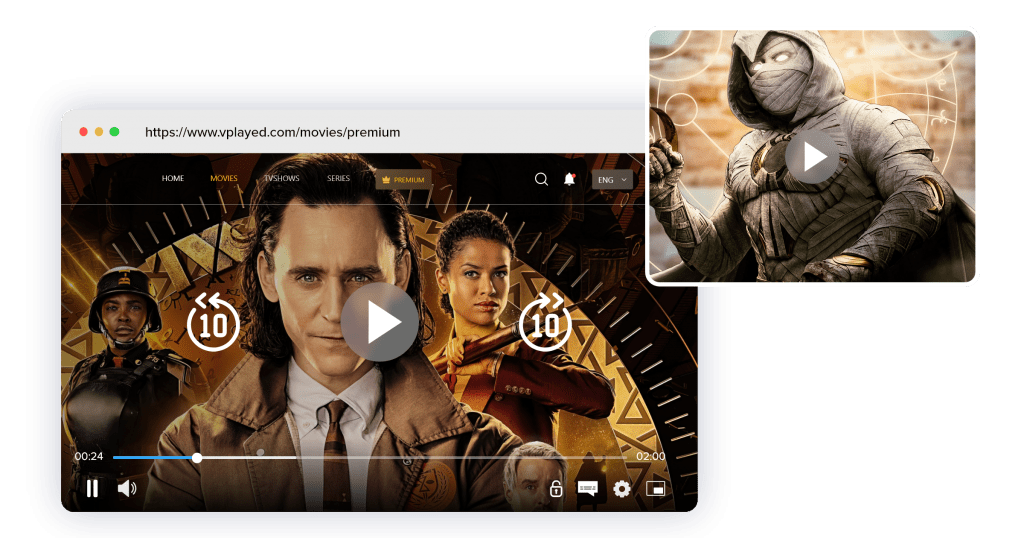 Right from seamless delivery to managing an enormous volume of content, you can have numerous reasons as to why cloud-based streaming platform speedens up your video streaming business:
1. Make It Budget-Friendly
You would be only be paying for your storage and bandwidth requirements. As you go along utilizing cloud video platform, you can manage all-in-all expenses instead of investing a large amount of expense upfront.
2. Ease Of Accessibility
The target audience for whom you have planned to showcase your content can view them at anyplace and anytime with a stable internet connection. The videos cloud platforms are easily accessible from work, or while commuting, remote, etc.
3. Zero-maintenance Of Individual Infrastructure
Moreover, you might not even need to create an in-house server or hardware infrastructure for storage purposes. According to your business needs, with cloud videos you can start a streaming service within days or hours.
4. Best Means of Scalability
One of the prime advantages of creating a video streaming app or platform is due to its unlimited scalability. As your business grows with the customer base, you may easily upgrade your cloud storage, integrate with additional features and more of such things quickly.
5. Potentially Unlimited Storage Capacities
The platforms that are cloud-based, have the possibility to stream videos and store limitless data in a cost-effective manner. Some of the features like backup, archiving, etc makes your data storage potentially unlimited.
6. Best Solution For Security
There are plenty of security compliances connected with digital video platforms. Depending on the platform utility, you get benefited with features like video encryption, DRM protection, online video watermarking, authentication accessibility for users, and more for securing video data.
7. Leverage With Continuity
When you store content by yourself, you will have to plan for a situation like – if a part of your system goes down. Once you use a cloud service for your videos, this is handled entirely for you. By storing in cloud infrastructure, it can be replicated and maintained in multiple locations, if needs to be, so that the video always remains there when you need it.
8. Video Focused Content Delivery Network
If you choose a video cloud streaming solution you get to use a private content delivery network. The dedicated network is further optimized to deliver the best viewing experience when working with videos. Many companies that associate with video have their own networks for streaming their content, which includes Netflix. Their network is named as Netflix open connect.
Now let's compare each platform to pick one that suits your business needs…
Comparison Of the Top 6 Cloud Video Platforms in 2023
Best video cloud streaming solution to stream anywhere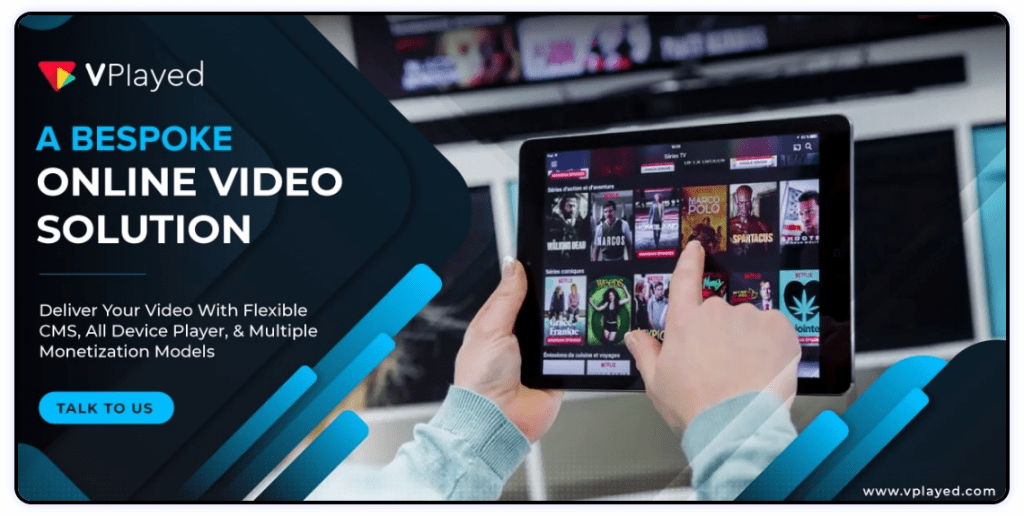 VPlayed is a cloud streaming solution that facilitates content owners, publishers or distributors to stream on-demand or live streaming content anywhere at any time. The best video streaming platforms is independently built with the advanced technologies like microservice architecture and end-to-end encryption software. The 150+ packed features of VPlayed allows video aggregators to publish their content across Web, Mobile & Smart TV.
Some of best cloud video streaming key features include:
Live broadcasting services to attract larger audience base

Robust CDNs can furnish video content across geo locations

Provides 6+ versatile monetization models to elevate revenue

Deliver best playback experience via buffer-free all device player

Facility of whitelabelling any media services for branding purpose
2. Dacast
Integrate videos into other cloud-based streaming apps
Dacast's best online video platforms simplifies the process of premium content distribution across multiple platforms. The streaming solution offered at Dacast capacitates business with enterprise-grade hosting that meet a diverse set of requirements. Professional broadcasters of nearly 300,000 have delivered their content through an affordable cloud solution. You can enjoy benefits like the ability to stream video content to cloud storage.
Some of cloud video stream key features include:
Provides ad-free streaming for premium users

Platform integrated with AES encryption, Multi-DRM, etc

24/7 technical support including chat & email

Live streaming with recording facility

Completely whitelabel vod streaming services in Dacast
3. Brightcove
Enterprise-level streaming platform with cloud video server
Brightcove offers a cloud-based streaming solution that focuses marketing and video monetization. To maximise the impact of their video content, its users can combine the cloud platform with their current marketing, advertising, and communication programmes. Brightcove has been empowering organizations in more than 70 countries globally with the incredible power of video streaming technology and has delivered its services to its customers since 2004.
Some of video cloud streaming key features include:
Video on demand for diverse users with live streaming services

Cloud-based transcoding for delivering in various resolutions of videos

Adaptive bitrate streaming helps to provide better playback experience

Token-based REST APIs are for better authentication of streams

Numerous cloud app integrations with other combined features
4. IBM Cloud Video
Leading video cloud streaming platform targeting virtual collaboration
IBM cloud video is a renowned streaming platform that serves as a leading provider of live streaming and VOD capacities. The cloud-based streaming supports a large group of audience without causing lag or interruption in the feed. It also provides tools to manage multiple streams at the same time. With its advanced machine learning and automated potentialities, IBM cloud media streams over 2 million live events on a monthly basis.
Some of cloud based streaming key features include:
Delivers live as well as on-demand streaming

Offers enterprise-grade content delivery network

Advanced pack of security features like multi-DRM

HTML5 video player for video distribution & workflow

OTT video management provides an all-in-one solution
5. Vimeo OTT
Video management in top cloud video streaming platform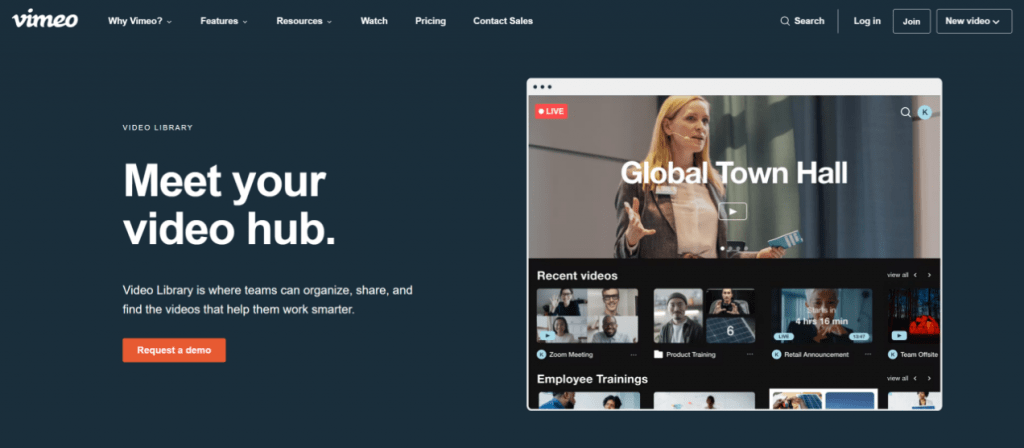 Vimeo OTT is premium video streaming platform that empowers organizations with live event streaming, hosting and advanced marketing capabilities. The New York-based cloud video company sets it apart from other similar platforms offering a rich user experience. These offerings are integrable with features like privacy control, analytics and customizations and stay accessible to users at varied pricing levels.
Some of cloud streaming key features include:
Cloud-based video hosting service

Latest streaming and marketing tools

Provides a professional-like interface

Live streaming option on cloud architecture

Upload videos anywhere via a cloud storage platform
6. Kaltura
Next-best cloud video platform for streaming in online space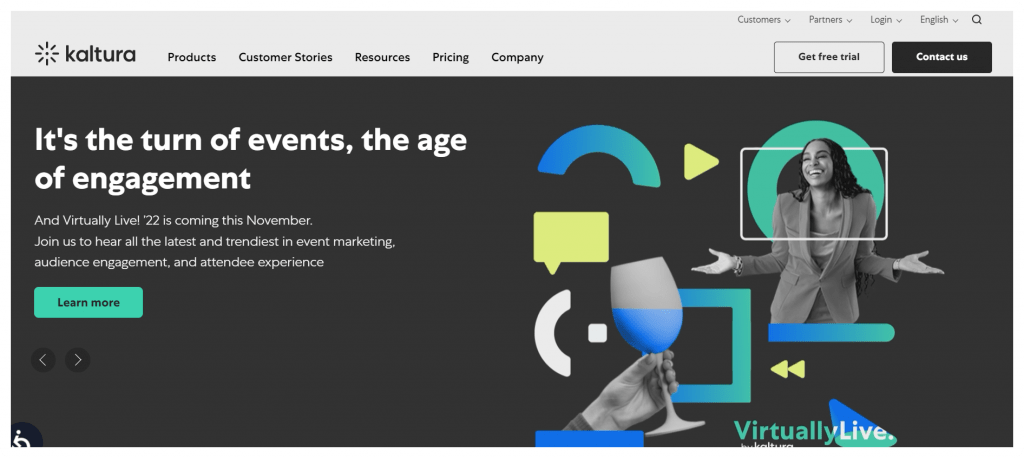 Kaltura focuses to enable every genre of organization with the ability to power up their video experience. The Israeli company of Kaltura offers software as a service video solution. Their video cloud service provides both live as well as VOD supports to content distributors and aggregators. The open-source streaming platform specialized in broadcasting videos for educational institutions and professional organizations.
Some of video cloud platform key features include:
Cloud-based video hosting and online streaming

Live software production along with transcoding

Unlimited file storage in premium broadcasting plans

Content delivery services via Limelight, Akamai, eCDN

Enhanced security via various aes video encryption techniques
Conclusion:
Choosing the best cloud video streaming platform might be challenging because there are so many on the market. To make the best decision for yourself, as broadcasters you must be aware of the aspects that are crucial to their operations. Many cloud platforms also provide consumers with free trials to test the platform out before making a purchase and ensure they get the most value for their money.
If You Already Have An Idea About Creating a Cloud Video Streaming Platform , Schedule A Free Demo And We'll Get You On The Road To Video Streaming Success
Frequently Asked Questions (FAQ):
1. What Is a Cloud Video Platform?
A Cloud Video Platform is a service that uses cloud-based technology to store, manage, and distribute video content. It helps users to conveniently host, watch, and share videos, with content accessible from any device with an internet connection. These platforms often include extra features like video analytics, monetization possibilities, and content management.
2. What To Look for in Top Cloud Video Streaming Platforms?
When looking for the best cloud video streaming platform, consider scalability, stability, and compatibility with various devices and browsers. Look for a platform that offers a wide range of capabilities, such as live streaming, video on demand, different monetization choices, and an easy-to-use interface. It's also critical to assess whether the platform fits your security and compliance needs.
3. What Are the Benefits Of Cloud Video Streaming?
Cloud video streaming has several advantages, including scalability, cost-effectiveness, and quick access to information from anywhere. It also supports live streaming and on-demand video, as well as comprehensive analytics and monetization possibilities. Above all, it eliminates the need for costly hardware and software as it enables simple integration with other platforms.
4. How Does Cloud-Based Video Streaming Work?
Cloud-based video streaming operates by storing video files on remote servers that are accessible via the internet. The video content can be accessed and streamed by users via a web-based player or a mobile app. The video is then sent in small chunks to the viewer, which are reassembled and played on the viewer's device. 
5. Which Is The Best Cloud Service Provider For Video Streaming?
There are several cloud service providers that are popular for video streaming. However, the best one for you will depend on your specific business needs and requirements. However, it is highly recommended to evaluate different providers and compare their features and pricing before coming to a conclusion.