Video's growing popularity has necessitated the creation of video on demand platforms. They assist enterprises in proper streaming & managing their videos over the Internet.
Dacast is the most well-known of the internet video platforms. It provides innovative tech solutions in the media industry. Users can host movies, as well as embed them in websites and apps all because of advancements seen forth in this eminent streamline.
The platform is great for content creators or business owners, however they can look for other alternative to Dacast who want to offer premium movies on their websites or apps.
In this article, we'll evaluate what all are offered in top dacast alternatives that's comparable and identify which could be an ideal solution to explore.
Now, you might be curious to know…
What is Dacast?
Dacast is primarily a best video streaming platforms that allows you to post, stream, monetize, and share live & on-demand videos. It is a unified streaming solution that is majorly utlized by professional broadcast streaming, content aggregators, media publishers, etc.
When businesses choose streaming in any place, Dacast is opted as the first choice for OTT solution which majorly provides use cases such as media & entertainment business, religious services, sports and fitness commodities, & corporate organizations.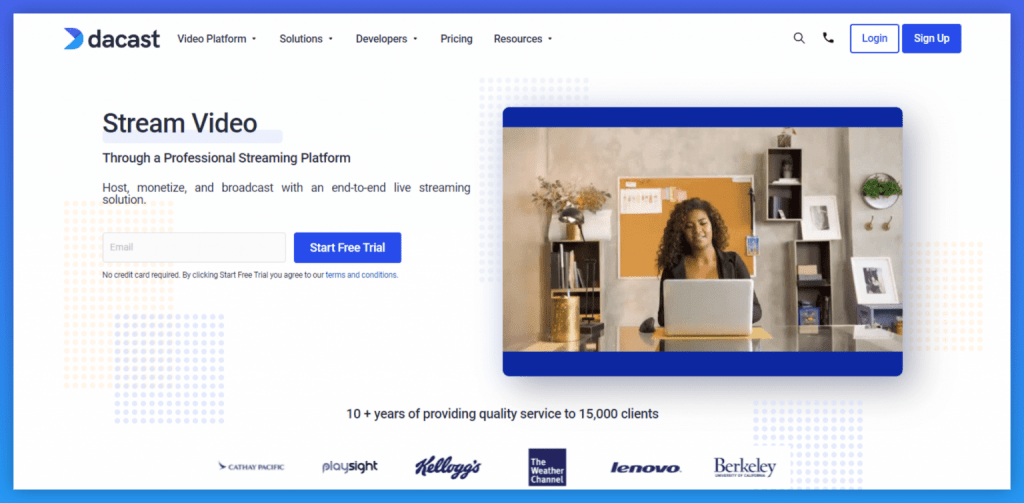 In comparison to other competitors in the market
Dacast features are well-suited and found to be a better alternative because:
Top-tier CDN business relationships deliver content worldwide
All plans include 24/7 technical support (email with live chat)
Dacast enables password-protected streaming for best video surveillance
Zoom integrations are also available
They potentialize with HLS streaming and RTMP ingests
Restricted access for Domain Name & to whitelist certain countries
Access to the Player API & Video API for advanced customisation
Cloud video transcoding allows for multi-bitrate streaming
Analytics for real-time video streaming
Reviews for multiple language support favour your ultimate need
Monetization of ad-free streaming AVOD, SVOD, & Pay-per-view
The best platform for you will be determined by your niche requirements. Indeed, you are looking for how well you can supercharge your business & make it easy for you to grow in a short span of time…
Best 6 Dacast Alternatives for Streaming:
Top 6 Best Dacast Streaming Alternatives
Let's look at some of these listed platforms, alternatives to Dacast & check out when they should be used.
Here is a list of the best dacast alternatives for streaming are CONTUS VPlayed, Brightcove, GUDSHO, Kaltura, IBM Cloud Video, JW Player, and more. Each platform has its own unique set of features, pricing, and capabilities. Let's see it in detail.
Whitelabel Video Platform to Broadcast Streams in Any Device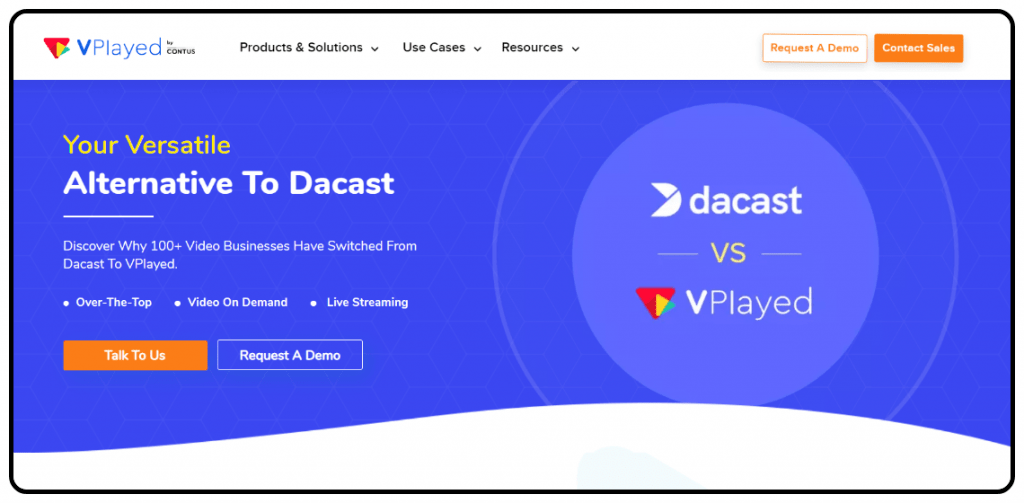 If you're looking for a one-stop shop to stay on top of the OTT game at all times, VPlayed is your best bet! The top-notch VOD platform developers of their solution brings your game-changing content plans to life. VPlayed is well-known for serving industry niches such as media and Broadcasting, Elearning, Filmmakers, Corporate owners, Sports, Fitness,Youtubers, etc.
Noteworthy features that cater to your business needs in contrast to Dacast starts with:
100% customization of the entire platform
Facility of on cloud/ on premises hosting deployments
Greatest alternative to Dacast can be constructed using cloud transcoding
Built-in video CMS library for your preferred business approach
6+ monetization models help you to drive flexibility to grow
Accurate analytics solution to improve UX by accelerating consistent ROI
Want To Choose The Best Dacast Alternatives For Your Streaming Business?
Media-focussed another hosting dacast alternative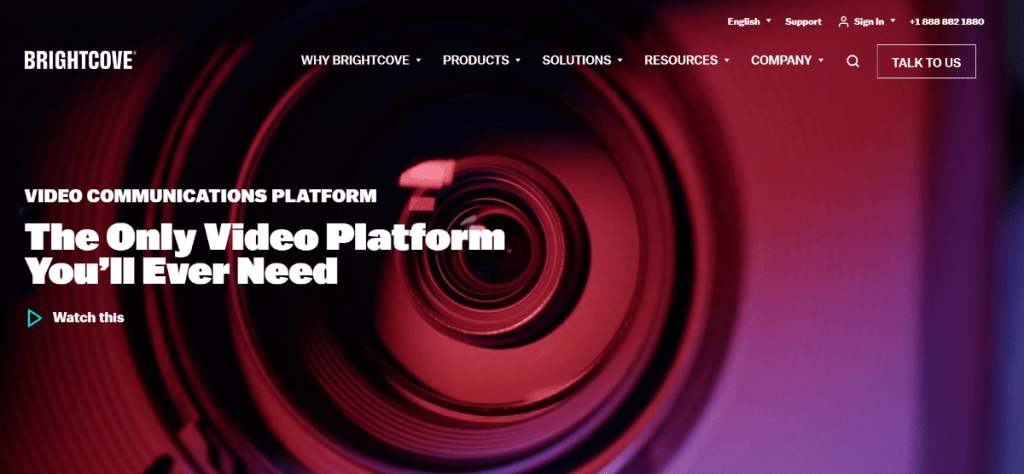 Brightcove is a pioneering online video platform that specialises in providing video live streaming solutions to help businesses expand their audience anywhere. It was first introduced in Boston in 2004. As compared to Dacast this feature-rich platform not only helps content businesses to get their online-enabled broadcasts up & but also serves for streaming entertainment purposes.
Here are some of its strengths to stream live & on demand videos:
Another high-end video streaming services renowned in the industry
All plans have premium price point as per customized requirements
Brightcove's rich player is easily customizable
Quickly embed videos on your site & share them with a single link
Monetise videos with features like Google Ad Manager integrations, SSAI
Brightcove gives data insights like new viewers, user views, similar to top competitors
Tired of using Brightcove?
GUDSHO- Best Premium Video Monetization Service Desired By Creators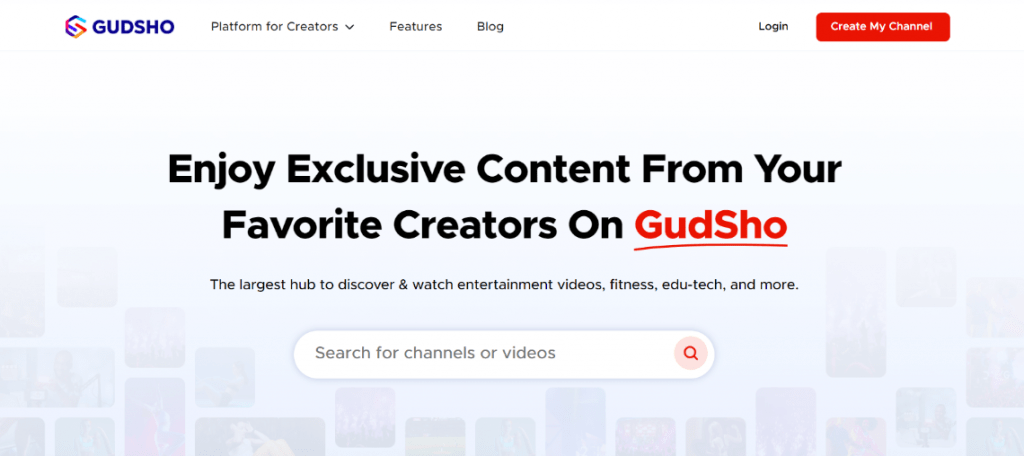 With a horde of content creators out there who are thriving to showcase their creative side, GudSho is their real revenue-generating video hub.
It lets video streamers, social media influencers, and independent creators set up a channel and gain a huge fan base by letting them post videos anywhere anytime.
The bigger the community, the greater is their revenue scale.
Additionally, GUDSHO supports multiple monetization models on video content. With just not stopping on this, it also lets fans make hand-sum donations to the creator's posts.
Last but not the least, GUDSHO fortifies content creators' valuable video assets from piracy and intrusions. So, integrity is tightly-sealed!
Here's what makes GudSho a standout:
Lets users easily and quickly upload, manage, and stream videos in their CMS.
Deliver lag-free, stutter-free, and buffer-free 4k videos with adaptive bitrate streaming.
Creators with this platform can promote and popularize videos with pre-made marketing tools.
It allows them to take 100% of revenue without needing to halve their profit with anyone.
An OTT solution for Educationists & Corporates in Comparison to Dacast
Kaltura is an open-source streaming platform with an API that allows for complete customization. Users can combine almost any programme to create the broadcasting experience that best suits their needs.
Some of its streaming reviews that you'll need instead of opting Dacast are:
Live streaming is made easy on Kaltura
Whitelabel HLS video player is found in contrast to free alternatives
A variety of integrations for monetization is available
Reliable video security is well-known Dacast alternative
There is an option of pay as you go for features, bandwidth access
Best-suited for advanced enterprise streaming infrastructure
A Unified Cloud Video Streaming Next-best to Dacast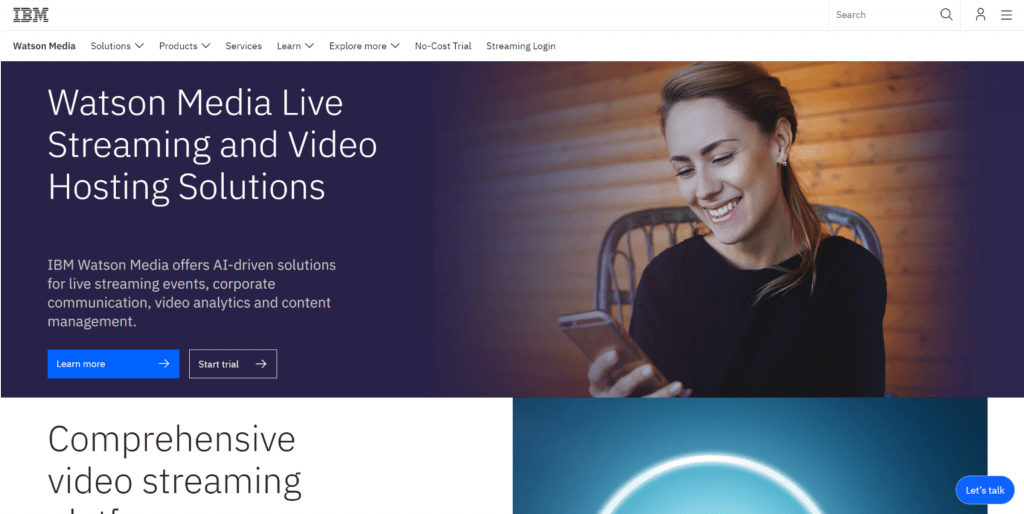 For enterprises who want to make use of Dacast-like capabilities while also storing their data on the top live or on demand streaming platform, IBM Cloud video is a viable option. The technology empire created by IBM is powerful and found incomparable to any other competitors in the market.
Let's take a look at what makes IBM Cloud Video A Better Option than Dacast
Storing data on IBM cloud is a viable option
Addition of AI-generated closed captions to videos
Offers support with regards to VOD hosting & management
Video monetization plans are supportive with ad insertions
Unlike Dacast, here customizable channel pages are offered
Data is stored in one of the IBM cloud regions with strict compliance
Powerful Streaming Platform for Streaming Best VOD or OTT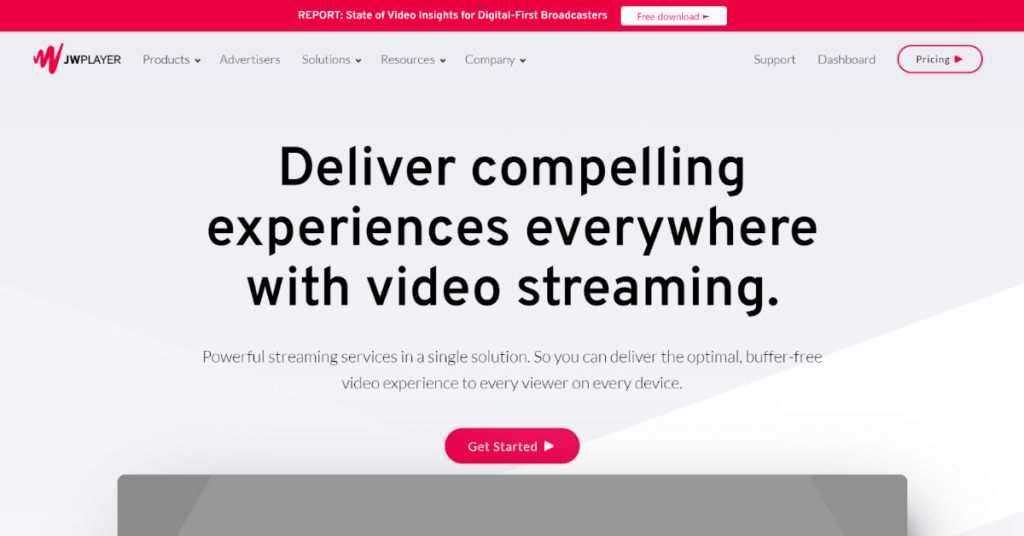 JW Player began as a feature of YouTube's original video player and has since grown to become a full-fledged streaming platform. JW Player can broadcast live and on-demand content. It offers new-comer broadcasters low-cost as well as custom-priced plans for high-volume streaming.
Get a glimpse at JW Player's superior features showcasing the difference
Ensures to deliver real-time streaming with zero pixelates
They support VOD hosting to stream with full SDK support
Revenue-generating support via ad integration & player bidding
DRM, geo-restrictions, and token-signing security are all available
Essentializes with white label OTT platforms that may be customized
Power with increased storage, enterprise solutions are available
Conclusion:
You're seeking for a simple, no-hassle alternative to Dacast that can assist you with your company demands. Nothing less than the greatest will suffice. In this rapid-growing video marketing, there are numerous effective video streaming options. Broadcasters have a lot to consider as they look for the ideal platform because there are so many different features, customization and price plans to choose from.
We recommend that you delve deeply into comparing platforms while keeping your company's streaming goals and functionality requirements in mind. Dacast & the other platforms that we've compared are all excellent choices, but the key is to select one that suits your needs.
All you have to do is to get connected with VPlayed for you to have all of your needs met and to take advantage of the competitive curve that unfolds to have a lucid and easy-to-use interface.
If You're Ready To Incorporate Video On Demand Platform Into Your Video Content Streaming, Get In Touch With Us Right Away.
Frequently Asked Questions(FAQ):