Live-streaming platforms are your secret weapon to deliver a captivating experience. They let you build genuine connections with your audience, making your content shine brighter than ever.

Whether you're sharing fitness tips, rocking out a concert, or flaunting your gaming skills, these platforms are your ticket to leaving a lasting impression on your viewers.

The significance of live streaming for broadcasters is undeniable. According to a Go-Globe report, 80% of people prefer watching live videos from brands instead of reading blog posts.
Additionally, a remarkable 82% favor live video over regular social media posts.
Furthermore, research by Live stream stats indicates that the average time spent watching live videos has significantly increased by over 80% in the past year. 
These statistics underscore the importance of integrating live streaming into broadcasting strategies.

After all, it helps you to engage audiences and capture their attention effectively.

So, in this blog, let's understand what a live-streaming platform is and the features you should consider before buying a live streaming platform.

Ultimately, we will discuss the top ten live streaming platforms to start your streaming service.
What is Live Streaming Platform?
A live-streaming platform is a technology that lets you share real-time videos with your audience over the internet. It's like having your own TV channel, but online!

Whether you're a content creator, a business, or just want to connect with friends and family, these platforms are your best buddies.
You can live stream events, classes, gaming sessions, or anything you fancy. It's all about sharing the moment as it happens!

With live-streaming platforms, you can interact with viewers in real time. Besides, you get immediate feedback and build a loyal community.
What are the Features to Consider in a Live Streaming Platform?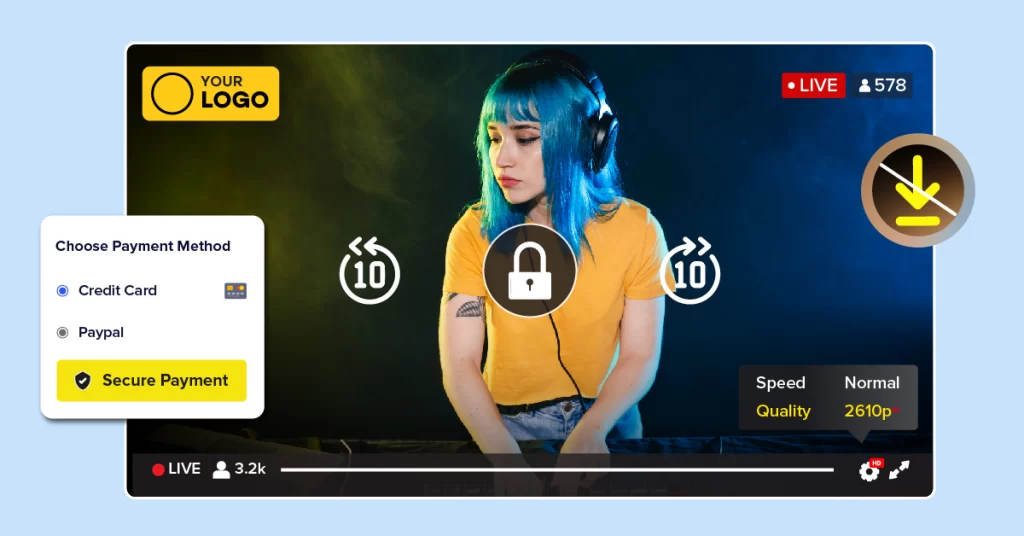 These are the crucial features to consider when choosing a live streaming platform.
Streaming Quality: Ensure the platform supports high-quality video and audio streaming for a professional and engaging experience.
Compatibility: To reach a broader audience, check if it is compatible with various devices and operating systems.
Video Hosting: Look for robust video hosting capabilities to store and manage your content securely.
Multistreaming: Check if it allows you to stream to multiple platforms, expanding your audience reach simultaneously.
Video Organization and Management: Ensure the platform offers easy-to-use tools to efficiently organize and manage your video library.
Monetization Options: Explore the platform's capabilities for ads, subscriptions, or pay-per-view to generate revenue from your content.
Password-Protected Streams: Consider platforms that provide security options like password protection for private or exclusive streams.
Adaptive Bitrate Streaming: Look for adaptive bitrate support, allowing seamless video playback even on varying internet speeds.
RTMP Streaming Support: Ensure the platform supports Real-Time Messaging Protocol (RTMP) for reliable and low-latency streaming.
Analytics and Insights: Access data on viewership, engagement, and demographics to refine your content strategy.
Security and Privacy: Ensure the platform offers robust security measures to protect your content and viewers' data.
Integration with Social Media: Consider seamless integration with social media platforms for broader promotion and reach.
Customer Support: Look for a reliable platform to assist with any technical issues or inquiries.
Top Live Streaming Platforms and Their Features 2023
Here are some of the best live streaming platforms that helps to create your live streaming experience. Such as VPlayed, Dacast, Brightcove, IBM Cloud Video, JW Player, Vimeo Livestream, Muvi, Kaltura and more . Lets See each live streaming platforms in details.
1. VPlayed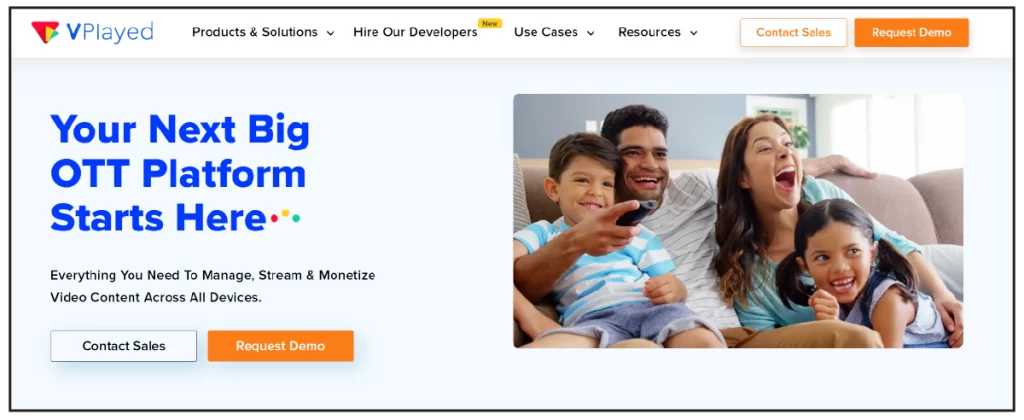 VPlayed shines brightly as one of the finest live streaming platforms. It's a complete package that takes your video streaming game to the next level.

The benefits are endless, from total customization to keeping all your hard-earned revenue — with zero percent commission on your earnings.
With top-notch features and seamless video streaming, VPlayed stands out from the crowd.

You can launch your platform hassle-free and enjoy secure content delivery, multiple monetization options, and insightful analytics. Their team is always there to support you.

Whether you're just starting or a seasoned pro, VPlayed is the perfect place to monetize your live videos and build your business.
Key VPlayed Features:
Complete Customization: Personalize your live streaming platform to match your brand's identity.
User-Friendly Content Management: Easily upload and manage your live video library hassle-free.
Powerful Cloud Transcoding: Optimize video quality for smooth live streaming experiences.
HTML5 Player with HLS Streaming: Enjoy seamless playback across the web; no extra player is needed.
Global CDNs: Reach a global audience with flawless on-demand and live video delivery.
Flexible Monetization Options: Choose from 9+ models to boost your live streaming revenue.
Multi-DRM Solution: Ensure robust video security to protect licensed content.
For quote-based plans, fill out this inquiry form, You may also opt for best Live Streaming Platform Free Demo Here

2. Dacast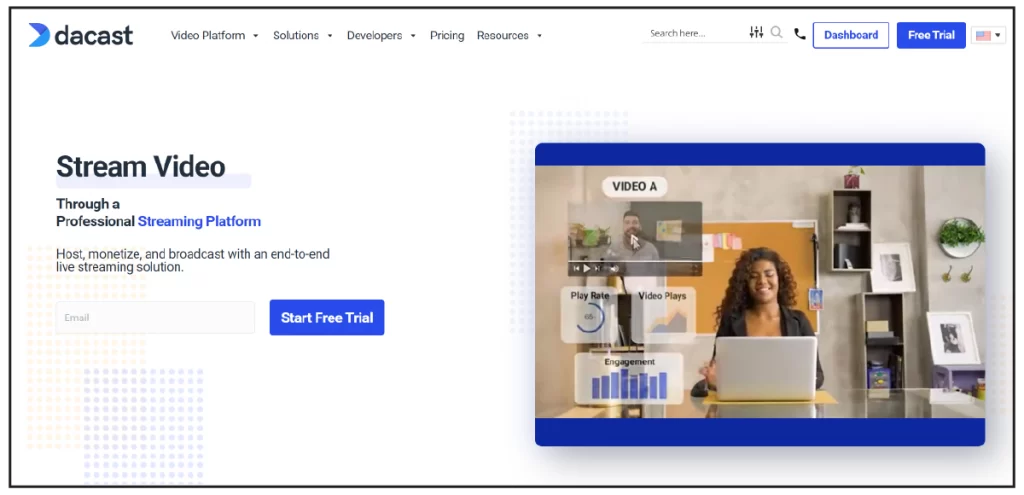 Dacast makes live streaming platform creation a breeze for both Android and iOS. Their SDKs simplify development across the entire streaming market, ensuring a smooth experience.

With Dacast's online video platform, you'll enjoy robust video hosting infrastructure and seamless live streaming capabilities.

But before launching your apps on app/play stores with Dacast SDKs, don't forget to test them out.

They offer an end-to-end live streaming platform that handles everything from analytics to monetization and security, giving you peace of mind.
And the best part? Their 24/7 support is always there to help you succeed in your live-streaming ventures.

In a nutshell, Dacast provides one of the finest live streaming platform experiences in the market.
Key Dacast Features include
1. Reliable Video Hosting Platform: Seamlessly store and manage your live streaming content.
2. Powerful Video API: Take control of your video content programmatically through their robust API.
3. Subtitle and Closed Caption Support: Engage viewers globally with multilingual subtitles and captions.
4. Enhanced Navigation with Chapter Markers: Improve user experience by adding chapter markers to your live streams.
5. Real-time Analytics: Gain valuable insights into live streaming performance and audience engagement.
6. Round-the-Clock Customer Support: Enjoy continuous assistance with live streaming queries or issues.
Tired of using Dacast?
See why Dacast is not suitable to manage Your Live Streaming and why you need a
Dacast Alternative
3. Brightcove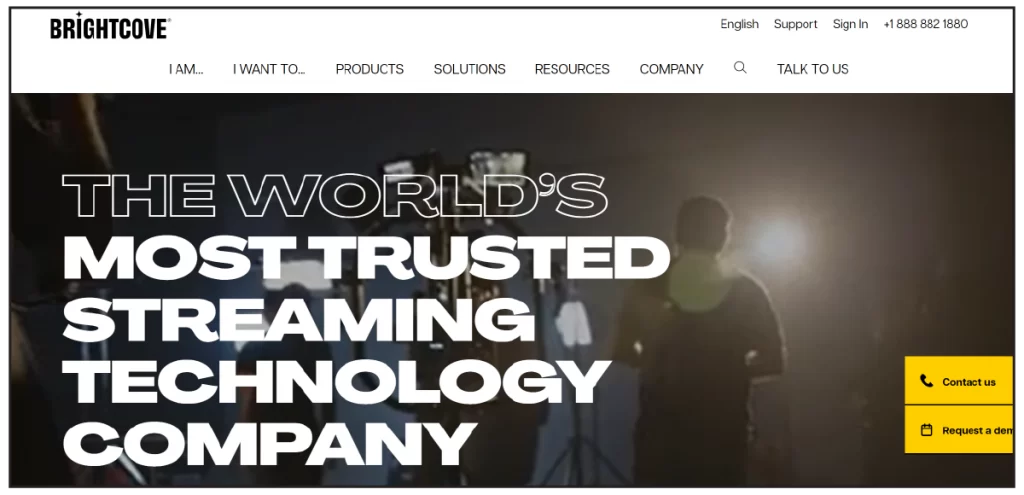 Brightcove is your go-to live streaming platform for businesses and organizations! It's the perfect solution to publish, distribute, and monetize your video content hassle-free.

With its user-friendly interface, uploading and organizing video assets is a breeze. Additionally, you can customize the player to match your brand and share your videos on different online platforms.

Their advanced analytics provide valuable insights into video performance and audience engagement, helping refine your content strategy.

And Brightcove supports multiple video formats and adaptive streaming technology. So, it ensures your audience has a seamless live streaming experience.
Key Brightcove Features:
Cross-platform HTML5 Video Player: Deliver seamless live streaming experiences on all devices with a responsive player.
Video Analytics: Gain valuable insights into live streaming performance and audience engagement.
High-quality Adaptive Bitrate: Ensure top-notch video quality for your live streams, regardless of the viewer's connection.
HLS Video Across Desktop and Mobile Platforms: Enjoy smooth live streaming on various devices.
Integrates with Your Favorite Advertising and Analytics Systems: Seamlessly integrate ads and track live streaming performance with your preferred tools.
Tired of using Brightcove?
4. IBM Cloud Video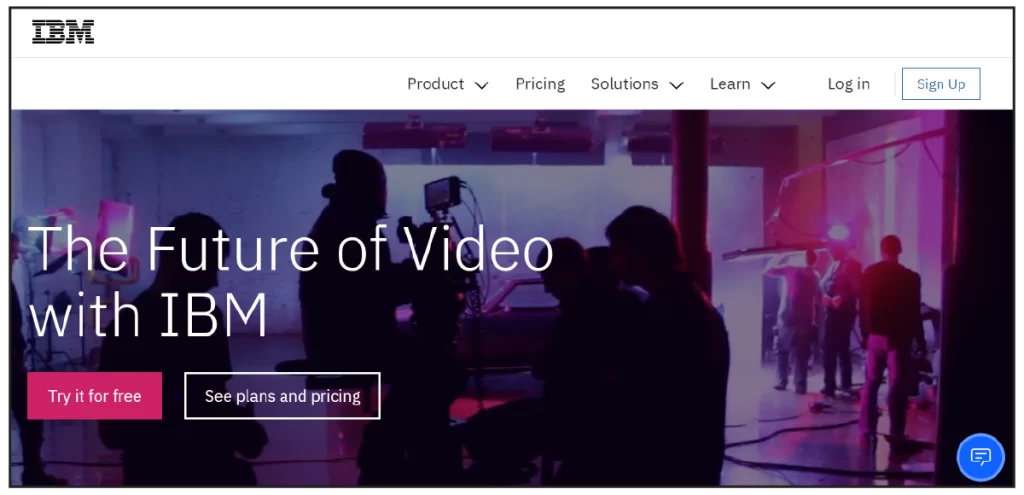 IBM Cloud Video is a comprehensive live streaming platform designed for your online video-streaming business.
It strongly focuses on a robust, secure cloud infrastructure. And it offers diverse cloud video streaming capabilities tailored for the enterprise streaming market.
You can also benefit from seamless online video streaming and effortless content management with IBM Cloud Video.
The platform ensures high-quality playback with low latency and adaptive bitrate streaming, delivering a superior viewing experience.

Additionally, IBM Cloud Video provides robust analytics for tracking video performance and gaining valuable audience insights. And their 24/7 customer support is readily available to address any concerns.
Key IBM Cloud Video Features:
1. HD Live Broadcasting: Deliver captivating live streams with high-quality video to engage your audience.
2. Recording of Broadcasts: Save and share recorded broadcasts, allowing viewers to watch later.
3. Mobile Compatible Player: Ensure seamless video playback on mobile devices, reaching a broader audience.
4. Video Distribution and Workflow: Efficiently manage and distribute your live streaming content.
5. Live Chat and Q&A: Foster interactive experiences by engaging with viewers in real-time.
5. JW Player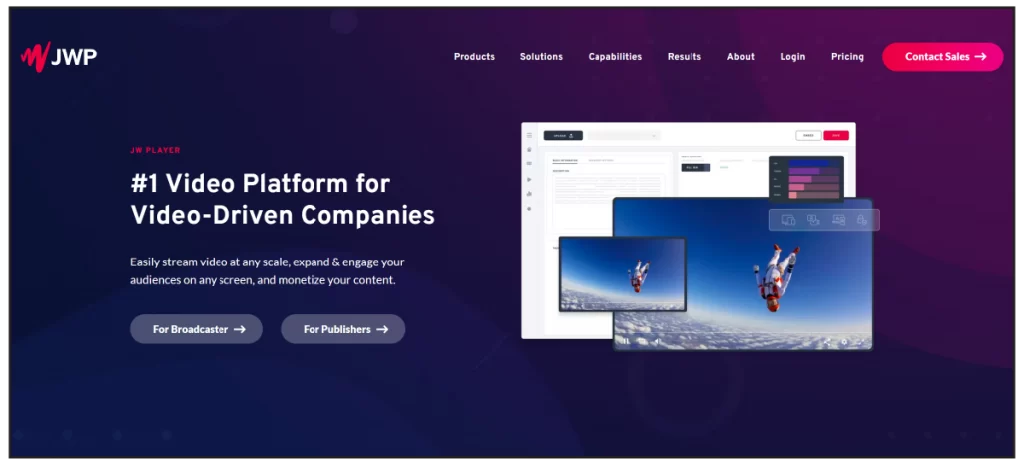 JW Player stands out as a compelling live streaming platform for various reasons.
Firstly, it ensures a seamless video playback experience on all devices. So you can captivate and retain your audiences with high-quality content.

Secondly, it has robust cloud transcoding and customization options. So, it lets you create a branded video player experience tailored to your brand identity.

And, thirdly, Similar to VPlayed, JW Player offers powerful monetization options, including SSAI, pay-per-view, and subscriptions.

With its strong emphasis on delivering high-quality video streaming, JW Player is a great choice for those searching for a reliable live streaming platform.
Key JW Player Features:
Universal Video Player: Deliver seamless live streaming on different devices and platforms.
Adaptive Streaming: Ensure smooth playback even in low bandwidth situations.
Customization Options: Brand your live streaming platform and create a personalized viewing experience.
Real-time Analytics: Gain valuable insights into user engagement and behavior for data-driven decisions.
6. Vimeo Livestream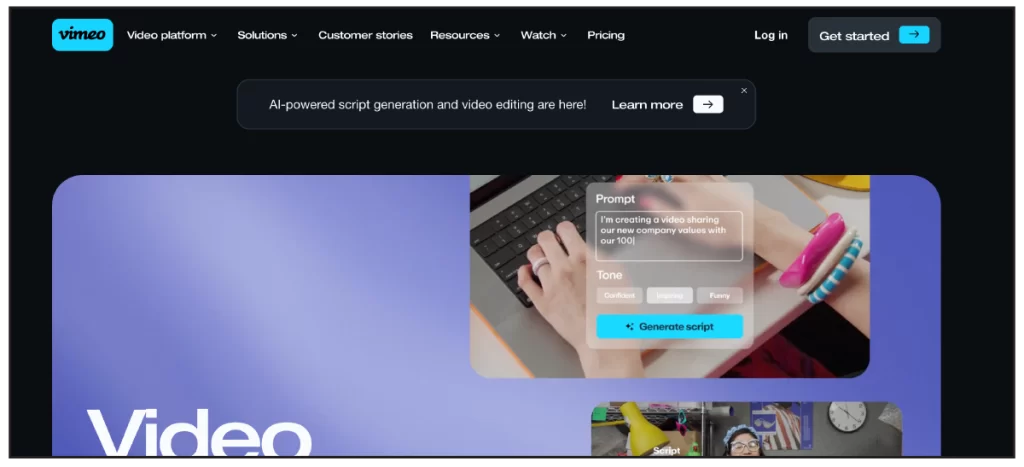 Livestream from Vimeo is a powerful live streaming platform that allows you to broadcast your live videos to a global audience.

It provides all the essential tools and features for seamless live streaming. It includes adaptive streaming technology, customizable video players, and real-time analytics to track audience engagement.

Vimeo also offers flexible monetization options to generate revenue from your live videos.
With features like pay-per-view, subscriptions, and VOD , you can easily monetize your live content and turn your passion into a profitable venture.

Whether you're a content creator, educator, or business, Vimeo Livestream offers a compelling option to monetize your live videos and reach a broader audience.
Key Vimeo Livestream Features:
1. Global live streaming capability for broadcasting to audiences worldwide.
2. Adaptive streaming technology for smooth playback in varying network conditions.
3. Customizable video players to match your brand and create a personalized viewing experience.
4. Real-time analytics to track audience engagement and performance insights.
5. Robust monetization options for revenue generation include pay-per-view, subscriptions, and video on demand platform.
7. Muvi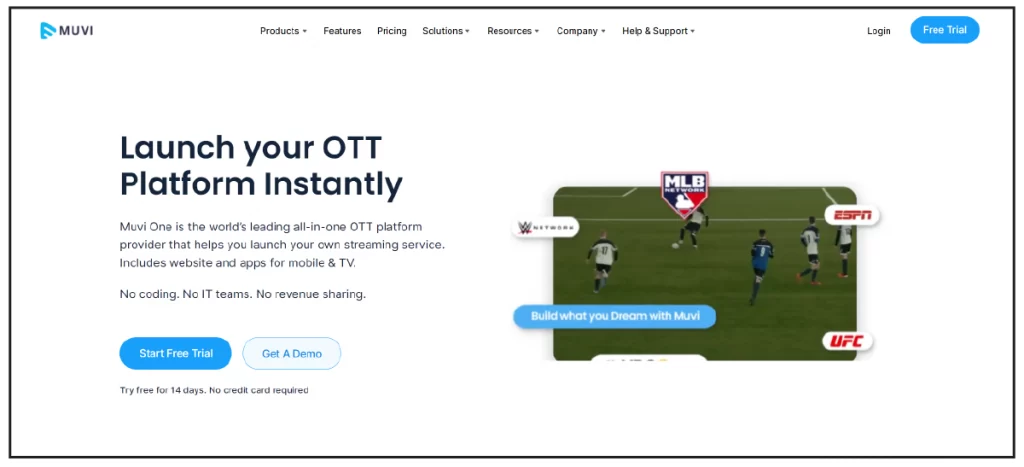 Muvi is a video monetization platform that empowers content creators worldwide. It offers a comprehensive solution for live content delivery to a global audience.

With Muvi, you can monetize your live videos seamlessly through pay-per-view, subscriptions, and ads.
The platform also provides a customizable, branded video player, giving your live streams a professional touch.

In addition, you can gain valuable insights into audience engagement with advanced analytics for data-driven decisions.

Muvi's user-friendly interface and extensive features are the icing on the cake. Muvi is the perfect choice for content creators looking to monetize their live videos.
Key Muvi Features:
Robust monetization options, including pay-per-view, subscriptions, and ad integration.
Customizable, branded video player for a professional and personalized live streaming experience.
Advanced analytics for valuable insights into audience engagement and content optimization.
User-friendly interface and extensive features to empower content creators for live video monetization.
Multi-device compatibility for seamless live streaming across various platforms and devices.
8. Kaltura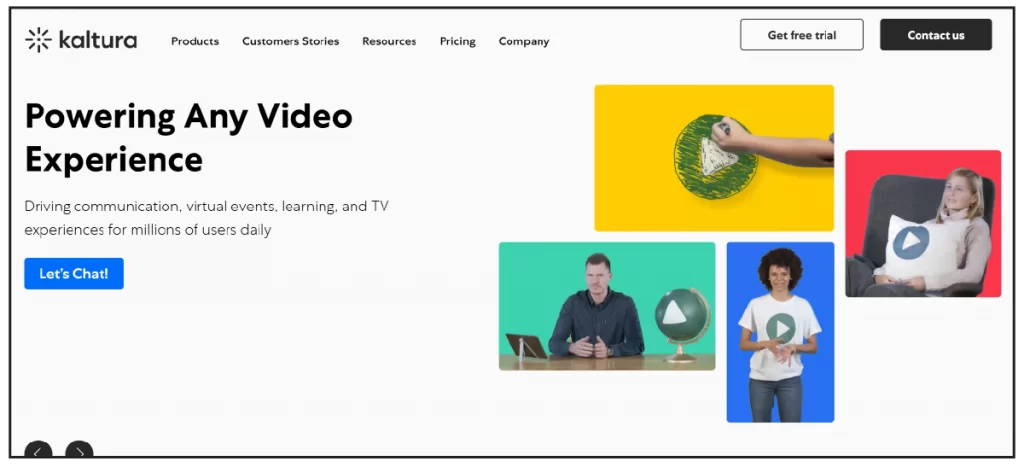 Kaltura is a powerful video technology platform that offers an ideal solution for monetizing your live videos.

With Kaltura, you can access various monetization options tailored to your specific needs. You can choose from pay-per-view for exclusive live events, subscription models for recurring revenue, or ad insertion for additional ad revenue streams.

Kaltura's advanced analytics provide in-depth insights into audience behavior and engagement, empowering you to make data-driven decisions.
These insights help you optimize your live streaming strategy and maximize revenue potential.
In a nutshell, Kaltura provides the best End-to-end video solution to build your live streaming business.
Kaltura Features:
HTML5 support ensures video playback compatibility across devices, even when served on Flash platforms.
Screen reader support enhances accessibility for visually impaired users to enjoy live video content.
Multi-language captions provide an inclusive viewing experience for broader audience engagement.
Accessible controls enable easy navigation and interaction for users with disabilities.
Colorblind compliance ensures video elements remain distinguishable, accommodating color-impaired viewers.
9. Wowza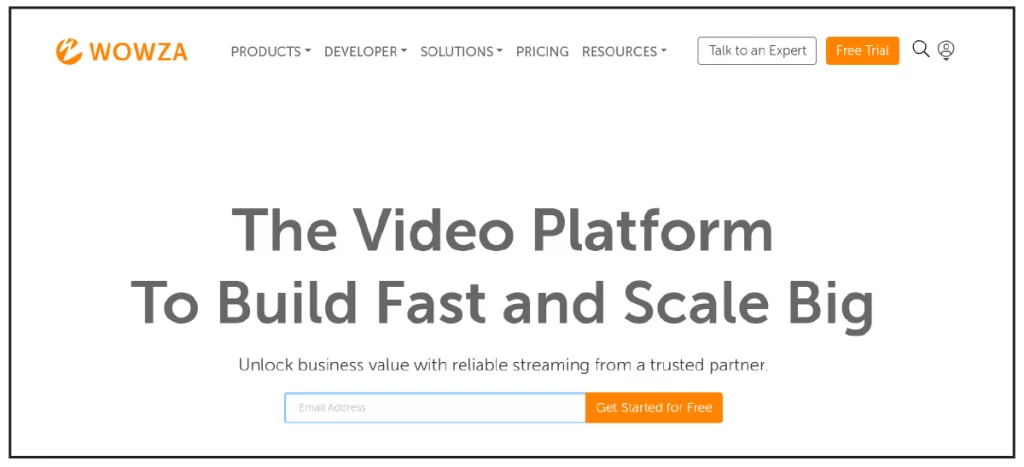 Wowza is an exceptional video platform equipped with cutting-edge technology.
It offers top-notch live and on-demand streaming services.

Wowza's integrated video content management system (CMS), advanced analytics, and other impressive features ensure high-quality live streaming experiences.

Whether it's live events or video-on-demand content, Wowza has got you covered with its industry-leading solutions.

So, if you're in a hurry, you can embrace Wowza to build a reliable live-streaming business.

And Wowza will elevate your content delivery to new heights.
Key Wowza Features:
Cloud management portal for convenient and centralized control over your live streaming workflows.
Up to 4K streaming capabilities to deliver high-definition content and enhance viewer experience.
Wide range of security options to safeguard your live streams and protect valuable content.
APIs are available for seamless integration and customizations to suit your specific requirements.
Live stream recording functionality to capture and save live events for later viewing or archival purposes.
10. Panopto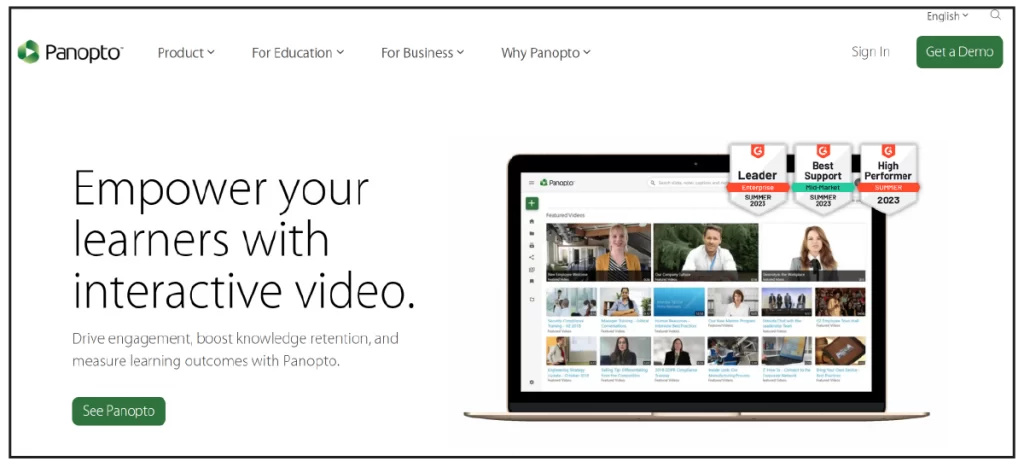 Panopto's live-streaming platform stands out with its strong emphasis on online education.

It offers robust tools to create "internal YouTubes" and seamless integration with Learning Management Systems.

As a specialized online video organization platform, Panopto caters to the unique needs of educators and organizations. It provides a tailored solution for sharing knowledge and educational content.

While other best live-streaming platforms offer a broader range of features, Panopto's niche focus on internal education sets it apart.

So, if you're an institution looking to create a centralized and efficient learning environment, Panopto is your go-to platform.
Key Panopto Features:
Video Management: Organize and manage your video content efficiently within the platform.
Recording Video: Capture and create high-quality videos easily for your live streaming sessions.
Live Video: Stream live events and presentations seamlessly to a global audience.
Video Search and Discovery: Quickly find and explore relevant video content using powerful search capabilities.
Integration: Seamlessly integrate with other tools and platforms to enhance your streaming experience.
Mobile Video: Access and stream content on the go with mobile-friendly features and accessibility.
Conclusion
So the world of live streaming now offers a plethora of choices to creators and businesses.

The best ten live streaming platforms showcased in this blog provide a vast array of features to cater to diverse needs.

From industry giants like Vimeo and Wowza to specialized platforms like Panopto for education, each platform brings unique strengths to the table.

Then, there are platforms like VPlayed which are full-customizable and offer end-to-end live streaming capabilities.

Whether you're a content creator, educator, or business owner, you can find the perfect fit to elevate your live streaming experiences.

Explore these platforms keeping in mind the needs of your business and the nature of your target audience.
If you're still unsure, contact our experts for a personalized guidance.
We will get in touch with you shortly.
If You Already Have An Idea About Starting A Live Streaming Platform, Schedule A Free Demo And We'll Get You On The Road To Live Streaming Success!