The prime factors to create an online TV channel relies on nothing but quality-grade content. As professionals, you can make sure to independently identify where quality is missed out and why.
Some benefits like content accessibility by end-users, the best go-to place to enjoy the latest pack of films, TV series, and live sporty action like OTT platform, It determines the creation of online TV channels providing a high-quality viewing experience across the screens.
After all, subscribers preferring such platforms are purely based to gain the best quality of entertainment.
Let's analyze this in detail…
Content + Concept = Channel
The context elucidates the nature of creating an online tv channel.
We can say this because the variability of each content with different video business concepts shapes unique streaming channels that are favorable to your customer needs. When you start looking into how to build your own online TV channel this is one of the main criteria.
However, the revolution of traditional networks and cable is slowly shrinking day by day. A new renovation of television is arising to transform the conventional viewing practices of TV channels to the next level.
Scenarios determine to Kickstart your Own Online TV Channel
The emergence of online TV channels are flourishing in the entire media industry into a wider range by streaming videos and television programs using the Internet.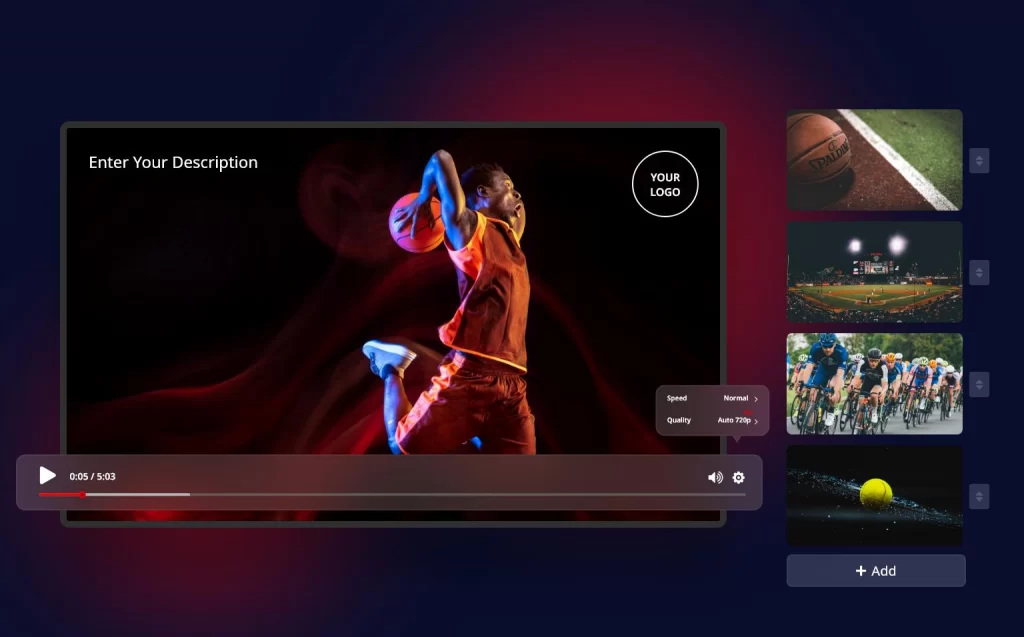 This new technology of web television broadcasting has been a treasure trove for many content publishers to generate revenue by starting an online television network. We can say this because now we see that there is a major shift in device usability.
Devices like laptops and smartphones have replaced cable television to have the best entertainment fix.
At the end of the day, the mindset is all about choosing what you want your consumers to watch rather than what the operator broadcasts. Also, your users are here to invest in better technology to have crystal-clear images showcased in a vibrant way! And that's where your brand can evolve, while you create your own web TV channel to shape all the differences that it needs…
When we talk about broadcasting culture, it started to transform in the early '20s when the fame of the internet started to revolutionize the media & entertainment industry.
To your surprise, people between the ages 18-34 are found with reduced consumption of conventional TV by 15.3%. On the other hand, people who are aged between 35-49 have been observed with a decreased count of the traditional TV viewership by 8.7%.

Source: flutin
The TV streaming industry is heating up to battle across all categories right from TV shows, OTT movies, Sports, and more. Here's an example:
The movie called "Witcher" was released on Netflix, signaled vested interest in image quality for content broadcasters and viewers alike. As there is a shift seen for mass migration of moving towards 4K & Ultra HD many content providers adopt the trend.
They share a maximum profit share by shooting the majority of documentaries & dramas, all compiled and started under their own online TV channel just like BBC corp.
OTT platform's thrive in the video streaming business, especially for content marketers. So, that necessitates creating the best online video platforms with the capacity to castvia various websites, mobile apps, tablets, smart TV, etc.
The transformation of different size screens and websites instantly increases the opportunity for the future of online TV over stereotypical cable bundles.
In order to understand the wide array of the online TV market, it's essential to know the progression of future TV.
Are you planning to create an online tv channel for your business?
The Future of Making an Online TV Channel & Unveiling Its Importance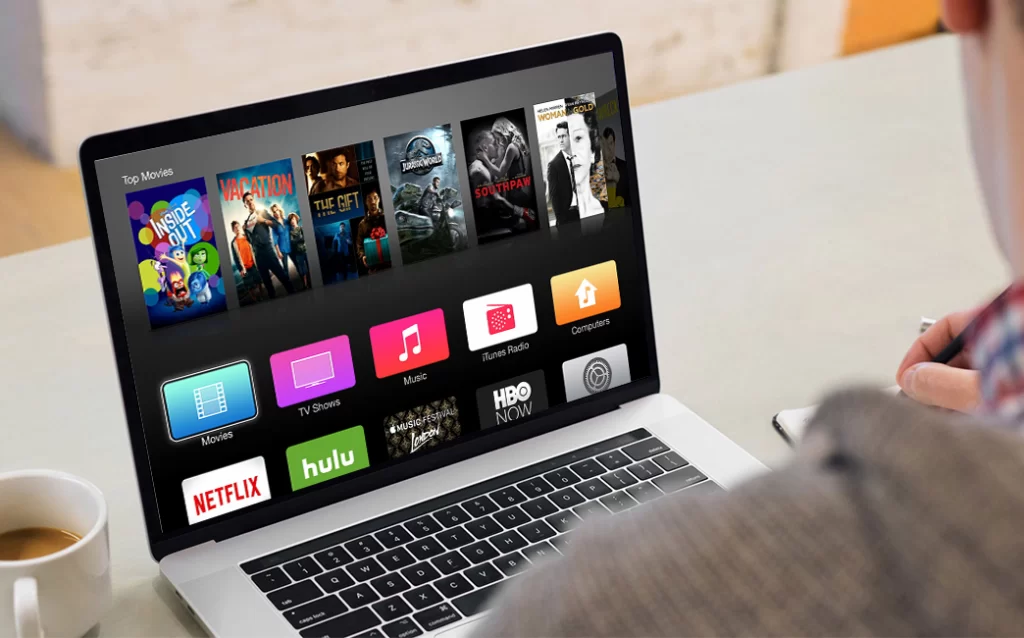 The key to having repeated loyal customers at your place is to ensure latent-free broadcasting while figuring out how to start a streaming channel. All you need to do is seamlessly transmit through distributed networks like satellite, cable, digital terrestrial television, IPTV, or OTT.
Once you have enough value for your immersive content which keeps your viewers engaged you can gain the best return on investment swiftly…
In general, the future of showcasing entertainment in the means of theatrical blockbusters online, an array of web series, live streaming events, etc will bear greater significance. Only customer acquisition and maximum retention which are prime parameters to have them in your very own online TV channel help you to stay popular above the line at all times…
Apart from that,
Here are the major 4 reasons!
Cable TV is facing growing cut-throat competition with brands like YouTube, HBO, Apple TV app, Netflix, Amazon Prime, and more.
Moreover, online streaming is peeping every nook and corner disrupting cable bundles.
The revolution of online TV channels cut down the cost of more than a million cable bundles and maximized the audience base.
With the trend of starting an online TV streaming channel, there is always the possibility for entrepreneurs and enterprises to leverage on major factors:

Decreased cost of technology
Constant streaming channel
Commercials & OTT in own TV channel always works best!
The commercials are trying positively to compete with the ever-growing streaming industry where many OTT platform streaming industries have proven it's possible to create a massive business in the television industry without being dependent on advertisers.
The reasons behind the growth of Online TV channels are pretty vast since traditional TVs can't assure 100% satisfaction (demand is more, quality content found less) for every customer.
So, what & why creating an online TV channel is always a better option!
Let's unleash the fact for you to reap its maximum profit potential…
Why is it Necessary to Create an Online TV Channel?
It's a fantastic & convenient idea to start an ideal TV channel on the Internet. This is because different people living in different regions of the world can instantly access the channel and programming.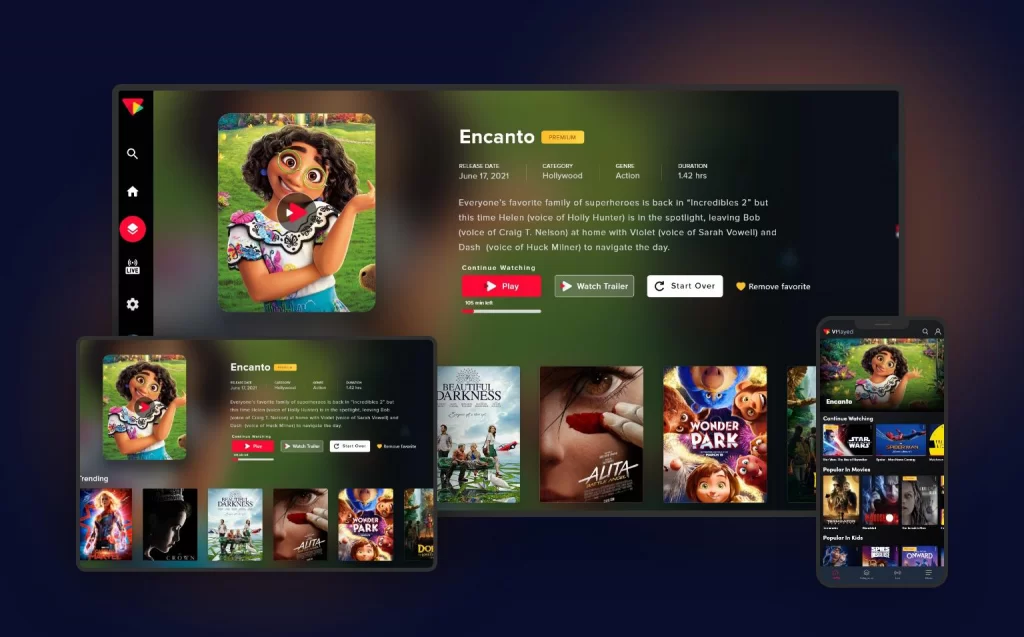 Here the only condition that needs to be checked, is to stream data with a vital resource nonetheless than a high-speed Internet connection. Several websites provide services in order to assist you in launching your own TV channel.
---
Having said that, ESPN+ & Hulu which is developed with a direct-to-consumer platforms model has profitable conversions. It sees an average monthly revenue growth per paid subscriber, with overall 26% raise for utilizing its live TV service.
Source: cnbc.com
---
These insights would cover the importance to describe your worthy decision of how to broadcast your own TV station.
To substantiate that, here comes some interesting insights for your business knowledge that can justify for you to start an incredible online TV channel all on your own…
The list of big brands in this lucrative business is extending, when we look into Disney+ OTT streaming service as of now it has around 95 million paid subscribers.
---
---
Major Differences Between Online TV Channels & Traditional Cable TVs
| | |
| --- | --- |
| Traditional TV | Online TV |
| Even though traditional Cable TV channels have more than 20 million TV channels, these channels can't serve 100% of their customer's needs. | Thanks to the emergence of online TV. Seeing its popularity users were interested to create their own channels & broadcast content within their self-made platforms |
| Traditional advertising models have faded since the media companies have shifted its viewing trends | The paradigm shift from Pay-TV to subscription-based models were popular that bought innovation in shifted trends |
| Traditional TV setups let you browse less quality-based content within fixed hours | Online TVs give you the option of quality-graded content to watch anytime. |
| Conventional TV provides basic entertainment programs like daily soaps, movies, music, sports, news, etc. | Internet TV gives you the freedom to choose from a vast list of TV programs, On-demand movies, Live Podcasts, TV shows, games, etc. |
Is There a Need to Start an Online TV Channel in the Entertainment Market?
Knowing the integral purpose of building your own online TV channel can help you to execute your set plans precisely… Also to have a perfect custom-made TV channel online where you can choose to create a linear or video-on-demand channel for your users who can seamlessly enjoy them watching with any device anytime 24*7. Some of the basic pointers to consider are:
Listing your streaming goal
Why did you decide to start it all
What kind of offerings you'll provide
What sort of timings do you prefer and most importantly
What events do you plan to broadcast
Likewise, Traditional TV channels have multiple packages of Pay-TV options to offer & delight their customers. However, it has its own set of drawbacks too… Some of them are: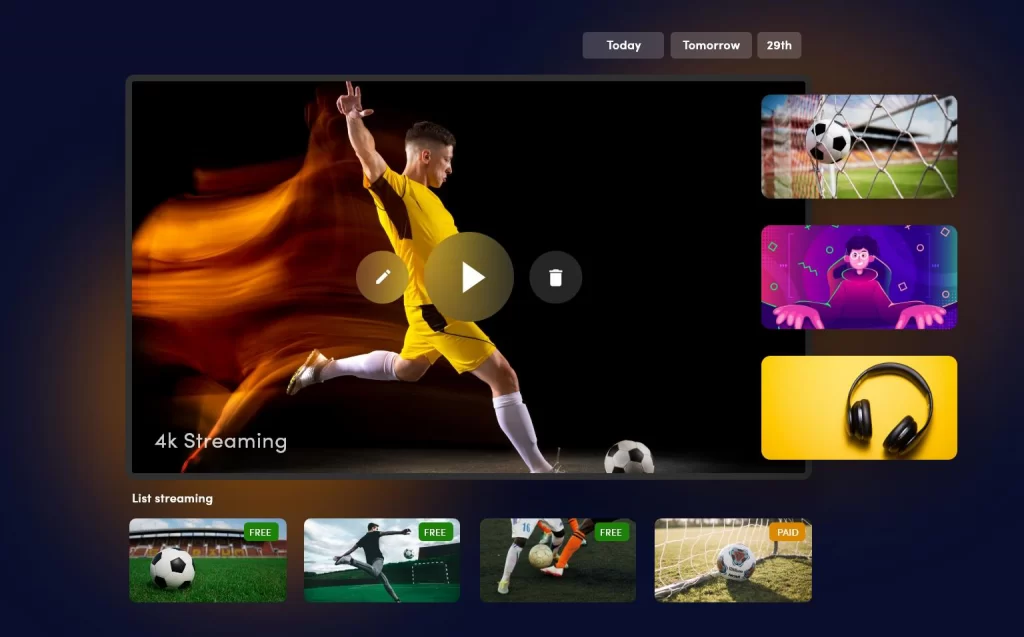 1. Put a Stake Within Viewership Territory
We know that all cable operators under the federal communication commission report can maintain let's say 100 channels and the remaining group of channels can be reserved for leased access.
The renting costs were before determined by the number of subscribers & channel distributors. Yes, this is now no more practiced!
But now, as a online video streaming platform owner, you can put your worries as to how to start a TV channel on the internet and maximize your revenue factors, since the whole platform infrastructure added with result-oriented metrics is under your control.
2. Set Your Own Personalized Streaming Equipment
It is highly recommended for you as top streamers to provide quality material when it comes to popularizing your very own broadcasting media platform.
Therefore, it becomes pivotal to use high-quality software & hardware in contrast to VHS recordings that are used by many cable companies.
Having said that, another option that can be used to enhance your media-based career is to live stream your valuable content using best video streaming platforms & the internet within your online TV channel.
3. Announce Your Internet TV Channel
When you think about going for a grand launch you'll want to reassure that your target is enjoying your watch shows, right!
In order to fulfill your rigorous viewership counts, you can explore marketing tools within your video streaming services.
Reach out to the social platforms where the world resides & spends much of their time on a real-time basis to promote your local promotional events, big show launches, new

premium VOD

s, etc.
4. Captivate Prospective Lump Sum Paychecks
Well, when you hop into making a difference in the streaming marketplace you might as well think to line up every advertorial brand marketer.
The best way is to collaborate with production distributor companies, where you can override cable bundlers who persuade local networking firms to showcase promotional media pieces on a heavy payback.
Instead, you can offer them space in your own online TV channel to place their ads and generate surplus cash flow individually. More of such promoters within your online video platform you can start to raise the standards of your overall monetization strategy.
Shift From Traditional TV Broadcasting To Online TV Channels
CONTUS VPlayed provides everything right from infrastructure to customization and monetization models to build your own online TV streaming platform to broadcast TV shows, Movies, and content across devices and geographical locations.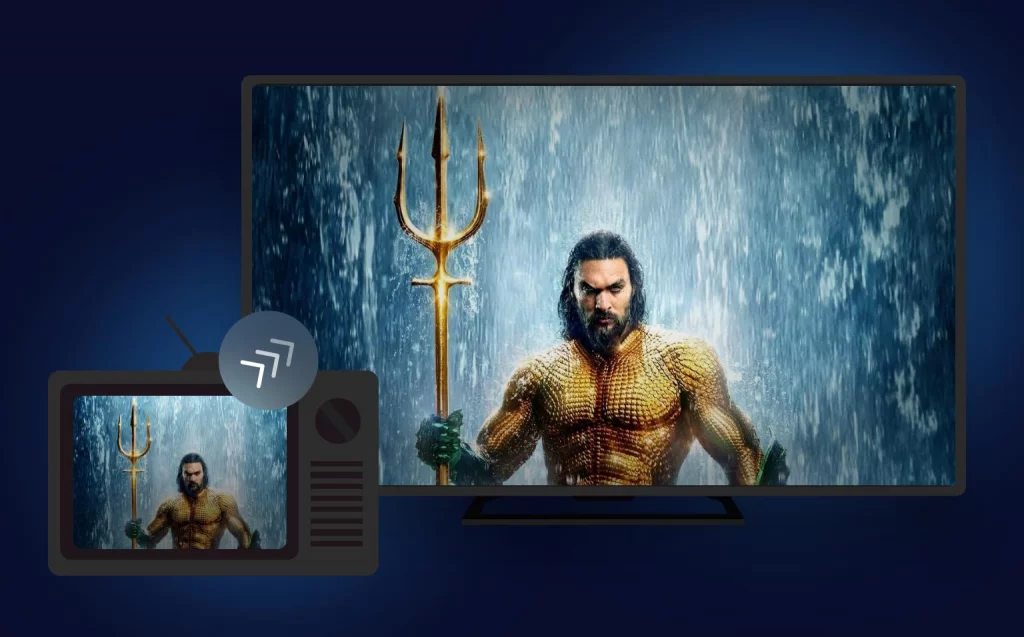 Top Reasons To Shift Your Traditional TV Operations To Online TV Channels
CONTUS VPlayed provides all the necessary streaming opportunities like VOD, OTT, Live Streaming, Audio Streaming Platform for Content owners, Distributors, Cable Owners to build their own Online TV streaming platform.
The Online TV streaming software is built on Microservice Architecture which is one of the prime technologies used to stream OTT & live stream content.

CONTUS VPlayed comes with 100% customization feasibility for enterprises to customize any feature in the front and backend of the

OTT TV

app, channels, etc.
Deliver the best functionality to stream content, and Global CDN to distribute content irrespective of regions & devices.
VPlayed provides flexible

video on demand hosting

opportunities such as On-premises and On-cloud Infrastructure for control of the product.

VPlayed's unified streaming solution lets you

build

& own the entire online TV channel software with your desired brand objectives along with source code support.

The solution comes with a 5+ revenue generation opportunity for cable owners and content owners to reap better revenue profit than traditional Cord TVs.
Alright, that's a lot of stuff to ponder upon!
But, How to Start Your Own TV Channel Online?
It isn't a much complex facet to create your own web TV until you strategize your business category and requirements to start broadcasting online content across geographical locations.
Conceptualizing the type of content, you want to broadcast across your own online TV channel, a revenue module that would fit the strategy and content niche, let's say like Education, Pure Entertainment, Health & Fitness Platform, and more.
Partnering with one of the leading online TV solution providers who have the capability to build one with futuristic features and functionalities will help you reach your business goals.
Whatever the online TV channel software requirements, there'll be an ideal solution for it. In the same sense, CONTUS VPlayed is one of the prominent top video on demand platforms in the market to start your own online TV channel on multiple devices like Smartphones and the Web and to reach a global audience base.
Hire Our Dedicated Team To Build Your Own Online TV Channel
Hoist your online TV venture with the expertise of CONTUS VPlayed's dedicated OTT developers. Crafting a seamless transition from traditional broadcasting to dynamic online TV channels, our team empowers you with comprehensive solutions.
Benefit from microservices architecture, flexible VOD hosting, and advanced monetization models. CONTUS VPlayed's customizable software ensures a tailor-made online TV channel that resonates with your brand identity. Whether it's education, entertainment, or more, our solution aligns with your niche. In short, partner with us for a future-focused approach.
What is all about CONTUS VPlayed?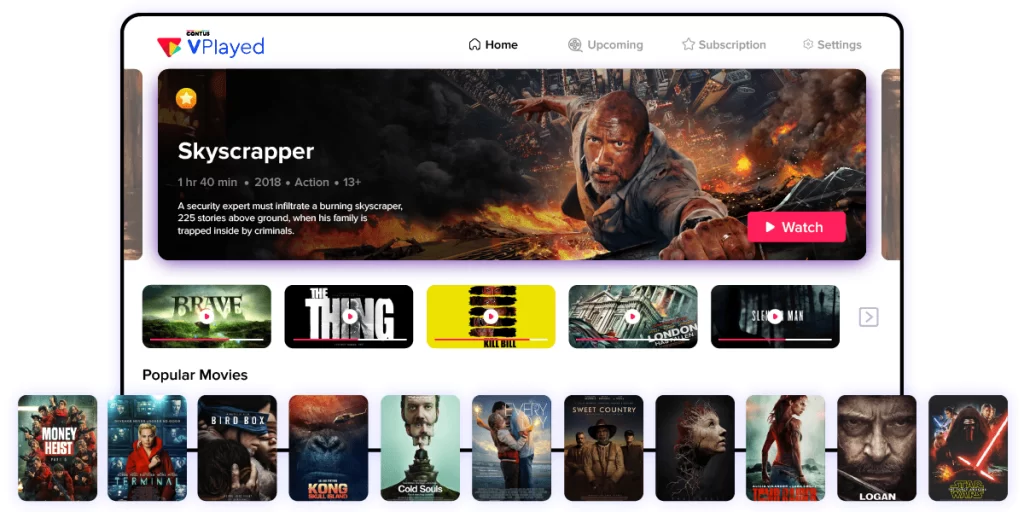 CONTUS VPlayed is a custom OTT solution provider in the market aiming to help content owners, broadcasters, Cable owners, distributors to build an Online TV channel software with all the features to make the streaming more precise. The VOD streaming platform comes with high scalable CMS, Streaming Infrastructure integrated with adaptive bitrate streaming and features.
---
Why CONTUS VPlayed is the Right Choice to Build Your Own Online TV Channel?
1. Contus VPlayed offers complete customization of the online TV channel solution that adapts to your business needs.
2. The solution is expertise in building online TV platforms whatever the device and platform you demand.
3. Contus VPlayed technologies are driving the TV experience you demand across the devices.
4. Seamlessly manage content using video CMS platform and archive your content in order
5. Raise the worth of your online TV channel by generating real-time reports via the analytical feature.
---
Features That Drives the Streaming TV Experience to Next Level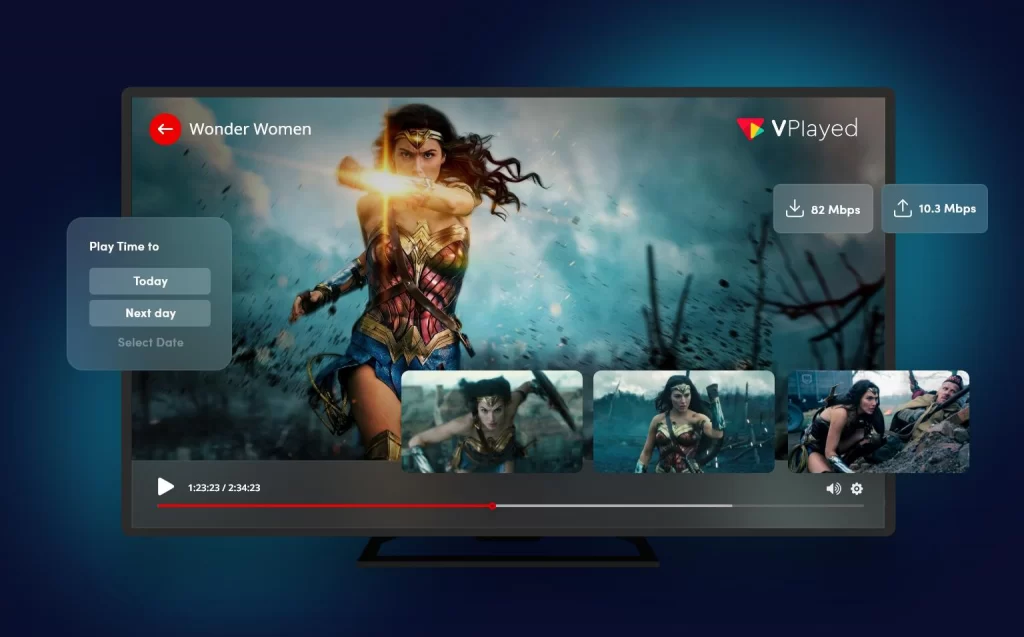 → Internet Protocol Television
IPTV is one of the commonly used technology to deliver TV programs and videos over the connection of internet similar to a broadband internet connection. Through IPTV, digital television service is delivered either live or video on demand and it also has the potential to provide a combined set of content that consumer selects will be delivered.
→ Time Shifted Programming
This is also a combination of IPTV which is used to broadcast the programs at different times normal to others. Time-shifting is programming to storage acts as a medium for viewing or watching after the live broadcasting. Time-shifted Programming plays a kind of crucial role to initiate on setting up your own online tv channel.
→ Global CDN Service:
A Global Content Delivery Network assist in the distribution of the video content geographically to the end-users a high pixel rate and a dynamic performance. Cloud-based CDN's establish Content as a flexible medium for web applications and deliver a maximum level of protection by preventing the loss from hackers through filtering the traffic signals on global networks.
→ End-to-end Video Analytics
A clear analytical report is a key success to distributing the content over multiple platforms globally. An advanced video analyzer would be the key tool to a whole content library and its flow over the devices at real-time.
→ Social & Payment Integration
An effective integration on social media platforms magnifies the outstretch of the video content on multiple platforms which in result doubles the rate of users globally and also enhances this lucrative online tv channel business.
→ Multi-tenant Solution
A Multi-tenant is cloud-based storage for the content in a secure and flexible way. This assists in redefining the infrastructure of the existing content resource platform and also maximizing the storage capacity.
→ Complete Ownership
Our solution lets you own the entire Online TV platform with your own brand name. You can get the ownership of the platform right from code, deployment, features, and more. You customize its features, functionalities, Monetization options and change the functionality of the platform since you own the entire application.
→ Fully Customizable
The platform can be completely customized based on your needs right from design, deployment, frontend and backend feature update, Monetization models, functionalities, UX, and more.
→ On-Premise / On-cloud
VPlayed comes with multiple hosting opportunities for content owners and cable operators to host their online TV channel on their own wish were on-premises leads to not depend on the provider.
Multi-Layered Video Security Systems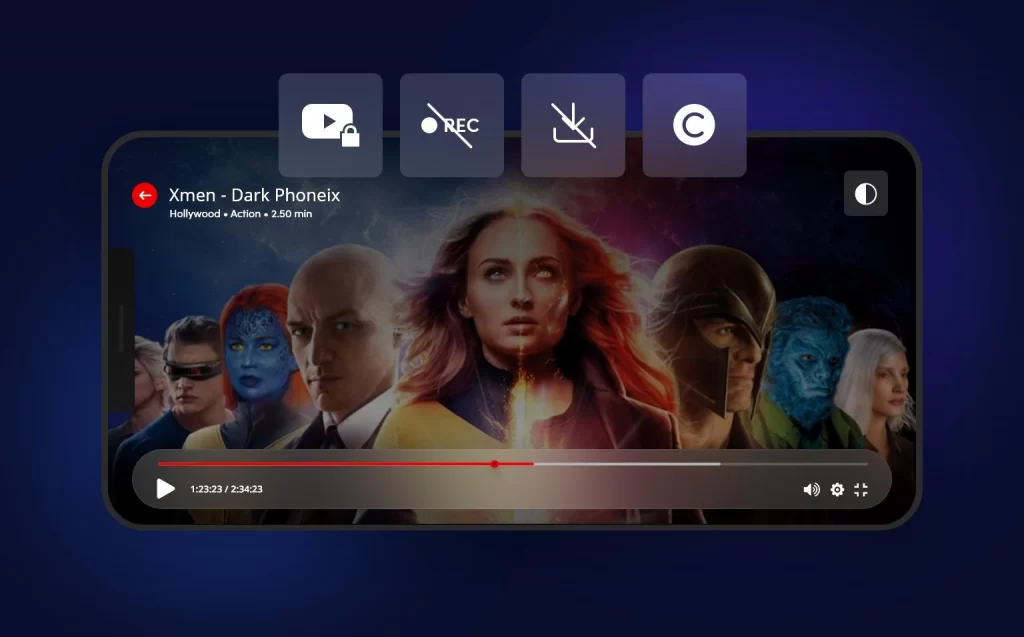 → Multi DRM
The multi DRM provides control over how people can consume the content with help of secure authentication protection without the exchange of content license
→ Access Control
Minimizing the risk of content access from unauthorized by securing the content through different access methods such as email verification, Single Sign-On, and authentications.
→ AES Encryption
Securing the content available in the platform with symmetric techniques ensures the usage of the same keys for encryption and decryption.
→ SSL Certificate
The SSL Certificate ensures to protect the traffic to the online TV platform. It creates an encrypted connection between your audience and the platform.
→ Screen Capture Restriction
With this functionality, you can disable or restrict the screen capture actions on your online TV channel software during any live broadcast or streaming of content.
→ Geo Blocking
The feature helps to restrict the broadcast of any specific content to any specific region, state, country or even IP address that constraints on.
Multiple Set of Monetization Strategies for Online TV Channel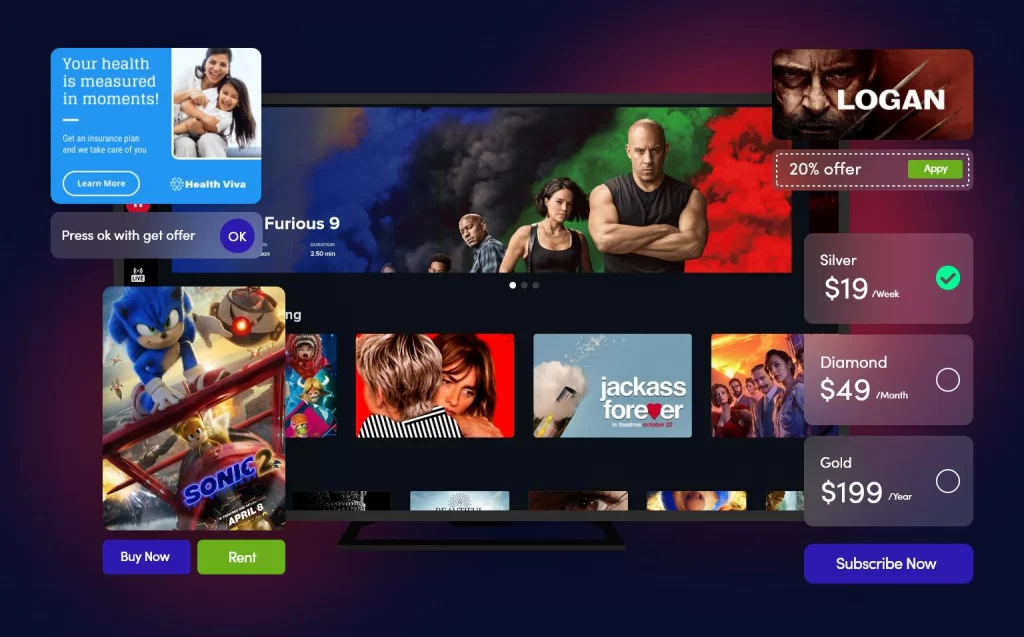 → Subscription: Create a video subscription website, that amplifies your business model with an online TV subscription to a new level with ongoing customer relationships and enabling customers to access the content with different subscription tenures.
→ TV Advertising: Leverage a better ad based revenue model with TV advertising that ensures an effective growth of the brands and creates a deeper relationship between people and brands.
→ Catch Up TV: Through the Catch-up TV monetization model, re-broadcasting of programs that are already published or live stream in its parent channel.
→ Pay-per-view model: Get paid for every viewership. With the PPV monetization model, you can enable users to watch the content-based PPV model or can allow them to purchase any specific content.
→ Sponsorship: Position one or more advertisers as a partner to your online content where you can get a certain percentage for every deal generated through your online TV platform.
All right!
Monetization Models is the money-minting hallmark that you can possess with this online tv channel.
As the viewing of Video is shifting from Desktop view to Mobile View, the methods of enhancing this lucrative online tv channel business are also primarily balloons. The streaming of content over the online TV channel trend is wholly practiced globally to ensure income through a diverse video monetization option such as Advertising, Video On-demand, Monthly Subscriptions, and Much More features across the platforms.
Bottom Line:
The Online TV revolution is taking place to create a massive impact in the streaming industry, Content Owners and Business Professionals should take a closer look to trigger their lucrative business by partnering with some world-class OTT platform providers who can make your splendid Online TV Channel with engaging technologies and Features that befits to this modern streaming Industry.
If You Already Have An Idea About Starting An Online TV Channel With Multiple Revenue Models, Schedule A Free Demo And We'll Help You Implement It!
Frequently Asked Questions (FAQ)
1. How To Start A TV Channel On The Internet?
When you plan to start your online TV channel you can lay the groundwork right from shopping the front-end to its back-end platform requirements. At the same time, you can safely control your streaming content with something known as CMS, stream unlimited content with limitless bandwidth. All of this you can Whitelabel it completely & check with user analytics to track your number of channel views, demographics, & build ROIs.
2. What Are The Essential Features Needed For The Online TV Channel?
Some of the level-headed & key features that are required before commencing your customized online TV channel are: Internet Protocol Television, Global CDN, End-To-End Video Analytics, Time Shifted Programming, Lifetime Platform Ownership, Flexible Platform Deployment options, and much more.
3. How Can I Monetize Online TV Channels And Make Money?
Now with extraordinary monetization plans, you can leverage to fill your revenue backpacks using SVOD, AVOD, TVOD or Pay-Per-View, SSAI, Coupons & Promotions, etc. Position your branded online TV content according to marketing strategies to make the best money using your own subscribed OTT channels.
4. How Much Does It Cost To Create An Online TV Channel?
So the key factor that depends on your internet TV channel narrows down to cost. All I can tell you is that when you find the right equipment, technological infrastructure, and thoroughly know your audience, market line it will help you to decide the investment factors wisely. Also, the type of business model with path-striking features comes into major play during the launch of the online-based TV stations.