The below article reviews and compares the 13 best video streaming platforms to launch and grow your streaming business. Stick around for the next few minutes to find the best video streaming platform that aligns with your needs, offering top-notch features and stellar performance.
The streaming landscape has undergone a huge transformation in the last few years, thanks to the meteoric rise of video streaming platforms.
But how does it benefit content creators or aggregators?
Well, it does in more ways than you might think.
Firstly, video streaming platforms, as they stand, offer a cost-effective and accessible means of distribution. They have eliminated the need for expensive broadcast infrastructure while providing global reach at the touch of a button.
Secondly, video streaming platform provide unmatched analytics and audience insights. It allows platform owners to comprehend viewer preferences, behaviors, and engagement patterns. As a result, businesses leverage this data to tailor content strategies, optimize monetization, and refine marketing efforts.
How large is the online video streaming industry?
It is pretty enormous. The market for video streaming platforms is projected to surge from $11 billion in 2023 to an impressive $25.5 billion by 2028. It is expected to clock an impressive CAGR of 18.3% from 2023 to 2028.
So, if you're a content owner or a large business preparing to launch your video streaming platform, this blog post is tailor-made for you.
Let's explore why you should build a video streaming platform, what features to consider when making it, and finally, 13 of the industry's best online video platforms in detail, their features, use cases, and more in the next few minutes.
---
Also Read: What is Video Streaming? Definition, Meaning & How Does It Work?
---
6 Reasons Why You Should Build a Video Streaming Platform
Building a video streaming platform can offer various benefits and opportunities. Here are six reasons why you might consider developing a video streaming platform.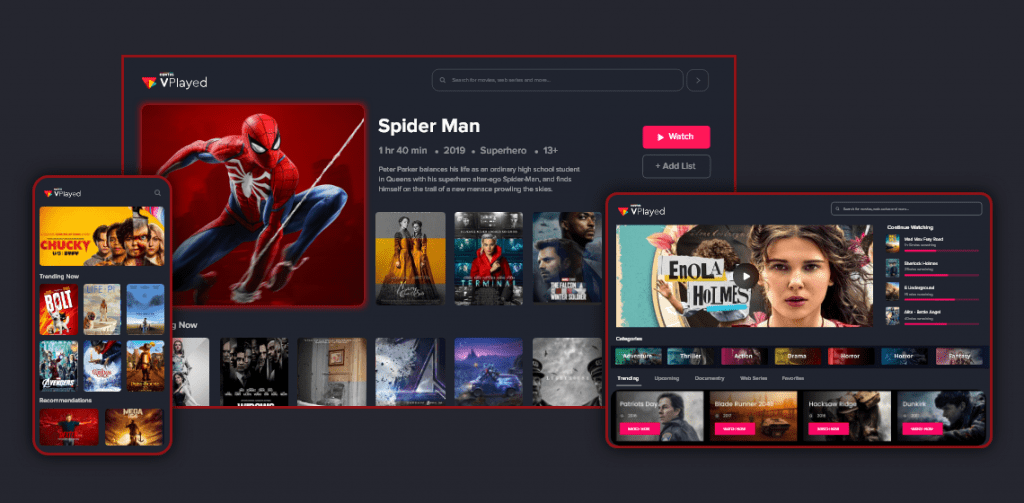 1. Reach a Larger Audience
A video streaming platform allows you to overcome geographical boundaries. They provide a global audience access to your content at the click of a button. This way, you can expand your reach beyond the local market and tap into diverse audience segments easily.
2. Cost-Effective Content Distribution
A dedicated video streaming platform allows you to eliminate the need for expensive broadcast infrastructure. It not only reduces distribution costs but also democratizes video content delivery. Your niche content will find its audience without the conventional financial barriers.
3. Audience Insights and Analytics
Gaining insights into your audience's preferences, behaviors, and engagement patterns will become much more convenient. You can utilize these analytics to tailor content strategies, optimize monetization models, and refine your marketing efforts.
4. Flexible and Sustainable Monetization
Top video streaming platforms, like VPlayed, provide many monetization options. You can leverage these models to diversify your revenue stream from conventional subscriptions, advertisements, and pay-per-view to unconventional ones like catchup TV, coupons, and promotions. This flexibility lets you choose the best strategy for your business goals.
5. Enhanced Viewer Engagement
You can add interactive features like comments, likes, and live chat with a dedicated video streaming platform to foster a sense of community among viewers. This way, you can retain existing subscribers and attract new ones.
6. Easy Adaptability to Industry Trends
Third-party platforms come with their limitations. They're hardly flexible and adaptable to changing industry trends. And building your video streaming platform has its perks. It allows you to quickly adapt your content and platform features and stay at the forefront of industry trends.
Features to Consider When Developing a Video Streaming Platform
One of the factors that will make or break your video streaming business is the features you choose to incorporate on your video streaming platform. Let's look at some of the non-negotiable elements of your platform.
1. 100% Platform Customizability
Customizability ensures your video streaming platform aligns perfectly with your brand identity. From user interface design to feature integration, having complete control over your platform lets you create a unique and tailored experience for your audience.
2. On-Premise/On-Cloud Hosting
The choice between on-premise and cloud hosting provides flexibility in managing infrastructure. On-cloud hosting offers scalability, cost-effectiveness, and accessibility. On the other hand, on-premise solutions provide better control and security of your content. Make a decision keeping in mind your business needs and preferences.
3. Security & DRM
Security features are paramount in safeguarding your content and user data. Features like Multi-DRM (Digital Rights Management), AES Encryption, SSL Certificates, and Digital Watermarks collectively protect your platform and content against unauthorized access and piracy. They ensure a secure, encrypted, and traceable streaming ecosystem.
4. HLS Streaming on HTML5 Player
HLS (HTTP Live Streaming) guarantees a fluid streaming experience across various devices and browsers. This compatibility ensures a broader reach for your content. HLS video player provides your users with a consistent and high-quality viewing experience.
5. Access to Platform Source Code
Choose a streaming platform provider that gives access to your platform's source code. Access to the source code grants transparency and control over the development process. It not only fosters trust with stakeholders but also allows for easier troubleshooting, customization, and future upgrades.
6. Flexible Monetization Models
A platform with versatile monetization options ensures sustainable business in the long run. Models like subscriptions, pay-per-view, or ad-supported caters to different audience preferences and business goals.
This flexibility maximizes the revenue potential and gives you the freedom to tweak your content strategy based on market trends and user behavior.
7. Reliable Content Delivery (Global CDNs)
A streaming business cannot thrive without its audience, as customers are integral to any successful business strategy. Content Delivery through Global Content Delivery Networks (CDNs) ensures low-latency, high-performance streaming across the globe. It improves user satisfaction with minimal buffering and load times.
Are You Looking To Build A Video Streaming Platform? Share Your Requirement With Us.
Comparing The 13 Best Video Streaming Platforms For 2024
Discover the best video streaming solutions for 2024. Some of the top video streaming platforms are VPlayed, Flowplayer, GUDSHO, IBM Cloud, Dacast, etc… to uncover their unique features and capabilities
A Leading Video Streaming Platform Across the Globe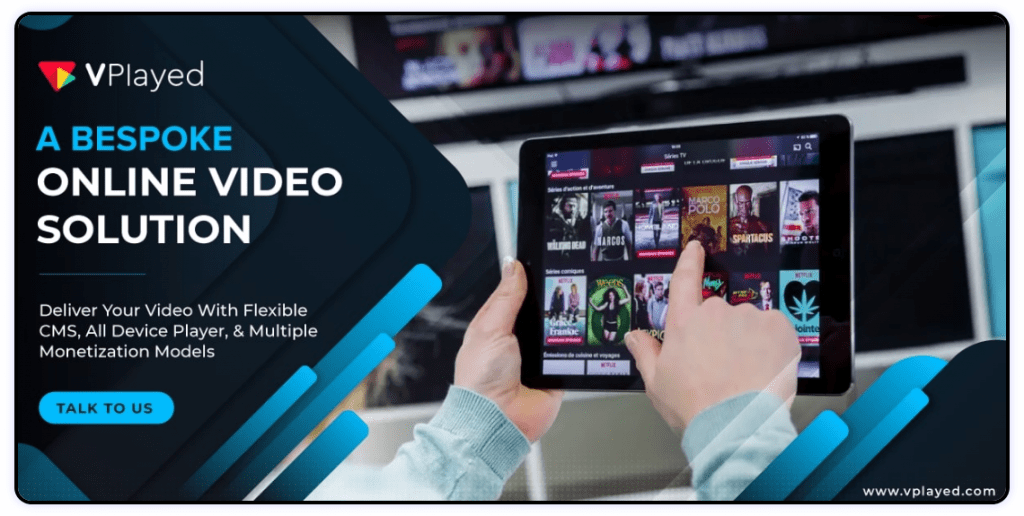 VPlayed is an all-in-one video streaming platform in the industry. It offers almost all the core features expected from a streaming platform.
At the heart of it lies a fully customizable platform interface. It is one of the few video streaming solutions that allows you to tailor the entire platform to suit your brand. VPlayed operates on a one-time payment business model, i.e., you can retain 100% of the revenue generated from your content.
The platform facilitates secure content delivery (multi-DRM & AES encryption), diverse monetization options, and detailed analytics to track performance. VPlayed has a responsive support team that is always ready to assist. The makers also commit themselves to continuous platform updates for months after the platform acquisition.
Notable features of the VPlayed video streaming platform include
Complete customization: Tailor your video platform to reflect your brand's distinctive identity.
Intuitive content management system: Effortlessly upload and manage your video library with ease.
Robust cloud transcoding: Enhance video quality for uninterrupted streaming performance.
Flexible monetization models: Select from a variety of 10+ models to enhance your revenue in online video streaming.
Multi-DRM solution: Ensure the security of licensed content through a resilient video security system.
HTML5 player featuring HLS streaming: Enjoy seamless playback across the web without the need for a dedicated player.
Global Content Delivery Networks (CDNs): Extend your reach to a global audience. You can stream your content on-demand or live video with CDNs across the world.
2) Flowplayer
Best Video Streaming Solution For Broadcasters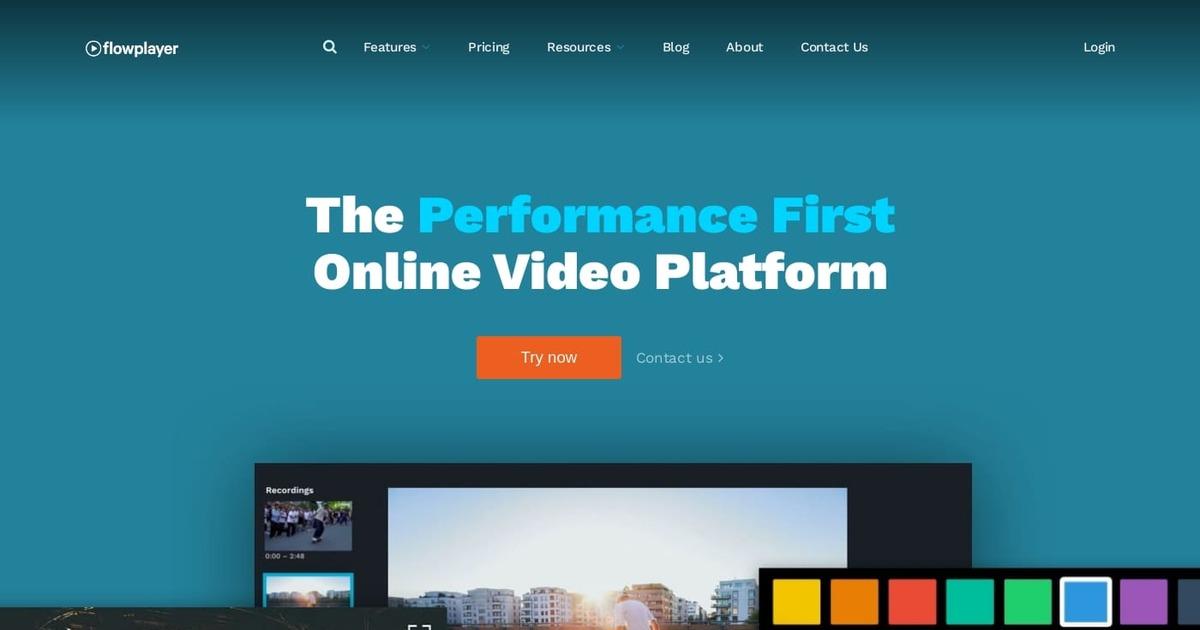 Flowplayer builds video streaming solutions catering to small businesses and large media houses. It is a video player designed for streaming video content on websites. It allows for video hosting, embedding, and customization of playback.
Flowplayer supports a variety of video formats, including MP4, FLV, WebM, etc. It offers multiple OTT monetization models, analytics, and interactive elements like annotations and call-to-action buttons.
Additionally, Flowplayer integrates with your favorite social media platforms. So, users can share and promote their videos across multiple channels at once.
Notable Flowplayer features include
CSAI & SSAI support: Flowplayer facilitates flexible ad delivery with both Client-Side Ad Insertion (CSAI) and Server-Side Ad Insertion (SSAI) support.
Header bidding: Optimize ad inventory management and revenue generation through simultaneous auctioning with Flowplayer's Header Bidding capability.
Advertising analytics: Gain detailed insights into ad performance and viewer engagement with Flowplayer's comprehensive advertising analytics.
DRM protection: Ensure content security and prevent unauthorized access with Flowplayer's Digital Rights Management (DRM) encryption protection.
AI-Based closed captioning: Enhance accessibility and inclusivity using advanced AI algorithms for closed captioning on Flowplayer.
WCAG accessibility compliance: Flowplayer aligns with Web Content Accessibility Guidelines (WCAG), making video content inclusive for users with disabilities.
A video business supportive video streaming platform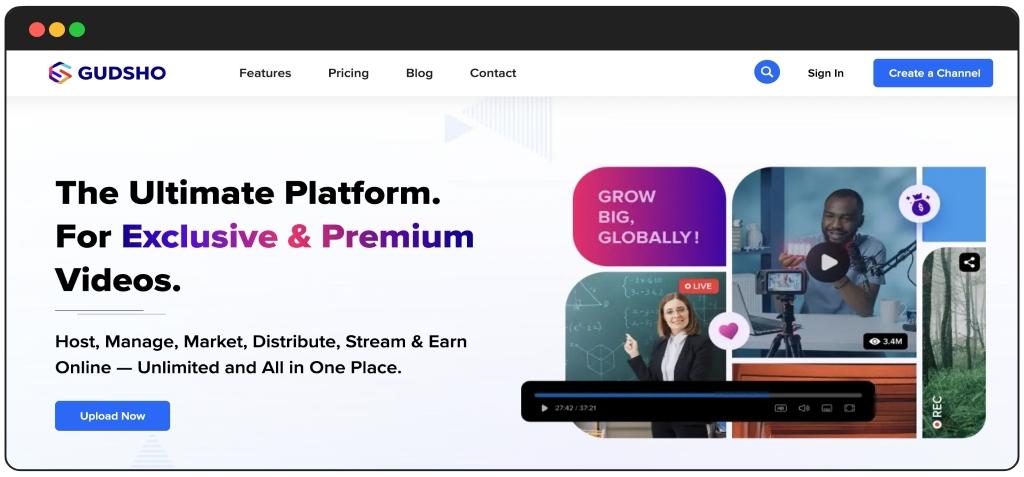 GUDSHO is a premium video streaming platform tailored exclusively for individual content creators and video businesses. It is a simple, easy-to-use solution to host, distribute, market, and monetize video content across diverse platforms like the web, mobile devices, apps, and smart TVs. GUDSHO boasts an extensive library of premium videos spanning categories such as fitness, music, filmmaking, education, entertainment, and animation.
GUDSHO is a membership-friendly platform. Creators can tailor plans and pricing and receive payments for their videos via automated billing cycles.
Key GUDSHO features include
Bulk content import: GUDSHO simplifies the process of importing a substantial volume of video content seamlessly in a single operation.
Video scheduling feature: Ensure your content remains synchronized across different time zones through the implementation of a scheduling feature.
Built-in video analytics: Make use of an intuitive dashboard for effective assessment and support of video performance.
Centralized video management (CMS): Streamline user administration on your platform through a centralized enterprise video CMS dashboard.
Multi-device support: Guarantee the accessibility of your videos across a variety of devices and platforms.
Private screening feature: Host private screenings through invitations to a dedicated viewer list.
4) IBM Cloud
Reliable Global Streaming Video Platform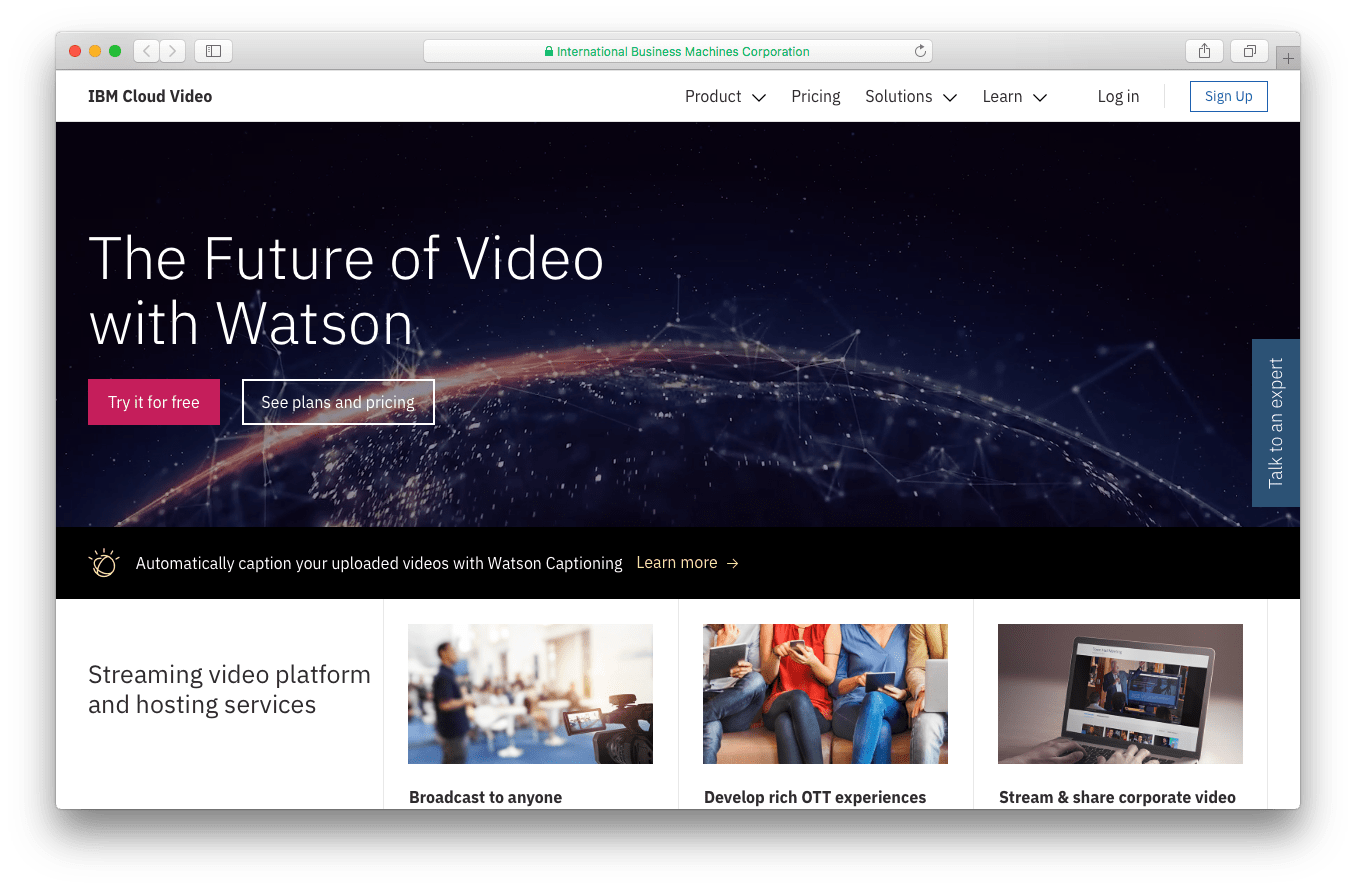 If you're looking for a flexible cloud-based video streaming platform to deliver live and on-demand content, then look no further than IBM Cloud Video. Managed by an administrative dashboard, it caters to both straightforward and complex configurations, offering scalability through its integrated multi-CDN support. Predictably, the IBM cloud video solution caters to diverse needs, serving purposes such as employee communication, virtual conferences, promotions, government proceedings, entertainment events, and beyond.
Key IBM Cloud Video features include
High-definition live streaming: Experience top-tier live video streaming with exceptional visual clarity.
Broadcast recording feature: Archive live streams effortlessly for future reference and playback.
Mobile-friendly player: Ensure smooth viewing on mobile devices with a player designed for compatibility.
Efficient video distribution and workflow: Simplify content distribution and management processes within your workflow.
Real-time live chat and Q&A: Foster engagement with your audience through instantaneous interactions and questions during live sessions.
Flexible monetization models: Explore a comprehensive range of video monetization platform tailored for virtual events.
5) Dacast
Professional Video Streaming Solutions for Business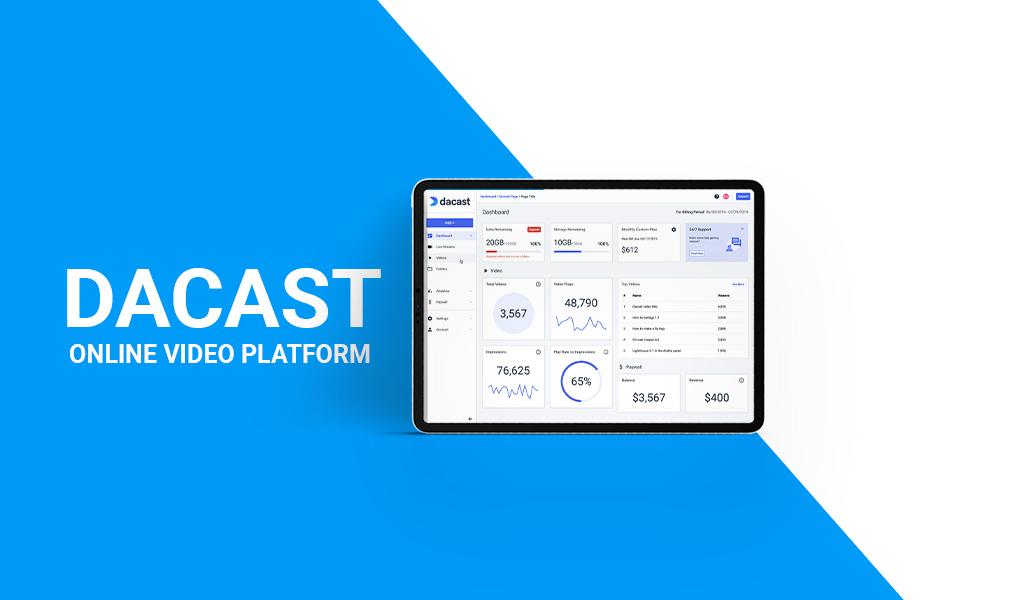 Dacast is a professional video streaming solution. It was founded way back in 2008.
It allows users to securely upload, host, and distribute video content.
The platform offers a variety of features — video storage, live streaming capabilities, and an HTML5 video player. It comes with the standard video monetization models — subscriptions, advertisements, pay-per-view, group pricing, and more.
Dacast also provides customizable video player, analytics, and industry-best security options. It offers many pricing plans to suit different needs and budgets.
Some of the key features of Dacast
Adaptive bitrate technology: Dacast delivers high-quality video streams in various formats using adaptive bitrate technology
Video player customization: The platform offers customizable video players that can be embedded on websites, landing pages, and social media platforms.
SEO optimization: Dacast offers features that help optimize videos for search engines, enabling them to rank higher in search results.
Analytics: The platform provides detailed analytics reports, including video views and audience demographics.
Tired of using Dacast?
See why Dacast is not suitable to manage your OTT platform and why you need a
Dacast Alternative
6) Brightcove
Cloud Based Video Platform For Large Scale Enterprises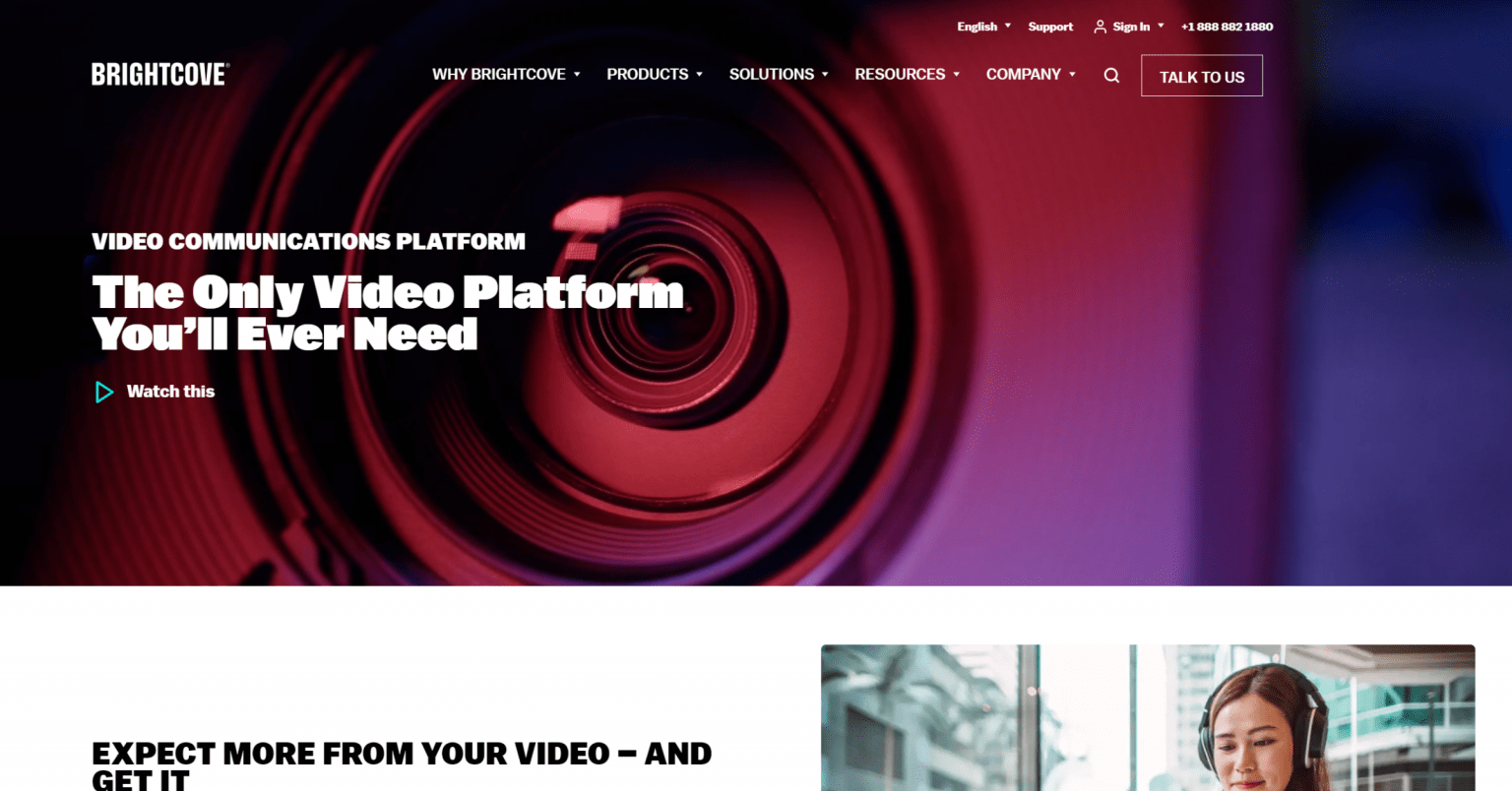 Brightcove has been an established player in the video streaming industry for over a decade. They offer a cloud-based video streaming platform to create, distribute, and monetize video content.
The platform offers various customizable features, including video management and playback, media delivery, analytics and reporting, and live streaming support. It supports multiple video formats and can integrate with other advertising and analytics software. In case you weren't aware, Brightcove is commonly used in the media and entertainment industries. However, it is also used by businesses, educational institutions, and many nonprofit organizations.
Important Brightcove video streaming platform features include
Video sharing across multiple channels: Share videos seamlessly on platforms like YouTube, X, and Facebook.
Intuitive interface for users: Experience hassle-free video management with a straightforward, user-friendly interface.
Integration into HTML Pages: Effortlessly embed videos into HTML pages, ensuring a polished and integrated presentation.
Over 100+ integrations: Connect seamlessly with various software and tools, enhancing overall functionality.
Server-side ad insertion: Insert ads precisely within videos on the server side to maximize monetization potential.
7) Wowza
High Performance video streaming platforms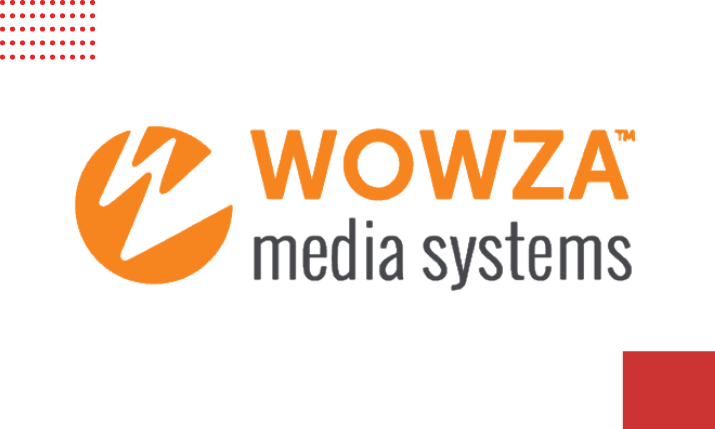 Wowza is a powerful embedded video streaming platform. It allows users to embed videos into mission-critical applications. Businesses can stream live and on-demand video content to their websites and mobile applications using this.
Like VPlayed and Flowplayer, Wowza supports various video formats and can even transcribe videos in real-time to provide a seamless viewing experience.
The platform provides built-in analytics and reporting features to monitor video streaming performance and optimize workflows.
Overall, Wowza is a popular choice for businesses and individuals looking to stream high-quality video content.
Important Wowza features include
360-degree video support: Get interactive videos with seamless backing for immersive 360-degree video content.
SCTE embedded captions: Adhere to SCTE standards by incorporating closed captions for enhanced accessibility.
Addition of custom features through plugins: Enhance the platform by incorporating custom features and improvements through customizable plugins.
Robust APIs, SDKs, and documentation: Robust APIs, SDKs, and comprehensive documentation enable a seamless integration and development
Customized player appearance with CSS skinning: Personalize the player's visual aesthetics using CSS styles.
8) Kaltura
Professional video streaming platform for Android & iOS
Kaltura is a cloud-based video streaming and media management platform. It provides its customers with content delivery, player, transcoding, advertising, and analytics features. The platform is used by various businesses, like Google, Disney, and Cisco, to stream and manage video content. It offers all necessary streaming features, such as transcoding, caching, storage, distribution, etc.
Kaltura is also known for its ease of use and remarkable scalability, making it a popular choice for medium to large-sized video streaming businesses.
Some of the notable Kaltura features include
HTML5 compatibility (Even with Flash Video Delivery): Guarantee video compatibility across modern browsers with HTML5 support.
Inclusive screen reader support: Users can extend accessibility to visually impaired users through screen reader support.
Textual audio representation with caption support: Enhance comprehension by providing a textual representation of audio through robust caption support.
User-friendly controls for accessibility: Prioritize user-friendly navigation, making the platform accessible to all, including individuals with disabilities.
Colorblind complaint: Promote inclusivity by designing elements that consider color vision deficiencies for those with colorblindness.
9) Vimeo OTT
Pioneer Video Streaming Solutions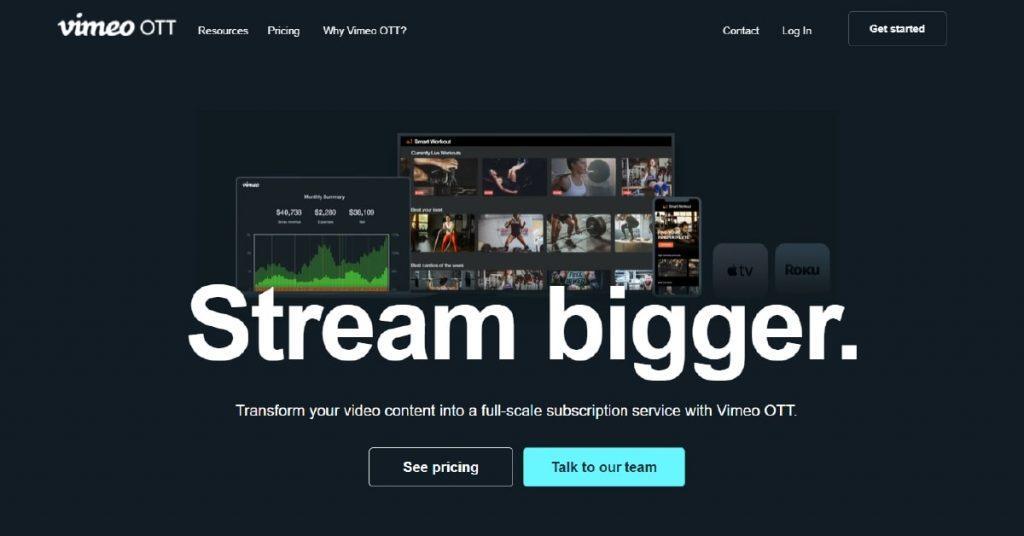 Vimeo is one of the most widely known video streaming platforms in the market. It lets users upload, share, and watch high-quality videos. It was founded in 2007 by Jaketile Lodish and Zander Lodish.
The platform offers most of the features offered by other platforms in this list — ad-free streaming, high-quality video, and flexible pricing plans.
Vimeo also has a professional plan designed for creators and businesses. Additionally, it provides support for 4K and 8K video resolution, making it a preferred choice among professional videographers in the US and beyond. Vimeo has users belonging to diverse verticals — filmmakers, artists, marketers, educators, and various large-scale businesses.
Important Vimeo OTT features include
Ad-Free playback: Enjoy uninterrupted viewing without any advertisements.
High-Definition video: Watch videos in crystal-clear HD quality for an immersive experience.
Advanced analytics for creators: Gain detailed insights into viewer engagement and video performance to optimize content strategy.
4K video support: Ability to upload and watch videos in stunning 4K resolution, providing exceptional visual quality.
VR arcade: A feature for immersive VR video viewing. It offers a unique and interactive way to experience content.
Tired of using Vimeo OTT?
10) Zype
Best Video Streaming Platform For Managing Videos On Channels

Backlight Streaming, formerly Zype, is a cloud-native, full-stack video streaming solution. It facilitates seamless content management, media production, hyperdistribution, and video monetization.
It offers helpful features like custom branding, DRM protection, cloud caching for faster content delivery, and analytics tools. Zype supports multiple video formats, including live streaming, on-demand video, and catch-up TV. It also integrates with other video delivery networks, such as Akamai, ClearSky, and Limelight.
Zype is designed to be a scalable and flexible video streaming platform. So, it is best suited for both enterprise and smaller organizations.
Notable Zype features include
No code/low code app creation: Simplify the development process by creating applications without coding expertise.
Reliable features: Integrate robust, market-tested features known for reliable video operations.
Flexible monetization: Zype provides flexible revenue options with models like advertisements, subscriptions, and pay-per-view for monetization.
Cross-Platform support: Expand your reach by developing applications for web, smart TV, mobile, and gaming consoles.
Rapid time to market: Since Zype operates on a no-code environment, users can expedite the deployment of video solutions, ensuring a faster entry into the market.
Timely platform updates: Install platform updates for a seamless user experience.
11) JW Player
Most Powerful and Flexible Video Platform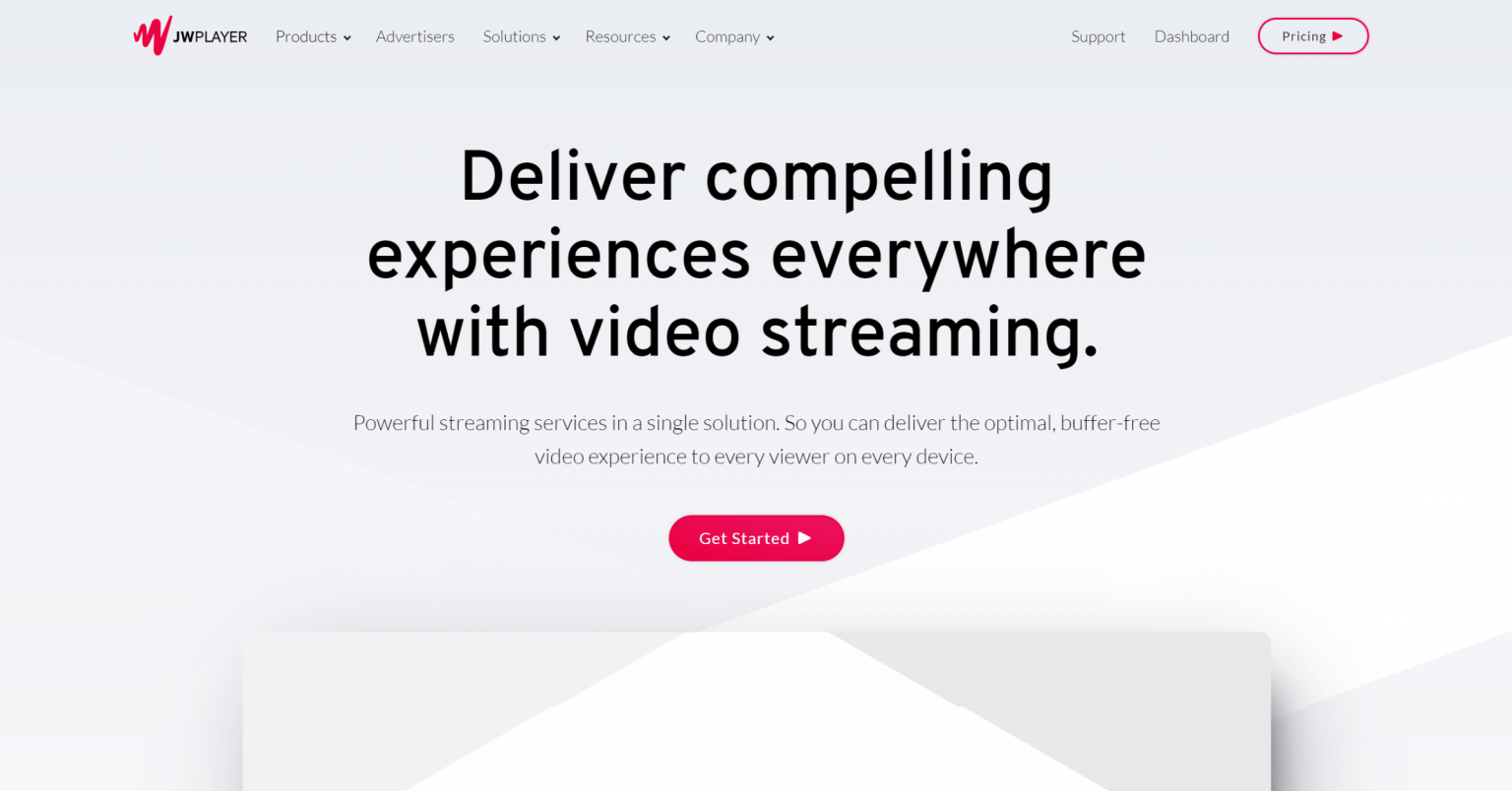 JW Player is a New York-based company founded in 2008. It offers video streaming solutions for businesses and organizations to maximize engagement and monetize their content.
The platform offers features like player customization, playback controls, and analytics, to help users track their performance. JW Player supports live streaming, mobile optimization, and adaptive bitrate streaming for seamless video playback across all devices and platforms.
Plus, the platform integrates with various third-party tools for video hosting, delivery, and transcoding. In a nutshell, JW Player is a robust video streaming solution for businesses of all sizes.
Important JW Player Video Streaming Platform
HD encoding with ABR: JW Player encodes video content in various quality levels with Adaptive Bitrate technology, ensuring an optimal viewing experience across diverse devices and internet speeds.
Secure sharing with password protection: Password protection requires authentication for accessing and safeguarding sensitive or private content.
In-Depth viewer engagement analytics: Analytics helps content creators understand audience engagement patterns and preferences.
Visually appealing video gallery: Present video content in an organized and visually engaging manner.
Responsive email support with priority handling: Guarantee timely and responsive customer support through email, addressing user inquiries and issues with priority assistance.
12) Muvi
Take Up Your Video Streaming Experience To New Heights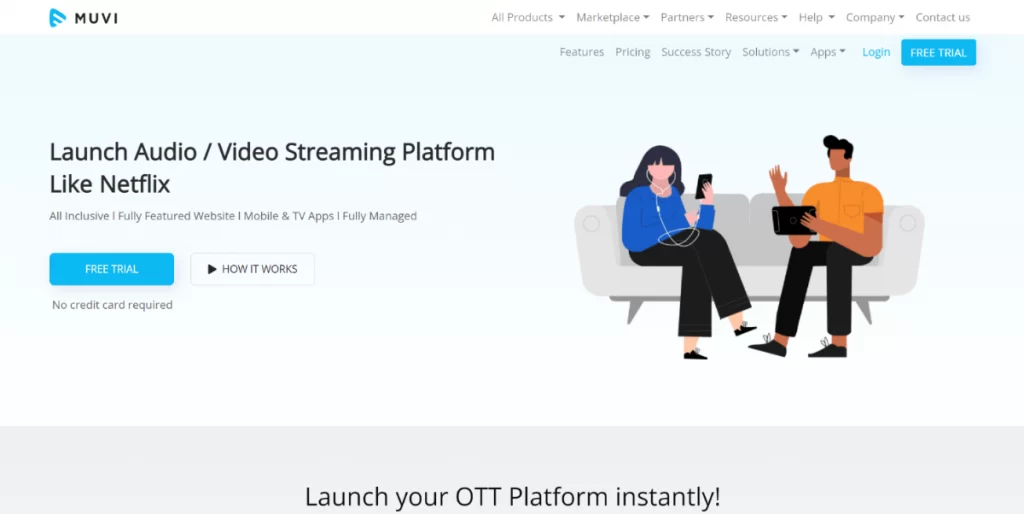 Muvi is a reliable OTT video streaming solution. It helps individuals and businesses create and distribute video content to a broader audience. The platform supports features like video hosting, transcoding, delivery services, and tools for video management and analytics.
Muvi is known for its remarkable flexibility. It allows platform owners to tailor their interface to align with their brand.
Like VPlayed, Muvi supports multiple monetization models — subscription, pay-per-view, and advertising.
Essential features of the Muvi video streaming platform include
Metadata management: Muvi allows users to manage and optimize the metadata of their videos, including tagging, editing, and automated enrichment.
Skippable & non-skippable ads: Users can add both skippable and non-skippable ads to their videos, providing a range of monetization options.
Audio player: Muvi offers an integratable audio player that allows users to add audio tracks to their videos and customize their playback experience.
4K video streaming: Muvi supports 4K video streaming, providing high-quality video playback for users' content.
Image library: Muvi's feature allows users to upload and manage images related to their videos, such as thumbnails, banners, and other cover art.
13) Vidizmo
Unlocking the World of Entertainment With Streaming Platform.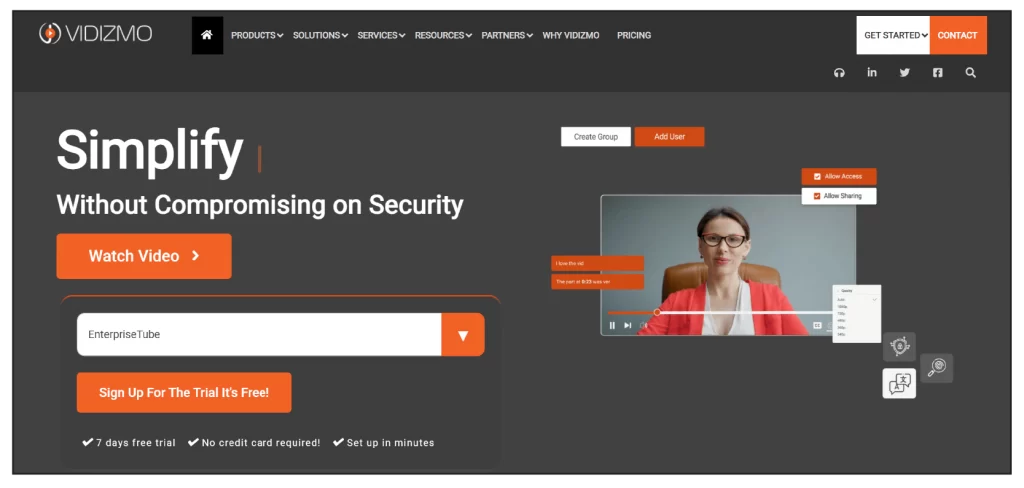 Vidizmo is a video streaming platform that helps businesses and organizations manage and distribute video content. Some of the features include video hosting, transcoding, delivery, video analytics, and reporting tools.
Vidizmo also offers features for live streaming and pay-per-view events. Like Muvi, it is a versatile platform for organizations of all sizes.
The platform has a cloud-based infrastructure and scalable architecture. It best suits internal and external communication, training, and marketing.
Vidizmo video streaming platform's essential features include
Video content management: Securely oversee and distribute video content from a centralized platform.
Restricted access for private video streaming: Safeguard videos by granting restricted access exclusively to authorized viewers.
Customizable video portal: Tailor the platform's appearance to reflect your brand identity.
Efficient video search and discovery: Streamline the process of searching and locating videos within extensive libraries.
Governance of video data: Adhere to compliance policies and ensure data privacy for videos.
Conclusion
Selecting the right video streaming platform depends on many factors, such as your target audience, specific business needs, and technology expertise.
If you lack in-house expertise, consider opting for a straightforward and user-friendly video streaming platform like Zype.
And for those prioritizing quality over everything else, JW Player is a suitable choice. Alternatively, a fully customizable, white-label platform like VPlayed is recommended for a well-rounded platform with extensive customizations.
Even as a platform, VPlayed stands apart from others on this list. It charges zero user or miscellaneous fees, allowing you to retain 100% of your earnings without worrying about monthly or annual recurring payments.
You can also consider alternatives like GUDSHO if you're looking for an instant channel setup.
But our experts can provide personalized guidance if you find the decision-making process challenging.
We look forward to connecting with you soon.
If You Already Have An Idea To Create A Video Streaming Platform, Schedule a Free Demo And We'll Get You On The Road To Video Streaming Success
Frequently Asked Questions (FAQ):
1. What Are Video Streaming Platforms?
A video streaming platform is an on-demand online entertainment medium for TV shows, movies, and other streaming media. Well known giants like Hulu, Netflix, and Amazon Prime serve as prime examples of top video streaming platforms. There's no doubt that the best streaming services, such as YouTube and Twitch, attract a massive user base on a daily basis, making them popular choices for audiences worldwide.
2. How Do You Choose the Best Video Streaming Solution Provider?
When choosing a solution provider for your online streaming platform, it's crucial to consider some fundamental components. One major consideration is the network bandwidth required for each of your video streaming services. Also, you need to ensure that your services are compatible across various devices and have the potential to consistently stream pre-programmed channels of content with a lifetime ownership feature and more.
3. How Do I Monetize Video Content?
You can maximize your return on investment by utilizing a range of video monetization techniques integrated into your online video streaming platform. Also, a straightforward strategy for revenue generation is to earn from your valuable videos featured in a centralized online library. Nevertheless, take advantage of content options such as SVOD, TVOD, AVOD, Catch Up TV, Video Paywalls, and many more to increase your earnings.
4. How Much Does It Cost To Build A Video Streaming Platform?
The cost of building a video streaming platform depends on several factors. These include the level of customization required for your platform, the development of mobile applications, the deployment of the platform on either the cloud or on-premises infrastructure, and whether you need to white-label your video streaming services. Above all, factors such as one-time licensing costs and the lifetime ownership value will determine the exact cost of developing a video streaming platform.
5. What Are The Essential Features Should I Look For In A Video Streaming Solution?
When you are primarily focused on releasing your exclusive content, it's crucial to ensure that it is delivered to realize its full potential. Therefore, it's important to prioritize empowering your platform with robust streaming features. These features should include 100% customization, 50% faster platform integration, support for 10+ monetization models, compatibility with 100+ integrations, and many more.