After COVID, the world has changed its way of reacting to businesses. On-demand services skyrocketed post-2020 by providing door-step services. Soon, these kinds of services will become people's habits and part of their day-to-day activities.
Instead of traveling miles to get a service done, accessing everything from the comfort of their homes has become a trend. It opened millions of possibilities for new and existing businesses online. Consultation apps are one of the major services in this new trend.
With the help of chat APIs consultation apps reached global success with increased user satisfaction and revenue.
What Is A Consultation App?
A consultation app is a digital platform that allows users to request consultations from firms and professionals. These apps can be used for various kinds of consultations, such as business, healthcare, astrology, matchmaking, etc.
They offer various features like chat, voice, and video calling APIs across all platforms. It helps connect their clients and professionals for seamless communication to solve queries and provide the best consultation services.
Further in this blog, let's discuss more deeply about building successful consultation apps and their advantages in this era.
What Makes A Good Online Consultation App?
In order to develop a successful online consultation app, you might need the following things:
Feature-rich Communications:
The basic thing about a consultation app development is its communication. Provide seamless communication including chat, voice, and video with extraordinary features like file sharing, one-on-one and group chat or calls, notifications, HD video calls, etc.
Appointment and Scheduling:
Make your users have a convenient experience by allowing them to schedule their appointments based on their preferences.
Payment Integration:
It's important for a consultation app to provide easy and secure payment gateways. It allows clients to pay for their services easily through their apps.
Profile Management:
Both clients and consultants should be able to manage their profiles, like changing their profile picture, updating emails, changing their bios, showcasing achievements, etc. It increases the trust factor among clients, and consultants can learn more about their clients.
Ratings and Reviews:
Collect regular ratings and reviews from clients about the consultant they spoke with. This helps other clients choose consultants based on their past activities.
Keep your app data secured with encryptions and access controls, and make sure your app is compatible with privacy regulation laws such as HIPAA, GDPR, and OWASP.
Data security and privacy policy:
These are some of the basic things you need to build a successful consultation app. By following these protocols, you can ensure your service is genuine, you care for your users, and you move forward among your competitors.
We Invite Developers to Try and Test Our Chat SDK
Exploring The Advantages Of Developing An Online Consultation App:
A consultation app development has a bundle of advantages for both users and professionals as well. Here are a few benefits that can never be replaced:
Enhanced User Satisfaction: Online consultation apps power up the user experience by saving time, money, and effort. Along with that, it provides quick solutions for their queries or problems and solves them in real-time.
Time and Cost Savings: It saves you a lot of time and money by providing services online. It reduces the cost of physical offices and maintenance for consultants. Saves time and money for clients by reducing travel time and cost.
Increased Sales and Revenue: Increased sales and revenue by global reach and providing service to more audiences in a short period of time.
Appointment and Reminders: Easy reminders for clients and consultants so they never miss their appointments by keeping other people waiting.
High Scalability: As demand grows, consultation apps can scale up anytime by involving more consultants and providing appropriate features.
Emergency Services: In some rare cases, consultation apps are capable of assisting emergency services by connecting with hotlines, providing online prescriptions, attending nearby pharmacies, and saving lives.
Analytics and Insights: As an online consultation app, they can always have easy access to analytics and dashboards, which makes the process of improving the user experience simple and clear.
Documentation and History: It's easy to maintain client history and documentation online. So that professionals can study through their client's past documentation during a revisit to cut down on explanation time and provide a quicker solution.
These are some of the very few advantages that are common for any consulting app. By going deep as a specialized practitioner consultation app, we get a lot more advantages as well.
How Do In-App Communication Features Work For Various Online Consultation Apps?
In-app communication features are one of the most needed features for any kind of consultation app. However, we can see deeply how in-app communications help various consultation apps with their feature-rich communication solutions.
1. Matchmaking (matrimony or dating):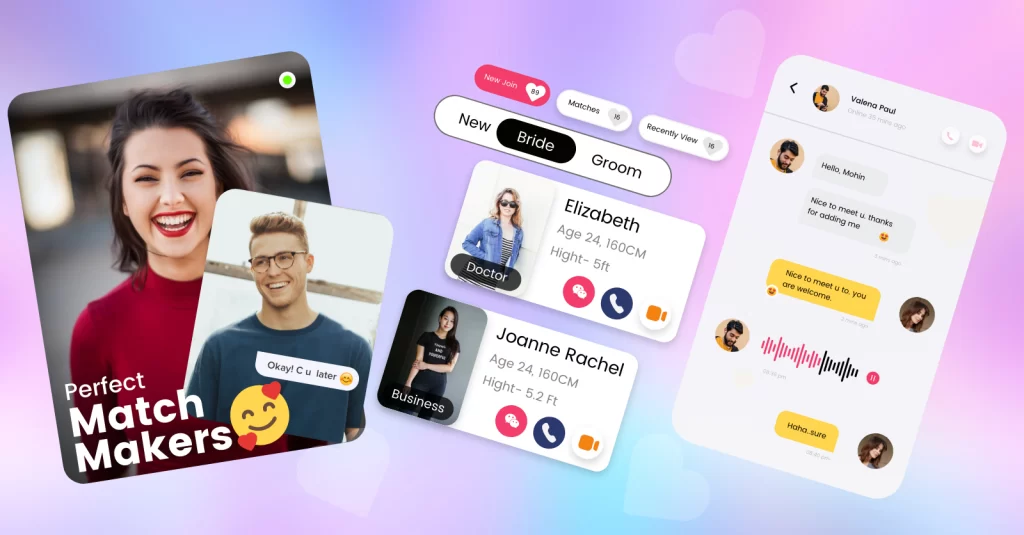 Matrimony or dating consultation apps are unique. There will be one professional from the application end and a customer from the user end. The user places their list of queries and requirements, and the professional will solve them in real time.
Matchmaking consultation apps such as matrimony and dating are reported to have over 6 million monthly downloads as of July 2023. This survey states the importance of the matchmaking consultation app among its users.
Online matchmaking apps make the whole process simple: either you find a partner for a date or for a wedding, just login with the app, choose your preferences, clarify your expectations, upload required documents, communicate, and just simply get married or go for a date.
Specialized Features for Matrimony and Dating:
One-to-one video calls : Connect your users on a video call to drive a real-time face-to-face interaction and discuss things based on their preferences. Or you can also connect your professionals and clients to resolve their queries.
Secure file sharing: Share images, videos, CVs, horoscopes, and so on. People can also send and receive locations, contacts, and more with the file sharing feature.
Push notifications: Get notified for incoming calls, messages, and files. So that your users will never miss any important conversations.
Block User: Allows your users to block and unblock any unwanted or spam users, calls, messages, and more.
2. Astrology: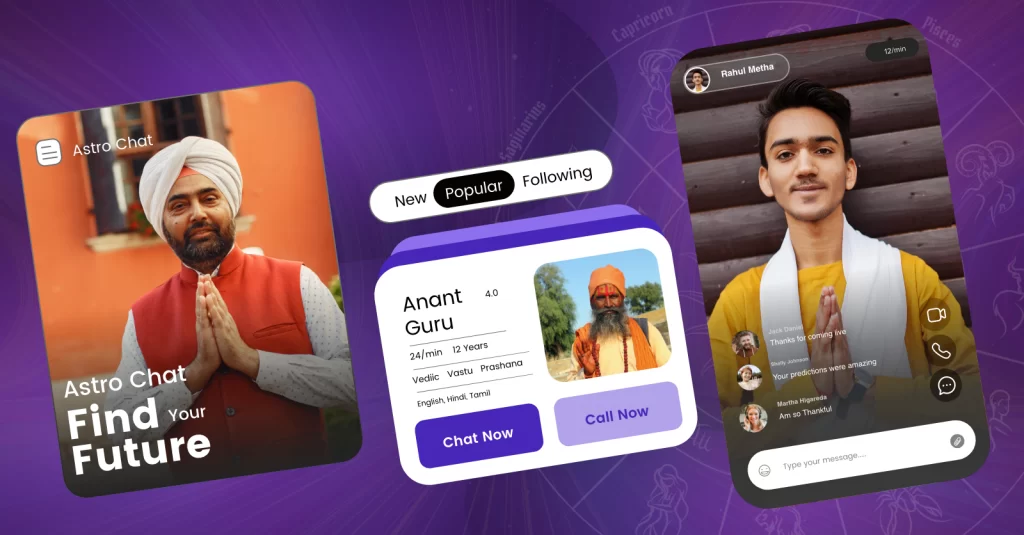 Astrologers and users can connect in a real-time chat or call to discuss their horoscopes and get consultations accordingly. Users can easily be explained using in-app chat and calls about the things they should do and don't do.
A survey in late 2019 stated that $39.7 million has been spent on astrology apps by citizens of the USA. The stars aligning for us in a straight or curved line can't be judged or defined by us.
So that there are astrologers and consultants who can solve that with their practical methods and guide us with the pros and cons, how we can be aware of things, and so on.
You can simply log in with an astrology consultation app, enter your details, and get your horoscope of dos and don'ts for a particular time period at an affordable price from the comfort of your home or phone.
Specialized Features for the Astrology App:
Private chat and calls: Connect your astrology consultant and clients in a private call or chat to discuss their horoscope details.
Share files: This allows your clients and astrologers to share horoscope documents, photos, videos, and even locations for completing rituals, if any.
Analytics & Dashboard: Gives you the leverage to analyze your apps user performance, engagements, and more. When you find things are not going in the proper direction, you can easily make changes to improve the app's user experience.
Starred Messages: Mark important conversations to access them easily in the future. This way, users will feel more connected to your app with an easy-to-use user experience.
3. Doctor-patient consultation: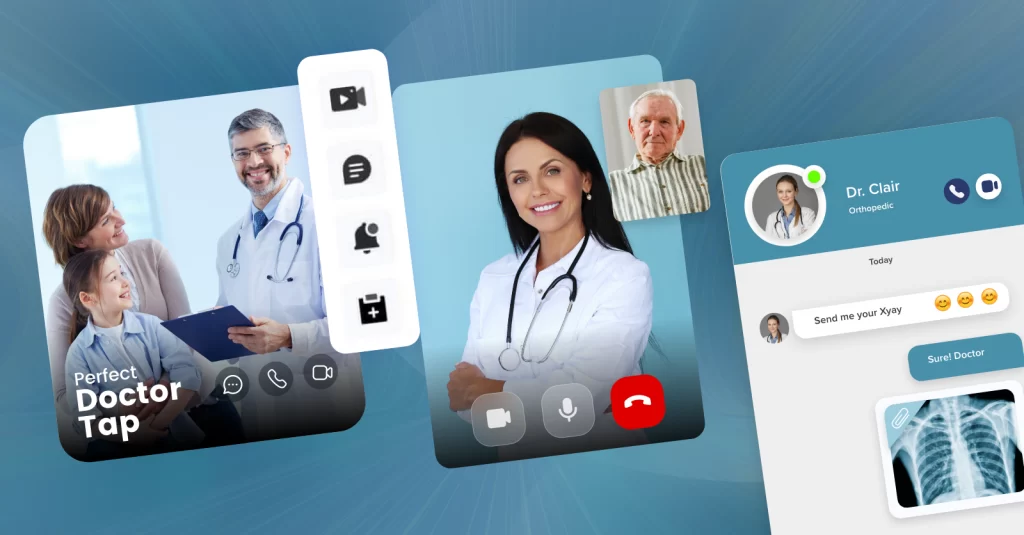 Connect doctors and patients in a secure video, voice, or chat experience to help them identify their problems online and provide a solution in real time. With secure in-app communications, all those user-sensitive data protections can be assured.
The projected revenue for 2023 in online doctor-patient consultations was set to be $23.75 billion. In the early days, it seemed like a dream, but the dream has come true now, and the revenue for online doctor-patient consultations keeps skyrocketing.
For many people, going to clinics and hospitals for opinions and consultation feels annoying. However, online doctor-patient consultation has been a cure for all problems. Patients can easily log in with the app, choose their specialized practitioner, schedule appointments online, and get consultations.
It's quite easy; patients can fix appointments at their preferred time and date; they also get reminders not to miss their appointments; they can share their previous medical records in chat; they can consult with the doctor; and they can get online prescriptions too.
Specialized Features for the Healthcare App:
Private conversations: This allows your doctors and patients to connect in a private chat to discuss private medical treatments and suggestions.
Secured Attachments: Share important and sensible medical records without any fear. Share your previous medical history documents, photos, and videos for doctor referral without fear of data breaching.
Online prescriptions: Get easy online prescriptions from your doctor in their signed letterpad to get those drugs in a local medical shop or order online.
User privacy protection: Compatible with privacy regulation laws such as HIPAA, GDPR, and OWASP. So you can reach your business globally without any hurdles.
4. Educational Institutions (Career Consultation and Abroad Study):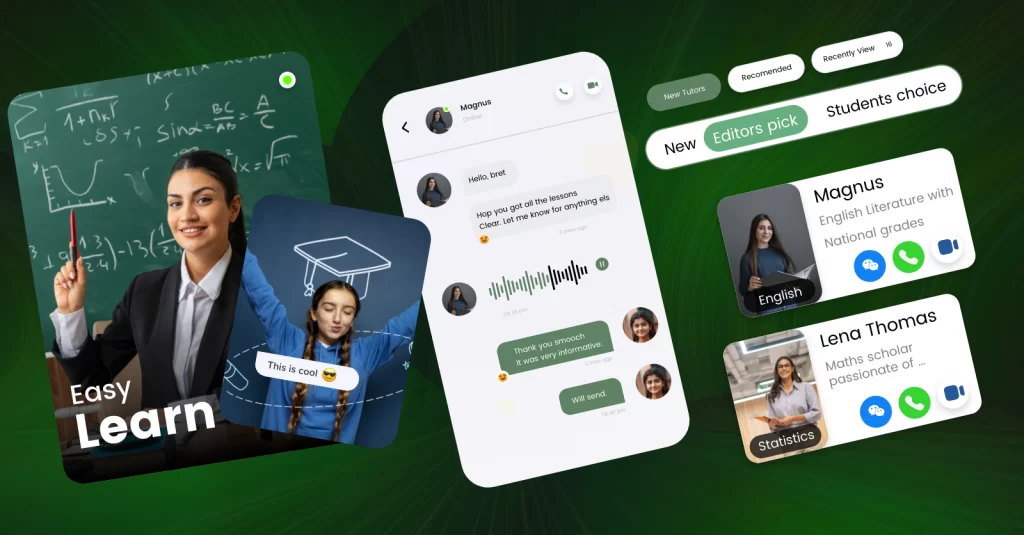 Educational institutions can provide online consultations for their students in various ways. Such as studying abroad, future course selection, internship possibilities, course doubts, online examinations, and more.
Online education consultation apps are set to generate $4.73 billion in revenue in 2023. As students started to evolve and explore different countries to upgrade their studies,
New courses and subjects are being thought of in different countries, and career and study abroad consultants are performing a great job from deep field research and exploring beyond boundaries to help people achieve their goals.
Instead of traveling to countries and searching for relations in every country, students can easily log in with career consultation apps, enter their details and skills, and get what suits them, where to go, and every detail online.
They can even apply to their favorite universities or their preferred companies with the help of professional consultant guidance.
Specialized Features for Educational Apps:
Group and private conversations: Allows users and consultants to have an open conversation in a group chat to solve multiple user queries. Or you can also connect your abroad study consultant with an individual user to guide them through the process.
Online Examination: This allows you to conduct online examinations, model tests, and deliver results all in one place.
Share Notes: Share notes, course materials, guides, and more easily through attachments.
In-app notifications: Get notified for any incoming files, messages, calls, and more in your app.
5. Pro-business Consultation: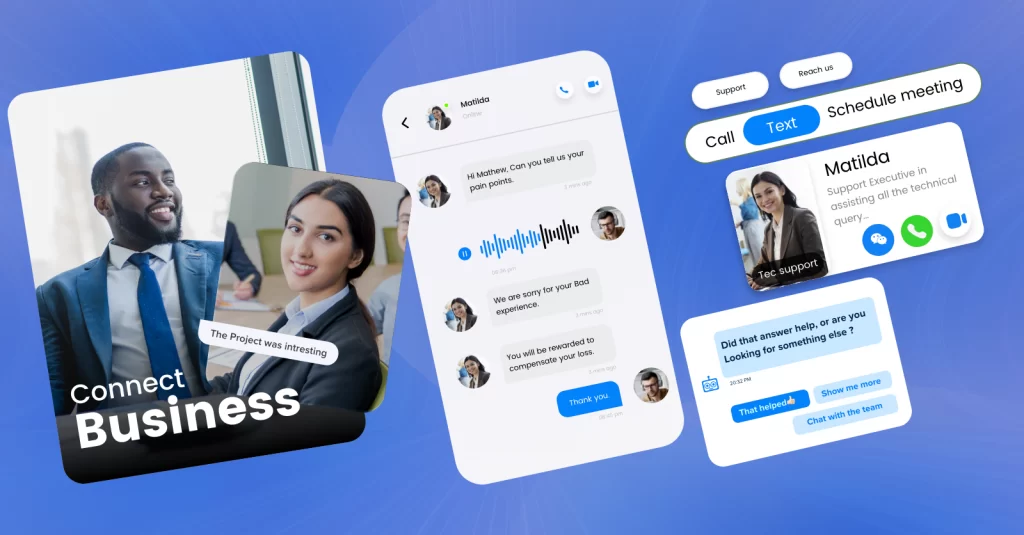 Business coaches and mentors can connect with entrepreneurs and help them overcome their business challenges. Business coaches and consultants can easily identify a problem through online one-on-one conversations.
Through that, they can find and provide a solution online and monitor entrepreneurs in order to follow the same.
A recent survey in September 2023 stated that the famous online business consultation app generated $65 billion in revenue as of 2023. This states that the revenue from this business consultation app for businesses is quite impressive.
As entrepreneurs, many face struggles in their businesses. Whether it's a startup or an enterprise, problems are common among entrepreneurs. But his online business consultation apps make it easy for entrepreneurs to consult with their business-related coach and consultant.
From past experiences, coaches and consultants can easily sort out the issues that arise in business simply by hearing the problems from entrepreneurs. One can easily login with the business consultation app, enter their business details, and consult with their preferred coach.
They can also share files with the app for any needed references. And after carefully analyzing the issue, consultants prepare a workbook for entrepreneurs to follow. It's that simple to solve business problems through an online consultation app that's available at their preferred time.
Specialized Features for the Business Consultation App:
Entrepreneur-consultant conversation: It helps you connect entrepreneurs and business coaches or consultants in a one-on-one chat or call to provide insights based on their business module.
Community Groups: This allows entrepreneurs to access groups based on their preferences and also allows consultants to reply to the same group with solutions for multiple entrepreneur queries.
Schedule appointments at ease: Schedule an appointment online with your preferred consultant based on your own preferences and comfort.
Confidential attachments: Helps entrepreneurs and consultants share confidential business documentation without worrying about data breaches.
6. Fitness Consultation Apps: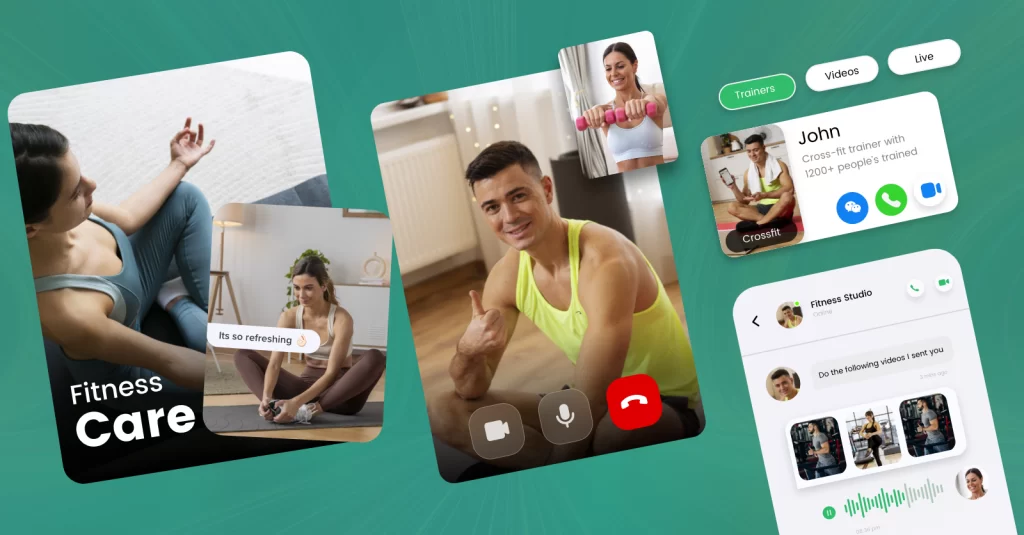 Fitness consultants can easily chat with their users and prepare a personalized workout session based on their needs using Fitness Chat SDK. Trainers can monitor the process through one-on-one video and correct trainees accordingly.
The revenue growth of fitness apps increased by 68.1% in 2023 after implementing seamless communication in those apps. This survey states the importance of communication and fitness apps.
Going to the gym is good, but sometimes it becomes a risky task to perform in this fast-paced world. If there aren't any gyms available near you, you have to travel daily to perform your workout.
But these fitness apps made the whole work simple. You can simply log in to a fitness website, enter your details, choose your fitness goals, get a trainer, and simply follow his instructions from the comfort of your home.
Your trainer gives you demos and training sessions through an online video call monitors your performance, fixes issues, and provides quick results.
You can also get your diet sheets, workout plan, and everything else you need to be fit in the app. Connect with your trainer, follow him, and get fit from the comfort of your home. This is all you need to stay fit; it's that simple.
Specialized Features for the Fitness App:
Trainer-trainee communication: Connect your trainers and trainees in a private chat or call to monitor and teach workouts.
Share plan sheets: Make it easy for your trainers and trainees to share photos, videos, diet sheets, workbooks, and so on.
Monitor and fix: Allows your trainers to monitor their trainee performance through video call and correct any wrong workout positions to produce quick and easy results.
Increase user engagement: Track the progress of user engagement with your app in the analytics and dashboard section and fix any issues that slow down your app growth.
7. Financial Consultants: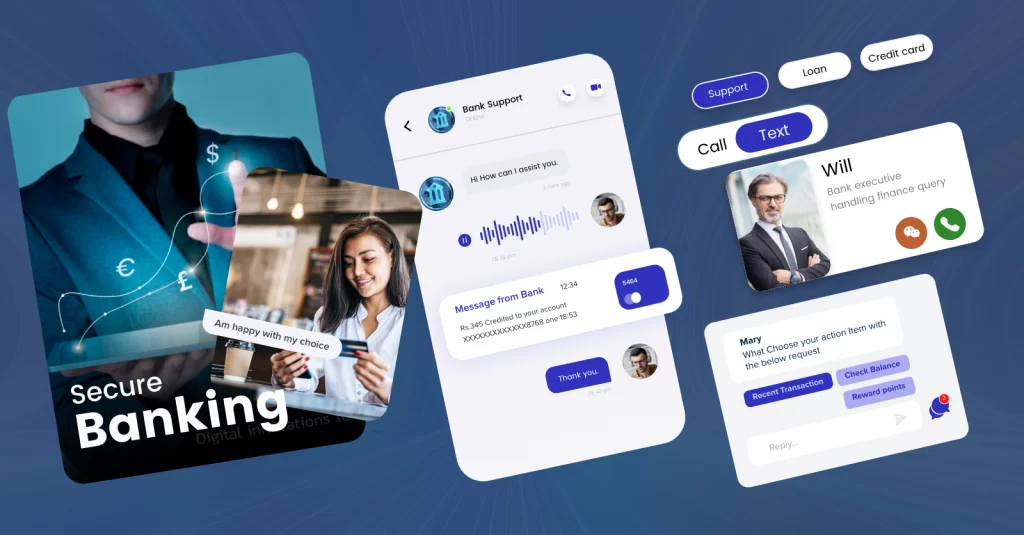 Users can easily connect with financial consultants and solve their queries related to the share market, equity, mutual funds, forex, currencies, etc.
Financial consultants can provide solutions for users related to their queries online in real-time. This can help users overcome their current financial conditions.
A recent survey in August 2023 states that the revenue of the leading financial consulting app for a year will reach $3.67 billion in 2027.
The digits show the importance of wealth in financial management worldwide. Nowadays, people are more driven by investments, savings, and generating revenues through multiple streams.
But most of them end up the wrong way and lose hard-earned money. But financial consultation apps have been a fix for this issue. Clients can easily log in to a financial consultation app and connect with consultants.
They can ask for their proper investment mode, investment type, amount to be invested based on their income, and more. They can also connect with an expert consultant regarding increasing their income, streamlining their spending habits, and more.
Specialized Features for the Financial Consultants App:
Private and group communications: This helps you connect your financial consultant and clients in a private or group chat and calls to solve their queries in real-time.
Share legally: Share any white papers, documents, or legal files that help your clients choose the best investment options available.
Notifications: Make it easy for your consultants and clients to get notified regarding any incoming financial updates and conversations.
Topic-based chat : Allows your clients to join a preferred investment group and can access all those conversations to clear their queries and feel updated.
These are some of the use cases of in-app communication in various kinds of online consultation apps. However, there are still some more consultation apps, but the common purpose of in-app chat is to deliver a professional communication experience in those apps.
Most Needed Security Features For Online Consultation App Development :
It is important for an online consultation app development to concentrate more on its security features. If you plan to build one, then make sure you establish the following security measures in your online consultation app:
Data Encryption: Enable encryption features in your app to secure communication between sender and receiver that is only accessible by them.
Two-way Factor Authentication: Establish two-way factor authentication to secure user accounts, data, and privacy that remain with them and also to prevent third-party entries.
Access Controls: Enhance access controls to provide sensible information only to the user.
Secure File Sharing: Make sure all those data and files shared inside the app remain secure and out of harmful zones.
Privacy Regulation Compatible: Keep your app compatible with privacy regulation laws such as HIPAA, GDPR, and OWASP.
These are some of the basic key features to be implemented in your consultation app to ensure the safety of users, professionals, doctors, patients, trainers, trainees, etc.
Conclusion
Thank you for investing your time in reaching this far. The time you spend gaining knowledge always surprises you.
Hola, Here is your takeaway. In this blog, we saw that the major advantage and key of any online consultation app is in-app communications.
The position of best in-app communication in the market is held by MirrorFly. Yes, based on my research in the in-app communication industry, I recommend MirrorFly, which is specially made for consultation apps and enterprises. If you are looking to build an online consultation app with in-app communication, talk to an expert to get more information regarding your app and deliver world-class service.
All the best in developing a successful online consultation app. See you in the next blog. Adios Amigo!
Try Our Chat SDK+ UI Kit And Test All Of Our In-App Chat Features.
Get it Now