Every business aims to be on top – Looking out for the best digital solutions
Gone are the days when emails and SMS messaging were at their peak. It has all become passe with the evolution of the new-gen chat apps that offer real-time messaging solutions. Did you know, as per stats, over 50% of pop. prefer instant messaging over a phone call? Chats have indeed solidified to become a powerful communication medium! 
Understanding this, all the techies are focusing on building team chat apps either for internal communications or for customer retention. And so, a new chat app surfaces every other minute. Some pay a hefty price to build a chat app from its basics, whereas a few others smartly integrate chat APIs in the application.
5 Top Most Team Chat APIs You can consider for Your Team Communication App in 2023
Integrating a chat API in a chat app works as the best collaboration tool. It does help in reducing manpower and time. But, How would you know which API will be your best suit? How would you distinguish the best from the lot? 
To help you from this hassle, we have explained some of the top APIs in this article that helps build magnificent chat apps, starting with:
1.  MirrorFly Team Chat API
MirrorFly  is the leading in-app chat API and SDK provider that offers its services in the form of SaaS and SaaP, based on business needs. It uses a variety of communication modes – text, voice and video calling to connect people across the world.
They provide a special attention to security  across the channels on user's every data and conversations using high-end security standard protocols.
Its developers-friendly APIs are the best fit to enhance your app's efficiency as they are highly compatible to be integrated into any third party app. On the whole, its APIs leverage the needs of every 'work hub,' irrespective of industry.
MirrorFly API & SDK Features
Smart Network Optimization
Audio Output Selection
Video Mirroring
Server-relayed Call Connections

Language translation integration

Document Collaboration/Share Files and Multimedia
Unlimited Messaging with endless storage
Automated actions
Pricing 
Supportive Platforms
iOS, Android, and Web Applications
2. Getstream Team Chat API 
Getstream powers real-time team chat messaging with highly reliable enriched chat features. Their APIs are quick to integrate and ship, especially when it comes to team collaboration.
It mainly focuses on simplifying the way of communication among the employees by forming separate groups of users and channels within a single application. 
Irrespective of the industries this platform provides the ultimate team communication APIs. This certainly eliminates the functional complexities across devices by promoting genuine communication.
Getstream API & SDK Features
Multi-tenancy
Easy Integration
Fully customizable
High-end security
Emotions and reactions
Direct and group chat
Pricing 
Monthly subscription pricing model
Supportive Platforms
Mobile & Web Applications
3. Sendbird Team Chat API 
Sendbird, a well structured team messaging APIs and chat SDKs that enables you to integrate real-time chat audio/video functionahttps://blog.contus.com/best-chat-sdk/lities to build a well collaborative enterprise level instant messaging app. 
Its APIs and SDKs are highly capable to minimize the complexities of messaging with an easy-to-use UI across all kinds of platforms for every business.
Sendbird API & SDK Features
Typing indicator

Auto translation

In-app chat

In-app voice/video calling

Multimedia file sharing
Push notifications
Pricing 
Monthly subscription pricing model
Supportive Platforms
Mobile & Web Applications
4. Twilio Team Chat API 
Twilio is a single platform whose flexible APIs engage global organizational team channels with built-in intelligence functionalities to support effortless team connections.
This user-friendly solution provides space to create and build a fully-functional enterprise grade instant messaging app for mobile and web within a considerable time period, thanks to its endlessly adaptable team chat APIs, SDKs, UI kit, and backend security for all-time support.
Twilio API & SDK Features
Read Receipts

Message storage

Private & group chat

Multimedia chat

Location tracking
Pricing
Monthly subscription pricing model
Supportive Platforms
Mobile & Web Applications
5. CometChat Team Chat API 
CometChat is a live enterprise chat platform that allows the employees to engage with one another and explore to enhance the productivity. It creates a supporting system with third-party integration, which makes the team collaboration more engaging and comfortable anytime around despite platform differences.
When it comes to end-to-end encryption it ensures its enterprise instant messaging chat software to be more effective and protective over any team chats and confidential data within the group chat app.
CometChat API & SDK Features
Custom message

Rich media attachment

Single sign on(SSO)

Message history

Message indicators
Pricing
Monthly subscription pricing model
Supportive Platforms
Mobile & Web Applications
However, the above mentioned are a few but you can find many more in the pond. But, I believe now you have obtained some idea about these enterprise grade instant messaging apps in terms of employee team engagement in the organization.
How Instant Messaging Apps Accelerates Operational Efficiency?
All highly productive teams rely on a team chat app for smooth functioning. A building a chat app for enterprise communication can bring together all communication easily under one window and provide following benefits:
Productivity: Catalyzes team coordination through file sharing
Connectivity: Epic productivity through all-hour, anyplace connectivity
Security: Highly private and secure solution for confidential conversations
Cost-effective: Slash domestic and international communication costs to a bare minimum
Improves work ethic: Fixing responsibility, decision making, employee interaction improves drastically.
Communication: An Instant chat messenger for office enabled with Voice and video calling integration for omni-channel communication.
Essential Features that Enhances an Enterprise Chat App
Whether could be a small or a large business, communication is an essential key component of any business. Businesses rely on interaction despite external or internal customers, end users or employees.
Although, the mode of communication differs depending on the industry that includes broadcasting information, team chat app messaging, video conferencing, voice calling, etc.
Depending upon the needs of the business, the real time instant messaging communication platform also varies, but at the end of the day all were brought together on the table with their unique features.
Let's have an insight over the incredible features that plays an essential role when it comes to building most secure messaging app,
1. Customization
The term customization is used to reveal individuality of something and when it's about to build chat app, the entire theme focuses on end-to-end scalability, quality, and the need of the enterprises that can meet the customer satisfaction. In general, real time chat communication solutions are considered to be the best if they are adaptable and flexible enough to integrate into any existing web application, iOS, and Android.
Customization can be elaborated as in future if an enterprise wants to add or remove any number of features as per their business needs, can go ahead with that without any worries just by fusing their needs into the existing application.
2. Instant Messaging
It is a feature where the real time chat messaging is used to communicate instantly over the internet, but if the user goes offline they will still be updated with the notifications. However, these chat SDKs and messaging APIs can communicate via messages from a variety of platforms that includes enhanced functionalities with an enriched features like,
One to One and Group Chat
File sharing
Push notifications
3. Video and Voice Calling
Video Calling : Video calling talks about something being communicated visually, either could be in group or individual calling. Mostly, this feature is enhanced with the customized SDKs that allow any enterprise to fulfil their needs when it comes to collaborating with any number of customers across the world concurrently.
Voice Calling : Voice calling solution is very important for any business as they allow you to make and receive calls over the browsers, and web applications. With regards to the enterprises they target towards cost-effective strategy as a special feature that stands out by allowing the businesses to communicate with unlimited calls encouraging the call queuing and routing process. Moreover, these features allow the businesses to have increase in productivity with a high rate of growth in business.
4. Media File Transmission
For any business it is very important to share the documents ensuring safety measures. Henceforth, checking out something that can contribute more into this feature by ensuring the security while transferring any confidential data is mostly appreciable. This feature allows to share multiple files of any type with the users in private or public, all these are performed in an easy term.
5. Push Notification
There are chances that you might miss some of the important messages sometimes in your busy schedule. To overcome this make sure that all the notifications whether they are from one user to another user or from the on-demand industries, all must be presented to you in a single shot then and there, so that you can be updated every moment.


Prime Features For Team Chat App
Although the above session has shed some light over the regular but extraordinary features that can be looked for while thinking of building a chat Solution with SDKs & APIs that can enhance the value of any business. There are certain additional features too that count into them as well, considered to be the best among all other realtime chat solutions. Some of these features are,
Scheduling Messages in advance.
Text to Speech – This is a feature that converts the text to lifelike speech.
Speech Recognition – It can also be called as speech to text. This is the feature that talks about the.z ability for the machine to recognize words that have been spoken aloud and later convert them into readable text.
Voice Callkit – It is a new framework where VoIP app integrate with the native phone UI.
Scheduling Voice Conference.
Clear and Crisp voice quality.
How to Build a Team Chat App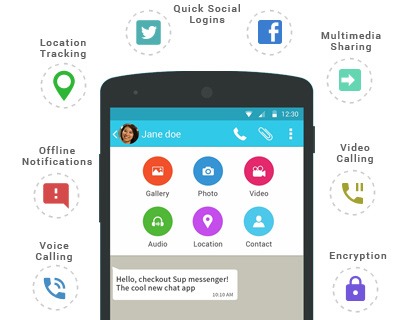 MirrorFly is a ready-to-deploy enterprise instant messaging app solution. It can build the best instant messaging app for enterprise communication or integrate chat app with a myriad of next-gen features like video/voice calling, file sharing, cross-device access, social integrations, location sharing and much more.
100% customizable and secure official communication app exclusively for enterprise.
Market-ready solution that comes with rock solid stability and bug-free code.
Message delivery notifications and alerts that enhances work accountability.
HMAC encryption that fortifies privacy and confidentiality from all corners.
 MirrorFly Boasts of Stellar Enterprise Instant Messaging Features
MirrorFly as an enterprise messaging app is crafted with brilliant attributes that will uplift enterprise communication to its zenith.
→  Direct messaging: The power of 'NOW' in direct one-on-one messaging or group chats for sharing instructions & information.
→ File sharing: Employees can share spreadsheets, documents, images, video files, audio recordings, etc. on the go.
→ Voice & Video calling: One device for all kinds of voice and video communication to all devices across the world at local prices.
→ Screen sharing: Screen sharing for employees to share real-time information that can be shown only with images.
→ Group Conversations: Chat windows that can accommodate any number of employees from any location for real-time team communication.
→ Chat Presence: Prompt display of real-time presence status like Online, offline, Busy, Available, Unavailable or custom status.
→ Delivery Notification: Every message sent to a coworker is marked with a notification confirming successful or failed delivery.
→ Real Time Connectivity: Employees can participate in office meetings through voice or video from any corner of the world, real time.
→ Chat Trail: Complete chat trail for future reference. All chats/files can be traced to for future reference.
→ Sync and store: Automatic sync and store ensures chats and files are accessible across all devices at all times.
→ All-device Compatibility: One-size-fits-all team chat app for Windows, Android, iOs or any other OS platform.
→ Social app Integration: Upped user convenience with social credentials based logins. No more need for multiple usernames and passwords.
→ Push notifications: Text alerts to to keep teammates in loop about official alerts, reminders or notifications.
→Heightened Security: End-to-end encryption and high profile data protection that thwarts hacking and piracy threats.
→ Ongoing tech support: All-caring and anytime available Technical, admin-level or user-level support.
→ Location sharing: Location maps to trace location or even to ease employee navigation to a new plant or branch office location.
→ Pixel-perfect UI Design: A well-thought and clutter-free UI that facilitates quicker and easier enterprise communication.
→ Fully searchable: Conversations and files from the long past can be easily retrieved with smart search using MData retrieve.
Technologies Deployed in CONTUS MirrorFly

CONTUS MirrorFly has under its hood several ground-breaking technologies that can deliver unparalleled communication experience for enterprise communication.
Embed engaging real-time voice,video, and in-app chat experiences into pre-built or existing apps with MirrorFly's communications APIs.
Final Words!

Whether you are an enterprise looking out to bring in chat functionality in your application or a keen-to-learn developer, you would have got a clear picture of how to build a team chat, how instant messaging drives efficiency, and how easy it is to create an app with an API. 
The article describes only the top five APIs, there are still a lot more in the market. Each varies with another by API uptime, latency, customizations, and pricing. So, you need to do a little more research on which to use. 
Still unclear on which API to use? Why don't you sign up for a free trial with MirrorFly and see what features it holds in its repositories?