Ever dreamt of setting up a video sharing website like the YouTube/ Metacafe? Want to know how to share your music or get an online presence for your band? It's quite simple to live your dream. Download the hottest video sharing script for WordPress: WordPress Video Gallery from Apptha ,the Best WordPress Video Plugin which now comes with a dashing WordPress theme 'Video Stream' which is of great quality and design.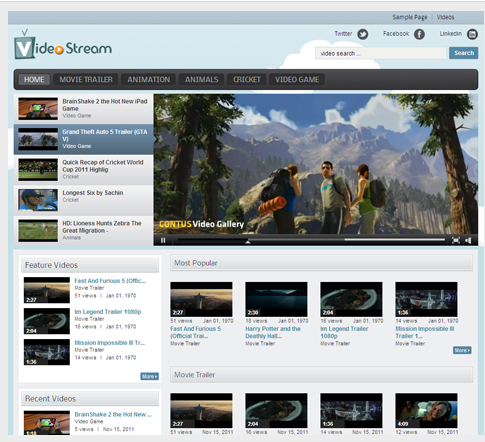 The WordPress Video Gallery is a video sharing WordPress extension which efficiently creates a video sharing site like the YouTube in record time. The video gallery plugin has an in-built HDFLV Player, which is unique for its video and audio quality, shows six different modules, supports video upload from YouTube, manage videos in categories, control n number of videos, flexible video settings and social share icons. The Video Stream theme accompanies the WordPress plugin Gallery to gear up the effect of a music sharing site. The WordPress music theme has professional niche theme design, perfectly carved for a music portal.
The WordPress Video Site along with the Video Stream works the out-of- the- box way, giving all sophisticated video blogger the best music destination. The Video theme gives a multitude of options to enhance the look and feel of the WordPress Video Site such as Show Video Categories in Top Menu, Video Search Option in header, widgets for popular, recent and featured videos, easy switch over to home page content, Facebook comments for videos etc.
Create a music site with the WordPress Video Gallery Plugin to pump in more music lovers!!