Post the mobile-era, the cost of information exchange has been reduced to a puny. Enterprises are capitalizing on the digital connectivity to empower their employees. The spotlight is on enterprise apps that do more than just send an email or notify a calendar meeting.
A recent study by Adobe in collaboration with Edelman Intelligence has found that organizations are leaning heavily on enterprise apps to find everlasting solutions to recurring business challenges relating to communication and collaboration.
In fact, according to 87% of the respondents to the study agreed that messaging and collaboration applications are mission-critical. The study also found the respondents to agree that enterprises without specific apps of their own are at a strategic disadvantage.
Enterprise specific mobile apps can multiply employee productivity, cut down costs for communication, reduce carbon footprint, gain competitive advantage and also maximize communication efficiency with customers, vendors, and other stakeholders.
Here are some more certain benefits that your enterprise will derive from building a chat app.
Outlining the Ingredients of a Successful Enterprise Chat App
One App – Several Integrated Core Functions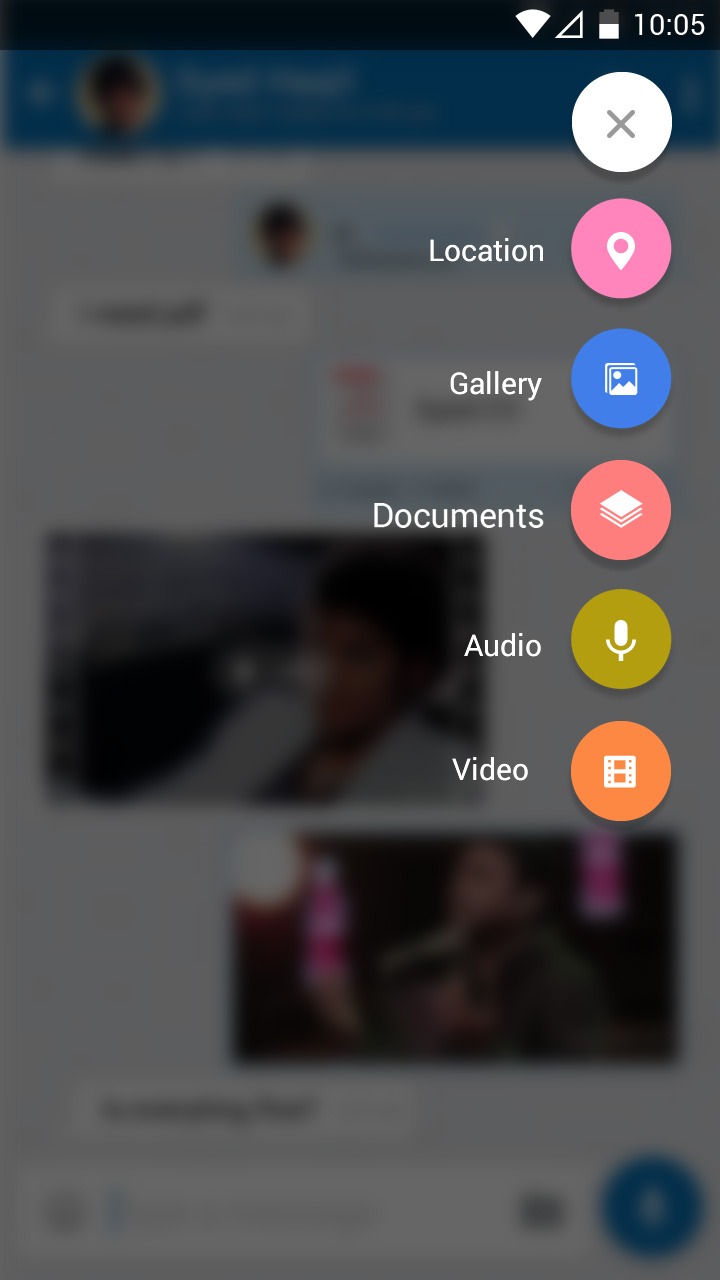 An enterprise app will replace several systems and become a unified tool to perform core routine functions, like:
A real-time telephony
An app interface for file exchange (just like email)
A video conferencing screen that does not need physical infrastructure
An internal tool for virtual reporting within teams
A tool for seamless collaboration between several departments
An enterprise mobile app can eliminate the need for multiple devices and operating systems. It creates a single touch point to do everything that employees are expected to do, and that with improved productivity.
Read : How to Build Chat App like WhatsApp?
Liberates Employees from Desktops

Connectivity is productivity. A team of employees who can stay connected to each other without desktop systems is indeed the very point of real-time messaging.
However, given the fact people use devices of varying nature like laptops, smartphones, tablets running on multiple OS platforms including iOS, Android, Windows among others, connectivity is hard to come by.
It is here that an team chat app positions itself as the missing piece that completes the complicated jigsaw of enterprise communication. It brings together all users using any device under one umbrella app.
The all device/OS compatibility liberates employees from desktops thus fulfilling the intent of augmented productivity through connectivity.
Secondly, advanced instant messaging apps can also function in offline mode assisting to deliver messages through push notifications or text messages.
Feedback Based Continuous Improvisations
Enterprise apps will be used by a wide spectrum of users with diverse needs. In its initial release, the app may not be adequate enough to meet the needs of all kinds of users equally.
Constant improvisations based on feedback collected from users is the key to perfecting an enterprise app.
For example, does the app makes it easy for users to view, review and share a file quickly with minimal steps. Is voice and video calling of high quality without interruptions? Is the app lightweight demanding less resources from the user device? Does it sync with all devices and networks instantly?
Feedback collected from users on these aspects will help fine tune to app to perfection.
Centralized App Management

In an organization, administration of networks and devices are critical to ensure data confidentiality, access control and user privileges.
Even with an enterprise app model, there must be a centralized mode of control as to:
Who can add or remove members to the user pool
Who can grant user privileges
Who can tighten security measures
And so on
The idea is to fabricate a safe perimeter within which enterprise users can have maximum freedom to share information and drive innovation.
Bottomline: Communication & Collaboration Leads to Innovation
Great things in business are never done by one person. They are done by a team of people. Teams that come together, brainstorm together and work together.
In today's digital-age. enterprise chat apps are catalysts to such team communication and collaboration. They are accelerators to spread ideas, implement actions and monitor progress. As a result, they are essential tools for business innovation.