Today the power of In-app communication is ruling the world with several on-demand and marketplaces applications that have made us realize the importance of this transformative instant message technology. Being a key to success for all kinds of enterprises we can call this in app chat to be a hidden ruler that collaborates the businesses in a single tie and builds trust among the users ensuring spontaneity at every step.
In general, the inapp messaging power across many on-demand/delivery and marketplace applications has behold numerous use cases that have benefited from. Henceforth, this is an article that will give a deep insight about the in app chat system with regards to its beneficial impact over the variety of use cases
Why Add In-App Chat into Your Marketplace Apps and Website
An instant communication application can change the entire experience of conversations. It can easily cater to and improve the quality of communications done for marketplaces and on-demand services. In-app communications strategies are enhancing the user's experience with the help of prompt replies, quick communication, and instant availability. Ultimately this will strengthen customer's trust, they will tend to use On-Demands Services, stay loyal to a particular platform and share happy feedback!
Definitely, the use case of In-App Chat Communication has a wide scope, it can be moulded as per the requirement. But we have shortlisted 7 best use cases that will help to make the most out of In-App Communications and give the best results.
1. Role of In App Chat in Customer's Support
Whenever a customer is seeking support; it can be for solving some queries or getting quick assistance; they will tend to look for quick replies and easy assistance. No customer would like delay in solving their problems or getting help. In-App Chat helps to serve the customer with quick response and easy assistance. Also, the communication done via In-App Chat feature can be done glitch-free and quickly as the entire interface is user friendly.

The easiest way to build customer's trust is to focus on Customer satisfaction, and to increase that it is necessary to communicate with them whenever they are in need.
2. Get Updates About your Order
The buyer would be eager to know about where the product has reached, how long it will take to deliver, and other queries about the order. So they can just drop a message and get all the answers.
Instead of calling customer care now and then and waiting for the attendant to receive calls, getting some unclear answers; in-app chat features are way better. It is changing the user's experience!
3. Get Reviews from the Customer
In-app communication API for marketplace app makes it easy to know about the customers. Unless you know as to how their shopping experience was from your portal?, what is the product review?, whether they like the buying process?, is there any issue with payment procedure?; you will not be able to perform better.
Customer Feedback will create a huge difference. To a certain extent, it is an apt way to measure the performance of your services and products; because those are honest and unbiased reviews. Moreover, it will help you to understand a customer's needs and their expectations, their preferences and how you can meet their expectations.
With the In App Chat features, you can conduct a survey, also it will be convenient for the customers to just click on the link in the chat box and take a quick survey to share their experiences. It will help customers to express themselves and also help the vendor to understand their targeted audience.
4. Faster Transitions for Better Customer Experience
How will you feel, if you are constantly guided and given assistance about the purchase you are making?
Here, Real-time communication API for an on-demand app, the communication gap between buyer and seller is bridged. They can communicate freely. Buyers can get proper assistance and satisfactory answers.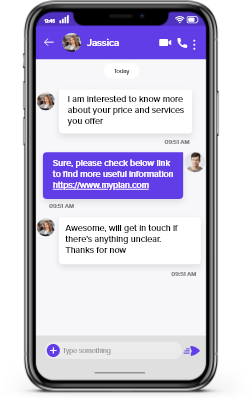 It can make the buyer decide about buying a particular product and get executed even faster. To make it more effective, you can also keep payment gateways open in a communication tool.
The most effective benefit of the direct communication between buyer and seller is that there will be no scope of any miscommunication. The entire purchase procedure will be error-free.
5. Order Related Speedy & Effective Communications
A lot of times it happens that the buyer changes his mind, sometimes while ordering a product he likes and later his mind might change. Sometimes after placing the order; they want to change the color, size, product and it creates a conflict of interest.
How to deal with this situation without any confusion?
The buyer will have to cancel the currently placed order and place a new order as per the specifications he wants. In such cases, it is necessary to have a concise and clear word.
For that buyers can explain their change of mind via a text and understand the procedure of canceling the order. Sometimes the seller can help the buyer in placing the new order, understanding their preferences, and suggesting them about products accordingly.
6. Easy Way to Market your Offers & Advertise
All you need to do is to create a broadcast for the same and make buyers aware of the offers.
So as soon as someone visits your marketplace app, he will receive the pop-up message stating about the offers. This idea works well if communicated well. A person might be just randomly visiting your website and this pop-up can make him buy the product.

It is also a cost-saver, instead of spending money on advertising. You can make the buyer aware this way about the offer
7.Strengthening the bond with Buyers
It is necessary to build a healthy clientele relation with customers. It adds value to the goodwill of the company. You can perform better and improve the statistics of healthy customer relations by communicating effectively.
Bottom Line
Well, this article has helped you figure out in-depth knowing about a variety of in-app chat use cases and the overall impact of on-demand apps on it.
However, it all depends on your app and its requirements that can grab users attention, thus increasing the level of engagement to have better growth in business. Now, it's all up to you to build your tailor-made in app chat and experience your business needs by user retention and engagement over the on-demand apps.
Thus, to add up a boosting power to your business it's always better to go for in-app chat for your on-demand industry.