The world of online streaming has grown rapidly in recent years and with it, the demand for OTT (Over The Top) software has skyrocketed to a greater extent. Indeed, the OTT streaming software allows businesses, content creators, and individual users to distribute and deliver their content directly over the web, bypassing traditional means like cable and satellite TV.
With a plethora of OTT software providers in the market, it can be overwhelming to choose the best one that fits your needs. In this blog, we present to you the top 7 OTT software providers or OTT software development companies that offer the best features and value for money.
Whether you're a large corporation looking for a comprehensive OTT solution or a small content creator in need of a simple and affordable option, this guide will help you find the perfect OTT software for your needs.
One thing to note: With the increasing demand for OTT software development, OTT software providers are constantly updating their offerings to stay ahead of the competition, making it easier for you to deliver your content to a global audience.
What is OTT Software?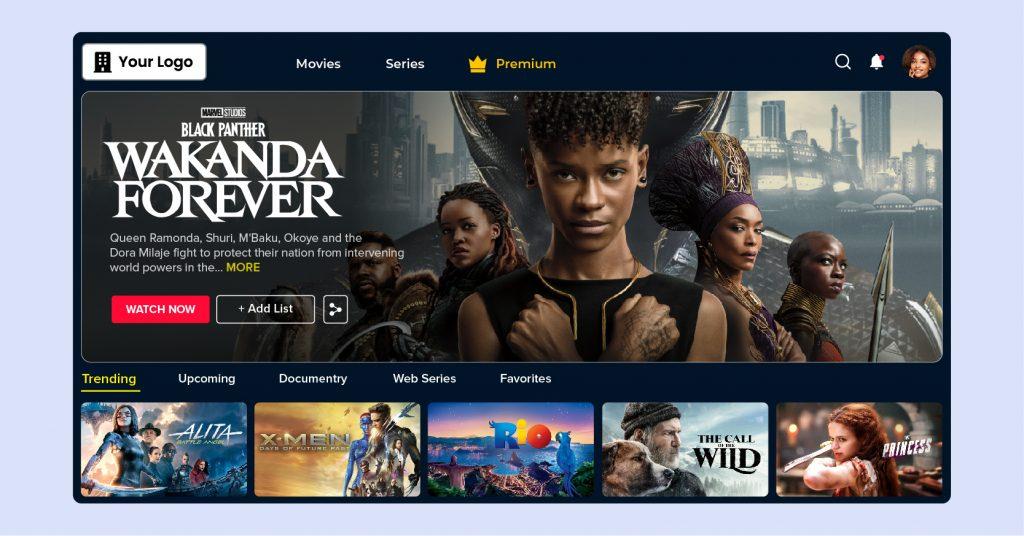 OTT (Over-the-Top) software refers to technology solutions that enable the delivery of video content directly to viewers over the internet, without the need for a traditional cable or satellite subscription.
With the rise of online video streaming and the increasing demand for convenient and accessible content, the OTT industry has grown rapidly in recent years. As a result, OTT software has become an essential tool for businesses looking to reach and engage with audiences.
As the OTT industry continues to evolve, businesses are desperately looking out for the best OTT software development company that can help them develop, distribute, and monetize their video content effectively.
Whether you are keen on looking to build a new OTT platform or upgrade your existing video offerings, choosing the right OTT software solutions can create all the major differences in targeting the right audience.
---
🌟 Also Read: What is OTT? A Definition of OTT & Its Meaning 🌟
---
Comparison of 7 Best OTT Software Providers
With so many OTT software options available in the market, it's important to carefully find an OTT software solution that can meet your specific business requirements and goals.
In this section, we will compare the 7 best OTT software providers in the market. The comparison will provide a comprehensive view of each platform, including a list of its key features, to assist you in selecting the best OTT software that meets the needs of your business.
1 CONTUS VPlayed
Most Popular White Label OTT Video Software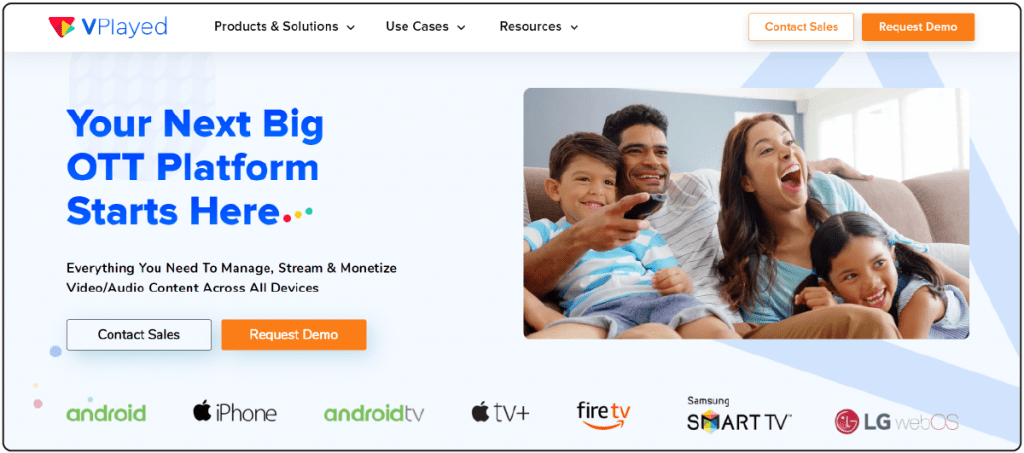 CONTUS VPlayed is a comprehensive OTT software solution that combines services like audio, video, and live streaming. With its fully customizable HLS player, users can enjoy a rich viewing experience on a wide range of devices. Apart from this, the video player's multi-screen functionality eliminates the need for businesses to worry about compatibility issues.
Along with this, VPlayed's unified dashboard provides a simple and efficient way to manage video files. The software's content management system simplifies the process of uploading, scheduling, publishing, sharing, and managing playlists and user profiles.
Moreover, the platform provides real-time analytics that enables businesses to track user trends, traffic patterns, and collect device data with precision. With CONTUS VPlayed, businesses have access to a dependable and go-to solution for all their OTT needs, making it the most preferred choice among other OTT software development companies.
Uncovering The Key Features Of VPlayed OTT Software
Take control of your ROI with accessible monetization options.

Effortlessly manage your videos with a CMS dashboard.

Unified dashboard simplifies the management of video files and libraries.

Gain valuable insights into your audience with an analytics report.

Reach a wider audience with simulcast technology. 

Get rid of buffering and hello to a smooth viewing experience.
VPlayed OTT Platform Pricing:
For quote-based plans, fill out this inquiry form, You may also opt for Free Demo Here

2 Dacast
Unparalleled OTT Streaming Software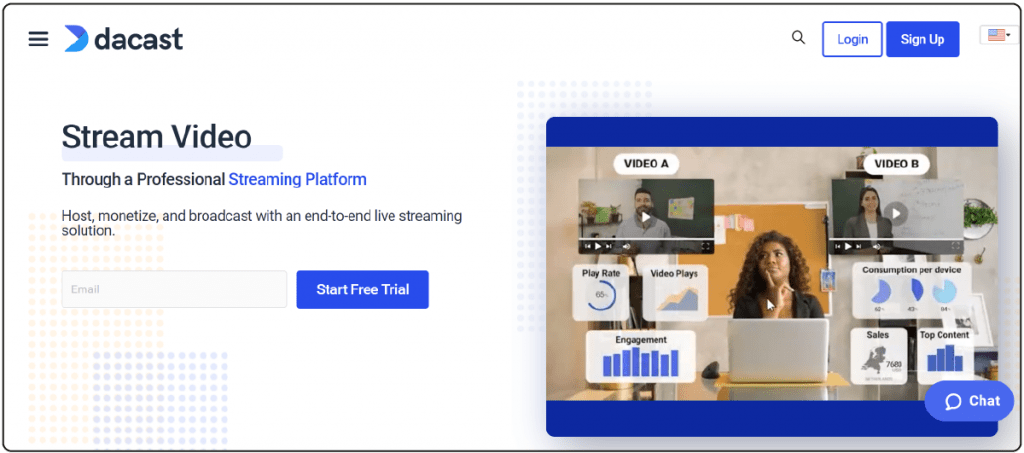 Dacast is considered as a leading OTT software solution for video streaming, offering both live and on-demand viewing options. The OTT streaming software utilizes an HTML5 video player and works with top CDN to ensure seamless video distribution across any network devices.
As a self-service, fully integrated OTT software, Dacast enables users to start streaming quickly and monetize their video content effectively. The software also offers a range of professional tools and services powered by cloud computing terminologies.
The platform's security features include secure SSL streaming and password protection. Moreover, making it an ideal choice for businesses looking for a reliable and user-friendly OTT software solution. Above all, Dacast's video analytics provide informative data on each video, helping to optimize the overall streaming strategies.
Uncovering The Key Features Of Dacast OTT Software
Secure and efficient CDN for online video streaming.

Feature-rich HTML5 online video player.

Mobile-ready and user-friendly streaming.

Unlimited concurrent viewers and live channels.

Streamline set-up with expert backend support.

Unrestricted streaming with no limitations whatsoever.
Tired of using Dacast?
See why Dacast is not suitable to manage Your OTT platform and why you need a
Dacast Alternative
3 Kaltura
OTT Video Software For Effective Streaming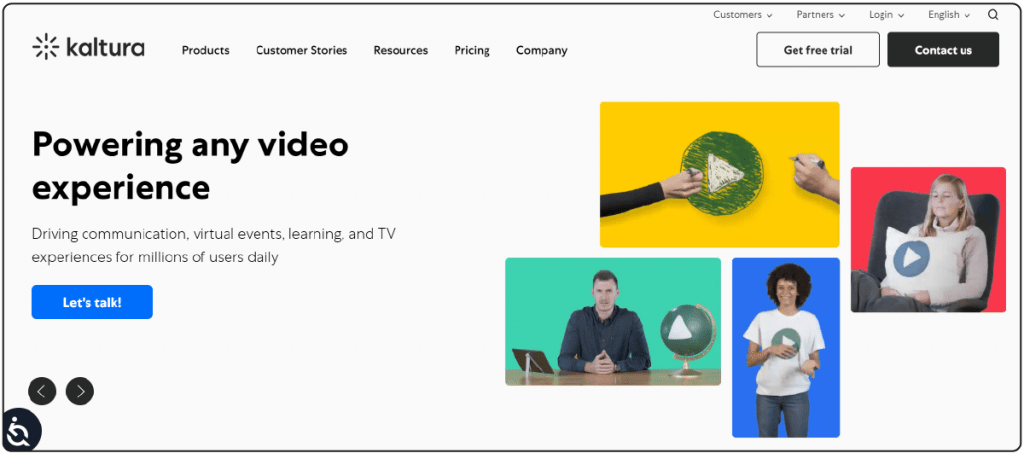 Kaltura is a dynamic OTT video software that empowers businesses globally to connect and communicate in multiple ways. It offers a versatile software for all types of virtual meetings, from online training to executive presentations.
When it comes to live events, Kaltura gives you the power to broadcast to any screen and easily control and access them later through its user-friendly administration console. Its cutting-edge analytics for VOD and live streaming will keep you ahead of the game, letting you monitor your video's performance in real-time. 
And, with its cloud platform designed specifically for TV shows, you can fully satisfy all your video-streaming needs. Above all, Kaltura's open API-based architecture makes integration with other systems a breeze.
Uncovering The Key Features Of Kaltura OTT Software
Advanced adaptive video streaming with multiple bitrates.

Complete video and player API accessibility.

Flexible customizable templates for all.

Robust monetization alternatives (SVOD, AVOD, and TVOD).

Strong authentication and encryption options for improved security.

Streamlined customizable layouts for effortless live broadcasting.
4 Brightcove
Unmatched OTT Software Provider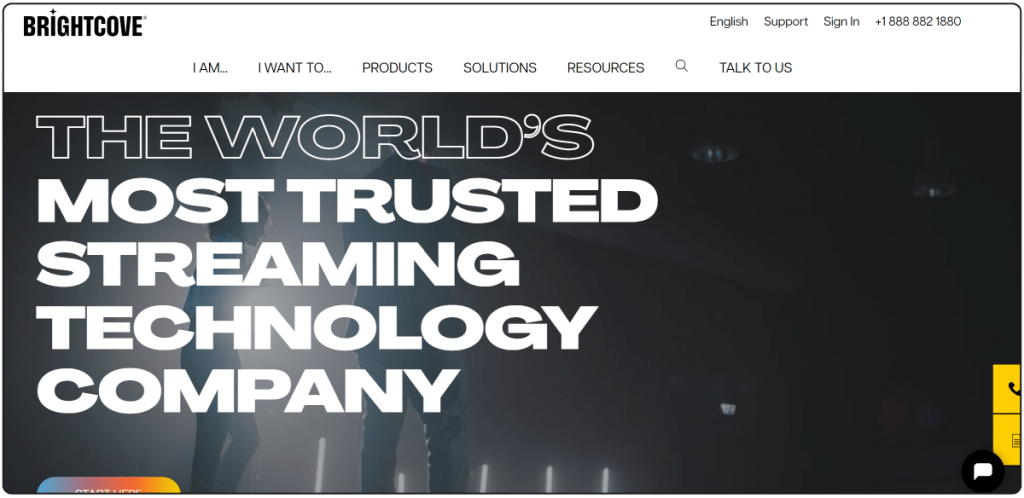 Brightcove, one of the top OTT software, delivers industry leading OTT software solutions for businesses looking to expand their audience. Its cloud-based software offers a seamless live streaming experience, hosting of VOD with integrated marketing, and a wide range of content that can be accessed on any device.
With its advanced privacy features, including multi-platform DRM, geo-restrictions, and SSO login, you can be assured of your content privacy. Brightcove also provides top-notch license management and midstream rights checks to protect your valuable content.
In addition to that, Brightcove offers analytics and insights into your audience behavior, allowing you to make informed decisions and tailor your content according to the audience requirements. With a focus on user-friendliness, the solution provides a simple and intuitive interface that streamlines the live streaming process.
Uncovering The Key Features Of Brightcove OTT Software
State-of-the-art adaptive bitrate switching for seamless video playback.

Secure rest APIs using token-based authentication.

Comprehensive customer support via multiple communication channels.

Audience participation tools for enhanced audience engagement.

Advanced activity monitoring for detailed analysis and insights.

User-friendly design interface tailored for ease of use.
Tired of using Brightcove?
5 IBM Watson Media
Innovative OTT Software For Digital Businesses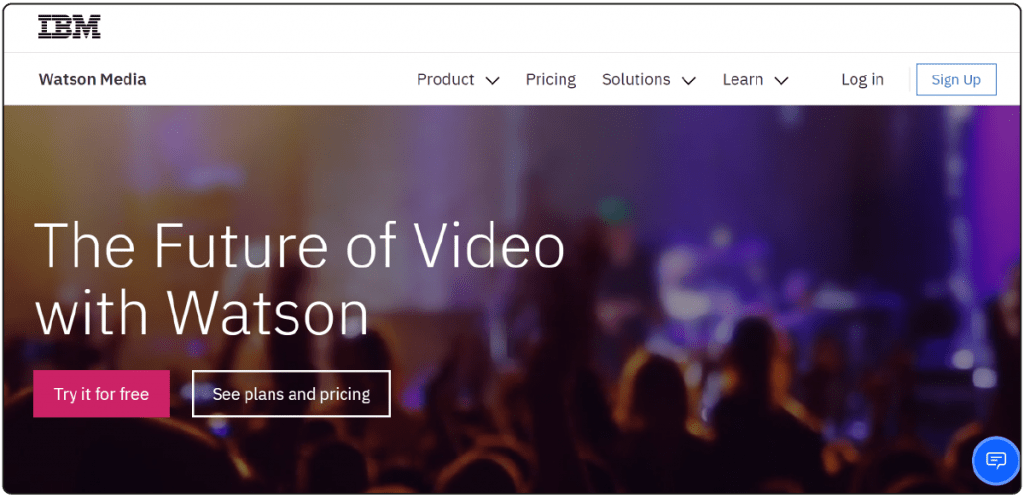 IBM Watson Media can be your go to OTT software solution that can help you manage, measure, and monetize your online videos. With its cutting-edge cloud streaming and video services, it ensures that your content is always accessible, scalable, and secure.
In addition to this, IBM Watson Media offers a comprehensive suite of video hosting, live streaming, and transcoding services, powered by speech-to-text automation and robust analytics. Its machine learning capabilities help you take your viewer engagement to the next level, making sure that your content is relevant, informative, and appealing to your audience.
And with real-time performance tracking, you can make data-driven decisions that can help you optimize your video content and maximize its impact. All in all, IBM Watson Media is more than just an OTT software provider – it's a catalyst for OTT software development success!
Uncovering The Key Features Of IBM Watson Media OTT Software
Exceptional ad-based (AVOD) and subscription-based (SVOD) options.

The convenience of VoD streaming in both live and on-demand modes.

Accommodating closed captioning and effortless automated video publishing.

Robust multi-DRM and language support for maximum reach. 

Unrestricted/unparalleled resolution and bitrate capabilities.

Streamlined metadata compilation and video ingestion processes.
6 Wowza
Top OTT Video Software For Everyone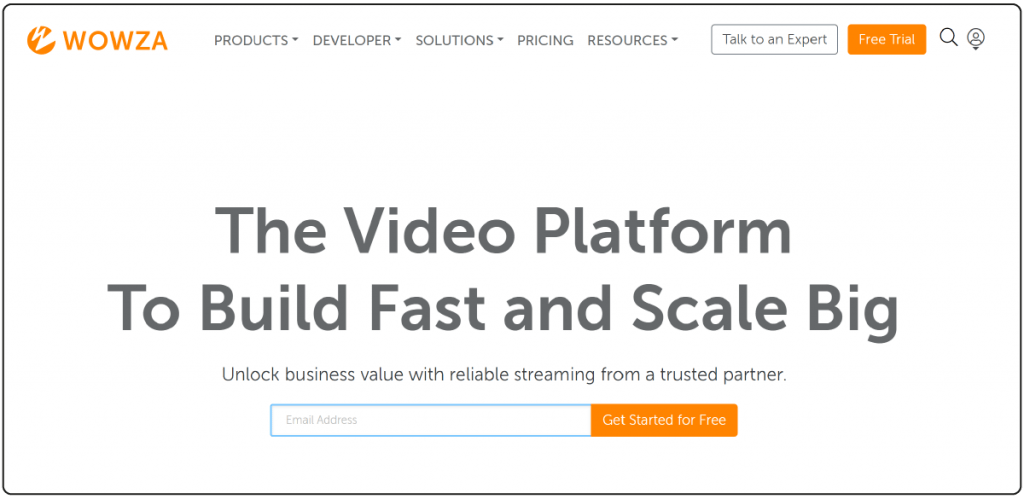 Wowza, the ultimate OTT video software offers a range of features designed to enhance the video streaming experience, including low latency, high-quality video playback, and robust security options. The software is flexible and customizable, making it suitable for a variety of use cases, from small businesses to large enterprises.
Indeed, this OTT software provider is revolutionizing the vast number of industries like retail, media, entertainment, healthcare, government, and more with its high end OTT software. With its patented Wowza technology, you can stream live videos with unparalleled performance and crystal-clear quality.
The Extensible Modular Architecture enables you to scale your video's live streaming capabilities in a matter of seconds. And with its worldwide CDN network, you can deliver content seamlessly to audiences all over the globe. All in all, you can experience the power of Wowza and elevate your video game to the next level!
Uncovering The Key Features Of Wowza OTT Software
Advanced customization and powerful brand control options. 

Effortless auto-archiving for convenient on-demand viewing experiences.

User-friendly video content management made simple.

Online streaming support in ultra HD and 4k resolutions.

Unbeatable video DRM security features that are always reliable.

Seamless API integrations with additional features.
7 Vimeo OTT
OTT Software Solutions For Smarter Streaming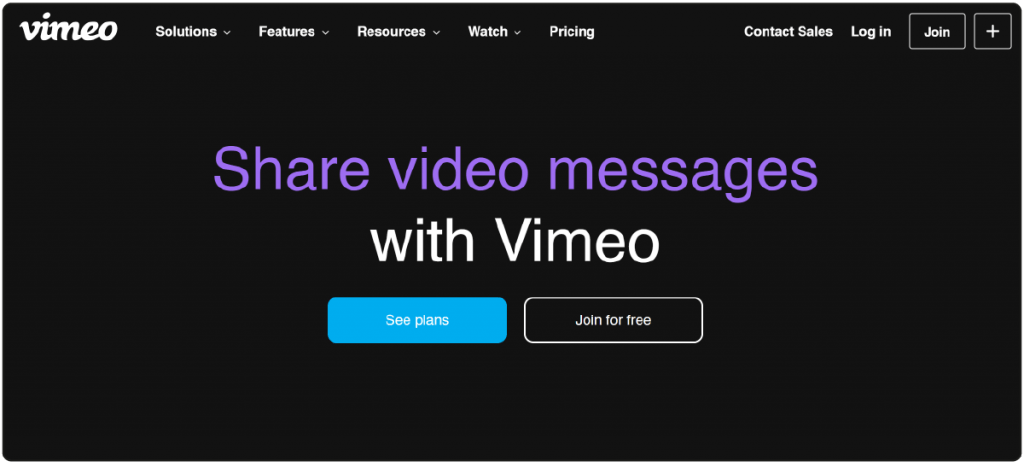 Vimeo OTT, a well reputed OTT software development company, launched its OTT video software in 2004, revolutionizing the way content creators and artists showcase their work. With a focus on meeting the diverse video viewing needs of all audiences, Vimeo OTT offers a feature-packed video player that can be customized to fit the unique requirements of any business.
As one of the first OTT software providers to support High Definition video streaming, Vimeo OTT has established itself as a leading OTT software development company, delivering powerful content management, analytics, and monetization tools.
Whether you're a content creator looking for extensive functionality or an organization seeking a simplified solution, Vimeo OTT has got you all covered. Today, it is considered as one of the top destinations for viewing any type of content that you would like to view or share.
Uncovering The Key Features Of Vimeo OTT Software
User-friendly content management system for effortless video management.

Secure privacy options to protect your online video content.

Robust security measures for content owners adding peace of mind.

Advanced post-production tools for seamless global content delivery.

Customizable video gallery pages for a unique viewing experience.

Personalized on-brand streaming options for a professional look and feel.
Tired of using Vimeo OTT?
Summing Up
In conclusion, the OTT software development market is rapidly growing and is offering a multitude of options for businesses to choose from. The top 7 best OTT software providers in 2023, as highlighted in this article, are making waves in the industry with their innovative solutions and technology. Each provider brings unique features and capabilities to the table, making it crucial for businesses to choose the one that best aligns with their specific needs. 
Indeed, whether you are looking for a comprehensive OTT software solution or a company to handle your OTT software development, the providers discussed in this article provide a solid foundation to make an informed decision. With the rise of online video consumption and the increasing demand for high-quality video content, now is the right time to invest in the top OTT software to take your business to the next level.
If You Already Have An Idea About Launching A OTT Software, Schedule A Free Demo And We'll Get You On The Road To OTT Video Streaming Success!