The Domination & Downfall of Cable TV
In the contemporary era, cable television seems like a thing of the past. However, there was a time when cable companies dominated the media industry and were the prime source of video subscription platform. Let's rewind the reel to figure out the evolution.
In the 1940s, television broadcasting was introduced in the US, it leveraged airwaves to send electromagnetic signals that carried TV programs. Watching programs on television at that time required viewers to install antennas on the rooftop for catching the signals transmitted through the airwaves.
Now, the major problem with this broadcasting system was that the signals grew weaker as they traveled farther from the broadcast towers. To maximize the returns and viewership, the broadcasters used to install these towers only near heavily populated urban areas. To tackle the challenge of weak signals in remote locations and improve reception, an alternative transmission medium, as Community Antenna Television (CATV) or cable TV was created in 1948.
However, the potential of cable TVs was not fully explored at the time and was only used to extend the existing signals.
This changed as the technology matured and by the mid-70s, the cable TV companies were providing extensive services and a wide range of programs for the viewers with better reception. Cable TV was quite popular until the Internet came into existence and changed the game for the better.
Over the past decade, as the Internet penetration grows stronger, OTT/VOD platforms have been the go-to option for video and audio streaming content. Over the Top (OTT) refers to any form of video streaming services that leverages the internet to directly deliver content to the audience.
Now let's see
What Is a Video Subscription Platform?
Subscription video-on-demand or SVOD is an entertainment model where users must pay monthly or yearly subscription in order to exchange with instant access to premium movies, TV shows & any other popular video streaming services.
This is different from the rest of video services as popular media consumers of all times generate 70,000+ Million dollars this offers a wholesome solution & certainly SVOD is here to stay since the industry is fast-paced.
Want To Build A Top-Notch Video Subscription Platform For Your Business?
Why Choose a Subscription Video On Demand Revenue Model?
Today, Internet technology is much faster and affordable than it was a few decades ago. People are finding it more convenient to switch to alternative internet-based entertainment sources like OTT platforms that provide much more flexibility and variety in content.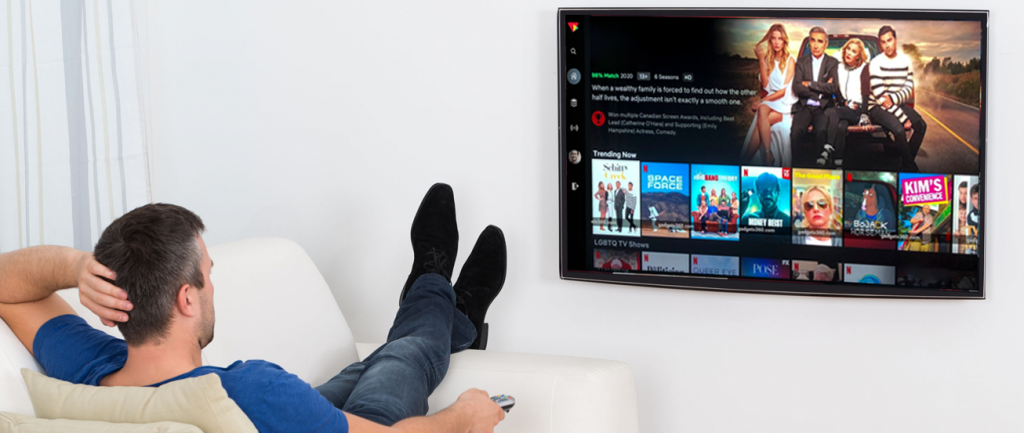 If we go by the stats, the number of cord-cutters in the United States alone has increased from 24.9 million in 2017 to 45 million in 2020. The projections for 2021 and 2020 are 50.2 million and 55.1 million respectively.
You will be surprised to learn that the worldwide revenue for the video subscription streaming segment is expected to hit $71,237 million by 2021! For the period between 2021 to 2025, the compounded annual growth rate is estimated at around 11.04%.
If we go by this growth rate figure, the revenue at the end of 2025 will be approximately around $108,306 million. The user penetration percentage figure will be around 18.2% by 2025 as compared to 14.3% in the contemporary.
What is SVOD and the revenue in the SVOD market for Japan was around $1018 million in 2020. However, the United States is projected to lead the revenue charts globally for subscription-based online video platform in the near future.
Now that we know how promising a subscription-based revenue model is, let's delve deeper into why opt for this particular revenue model.
1. Convenience
Subscription-based models are very convenient for content accessibility. Users can watch their desired content any time of the day with no ad interruptions. Many OTT platforms also allow the users to download content they can view offline. The auto-pay option can also be installed so that the payment is automatically charged and the subscription is renewed.
2. Cost
This is one of the most important factors that have helped to boost the OTT platforms. Most of the popular SVOD platforms offer free trials for the users to check out and decide if it's worth subscribing for a given fee. The subscription plans are usually much cheaper than cable TV prices and provide much more flexibility in choosing the desired plan.
As per research reports, the cable companies reported the average spending per subscriber at $85 per month. This is way costlier when compared with the same metrics for SVOD subscription services like Netflix and Hulu starting at just $7.99 per month.
3. Control
If you have ever opted for a Netflix or Amazon Prime subscription, you must be familiar with how easy it is to control your membership. You can just log in to your account and cancel or continue your membership with a simple click. Subscribers also have the option to easily upgrade their plans depending on their changed requirements. You don't have to waste your time calling the customer support representatives every time you want to change your membership plans.
4. Video Library
Subscription video-on-demand service providers like Netflix and Amazon prime offer a vast library of content for their users to choose from. You will be able to watch a wide variety of content from a wide range of genres. Also, they usually keep on updating their video libraries with fresh content to attract a wider audience segment and keep them entertained. You can also find niche content if you want to watch videos related to a specific niche such as cooking, sports, education.
Important Considerations Before Building Your Video Subscription Platform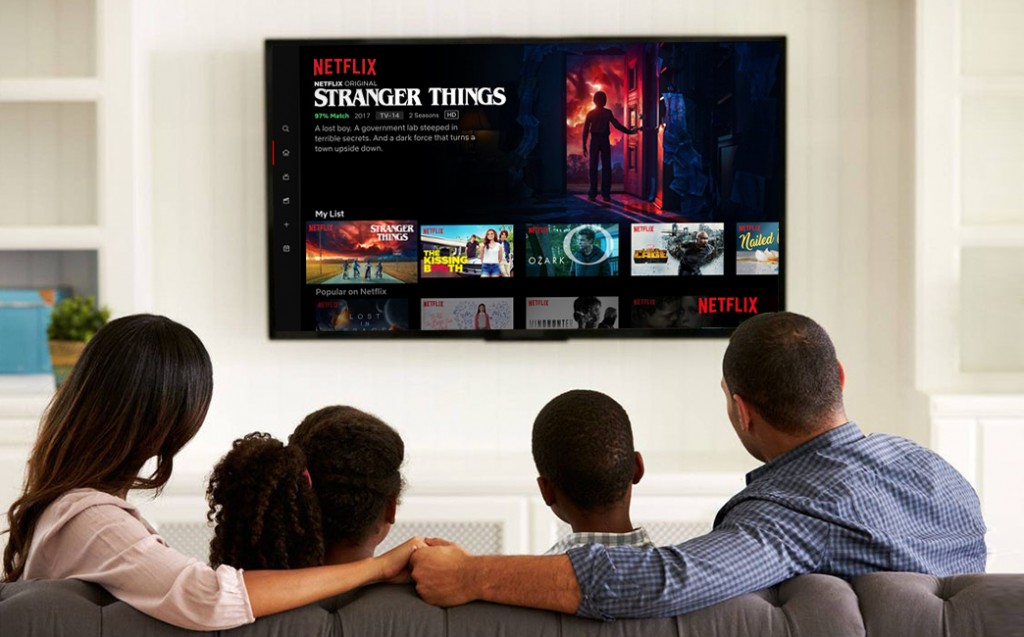 Building a successful subscription video platform requires meticulous planning and execution. You need to think about your unique value proposition in terms of content that you will have on your platform and the audience you want to target. Let's delve deeper into how you can efficiently build an online video subscription platform.
1. Plan Your Content
Before launching any video membership website, you need to have a robust content plan in place. It should answer questions like what type of videos you want to present? What kind of value will your video provide? What niche do you want to get into? Who is your target audience? Answering these questions will help you create an effective content plan.
2. Manage Your Content
Have you ever had a hard time finding specific content on Netflix or Amazon Prime? In most cases, it's not hard at all. Popular VOD streaming platforms like Netflix manage their content in an organized way that allows their viewers to find what they need instantly. Your content should be classified and categorized to improve the user experience. You should also have a search tab to help your audience find what they need easily.
3. Choose the Right Business Model
Choosing the right OTT monetization model plays a key role in the success of your business. Your monetization strategy should take into consideration factors such as the target audience, their purchasing power, value offered. You can choose from a wide range of monetization methods such as subscription video on demand, transactional video on demand, advertisement video on demand, pay-per-view. Creating a video streaming websites like Netflix and Hulu have a subscription-based monetization model in place to generate revenue from their users.
4. Choose a Solution Provider
For building a secure subscription online video hosting platforms you need to carefully choose your solution provider. You should always opt for a solution provider that offers 100% customization, just like CONTUS VPlayed offers. It should also provide you with multiple monetization methods and have a robust content management system in place.
Now, these are some of the basic things that you should be mindful of before choosing your solution provider.
But before that, you need to see..
How To Create a Subscription Website In 4 Steps?
Create a custom-built subscription platform with multiple support systems of modern streaming technology to assist you to fix an appropriate to your selling video content online and generate surplus revenue.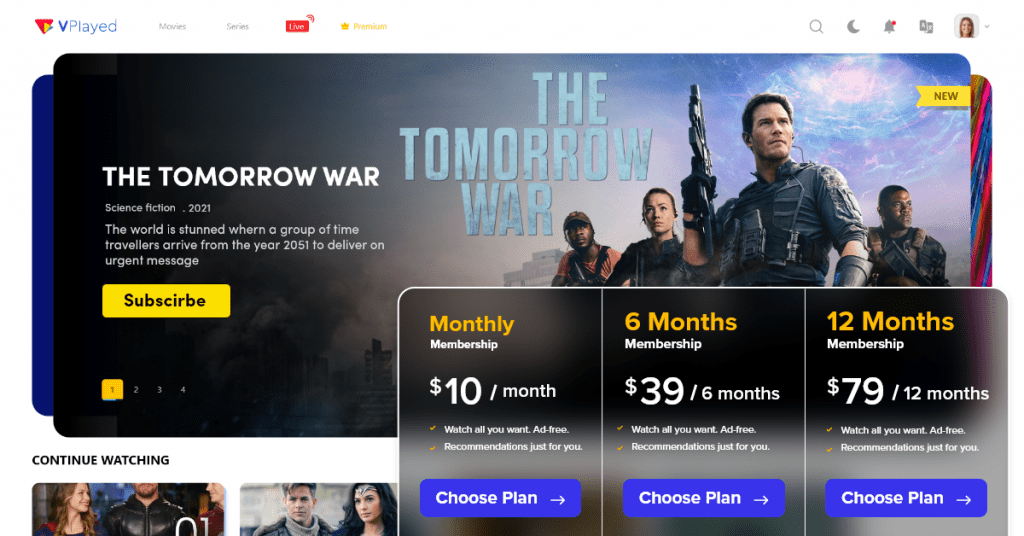 Here some simple steps that you can follow to create a suitable video subscription website online and generate large bucks of money swiftly:
Step1: Establish Your Niche & Set a Brand
Finding your niche or nature of business is one of the most primary steps in building a subscription based website compiled with all kinds of services. While we see platforms like Netflix, Amazon Prime cater to every audience's taste we've independent video owners struggle to make unique offerings that are different from existing players in the industry.
Step 2: Build Customized Subscription Website
Next, you'll need a newly-built website to stream your longtail content such as movies, tv shows, web series etc. It will enable you to market your curated videos for supporting conversions from visitors, to trial & hit the goal of having loyal subscribers. You'll need best video streaming platforms to build a video streaming app & manage your platform integration.
Step 3: Get To Have One OTT Personalized App
Now allow your customers to reach you on the go by delivering videos through the OTT app and stream videos on smartphones, tablets, TV whenever they are interested to watch, as compared to cable or satellite TV. Get a turnkey solution that gives you the capabilities to launch your own app.
Step 4: Grab Your Subscription-base Crowd
SVOD comprehends the significance of building a brand with a compelling subscription website. Likewise, you know what your choices are for fostering curative pieces of content and how to figure out the interests like exclusive content that best suit your crowd & make it more personal-centric.
Moving on, let's unveil…
Why VPlayed Should Be Your VOD Solution Provider?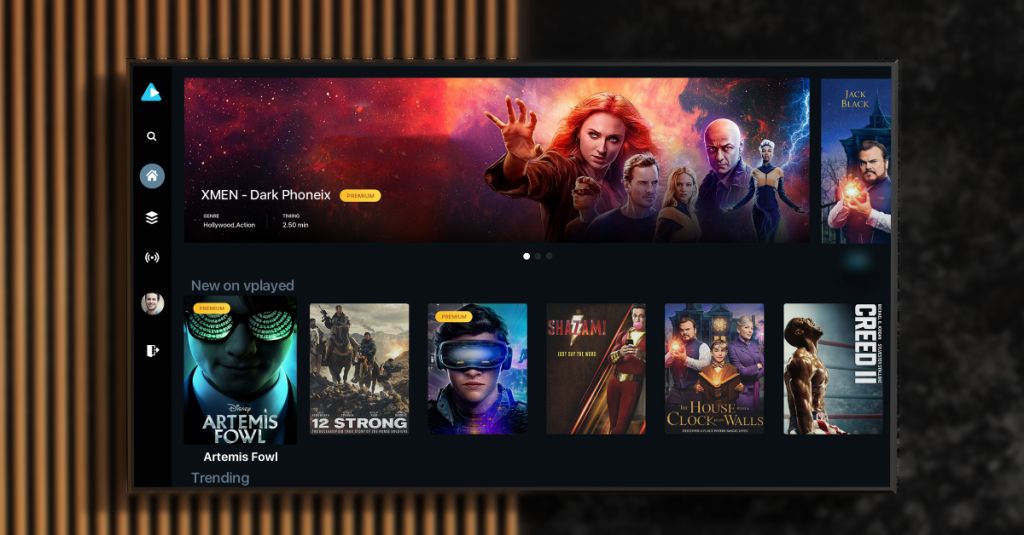 CONTUS VPlayed is among the best solution providers when it comes to building a dynamic online video platform. It can help you build a highly secure and customizable video subscription service platform that you can easily bank on. Let's dig deeper into some of the most exciting features offered by CONTUS VPlayed.
1. Video CMS
The best-in-class video content management system (CMS) offered by VPlayed allows you to effectively manage and distribute your content on a real-time basis. Features like bulk upload let you upload and import content from any third-party cloud drivers in a glitch-free manner. Besides this, there are multiple other useful features such as audio/video scheduling, multi-lingual support, multimedia format, playlist creation that enhances the user experience.
2. Hosting
CONTUS VPlayed offers you a dynamic VOD hosting platform to deliver an unmatched user experience. You can choose from the on-cloud or on-premise hosting server solutions, depending on your needs. The progressive web applications offered by VPlayed accentuates the viewing experience by providing an app-like user interface. You can also enable the social login option to provide users with the flexibility to log in using their social accounts.
3. Customization
CONTUS VPlayed offers you with 100% customization option for your video on demand platform. You can customize multiple aspects of your platform including uploading, distribution, monetization, etc. The geographical location-based language feature even allows you to customize your live streaming or OTT platforms as per the target geography. Other customization options include custom presets, custom thumbnails, dynamic watermarks, etc.
4. White Labelling
You can easily build a white label VOD platform using CONTUS VPlayed. It helps you to create a branded platform and enhances the overall visibility of your brand. You can use your business logo and other branding elements to create a strong brand recall. You will also have the option to personalize your video player by choosing best white label OTT platforms.
5. Multiple Monetization Models
A good solution provider should offer you flexibility for monetizing your content. With VPlayed, you have the option to choose from a wide range of video monetization platform including subscription model, advertisement model, transactional model, etc. You can opt for a revenue model based on your preference and viability.
6. HLS Player
You should never lose subscribers just because the content delivery speed was not up to the mark. HTTP Live Streaming (HLS) is a type of HTTP adaptive bitrate streaming protocol that was created by Apple to provide a seamless streaming experience. CONTUS VPlayed offers the best online video platforms in place, including the HLS video player, to help you deliver content at an unmatched speed.
7. Cloud Transcoding
The cloud transcoding feature offered by CONTUS VPlayed helps to ensure a buffer-free streaming experience for your audience irrespective of the bandwidth. Using Adaptive Bitrate Streaming (ABS) technology helps to deliver high-resolution video content to any device in the most efficient manner. Features like transmuxing even allow you to repackage the audio and video files into multiple formats.
8. DRM & Security
Copyright infringement is a major threat to the OTT industry. A robust DRM and security feature will help to protect the illegal distribution of your content and also safeguard the user data. The multi-DRM feature offered by CONTUS helps you to restrict any unauthorized access and usage of the content in addition to protecting your copyrights. The AES encryption method used by VPlayed allows users to encrypt the videos and audios using 128-bit cryptographic keys. If you are wondering how to start a video subscription service that doesn't compromise on security then VPlayed is your best bet.
9. Marketing & Analytics
In the modern digital age, you can't just win with good content creation. One should be aware of things like how your users are interacting with the content, what is VOD, what kind of content do they prefer, how much time are they spending on your website on average, etc. VPlayed offers you a live dashboard report feature that takes a bird's eye view approach and provides you with real-time data on relevant metrics. The custom metric feature can be used to gather precise information that you think will be useful for the betterment of your platform. You even have the option to integrate 3rd party analytics tools such as google analytics, Microsoft analytics, etc.
Conclusion
In 2020, the worldwide video streaming market was valued at around USD 50.11 billion!
To build a video subscription website in 2023, you need to opt for a solution provider that can offer a high level of security along with hyper customization options. This will help to build your brand and establish trust in your video subscription platform. Besides this, one needs to diligently think about the monetization method they choose.
A subscription-based model has proved highly beneficial for the leading players in this industry. CONTUS VPlayed provides you with 100% customizations and multiple monetization options, giving you the utmost flexibility to build a branded video subscription site with an unmatched user experience.
If you already have an idea about starting a video subscription platform, Schedule a free demo and We'll Get You On The Road To VOD Success!
Frequently Asked Questions(FAQ):
1. Why Is SVOD The Best Video Monetization Model?
Recurring revenue model which is popularly known as SVOD & is said to be the best model chosen by content owners. It's an optimum way to earn revenue from your developed platform where you will have no limits to monetize your subscription-based videos.
2. Difference Between SVOD Vs AVOD Revenue Model?
SVOD vs AVOD – Subscription video on demand allows customers to pay a monthly fee in exchange for unlimited access to a large library of audio or video content for the term of the subscription. You might use the Advertising video on demand approach if you guarantee to deliver free video/audio material amongst your regular video streaming.
3. How Do I Set Up A Video Subscription (SVOD) Platform ?
There are no boundaries to what you can do with your video subscription platform once you figure out how to create unique content or things that people want. You can provide a variety of video subscription packages, including free trials, paid subscriptions, seasonal subscriptions, automatic renewal subscriptions, manual renewal subscriptions, and more.
4. What Are The Features Required For A Subscription Video Platform?
Subscription platforms come with an array of features and functionalities to help video content reach their goals Here's a rundown of the most important ones we discovered. Whitelabeling videos for consistent earnings, lifetime platform ownership, enterprise-level security with one-time licence fee, limitless integrations,  Flexible monetization opportunities, and much more.