What would you say if you get to know that with one app, you can potentially tap into world's largest smart TV audience?
Lately, more & more people are moving into ondemand or live videos by cutting the cord & making a shift from traditional TV. The main reason is – internet-based video delivery is found to be more cheaper and accessible with more better viewing quality.
Facts let us know that people while using android TV or google TV grows up with peak popularity having gained over 110 million monthly active devices. As a result, entreprises, small businesses or content owners have acquired the chance to access a pool of audience with an immersive TV app which is configured for operating systems like Android. This has made it easier for the target audience to enjoy their favorite OTT content at their own convenience.
It is said that Netflix has altered the power of dynamic streaming by showing the amount of content that it could qualitatively create to watch. Some of the most popular TV shows of the decade include Orange is the New Black, Stranger Things, etc.
Television sets have changed a lot in the past years. There was a time when a large box with limited online TV channels filled with grainy images occupied the broadcasted space. Later this evolved the high-definition fat screens with multitude of content vanished after a decade where OTT video platforms came into existence.
Let's see its historical evolution in the upcoming segment..
Understanding of a Typical TV App
Users tend to have different expectations when watching TV when there is a comparison between using a mobile or a tablet. Mostly it sounds stereotypical about a TV user who sits about 10 feet distantly from the screen, so that the minute details are less noticeable & smaller text becomes difficult to read. It is understandable that users sit away from a TV as they must use a remote to navigate. They make selections rather than touching the screen. Significantly this affect the requirements of what ultimately it could create an alluring TV user experience.
This reminds us of how television evolved in these years by which your users can get hold of an enthralling experience because of the 'wow'factor.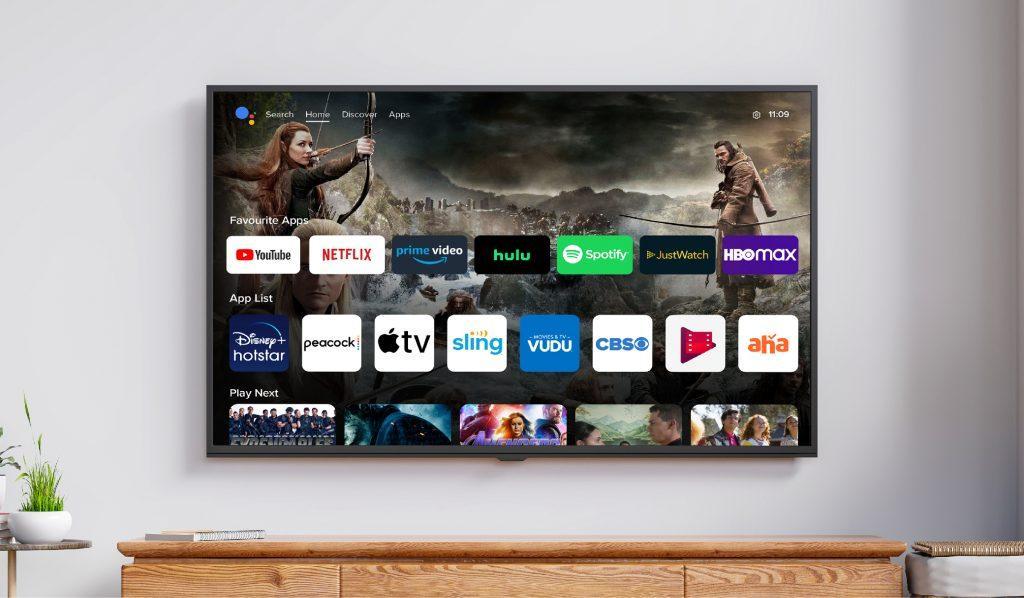 There was a time when reflected light was used to create a low resolution image. Nearly one thousand devices were made in that period. It was the size of a postage stamp. The invention of electric television had seen its reality by Philo Farnsworth where after some time it turned obsolete. Although, electric TV offered a better resolution it became easier for a mass produce.
The TV set got sold for £100 or ($130), that costed half of the average annual salary in the period of 1930s.
Later, still-operating Marconi 702 went up for auction in the year 2011 for thousands of penny. Spigel once said that the invention of services like cable & Netflix have been a source of entertainment that got optionable due to the way people pay for consumption of media.
Definitely the fact remains valid where streaming websites like Amazon Prime, Hulu, Netflix continue to change the mindset of people absorbing media. They now place the power in their smart palms.
Top 6 TV App Solutions to Make a Android TV, Apple TV & Smart TV
Developing an android TV app brings you one of the ways to reach your target audience with easy means. Many popular brands could leverage from Android as their operating system. Some of them like Philips, Sony, are the most accepted choices in the market line who use Android. It is likely to understand that you will reach a large mass while spending on development of OTT apps where an excellent business idea comes into a budding stage.
Let's see some of the top online video app platforms below:
1. VPlayed
Create TV Apps & White Label Them Via Best Streaming Solution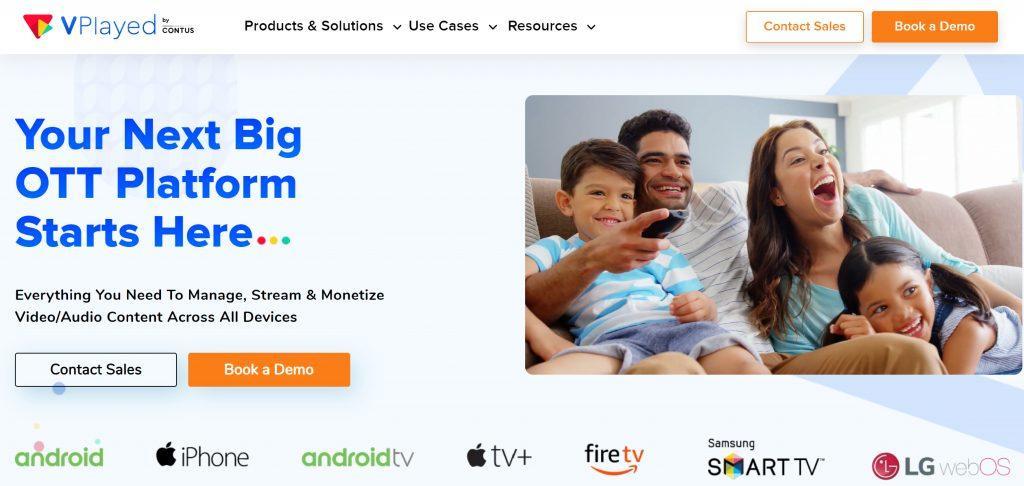 VPlayed is one of the premium TV app builder that provides content aggregators, TV app developers, & businesses with a 100% customizable solution. They offer a plethora of features that makes it easy to pick and design your TV app services efficiently. VPlayed provides end-to-end development support along with fast app release.
Some of Its Enticing Features Are:
In-app notification for any newly-arrived content alerts

Paywalls for an exchange of subscription accessibility

Offline viewing to watch TV shows & movies at any time

Live video streaming to stream variety of content use

Bulk upload from a personalized video CMS library
2. CONTUS Tech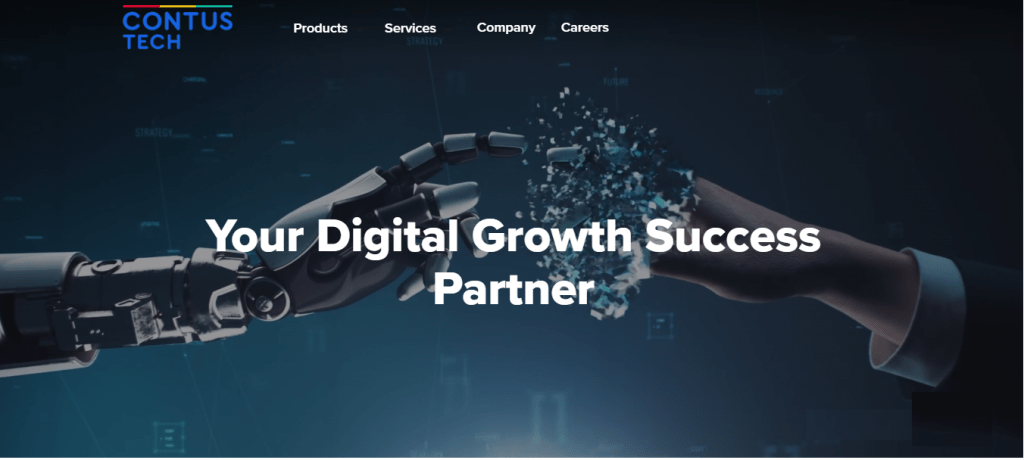 CONTUS Tech is a leading developer in building cutting-edge OTT TV apps.  It serves content owners, aggregators, media entities, event management companies, corporate teams, and production houses. The company is renowned for its proven track record and delivers a holistic suite of OTT TV app streaming services. These span cross-platform app development, scalable cloud infrastructure, and meticulous UI/UX design.
CONTUS Tech builds a complete OTT app solution that is more than just functionalities; it ensures full platform customizations, guaranteeing a bespoke and immersive user experience. 
The company also provides team extension services to develop OTT platform. It features diverse monetization models, a user-friendly content management system, robust HLS streaming support, and a seamless transition from existing ecosystems.
Highlights of CONTUS Tech OTT TV app solutions include
1. Flexible Hiring Model: Contus Tech empowers you to engage resources as needed for your OTT TV app development.
2. Ready To Work Team: Rapid deployment times with skilled professionals, minimizing onboarding delays for your OTT project.
3. 200+ Third-Party Integrations Support: Ensure seamless connectivity with a vast array of third-party integrations.
4. Pay As You Use: Contus Tech offers a flexible payment model. You can align your budget precisely with your OTT app's resource usage.
5. Faster Time To Market: Streamlined processes guarantee accelerated launches for your OTT TV app, providing you with a competitive advantage.
3. Vimeo OTT
Develop Native Apps From Vimeo to Stream on Any Device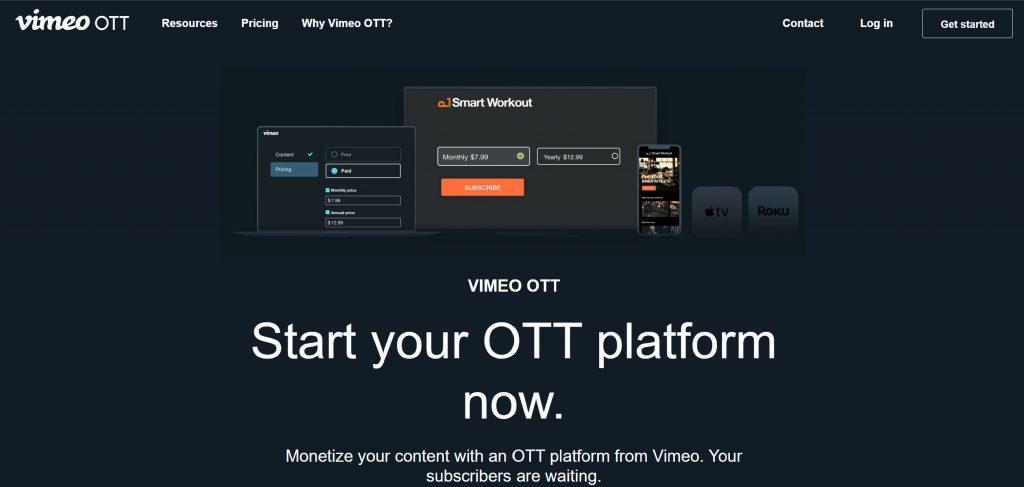 Vimeo OTT is a New York-based OTT TV app maker that assist you to launch a video subscription service with the all kinds of tech tools that help you to grow your business sustainably. All you have to do is to focus on the content & Vimeo assists you to manage, promote & monetize them effortlessly. It accounts for 1500+apps created which is 100% in-house gaining 5 million end users.
Some of Its Enticing Features Are:
You can record & share videos from your app browser

Live stream from anywhere at any time annually

Upload, host & manage content all in one place

Monetize your videos using key monetization models

Use Vimeo's built-in templates to create stunning videos
4. Brid Tv
Launch Own OTT App for Android or iOS to Integrate with HLS Player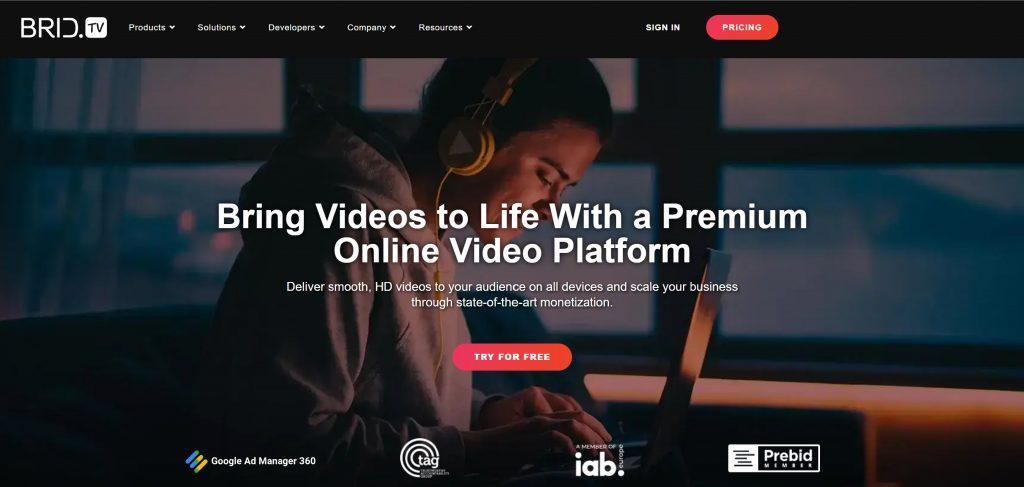 Brid TV is one of the fastest growing technology organisation which owes to provide Mobile SDK for android to seamlessly integrate with android application or deal with any custom implementations. BridTV's SDK provides the opportunity for best compatibility with all Android TV devices. Customers can readily get a pre-built android or android TV app for reaching millions of app-centric audience across popular mobile OS worldwide.
Some of Its Enticing Features Are:
Whitelabel OTT app to launch a branded one for Android hassle-free

Ensure your viewers having a buffer-free streaming experience

Expand your viewership with HQ streams across mobile & CTV

Track ad performance across OS to stay ahead in the game

Mobile SDKs for android allow you to make custom integrations
5. Zype
Make a High-quality Streaming App to Broadcast Across Media Companies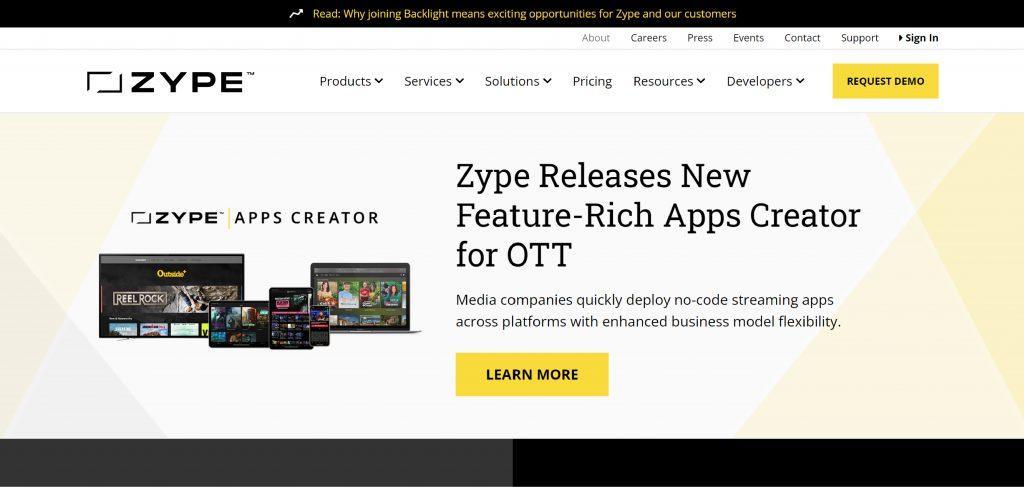 Zype builds stunning streaming apps for delivering and monetizing branded viewing experiences across all major Over-the-top platforms like Roku, iOS, Android, Amazon Fire TV, Web, Xbox etc. These high-quality streaming apps are backed by Zype's scalable configuration dashboard without the need for developers. Media companies & content broadcasters get an end-to-end solution to manage & distribute OTT videos without any hassles.
Some of Its Enticing Features Are:
Everything from app store submissions to OS updates are handled

Robust app features can be leveraged regardless of any platforms

Supports monetization models to grab the most value out of content

While making android TV app it is swiftly delivered in weeks

Create Netflix-like experience by managing all from one dashboard
6. Streann
Award Winning Streaming App Provider to Transform Business Digitally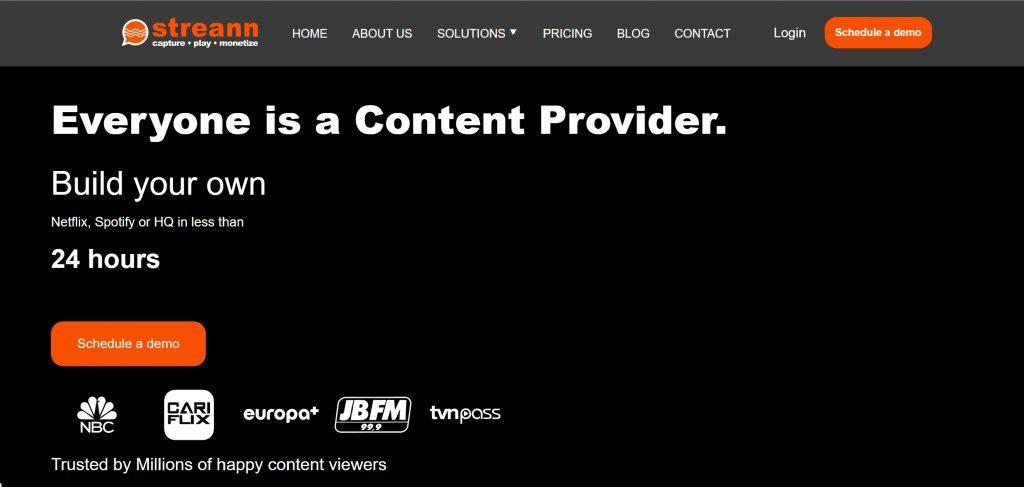 Streann lets you create your own branded TV apps & distribute its content everywhere to seamlessly engage users. With powerful market-first technology streann offers you several business model opportunities to monetize your first-grade streaming content anywhere at anytime. Content owners can easly brand their live streams on the go by adding other elements such as logo, graphics, text etc & start conversing with their audience in this app platform.
Some of Its Enticing Features Are:
Allow content providers to engage their users via TV apps in real-time

End-Users can instantly stream on iOS & Android using Roku, Apple TV

With zero coding, distribute content in own mobile & TV apps easily

Personalize your apps look & feel for optimal user experience

Replicate success of your video streaming service via in-built analytics
7. JWPlayer
Start building TV apps for your brand to be source of revenue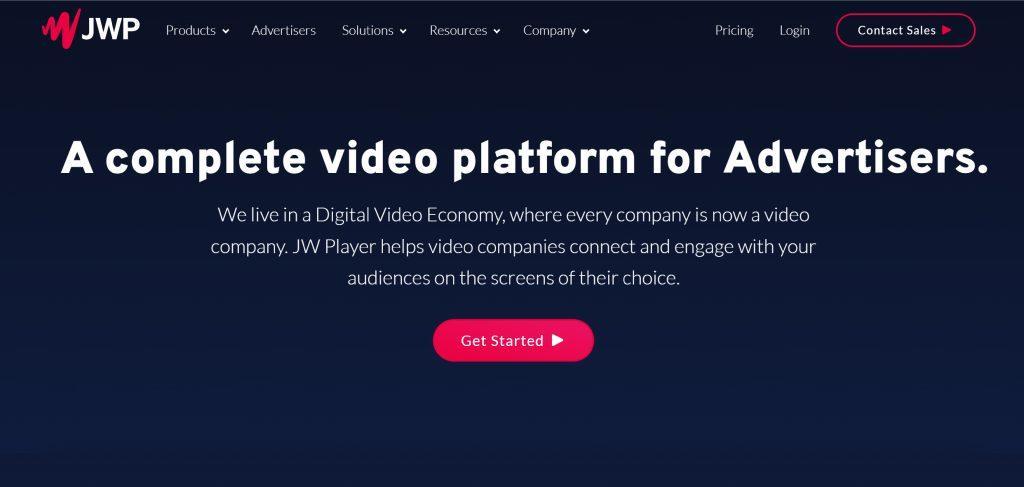 JW Player's TV apps gives media broadcasters an end-to-end streaming solution that allows them to deliver immersive & rich video experiences to mobile & connected TV platforms. This app solution is combined with frontend as well as backend streaming services. Mostly frontend web apps are customizable according to niche needs & made native. Backend services include a suite of video delivery APIs.
Some of Its Enticing Features Are:
Deliver smart TV apps with a compelling UX, social sharing for viewers

Let home, library & search screens help viewers to navigate your library

Account screen can be viable to manage user credentials, & payments

With user registration viewer can access continue watching across devices

App deployment process lets you customize TV apps to fit your brand needs
Conclusion:
So, as you can see there are plenty of options to build an Android or Smart TV app. Either you can simply upgrade your current android app to an innovative TV app or hire a developer who'll assist to do it. Or else even better option that you can find is, to choose the best OTT solution provider and let them takecare everything for you.
With Android TV apps, you can make sure to put your video content in front of the world's happening & largest video market.. With a wide variety if opportunistic chances to start creating an android or apple TV app, get to choose the path that sounds logical for you as well as your audience.
We recommend you the last option for building one unique app through professional app solution providers, as it involves no coding & it much more time & cost-effective. Indeed it allows you to quickly launch & flourish your content business with a strong foundation to manage your meticulous video streaming operations.
If You Already Have An Idea About Building A TV App, Schedule A Free Demo And We'll Get You On The Road To OTT TV App Streaming Success!
Frequently Asked Questions (FAQ)
1. What Is An OTT App?
An over-the-top (OTT) application is any service that delivers content via the Internet rather than through traditional distribution channels. Over-the-top services are typically related to media and communication and are generally, if not always, less expensive than traditional content delivery techniques. Some of the popular OTT app examples include Netflix, Disney+, Hulu, Amazon Prime Video and so many more.
2. What Are The Benefits Of OTT Apps?
OTT apps/platforms offer a wide range of content, with the majority offering both free and paid content. However, even without a subscription to an OTT platform, a viewer can access nearly most content. 
Some of the other benefits of OTT apps are as follows:
1. Original content.
2. Reduced cost.
3. Instant playback.
4. Multi-platform service.
5. Crisp sound and excellent picture quality.
3. How OTT Streaming App Helps to Grow a Video Business?
In a nutshell, an OTT app is the holy grail for content owners to grow their online video business. With that said, let's take a look at some of the perks that top OTT apps have to offer:
1. Reach out to more customers.
2. Increase customer retention.
3. Increases conversions through audience engagement.
4. More appealing to the end consumer – Control, Accessibility, Affordability.
5. Grow your brand and increase revenue multifold.
4. How To Create an OTT App For Your Brand?
In today's world, it is pretty much possible to launch a full fledged OTT application. You don't have to invest a million dollars to build your own OTT app. Partnering with a reputed OTT platform provider can do wonders. Once that is done, follow the below steps.
1. Create a content strategy.
2. Design a stunning website.
3. Choose a revenue model.
4. Start marketing.
5. What Is The Pricing For Branded OTT Apps?
Many factors influence the cost of a branded OTT application. Some of them are given below:
1. Features and complexity.
2. Usage of various high-end technologies.
3. Experience of the development staff.
4. Time requirement for the development process.
Above all, you take a rough estimate between US$30,000 and US$50,000. However, the total cost will vary depending on the customizations you may require.
6. How To Choose The OTT App Builder For Your Business?
A plethora of OTT apps and platform builders can make it difficult for you to make a final decision. Here are a few pointers to help you make an informed decision and avoid regret in the future. 
1. Examine the case studies page.
2. Pay close attention to partners and customers.
3. Look for associated risks and result guarantees.