How did you watch your recent EPL game, a La Liga finale, or IPL playoffs?
The answer is likely "a sports platform or an OTT sports platform."
The rise of Over-the-Top (OTT) platforms has revolutionized the sports streaming landscape over the last few years.
In today's digital era, sports enthusiasts crave instant access to their favorite games and events.
And an OTT platform offers the best avenue for streaming live sports, match highlights, and other on-demand sports video streaming.
But how did OTT platforms emerge as the audience's favorite sports streaming destination?
Because of the range of merits a sports platform offers, like convenience, personalization, comprehensive coverage, and an immersive experience.
It lets you stream sports anytime, anywhere, customize preferences, and enjoy interactive features – everything on one platform.
With statistics revealing a significant shift in consumer preferences, it's evident why building an OTT sports platform is a winning strategy.
According to a recent industry report, the viewership for sports streaming has had a staggering 65% increase in global subscriptions over the last few years.
Furthermore, research shows that fans spend an average of 79 minutes daily consuming sports-related content. And 79% of viewers stated they prefer sports streaming app over conventional TV for sports consumption.
So, how can you benefit from this industry transition as a sports content provider?
Of course, it is by building your own sports streaming platform.
An OTT sports streaming platform lets you tap into this rapidly growing market, connecting directly with sports enthusiasts worldwide.
Sports streaming platforms offer you more than just live sports streaming and access to finished matches. You can also get exclusive behind-the-scenes content. This creative freedom is something that traditional sports streaming could never have imagined.
"How to live stream sports?" or "How to build a sports streaming platform?" are some of the many questions lingering in the mind of many readers.
In this blog, we will find answers to those questions. We will also explore seven streaming solutions to help launch your own sports OTT platforms. This gives you a headstart in the streaming revolution.
Top Features to Consider While Building a Sports OTT Platform
Selecting the correct set of features to elevate your streaming experience is crucial to launch a successful sports streaming platform.
Here are the essential elements you should focus on:
White Label: Choose a platform that offers white-label capabilities. It should allow you to customize the platform with branding elements, logos, and colors.
Video Player: Look for a robust video player that delivers smooth, high-quality streaming. It must support various video formats and offer features like adaptive bitrate and customizable player controls.
CMS (Content Management System): A comprehensive and user-friendly video CMS is essential for efficiently organizing and managing your sports content. Ensure it supports scheduling uploads, metadata management, and easy content updates.
Monetization: Choose a sports OTT platform that offers flexible monetization options. These include subscriptions, pay-per-view, advertisement-supported models, and coupons. This will help you generate consistent revenue from your sports content.
Live Streaming: Ensure the platform offers seamless and reliable live streaming capabilities with global video CDN (Content Delivery Network) support. Live streaming is crucial for sports streaming apps as most sports content is consumed.
Security: Prioritize the security of your content and user data. Choose a streaming platform with solid security measures. These should include AES encryption, multi-DRM security, access controls, and anti-piracy measures.
7 Best Streaming Solutions to Launch Sports OTT
1. VPlayed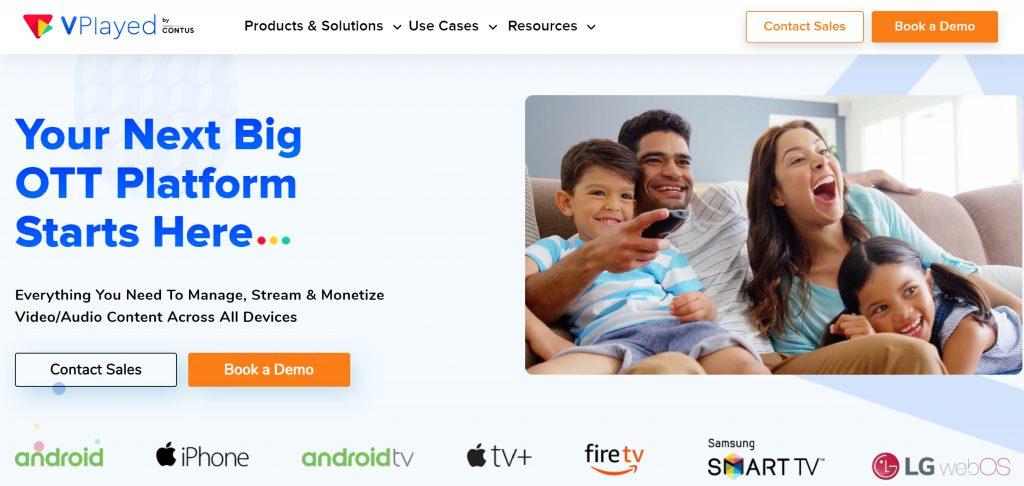 VPlayed is a white-label OTT platform with everything you need to launch your sports streaming service.
With VPlayed, you can create fully functional sports streaming platforms on par with the best platforms available – like ESPN, DAZN, Kayo Sports, JioCinemas, or Disney + – available in the market.
VPlayed stands out for its extensive customization options. You can personalize every aspect, from design to CMS, to reflect your brand.
Whether you're creating a specialized sports streaming platform or a complete streaming service, VPlayed can adapt to your requirements.
Its user-friendly interface and white-label features make sports content management seamless.
The sports broadcast solution offers 9+ video monetization models; you can choose one or multiple from the same. It includes common ones like subscriptions, advertisements, pay-per-view, and emerging models like premium VOD, catch-up TV, etc.
Prominent VPlayed features include:
A clutter-free, fully-customizable sports streaming OTT platform with white-label capabilities.
Access to 9+ genuine monetization models to extract the maximum out of your video content.
A user-friendly CMS for easy video management.
Feature-rich OTT analytics dashboard to track user behavior and gain valuable insights.
Simulcast feature to stream sports content and live matches to a large number of devices simultaneously.
HLS Streaming with HTML5 Player
Cloud transcoding for seamless video streaming
Multi-DRM solution with Google Widevine, Microsoft Playready, and Apple Fairplay support
Security: AES encryption, advanced SSL certificates, dynamic watermarks, etc.
Built-in marketing tools with lead capture forms, AI-powered recommendation engine, etc.
Multi-device support across web, mobile (Android & iOS), smart TV, Roku, etc.
Multi-language support to cater to a global audience.
Post-launch support for six months from the delivery date.
VPlayed OTT Platform Pricing:
For quote-based plans, fill out this inquiry form, You may also opt for Free Demo Here

2. Dacast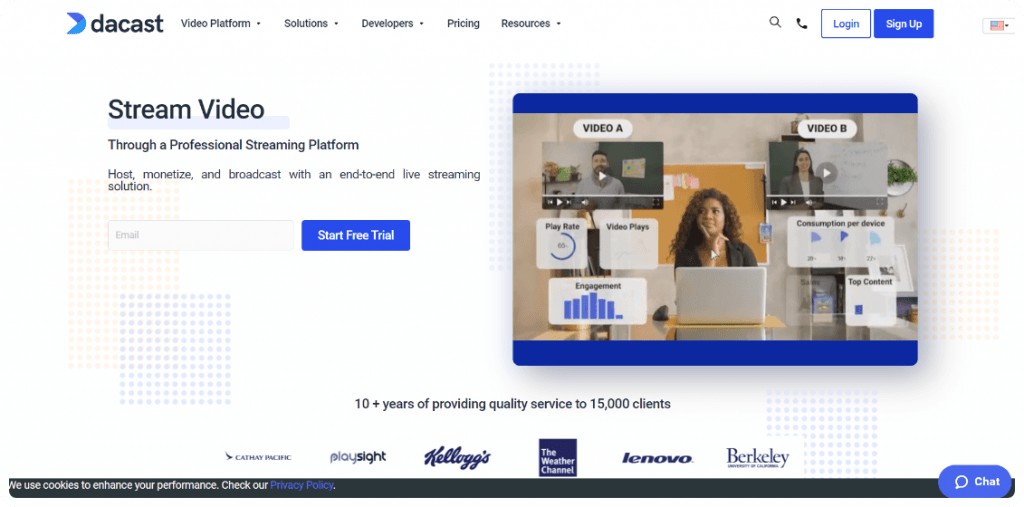 Dacast is a leading OTT platform renowned for its on-demand and live streaming service, guaranteeing low latency and robust security.
Dacast utilizes an HTML5 video player to deliver online sports content to various devices worldwide seamlessly.
As a self-service platform, Dacast provides integrated solutions for broadcasters to start streaming and monetizing their sports content.
It is widely acknowledged as one of the best platforms offering professional tools and services for streaming media to a global audience. With Dacast, businesses can create their own branded sports streaming software and effortlessly deliver high-quality sports videos to their audience.
Prominent Dacast features include:
High-performance CDN for secure online video streaming
Feature-rich HTML5 video player for superior playback quality
Seamless viewing experience on smart devices
Effortless setup and excellent backend assistance
Expo Video Portal to create a branded video streaming showcase
Live sports streaming on mobile phones
Ability to broadcast unlimited live channels
No restrictions on the number of views
3. Brightcove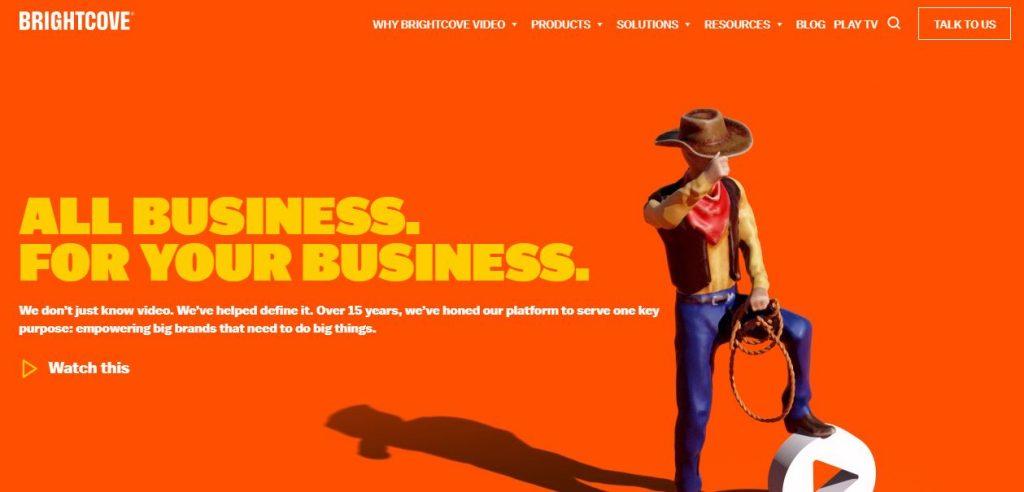 Brightcove is a leading media streaming platform known for its exceptional video delivery.
It combines video hosting and advanced features to assist businesses in increasing revenue through sports streaming.
Brightcove is particularly popular among large-scale media firms and enterprises in the sports industry due to its high-quality video delivery capabilities.
Prominent Brightcove features include:
Advanced analytics for converting viewers into paying customers
Internal tools for enterprise or extensive organization usage
Ability to deliver any type of ad to maximize revenue
High-quality live or on-demand video content delivery
Emphasis on advanced video security for content protection
Player V7 with 15% faster loading times
Two-player implementations for different environments
Nifty features like cue points, captions, localization, advertising, etc.
4. Muvi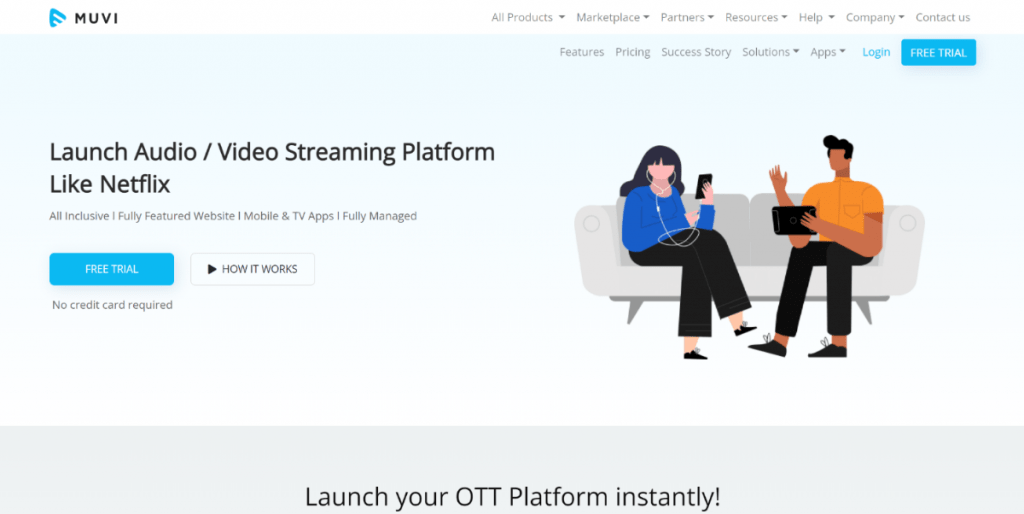 Muvi is a platform that allows you to start a streaming service on multiple devices quickly.
It enables you to create a live sports broadcast solution accessible on smartphones, tablets, smart TVs, and more.
Muvi is a user-friendly platform featuring a simple interface and drag-and-drop functionality. This means you can set up your sports streaming platform without coding or technical skills.
Muvi also provides customizable templates and design options to create an immersive user experience.
Prominent Muvi features include:
Fully customizable website layout for online video streaming
Advanced HTML5 video player for an optimal viewing experience
Seamless video streaming across all network devices, including Smart TVs
Easy and effective payment processing with popular payment gateway integrations
Adaptive bitrate playback for smooth streaming with connectivity issues
Muvi's streaming solution includes a sports OTT platform, mobile, and TV apps
In-built metadata management system, audio library, and image library
DVR enabled livestream
5. IBM Watson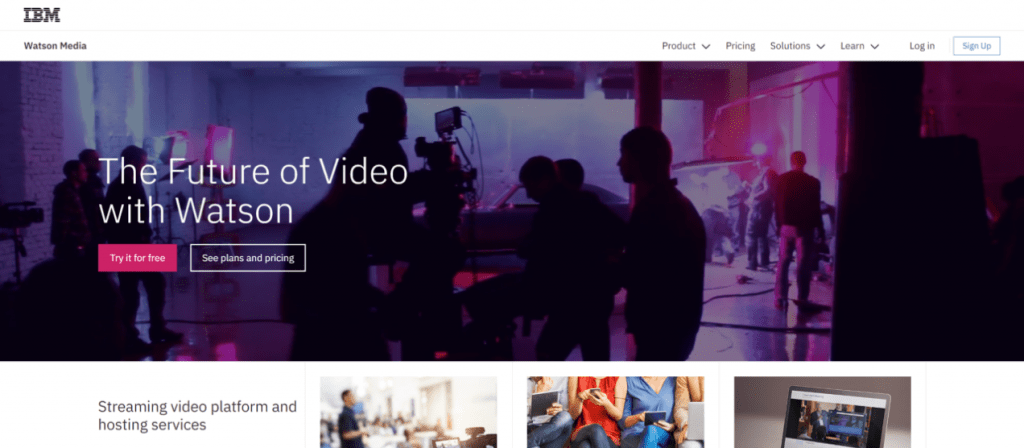 IBM Watson Media enables you to efficiently manage, measure, and monetize your live sports streaming across multiple OTT platforms.
It offers a range of cloud streaming and video services, storage, and GPU computing capabilities.
In addition, IBM Watson Media hosts video on demand, live streaming, transcoding, speech-to-text automation, and robust analytics.
Its machine-learning capabilities aid in enhancing viewer engagement for sports content.
Prominent IBM Watson features include:
Live and on-demand VoD streaming options
Closed captioning and automated video publishing
Multi-DRM and language support
No resolution or bitrate capping
Simplified metadata compilation and video ingestion
HD sports broadcasting
Recording of broadcasts
Live chat and Q&A
6. Kaltura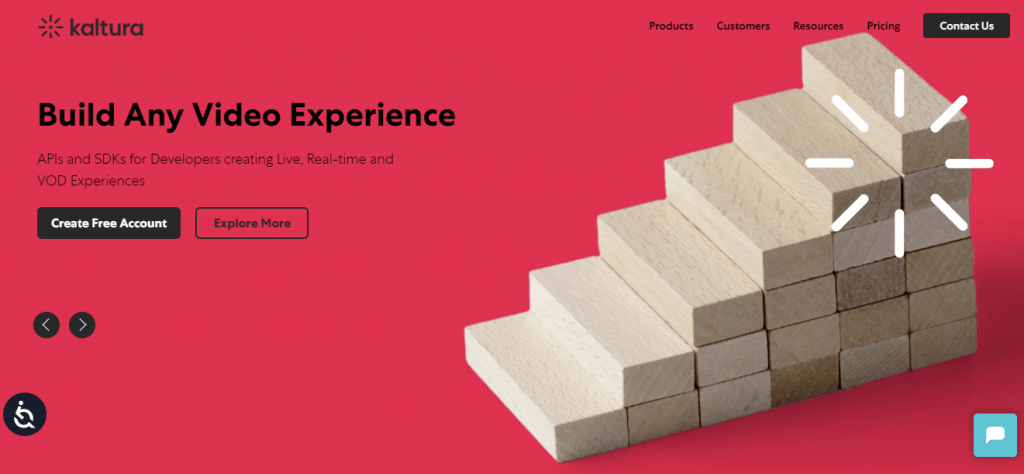 Kaltura is a video streaming platform that enables businesses to create branded live-streaming sports websites and on-demand content.
It provides comprehensive video solutions for interactive sports experiences, training sessions, fan communication, promotional activities, and sales initiatives.
Kaltura is widely recognized as a leading provider of sports streaming solutions. It offers DRM functionality to protect content during live sports broadcasts and on-demand viewing.
Prominent Kaltura features include:
Interoperability with third-party services for a customizable sports solution
Architecture built on open APIs for exceptional flexibility
Capable of screen capture and multi-stream recording
Supports live quizzes, breakout rooms, polls, and collaborative whiteboards
Granular analytics for user-level insights and comparative analysis
HTML5 player for live and VOD playback
Responsive design from Adaptive Bitrate
Support for DRM and secure embed codes
7. Vimeo OTT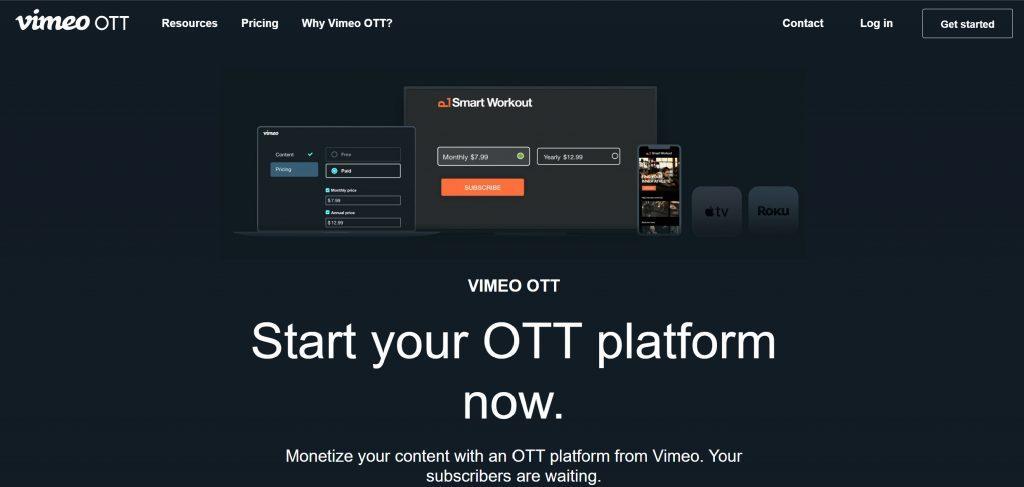 Vimeo OTT is a media streaming platform that assists content owners in swiftly launching a video subscription channel dedicated to live sports.
It offers a comprehensive set of video hosting, organization, and distribution tools designed explicitly for the B2C sector in the sports streaming industry.
Vimeo's sports broadcast solution provides customization options for the sports streaming platform, a live-streaming sports website, and a checkout page. In addition, it allows businesses to tailor the user experience completely.
Vimeo OTT is a subscription service. Users can pay for access to live sports content. They can also buy or rent individual sports events.
Prominent Vimeo OTT features include:
User-friendly interface and easy-to-use tools
Content providers can set pricing for their content.
Advanced video analytics and statistics based on the opted plan.
Freedom to customize the app, website, and checkout pages.
Professional-grade features for broadcasters seeking an OTT video subscription service.
Enhanced privacy settings
Immersive 360° video upload in 4K quality
Extensive player customization with brand color and logo
Conclusion:
The sports streaming industry is witnessing tremendous growth and launching a sports streaming platform in 2023 can be a lucrative opportunity.
We hope the seven streaming solutions discussed in this blog help you make a decision.
From customizable platforms to advanced analytics, these streaming solutions provide everything necessary to build a successful sports streaming business.
So, choose the best sports streaming solution that aligns with your business needs and goals.
If You Already Have An Idea About Launching A OTT Sport Platform, Schedule A Free Demo And We'll Get You On The Road To OTT Video Streaming Success!