Piracy is one of the key aspects of the digital streaming world which is keenly spoken about! Secure video streaming not only increases the need to curb piracy but also highlights the essentials of modern business right from the grassroots level.
In other words, we can name it as it is no less than the act of burglary within your house, but here the difference is when the same is carried out in a virtual space.
All the more, secure streaming becomes crucial when online videos can be intellectually volatile or rather put it as vulnerable to security issues, & hacking. Robust digital rights management will help to combat such unauthorised infringement..
Let's see more of it now..
8 Best Secure Video Streaming Platforms 2023
What Is Secure Video Streaming?
Secure video streaming is all about a unified video streaming solution that prioritizes privacy & end-to-end encryption for tightened security. There are many ways of approaching this major category. For some of them, secured video is all meant to have a password-protected platform to wave off unwanted viewers. And for others, secure video streaming for business is dealt with a bit bigger with streamlined infrastructure for AES video encryption & more combined with intensive security protocols.
Why Should Streaming Businesses Use Secure Video Streaming?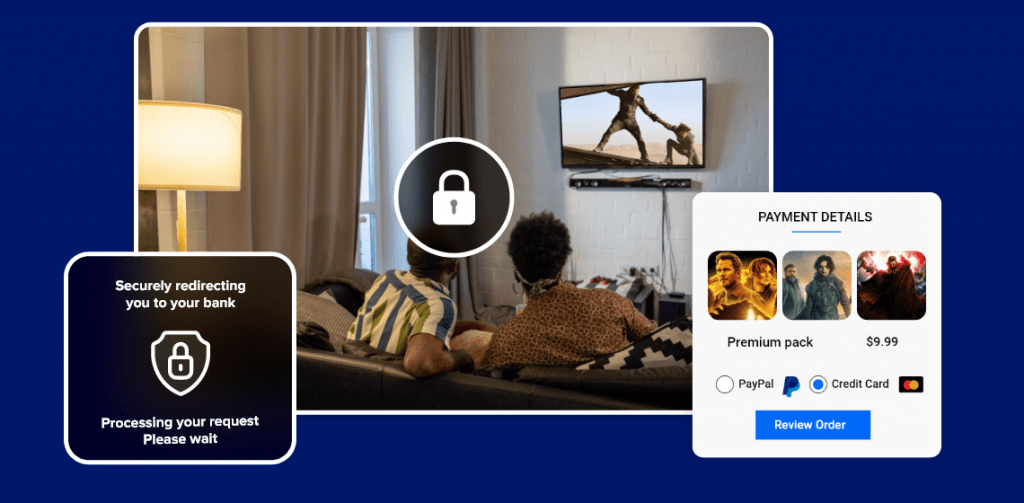 It is known that the growth potential of encrypted video streaming is absolutely quintessential since broadcasters use the key element & that is relative to video monetization. Some of them are using live streaming content & others are dealing with private content. Why? There is an upsurge with the biggest factor, which is the rising usage of videos merged with security risks.
Researchers let us know that the
Video streaming market, which grew with the profit share of approximately US3, 253.3 Million in 2017 is expected to have a sharp rise of US 7,507.7 Million by 2022 – Source: IBM
Apart from the stats above, we know that secure video streaming in a platform comes hand in hand where hugh amounts of media distribution are involved. Seeing the market growth, it is highly likely to have an incredible gain at a CAGR of 18.2%, which casts the greatest difference from the expectancy.
Want To Secure Your Video Streaming Content With VPlayed?
What Should You Exactly Do To Secure Video Streaming Content?
Data has accurately shown businesses that users, often the biggest buyer of legit content, are prone to pirate content. As they think of how to capture a secure means of video streaming media, we see there is a strong correlation. And that would be with delivering content to viewers, in terms of likeliness, including streaming experience at a reasonable cost. Next, it's related to the amount of piracy content reduction.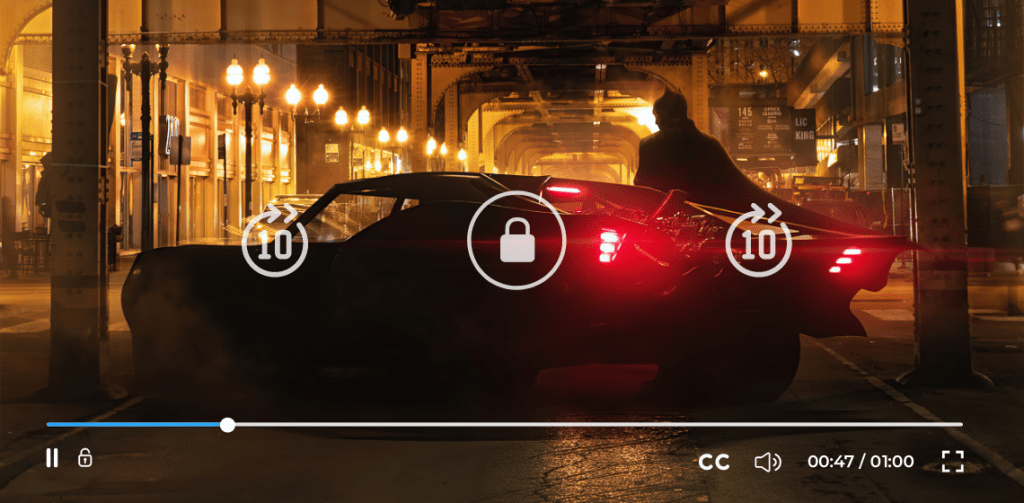 Let's explore some of the secure video streaming protocols that can help broadcasting owners or content distributors like you to curb video piracy on the website:
1. Decrease Password Sharing
Credential sharing is one of the most fundamental causes of video piracy. Users with simultaneous logins from an account lead need to be reduced since it leads to the consumption of premium content, which reflects in loss of revenue.
2. Protection via Video Encryption
Video encryption assists you in securing your videos completely with the encryption process, which is to assure to do your hidden jobs thoroughly to those who haven't been permitted to access them. The major encrypted streaming protocols are: AES 128/256 Encryption, HLS Encryption
3. Use of Digital Rights Management
Safe & secure video streams are implemented with the use of HLS, DASH,
RTMP encryption which makes it almost impossible to find the encryption key. DRM effectively removes all kinds of flaws in the encryption process to make sure content is not downloadable.
Some of the major examples are Google's Wide-vine DRM, Adobe Primetime DRM, Microsoft ready-play, Apple Fairplay, etc.
4. Secure Way Of Hosting Content
A secure video-protected technology in streaming has a primary backbone always, which is nonetheless than a video hosting solution. If you need a fallback, you can depend on a 3rd party hosting provider who takes care of tech aspects in order to stream seamlessly. It can be on the client-side server too. All you have to do is to upload the content on your platform & then embed using a code into your platform.
5. Perfect Wayout Is With Video Watermarking
Watermarking involves embedding digital information in order to track any pirated content. It aims to redistribute content from varied illegal means of sources in video streaming services. All types of content can be marked or imposed with a unique identifying element that can be used to extract original source, when its a case of piracy.
6. Heightened Security via Domain Restrictions
Another way that we can comply with respect to video protection is to make sure that your content either audios or videos has domain restrictions. This assists you to constrain your video content to play via embed codes & allow to load only to your domain. This helps to prevent copycatting of embed codes. Hackers particularly use these to view the video on their domain.
7. A Great Start with Restricted Video Playback
Another way to make sure that your account stays unshared by the users is to refrain total watch time for a single user. Typically a user wouldn't watch a movie or a talk show twice or thrice. It purely depends on your target audience's viewing habits with which you can set a total playback time restricted for one video.
8. Crucial Streaming Solution via Secure Paywalls
Integrated secure paywall will help your digital content to be safeguarded when viewers would feed their payment information. It is said to be one of the critical features since user payment details are required to be kept undisclosed since it is treated as confidential.
9. Major Geographic Restricted Access
Geo-local accessibility can help you target your audience more focused manner. Using secure video streaming server you can easily block a particular region or keep it accessible for the audience to enjoy streams only in that region. This encourages to take a stand against piracy since your valuable content is showcased to specific geographical localities.
The 8 Best Comparative Secure Video Streaming Platforms of 2023
Considering top streaming features in mind, let's grab some of the 8 best secure online video platforms you can identify with the most important features you'll need to gain, plus a security degree in the streaming world.
Let's delve into it now!
1. VPlayed
Top Secure Streaming Platform For On-demand & Live Content
VPlayed is one of the Gartner-recognized video streaming platform that allows all kinds of media streaming entrepreneurs to procure an end-to-end solution. They can get the best means of broadcasting solutions via live as well as on-demand content. It stays completely secure against internal screening or unauthorized access from the external audience too.
Let's explore some of its critical features:
Multi-DRM Platform – It enables you to integrate your platform with digital standarizations
Live Streaming – Stream live audio/videos in real-time with best security solution on-the-go
In-Player Safety – Major solutions like IP blocking, Access Management can be implemented
Major Paywalls – Use digital integrity pacts like AES Encyption, Dynamic Watermarks & more
Storage Costs – With zero compromising playback quality, content storage costs are least
2. Dacast
Secure online video platform for professional streaming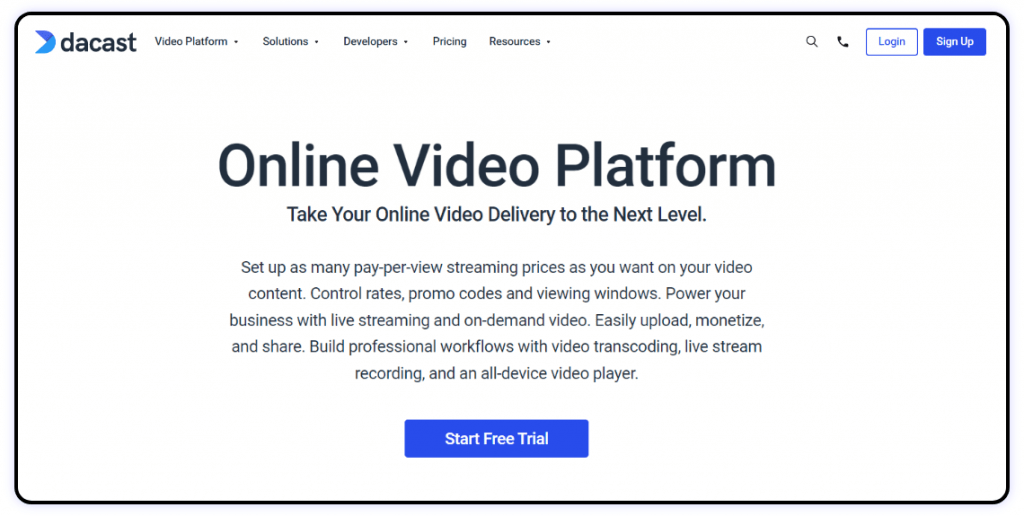 The platform is highly scalable in delivering live as well as video on demand streaming capabilities for varied businesses. The professional Dacast streaming solution is majorly designed for enterprises, the education sector & other corporate organizations. Despite the platform being designed for varied use cases, highly satisfying security offerings are the backbone of any brand.
Tired of using Dacast?
See why Dacast is not suitable to manage your OTT platform and why you need a
Dacast Alternative
Let's explore some of its critical features:
Credential Protection – Private videos will be password-protected avoiding cyber breaches
IP Blocking – Place limitations to domain & location restrictions for focused target streaming
HLS Encryption – Ingest videos that's aligned with major digital protocols like 128/ 256 AES bit encryption
Enable Encrypted Communication – Entire internet traffic with secure paywalls is stabilized for monetization using SSL/ TLS
Player API – Independently customize the user infrastructure with features of the default video player
3. Brightcove
Best-in-class platform for broadcasters & content providers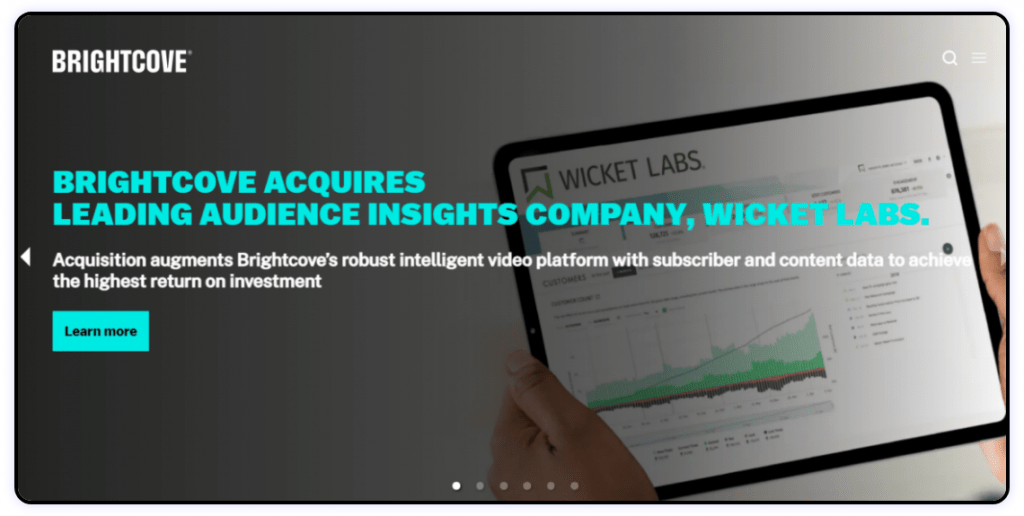 Brightcove is a SaaS-based platform which was found in the year 2004, and since then it's been flourishing in industries pertaining to entertainment, media broadcasting. Brightcove has made its path completely devoted for B2B OTT video platform that's best-suited for big brands or larger enterprises. Furthermore, it was specially created for marketing, video monetization & content security purpose.
Let's explore some of its significant features:
SSO Integration – It is available & supported with a streaming protocols like SAML 2.0
Audit Logs – Maintenance of logs will help content owners to monitor user activity on the platform alongside IP addresses
Restricted Video Playback – Platform helps you to whitelist certain domains & IP addresses for safety
Multi-DRM – DRM plugins are also available for safeguarding content from thefts, infringements, etc
HLS Encryption With AES-128 Standard – They can be implemented to your business platform anytime
4. GUDSHO
Top Secure Streaming Platform For On-demand & Live Content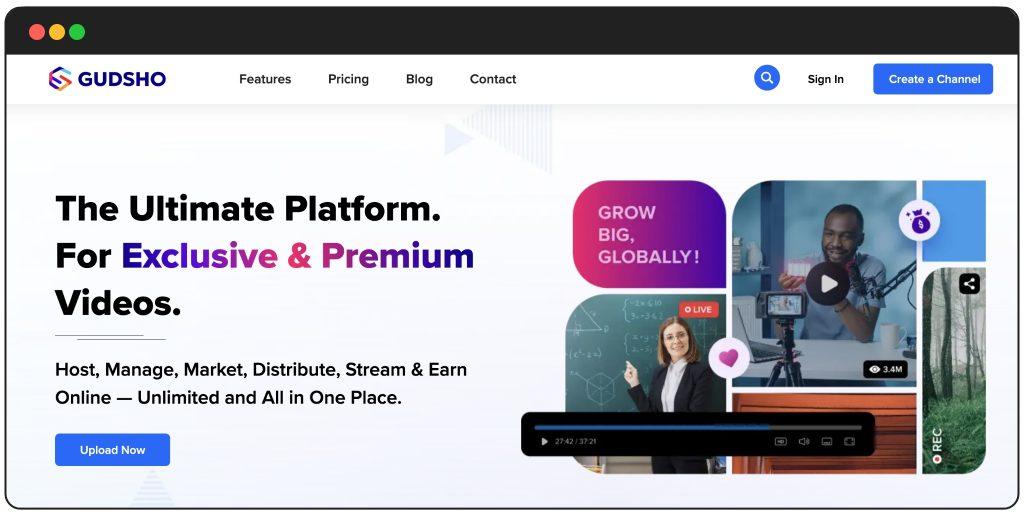 As a premium video monetization platform, GUDSHO has everything you need to securely stream your video content and monetize them. Right from upload to delivery, this platform protects your videos, apps and user data with multiple layers of security. It defends your platform against any form of third-party threats with end-to-end encryption protocols and paywalls. On the other hand, it provides content moderation and admin access controls to consistently monitor and protect the sanity of your platform.
Let's explore the security features of this platform:
AES Encryption: This protocol allows access to only the users authenticated to use your video content.
Secure Payment Gateway: Whether the transaction is local or international, every transaction made via this platform is completely protected.
SSL/TLS Encryption: This security feature protects sensitive user information like credit card details, supporting secure payment checkouts.
Secure Fund Transfer: Every income you've earned via views, donations and subscriptions can be safely transferred from your channel's vault to your bank account.
Brand Watermarks: Protect your videos from copyright violations by implementing static watermarks on your content.
Video Analytics: Track how your audience uses your videos and spot any illicit activities with user metrics.
5. Kaltura
A-grade platform for video distribution & hosting services
Kaltura's SaaS-based solution let's your organization to have an open-source software in the form of live or on-demand videos. Kaltura offers a unique focus in online video streaming market with video communication tools like live webinars, interactive town halls, inspirational podcasts and more. The cloud-based platform distribution services helps you to have OTT as well as live streams.
Let's explore some of its noteworthy features:
Streaming Capabilities – Secure video deliveries are implemented via Akamai, Limelight, etc
Real-time Tools – Data driven solutions like live transcoding, or live production software are available
Flexible Platform Deployments – It is available with highly customizable feature according to business needs
Content Distribution – The networking of content delivery solution is available across the globe
Integrated Potentialities – Streaming tools such as video APIs, SDKs developer tools & other resources to streamlines services are available easily
6. IBM Cloud Video
A pioneer online video platform for mammoth brands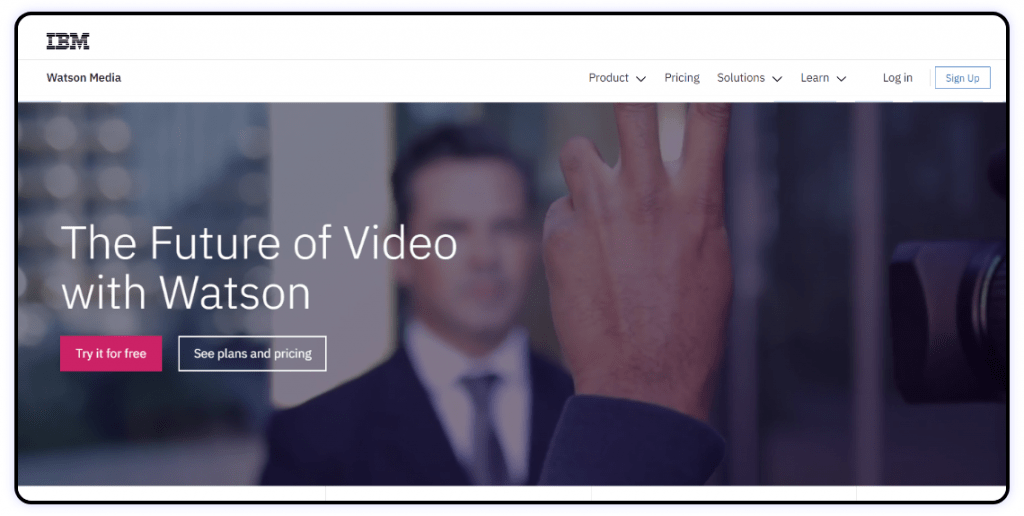 With a variety of cloud video hosting and streaming capabilities, this platform is primarily targeted at the enterprise streaming market. IBM cloud video started its journey around January 2016. Then, the platform was rebranded in the year 2017. It focuses mainly on serving media sector, entertainment industry, etc.
Let's explore some of its highlighted features:
4K Streaming Support – Make every visual experience worthy with a wide range of secured devices
SSO Integration – Make it available through Google apps for validating content from service providers
Certain Accessibility – Enable restrictions only to specific domains, IP addresses, & locations
End-to-End Encryption – Complete package of security fortified solution is readily available to keep your assets theft-free
User Password – Basic security protection is utmost essential for your subscribers to feel safe in utilizing your top-rated platform
7. Panopto
Best online video platform for corporates & educators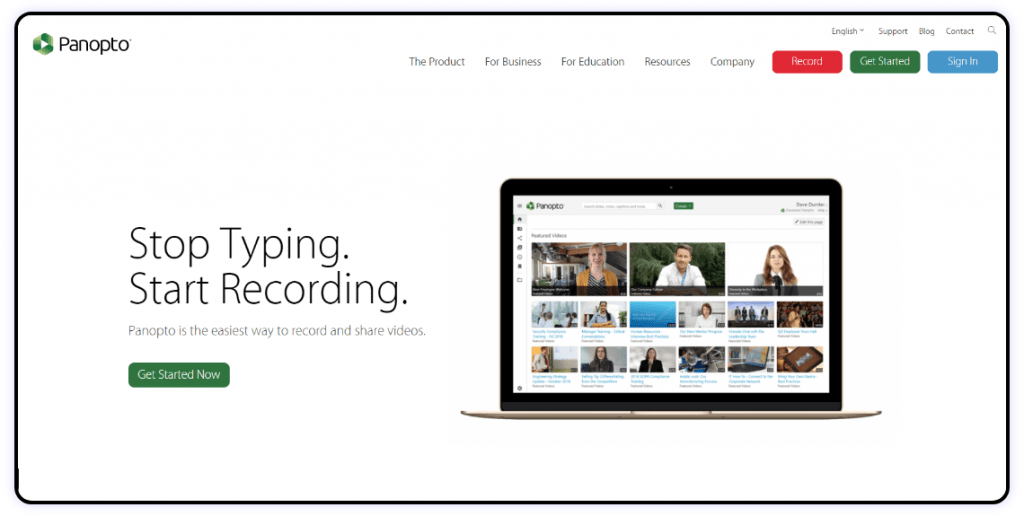 Panopto is a video platform that offers software as a service, it controls & even shares media content with students or team members. Businesses & educationists can leverage on such solution in order to create a video streaming app for stream live as well as on demand content. Customers needn't spend in search of additional software because it captures streams on standard devices varying from mobile to connected devices.
Let's explore some of its spotlight features:
Playback Quality – Make it easy for your users to relate with content exploring qualitative playback
Online Environment – Classroom experience is given a new dimension of learning which makes it more regulative
Social Presence – Content of varied genres can also be used in social circle ensuring perfect solution in promotional strategy
Video Hosting – There are both audio and video content that can be uploaded to broadcast content at any corner in the world
Privacy Streaming – There are features specially created for you to stream enabled with privacy, & cater to target audience seamlessly
8. VdoCipher
A Secure Video Streaming Service For Your Online Video Content
Businesses can broadcast content on their video streaming app or platform in a safe and seamless manner by using Vdocipher's packaged with leading online video platform. It talks not only about planned way of distributing content, but also deals with increased revenue profitability added with prevention of illegal video downloads.
Let's explore some of its key features:
Content Management – You can securely upload any number of online videos using VdoCipher video content management system
Subtitle Functionality – Enable content streaming with closed captions for personalized streaming
All-device Compatibility – Make it supportive of various screens & devices for providing safe viewability
Video Analytics – Upkeep content performance regularly for you to enable best mode of video analytical solution
Player Viability – White label your OTT platform completely to channelize your secure streams via HTML player
Final Thoughts:
At present, you will find many platforms that provide content protection to preserve your valuable assets. Having said that, their offering is limited to only video encryption, but not gaining a competitive advantage using DRM technology and other added solutions. This invites a trouble for other visitors & informed users making it less trustworthy to relay on independent platforms.
After all, it is important to legally provide the content to consumers wherein they might access in whichever device they'll prefer to. It is the best way to decrease the impact video piracy & unauthorized entries in popular video streaming platforms.
Thus, a thorough research on audience viewing habits & implementation of an assured secure streaming environment is a must. If you need to sort with any kind of online streaming security issues, then you can put in your queries in the comment box bellow to communicate with out professional experts readily on the move!
If You Already Have An Idea About Securing Your Video Content, Schedule A Free Demo And We'll Help You Implement It!
Frequently Asked Questions (FAQ):
1. How Do I Securely Stream Video?
Digital spaces are now getting vulnerable to outside intrusion, hacking activities, etc with so much of sensitive data. Since it is now exchanged or delivered consistently these days secure video streaming has got much more challenges to control.  When you plan to distribute high-value video content, it is better to have complete ownership over who can view your content, & what they might do while accessing it.
2. What Are The Top Features To Look For In A Video Streaming Platform?
A secure video platform should necessarily have end-to-end encyption, advanced digital rights management technology, controlled user access, multi-layered streaming server, & much more. Thus, it becomes important to distribute & stream videos which are looked above & beyond a stereotypical video sharing site.  
3. Why You Should Secure Your Video Streaming Platform?
Since there are on-demand & live streaming predominantly used more & more, a very fact doesn't change, which is that these media variants face more security risk in today's online space. The number of reasons for safeguarding digital streams are: original intellectual property protection, sensitive data needs to be validated for confidentiality purposes, act against digital misuse of the content in other areas, etc. 
4. How To Create A Secure Online Video Platform?
When you are finding answers for how to secure video streaming within the platform, you'll get to have features that allow content to be restricted under certain parameters. And they comprise of AES Encryption, Geo blocking, Paywall protection, Login protection, SSL certification & much more. This ensures to make the platform heavily secured & prevents unauthorized access to the content from anywhere at anytime.