Gone are the days when chalkboards and textbooks were the primary tools in the classroom, and students were restricted to learning within the four walls of their schools. However, with the advent of the latest technologies on education, the landscape of education has changed drastically.
Educational video platforms have emerged as a popular alternative, providing learners access to quality content from anywhere. With so many options available, choosing the best video platform for education can be overwhelming.
In this blog post, we will review and compare the top 10 online educational video platforms, providing insights and information to help you make an informed decision.
Whether you are a content owner, educator, or just someone looking to pass on your knowledge, an online video education platform is right for you. Join us as we explore some of the interactive video platforms for education and help you find the perfect fit for your needs.
Sit back, relax, and let's take a closer look at these educational video platforms.
10 Best Online Video Education Platforms
What are the Essential Features of Online Video Education Platforms?
Choosing the right online video education platform is of utmost importance for ensuring a seamless and effective learning experience. This section will cover the essential features you should consider when selecting an online education platform.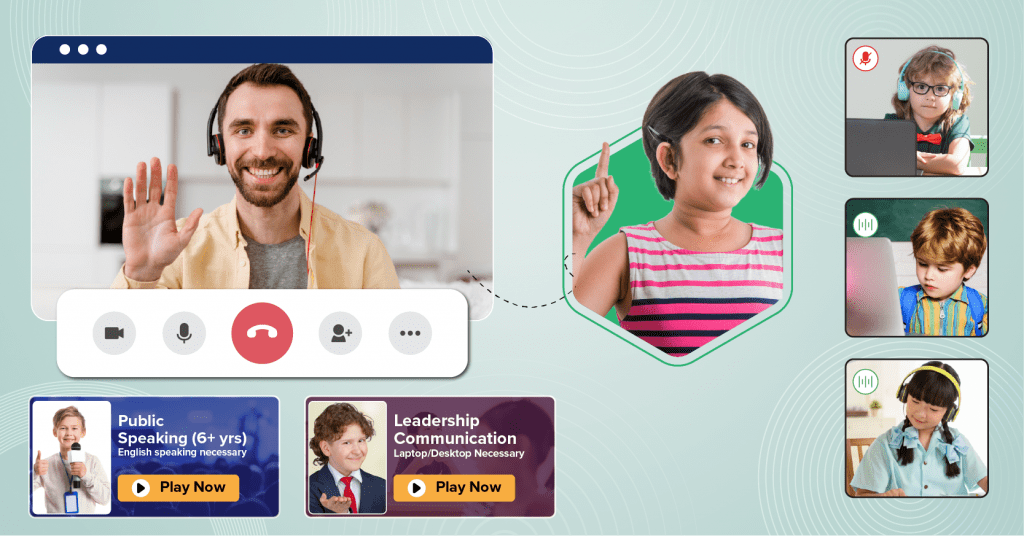 1. User-Friendly Interface
A clean and engaging interface is the foundation of any successful online education platform and can significantly impact the overall effectiveness of the learning experience. It should be easy to navigate and intuitive for both instructors and learners.
Also, an organized layout can help learners focus on the content and avoid confusion. Customization and personalization options can help a lot and can enhance the overall user experience, making it easier for learners to engage with the content.
2. Robust Functionality
A robust online education platform should offer a variety of features that enhance the learning experience. These functionalities can include interactive tools, assessments, quizzes, and the ability to host webinars and live events.
These characteristics not only enhance the learning experience but also provide instructors with the flexibility to produce compelling and dynamic content that caters to the needs of their learners. Aside from that, the platform should support a variety of file formats.
3. Privacy & Security
Ensuring the privacy and security of user data is a critical consideration when selecting any of the video education platforms. It should have a robust security framework to protect user data from unauthorized access or data breaches.
It should comply with data protection regulations like GDPR and CCPA to ensure learners' privacy rights are respected. Indeed, the platform should provide users with control over their data, such as the ability to delete or export their information.
Want to Start Your Own Video Platform for Education?
4. Integration Capabilities
The video platforms for education should be able to integrate with other tools and software that instructors and learners use, such as Learning Management Systems (LMS), video content management systems (CMS), and other video conferencing tools.
This allows for a centralized ecosystem where the person who is giving the lecture can easily manage and distribute their content, while learners can easily access it without having to switch between multiple platforms.
5. Video Monetization
Video monetization features enable it to generate revenue from the content and sustain the online education business. The platform should offer various monetization options, such as PPV, subscription models, or advertising revenue, to provide flexibility in generating income.
The platform should also offer robust tracking and reporting features to help instructors monitor their revenue and make informed decisions. This can help to create a steady income stream and focus on creating quality content for their learners.
6. Easy Deployment
A good video platform for education should offer easy deployment options to help instructors get their content up and running quickly. This can include easy installation and setup, cloud-based hosting, and automated maintenance and upgrades.
In addition to easy deployment, the platform should offer reliable technical support and assistance to ensure that instructors can quickly resolve any issues. This can include round-the-clock customer support, online documentation, and video tutorials.
7. High-quality Delivery
The quality of video delivery is more important as the end-user expects an eye-pleasing learning experience. The platform should offer high-quality video streaming, with HD or 4K resolution options, to provide clear and crisp visuals.
The video educational platform should support adaptive streaming, which automatically adjusts the video quality based on the user's internet connection. This ensures that learners can access and view the content seamlessly, regardless of their location or internet speed.
8. Inclusivity Through Closed Captions
Closed caption support is essential for creating an inclusive learning environment that caters to a diverse range of learners, including those who are deaf or hard of hearing. The platform should offer CC tools that allow instructors to create and add captions to their videos quickly and easily.
Above all, the platform should support multiple languages to cater to people who prefer to learn in their native language. All in all, the closed captioning feature ensures that no learner is left behind and that everyone can access and benefit from the content in every possible way.
The 10 Best Video Platforms for Education To Stream Online Classes
We have compiled a list of the top online video education platforms that are ideal for broadcasting classes and delivering educational content. VPlayed, Dacast, Panopto, Vimeo OTT, Muvi, Kaltura, etc...
Our expert team has ranked and reviewed these platforms.
These platforms are ideal for broadcasting online classes and delivering educational content online.
Ranks were allotted based on parameters like customization, ease of use, interactive features, development and maintenance costs, etc.
Let's see each of these platforms in detail in the section below.
So, read through the entire section to choose the best video platform for education.
Elevate your knowledge with the ultimate video education platform.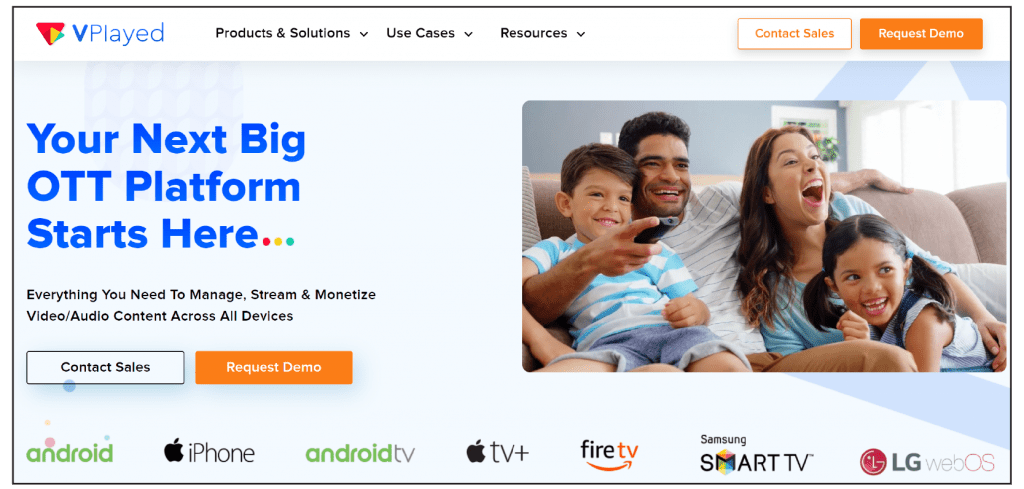 VPlayed is a powerful online video education platform that provides a seamless learning experience, and instructors can easily create, manage, and monetize their educational content. On top of that, the online video platform offers a range of monetization options, such as pay-per-view, subscriptions, and advertising, to help instructors generate revenue from their content effectively.
VPlayed also provides robust analytics and reporting features that help instructors track the performance of their content and optimize it for better engagement. If you have a lot of educational content and are in need of an effective monetization solution, VPlayed can be a go-to platform for your business needs.
Discover The Top Features of the VPlayed Online Video Education Platform
Offers a fully customizable player that can be branded and styled to fit accordingly.

Comes with a range of interactive tools, enabling instructors to engage with learners.

A number of video monetization features for educational institutions to generate revenue.

Enables seamless delivery of content across multiple platforms, including mobile devices.
Upload Guidelines And Specs
The ideal video length varies depending on the content and subject matter.

Supports multiple video file formats, including MP4, M4V, AVI, and more.

The audio and video quality should be high enough to ensure clear playback.
2. Dacast
Unlock learning potential through a dynamic video platform.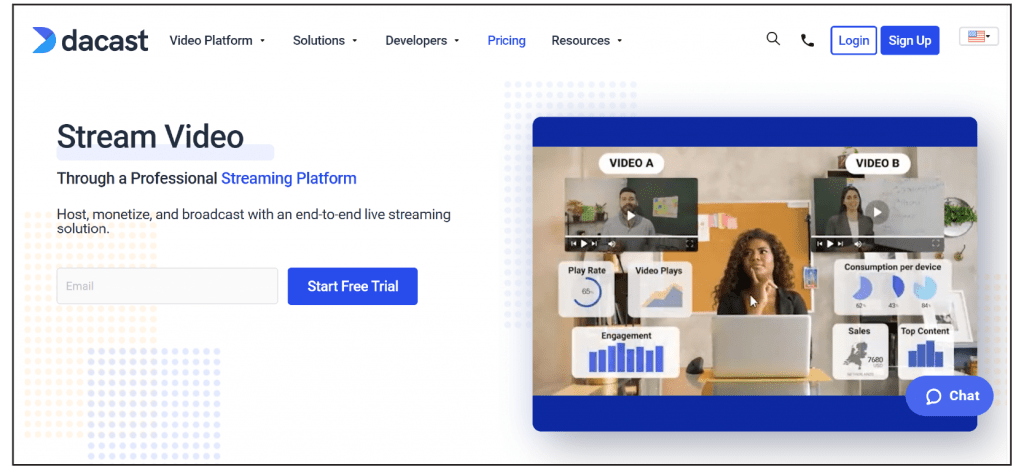 Dacast is a versatile interactive video platform for education and is known for its reliable, low-latency video streaming and hosting services. With its intuitive interface, Dacast allows educators to create and deliver engaging and interactive video content to their learners.
In addition to its robust features, Dacast offers comprehensive tools and integrations to help educators monetize their content, protect their intellectual property, and analyze their performance. This makes Dacast an ideal platform for businesses and independent educators who are looking for a secure and scalable way to deliver their video content.
Discover The Features Of Dacast Video Platform for Education
Offers robust analytics and in-depth reporting tools.

Comes with white-labeling functionality and branding capabilities.

Monetization options include PPV, subscriptions, and advertising.

Interactive video tools for engaging and immersive learning experiences.
Upload Guidelines And Specs
Audio should be in AAC format for the best sound quality.

Bitrate should be between 1500-5000 Kbps for high-quality streaming.

Ensure that the file size does not exceed the upload limit set by the platform.
3. Panopto
Lead the future with the best video platform for education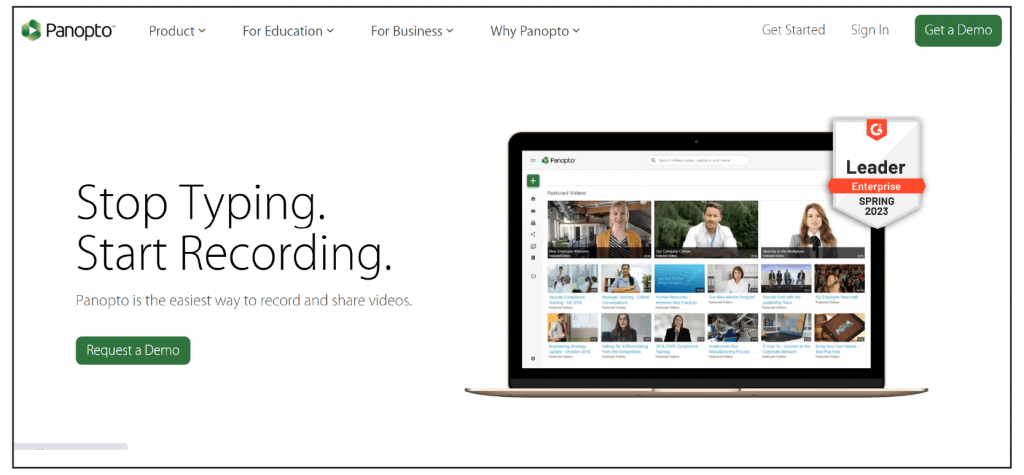 Panopto is one of the leading video platforms for education that provides a comprehensive video management system for universities, colleges, and businesses. Its user-friendly interface, and powerful features make it an excellent choice for delivering and managing educational content.
With Panopto, instructors can easily create and share interactive video content with their students, providing a personalized learning experience. Also, the video platform supports a wide range of video formats and reporting tools that enable instructors to track student engagement and assess the effectiveness of their content.
Discover the Key Features of the Panopto Educational Video Platform
Offers detailed analytics and insights, allowing instructors to identify learning gaps.

Users can record and live-stream lectures, presentations, and other classroom activities.

Interactive video capabilities enable users to create quizzes, embed links, and much more.

Provides a powerful video management platform that enables users to upload, edit, store, search, and share video content from a single location.
Upload Guidelines And Specs
Supports a wide range of video formats such as MP4, MOV, WMV, AVI, FLV, etc.

The audio should be in stereo format, and the recommended audio bitrate is 128 kbps.

Allows users to add metadata and captions to improve searchability and accessibility.
4. Vimeo OTT
Learn, grow, and succeed with best education streaming platform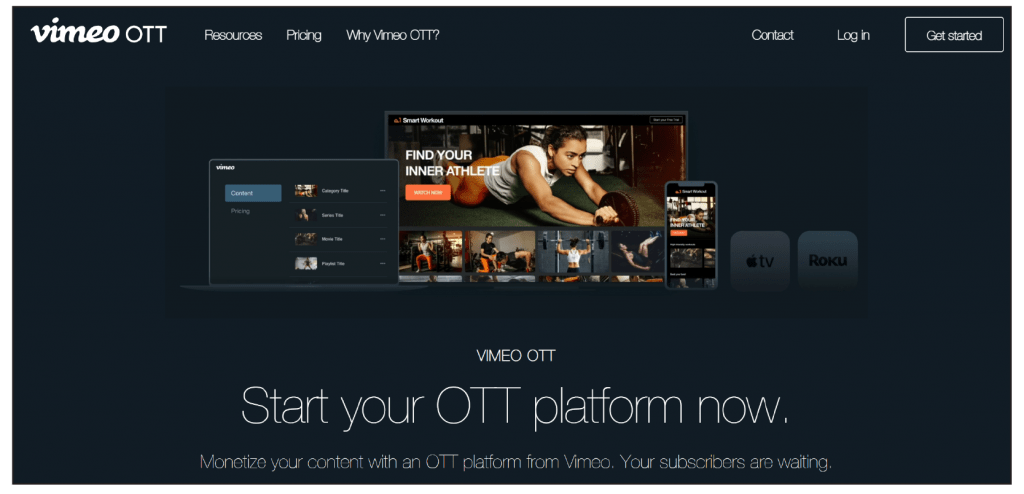 Vimeo OTT is an All-in-One video streaming solution that provides educators with the tools they need to easily create and deliver high-quality content. With Vimeo OTT, one can upload, host, and monetize their educational videos under one centralized location. Also, it can customize the video player, create playlists, and easily manage the content.
The platform's high-end interface makes it easy for educators to upload and organize their videos, while its robust monetization options help to generate profits and make the online education business a sustainable one. All in all, if someone is looking to teach a course or create a library of resources, Vimeo OTT could be one of the best video education platforms.
Discover The Key Features of Vimeo OTT Video Education Platform
Customizable branding options for a tailored user experience.

Support for various file formats and live streaming capabilities.

Robust security features such as DRM and content access controls.

Advanced analytics and reporting to track engagement and revenue.
Upload Guidelines And Specs
Supports a wide range of video formats, including MP4, MOV, and AVI.

The recommended audio codec is AAC, with 128 kbps or higher bitrate.

The maximum file size for uploads is 50 GB. However, a file size under 10 GB is advised.
5. Muvi
Master skills with perfect online video education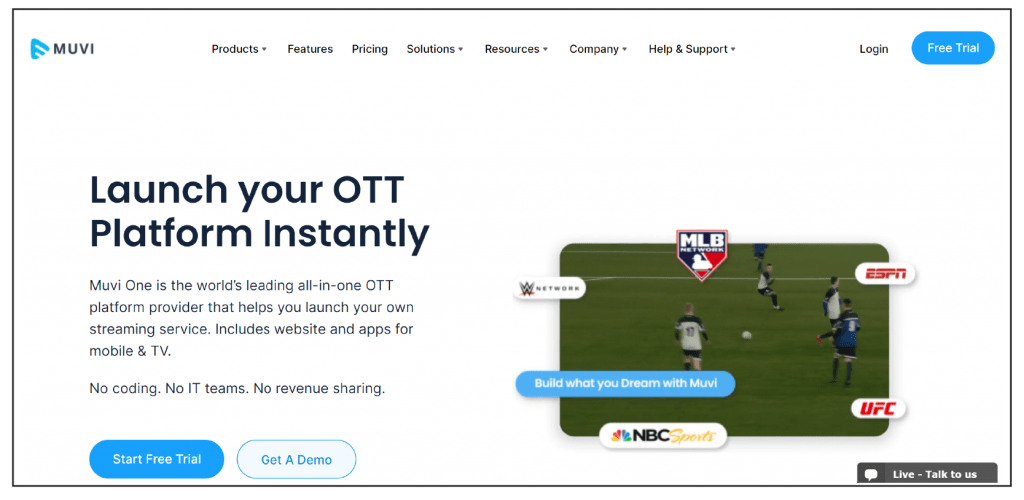 Muvi offers one of the best video platforms for educators to live stream their classes or training sessions. With its top-notch educational video streaming services, Muvi provides a feature-rich OTT platform that can be customized to meet the specific needs of educators, without requiring advanced technological skills.
Apart from this, Muvi offers a range of features like a user-friendly interface, customizable themes, and robust monetization options, making it easy to create a professional video streaming service that engages and educates the end-user in a more seamless fashion.
Discover The Features Of Muvi Online Video Platform for Education
Integration with popular third-party tools such as LMS and CMS.

Multi-device support to ensure that content is accessible on all platforms.

Various monetization options, such as pay-per-view, subscription, and advertising.

White-labeling and customization options to match the brand and theme of the institution.
Upload Guidelines And Specs
Supports audio in various formats, including MP3, AAC, and WAV.

Supports closed captions for videos, and be uploaded in SRT or WebVTT format.

Accepts video uploads in various formats, including MP4, FLV, AVI, MOV, and WMV.
6. Kaltura
Accelerate your knowledge with video education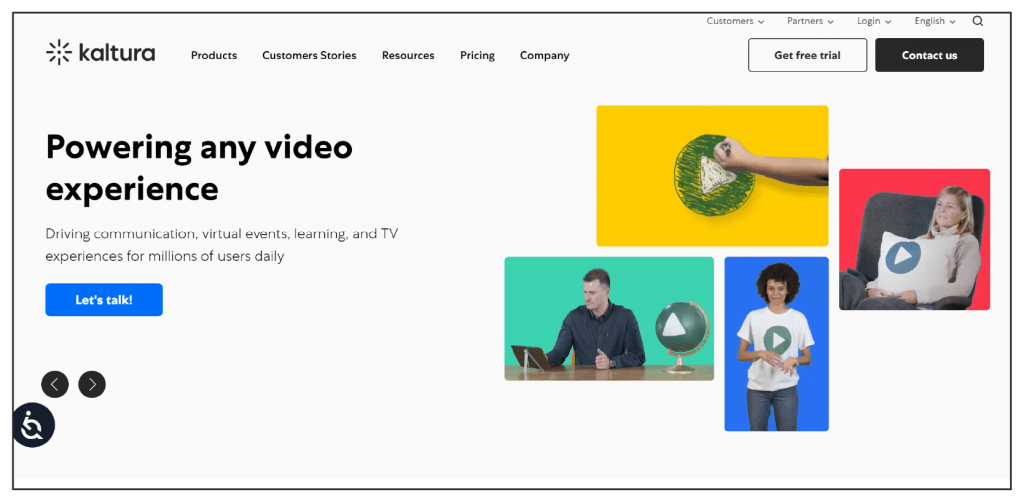 Kaltura is a powerful and flexible video platform designed to meet the diverse needs of various educational institutions across the globe. Its advanced features and capabilities make it an ideal choice for creating, managing, and delivering high-end video content for educational purposes.
With Kaltura, instructors can easily upload, manage, and share video content with their students. It offers robust editing tools and advanced security features, making it an all-in-one solution for educational video needs. Whether it's online classes, remote learning, or flipped classrooms, Kaltura provides all the necessary support needed to deliver an effective learning experience.
Discover The Features Of Interactive Video Platforms for Education
Provides secure cloud-based hosting for all educational video content.

Offers interactive video tools such as quizzes, hotspots, and calls-to-action.

Highly customizable and can be tailored to match the brand of the educational institution.

It can integrate with various educational tools, making it easy for instructors to manage and distribute their content.
Upload Guidelines And Specs
The maximum file size for a video upload can vary depending on the specific configuration of the platform.

The speed at which videos can be uploaded may depend on factors such as internet connection speed and file size.

The recommended resolution depends on the intended audience and the device they will be using to view the content.
7. Zype
The go-to place to build an educational video platform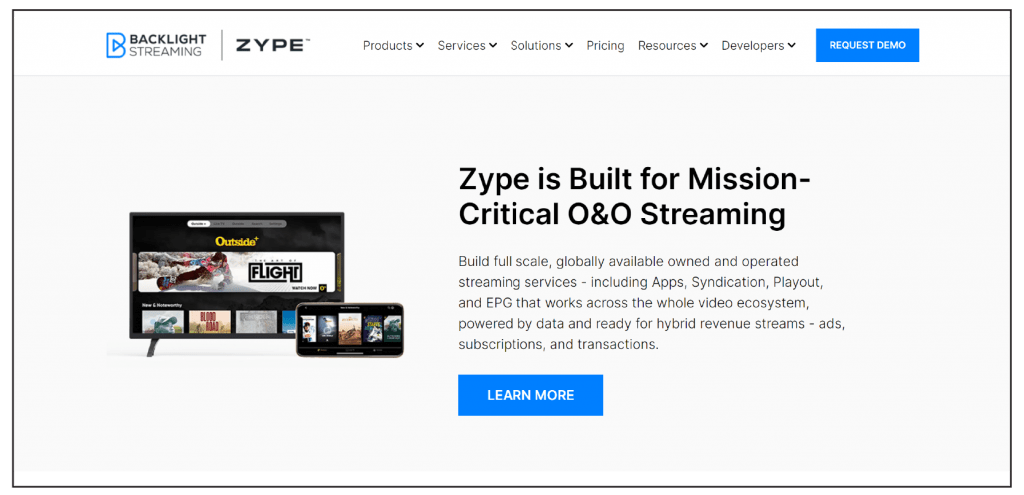 Zype is a versatile video platform that offers a number of ways to stream and monetize educational video content. With its advanced features and user-friendly interface, Zype makes it easy for teachers and administrators to deliver a top-notch learning experience to their students.
If one has to create and sell video courses, build an educational video platform, or disseminate educational videos to different platforms, Zype can help in every possible way. Its adaptable and scalable platform makes it simple to manage video content, engage viewers, and track success in a variety of ways.
Discover The Features Of the Zype Educational Video Streaming Services
Content owners have the flexibility to set pricing tiers and control access accordingly.

Supports multi-platform delivery, allowing educators to reach their audience with ease.

Zype's player is fully customizable, allowing educators to brand their players effectively.

Allows educators to integrate the video platform with the existing systems & workflows.
Upload Guidelines And Specs
Supports closed captions in multiple formats, including SRT, VTT, and DFXP.

Recommended resolution is 1920 x 1080 pixels and a bitrate of at least 3 Mbps.

Uploading accurate metadata can improve the visibility & discoverability of the content.
8. IBM Cloud Video
Get ahead with video learning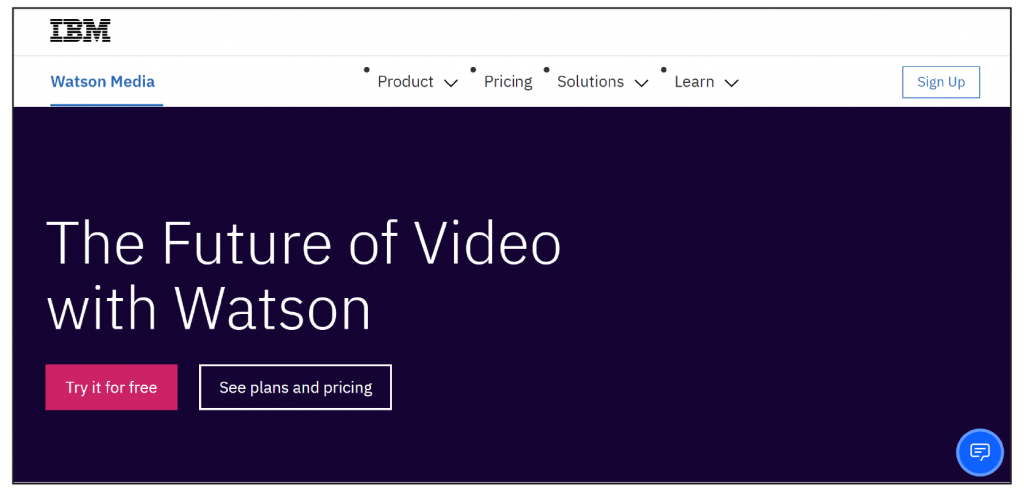 IBM Cloud Video is a powerful and comprehensive video platform that can effectively cater to the education industry's unique needs. It enables educators to create and deliver high-quality video content that students can access anytime, anywhere, on any device.
One of the key features of IBM Cloud Video is its ability to monetize content through various means. Educators can refine their video content and delivery methods to improve learning outcomes with this platform. Above all, it offers customizable branding options, which can help educators create a consistent and professional image for their institution or brand.
Discover The Top Features Of IBM Cloud Video Platform for Education
Live streaming capabilities to deliver lectures and events in real time.

Secure video hosting with user access controls and digital rights management.

Interactive video tools to enhance student engagement and improve learning outcomes.

Helps to create a more cohesive brand identity and fosters a sense of trust and familiarity among students and viewers.
Upload Guidelines And Specs
It is suggested to use AAC audio compression for optimal quality.

Supports secure upload options, including SSL encryption for video files.

It is recommended to use H.264 encoding for video files uploaded to IBM Cloud Video.
9. VIDIZMO
VIDIZMO is a video streaming and management platform designed for the education sector. Whether it's online lectures, live webinars, or on-demand videos, VIDIZMO provides an end-to-end solution that ensures seamless delivery and smooth playback.
The platform's powerful search functionality and intelligent analytics make it an ideal choice for institutions looking to take their video-based education to the next level. In short, VIDIZMO offers a reliable and scalable solution for educational institutions of all sizes, enabling them to harness the power of video to enhance and drive student success.
Discover The Top Features Of VIDIZMO Online Video Education Platform
AI-based speech recognition and transcription capabilities.
Flexibility to brand the platform to create a cohesive learning environment.
Ensures seamless playback across all devices and browsers, making it accessible to all.
Offers content encryption, access control, and secure login, ensuring high-level privacy.
Upload Guidelines And Specs
Supports a variety of video resolutions including SD, HD, and 4K.
The maximum file size for uploading videos depends on the subscription plan.
Handles a wide range of video formats. Yet, it is advised to use the MP4 format.
10. Cincopa
Cincopa is designed to be user-friendly and flexible, allowing institutions to create, manage, and distribute video content easily. It supports various video formats & provides customizable video players, allowing organizations to brand videos and make them more engaging.
With Cincopa's reliable video hosting and high-quality streaming, a number of firms can deliver seamless video experiences. In fact, the platform comes with robust security features, ensuring that video content is protected and accessible only to authorized users. Above all, it offers customizable and easy-to-use video players, which helps educators in many ways.
Discover The Top Features Of Cincopa Online Video Education Platform
Mobile-responsive and platform for learning on-the-go.
Customizable player with a number of branding opportunities.
Interactive quiz sessions and polls to engage learners of all ages.
Video CMS for organizing and distributing informative & educational videos.
Upload Guidelines And Specs
Aspect ratios such as 16:9 and 4:3 are supported.
Covers video resolutions ranging from 144p to 4k.
The recommended bitrate for videos is between 2000 and 5000 kbps.
Conclusion
Overall, with the multitude of possibilities in the OTT market, selecting the ideal video platform for educational content can be a difficult undertaking. You may, however, make an informed decision that best matches your needs by evaluating criteria such as price, the convenience of use, features, and customer support.
The top 10 online video education platforms mentioned in this article have their own set of advantages, making them suited for a wide range of learners and educators. If you are a content creator hoping to generate revenue out of your compelling educational content, then VPlayed can do wonders for your business.
If you have educational content, schedule a free demo and we can assist you!

Frequently Asked Questions (FAQ):
1. What Features Should I Look for When Choosing an Online Video Education Platform?
When choosing an online video education platform, look for features such as seamless video playback, interactive elements for increased engagement, content management tools, analytics for tracking progress, support for various multimedia formats, collaboration tools for teachers & students, and, most importantly, a variety of customization options for branding.
2. How Do Video Education Platforms Ensure Data Privacy and Security?
Video education platforms ensure data privacy and security through encryption, secure access controls, compliance with regulations, secure infrastructure, and data anonymization. In fact, they regularly update and patch security vulnerabilities, obtain user consent, and provide transparent privacy policies. Above all, they use secure payment integration and have data backup and disaster recovery measures.
3. How Can I Monetize Educational Video Content Online?
To monetize educational video content online, consider options such as various subscription models, pay-per-view rentals, advertising, sponsorships, affiliate marketing, merchandise sales, donations, licensing, online courses, consultations, etc. However, you must select a monetizing strategy that best fits your goals and audience while giving value to end consumers.
4. How to Launch a Video Platform for Education?
To launch a video platform for education, define your goals and intended audience, develop or choose a suitable platform provider, curate great quality content, customize the platform (if needed), ensure data privacy, and launch with marketing efforts. Nonetheless, gather user inputs and continuously improve the platform while extending the content collection. 
5. What Is the Best Platform for Educational Videos?
Explore our curated list of top online video education platforms, perfectly suited for hosting classes and delivering educational content. Among the top contenders are VPlayed, Dacast, Panopto, Vimeo OTT, Muvi, Kaltura, Zype, and more.