It's pretty much evident that you would have heard about Vimeo OTT if you've been looking for an over-the-top platform to manage your online video streaming business. It's Vimeo, after all! It opened the door for several video on demand platform companies, and demonstrated to the world that videos could have other ways to monetize better than YouTube.
Since its discovery in 2004, OTT as well as on demand platform of Vimeo has provided its services to many in this creative marketplace. Right from hosting videos to the process of distribution, Vimeo takes care of everything that content owners require to build their very own streaming empire!!
And if you're reading this, you're probably looking for some alternatives next to Vimeo OTT before your organization could commit to an OTT solution that isn't the apt choice for you! After all, business commitments are crucial, isn't it!
In this post, we'll look at and examine one of the most important aspects of this shift: the launch of the Vimeo OTT platform.
We'll go through the basics of Vimeo, including the benefits and drawbacks of using the platform, pricing, and some of the other Vimeo OTT alternatives, which could be insightful for your business to make informed decisions.
Let's get started!
Top 10 Alternatives to Vimeo OTT
What is Vimeo OTT Platform?
Vimeo's online video platform which originated in 2004, helps media broadcasters, video influencers, business entrepreneurs to create their own subscription-based app or website and earn constantly. Since the acquisition of Livestream in 2017, which was a key video streaming service providers for live streaming, Vimeo has made its grand entry in the B2B market.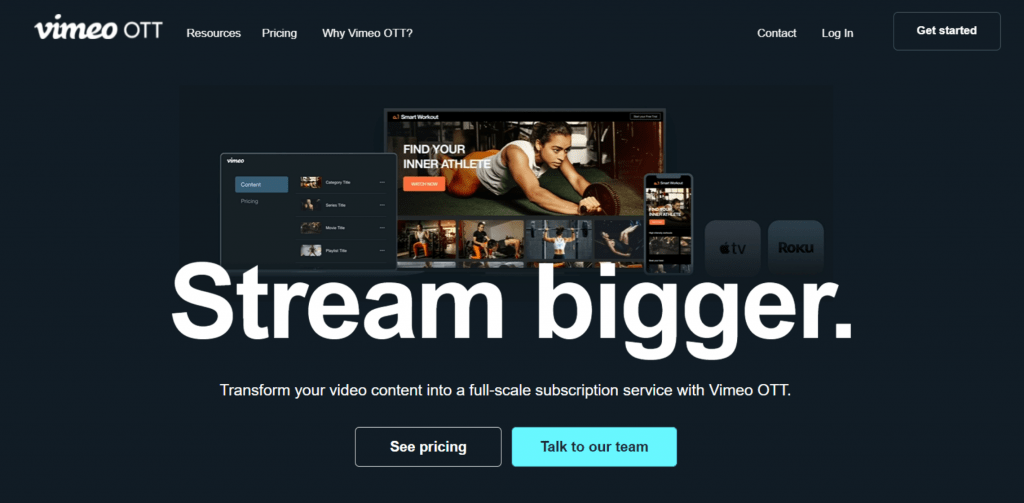 Some of the notable features of Vimeo are:
With a world-class video HTML5-based player and CDNs, high-quality video is streamed

Upload, organise, & encode your videos using a robust content management system

Branded in-app building tools like subscriptions to have powered

monetization

solution

Stream live content, including real-time events inclusive of VOD, to users with any device.

There won't be any kind of downtime while the content and database are being migrated.

Vimeo create branded & customized OTT application for your clients too & remain hassle-free
So far we came across some of its significant features.. Now we'll weigh their pros and cons..
Advantages of Vimeo OTT
Best online video platforms has its own pluses and minuses. These are some crucial factors of Vimeo that need consideration while selecting a platform to match your streaming requirements in comparison to other competitors in the market. Let's look at some of them below:
Vimeo OTT review: Pros
Easy content upload from any device such as Google Drive, Dropbox & FYP

Monetization from integrated paywall for subscriptions will go a long way

Provides liberty to customize video player at user-end with colors & logo

Users gain access to statistical video data that related to their plan levels

The plans are included with flexible bandwidths so, there's no extra charge

In the process of migration no downtime is found making it seamless

Get OTT app launch team with vimeo growth & enterprise plans having 24/7 support
Disadvantages of Vimeo OTT
There are a couple of drawbacks to OTT strategies from Vimeo. Limited access to features, or we can say, some key functions are only available in custom plans, gives a prime reason to find relative alternatives to Vimeo.
The after named 'Vimeo OTT', with Livestream, offers a high-end premium approach to live streaming that is specially-designed for appealing user experience kept in mind . As a result, the products are of high-quality but a bit pricier than expected.
Let's say the custom-priced enterprise package starts at $1,000+ per month with full API access. Of course, we can't ignore that full API accessibility is assured for users on monthly Vimeo streaming services, despite its exclusive pricing quote for custom plans.
Apart from those, other limitations to the solution that you should be aware of are:
Vimeo OTT review: Cons
One of the potential difficulties is with customization flexibility. Vimeo OTT doesn't offer the control to customize your entire platform unlike other video on demand competitors. Only seldom do companies provide an entire platform with any kind of customizability at a one-time licensing cost.
The biggest disadvantage highlights when audio streaming solution facility is not found at Vimeo which makes us think that you might not be getting the best value for your money when it comes to opting for streaming solutions in the long run. Ultimately, audio plays a significant role in capturing million views since it becomes comfortable to relate, as it personalizes the content.
The key downside is understood when you find yourself in two minds if you can monetize on Vimeo. It is because the revenue models are selectively less to choose from. In comparison to other alternative to Vimeo, there are other lucrative options for content monetization such as AVOD, 3rd-party ads, SSAI model, etc.
The critical element in the line of video streaming business is subject to high degree of security. Unfortunately, Vimeo doesn't provide some of the built-in protocols like screenshot prevention, IP & Device restriction, Parental control, Watermarks. These reassure efficient video security & DRM right from the frontend & upto the backend dashboard.
Moving forward, let's take some glimpses of OTT vimeo's cost checks now!!!💲💲
Want To Choose The Best Vimeo OTT Alternatives For Your VOD Streaming Business?
Vimeo OTT Pricing
As previously stated, the pricing strategy for obtaining OTT solutions from Vimeo differs from that of standard suggestive packages. Starter, Growth, and Enterprise are the three plans available.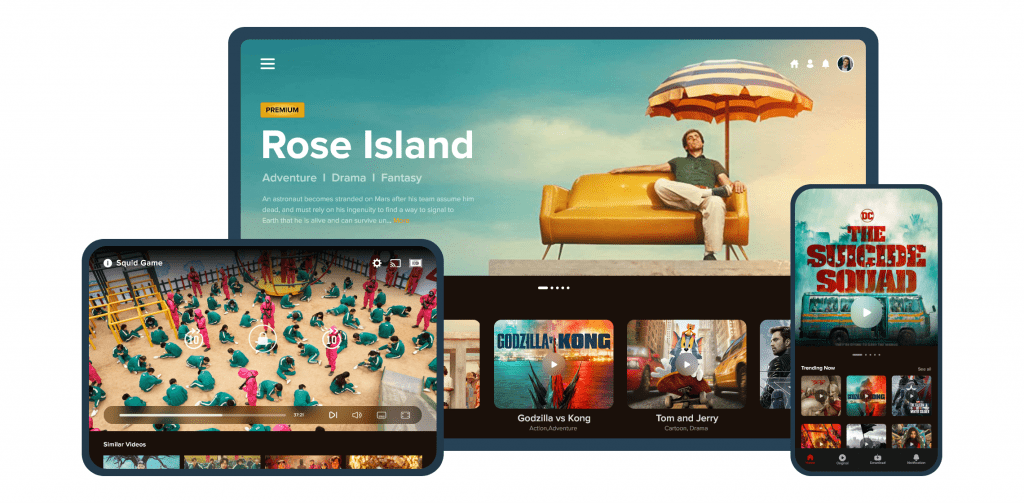 Starter Pricing: $1 / Subscriber Per Month

Growth Pricing: Begins at $500 Per Month

Enterprise Pricing: For more information about custom pricing, contact Vimeo OTT services.
The Vimeo.com partnership comes with this OTT-specific pricing package. These options provide everything you'll need to get started with an online OTT platform and create your own OTT business infrastructure.
Okay.. So far we have spoken about what all Vimeo has to offer you when it comes to trendsetting your best content in the exclusive Over-the-top streaming industry..
Now let's see what kind of other alternatives you can have in hand, other than Vimeo..
3 things that usually keep your viewers glued to any OTT platform keenly delve on
Curative content

Competitive pricing in terms of services &

Most importantly user experience.
Surely, content's originality and quality of streaming comes into play! But if you choose the apt platform to establish your OTT services, you won't have to go through any kind of doubts that may arise after looking at platform experience at Vimeo.
Let's Take a Look at Top 10 Best alternatives for Vimeo OTT
1. CONTUS VPlayed
Superior OTT Platform At Par To Vimeo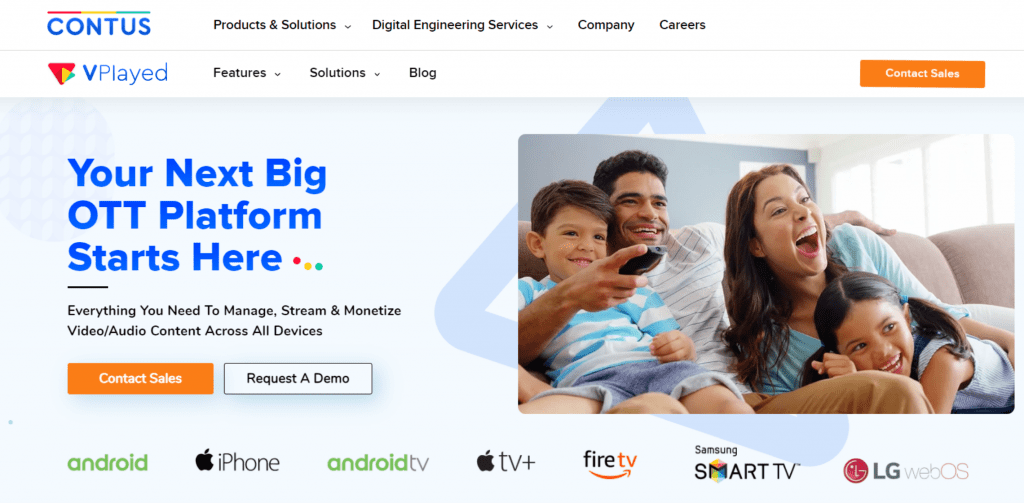 When you consider the next-best alternative to Vimeo OTT, then you can rely completely on VPlayed that facilitates its customers with a 100% customizable streaming solution that is developed with cutting-edge technologies like micro service architecture, artificial intelligence, etc.
They flexibly build an end-to-end security encryption with 6+multiple monetization models making it a feature-rich, unified & secure OTT platform.
It enables several media & broadcasting companies to have their own personalized white label solution in OTT and pull-in best revenue with a lifetime ownership value.
Some Of The VPlayed's Top OTT Platform Features Are:
Get a cloud video transcoding solution to compress files before flexibly streaming
Stream your content through HLS video player to have buffer-free renditions

Cordially manage every content with added perks from a built-in video CMS library

Procure increased engagement for your content using video marketing solution

Analyze your audience viewing habits live with an advanced dashboard report
For quote-based plans, fill out this inquiry form, You may also opt for VOD Platform Free Demo Here.
2. GUDSHO
Versatile & FlawlessVersatile & Flawless Video streaming Platform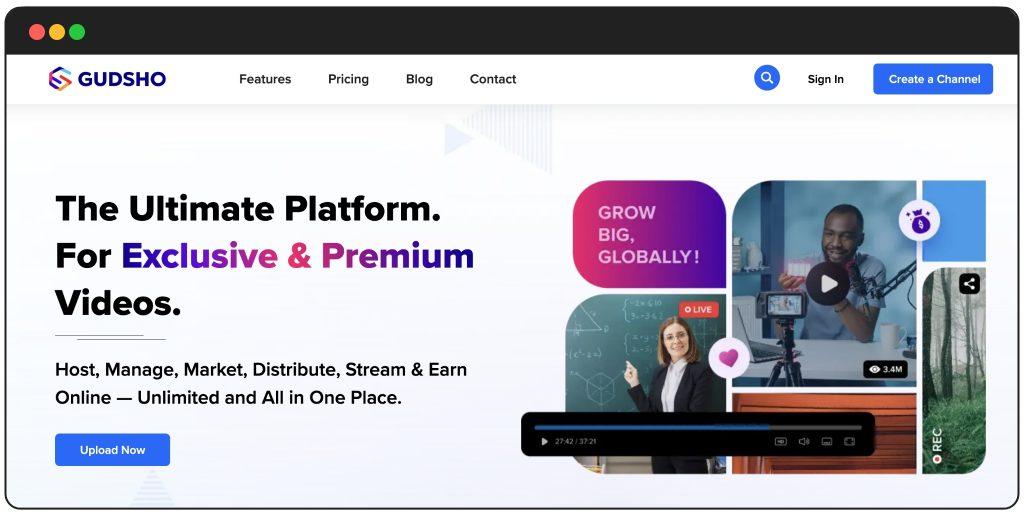 Up next in our video monetization category is GUDSHO, a premium and feature-rich monetization hub crafted solely for video content creators.
It enables them to create a library for viewers to engage and boosts revenue by monetizing video content. The best part is that they get an option to keep 100% of their hard-earned revenue.
Alongside these, creators can capacitate their video performance with different marketing tools built within the platform, and learn what works best for.
Finally, the wait's over! It's time for content creators to manifest their creative talents with the much-loved platform and create fan followings like never before.
Let us see some of its highlighted features:
Allows safeguarding the privacy of the channel via SSL/TLS encrypted paywall.
Supports 4k video streaming without any delay.
Showcase your best works and take complete ownership.

Track your gross revenue and earnings-per-video with our sophisticated analytical tools and reports.

Facilitates super fast streaming of videos with GUDSHO's power-packed Content Delivery Networks (CDN).
3. Dacast
Sure-bet Streaming Solution Similar To Vimeo OTT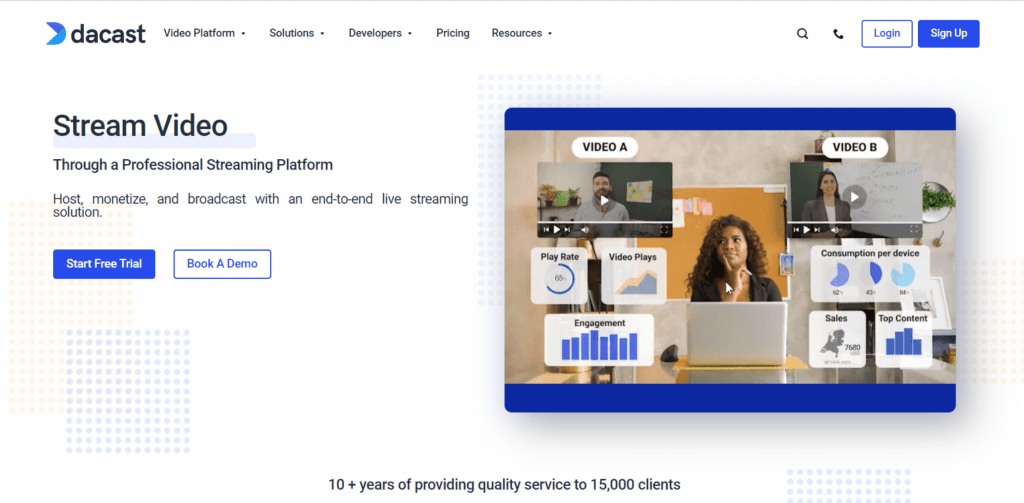 Dacast streaming is another premium OTT choice and a go-forward alternative to Vimeo which is found to be one of the most reliable streaming platforms when it comes to video hosting in the marketplace.
Quite recently, Dacast acquired vzaar, a VOD streaming platform that has a powerful pact of video on demand features added with playback accessibility in China.
Highlights of this OTT alternative that's equivalent to Vimeo are:
The live streaming and video on demand solution is effective for all plans

Global content delivery

is made safe

with industry-leading video hosting support

They facilitate your platform with whitelabelling support compared to

Vimeo

Dacast empowers content monetization with options like TVOD, AVOD

, & SVOD platform.

Streaming experience enhanced through RTMP protocol in HTML5 video player
4. IBM Video Cloud
Enterprise-Grade OTT Streaming Services Like Vimeo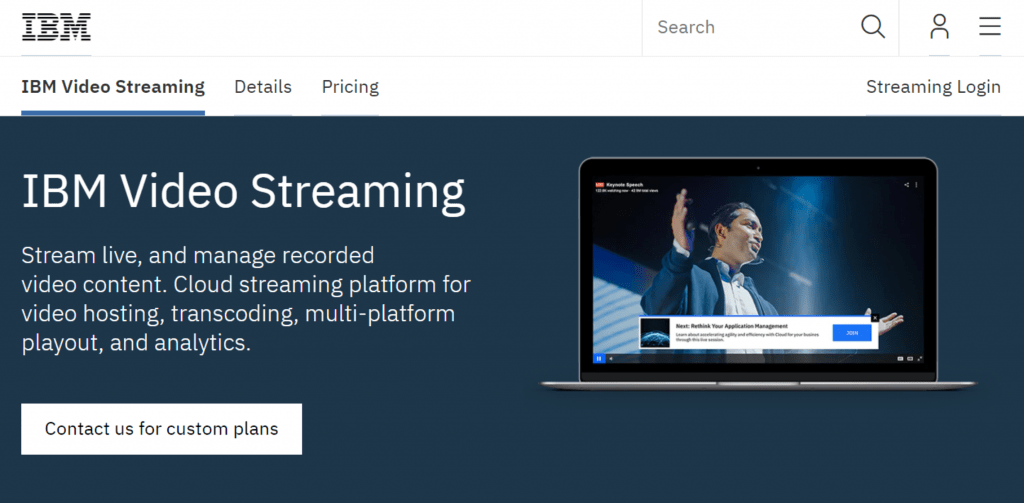 IBM Video cloud is the best-suited platform & next to Vimeo OTT for corporate businesses and enterprises. They give their consumers the ability to stream live and manage high-definition recorded video at an increased rate.
The cloud streaming platform of IBM video cloud also allows you to capture broadcasts as video on demand and distribute them to your business-class users along with hosting, transcoding and analytics solutions.
Get to have IBM video cloud's robust features below:
Live & on demand content compatible across all screens of any bandwidth

Simplified video ingests and compilation of metadata within the streaming workflow

With a looping feature, you may schedule video playing at any moment

Real-time chat, Q&A modules can help you to have interactive work environment

Customize your channel page with highlighted past broadcasts to align with your brand
5. Kaltura
A great alternative for corporate streaming needs next to Vimeo
Kaltura's SaaS-based solutions enable your platform to satisfy flexible streaming needs and are one amongst the finest Vimeo alternatives that you could possess with. Get a perfect combination of media resolutions for your corporate brands in the form of live and on-demand videos, allowing you to provide video communication tools.
Some of them are virtual meetings, live webinars, inspirational podcasts, and interactive town halls. The New York based firm of Kaltura was founded in the year 2006 and specializes in 4 primary markets like Cloud TV, OTT, Online Video Platform, & Enterprise-grade video platforms.
Full-stack features that set Kaltura apart from competitors like Vimeo are:
Plan meetings and webinars by creating "private rooms" for users

Give your audience a personalised live & on-demand television experience

Using carrier-grade video transcoding, deliver crystal-clear video streams

Get API access that allows you to upgrade business for complete customization

With native player adverts & video monetization easily capture your audience
6. Brightcove
Pioneer OTT platform service just like OTT Vimeo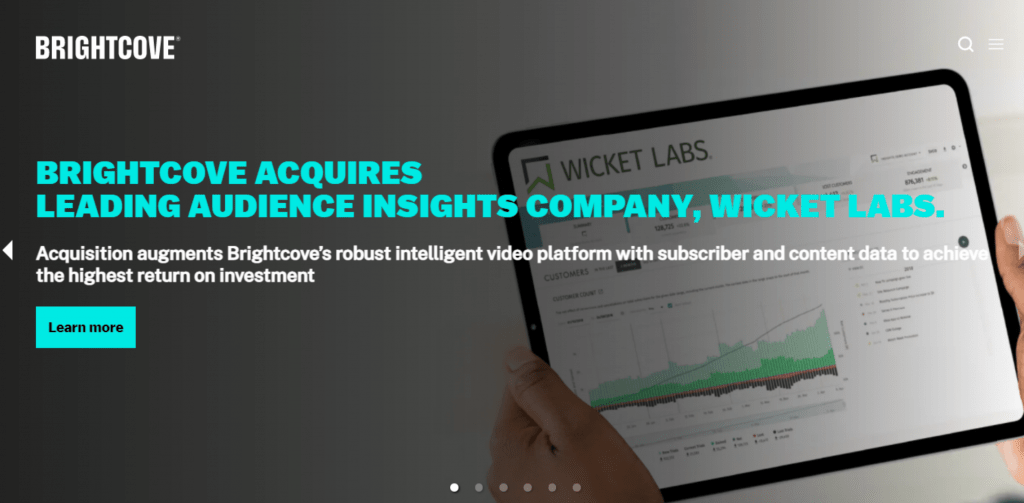 Brightcove is the show-best alternative platform to Vimeo that gears many advanced broadcast streaming with its unmatched video hosting solutions. Although they provide a wide range of services, the platform of Brightcove is likely out of reach for small and medium-sized businesses due to its high cost.
But having said that, you'll have a powerful media cloud with a centralized video network for live streaming, monetization, marketing, analytics, encoding, and much more.
The Following Are Some Of Brightcove's Top OTT Platform Features:
Playbacks delivered making it glitch-free for best user experience

Supports live streaming possibilities with all device video compatibility

Apart from SVOD, TVOD, AVOD you can monetize using coupons & trials

Deliver live or on-demand HQ standard assets to 175 countries similar to

Vimeo

The most secure storage and OTT content delivery solution with DRM rights
7. Wowza
Upnext streaming alternative in comparison to Vimeo OTT
Wowza is a live-streaming platform that was founded by David Stubenvoll & Charlie Good in the year 2007. The platform of Wowza provides an engaging live streaming support. They provide a number of developer tools for quick channel creation.
They initially started as a boot-strap start-up carrying a focus of simplified media streaming & making it better with a collective 200 years of leadership team.
Multi-faceted features of Wowza are below as follows:
Highly customizable streaming with cloud transcoding support

Whitelabelling capacity to have scalable live or video on demand streams

HTML5 video player that is customizable with reliant customer support

Broadcasters gain streaming workflow control with Wowza's CDN infrastructure

Auto-archiving in a comprehensive video CMS with high-security solution
8. JW Player
A-grade over-the-top platform close best to Vimeo On Demand
JW Player can also be referred to as a one-of-a-kind alternative to Vimeo OTT that has flexible price plans for every budget along with its powerful player. It is said that the streaming technology used on this platform originated with a piece of code that contributed a share in the original YouTube video player.
It is an all-in-one OTT platform that can be especially utilized by film/TV studios, broadcasters, publishers, etc. IT allows you to provide high-quality video CMS content to your audience in any format to any device.
Here are some of JW Player's most prominent features:
Global content delivery with superior CDN streaming

Emphasizes on increased earnings using video-based ads

Customization with API access necessitates brand-building

Increase user engagement with click-to-play rate via article matching

Consistent video plays across website, mobile apps, connected TV, etc
9. Muvi
Comprehensive OTT Video Platform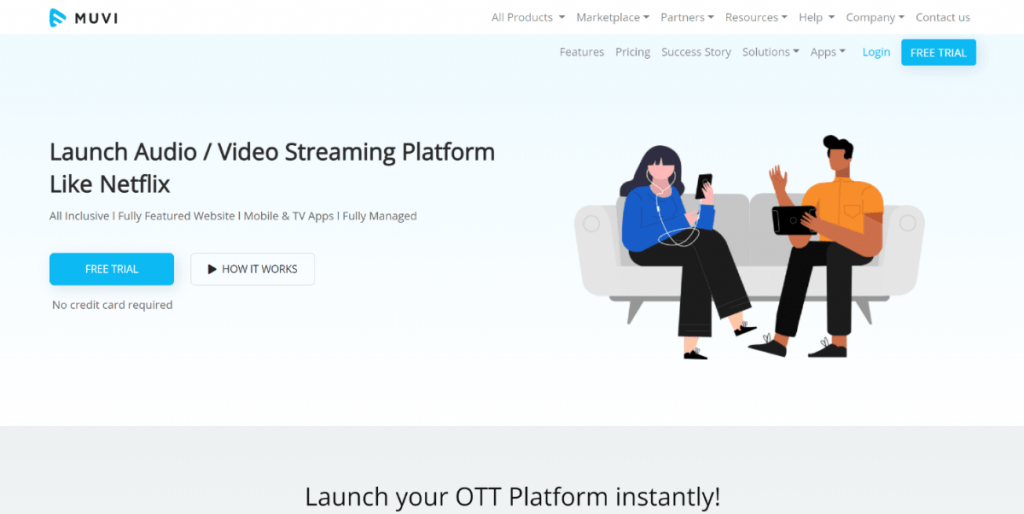 Muvi is an all-in-one OTT platform that provides VOD as well as live streaming capabilities. It is a comprehensive cloud video platform with advanced features like cloud encoding, low latency broadcasting, top-tier delivery, video encryption, and multi-device viewing. Its built-in video monetization solutions are more appealing to content owners who want to monetize their premium video content to a greater audience.
In this platform, video owners can easily create their own video hosting website or app while maintaining complete control over the content. Muvi's ability to enable audio content differentiates it from the competition as it allows content owners to build something equivalent to a branded audio platform. One can host and share music, podcasts, radio broadcasts, and other forms of multimedia without making much effort.
Here Are Some Of Muvi's Standout Features:
A fully customizable website with ready-to-use layouts.
Stream to any network device, including Smart TVs, with ease.
Effective integrations with the most popular payment gateways.
HTML5 video player with advanced features.
Support for adaptive bitrate video playbacks.
10. Zype
Professional Video Streaming Platform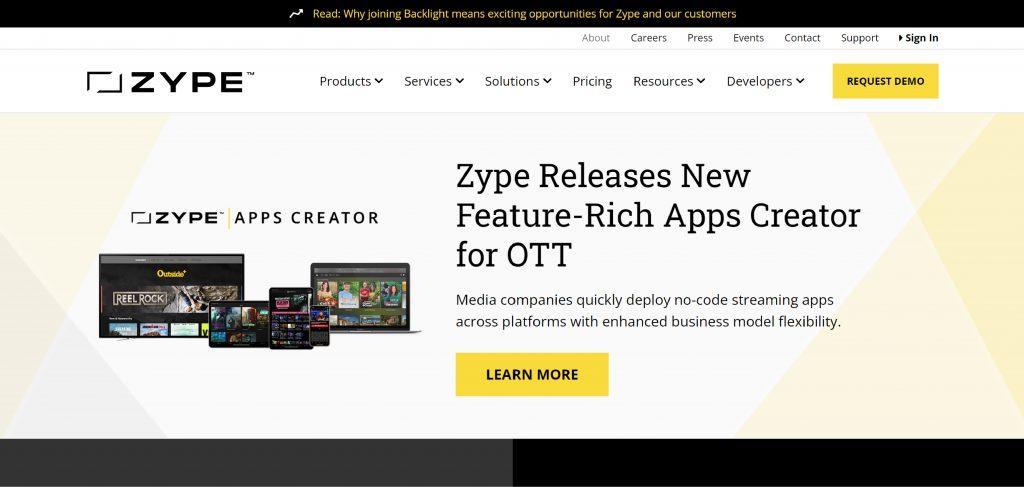 Zype has been growing swiftly since its launch and today serves the video infrastructure requirement of over 300 customers, including well-known businesses such as Crunch Fitness, Vox Media, People TV, and others. Zype enables content owners to communicate directly with their audiences on any screen. Fitness, education, media, and entertainment are some of the industries where the Zype video streaming platform has predominantly left its mark.
The platform provides an open framework as well as a set of developer-friendly APIs for creating bespoke video streaming solutions. Its drag-and-drop streaming allows potential customers to quickly create their own video-on-demand platform. Zype offers a true end-to-end video platform as well as a customized bundle to meet all video streaming needs. Apart from this, it offers a full-stack video platform for launching, managing, and scaling any OTT streaming video business.
The Following Are Some Of The Key Features Of The Zype Video Streaming Platform:
A reliable content delivery network that supports multiple CDNs.
Social sharing across several platforms and on multiple screens.
API endpoints for developing custom video streaming apps.
Third-party integrations for cohesive transaction experience.
Enterprise-level video CMS with automated workflows and faster response times.
Summary:
In the end, there will be two different opinions shared together. Vimeo may be a fantastic choice platform for one appropriate user & may not be, for the other. On the other hand, there are more probabilities that Vimeo isn't a perfect-suit for everyone. So, we get to know that every personalized OTT solution comes with all kinds of tools that's required to create your own OTT streaming website.
You can also try out alternatives like VPlayed, which allows you to own your best video streaming platforms completely all in one go & have been thinking about it all this way. And, to make things easier you may also request for a free demo session with zero risk.
If You're Ready To Incorporate Video On Demand Platform Into Your Video Content Streaming, Get In Touch With Us Right Away.
Frequently Asked Questions (FAQ)
1. What is Vimeo OTT?
Vimeo OTT is a comprehensive platform for launching your own video subscription service. It provides all the necessary tools and technology to help you expand your audience. With dedicated support for you and your subscribers, it offers an all-in-one OTT solution for your video streaming needs.
2. Which competitor is better than Vimeo OTT? 
While Vimeo OTT is a popular choice, some competitors like VPlayed, Uscreen, Dacast, or Brightcove are considered better alternatives. Ultimately, you should choose the right platform based on your needs, budget, and desired functionalities.
3. How does Vimeo OTT make money?
Vimeo makes money through a Software-as-a-Service (SaaS) model by selling subscriptions to its cloud-based video streaming platform. The company adopts a "freemium" pricing strategy. So, it offers free membership with access to basic video tools and paid subscription plans to unlock advanced video functionalities.
4. What is the difference between Vimeo OTT and VPlayed?
The main difference between VPlayed ad Vimeo OTT lies in their business model. While Vimeo operates mainly on a SaaS-based (recurring payment) model, VPlayed works on a SaaP model with a one-time price. In addition, VPlayed is a self-hosted, white-label video platform that is fully customizable. Notably, many of these features are absent on Vimeo.
5. How much should I pay commission for vimeo OTT?
The commission a user pays to Vimeo depends on the subscription plan they have opted for. The commission for Vimeo OTT is listed below in the tabular column. 
Plan Cost per month Renewal
Starter $1 per subscriber Monthly
Growth $500 per app Annually
Enterprise $1000 per app Annually
*Note – Processing fees and bulk discount may apply