Well! First, We all will agree that people worldwide are consuming hours of video content on various social media handles. And with no wonder, the online education industry is flourishing rapidly. Within this ever-growing market, one key segment that stands out is the online course hosting.
Nevertheless, if you haven't already considered offering eLearning courses in areas such as fitness or health, medical, or even school courses. Now is the most ideal time to do so. Why? Well, the eLearning sector is projected to reach a staggering $325.10 billion by 2025.
As you take the first step in creating pre-recorded or live videos for your online courses, selecting the right online video hosting platform becomes one of the most critical decisions you will make for future generations. Also, it will decide your content's accessibility, user experience, and overall impact on learners who visit your platform.
Ensure that you choose wisely and save time in the overall selection process. We have done in-depth research and developed this informative article outlining the key features of educational streaming platform for hosting online courses. Let's get going!!!
Why Should You Host An Online Course?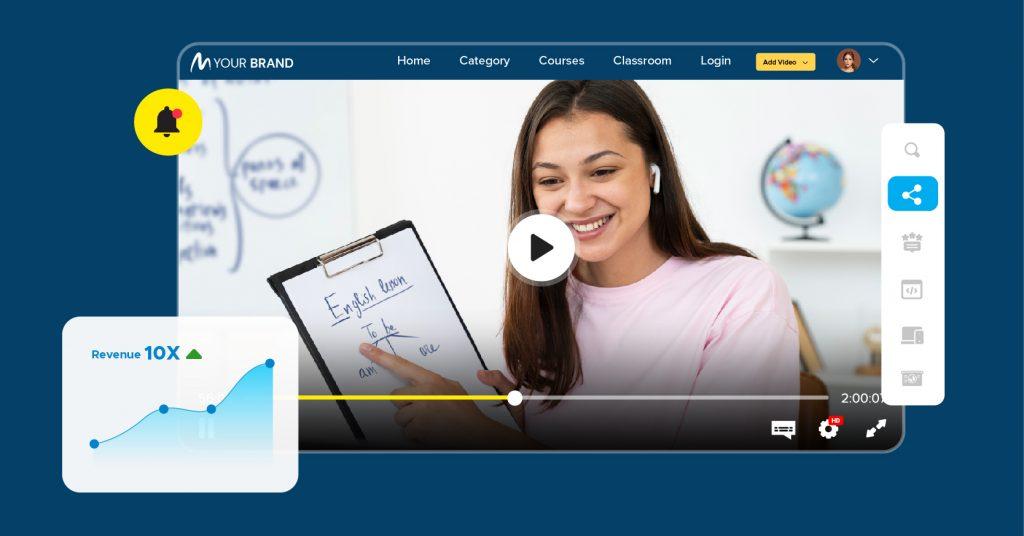 First of all, online courses pretty much require hosting for several important reasons. Utilizing the best video hosting services for online courses ensures that your course materials and other knowledgeable resources are accessible to your students anytime, anywhere.
Hosting also ensures a neat and clean catalog of course content, making it easier for you to update, modify, or add new course material as per the need. Moreover, hosting platforms offer a number of advanced features such as video hosting for online courses.
In fact, these platforms provide robust video streaming capabilities, ensuring smooth playback and seamless user experience. Here, you can upload and share high-quality videos without worrying much about bandwidth limitations or buffering issues. This further allows you to deliver engaging and interactive lessons to your learners.
In addition to that, hosting platforms often provide analytics and tracking data that allow you to monitor the performance and engagement of your online courses. You can gather valuable insights on student progress, video views, completion rates, and other metrics. This data enables you to assess the effectiveness of your course content and make data-driven improvements.
Are You Planning Host & Monetize An Online Course?
How To Host Online Video Courses – An In-Depth Guide
To host online video courses, you need to follow a few important steps. So, we have compiled this in-depth guide after thorough research. This will help you make an informed decision to boost your online course hosting experience.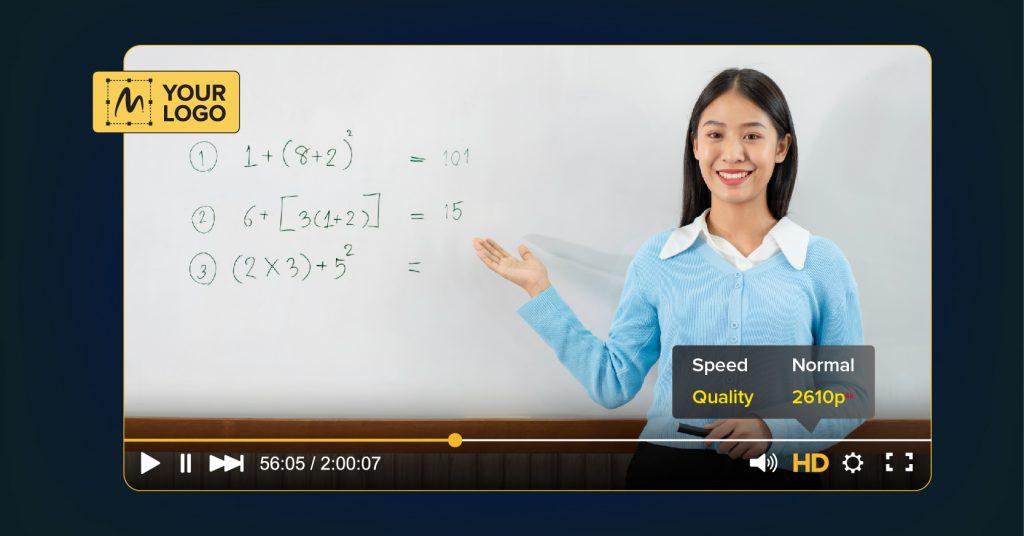 Step 1: Choose Your Lucrative Niche
As you have decided to host your online courses, choosing a particular niche is considered to be the first step towards success. Dive deep into your expertise and passions to discover a specific niche that can engage your target audience in a great way.
By choosing a niche that aligns with your unique knowledge and skills, you can create valuable content that goes well with your learners, thereby establishing yourself as an authority in your field. Always remember hosting online courses is not just about the technical aspects but also about creating a deep emotional connection with your audience as well.
Step 2: Select The Perfect Online Course Hosting Platform
Choosing the best video hosting platform is critical for providing a buttery smooth learning experience. Look for a platform with strong video streaming capabilities, a dependable video server architecture, and customization possibilities that complement well with your unique branding.
A user-friendly UI and responsive customer support are also essential for ensuring a pleasant hosting experience. By carefully assessing the potential of different platforms, you can find the best fit for hosting your online courses and deliver high-quality content to your eager learners.
Step 3: Craft Engaging Content For Online Courses
Before venturing for where to host online courses, it is of utmost importance to focus on creating content that keeps your learners at the edge of their seat. After all, the success of your courses highly depends not only on the platform but also on the quality of the content you produce.
To create a family connection and inspire your students, look after their needs, learning preferences, and aspirations. Infuse your content with storytelling, interactive elements, and practical examples to make it more relatable and impactful. By devoting time and effort into content creation, you lay the foundation for a profound learning experience.
Step 4: Structure Your Course For Maximum Impact
Once you are finished with the content creation, structuring your course effectively maximizes its impact on learners. Consider breaking down your course into logical modules or lessons, ensuring an easy flow of information. Incorporating assessments or quizzes can help in a great way to promote active engagement.
Apart from this, provide clear learning objectives and a clear cut roadmap to guide your students throughout their educational journey. By thoughtfully structuring your course, you create a sense of progression, enabling learners to absorb and apply the learnt knowledge effectively.
Step 5: Set Up The Revenue Model
Consider the following steps to set up your revenue model for online video courses. First, determine the pricing strategy that best suits your audience and course value, such as one-time payments or monthly subscriptions.
You can also offer bundles and discounts to attract more pupils. Next, explore upsells and cross-sells by proposing complementary courses or related products. Apart from this, leverage affiliate marketing to earn commissions through referrals.
Step 6: Ensure Top Notch Video Quality
To ensure top-notch video quality for online course hosting, try to invest in high-quality media equipment, such as a camera, microphone, and lighting setup. Next thing, create a dedicated recording space with a clean and professional background to eliminate unwanted distractions that are likely to occur.
During the recording process, speak clearly and at an appropriate pace so that the opposite person can understand clearly. Edit your videos to remove any errors or unnecessary parts, and consider adding graphics or animations to enhance engagement. Finally, optimize your video files for online streaming by compressing them without sacrificing quality.
Step 7: Build Community And Engagement
When it comes to building audience engagement, the first thing that arises to our mind should be hosting live Q&A sessions or virtual meetups to provide direct interaction with your motivated learners. This allows you to build a personal relationship and answer their queries in real time.
However, it is recommended that you keep your learners involved in course updates, planned events, or new content by sending out email newsletters or discussion forums frequently. This thing further demonstrates your commitment to their success and motivates them to stay involved throughout the hosting course.
Step 8: Provide Exceptional Support And Feedback
Last but not least, staying in the game requires delivering the best assistance out there. Here are some strategies for you to consider. To begin, establish clear routes of communication, such as email or a trained support system, through which end-users can contact you with their problems.
Respond to their inquiries swiftly and courteously, demonstrating that you appreciate their participation and are committed to their success. Nevertheless, encourage a growth mindset, by emphasizing progress and offering constructive suggestions for their continued development.
Step 9: Exploring Profitable Monetization Models For Online Courses
In this portion of the blog, let's look at some of the intriguing monetization options to consider for your educational content. Let's keep going.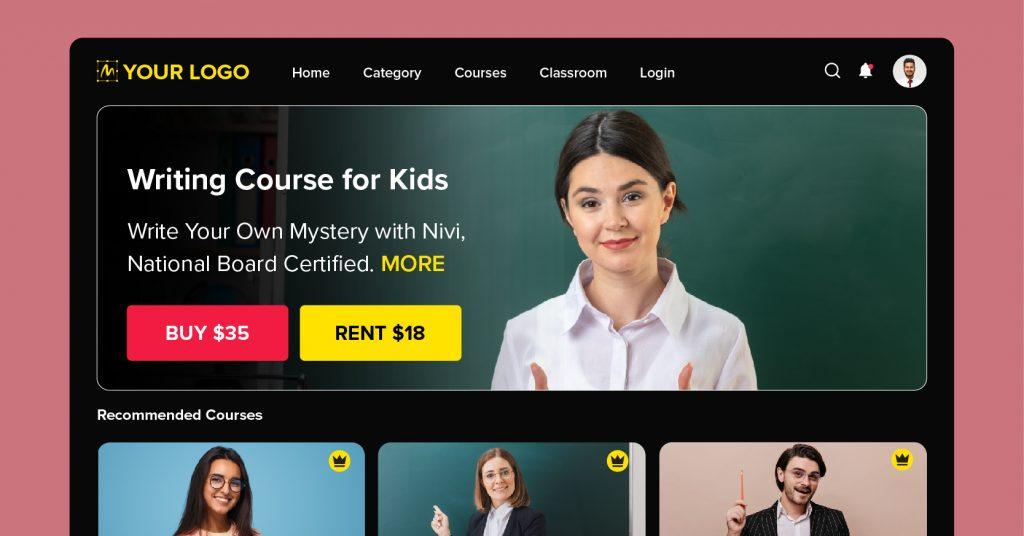 To monetize your online video course, consider implementing a Subscription Video on Demand (SVOD) model. With SVOD, you can eventually charge a recurring monthly or annual fee to provide learners with unlimited access to your course content. This further allows you to create a steady stream of revenue while offering continuous value to your subscribers.
For effective video hosting for your online courses, consider utilizing AVOD (Advertising Video on Demand) as a monetization model. With this, you can offer your courses for absolutely free, while generating revenue through targeted advertising placements throughout the video content.
Offer learners the option to pay for individual courses based on their specific interests and needs. This model allows both flexibility and affordability, as students can choose to enroll in courses that align best with their goals without committing to a long-term subscription plan.
Besides full courses, consider selling individual educational content such as ebooks, study guides, or instructional content. This approach appeals to learners who may prefer to access specific resources or supplementary materials without enrolling for an entire course.
Introduce a premium membership tier that provides exclusive perks to subscribers. This could include perks such as early course access, additional bonus content, personalized support, or discounts on future courses. This model eventually motivates learners to upgrade their membership and provides recurring revenue through subscription fees.
Factors To Consider When Choosing An Online Course Hosting Platform
Now comes the main talk of the town question – Picking the ideal online video platform for hosting online educational courses. To find out the answer, let's get to know several aspects to be considered, which we will review in this blog section.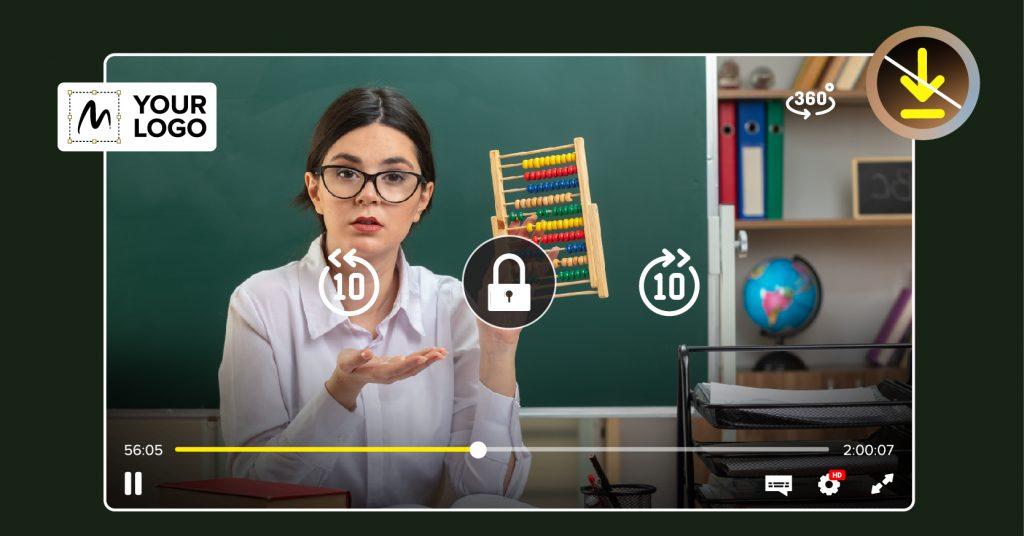 1. Reliable And Secure Infrastructure
When evaluating different OTT platforms, it is best to inquire about their video hosting capabilities specifically. Look for features such as adaptive streaming, which automatically adjusts the video quality based on the viewer's network, ensuring an optimal playback.
The platform should also handle various video formats and offer options for customization, such as adding watermarks or captions to the videos. Likewise, evaluating the platform's storage capacity and bandwidth limits is essential to ensure that they can satisfy your business requirements.
2. Scalable And Flexible Platform
It is worth noting that online course hosting platforms should support a large number of concurrent users without compromising much on performance. The platform should also offer easy integration with other tools, enabling seamless management of your hosting course content.
Furthermore, a versatile platform allows you to customize the appearance and branding of your course website to match with your brand identity i.e., white labeling functionality. It should provide options for organizing your course content to best suit your teaching style.
3. Deep Down Video Analytics
Any day, video analytics provide valuable insights into the end-viewer's behavior. The tracking metrics include view duration (seconds/minutes/hours), click-through rates, and audience retention to gauge the overall effectiveness of your online classes.
Deep-down video analytics can help you understand which parts of your course are more popular and which sections need further attention. By analyzing viewer interactions, you can tailor your teaching approach, create targeted and personalized content.
4. Content Delivery Network
A CDN ensures that your online course content is distributed efficiently and reliably. It helps host online courses for users all across the world by utilizing a network of servers strategically placed in various geographical locations.
By leveraging this form of technology, you can reduce latency and improve the loading speed of your media files. Furthermore, this enhances the overall user experience, as learners can access the content quickly and seamlessly regardless of their present location.
5. Top-Notch Video Security
Video security is one of the crucial considerations when it comes to picking the best platform for online course hosting. This is because it ensures the protection and confidentiality of your online video course content, thereby preventing unauthorized access and piracy.
Indeed, advanced user management options allow you to set different permission levels and restrict access based on roles or membership tiers. Robust video security features, such as encryption and DRM, preserve your online videos from being shared without permission.
6. Massive Online Video Library
A comprehensive video library allows for easy course content management, enabling instructors and learners to find and access specific videos conveniently. An ideal platform should offer robust search and filtering functionalities, allowing users to swiftly locate relevant videos based on subjects, keywords, or specific criteria.
On top of that, an extensive video library enables scalability and growth for your online course business. It allows you to constantly add new content and expand your existing course offerings, accommodating the evolving needs of your learners.
7 Best Online Course Hosting Platforms In 2023
Let's look at the top 7 best course hosting platforms for shaping online education's future are VPlayed, VdoCipher, Brightcove, Panopto, Kaltura, etc…
Created With a Passion For Educational Content Providers

When it comes to the best video hosting platforms for online courses, choosing a white-label platform like VPlayed can ensure seamless branding integration and customization options. The platforms offer robust features, secure video hosting, and advanced analytics to start an e-learning business experience.
The Following Are Some Of VPlayed's Notable Features:
Enhances learner engagement through various interactive sessions/capabilities.
One can tailor the interface, branding, and design to reflect their unique identity.
Offers scalability to support the long-term growth of the online course hosting business.
Comes with high-definition video streaming capabilities that delight learners a lot.
Online course content remains secure and protected thanks to advanced encryption.
2. VdoCipher
Empowering Secure Online Course Streaming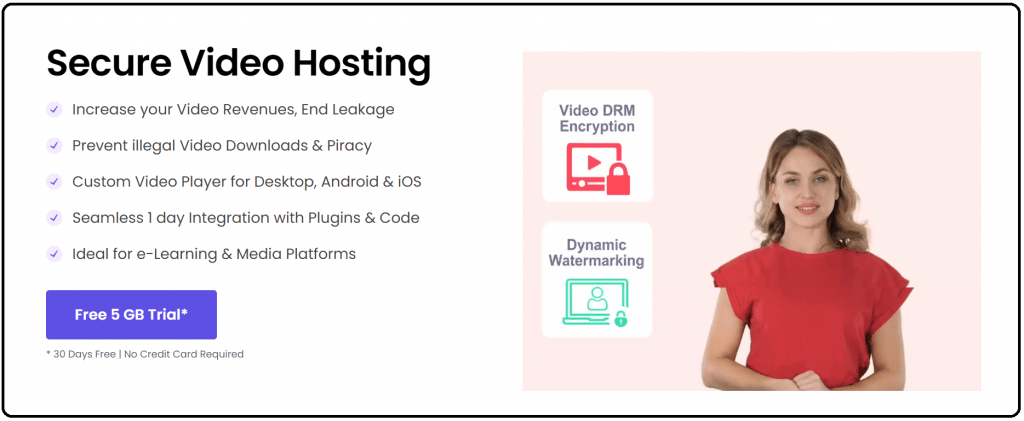 Vdocipher's modern DRM encrypted video streaming technology protects your valuable course content from piracy while building trust. In addition to that, the ability to add subtitles fosters inclusion and deep emotional connection, making Vdocipher an excellent choice for providing engaging and safe educational streaming experiences for your online classes.
The Following Are Some Of Vdocipher's Notable Features:
The video player comes with adjustable speed, forward/rewind functionalities, etc.
Uninterrupted and smooth video playback with AWS-powered infrastructure and CDN.
Dedicated customer support team, ready to provide assistance and guidance at all times.
Employs DRM encryption and viewer-specific watermarks to ensure content protection.
The dynamic URLs and Geo Restriction features further enhance the security measures.
3. Brightcove
Experience Limitless Engagement
Brightcove is a feature-rich video platform for education that share exciting lessons online. It's like a lightning-speed server that gives freedom to stream videos without any delays. And here's the best part – as a content creator or owner, you can earn significant income from your creations, bringing joy and financial rewards altogether.
The Following Are Some Of Brightcove's Notable Features:
The video cloud makes it a breeze to upload, manage, and share your videos.
Delivers the highest quality video even on platforms without native capabilities.
Highly capable of delivering crisp visuals that evoke excitement and capture eyes.
It lets you create and style the video player that reflects your unique brand identity.
Lightning-fast load times that highly engage viewers from the moment they press play.
4. Panopto
Seamless Video Learning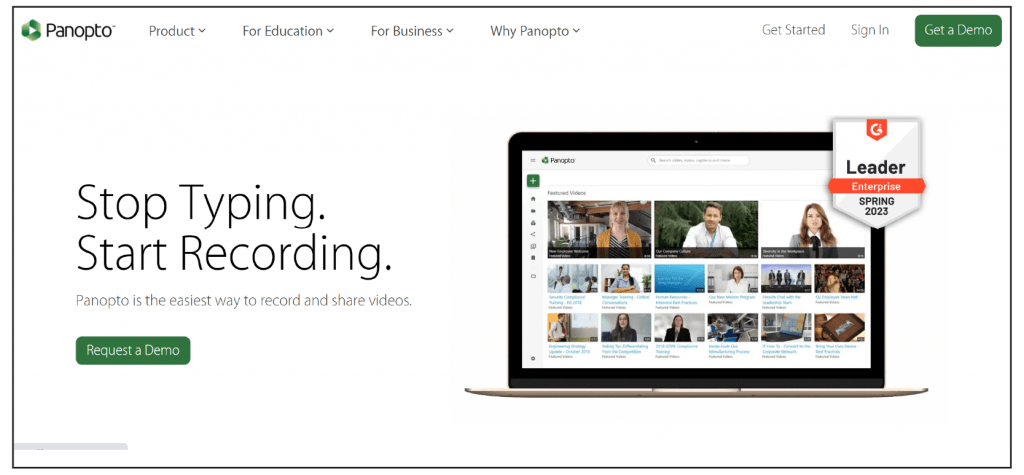 Panopto streamlines online video courses by offering live streaming capabilities, recording, and sharing of video content. Nonetheless, it seamlessly integrates with LMS and communication tools like Zoom, Microsoft Teams, Webex, etc. With Panopto, you can provide learners with lectures, guest presentations, and engaging live webcasts all at once.
The Following Are Some Of Panopto's Notable Features:
Confidently stream videos, ensuring they are always accessible and protected.
Immersive live webcasting capabilities for rapid access to pertinent information.
Connect your secure video library with popular tools like Slack, LMS, CMS, etc.
Capture video feeds from numerous screens, even several feeds at the same time.
Effortlessly create playlists, optimize playback, and much more with just a few clicks.
5. Kaltura
Start Your Educational Streaming With Infinite Possibilities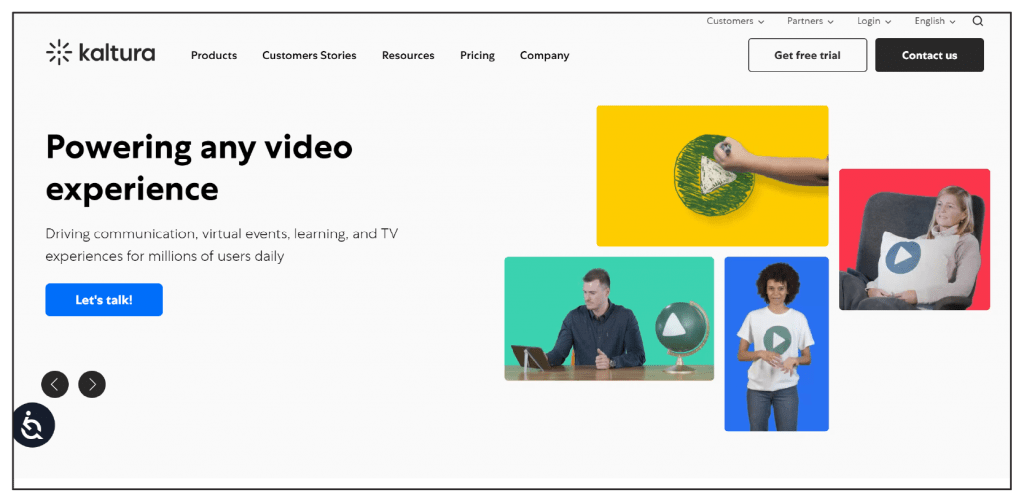 Kaltura is a cloud video platform for educational content delivery. With its powerful features and intuitive platform, Kaltura empowers content owners to capture learners' attention and spark their imaginations. Indeed, the platform offers all of the tools and resources necessary to provide real-time, live, and on-demand experiences for virtual classrooms.
The Following Are Some Of Kaltura's Notable Features:
Personalized video recommendations according to the task.
Various video monetization options for educational content creators.
Extensive analytics and insights for performance optimization.
Comes with a number of interactive video quizzing and assessments.
Intuitive video creation and editing tools that boost up creativity and craft.
6. Vimeo OTT
Educational Content For Everyone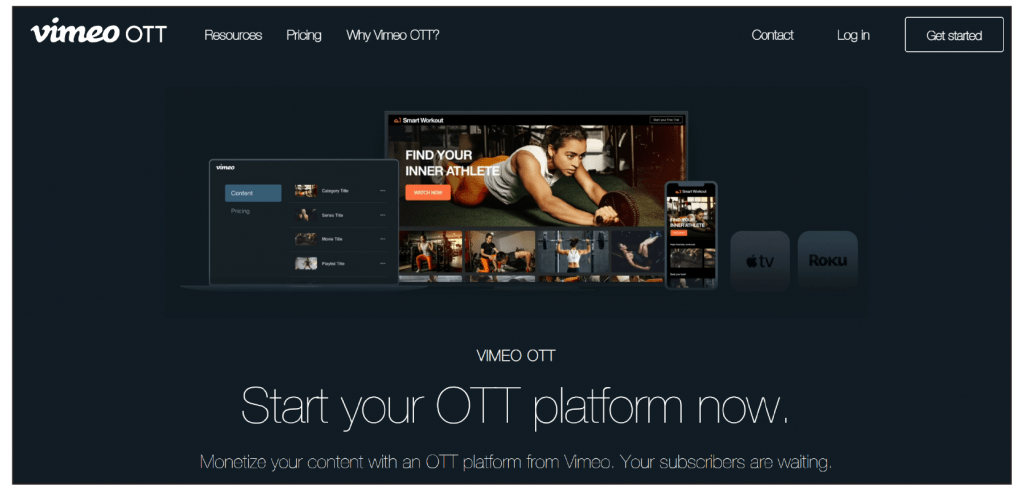 Now it's time for Vimeo OTT, which is considered as one of the top choices among content creators for hosting online video courses, offering a user-friendly interface and configurable options. With its range of offerings, you can gain valuable insights with full access to subscriber data, enabling you to effectively manage churn and fuel the expansion of your video business.
The Following Are Some Of Vimeo OTT's Notable Features:
One can choose from a variety of pricing choices according to their business needs.
Engage learners through subscription videos, on-demand rentals, or real-time classes.
One can educate on any topic, empowering to reach a global audience in a few clicks.
Offers multiple learning opportunities that cater to individual interests and schedules.
Provides flexibility to monetize online classes through subscriptions, purchases, ads, etc.
7. Wistia
Engaging Video Learning Experiences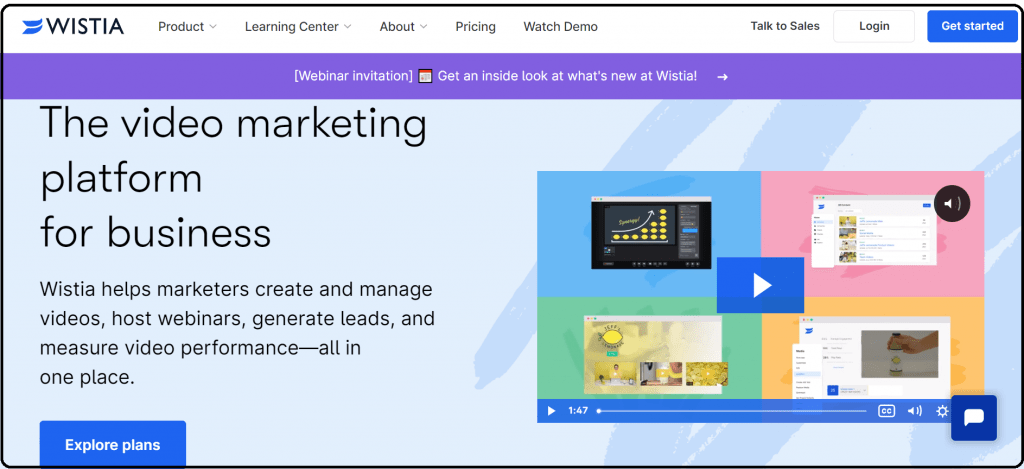 Last but not least on the list of best platforms for hosting online courses is Wistia. With its distinguishing feature of customizable video players, one can easily create an exclusive learning experience. Above all, Wistia effortlessly connects to various marketing automation platforms, amplifying the overall reach and impact.
The Following Are Some Of Wistia's Notable Features:
Flexibility to connect Wistia with popular marketing automation platforms.
Access in-depth analytics and reports to track online video course performance.
Effortlessly manage the video and audio content in a secure cloud-based platform.
Assess learner performance with examination tools, ensuring a thorough understanding.
Customizable video player that can be tweaked according to the end-user's requirements.
Summing Up
As we near the end of this blog, we have discovered a range of powerful platforms, each with its own set of features. Nevertheless, these platforms enable educators to create profound learning experiences, monetize their courses effectively, and analyze learner engagement altogether.
Whether it's the deep video analytics of VPlayed, the secure DRM encryption of Vdocipher, or the all-in-one capabilities of Brightcove and Panopto, these platforms equip educators with all the necessary and industry-leading tools that they need to succeed on a much larger scale.
As we step further, these platforms facilitate educators to create successful and profitable online course hosting. All in all, choose the platform that best meets your needs and aspirations and start on an unprecedented journey of education and growth.
If You're Ready For Online Course Hosting For Your Education Platform, Schedule a Free Demo.