The increase in Smartphones and Smart TV usage has boosted the number of subscriptions for VOD app services across the globe.
These smart devices enable the users to view the streaming videos on any mobile devices which eventually helped in the growth of the VOD app market.
According to a study, the revenue of the VOD global market is projected to increase by 10.17% with a volume of USD 126,548 million by 2025. With an array of VOD models and various platforms to try its business prospects, video on demand app development is also growing simultaneously.
Source: Statista
Before we learn the steps to develop a VOD app, let's learn what is VOD and its market and challenges.
What Is A VOD App?
A VOD or a video on demand app is a software media application system where the users can select any video available in the system to watch at any given time.
The users can watch the videos on any remote device as long as the device has the app downloaded. Also, it has both network access and a subscription to view the videos.
The VOD app enables the user to either stream the video or download it to watch it later. Access to the video library is procured through a monthly or yearly video subscription service.
The VOD apps allow flexibility and the choice to watch the videos of your choice. Moreover, watching videos on VOD streaming can be achieved at a lower bandwidth making it reachable for more users.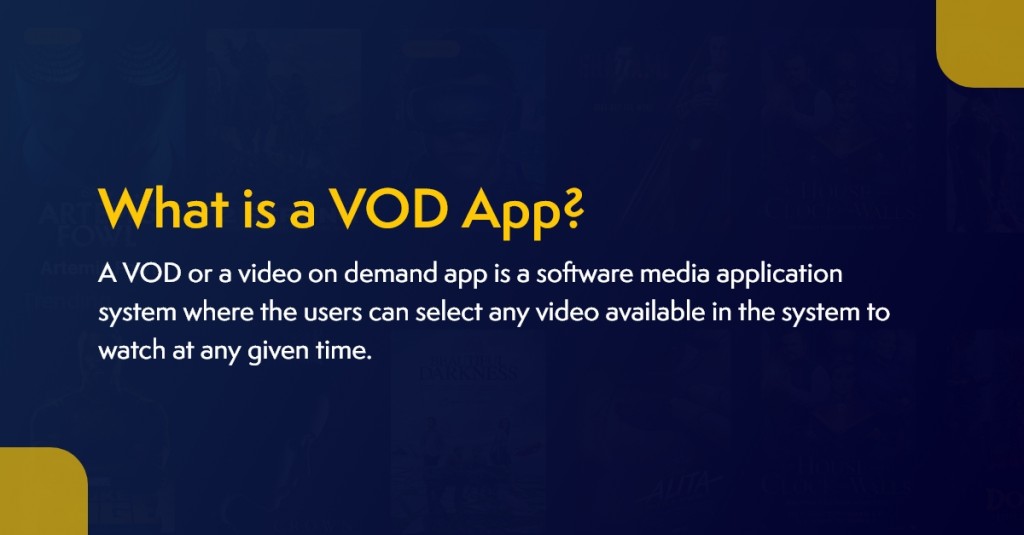 Such flexibility has naturally increased the demand for such apps and subscriptions that people are willing to invest in the video-on-demand applications and their development.
Why Invest In VOD App Development?
The business prospects of the VOD industry is huge as more and more developing economies of the world are seeing a surge in internet usage and the market of smart devices that help with video viewing.
Now is the time to invest in OTT app development as it is one of the fast-growing business sectors.
If you look at the market analysis, it shows that the economically and culturally diversified Asia Pacific region is the one that is expected to have the highest growth with respect to the market and consumers.
The countries in this region are also investing hugely in this industry as well. On the other hand, North America is expected to be the largest video-on-demand market with an increase in the number of consumers, more VOD content, and suppliers.
Europe, Middle East and Africa regions are also not lagging behind.
The increase in demand for video content is partially because of the pandemic and is another reason to make an investment in VOD related apps.
The current leading category that has a higher demand for on-demand videos include education & training, live sports, and media & entertainment.
Each of these categories has the potential to stay for longer and generate higher demand as time goes by.
The flexibility to view these videos on multiple devices is also a huge factor that has pushed the VOD app development business to a new level.
Top Benefits Of Developing a VOD Application
The video on demand app development is a growing business as the number of consumers are on the hike with each passing day.
There are several factors why people prefer this application. Here are the top reasons why one should make a best online video platforms.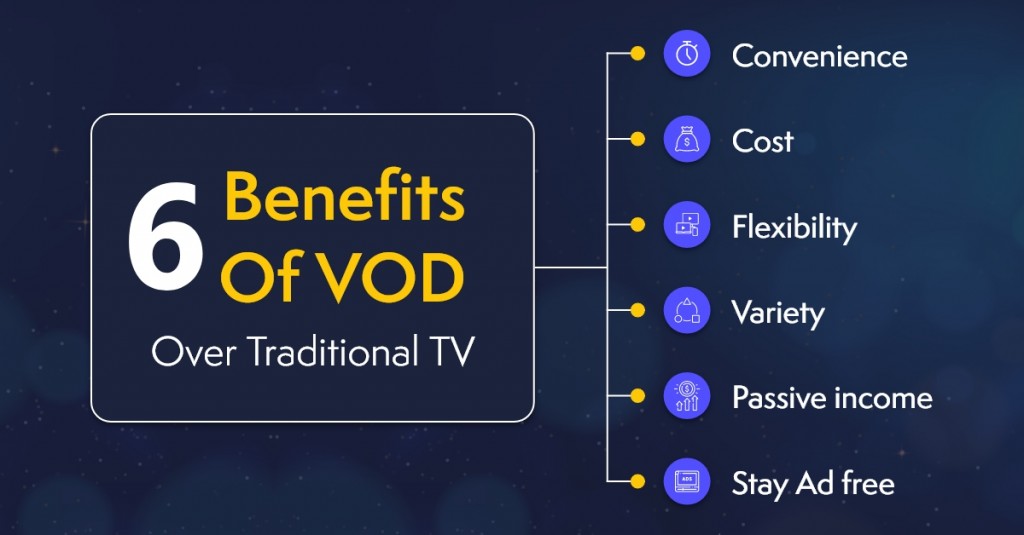 The key reason for choosing a VOD development is because of accessibility, affordability, as well as variety that isn't missed by your viewers at any cost.
Since real-time freedom appeals to the public to watch films, on demand videos, of their choice at any moment, naturally the demand for application development has sped up revenue in great heights.
Here are the top reasons why one should make a customized video on demand application.
Convenience

Cost

Flexibility

Variety

Passive Income

Stay Ad free
1. Convenience Guaranteed On The Go
They generally give an easy to use and comfortable viewing experience for your users as it allows them to stream videos at any moment from anywhere in the globe.
They no longer have to adjust their schedule to match their favourite movies or matches, instead, they can stream the videos when they are ready to.
2. Cost-Effective For Broadcasters
People prefer low-cost entertainment app to watch numerous content were they can explore maximum benefits of choosing.
Also, content owners within their newly-built application can fix flexible viewing charges and provide unlimited access to their video content from the library as well.
Most importantly, it is not partnered with any providers who seek to take a pie of profits.
3. Device Flexibility At Any Corner
The adaptable grounds are seamlessly more since these customized OTT apps are accessible from any device with internet access and specified apps in their devices.
Remote access to these applications is a greater driving force that attracts more users.
This is where the maximum capitalization must be done and invest in some user-friendly video streaming app development.
4. Variety of Options To Cast
VOD website provides a variety with the type of video streaming. The videos will be categorized into movies, TV shows, sporty VODs, fitness workouts, etc.
Each of these categories may also be further subdivided for easy access making it more effective and functional.
5. Passive Income That is Predictable
Earn your day-to-day revenue in the best way were you can instantly provide a pathway to acquire new customers not only for content originators but also for those who use the space to launch their videos as well.
The SVOD subscription platform options provide passive income month after month or on a yearly basis.
6. Stay Ad Free With 0% Distractions
Constant showcasing of ads in between the movies is surely a major downside of television viewing and that of the other popular video.
This removes anticipated obstacles and helps with videos making it ad-free.
Want To Launch Your Own VOD App For Entertainment Streaming?
Don't Miss to Integrate Must-Have Features While Developing VOD Application
When you set out on a business venture to start developing a VOD application there are a few features that are important to analyze, assess and map your user viewing strategies
which can help you to add them before you could build a video streaming app and find maximum ROI.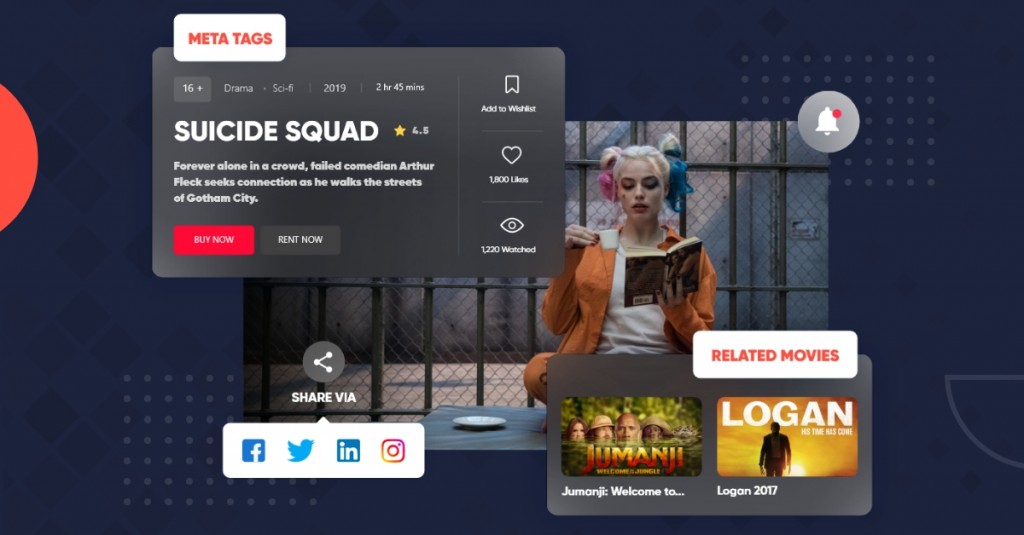 Meanwhile, we have done some fundamental research and collected the list of essential features that set the backbone of launching your video on demand app.
100% Customizable

Whitelabel

Video Player

Reliable best online video hosting

platforms

Progressive Web App

Multiple Revenue Models

Analytics

Security

Video Marketing
🔹 100% Customizable For Niche Industries:
The VOD application must be customizable for the benefit of the creator to develop its own monetization models for maximum ROI as per the business demands.
🔹 Whitelabel Services to Own them:
The services ensures that the best white label streaming services provided will be completely under the ownership of the creator.
🔹 Integrate Robust HLS Video Player:
A high-quality hls video player that can retain the video authenticity and make it compatible for all medium which will be highly convenient for easy viewing on multiple devices.
🔹 Manage Priceless Assets with Video CMS:
The in-built content management system must be helpful to improve the productivity of each content by ensuring their particulars.
🔹 Reliable Infrastructure for Video Hosting:
It is provisioned on cloud with a secured network of VOD hosting that increases the overall potential of your VOD app.
🔹 Progressive Web Apps for Mobile Home Screens:
Deliver the content on the web and other native apps to have an app-like experience from anywhere. Additional features such as push notifications and smaller app size would make it a hit among the users and produce more user engagement as well.
🔹 Multiple Revenue Models to Stimulate Growth:
Unlock VOD app development service's potentiality through best video monetization platforms were revenue-models like subscription video on demand, transactional VOD, third party ads or server ads with options to disable or engage them are given to grow exponentially.
🔹 Analytics to Be the Game-Changer Everytime:
Seeing analytics to implement effective changes in the content creation, attraction and management helps to improvise the quality of the content as well as in its distribution process. This will always be a great resource in order to increase traffic and engagement.
🔹 Security protocols shielding content's originality:
It is important to have end-to-end encryption support through the advanced DRM system, SSL Certificate, with the added advantage of geo blocking the content in specific areas, which can be also a valuable showcasing strategy.
🔹 Video Marketing to Increase Conversion Rates:
It is found to be more effective than email marketing. The top VOD platforms must provide the opportunity to generate video emails that help to increase the user engagement rate and the overall business value.
How to Get Started to Build a VOD App?
The next step is to build an alluring app from video streaming solution and entice your viewers with top on-demand content that can be availed by all users in Android, iOS, Web apps, TV apps, etc and take a look at this checklist that helps you to pave the way for to build an VOD website.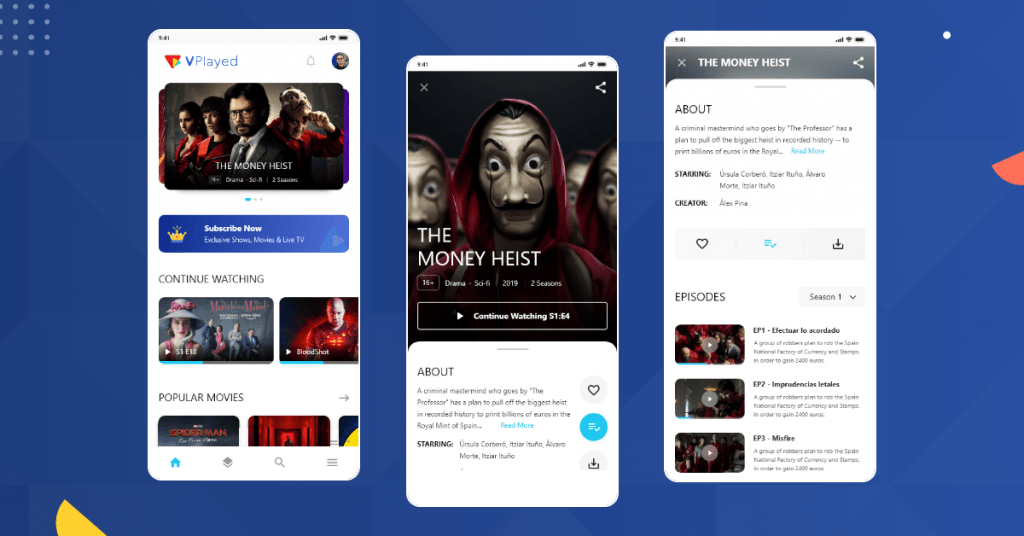 You can have variety of apps with distinguished video services
Registration through Multiple Sources
Multiple registration choices must be prioritized by the OTT platform development team in order to make sign-ups quick and direct.
Users should be able to join up using any social network account if you want to optimize subscriptions.
2. Recommend User New Picks
Advanced analytics, with the help of artificial intelligence, will collect and monitor user ratings & reviews in order to recommend and filter the final content that will be presented to the user's screen.
3. Business Analytics in Real-Time
A crucial component of a VoD app, which would aid media & entertainment company's strategic plans on how and when to advertise their material.
This would be demonstrated via statistics in the form of pie charts, reports, and dashboards.
4. Online Asset Management
The video on demand app store helps in the organisation of digital assets (videos) by allowing for secure inventorying of videos with restricted rights.
5. Categorical Management of data
All data from video apps is archived carefully for future use. Any relayed stream is delivered directly from the server to the user's device and is erased once it has been seen.
After the broadcast, this function ensures that the video provider's server completes the transmission.
VPlayed is an ideal option to start your VOD app or website as it comes with all features to make the perfect video on demand application with added advantages of customization and security.
How Do I Launch Video On Demand App?
The method of creating an on-demand app is identical to that of creating other apps. On the one hand, you'll be entering a lucrative and competitive field.
Also the on-demand app is extremely well-known in the marketplace. Consider the following procedures while designing on-demand app.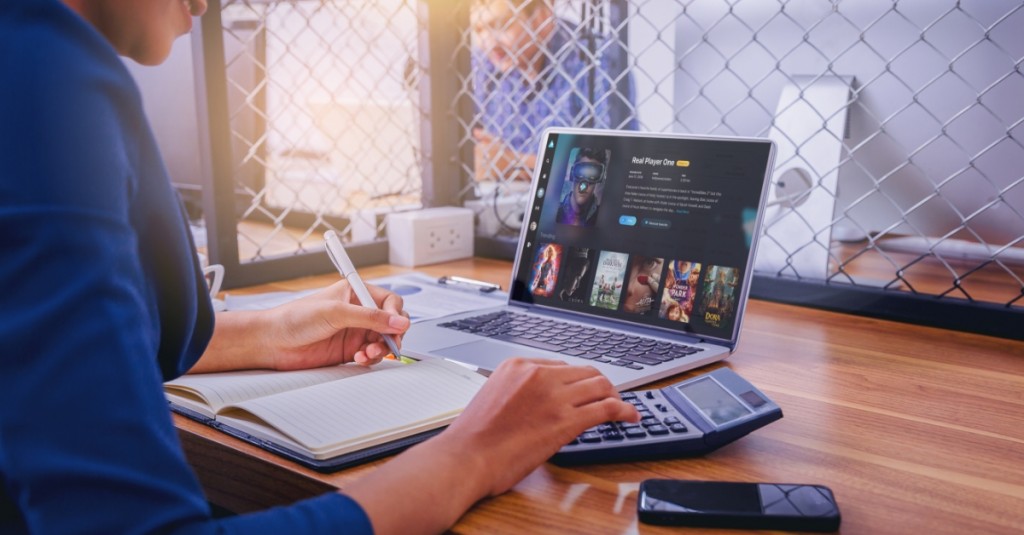 Step 1: Understand Your Customers' Needs
You must first determine the demands of your target users.
If it refers to the group of people who are most likely to use your service that you provide. You can run a campaign to better understand your users.
Step 2: Examine Current TrendSetters
We all know that the on-demand business is so competitive, so definitely researching app specifics is in the to-do list. However, it is preferable to devise a distinct approach for dealing with your opponents and topping the competition.
Step 3: Choose an Appropriate Business Model
It's crucial to figure out which company plan best meets your needs. There are two types of business models that are widely used.
The first is to create an app for your current business, and the second is to have an app without having to directly handle the business in executional level.
Step 4: Determine which features should be prioritized
Sign up, Real-time tracking, Filters, Shopping cart, Payment gateway, Ratings & reviews, Push alerts, and many other features are all available.
Regardless, add unique features to help your on-demand app stand out from the crowd.
Step 5: Create a Friendly Budget
Before you go any further, you should figure out how much it would cost to construct such on-demand app. The cost of app development varies and relies on a number of factors.
App features, technology stack, app development business location, UI/UX design, third-party service integration, and so on are all included.
Step 6: Select the Appropriate Technology
Each app's technology is unique. The following is a list of some of the common technologies used in the development of on-demand apps.
Backend – PHP, MongoDM, MySQL
Frontend – HTML5, Javascript, Angular
Android – Java, Real
iOS – Realm database
Step 7: Pick a selective monetization strategy
Now you must decide how you will monetize your on-demand service app. Collaborations and subscriptions are the most frequent ways to monetize an app.
It's also fine to have your own video monetization platform & strategy, such as TVOD, Coupons & Promotions, In app Purchases, etc.
Step 8: Choose an Apt App Development Company
Consider hiring an app development firm with the top video streaming services with huge experience in your industry.
After you've finished developing your app, publish it on the platform of your choice to have added customers.
Step 9: Consider Updates
After you've launched the app, the work isn't done. Keeping an eye on your on-demand app's performance to enhance it in real time is quintessential.
This can be evaluated by studying user comments and analytics in live dashboard reports.
How Much Does It Cost To Develop a VOD App?
The cost of the app development for VOD depends on various factors. The main factors include the type of app, app maintenance, etc that would together make the cost higher.
To know the exact cost with other things that you need, you can reach out to the sales team of VPlayed & you could get assured with valuable assistance.
On a custom VOD solution such as CONTUS VPlayed, one can easily develop an app or website at a much lower cost.
Here it does not follow the fixed rate instead the cost depends on various features that are included to have a customized application for their dearest customers.
Conclusion
The video-on-demand market is steadily growing at a faster pace with the simultaneous growth of the VOD app development industry.
The market shares and statistics heartily supports investment in app development.
Moreover, video-on-demand broadcast help to reap benefits for both the content creators and users by approaching economical video-on-demand solutions.
They come with all the necessary factors that would make it possible for a low-cost website or app development and get maximum benefits through distinctive monetization models.
If You Already Have An Idea About Building A VOD Application, Schedule A Free Demo And We'll Get You On The Road To Video On Demand Success!
Frequently Asked Questions (FAQ):
1. How To Build A VOD Application For Android & IOS?
When you plan to work on VOD which stands for video on demand app development  make sure to have a simple interface & doesn't require much need for a professional level of coding. Whether it's with android or iOS,  you can develop them in 2 ways. One, hire a developer to create an app from scratch or lease it to make it along with customization.
2. What Are The Benefits Required For VOD App Development?
The following are the top six reasons why people choose video streaming applications to traditional TV content. So make sure your app, which was launched using advanced VOD app development, includes all of these features!
Anywhere, at any moment in a click of a button
A wide range of content with zero device dependence
Viewing without advertisement interruptions
Users can save money using economical services.
A consistent flow of passive income
3. What Are The Features Required For A Video On Demand App?
Since the streaming industry is such a competitive market, it's critical to evaluate, map, and analyse your target audience's viewing preferences before coming up with a list of crucial qualities to consider in a VOD app. They are some of them like: 100% Customizable,  Whitelabel Solution, Digital Asset Management, Real-Time Analytics, Social Sign ups, Multiple Revenue Models & much more.
4. How To Monetize Your VOD App?
You can now unlock the power of VOD websites by a number of monetization opportunities such as SVOD, TVOD, AVOD, In-app purchases, coupons & promotions & much more. Also you can make surplus money using live streaming, payment gateway integration and many more to come along your way.
5. How Much Does It Cost To Build A Video On Demand App?
The entire cost of establishing a video on demand website will be determined by a number of elements, including the app's genre and size, integration channels, platforms, devices, customization, maintenance fees, and other integrated infrastructure. Combined configuration VOD with all kinds of essential features, mean that professional expertise & technology stack play a major role in envisioning your business vision.