Are you in search of the top OTT platforms available?
You have come to the right place.
We'll provide you with comprehensive information about top OTT platforms, including the top providers, their advantages and disadvantages, and more.
In the end, we'll help you choose the best OTT platform to establish a thriving streaming business. 
Building an OTT platform is a sophisticated task, let alone maintaining the same in the long run.
Why..?
Because it requires diverse expertise to develop and sustain various components of an OTT platform.
However, to help you save some precious bandwidth — after in-depth research — we have compiled a list of some of the world's leading OTT platform providers based on some of the most common use cases.
The Best OTT Platforms To Build Your Streaming Business
"Creating great video content is something that is only limited by the imagination of creators. The challenge is ensuring that you maximize the available audience size of that content"
– Greg Armshaw OTT TV specialist and sales leader.
The reasons for the surge in demand for streaming content on over-the-top or OTT platforms are apparent: it can be accessed anywhere, anytime, and for as long as anyone wants.
And it's no wonder this content consumption mode is getting increasingly popular.
---
The market projections suggest user penetration is on the scale of 25.8% in 2021, and is expected to hit 32% by 2025.
---
The changing dynamics of the OTT market
Consumers are broadly classified into two groups based on their preferences for modes of consumption.
Type 1 consumers have gone so far as to completely abandon their traditional linear TV service in favor of streaming video content on a customized platform — known as the "cord-cutters."
Type 2 consumers – are viewers in two minds to adopt video streaming against linear TV — the "cord-shavers."
Some of the best video streaming services, like Netflix, Hulu, Disney Plus, and others, have displayed sky-high streaming emergent trends, leaving a huge impact using OTT technology.
Viewers require a compact OTT streaming media device like Smart TVs, Roku, and Gaming consoles to watch large volumes of content without restrictions.
---
"The number of OTT user consumption is expected to rise faster & reach about 462.7 Million by 2025! – Statista"
---
Some industry-specific content owners depute OTT platform providers to build a platform and offer a scintillating viewing experience to their audience.
For example, let's say you're an entertainment content owner looking into building a movie streaming platform…
…you can offer on-demand entertaining snippets or movie clips in VODs for a fixed price.
Or you can also use an OTT video streaming platform to give video courses as a monthly subscription if you're a fitness coach who sells online courses or live-stream events.
Based on features, pricing, support, marketing, and more, we have reviewed and shortlisted — from our perspective — some of the best (and pragmatic) OTT platforms to monetize your video content in this guide.
But, before we proceed…
… let's understand the basics first.
So,
What is an OTT Platform, after all?
An OTT video platform, also known as an over-the-top platform, lets you build multiple premium video streaming services using a single, integrated OTT application software.
You can stream real-time feeds with a steady internet connection and monetize as much content as you want by directly approaching your end consumers.
Using an OTT platform, you may develop your own custom-branded applications for subscription services like Roku, Smart TV, or even gaming consoles.
Plus, connecting with viewers on their chosen device makes your content even more valuable, and keeps your audience coming back for more.
And if you wonder, it is not just about streaming videos alone. An OTT platform also allows you to…
Organize your videos
Create HD recordings of live feeds
Monetize your videos in a variety of ways
Create subscription-based video packages
Make better use of user analytics
---
Also Read : What is OTT? A Definition of OTT & Its Meaning
---
So, let's keep it clear.
An OTT platform is more than a simple video streaming software.
It lets you take complete control of video handling and the user experience and offers infinite scope for personalization.
In a nutshell – if you're a content owner or content aggregator – building an OTT platform helps you rapidly grow your business by reaching a global audience.
Top OTT Platform Providers in 2023 – A Detailed Comparison
The best OTT(over-the-top) platforms in 2023 as rated by experts include the following: VPlayed, Kaltura, Dacast, IBM Watson Media, Vimeo OTT, Brid TV, JW Player etc.
The detailed comparison of the same – stacked in terms of parameters like features, performance, tech support, and pricing (and so forth) – follows.
Superior All-round OTT Video Platform For Global Audiences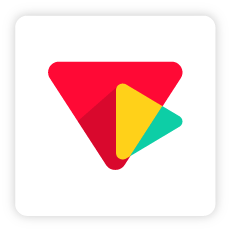 CONTUS VPlayed
What is VPlayed? A fully customizable, rich and robust OTT solution that helps all kinds of media streaming businesses leverage the power of video distribution and build their video-based streaming platform.
Try VPlayed
Leading OTT Platform to stream & monetize your content across regions and devices.
VPlayed is an established player in the industry.
They offer OTT solution to media broadcasters, television production houses, content owners, and others to develop a White label-upgraded OTT video monetization platform.
Content owners can stream HQ video content across devices like Web, Android, and SmartTV.
Customization lies at the heart of VPlayed's white label OTT platform.
It is 100% customizable and offers infinite scope for further personalizations to suit your demands.
Some of the major benefits offered by VPlayed include:
VPlayed's Whitelabel OTT allows you to create and personalize your OTT platform
Built-in video content management system to upload and manage your entire archive
Cloud transcoding streaming technology to compress video files
Simulcast your programs/content to the global audience with the HLS streaming feature
6+ revenue monetization models to triple your streaming income
Certified Multi-DRM protocols for enhanced security
Pros:
Everything is covered under a one-time license fee.
Every industry can harness the expertise of streaming
Effortless migration from one online video platform to another
The pluggable microservice architecture enables fast, cost-effective upgrades in any application
VPlayed OTT Platform Pricing:
For quote-based plans, fill out this inquiry form, You may also opt for Free Demo Here

All-in-one OTT platform with a full range of streaming possibilities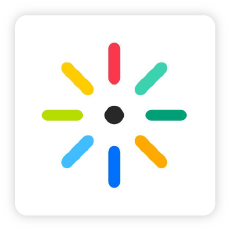 Kaltura
What is Kaltura? Kaltura's live and on-demand video SaaS solutions teach, study, communicate, cooperate, and entertain thousands of businesses, media outlets, and educational institutions worldwide.
Try Kaltura
Leading OTT platform with a full range of streaming Versatile & Flawless Video Solution
Kaltura's SaaS-based platform gives you flexible streaming options through live and on-demand videos.
It includes video communication tools, – such as – virtual meetings, live webinars, motivational podcasts, and interactive town halls.
In addition, you can organize meetings and webinars by creating "private rooms" for users. This makes it ideal for those hosting invite-only or registration-only events.
Some of the prominent benefits offered by Kaltura include:
Data-driven tools for OTT video platforms that are impactful
Transcode for the finest possible streaming quality on your own OTT platform
Real-time audience analytics can help you improve your video marketing
It provides your viewers with a highly tailored live and on-demand TV experience
Pros:
99.995% guaranteed uptime
It's completely modular and integrates with a variety of third-party services.
Customer support all-time round-the-clock
Number of viewers with granted video API access
Kaltura OTT Pricing:
Details on its paid business and corporate streaming plans are available upon request.
With that, a 30-day free trial is also offered.
Leading OTT Streaming Platform for any Organization with powerful CDNs.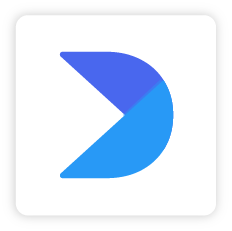 Dacast
What is Dacast? Dacast is a video platform for distributing high-end, simplified media content that has been made available. The business aims to provide all-in-one video streaming at the most competitive prices.
Try Dacast
High-end OTT Streaming Platform for any Organization video Solution
Dacast is an OTT platform that offers both VOD and live streaming. It includes a robust set of features that suits professional broadcasters.
On Dacast, It is simple to send video content to many audiences and broadcast it in various ways worldwide.
In addition, Dacast's pricing has multiple options if you want to construct an OTT streaming service.
Some of the prominent benefits offered by Dacast include:
Secure, global content distribution, including industry-leading video
VOD hosting for streaming and on-demand video security features
Password control, tokenized access, encryption, and referrer restrictions
For event and scale plans, 24/7 tech assistance is available via email and
Live chat, as well as voice-call assistance
Pros:
Real-time video streaming analytics
M3U8 media links to stream to mobile
Smart TV apps such as Roku, Apple TV, etc.
Mobile device support
Live stream recording
Tired of using Dacast?
See why Dacast is not suitable to manage Your OTT platform and why you need a
Dacast Alternative
Dacast gives broadcasters OTT streaming pricing options, including:
$39/month for the Starter Plan (includes 100 GB of bandwidth & 50 GB of storage)
$63/monthly event plan (includes 6 TB of bandwidth upfront and 50 GB of storage)
Monthly Scale Plan: $188 (includes 24 TB of bandwidth per year and 1 TB of storage)
Enterprise-Grade OTT Platform with Pre-Built Video Apps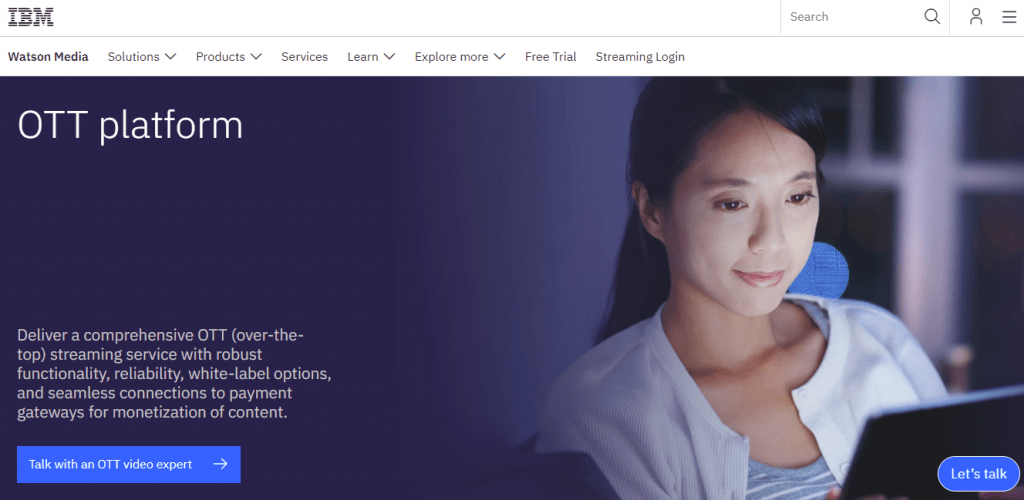 IBM Watson Media is an OTT app development company that can help you manage and monetize your platform while concurrently delivering content across multiple devices.
Producers, marketers, and businesses may all benefit from this OTT platform.
While appropriate for enterprise use, it is also suitable for small creators and small-scale SaaS businesses.
Some of the prominent benefits offered by IBM Watson include:
An OTT software with the best CDN infrastructure
List your OTT platform all over the world with a live and consistent VOD streaming service
OTT platforms in the United States have license enforcement with copyrighted content
Use data analytics to study your target audience via customized OTT apps
Pros:
Real-time polling and clickable video overlays
HD transcoding via a range of bandwidth connections with password
security protocol and channel modification
You also get a 30-day free trial with full functionality.
IBM Watson OTT Pricing:
IBM Watson Media provides three pricing plans:
Silver: $99 per month

Gold: $499 per month

Platinum: $999 per month
Full-Scale OTT Video Subscription Platform For the Best Viewing Experience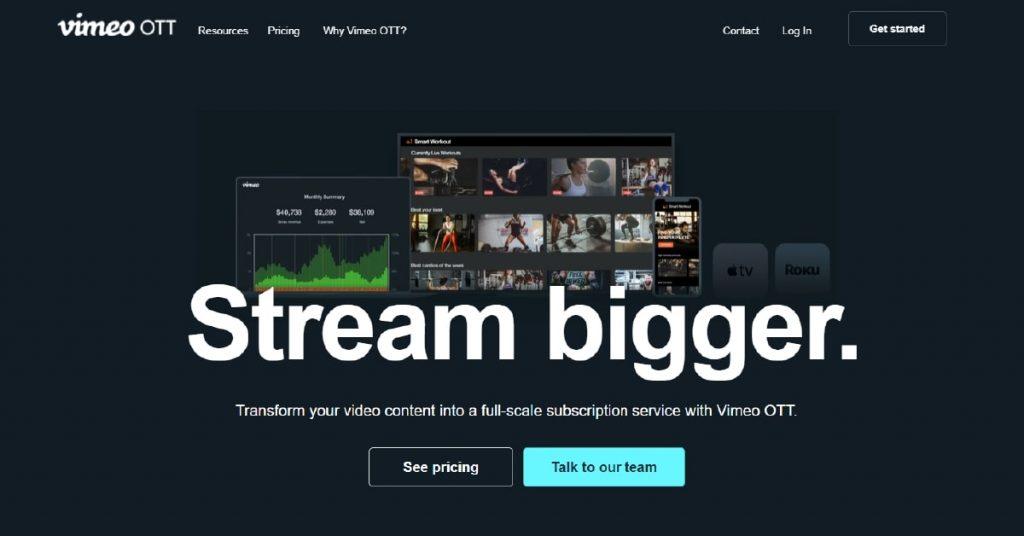 With a customer base of over 200 million users (as of 2021), Vimeo is easily one of the top OTT streaming services in the United States. It offers a wide range of streaming services.
In addition, it has gained widespread acclaim for its robust video monetization platform, creating 15000+ in-house apps and customer lifetime value.
Some of the Vimeo OTT highlighted benefits include:
Simple to use channel creator
Content distribution networks around the world
Live streaming and video hosting
Strong reporting and analytics
Access to the Vimeo inventory
Allows for playback on demand
Round the clock customer support
Pros:
Live streaming is possible with any bandwidth
Create a customized player with professional graphics without an encoder.
Tools for real-time engagement
Streams with password protection
Vimeo OTT Pricing:
Starter Pricing: $1 per month per subscription

Starting at $500/month, growth pricing is available.

The Vimeo.com partnership comes with this OTT-specific pricing package.
These options provide everything you'll need to get started with a web-based channel and build your OTT platform business online.
Tired of using Vimeo OTT?
Set Up Your Online Video Business with the Best Enterprise OTT Streaming Platform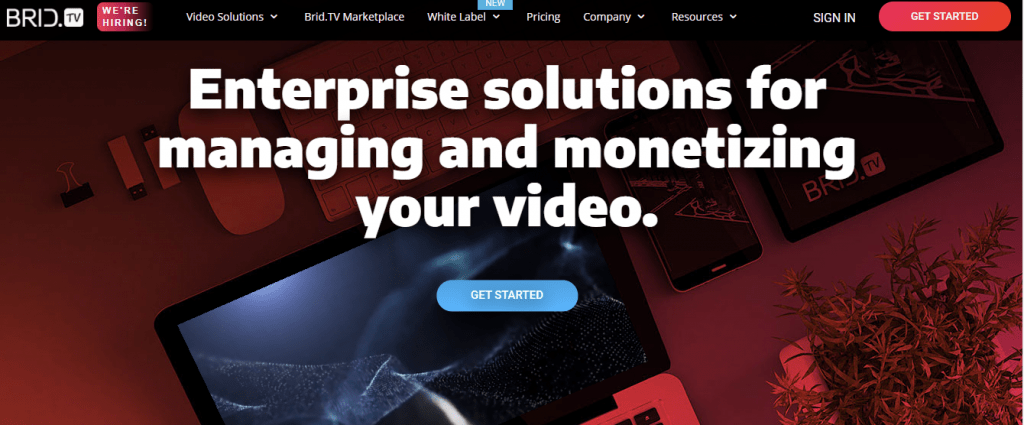 BridTV provides a seamless platform for broadcasting videos globally on PCs, mobile devices, and tablets.
In addition, BridTV streaming collaborators pair up with the top ad providers to enhance your video revenue-building strategy. For example, because they collaborate with Google ADX, you may get detailed information about the revenue generated thereof.
Some of the highlighted features of BridTV include:
Video content management platform to perform functions batch-wise
Detailed analytics for each user, including bandwidth consumption
Direct import to YouTube & other platform videos
Technologies like AI used for article matching
Social sharing with analytics & reports
Pros
Super-fast playback

Superior functionality

Ad- Revenue Platform
Brid TV Pricing
Flexible plans to suit your business needs

They provide free trials

Free version available
The Powerful yet Flexible OTT Video Platform on a Device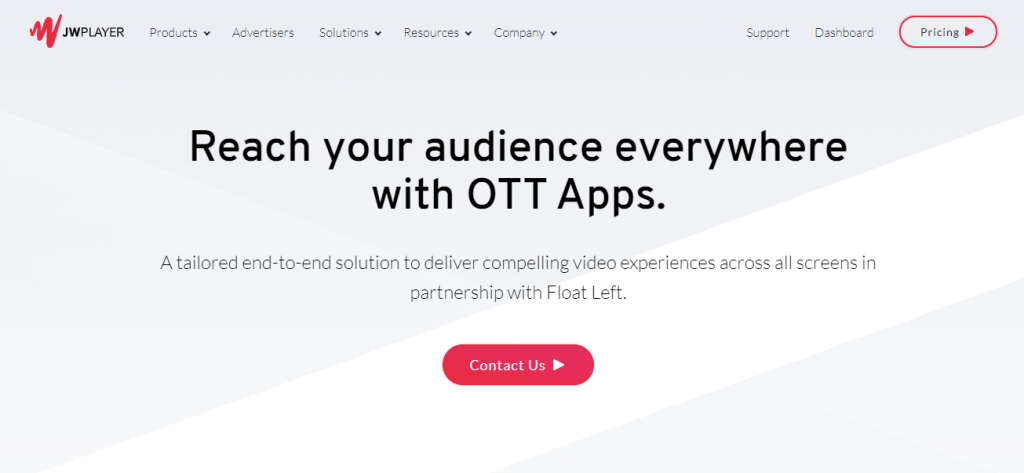 JW Player is a robust OTT platform that provides high-quality video content to your audience across devices.
And the highlight of JW Player is that it delivers the most exciting and relevant stuff to your viewers in real-time based on their preferences.
Some of the highlighted features of JW Player include:
JW Player delivers superior CDN streaming to all its users worldwide
Multi-bitrate and adaptive streaming technology to distribute videos
Simple platform that emphasizes comprehensiveness through self-navigation
It's always there to help with technical questions and complaints
They offer Video API access, which is likely to be beneficial to all plans
Pros:
Excellent marketing tools

All plans have access to the video API.

Platform is user-friendly

Adaptive streaming & Multi-bitrate streaming
JW Player OTT Pricing:
Starter – $10/Month

Enterprise – Please contact JW Player for special pricing details
An OTT Video Streaming platform with Industry-Leading Technology

Wowza is a platform designed to provide an interactive and entertaining live-streaming experience.
It delivers a variety of developer tools for speedy channel building that include streaming clouds, video APIs, SDKs, and sample code, among other things.
Besides, with the Live Encoding support, you may hire a remote coder to assist you with your project.
Some of the essential OTT business-building features offered by Wowza are:
A quick encoding feature to produce high-quality video
Source authentication access control protects live, and VOD feeds
Scale live and on-demand streams with the Wowza CDN infrastructure
Wowza has various features, including live video, VOD, etc.
Pros:
Content protection with a high level of security has been extended

Closed captioning is integrated

High-security measures are in place
Wowza OTT Pricing:
$125 per month for software (Downloadable Media Server Software)

$149 for one month of streaming (for controlled live-streaming service)



An Advanced White Label OTT-TV Platform to Empower Your Business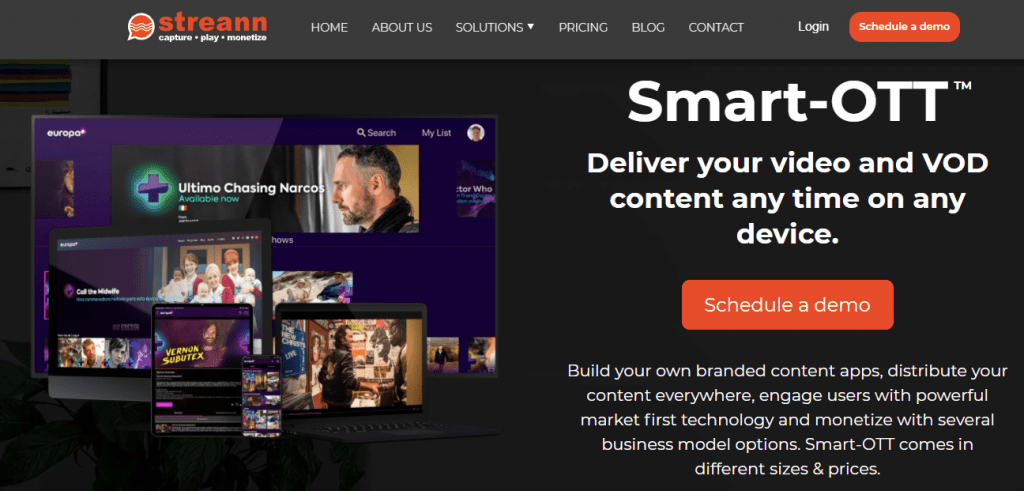 Streann provides a "Smart OTT" platform that assists broadcasters in developing apps that distribute content to users.
Streann's software offers a professional broadcasting experience, although being slightly on the more expensive side. Thus, it's aimed primarily at large companies with complex broadcasting requirements.
A breakdown of important Streann OTT features include:
OTT (over-the-top) Streaming
Hosting live and on-demand video
Chat in real-time
Making a multi-screen app
Advertisement monetization
Effective video analytics
Simulcasting
Completely immersive streaming video (AR and VR)
Pros:
Puts much emphasis on video high quality

No sorts of hidden costs

Provide complimentary hardware and software
Streann OTT has two broadcasting pricing plans to choose from:
Professional: $1,995 per month is the starting price

Premium: Premium plans are tailored to TV-quality streaming and are priced individually.

For further information, contact Streann
Empowering Your Streaming Experience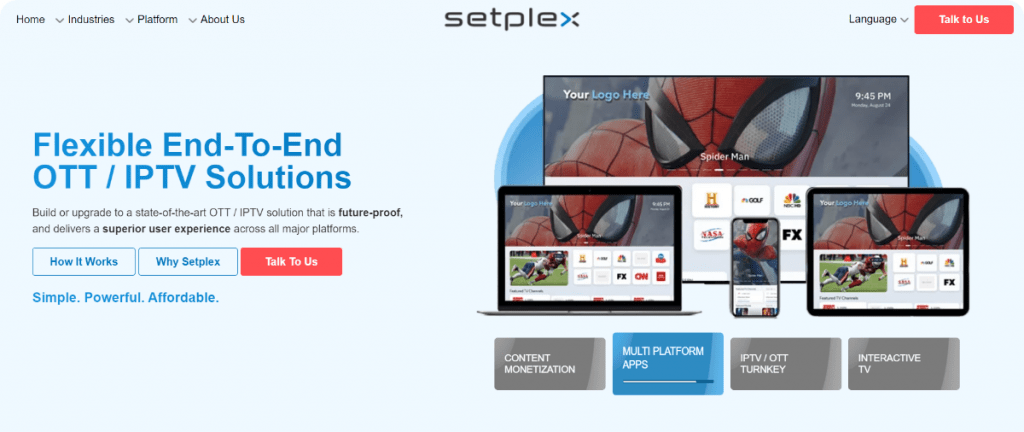 Setplex is one of the leading providers of end-to-end IPTV solutions for OTT service providers and operators. Their innovative approach and cutting edge technology allow them to offer custom-tailored solutions to meet the unique needs of each of their clients.
Like many OTT providers, Setplex also believes that the future of television lies in the OTT services, and they are committed to helping their clients stay ahead of the curve. Setplex solutions enable operators to deliver live TV, catch-up TV, on-demand video, and other interactive features to their viewers on any network device.
Some of the noteworthy features of Setplex includes:
End-to-end IPTV solutions for operators and OTT service providers.
Tailored user interface with advanced features and branding options.
In-depth analytics to monitor viewer behavior, service performance, etc.
Advanced security protocols to protect content from unauthorized access.
Reliable CDN that ensures high-quality video streaming with minimal latency.
Compatible with a range of devices, including smartphones, tablets, set-top boxes, etc.
Pros
The platform supports a wide range of devices and operating systems.
Clients can customize the user interface to match their branding and style.
Offers comprehensive technical support, including a dedicated team of experts.
Flexible billing options that allow clients to monetize their content effortlessly.
A range of online video streaming solutions to accommodate growing audiences.
Allows clients to manage and organize their content with ease, including scheduling, metadata management, and VOD asset management.
Setplex Pricing
Setplex offers custom-tailored solutions. So, the pricing depends on factors such as the size of the audience, the number of channels and features required, and many other factors. Clients can contact Setplex directly to discuss their specific needs and receive a personalized quote.
The OTT platform provider is known for cloud-video technology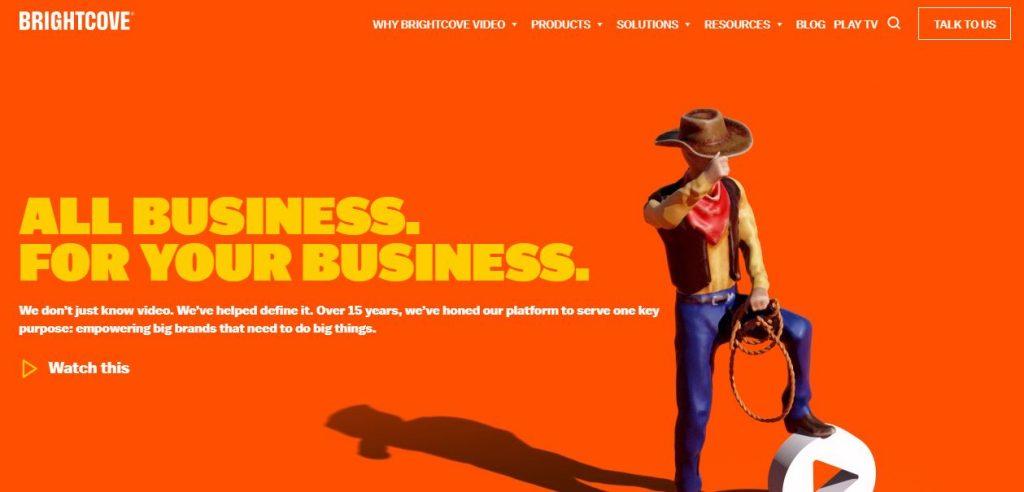 Brightcove Beacon — one of the esteemed OTT solutions providers – assists you in growing and nurturing audiences worldwide with flexible monetization options.
Brightcove has a wide presence with about 16 global data centers; they deliver about 875 million views within a week via their superior services.
Some of Brightcove's top OTT platform features are:
Monetization via OTT advertising, subscriptions, one-time purchases, etc.
An advanced content management system that includes playlists & carousel curation
Compatible video formats across all devices for a consistent viewer experience
Best platform for secured storage & OTT content distribution with DRM rights
Integration with Google analytics for all-device viewership reports
Pros:
Viewers can record & playback live streams
Designed for both small and large business brands
Provides API access with analytics
Global content delivery with device-management control
Supports Media & Broadcasters, Sports Industry
Tired of using Brightcove?
Brightcove OTT Pricing:
Brightcove's OTT pricing plans are all custom-tailored and targeted towards the top of the market. Interested professionals in utilizing their services should get in touch with them directly, for the estimated quote.
Top OTT Solution For Launching a World-class OTT Apps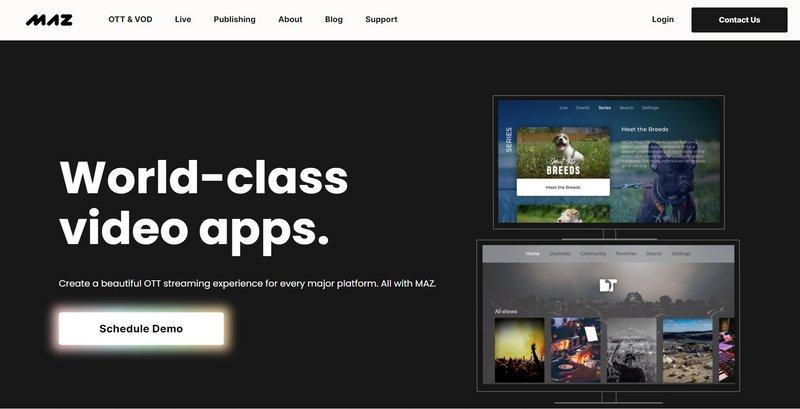 Maz offers a fully customizable, branded OTT platform without the help of designers or streaming experts.
Its service is trusted by the world's largest media companies, who benefit from the 8X tailored sessions and a 150 percent faster market hit time.
They develop applications to publish in Roku, iOS App Store, Amazon Fire TV app, Google Play, Apple News, etc.
Some of the powerful OTT streaming platform features of Maz are:
Provides ad integrations to scale up streaming content flexibly
Incorporate best monetizing opportunities like paywall subscriptions
Live streaming with high-quality video technology
Own a content management system to manage content effectively
Sophisticated cross-platform to simultaneously cast anywhere
24*7 customer support along with customized layouts
Pros:
Convert users into lifetime subscribers across synced platforms
Send push notifications based on subscription status
Email to authorized users for remarketing purposes
Track user's saved content, and purchases across platforms
Save an average of 9 months in OTT app development
MAZ System OTT Pricing:
Its pricing model is targeted at brands aiming for a large customer base. Therefore, independent streamers can directly contact them for personalized pricing quotes and launch their customized OTT video platform.
Finest Whitelabel OTT Platform for broadcasters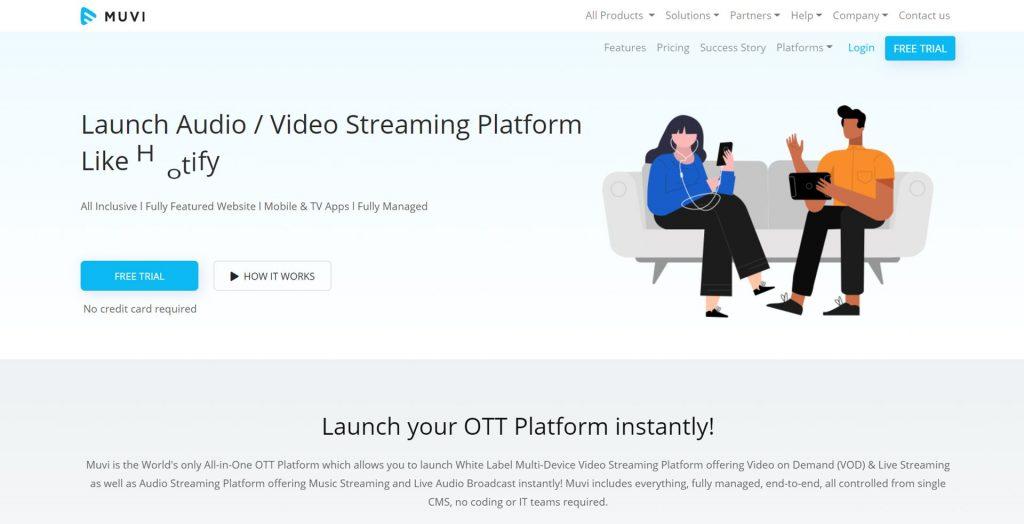 Muvi provides a white-labeled OTT platform to meet all your video streaming demands in one place.
Furthermore, they are one of the few over-the-top platforms focusing on audio-only development streaming.
And as a result, content owners and media distributors have a better chance of establishing streaming services at an affordable cost. Thanks to their no-code fully-featured OTT platform.
Some of the most business-critical OTT features of Muvi are:
Leverage from multiple monetization video streaming models like PPV, ads & more
Full-stack approach for live & OTT streaming, which includes video hosting
Capacitates to create native apps for iOS, Android including Smart TV
Live radio broadcast with 100% control to regulate, making it hassle-free
Provides HTML5 video player along with robust security options
Pros:
Entirely handles all kinds of Multimedia needs
The #1 choice to build an OTT application for media business
Live streaming for various genres – News, Sports, etc.
Feature-rich OTT platform to use under own domain name
Accepts multiple currencies for payments
Muvi OTT Pricing:
Muvi's plans are priced at five different levels: They range from right from standard to enterprise-grade with added plans.
Standard plan: $399/month with 1TB each of bandwidth, storage, etc.
Professional plan: $1,499/month with premium support
Enterprise plan: $3,900/month with dedicated server with auto-scaling
To check with other pricing structures, you can take a look at their website & get in with them.
Conclusion
Choosing an OTT platform provider could be a pathbreaking decision on your company's growth curve.
It necessitates deep analysis and understanding of your brand, the audience, and the market.
We hope this comparative listicle has broadened your scope of understanding and provided you with valuable insights into various players.
However, we strongly recommend you list the must-have features needed to achieve your primary objectives and compare the same with the features offered by your competition.
And if you aim to build a great OTT platform to scale your audience…
…. VPlayed has some fantastic insights and maybe an exclusive offer running for you.
We have a solid portfolio and a proven track record of helping numerous brands and content owners like you turn OTT entrepreneurs and scale 5X faster.
With 500+ streaming features and 9+ monetization models, your branded OTT platform is at your disposal, waiting for a demo!
If You Already Have An Idea About Launching A OTT Platform, Schedule A Free Demo And We'll Get You On The Road To OTT Video Streaming Success!
OTT Platform (FAQ)
1. What Is An OTT Platform Provider?
The ideal OTT platform provider will make it simple for you to scale your business while also giving you and your viewers a seamless experience. In this competitive market, you will find a wide range of options. But don't worry, we're here to assist you.
2. What Are The Benefits Of OTT Streaming Platform?
More capabilities are included in next-generation OTT platforms to assist video content creators and businesses. The best part is to run & grow a successful video streaming business that is reachable directly to viewers while also altering the status of cable TV and television channel means.
3. What Are The Features To Look For In An OTT Platform?
The top OTT platform services allow users to send pre-recorded and live-streaming content to connected devices facilitating multi-device compatibility. Other key features like monetization tools, video CMS, end-to-end encryption solution, complete customization and much more help you to upscale swiftly.
4. How To Generate Revenue From The OTT Platform?
Get a glimpse through a wide range of supportive monetization features that allow you to sell your content & generate a high amount of revenue. Leverage on best models like Subscription video on demand, Transactional video on demand, Advertising video on demand, CatchUp TV, & much more.
5. What OTT Platform Best Suits Your Business Needs?
The most key components of the OTT streaming platform that is utmost essential for hiking millions of revenues to achieve goals, start with customization in its entirety, deployment flexibilities either on cloud/ on-premise, HTML5 video player, built-in marketing tools, comprehensive content management solution, security protocols & more.
6. How Much Does The OTT Platform Cost?
As customers become more interested in streaming various types of material, many businesses are seeking ways to turn their content into cash. Creating your own OTT platform gives you a lot of flexibility in terms of adding features with the high-end solution, but it may also cost a little bit higher according to custom-centric requirements