Explore the list of top online video platforms in 2023 and compare to determine which online video platform best meets your needs. Find out which platform offers the best features, performance, and cost.
We all know that the emergence of online video platforms, commonly over-the-top platforms, has radically redefined the streaming landscape.
The emergence of Netflix as the leading online video platform disrupted the traditional cable and satellite TV industry.
Platforms like Netflix replaced the dominance of conventional television services with its flexible, subscription-based, on-demand, and original content.
Not only have they revolutionized the way audiences consume content, but they have also become an indispensable asset for content owners and businesses alike.
For content owners and aggregators, online video offers many once-unimaginable benefits.
Firstly, they provide an accessible and cost-effective means of distribution. They eliminate the need for expensive broadcast infrastructure and enable global reach at the click of a button.
In other words, this has made it possible for niche content to find its audience and for emerging talents to gain recognition.
Secondly, online video platform offer unparalleled analytics and audience insights. So content owners can now understand their viewers' preferences, behaviors, and engagement patterns. Businesses can use this data to tailor their content strategies, optimize monetization strategies, and fine-tune their marketing efforts.
And it is not surprising that the demand for online video platforms is soaring year by year.
How big is the online video streaming industry?
It is pretty large and likely would have exceeded your expectations.
The online video platform market size is projected to grow from $7.21 billion in 2021 to $30.05 billion by 2030, at a CAGR of 17.19% from 2023 to 2030.
So, if you're a content owner or a large business looking to launch your online video platform, we created this blog post for you.
Let's discuss 16 of the best online video platforms in the industry in detail, their features, use cases, and more in the next few minutes.
Top 18 Best Online Video Platforms
What Is An Online Video Platform?
An online video platform is a web-based service that enables users to upload, manage, and share videos with anyone on the internet. It is like a digital hub to store, organize, and stream videos to a large audience worldwide and across verticals — from entertainment and education to business and marketing.
YouTube is a prominent example.
However, business-grade online video platforms include VPlayed, Brightcove, and Vimeo OTT. The above said OVPs offer extensive customization options, in-build video analytics, and diverse monetization options. So, they are suitable for medium to large-sized content creators, content owners, and video businesses, unlike YouTube, which mainly caters to individual content creators.
Are You Planning To Build An Online Video Platforms?
Features You Should Consider In An Online Video Platform In 2023
Are you planning to build your online video platform? Then, we have created this list for you.
The following features are non-negotiable, and you should consider them at every stage, from design to deployment.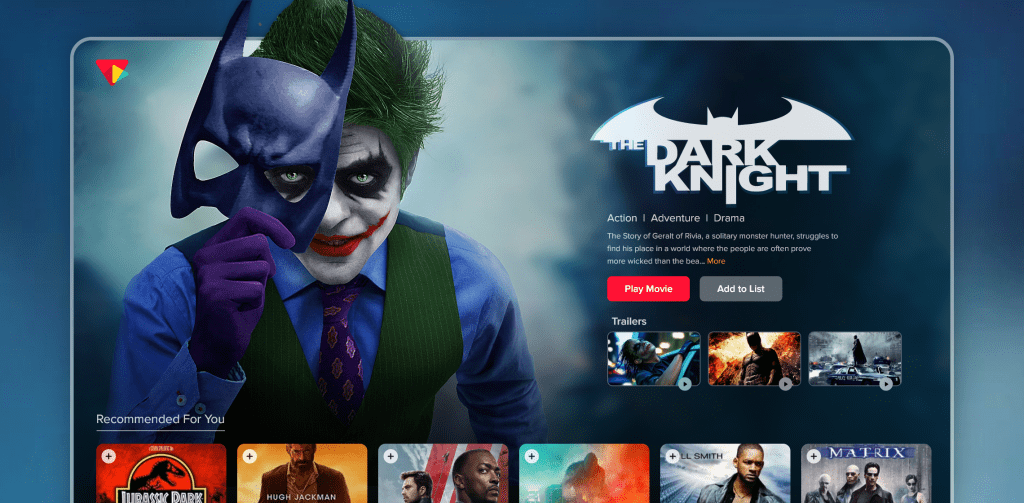 1. Customizable Platform
Completely customize your best video streaming platforms, the way you like them, starting from logo creation, and branding with tweaks upon requesting new features, right from integration with 3rd party tools to deep-rooted API and player SDK integrations
2. Security Features
Ensure your video hosting platform supports the following security arrangements.
AES encryption provides robust data protection by encoding video content, making it unreadable without the decryption key.
Digital watermarks to trace unauthorized sharing of content and to prevent illegal uploads on the internet.
Screen recording prevention technologies deter users from capturing video content during playback.
Multi-DRM (Digital Rights Management) solutions offer a comprehensive approach to content protection. It ensures secure distribution across various devices and platforms while safeguarding against piracy and unauthorized access. This is highly crucial for content owners and streaming platforms.
3. White-label Streaming
White-labeling allows businesses to rebrand their video streaming platforms with their own branding and logo. This feature is beneficial as it helps businesses establish a strong brand identity, build trust with their audience, and present a professional, cohesive image across all their online video offerings.
4. Top Video Monetization Models
Offering various OTT video monetization models, such as subscriptions, pay-per-view, or advertising benefits, can help you maximize revenue opportunities and accommodate diverse business models. Select a platform provider that offers additional revenue models beyond the conventional ones, like VPlayed.
5. Reliable Content Delivery
Reliable content delivery is ensured by global Content Delivery Networks (CDNs). They are networks of strategically placed servers worldwide. They ensure reliable content delivery on your video solution by minimizing latency and optimizing data transfer. When a user requests video content, the CDN serves it from the nearest server, reducing buffering and load times. This feature benefits online video platforms by providing users with a consistent, high-quality viewing experience worldwide, regardless of geographic location.
6. Real-time Video Analytics
Real-time video analytics provide platform owners with insights into user behavior, content performance, and audience demographics. In other words, it enables you to make data-driven decisions, work on content optimization, and target your audience better.
7. Inbuilt Marketing Toolkit
An inbuilt marketing toolkit facilitates user acquisition and engagement through tools like email marketing or push notifications. This feature benefits by helping platform owners reach their audience effectively and promote content or services.
8. Multi-device Support
The proliferation of smartphones has made multi-device support the single most crucial element of an online video platform in the last decade. It allows users to access online video content on various devices, such as smartphones, tablets, smart TVs, and computers.
This flexibility caters to diverse viewing preferences and lifestyles, ensuring users can enjoy content whenever and wherever they choose. It maximizes audience reach, enhances user convenience, and boosts engagement, making it a crucial feature for online video platforms.
9. High-quality Playback (HMTL5 Player with HSL Streaming)
High-quality playback is often achieved through technologies like HTML5 player and HLS (HTTP Live Streaming).
HTML5 player offers native browser support while also ensuring seamless video playback without the need for additional plugins.
HLS streaming, on the other hand, optimizes video delivery by breaking content into small chunks and adapting the quality based on the viewer's internet speed and device capabilities. Together, they account for a smooth, buffer-free, and high-quality streaming experience on your online video platform.
Comparing the List of Top Online Video Platform Providers 2023
Want to explore the best online video platforms for 2023? We have listed the top online video platforms like VPlayed, GUDSHO, Dacast, IBM Video Cloud, Kaltura, etc., based on brand reputation, ratings from product listing sites, and client satisfaction over the last few years.
1. VPlayed
The Best Online Video Platform for Medium and Large-sized Businesses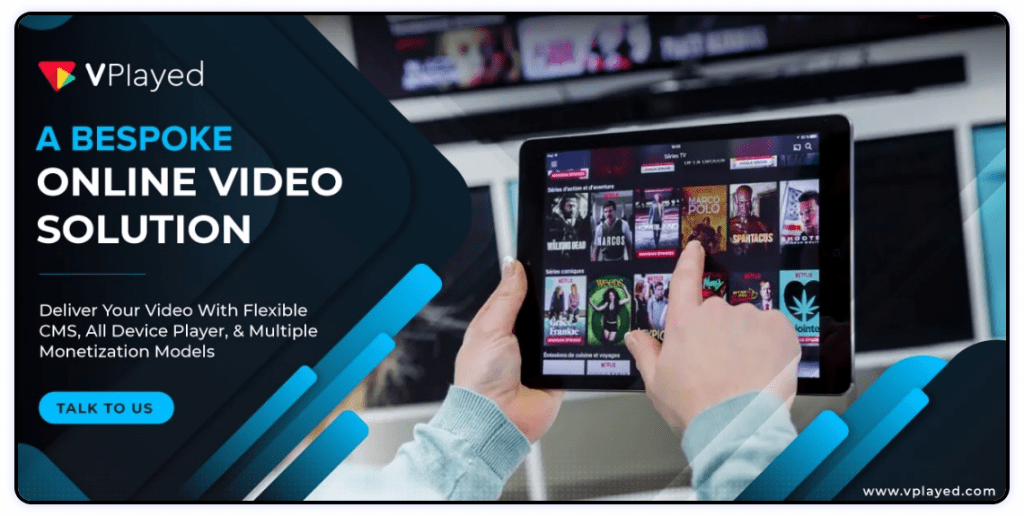 VPlayed is one of the premier, all-in-one online video platforms available in the industry today. It offers a comprehensive solution to take your streaming game to the next level.
To begin with, the solution features a fully customizable platform interface (not just the player but the entire platform) that allows you to tailor the platform to your unique needs. Plus, their one-time payment business model helps you retain 100% of the revenue generated from your content.
VPlayed simplifies the process of launching your video platform. It also offers secure content delivery, multiple monetization options, and in-depth analytics for performance tracking.
Above all, their responsive support team is always ready to assist you, and they continually update their platform to stay at the forefront of the industry.
Whether you're a newcomer or an experienced video entrepreneur, VPlayed provides an accessible and user-friendly online video platform that maximizes your potential for video monetization.
Highlighted Features Of VPlayed Online Video Platform Are:
100% customization: Personalize your video platform with your brand's identity.
User-friendly content management system: Easily upload and manage your video library.
Powerful cloud transcoding: Optimize video quality with smooth streaming.
Profitable monetization options: Choose from 9+ models to boost your video platform revenue.
Multi-DRM solution: Safeguard licensed content with robust video security.
HTML5 Player with HLS streaming: Seamless playback across the web, no dedicated player needed.
Global CDNs: Reach a worldwide audience with flawless on-demand and live video delivery.
PROS
White-labeling: Customize the platform with your branding.
Full revenue retention: Keep 100% of earnings, no user charges or commissions.
Responsive tech support: Get assistance post-deployment.
200+ integrations: Access a wide range of powerful integrations.
Exceptional uptime: Enjoy a 99.99% uptime guarantee for reliability.
2. GUDSHO
Best OVP for Small-scale Content Creators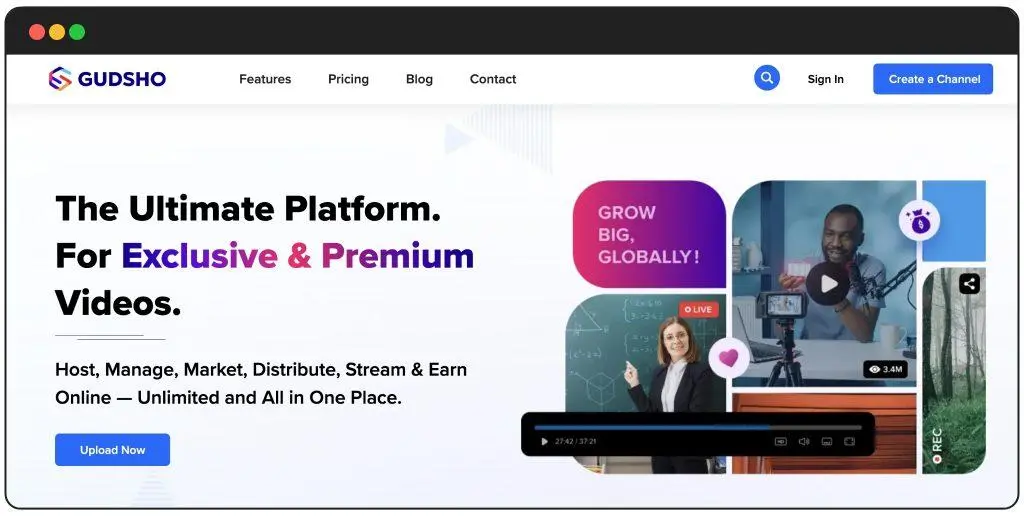 GUDSHO is a digital video platform designed for content creators and video businesses. It allows users to seamlessly host, distribute, market, and monetize video content across a wide range of platforms, including the web, mobile devices, apps, and smart TVs. The platform offers a diverse library of premium videos spanning various categories, such as fitness, music, filmmaking, education, entertainment, and animation.
Additionally, content creators can upload their own videos and generate revenue from their content. So, in a nutshell, GUDSHO creates a dynamic and engaging ecosystem for both viewers and creators.
Make The Most Out Of Your Video Content With GUDSHO's Features:
Bulk content import: Easily import a large volume of video content in a single operation.
Video scheduler: Keep your content synchronized with various time zones using a scheduling feature.
Intuitive performance analysis: Utilize an intuitive dashboard to effectively assess and support video performance.
Centralized video management: Seamlessly handle user administration on your platform via a centralized enterprise video CMS dashboard.
Copyright protection: Establish ownership and safeguard your content with static watermarks.
Cross-platform compatibility: Ensure your videos are accessible across multiple devices and platforms.
Private screening: Host exclusive screenings by inviting dedicated users to your viewer list, enhancing privacy and control.
PROS
Diverse monetization options: Choose from multiple revenue models — subscriptions to advertisements and pay-per-view.
Immersive 4K video streaming: Enjoy high-quality 4K video streaming.
Seamless video playback: Experience buffer-free video delivery.
Enables social integration: Seamlessly connect with social media platforms.
3. Dacast
Streamline Your Video with Top Online Video Platforms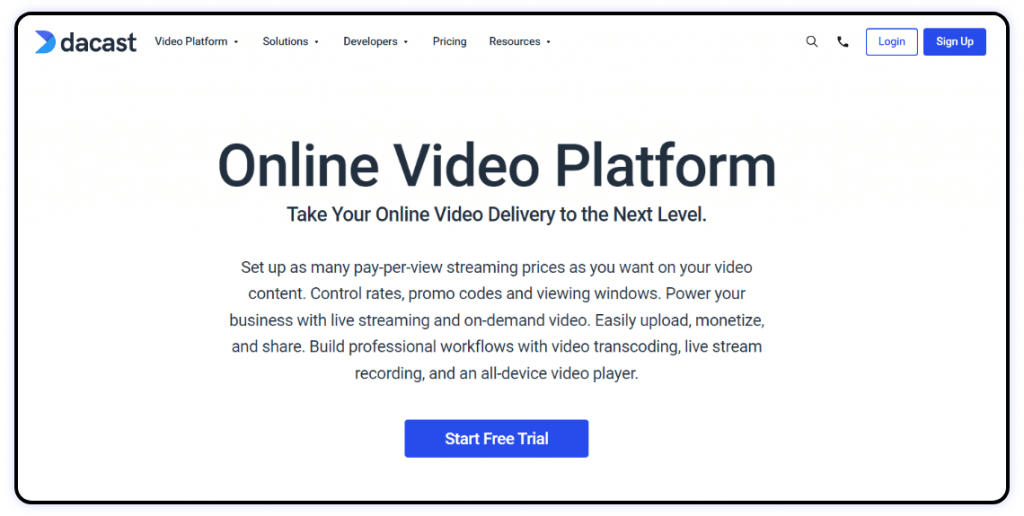 Dacast is an online video platform that helps people and businesses create a subscription streaming service on the internet. It provides tools to upload, manage, and share videos, making it easy to reach a wide audience.
Dacast offers features like live streaming, monetization options, and analytics to track video performance. So, it is like a toolbox for video creators and businesses to showcase their content and engage with viewers online.
Dacast's Feature For Online Video Sharing
White-label: Customize the platform with your branding for a personalized user experience.
Online video hosting: Store and stream videos securely on the internet.
Video monetization: Earn revenue from videos through various payment models.
API-based OVP: Integrate and expand video capabilities through an application programming interface.
Video privacy and security: Safeguard content with privacy settings and robust security measures.
Multi-bitrate streaming: Deliver videos at different quality levels to suit viewers' internet speeds.
PROS
Live streaming & on-demand: Offers both live and pre-recorded content.
Live stream recording: Record live broadcasts for later viewing.
Multi-user access: Collaborate and enhance workflows.
24/7 technical support: Access assistance at any time.
Tired of using Dacast?
See why Dacast is not suitable to manage your OTT platform and why you need a
Dacast Alternative
4. IBM Cloud Video
An End-to-End Online Video Platform Providers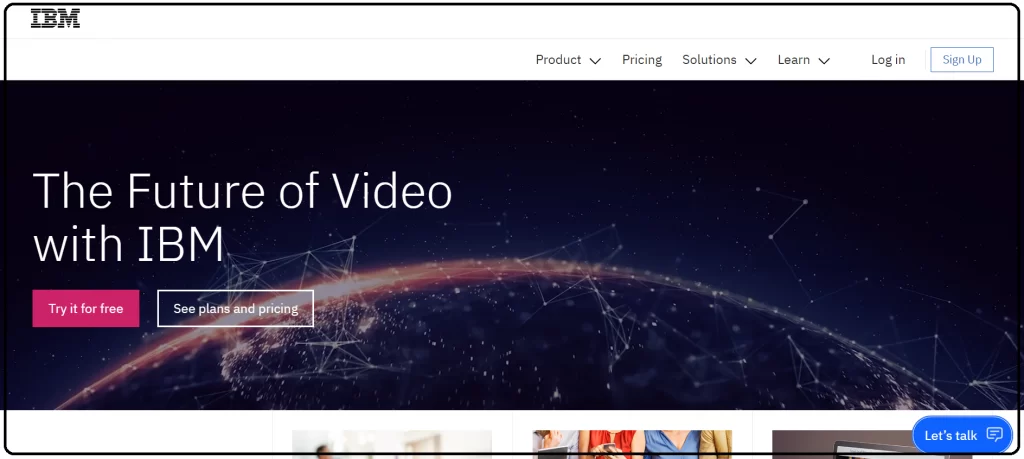 IBM Video Streaming is a versatile, cloud-based video platform that handles live and on-demand content delivery to external audiences. Managed through an admin dashboard, it accommodates both simple and intricate setups, with the ability to expand thanks to built-in multi-CDN support.
As you might have guessed, the IBM cloud video solution serves various purposes for businesses and corporates. They include employee communication, virtual conferences, promotions, government proceedings, entertainment events, and more.
Key Features Of IBM Cloud Video Platform
HD live broadcasting: High-quality live video streaming for crisp visuals.
Recording of broadcasts: Archive live streams for future reference.
Mobile-compatible player: Ensures seamless viewing on mobile devices.
Video distribution and workflow: Streamline content distribution and management processes.
Live chat and Q&A: Engage with viewers through real-time interactions and questions.
Flexible monetization: Comprehensive video monetization platforms in a virtual event.
PROS
ISO 27001: An internationally recognized standard for information security management systems.
PCI-DSS for payment card industry USA: A security standard for handling credit card data in the United States.
Customizable channel page: A personalized page that can be tailored to fit specific branding and content needs.
5. Kaltura
Make the Right Choice With Oline Video Platform Comparison!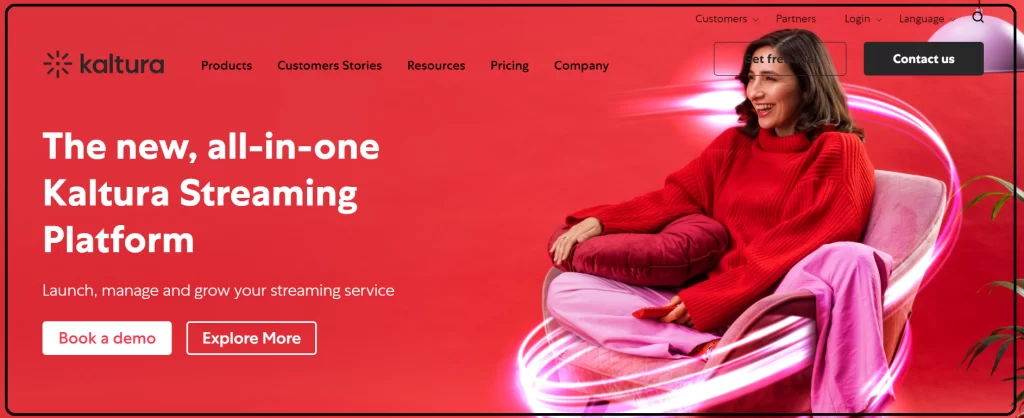 Kaltura is an online video platform that offers both live and on-demand video solutions to numerous organizations worldwide. It helps these organizations engage with vast audiences, including individuals at home, employees at work, and students at schools and universities.
Essentially, Kaltura provides tools and technology that enable businesses, educational institutions, and other groups to share or sell video content efficiently and effectively.
It helps them to connect with millions of viewers across various settings and industries.
Kaltura's off-the-shelf SaaS video platforms are known for their unparalleled flexibility, modularity, extendibility, and ease of integration.
They are all built on top of hundreds of open APIs for video ingestion, transcoding, metadata management, distribution, publishing, engagement, monetization, and analytics.
Kaltura Provides Best Online Video Platform Features & Are:
HTML5 support (even when video is served on Flash): Ensures video compatibility across modern browsers.
Screen reader support: Enables accessibility for visually impaired users via screen readers.
Captions: Provides textual representation of audio for improved comprehension.
Accessible controls: User-friendly navigation for all, including those with disabilities.
Colorblind compliant: Design elements consider color vision deficiencies for inclusivity.
Video marketing tools: Tools to enhance video promotion, engagement, and audience growth.
SVOD, AVOD, and TVOD monetization: Various revenue models for diverse income streams.
PROS
Multiple users: Allows multiple individuals or accounts to access the platform.
Multiple sessions: Supports simultaneous usage or sessions for various users.
Customer support: Provides assistance and support services to users.
Host multiple concurrent events: Allows for the hosting of multiple events simultaneously.
6. Brightcove
Enterprise-grade & Intelligent Video Platform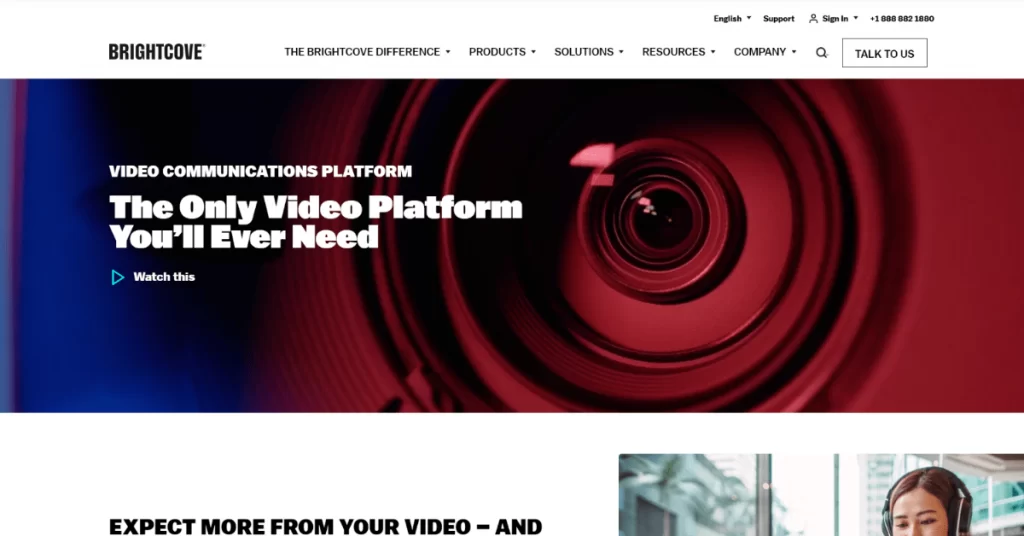 Brightcove is a well-established online video platform allowing video businesses to publish, distribute, and monetize content effortlessly. The platform boasts a user-friendly interface, simplifying video asset upload and organization.
Like other platforms in the list, Brightcove also offers player customization to align with branding and seamless video embedding across online platforms. Its advanced analytics yield valuable insights into video performance and audience engagement.
In addition, Brightcove supports diverse video formats and adaptive streaming technology. So, it is unarguably the go-to video solution of many major corporations across the globe.
The Main Features Of Brightcove OVP Platforms Are:
Video library management: Efficiently organize and manage your video content library.
Live events: Host real-time streaming events for a dynamic audience experience.
Built-in video analytics: Gain in-depth insights into video performance and audience behavior.
Integrations: Seamlessly connect with other software and tools for enhanced functionality.
Server-Side Ad Insertion: Precisely insert ads within videos for optimal monetization.
PROS
Video hosting: Securely store and manage your video content.
Multi-channel publishing: Easily share videos on platforms like YouTube and more.
User-friendly interface: Simple and intuitive for hassle-free video management.
Seamless embedding: Smooth integration into HTML pages for a polished presentation.
7. Brid.TV
Premium Online Video Platform with Industry-leading Technology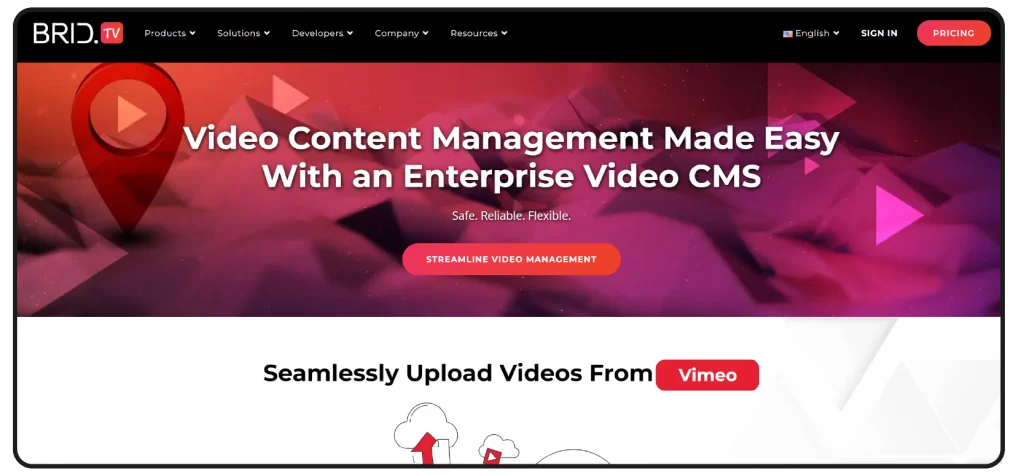 Brid.TV is a versatile online video platform known for its extensive customization options and strong technical foundation, including integrated transcoding services.
One of its key strengths lies in its wide-ranging compatibility. Brid.TV's video streaming solutions support all devices and platforms — Android, iOS, Apple TV, Amazon Fire, and Roku.
Additionally, Brid.TV also offers a fully white-labeled solution, enabling rapid deployment.
When it comes to video content monetization, Brid.TV excels by distributing content through instream video ads and facilitating ad inventory sales in its marketplace.
In a nutshell, Brid.TV delivers a holistic solution with all the tools and features to create a video streaming website.
Get a Look at Its Eye-catching Feature List Down Below:
Online video hosting: Easily upload and host videos with unlimited CDN access.
Video content management: Efficiently manage your video content library.
Platform API: Customize and expand functionality through API integration.
AI content matching: Utilizes artificial intelligence for content recommendations.
Google AMP & facebook AI support: Ensures compatibility with Google Accelerated Mobile Pages and Facebook Instant Articles.
PROS
Ease of use: Intuitive and user-friendly platform for a seamless experience.
Excellent support: Responsive and helpful customer support services.
User-friendly: Designed with the user's convenience and satisfaction in mind.
8. Vimeo OTT
World's All-in-One Best Online Video Platform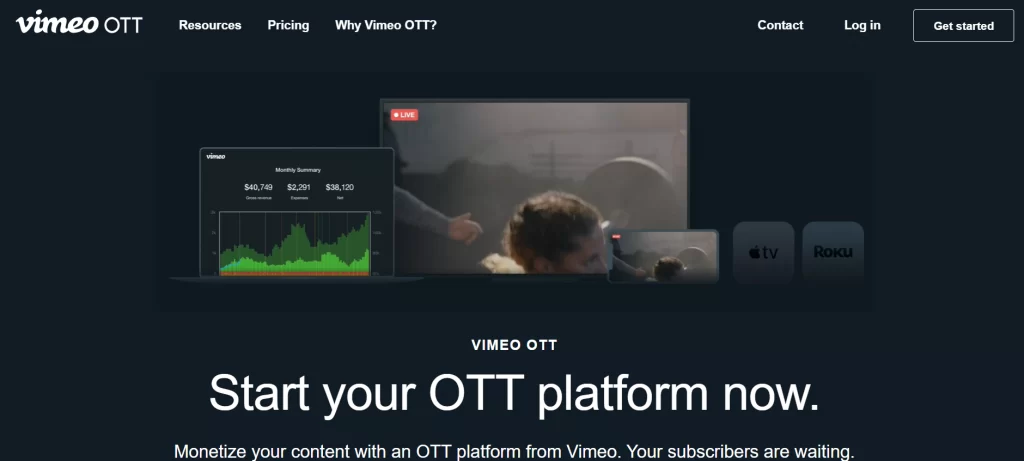 Vimeo is an online video platform offering video hosting, sharing, and streaming services. It's known for its emphasis on high-quality and creative video content.
Like other OVPs, Vimeo provides tools for users to showcase and distribute their videos. Hence, it is widely used by creators and businesses for sharing professional videos, from short films and documentaries to marketing content and educational videos.
As a top online video platforms, Vimeo offers features like privacy controls, video analytics, and customizable player options. 
Apparently, it caters to a wide range of users, including filmmakers, artists, marketers, educators, and other large-scale businesses.
Here Are Some Of Features on the Best Online Video Platforms Are
Screen recording: Allows users to capture and record their computer screens.
Creation and editing: Provides video creation and editing tools, enhancing the overall video production process.
Interactive video: Supports the creation of interactive video content with engaging elements.
Virtual events: Facilitates hosting virtual events, conferences, and meetings.
Webinars: Offers webinar hosting capabilities for educational and promotional purposes.
Live streaming: Enables real-time streaming of events, presentations, and broadcasts.
PROS
Private links: Vimeo provides options to share videos privately through secure links.
A clean and professional-looking platform: Vimeo OVP boasts a clean and professional user interface and presentation for a polished video viewing experience.
Video hosting: Vimeo is a reliable platform for securely hosting and storing videos.
Tired of using Vimeo OTT?
9. Zype
Unravel the List of Video Platforms with Zype

Zype is an online video platform that provides video hosting, management, distribution, and monetization solutions. It offers an API-first SaaS solution designed to assist product teams in addressing critical challenges related to streaming video.
The platform is designed to help content creators, media companies, and businesses streamline their video operations and reach their target audiences.
Zype's robust platform encompasses various essential components, like monetization tools, customer relationship management (CRM), business analytics, automation capabilities, and seamless integrations with a vast array of SaaS applications.
Ultimately, Zype provides a highly connected, dependable, cloud-based infrastructure for video content management systems and distribution.
Here Are Some Features Of Video Platforms Are:
No code app building: Create apps without coding expertise, simplifying the development process.
Robust, market-tested features: Incorporates proven and reliable features for video operations.
Flexible monetization options (AVOD, SVOD, or TVOD): Offers versatile revenue models for content monetization.
Build video streaming apps: Develop apps across web, smart TV, mobile, and gaming consoles.
Faster time to market: Accelerates the deployment of video solutions for faster market entry.
Fast updates: Ensures quick and efficient implementation of platform updates and enhancements.
PROS
Well-documented and extensible API: Offers a comprehensive and expandable API with thorough documentation.
Easy-to-use CMS: Provides best video content management systems for hassle-free content control.
Outstanding customization options: Facilitates extensive customization for cataloging and exceptional customer service.
10. JWPlayer
Complete Digital Video Platform for Content Publishers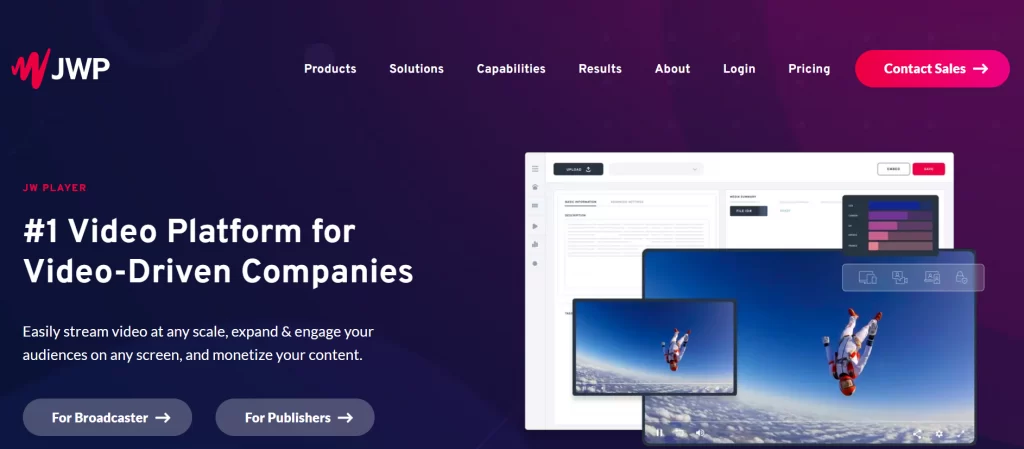 JW Player is an exceptional online video platform for several key reasons.
To begin, it guarantees flawless video playback on a wide range of devices, ensuring an engaging experience for all viewers.
Furthermore, its strong cloud transcoding capabilities and customizable features allow for a branded and tailored video player interface.
Like VPlayed, JW Player also presents robust monetization possibilities, encompassing SSAI, pay-per-view, and subscription models.
With its dedicated emphasis on delivering high-quality video streaming, JW Player is an excellent choice for individuals and businesses looking to monetize their video content effectively.
The OVP Platform Features Provided By JW Player Are:
Multi-bitrate HD encoding: Allows video content to be encoded in multiple quality levels, ensuring optimal viewing experiences on various devices and internet speeds.
Password-protected sharing: Enhances video security by requiring a password for access, safeguarding sensitive or private content on your digital video platform.
Engagement analytics: Provides detailed insights into viewer behavior, helping content creators understand audience engagement and preferences.
Video gallery: Offers an organized and visually appealing display of video content for easy navigation and presentation.
Priority email support: Ensures prompt and responsive customer support through email, addressing user inquiries and issues with priority assistance.
PROS
24/7 live channels and events: Continuous streaming across web, OTT, and CTV platforms.
Maximize monetization opportunities: Utilize various revenue models, including AVOD, SVOD, and TVOD.
Protect content with studio DRM: Safeguard video content using robust digital rights management.
11. Flowplayer
The Performance-first Online Video Player Solution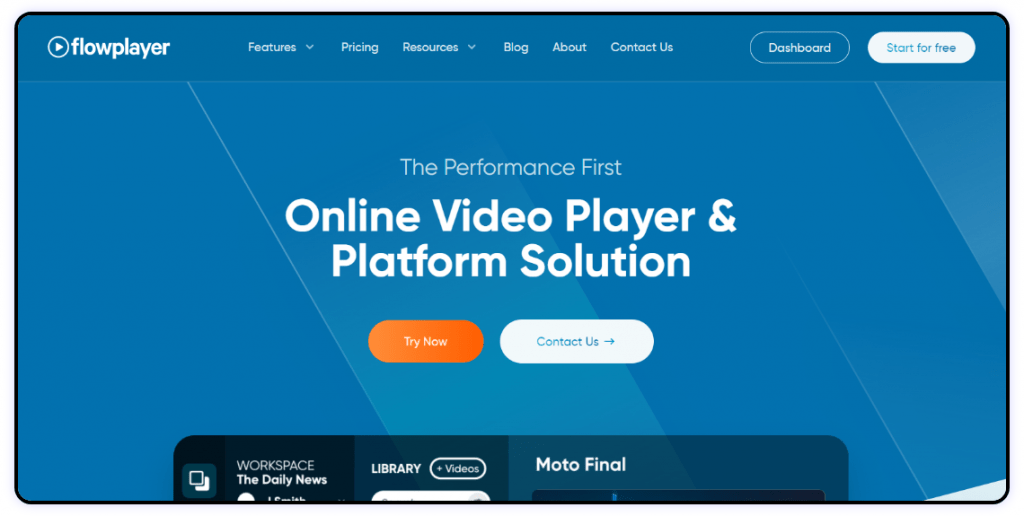 Flowplayer is a popular online video player and platform for streaming and displaying website video content. It offers features for video hosting, embedding, and playback customization. Businesses, content creators, and website owners use Flowplayer to provide their audiences with a smooth, branded video viewing experience.
The flip side is it supports various video formats and provides options for monetization, analytics, and interactive features like annotations and call-to-action buttons.
Flowplayer OVP is known for its flexibility and ease of integration. It thus becomes a great choice for those looking to incorporate video content into their websites or applications.
Key Features Within The Flowplayer Platform Are
Recommendations: Offers personalized video suggestions for enhanced user engagement and retention.
Live streaming: Supports real-time broadcasting for events, webinars, and live content.
Platform API: Allows integration and customization for tailored video solutions.
User limiting: Enables control over viewer access and concurrent user limits.
DRM: Provides digital rights management for secure and protected video content.
PROS
HLS + Dash + MP4 with browser detection: Supports multiple video formats and adaptive streaming based on the viewer's browser.
Multi-quality sources: Offers various video quality options for different internet speeds and devices.
Subtitles & thumbnail tracks: Allows for including subtitles and thumbnail previews, enhancing the viewing experience.
Easy setup: Simplifies platform setup with a clean and user-friendly interface.
Comprehensive API: Provides extensive functionality and customization options for seamless integration and tailored video solutions.
Have An Idea To Start Your Own Online Video Platform?
12. Panopto
Go Beyond Expectations with the Top Video Platform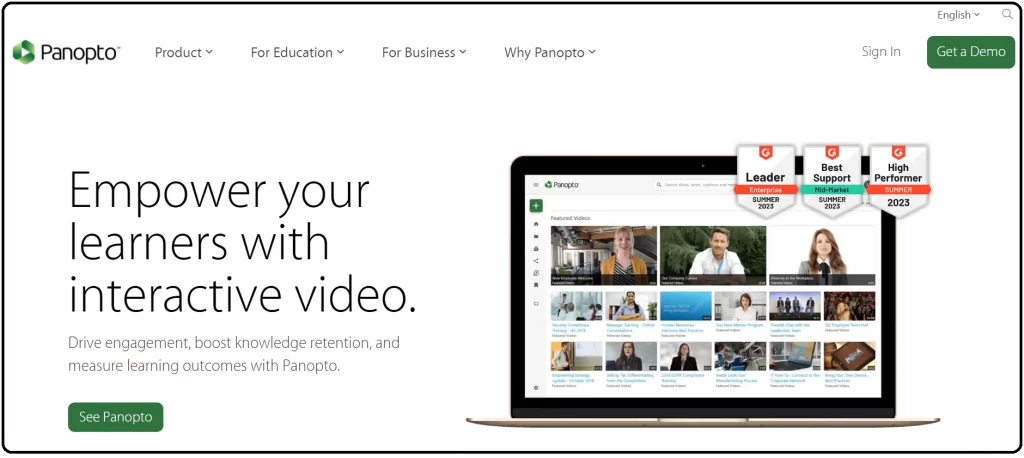 Panopto is an online video platform and lecture capture system. It is mostly used in educational institutions and businesses for recording, hosting, and sharing videos.
Panopto is more like a B2C digital platform, boasting features like video recording and editing, live streaming, content management, and analytics.
The OVP is commonly used to create video lectures, training materials, webinars, and presentations.
The platform is designed to make it easy for organizations to capture, manage, and deliver video content for various purposes — including education, training, and knowledge sharing. Panopto is known for its user-friendly interface and robust video search capabilities, allowing users to find specific content within videos.
Key Features of Panopto's Online Video Platforms Are
Video management: Efficiently organize and oversee your video content library.
Recording video: Capture and store video content with ease.
Live video: Stream real-time video content for events and presentations.
Video search and discovery: Easily find and access specific content within videos.
Service and setup: Receive prompt assistance and support for platform implementation and operation.
PROS
Easy uploads: Streamlined process for adding video content to the platform.
Timestamps for videos: Provides markers for specific points within videos.
No plugins needed: Seamless video playback without requiring additional browser plugins.
Auto-captions: Automatic generation of subtitles for improved accessibility.
13. VdoCipher
A Secured Video Hosting Platform for Gaining Best Revenue
VdoCipher is a secure video platform primarily focusing on secure video hosting and playback solutions. It is known for its strong emphasis on video security and protection against piracy.
Like other OVPs, the platform provides tools for businesses and content creators to upload, host, and stream video content.
Additionally, the platform stresses heavily on enhanced security features like DRM (Digital Rights Management) and encryption.
VdoCipher is mainly used by organizations prioritizing robust video security — e-learning platforms, media companies, and businesses distributing premium video content.
End-to-end Features Of Online Video Platform Are
DRM encrypted streaming: Ensures secure and protected video streaming through digital rights management technology.
Watermarking to deter screen capture: Adds watermarks to discourage unauthorized screen capturing or sharing.
Amazon AWS server + CDN: Utilizes Amazon Web Services and Content Delivery Network for reliable and scalable video delivery with a video server.
Custom video player: Allows for a personalized video player interface to match branding and preferences.
Plugins for WordPress & Moodle: Integrations for popular content and learning management systems.
Video analytics: Offers insights into content performance to help optimize video strategies.
PROS
Smart HTML5 player: Utilizes an intelligent HTML5 player for seamless video playback.
Free month trial: Provides a complimentary trial period for users to test the platform.
White label player: Allows video player customization to align with branding and preferences.
14. Muvi
Enterprise-grade Online Video Platform for Global Content Delivery
Muvi is an enterprise-level online video platform that lets individuals and businesses manage and monetize video content. It offers tools — pretty much everything needed — to upload, organize, and deliver videos to a global audience via branded websites and apps.
Muvi is a SaaS-based OVP platform and is known for its exceptional flexibility. It allows users to customize their video platforms to match their brand. Like VPlayed, Muvi OVP also supports a diverse array of monetization models — subscription, pay-per-view, and advertising.
Let's Take a Closer Look at the Platform's Capabilities
Audio player: One of the few OVPs to provide a dedicated audio player for seamless audio playback.
MRSS feeds: Supports Media RSS (MRSS) feeds for efficient content syndication.
Geo-blocking: Enables content access restriction based on geographic location.
Cloud hosting: Leverages cloud infrastructure for reliable and scalable hosting.
Content partner portal: Offers a portal for content partners to collaborate and manage content.
PROS
Easy set-Up with zero coding: Simplifies platform configuration without the need for coding skills.
Flexible monetization models: Offers versatile options for revenue generation.
99.99% uptime guarantee: Ensures an exceptionally high level of platform availability.
15. Wistia
A complete online video sharing platform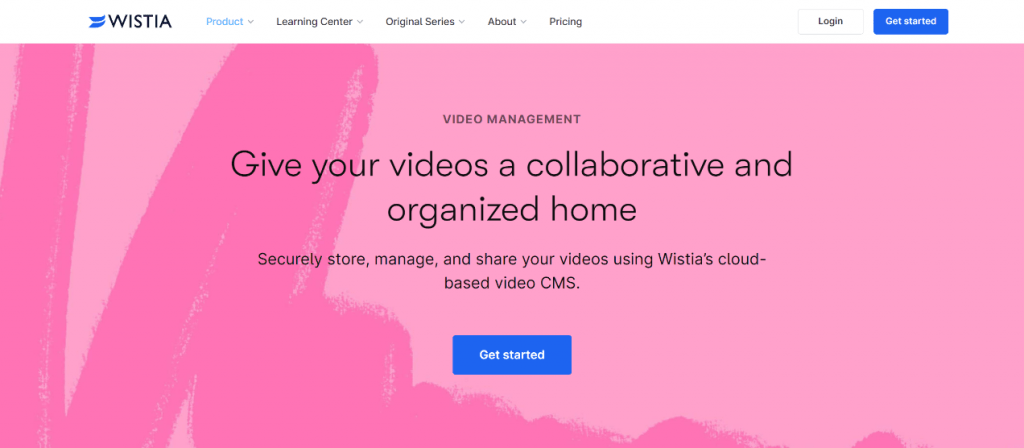 Wistia is an all-in-one online video platform that assists businesses and content creators in managing and distributing their video content. Users can easily upload, customize, and share videos with user-friendly tools across websites, social media, and digital platforms.
Notably, Wistia provides robust video analytics and customization features. It thus enables users to create branded video experiences for their target audiences.
Businesses frequently employ Wistia video solutions for video marketing, lead generation, and audience engagement.
Wistia also supports video SEO, offers audience insights, and facilitates lead generation forms.
Get to Know the List of Features For Online Video Platforms:
Video CMS (content management system): Offers a system to organize and manage your video content library efficiently.
Custom video player: Allows video player customization to match branding and preferences.
Video hosting: Securely hosts and delivers videos for seamless playback.
Video collaboration: Facilitates collaborative video creation and editing among team members.
Embedding: Supports easy integration of videos into websites, blogs, and other digital platforms.
Podcasts: Provides tools for hosting and sharing audio content, making Wistia a versatile OVP for multimedia content management.
PROS
Easy-to-understand analytics: Provides user-friendly insights for effective data interpretation.
Webinar and livestream hosting: Enables the hosting of webinars and live events within the same platform.
Integration with hubSpot: Seamlessly connects with HubSpot for streamlined marketing and lead management.
Customer engagement and training: Supports interactive engagement and training through video content.
16. Vidyard
One of the top online video platforms
Vidyard is the preferred choice for go-to-market teams, offering a powerful video messaging and asynchronous online communications platform. The video solution had millions of sales professionals and over 250,000 go-to-market teams onboard.
Vidyard provides them with AI-driven video messaging, seamless video hosting, and digital sales rooms.
This comprehensive suite of tools ensures that teams effectively engage with prospects, fostering stronger connections and ultimately driving increased revenue generation.
Features that Would Enlighten Your Business With:
Video creation: Record videos for up to an hour via browser, desktop, or mobile.
AI script generator: AI generates personalized video scripts for prospects.
Screen recording: Capture screens, with or without a camera, up to 1080p.
Video playlists: Combine multiple videos into a single, organized playlist.
Email videos: Easily embed videos in emails without attachments or downloads.
PROS
External video upload: Import external videos and create new content.
Free/Freemium version: Access basic features without a paid subscription.
Premium consulting: Tailored solutions with advanced consulting and integration support.
17. Wowza
A Video Platform To Build Fast and Scale Big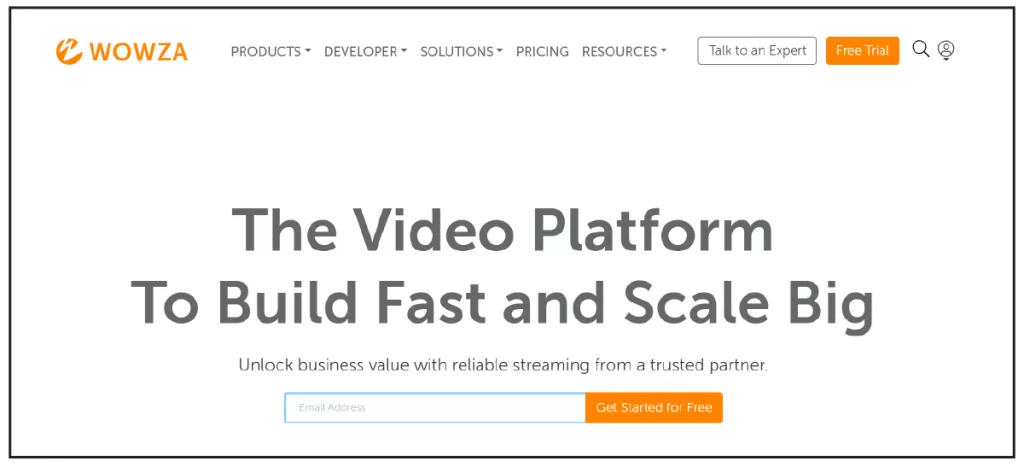 Wowza is a top online video platform that helps businesses and content creators stream videos to audiences worldwide. It's like a powerful engine for video delivery.
Whether it's live events, on-demand content, or audio streaming, Wowza OVP ensures your videos play smoothly on computers, phones, and other devices. The platform is particularly known for its reliability — offering a secure and efficient way to share videos. Wowza also provides built-in video analytics to understand your viewers and create content accordingly.
With features like SSL/TLS security protocols and secure token playback protection onboard, it keeps your content safe and secure.
Wowza Online Video Platform Key Features Include
Real-Time Analytics: Provides immediate insights into viewer engagement and video performance.
360° Video: Supports immersive 360-degree video content for an interactive experience.
SCTE Embedded Captions: Incorporates SCTE standards for embedded closed captions.
Player API: Offers an API for advanced player functionality and customization.
Customizable Plugins: Enables the addition of custom features and enhancements to the platform.
Skinning with CSS: Allows users to customize the player's appearance using CSS styles.
PROS
Ease of use: Offers a user-friendly interface for effortless navigation and operation.
Proactive customer service: Provides proactive and responsive customer support services.
Feature-rich platform: Boasts a platform rich in diverse and advanced features.
18. Vidizmo
Top Online Video Platform for Enterprise Video Management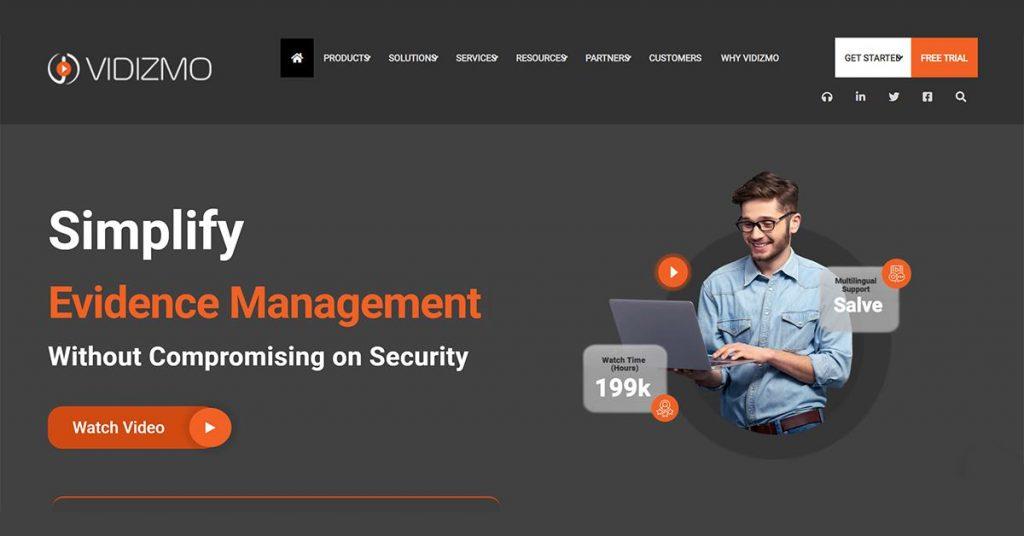 Vidizmo is an online video streaming platform that simplifies video management, sharing, and streaming for businesses. It acts as a central hub for hosting, organizing, and delivering video content. Users of Vidizmo can securely upload, customize, and share videos while ensuring content access control.
Vidizmo supports various video formats like .mp4, .mov .qt, etc. This makes the platform suitable for internal and external communication, training, and marketing. In addition, the platform also offers features like interactive video, analytics, and integration with other software systems.
Ultimately, Vidizmo is a user-friendly online video-sharing platform for starting a video streaming business, particularly for newcomers.
Vidizmo Online Video Platform Key Features Include
Video content management: Securely manage and distribute video content from a centralized platform.
Private video streaming: Safeguard videos with restricted access to authorized viewers.
Brandable video portal: Customize the platform's appearance to align with your brand identity.
Video search and discovery: Efficiently search and locate videos within extensive libraries.
Live streaming: Engage large global audiences through interactive live video broadcasts.
Video data governance: Enforce compliance policies and uphold data privacy for videos.
PROS
YouTube-like interface: Vidizmo offers a user-friendly and intuitive video platform like YouTube.
Broad compliance coverage: Complies with a wide range of major regulations and standards that include GDPR, DJCP, ENISA, etc.
Remote assistance via screen sharing: Vidizmo arranges remote tech support for customers through screen sharing.
Which Is the Best Online Video Platform?
Well, it depends on your target audience, business-specific needs, and in-house expertise.
If you lack in-house expertise, choose a simple, easy-to-use OVP like Zype.
If you prioritize quality over other metrics, you can choose a platform like JW Player.
And, If you want a well-rounded platform with complete customizations, you can choose a self-hosted online video platform like VPlayed.
VPlayed is one of the few platforms that charges zero user charges or other miscellaneous charges in the form of recurring payments.
What does it mean to you?
You can keep 100% of your earnings with no monthly/annual recurring payments.
If you're still unsure, contact our experts for personalized guidance.
We will get in touch with you shortly.
If You Already Have An Idea To Build An Online Video Platform, Schedule A Free Demo And We'll Get You On The Road To Video Streaming Success

Frequently Asked Questions (FAQ):
1. What Is An Online Video Platform?
An online video platform (OVP) is a web-based software system that is used to upload, store, encode, manage, distribute, publish and track online video content. OVPs provide the necessary infrastructure to allow streaming media creators to upload, organize, publish and monetize their video content while also providing them with analytics to measure their success. This technology allows users to easily manage, stream and share large amounts of video content globally.
2. How Does An Online Video Platform Work?
An online video platform is a web-based service that enables users to stream, store and upload video files across the internet. The platform acts as the foundation for setting up an online video website and provides tools and services to help manage its content, analytics and marketing.
3. What Are The Revenue Models Available In Online Video Streaming Platforms?
Revenue models in online video streaming platforms are the methods by which a platform earns money. Popular types of revenue models for online video streaming platforms include subscription, advertising, pay-per-view, and in-app purchases.
4. What Are The Features To Look For In An Online Video Solution?
Features to look for in an online video solution include video hosting, streaming, security, analytics, integration, scalability, and user permissions. Additionally, artificial intelligence (AI) integration and entry and advanced eCommerce functionality can provide additional value.
5. How To Choose The Best OVP Platform For Business?
Research the features offered by each OVP platform and compare them with the business goals. Identify the core needs of the business and the features that fit the needs. Select the platform that offers the best value overall. Consider scalability, ease of use, and customer support when making the decision.