Here we have outlined the best online video platforms based on extensive research regarding the providers' advanced features, user experience, number of subscribers, content variety, and other features.
It's well understood that online video platforms have been one of the breakout trends in the world of streaming, which content aggregators, & many other professionals lead. In the next few years, this market has the potential to scale up by billions of dollars. Online video platform is ruled by in-person events, live streams, virtual gatherings & lots more.
Especially while talking about a major shift during the pandemic period, while making everyone paranoid, video platforms have been a far more boon to enterprises of all kinds. Majorly, they use for various purposes like communication involvement in sales, marketing, internal training & much more.
Top 16 Best Online Video Platforms
What Is An Online Video Platform?
The online video platform (OVP) allows users to upload, transcode, store, & play content via the wireless internet for jet-speed recording, and control powered through a video player. It is mainly used for teaching, communication & entertainment streaming purposes.
Usually, these platforms have built-in players that allow adaptive bitrate and low latency video streaming protocols to capacitate online videos with multi-compatible support, via advanced software technology. Lead generation, brand exposure, advertising, and offering paid access to video streaming are some mighty reasons why OVPs are used to share videos. They can be used to pre-record & play or live stream directly on a website.
As a result, video streaming solutions play a vital component in every streaming objective that entrepreneurs think of, in the business development phase.
We have compiled a collection of online video streaming data that will help you grapple over a competitive edge in the market as part of your revenue-generating strategy this year.
Online Video Streaming Business Insights & Trendsetters
The sector of online video streaming is expanding. It's being used in a variety of industries for a variety of purposes.
And that's why video solutions are considered irreplaceable in any business genre you get to choose before starting a streaming service of your own!!
And if attention-grabbing videos play an intrinsic role in your brand positioning strategy, in my opinion, you should join VPlayed to request a demo, and…
Look for yourself to make the process of creating curative pieces of content most smooth sailing!
Get to have some key findings in hand …
Here are some statistics and trends that demonstrate the vast array of possibilities offered by the best OVPs: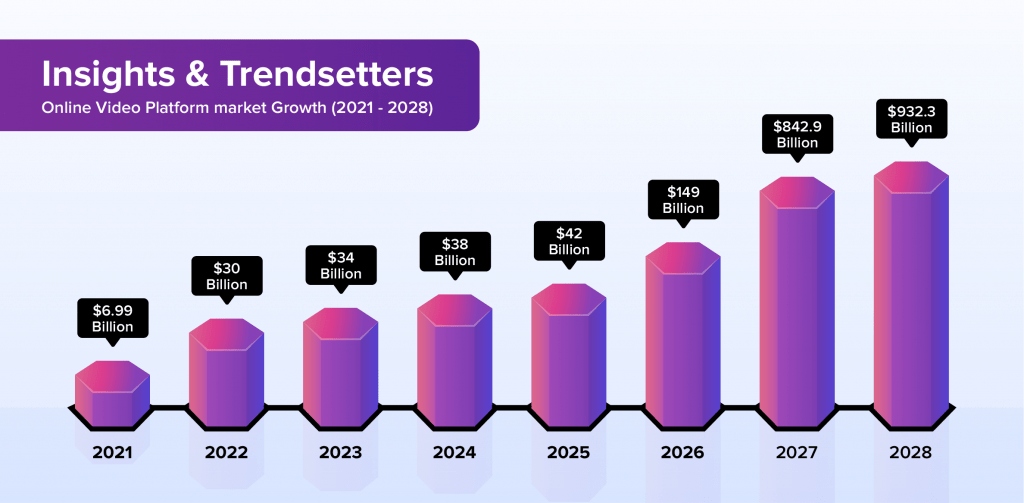 As per grand view's research report, the worldwide online video platform market is predicted to increase at an annual rate of 18.4% from 2021 to 2028
By 2028, it is anticipated that the live-streaming market, with an uptick since the pandemic, will be worth $223.98 Billion.
Did you know that 96% of respondents have watched an explainer video in order to correlate more with a product or service advertised?
In fact, by 2022, it is indicated that the average person will spend 100 minutes each day watching videos like movies via digital platforms
Marketers who use video generate income 49% faster than those who don't.
Hence, these projections will provide valuable insights that will pave the way for you to use videos as a part of your business evolution wheel selflessly in no time.
Are You Planning To Build An Online Video Platforms?
What To Look For In An Online Video Platform In 2023?
It can be difficult to track all the competitive online video publishing platforms available in the marketing world. Here are some listed factors that can help you to develop a feature-driven platform:
Let's take a glimpse of it one after the other.
Whatever company you're in, you'll need specific features and technologies in the online video hosting platforms to ensure that your content is engaging & valuable to viewers.
These must-have features help it define better, with stead-fast platform performance and how well they make it result-driven…
Get to know some of them below..
1. Complete Customization
Completely customize your best video streaming platforms, the way you like them, starting from logo creation, and branding with tweaks upon requesting new features, right from integration with 3rd party tools to deep-rooted API and player SDK integrations
2. Content Security is the Key
DRM protocols like Google Widevine, and Apple FairPlay ensure that both the material and the viewer's personal data are safe & kept away from prying eyes within secure video streaming. It protects your content from being unlawfully downloaded or copied.
3. White-label Streaming
White-label OTT streaming platform leaves an original state of an impression on viewers, with more professional alike than a comparison of streaming on free platforms like YouTube. This type of platform allows you the ability to distribute video material with no 3rd-party restrictions.
4. Top Video Monetization Models
Best video monetization platforms allow numerous ways of generating income with a magnified viewing experience, making content creators and distributors more profitable. The following are the numerous models for selling video content online that you can pick from:
SVOD: Users can consume as much video as they like after paying a set monthly/annual charge.
TVOD: Viewers pay for the plan they want to watch on a pay-per-view basis
AVOD: Consumers can watch content for free, but they must watch advertisements put by the provider in order to do so.
5. Reliable & Rapid Content Delivery
A content delivery network or CDN is a globally distributed network of web servers used to deliver content more quickly. It is a globally distributed network of video streaming servers whose purpose is to provide faster content delivery. Your material is replicated and stored across the CDN so that the user can access data stored in the nearest location.
6. Monitor your Videos via Analytics
Basic video evaluation statistics are available on every top online video platform. That's because you can have them all under a single platform that allows you to gain deeper insights about your content, like films, tv shows, and target your audience more specifically. Some of the metrics include views, bounce rates, conversions, user engagement, etc.
7. Best Inbuilt Marketing Solution
Personal videos, where individuals express themselves or discuss a particular topic, are among the most popular platforms and are widely accepted across all regions. YouTube is the most popular third-party video hosting & delivery system for sharing social media content in the form of channels. Some extra features like article matching, and metadata management can be useful.
8. Multi-device Compatible Support
Most online video services allow users to watch videos on numerous devices that are compatible with the platform. Now readily, users can easily stream your content on smartphones or their smart TVs. Even laptops, gaming consoles, tablets & other connected devices can be included, for that matter, assuring no dependence on any device.
9. Picturesque High-Quality Playback
Video hosting platforms that include high-quality HLS video players may play video content in high definition to fit the bandwidth of the viewer. This, in turn, allows viewers to stream content without having any kind of latency or buffers. Also, it isn't necessary to rely on an external video player, as they would have to in the past.
Comparing the List of Top Online Video Platform Providers 2023
Best Online Video Platforms: VPlayed, Where Quality Matters!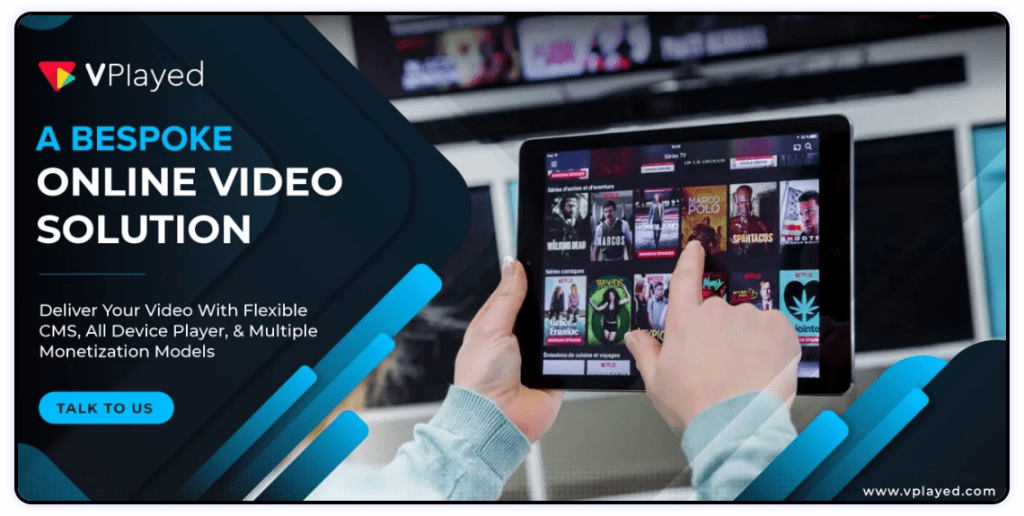 VPlayed is a single online video platform that offers a flexible movie streaming solution with cutting-edge capabilities and end-to-end aes video encryption for business. It becomes even better when you learn that your complete professional-looking online video platform is developed at a nearly 50% faster implementation rate.
Many well-known companies choose VPlayed because businesses get facilitated with 500+ features along with 9+ OTT monetization models delivering unlimited services in order to serve their audience, in any part of the globe.
Highlighted Features Of VPlayed Online Video Platform Are:
With the help of a dynamic video player, ensure to have smooth streaming
An in-built CMS solution can help you to effectively manage your video assets
Robust video DRM solutions, can discard any sort of digital piracy
Improve revenue potentialities with multiple monetization models
Expert streaming tools, help you to fully customize the platform at any level
Ensure hassle-free platform integration with options either on-premise or on-cloud
PROS
White-label streaming content to retain 100% profits
99.99% uptime with free platform migration solution
100+ platform integrations with core flexibility
The platform fully furnished with 3-5 working weeks
Assure lifetime streaming support from VPlayed
Unlock the Power of Digital Video Platforms!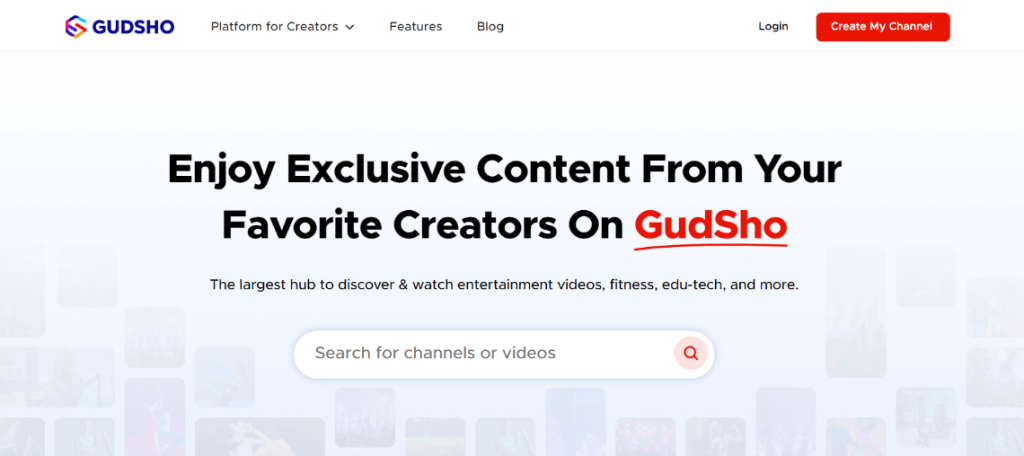 GUDSHO is an absolutely interesting membership monetization platform built for new-gen content creators, brands and advertisers. It lets you create your own video channels, stream immersive videos, promote, and monetize video content seamlessly.
Whether you are an independent creator or an enterprise, GUDSHO offers multiple monetization models that can instantly turn your passion for creating video content into a high-flow income stream. Most importantly, this platform protects all your videos with AES protocols and SSL/TLS Encrypted Paywall.
Make The Most Out Of Your Video Content With GUDSHO's Features:
Easy-to-use Channel set-up tools.
Comprehensive Dashboard to manage all your video content at-a-glance.
Options to import bulk video content in one shot.
Video Scheduler to stay aligned with different time zones.
Manage users in your platform with a unified enterprise video CMS dashboard.
Lets users establish ownership and copyrights with static watermarks.
Supports video on multiple devices and platforms.
Private screening features that can invite only dedicated users to your viewer list.
PROS
Multiple Monetization models
High-quality video streaming
Buffer-free Video Delivery
Offers 4K streaming
Allows social integrations
Streamline Your Video with Top Online Video Platforms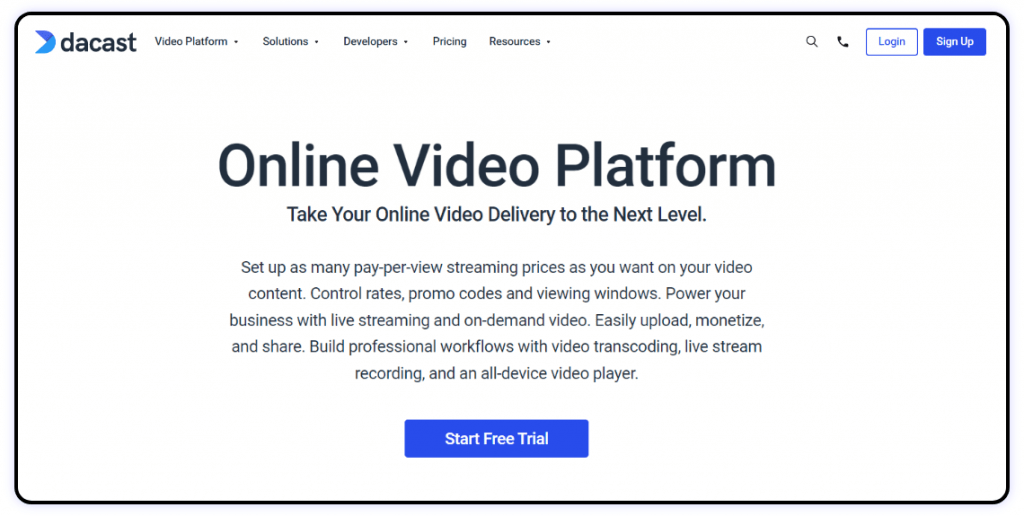 Dacast is the most popular unified streaming solution for providing comprehensive online video hosting and create subscription streaming services to generate revenue. It allows their customers to have complete control over their on-demand video platform.
For business growth, this is a widely regarded enterprise online video platform. Along with video transcoding, live stream recording, and an all-device video player, you can create professional workflows on featured Dacast pricing.
Use Dacast's User-Friendly Feature Platform For Online Video Sharing
Live events with top CDNs that are dependable and perfect
With a security-graded unified platform, you can stream the best video
Using the HTML5 player, streams are ensured to be latent & buffer-free
Support for live encoding is critical for real-time content transmission.
Integration of third-party players with a wide range of system compatibility
Adaptable internet connection speeds with multi-bitrate streaming
PROS
Live streaming & on-demand collection at a reasonable price
Allows videos to be streamed on compatible mobile devices
Complete white-label and branding feasibility
Allows for quick live broadcast recording
Secure video hosting to stream limitless live channels
Tired of using Dacast?
See why Dacast is not suitable to manage your OTT platform and why you need a
Dacast Alternative
An End-to-End Online Video Platform Providers
The next online video platform in our comparison list talks about IBM Cloud Video. With a variety of cloud video streaming capabilities, this platform is primarily targeted at the enterprise streaming market. They offer skilled solutions for academic, commercial, public service, commercial promotions, employee communications, concerts, & other applications, for a comprehensive viewing experience. Just like IBM Cloud video, it allows for file upload, management, and distribution of live and on-demand material.
Here are some of the potent features that make it a top-notch choice
A dependable platform for amplified business streaming opportunities
Excellent customer service for thorough support throughout the process
A content delivery server for internal use makes seamless distribution
Designed specifically for enterprise-grade businesses and top brands
Furnish 4K streaming to have the best solutions for professional broadcasting
Comprehensive video monetization platforms in a virtual event.
PROS
Every month, almost 2 million live events are webcast
Video scaling to audiences of any size, anywhere, globally
Professional 1-on-1 assistance accessible 24 hours a day
Watson-enabled machine learning, lets you accomplish more
Best video platform solutions to harness live & recorded videos
Make the Right Choice With Oline Video Platform Comparison!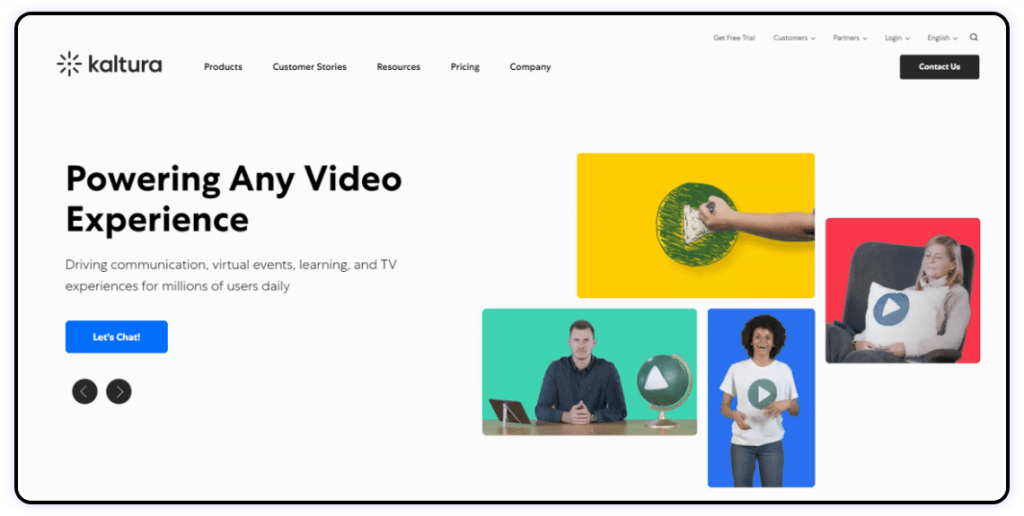 Kaltura's open-source software includes a video management base, giving it a distinct focus in the OVP industry. This company has a long history of working with educational institutions.
Kaltura provides on-demand and live-streaming distribution along with hosting services using cloud-based video streaming platforms. When it comes to customization, Kaltura stands apart from the rest of the competitive markets. Since their software is open-source, a community of users can also design and share a plethora of add-ons and unique integrations.
Kaltura Provides Best Online Video Platform Features & Are:
Hosting of live streaming and video on demand
Get gain of video marketing tools, live transcoding software
Supportive of best streaming protocols like Adaptive streaming
Authentication & encryption solution are among the key security features
PROS
Multiple users connecting for numerous sessions
Global content delivery enabling seamlessness
The Kaltura classroom assures the best ways to teach online
Lots of opportunities for customization
Enterprise-grade & Intelligent Video Platform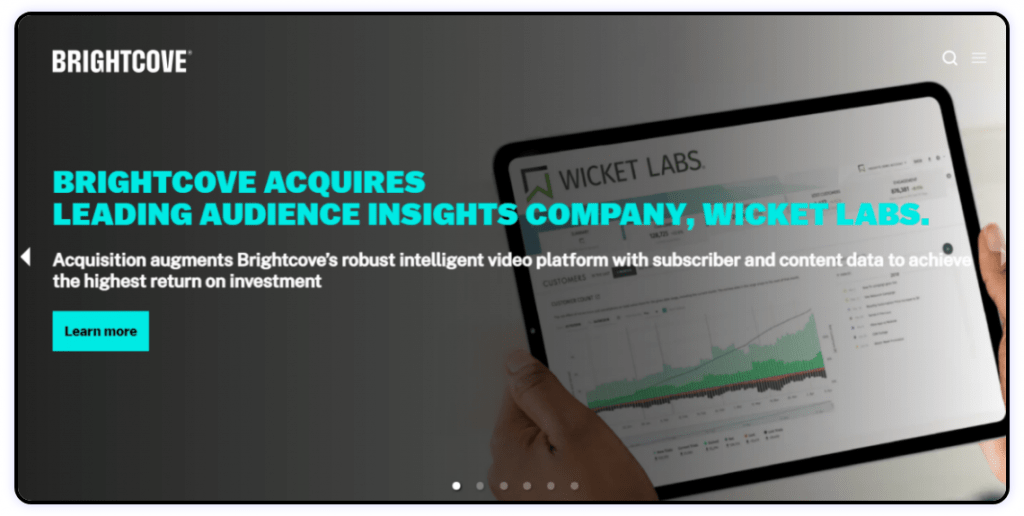 Brightcove is a large-business-focused online video platform. Its product line is divided into numerous distinct segments. Zencoder, the cloud media processing tool, is also available in Brightcove. Brightcove's streaming and hosting platform is called video cloud, among other services. This platform supports monetization and contains an all-screen player.
The main features of Brightcove are:
High-quality video playback ensured by HTML5 video player
Improved organic traffic with essential marketing tools
Media player suite tailor-made across compatible devices
Monetization of videos across client-side interactivity
Video library management with CRM integration
Hybrid digital TV with live streaming & VOD hosting
With LMS integration, gain supportive tools for the online education platform
Furnish mobile streaming with a screen recording facility
Secure streaming with privacy features
Hosting of both audio and video
PROS
Customer service that's available
Streaming across all devices
Best sharing & publishing options
Tools for marketing
Premium Online Video Platform with Industry-leading Technology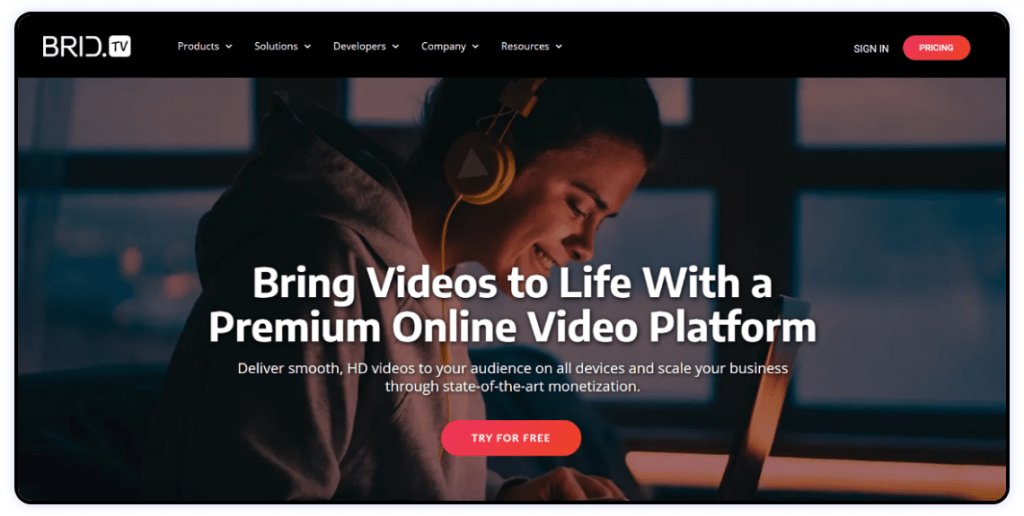 Brid.TV is a fast-growing technology company with an enterprise-level video monetization platform. Our robust HTML5 player, high-spec video platform, & video content management system are now committed to aiding our publishers in building and monetizing their unique audiences.
With offices in Los Angeles (US) and Belgrade (Serbia), BridTV is fast ascending to the top of internet video publishing and advertising.
Get a look at its eye-catching feature list down below:
Outstreaming ads supported by video platform
Fast video player with closed captioning
Audience analytics for weighing audience tastes
Vast content media library with multistreaming
Native ad streaming, in addition to privacy options
Versatile video monetization with a social sharing option
PROS
Seamless AI Content Matching
Customizable Branding
Live Streaming with multichannel support
Mobile ad serving
World's All-in-One Best Online Video Platform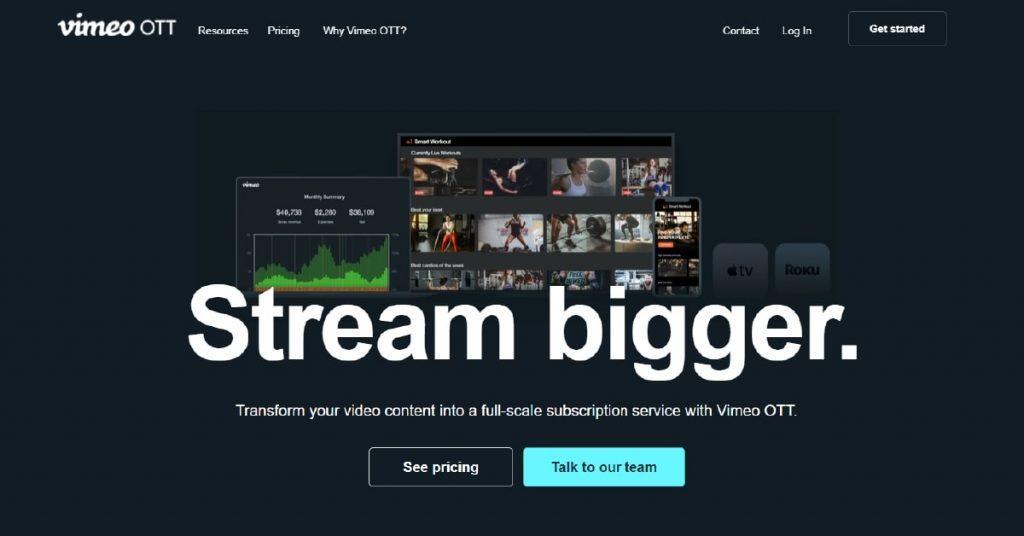 Vimeo OTT is a video platform that was founded in the year 2004. In 2017, the organization acquired Livestream, which was later seen to promote content either on its own website or for businesses looking to scale up revenue on a global platform. It is a close rival to YouTube and delivers a lot of traffic in comparison. Vimeo is also suitable for content creators, major brands, and enterprise-grade businesses.
Here Are Some Of Features on the Best Online Video Platform
Brand stories can now be promoted via video marketing solution
Its level of customizability over youtube is incomparable
Revenue generation can be just what you'd like with affordable plans
Add interactive touchpoints to videos to let viewers engage deeply
Power up live streams with the superior viewing experience
Utilize chat polls & moderated Q&A to have interactive communications
PROS
Ad-free content in HD
Add branding solutions
Multiple streams from any device
SSO integration to have secured streams
Tired of using Vimeo OTT?
Unravel the List of Video Platforms with Zype

Zype is the digital infrastructure that helps provide API-first-rated videos. It is a SaaS-based platform that helps enterprises to stream online videos & surpass critical streaming challenges. It is compiled under a single platform that includes various enabling options to drive revenue at its fullest potential. Zype's Xfactor highlights the fact of the distribution of videos where more stories can be communicated in many places than ever before.
Here Are Some Strategic Features To Put To Use:
Get a reliable cloud-video management solution
Explore online video streaming on the web, mobile, etc
Supports use cases like fitness, education, faith & more
Build video streaming apps on the web, smart TV, mobile, and gaming consoles
Best OVP with multicasting live events socially
PROS
Served over 3 Billion API requests per month
Powered 150+ customers with a digital video platform
Track record of 51 million connecting via video
Complete Digital Video Platform for Content Publishers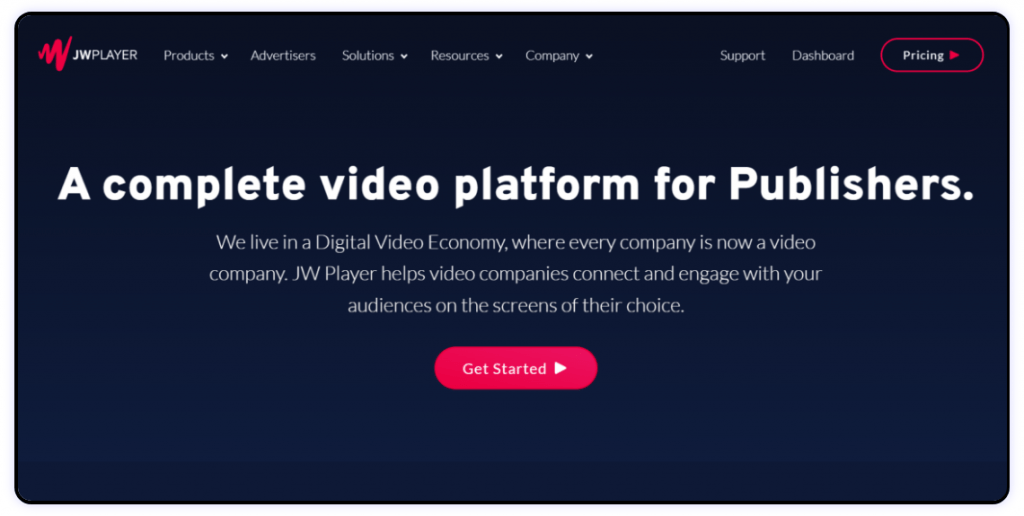 JW Player was created to deliver the extremely best video streaming services, making it a great choice for media publishers. On the other hand, the platform has since grown to encompass video hosting and distribution with live & video on-demand streaming options.
Video footage may be played back in a variety of formats and resolutions with reasonable quality in JW Player. Publishers can have a fully immersive viewing experience thanks to JW Player's ability to help video firms engage and connect with their target consumers.
The OVP platform features provided By JW Player are listed below
Ensures that live streaming & video-on-demand content is available at all times
Allows to use of a cloud-based platform for creating personalized video galleries
Allows for high-definition streaming up to 1080p
Gives full support to any advertising-based video monetization
High-quality output & zero interruptions with multi-bitrate & adaptive streaming
On all plans, you get full access to the video API
PROS
High-quality output delivery with HD streaming
Expert video recommendations engine help to increase viewership
Allow global content delivery for extensive reach
Business videos are password-protected and can be stored on local servers
The Performance-first Online Video Player Solution
Flowplayer, which was founded in 2013, is well-recognized for its white-label streaming services and video monetization techniques. Flowplayer, which has locations in Sweden, Finland, and the United States, specializes in online video platforms for small businesses and large media companies.
Get to have path-striking features within the platform
High-quality video player for seamless streaming across all platforms
Live streaming capabilities with no lags are available
Monetization solutions that are simple to integrate for increased revenue
Live streaming & VOD hosting are two examples of streaming choices
Real-time video analytics for analyzing user behavior
PROS
Flexible online video streaming across a variety of mobile devices
Expert marketing tools to help you achieve greater success
A variety of video monetization techniques are available to help you build revenue 24*7
The client support that is dedicated to providing total customization
Have An Idea To Start Your Own Online Video Platform?
Go Beyond Expectations with the Top Video Platform
Panopto may be of assistance to businesses and schools searching for a solution to help them generate or stream live & on-demand content for their employees or pupils. It is a software-as-a-service video platform that live streams manages, records, and even shares videos with students or team members. Panopto captures are done on conventional mobile devices and PCs, so customers don't need to invest in additional software technologies.
Meet your online video streaming demand with these features
Panopto's key features highlight its video playback, & ease of usage
With less effort, the classroom experience is converted into an online training environment
These videos can also be sent fast via email or social media
Multiple videos can be made streamable at the same time, across devices
Users can also monitor their video library's activity & size, as well as viewer statistics
The biggest plus factor that customers can have is that it assures a user-friendly platform
PROS
With LMS integration, gain supportive tools for online education streaming
Furnish mobile streaming with screen recording facility
Secure streaming methods with privacy features
Hosting of both audio and video
A Secured Video Hosting Platform for Gaining Best Revenue
Businesses can use Vdocipher's packaged with top online video platforms to stream content on their OTT app in a secure and smooth manner. The primary features include the highest level of protection against video piracy via DRM encryption, screen capture block, and dynamic watermarking technologies. And for smoothest streaming over sluggish connections thanks to efficient encoding at smaller sizes.
Here are the top end-to-end features catered in a superior online video platform
Bulk uploading for any number of online videos
Closed captioning enabled with content streaming
Mobile screen support across all devices
Privacy options for secured viewing experience
Video analytics for content performance upkeeping
Best solution for e-learning companies, corporates, etc
PROS
Get a free trial for a month
White label player
AWS server & CDN
Per video analytics
Enterprise-grade Online Video Platform for Global Content Delivery
Muvi is a software-as-a-service (SaaS) that helps businesses for building a video streaming website/platform. It offers IT infrastructure, an online video player, DRM for websites and mobile and TV apps, as well as video hosting. You can host, manage, and deliver multi-format audio and video on any device and platform using the Muvi server.
Let's take a closer look at the platform's capabilities
Muvi hosting comes with a CDN, video CMS, player & analytics
Muvi specializes in website migration
Assue videos with multi-format delivery
DRM enabled with modular encoding platform
Video transcoding SDK empowers content with zero-lags
PROS
99.99% uptime guarantee
Leading CDN option
Infinite scalability
Completely managed infrastructure
A complete online video sharing platform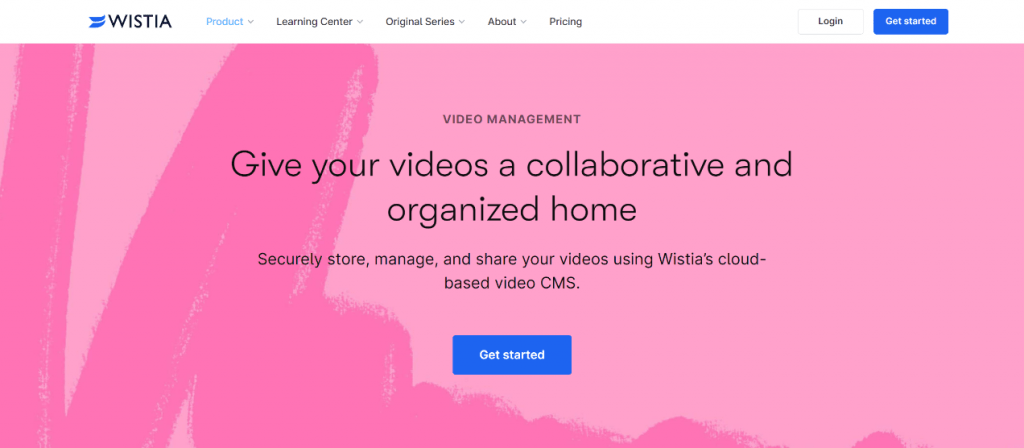 Wistia is one of the video platforms like youtube that offers video series powered by advanced tools that help content aggregators to make the best ROI out of them. Wistia was founded in the year 2006 by Chris Savage & Brendan Schwartz. Content owners can be assured since Wistia creates lasting video platform solutions with great products added with free educational content. All in all, you'll have everything with which your video needs to be successful from Wistia.
Get to know its classic features:
Allow users to directly record videos from the browser
Easy-to-use video trimmer makes video professional
Your brands can readily have a customizable player
Organize videos securely in an online video platform
Have a robust embedded video player that's customizable
PROS
One among the best online video platforms
Video distribution is met with business goals
Analytical solutions with proven ROI
Chrome & webcam extension with Soapbox
One of the top online video platforms
Vidyard is one of the renowned online video platforms in the market which offers SaaS-based solutions. Now uploading, and downloading videos is easier, and when Vidyard handles it making it smooth for users to stream content on OTT based applications. Make impactful video messages with the top video streaming platforms for business, which is served across 160,000 companies.
Features that would enlighten your business with:
A/B split-testing is implemented that drives business metrics
Create a better user experience with interactive CTAs
Use case served for e-learning, telecommunication, healthcare, etc
Live streaming in a video hosting software helps to connect easily
Private upload & screen recording is inbuilt into the video hosting platform
PROS
Thumbnail customization is the major takeaway
Animated videos can be embedded in the mail
Hassle-free social media video platform
New hire onboarding is a big plus
Sales outreach with meeting recaps
Conclusion:
With extensive knowledge of the market's major online video platforms, you may expand your video streaming business by partnering with a professional solution to capitalize on current market trends. There are a plethora of excellent streaming service options available.
Choosing the proper platform might be difficult, but we recommend taking a step back, evaluating your goals and priorities, and then selecting an online video platform that fulfills all of your requirements.
We also recommend that you test platforms using their free trials to ensure that you choose the one that is the best fit for you.
If You Already Have An Idea To Build An Online Video Platform, Schedule A Free Demo And We'll Get You On The Road To Video Streaming Success

Frequently Asked Questions (FAQ):
1. What Is An Online Video Platform?
Online video platform provides the facility to stream recorded or live content. They also give you the option to upload & stream your own produced content. OVPs are solely responsible for hosting content on your behalf so that you don't have to worry about building complicated infrastructure, etc. Essentially they are cloud apps by which end-users get to interact with.
2. How Does An Online Video Platform Work?
With an own video platform, content owners can now upload any sort of content, which is then converted into various bitrates. Later the files are stored & then play video content upon user's request via the wireless internet. Usually, online videos consists of two types. One deals with pre-recorded content or even live streams that are put up across a website.
3. What Are The Revenue Models Available In Online Video Streaming Platforms?
Well, if you're interested to make up the rankings high just like various digital video platforms like Hulu or Netflix, the first thing that you need to finalize is on type of video streaming business models. Some of the available options consists of SVOD, TVOD, AVOD, PVOD, SSAI, Catchup TV, Video Paywall, & more. 
4. What Are The Features To Look For In An Online Video Solution?
In order to create best online videos & leverage several business opportunities for expanded reach, it is essential to have top-graded streaming features like 100% customizability, whitelabelling feature, 6+ money-making models, flexible platform deployments through on cloud/ on premise, 3rd party service integrations & lifetime ownership value.
5. How To Choose The Best OVP Platform For Business?
While you choose online video streaming platform you need to ask yourself a set of questions initially. Some of the parameters comprise with independent platform ownership, streams enabled with multi-viewing support, global CDN to deliver pristine video, reduced latency in all desired streaming situations, complete feasibility to customize any where in the platform, etc.