With the outbreak of the pandemic situation across the globe, the urge for Video on demand (VOD) platforms has increased exponentially.
The VOD market is expected to be driven by the rising influence of smartphones, internet accessibility, and growing demand for online streaming services in businesses and various sectors.
"The VOD viewership has expanded from 31% to 37% in the U.S ever since the COVID-19 situation"
The global VOD platform market size is touted to reach 225 billion dollars by the year 2028 as per the reports suggested by Grand View Research.
With the technological advancements, infusion of blockchain technology in video streaming, and use of artificial intelligence, the video quality will certainly boost the demand for the market over a stipulated time.
The adoption of cloud-based streaming solutions influences the growth of traffic and reach of content. Surprisingly, more than 70% of the U.S people have a minimum of at least one video on demand subscription when compared to their counterparts.
"Video on demand viewing rises by 155% each year with an approximate viewing time of 17.1 minutes for each session."
Top 14 Video On Demand Platform in 2023
What is VOD?
VOD stands for Video on demand, it is an interactive system for exclusive access to content that allows its viewers to access any video from a library of content with compatibility of viewing on their Mobile phones, desktops, TVs, and any other devices.
VOD solutions are becoming increasingly popular amongst viewers and businesses as online video platform comparison gives the viewers the choosability and flexibility of accessing the video content such as TV shows, movies, and much more.
How Does Video on Demand Work?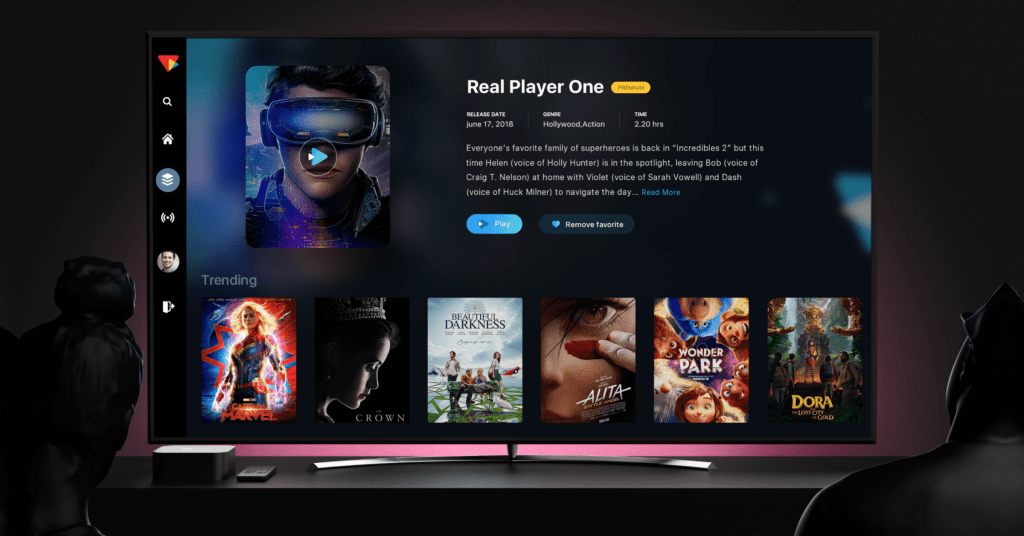 Before having the video delivered to your home, the movie or show is first put into a digital format and stored in a video server.
When there is a VOD request, the movie is initially compressed & transmitted via the cable or broadband connection.
After reaching the server, the movie streaming platform gets decoded and decompressed via a set-up box, later stored in a video server in the computer or television of the viewer.
The Benefits of best VOD Platform
Convenience-

Over the keyword searches, the viewers can search through the video library and view their choice of content whenever and wherever without any broadcasting barriers.

Sharing-

The videos can be shared with predetermined audiences and they can be watched at their convenience.

Reach-

The content creators can access any content beyond the geographical restrictions and time variations due to the presence of multiple screens on the internet.

Content Variety-

Viewers can have access to an infinite number of topics and the results from the searches are generated in a quick succession of seconds with the use of rapid stream delivery.

Navigation-

With the use of chapter markers, you can jump into a specific section of the video.

Compatibility-

It provides HD quality viewing over the internet facility with low latency, zero buffering, and instant start-up of videos with compatibility across devices.

Viewership metrics-

Easily gauge the measurements of the viewer activity via analytical figures. The determination of viewing behaviors in the target audience is quite difficult without the metrics.

Affordable promotions-

The launch of commercials in the online forum is cheaper than the purchase of prime time spots for TV Ads.

Interactivity-

Various features enable the viewers to have interactions with one another with the use of comments, likes, in-video files such as surveys, file attachments, and timed comments.
What are the Best Video on Demand Platforms?
"The key to success lies in picking the right VOD platform."
When it comes to finding the best VOD platforms , it becomes crucial to familiarize yourself with the technical aspects of each platform in order to identify the one that aligns with your specific requirements.
Top 14 Video on Demand (VOD) Platform Providers To Consider in 2023
In this section, we have compiled a list of the top 14+ video on demand platform providers.
You can explore these options to find the VOD software provider for creating a successful platform to stream your video content.
Here are some of the best VOD platforms that can help you build your video on demand services: VPlayed, Vidyard, GUDSHO, Wowza, Brightcove, Kaltura, Vimeo, Dacast, IBM Video Streaming, and more.
Let's see each of the Video On Demand (VOD) Platforms in detailed with features.
1. VPlayed
A Unified White-label Best VOD Platforms For Your Streaming Business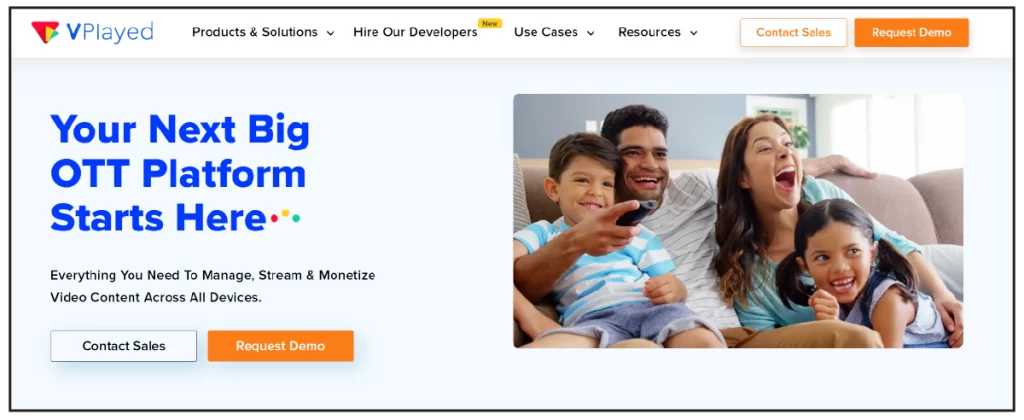 VPlayed is a best futuristic and 100% customizable vod streaming that is flexible, compatible, reliable with end-to-end encrypted features for business purposes with strong security attributes and multiple monetization models.
The multi-bitrate technology through the HLS player will boost the video streaming and their stellar content management strategies deliver increased engagement and increased ROIs.
VPlayed is the first choice of many leading businesses for streaming audio or video content across all versions and devices.
VPlayed VOD Platform Blusters Numerous Business-Building Features Like:
Robust DRM platform security with AES encryption

In-built video CMS platform to manage content library

Integration at on-premise or cloud services

Complete Customization of your streaming channel

6+ Multiple video monetization models

Seamless streaming through Customizable and dynamic Video Player

Transcode files and cloud encoding at a switchable bitrate

Scale higher success with marketing and analytics
For quote-based plans, fill out this inquiry form, You may also opt for best VOD Platforms Free Demo Here

2. Vidyard
A Finest All-in-one VOD Streaming Software in the market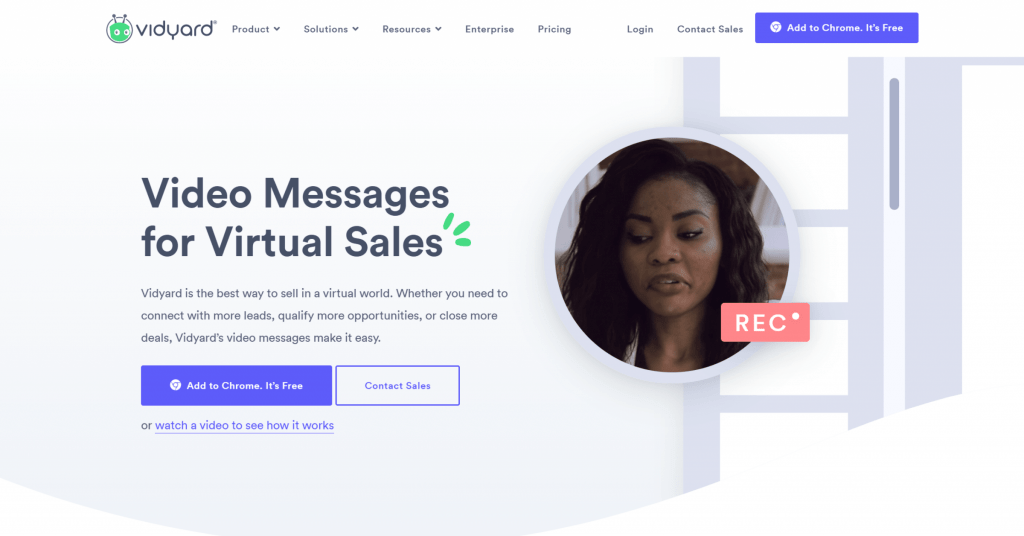 Vidyard is the best On-Demand video platform provider for hosting online videos on a large-scale basis. It gives you the right way to manage and host your videos online.
Vidyard holds unmatchable player connectivity, customer service, and features to boost the video hosting prospects for corporate communications, marketing, and sales.
Vidyard is a first-class online video platform suitable for every business to increase leads, delight & entertain customers, and accelerate your pipeline.
It is a video tool exclusively built for virtual sell videos online and is quite easy for recording as well as sending videos with a personal flavor.
Highlight Features of Vidyard Video on Demand Solution Includes:
Leading automation and

video marketing

integration platform for powering video data

Get optimum leads with personalized video experience

Ad-free content upload with video playbacks

Increased customer engagement
3. GUDSHO
A premium online video platform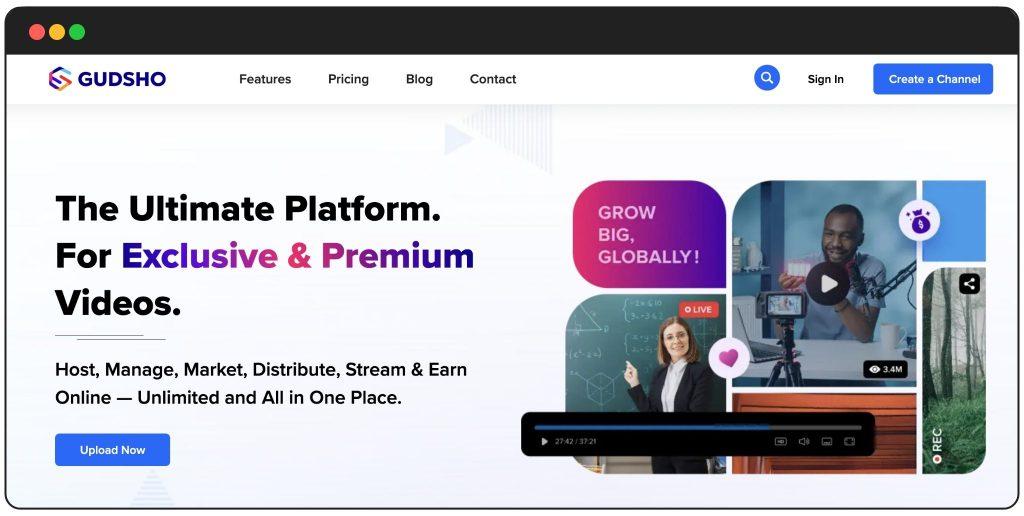 GUDSHO is formulated with the specific intent to uplift the creator economy.
Thereby the setting of the platform is one that is easy for navigation keeping in mind an independent creator's position in a video enterprise.
The platform comes defaulty equipped with all features necessary for every accountable business operation in the video business.
It also accommodates every kind of creator from genres of education, fitness, lifestyle, influential to a group of broadcasters or content owners such as production houses, film festivals and others.
Creators with the platform shall partake in the ease of general operations of their video enterprise with just 'the push of a button' that connotes a singular feature for every task necessitated in the running of such business.
Some of The Highlights of GUDSHO Platform Are:
It provides compatibility with various devices.
It guarantees superfast and 4K streaming to its users.
It comes with extensively assistive features for video businesses.
It lets creators in on the performance of their videos with the help of an advanced analytics dashboard.
AES encryption is enabled for the safety and security of all video assets with the platform of GudSho.
It extends more than one monetization model that is inclusive of svod, tvod, avod and donations for the financial benefit of creators.
4. Wowza
A Global Distribution & On Demand Video Streaming Platform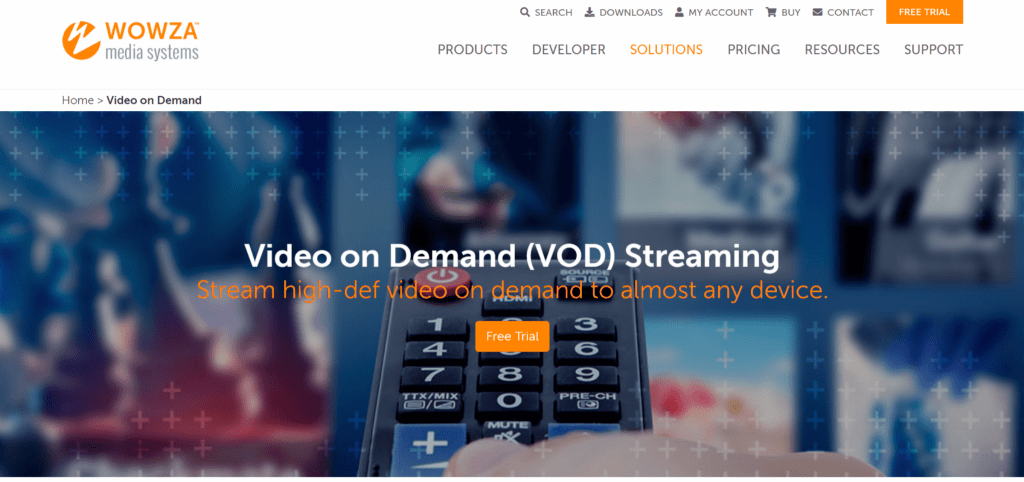 Wowza is a Video on Demand platform that allows download of high-definition quality on-demand videos to any device, thereby expanding your viewer base.
With Wowza, you can effortlessly broadcast pre-recorded video content to computers and players, providing an exceptional viewing experience for your audience.
In addition to this, you get to have strong security tools for protecting your videos.
Wowza offers two primary products such as Wowza streaming cloud and Wowza streaming engine delivering solutions for VOD streaming.
Features Distinguishing Wowza as a Top-notch Video on Demand Platform:
Reduce the first mile issues through proactive management with origin ingestion

HTML embed system for all devices to meet video playback needs

Publish content with master bitrate renditions

Protect your streaming with

video DRM

and RTSP systems

Smart embedded real-time streaming for the interactive virtual surrounding
5. Brightcove
A Reliable Video On Demand Solution

Brightcove is capable of delivering videos across various screens and users without any glitches.
With a strong media cloud, you get a centralized video network for live streaming, monetization, marketing, analytics, encoding, and much more.
Brightcove is touted to be one of the oldest best VOD platforms that offer VOD, cloud encoding, and live streaming.
It is the right choice for monetizing content and serving the Ads with contractual services.
Highlighted Features That Make Brightcove VOD Solution Provider are:
Monetize video content with leading networks using Ads

Optimize live streaming with distributed cloud support

Track the user engagement and interest with analytical reports

High tech security for improved video communication

Social media integration for video ranks
6. Kaltura
A Streaming VOD Solution For Powering Video Experience

Kaltura offers SaaS-based solutions in developing media-oriented VOD software for Lecture capture, live interactions of virtual classes, and secure hosting of webinar sessions for education streaming platform.
It integrates seamlessly with any existing CMS and is the right fit for seminars, courses, and all eLearning courses.
Kaltura offers flexible live streaming and on-demand videos for the hosting of registration-based or invitation-only events.
There is a 30-day free trial and prices are listed out on request. It is specifically designed for enterprise brands and larger-scale institutions.
Kaltura Assists in Developing Significant VOD Software with Progressive Technologies Like:
Advanced meta-data and search attributes at one place

Easy integration of Kaltura's API into the existing platform

Best in-hand broadcasting video technology for real time, VOD, Live, and much more

Scale higher revenues with a unique video cloud platform
7. JW Player
A Simple Video On Demand Streaming Solution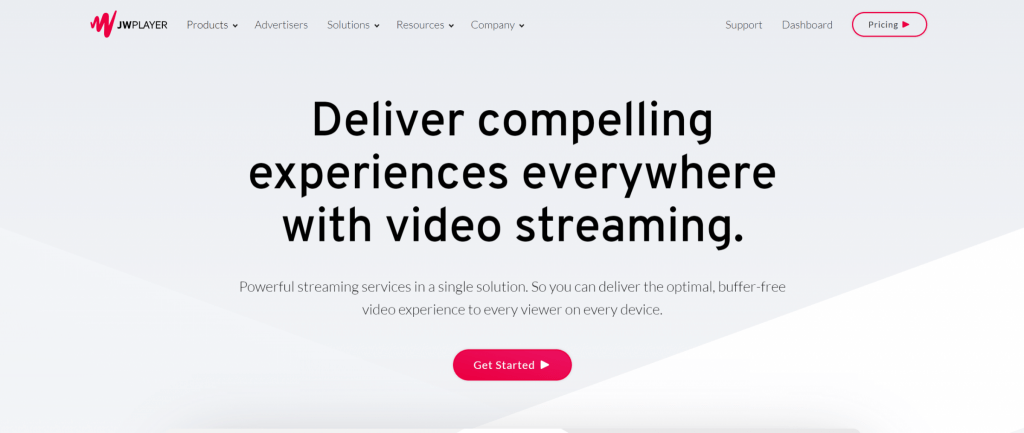 JW Player is an end-to-end video streaming services for importing, controlling, and distributing videos effortlessly.
They are equipped with multi-CDN network POPs for ensuring an efficient distribution to every region.
JW Player is widely appreciated across 130+ nations for their superior CDN solutions and effective distribution of video streaming platform.
It delivers engaging video content to viewers in real-time with its smart recommendation engine.
JW Player Video On Demand Software With Advanced Features includes:
Digital distribution with H.264/AAC for HQ edits

Launch live events on your TV channel without any glitches

Maximize the revenue with video-based Ads

Use article matching for increasing user engagement by click to play rate
8. Vimeo
A Full-scale VOD Platform Provider with Subscription Service

Vimeo is touted to be among the top 10 OTT movie streaming services in the U.S territory and holds a wide customer base of two hundred million users & known for its seamless streaming services.
Vimeo aids in distributing films, movies, and TV episodes easily with the use of sophisticated technologies.
Oscar-nominated and award-winning movies are generally streamed on Vimeo for their popularity amongst viewers.
It allows you to retain more than 90% of the creator's income after the processing costs are incurred.
Listed Below are Vimeo's Incredible VOD Platform Features that Include:
Decipher metrics with video analytics to deliver precision content

Control the content access with a secure, flexible, and simple interface

Global VOD content for progressive streaming

High volume streaming with advanced player
Tired of using Vimeo OTT?
9. Dacast
A Leading OTT Streaming Platform With Progressive Tools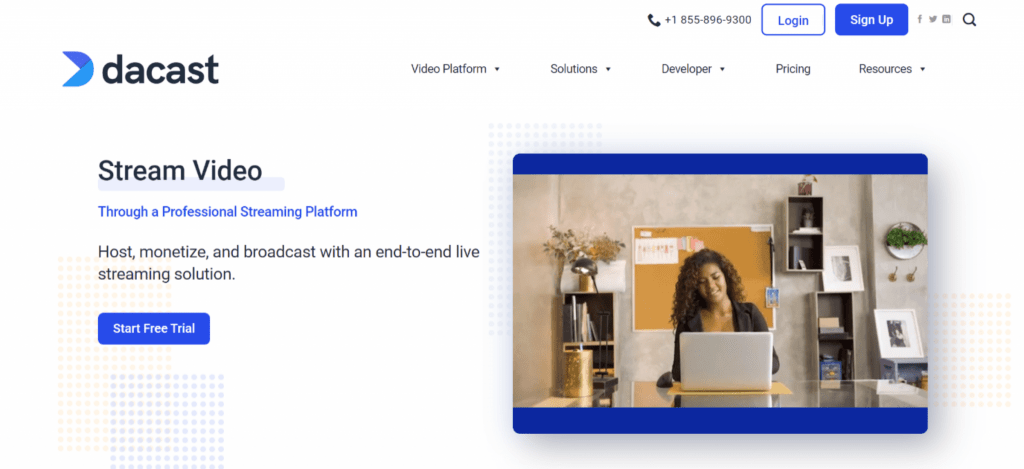 Dacast is an ideal video on demand solution for professional broadcasting and offers a seamless streaming solution.
The pricing of Dacast is more affordable than any other streaming solution provider in the market.
Dacast pricing offers no-contract options with very secure CDN networks for reliability in streaming and comes at affordable pricing when compared to other solution providers.
It gives you Ad-free broadcasting and white label service plans with complete assistance.
Dacast's VOD Platform Boasts of Business-Building Features Like:
Best video hosting with global delivery

24*7 tech support for a smooth hassle-free process

Robust security features for safe streaming

Multi-user access on specific plans

Cloud-based video transcoding

Smart real-time analytics and Ad-free streaming

Adaptive bitrate streaming for HD output
Tired of using Dacast?
See why Dacast is not suitable to manage Your VOD platform and why you need a
Dacast Alternative
10. IBM Video Streaming
A Powerful VOD and Live Streaming Platform

IBM streaming solution makes use of AI-driven technology for interactive communication, content management, live streaming, and much more with the use of a potent VOD software.
Enhance your business entrepreneurial talks with IBM's cloud solutions for live stream events, product launches, and many more.
IBM allows management and monetization of your platform with flexible streaming across devices.
It is mostly suited for enterprise solution usage, creators, and SaaS businesses in the industry.
Features of IBM Top VOD Streaming Platform are:
Complete customization for API access with controlled user rolls

Password protected channels for ensuring restricted access

Leading CDN infrastructure for best streaming performance

Live call to action in the video player for clickable video relays

Scalable cloud-based

broadcast streaming solution

for multicasting live streams
11.
Vidizmo
The Most Valuable & Worthy Online VOD Solution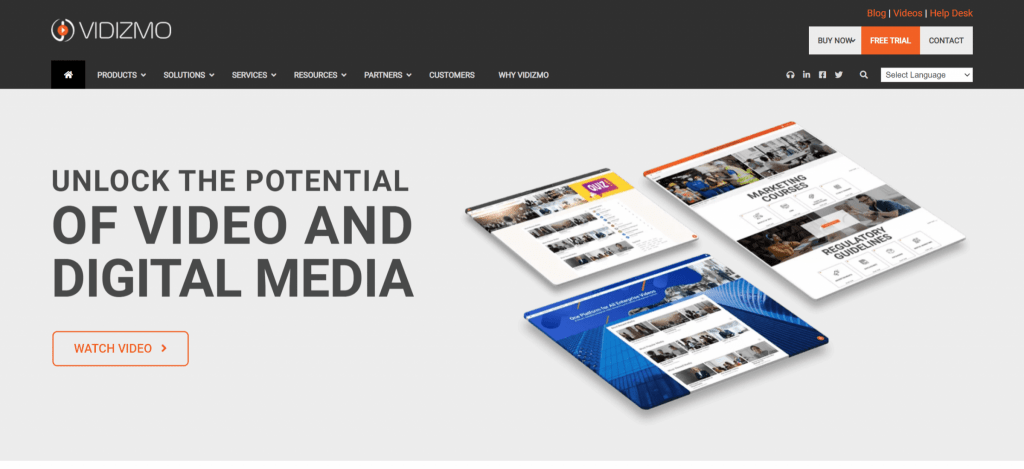 Vidizmo is an all-inclusive VOD solution that offers a wide range of ways to ingest and upload media content compatible and flexible across devices.
The monetization models generate better revenue opportunities and it holds a highly scalable video CMS to stream videos across geographical barriers.
Vidizmo is an exclusive enterprise video content management channel for troubleshooting multiple challenges in video hosting, sharing, managing, and streaming.
Vidizmo Video on Demand Solution With Advanced Features are as Follows:
High definition VOD streaming of videos

Branded media portal for corporate communications, On-boarding programs, etc

Advanced analytical tools offer a centralized dashboard with media analytics, interactivity reports, and video analytics.

Smart API integration for management of content and access

Compatibility of devices for increase reachability and scope for content
12.
Arvancloud
A Flexible and Hassle-free Top Video On Demand Software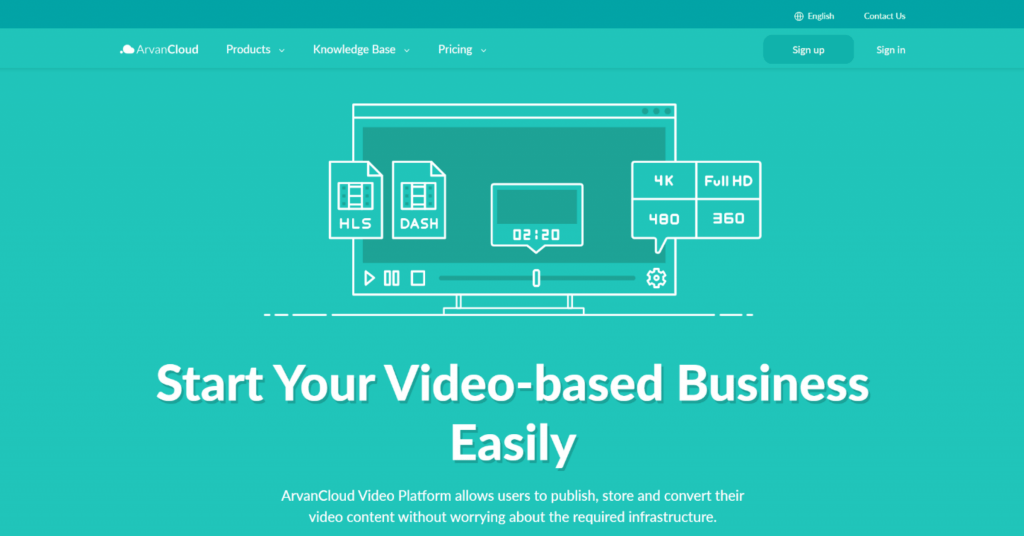 Arvancloud video on demand software solution gives the power to store, publish, and convert video content without any infrastructure constraints.
It is highly compatible and allows the creation of content in various formats for publishing. The powerful processing and integrated cluster ensure conversion of video processes in a short period.
Take a Look at the Advanced Features of VOD Platform:
Cloud video

advertising for the addition of Ads

Maximize the loading speed with integrated CDN

Smart web-based player for compatible and supportive streaming

Quick cloud server activation for a simpler process

24*7 technical support and assistance

Intelligent API for video platform management
13. Muvi
Turnkey Solution To Launch Video On Demand Service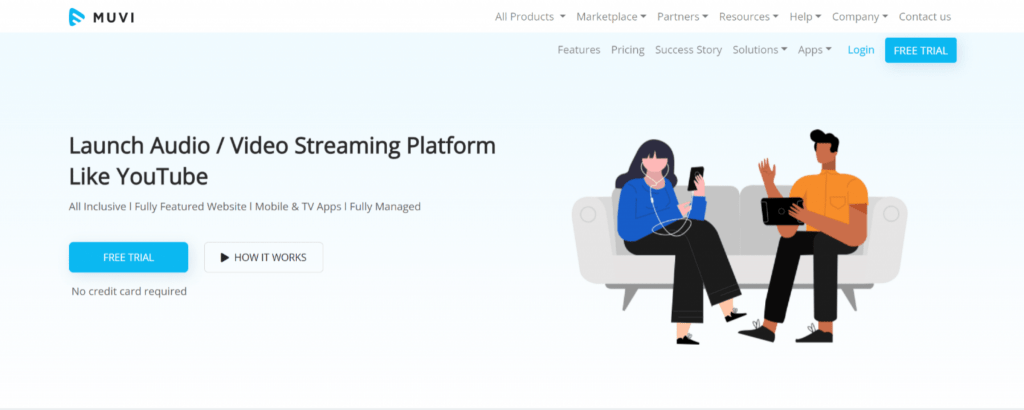 Muvi is a unique streaming platform that is specifically tailored to assist content broadcasters with quick OTT streaming needs.
It includes exclusive and featured OTT TV app, Mobile, and Websites with end-to-end streaming solutions.
Muvi is mainly considered as one of the best video streaming platforms for OTT media distribution and empowers the audiences to launch their white label video or audio streaming platform.
State-of-the-art Features of Muvi VOD Streaming Platform Are:
Fully customizable HTML5 video player

Advanced DRM and security tools

A comprehensive video CMS

High quality (HD) streaming with transcoding

Multiple and revenue-generating monetization models

Insightful viewer analytics for measuring the behavior
14. Uscreen
Highly Customizable & Scalable Video on Demand Solution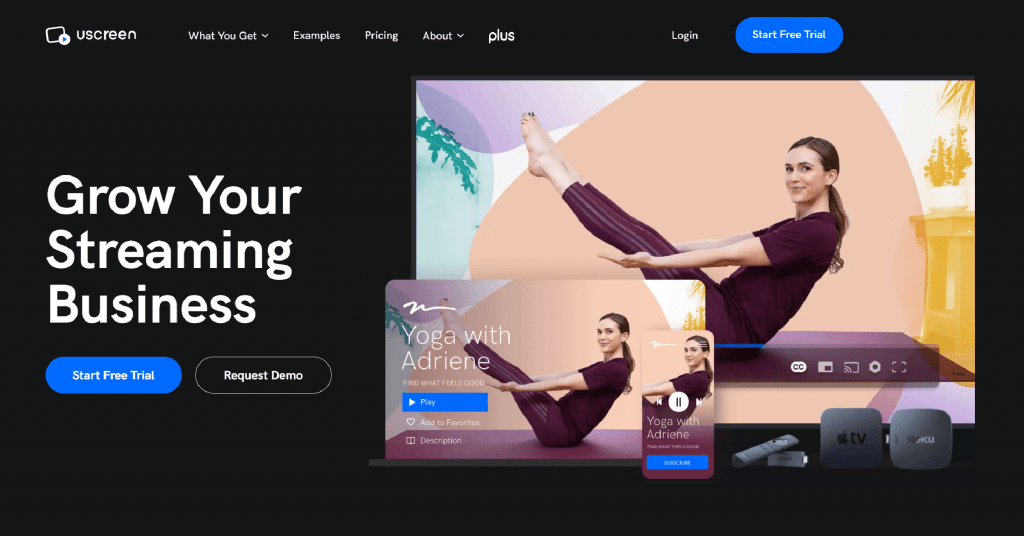 Uscreen is one of the top video on demand software channels for its exclusive monetization features.
It gives the privilege to customize the appearance of the platform, pick the right video monetization platform, track subscriber analytics, and much more.
Uscreen ensures multi-bitrate streaming, quick encoding for a 4K UHD viewing experience and the platform is white-labeled with a powerful global CDN.
There are multiple options for increased user engagement, analytical data, and email marketing.
Progressive Feature List of Uscreen VOD Software:
Distribute and monetize videos hassle-free with a recurring fee

Multi-device compatibility for automated scheduled content delivery

Track video progress with overview data of customers

Catch the attention of viewers with website themes and increase video plays

Conversion of search engine users with SEO strategies
Tired of using Uscreen
See why Uscreen is not suitable to manage Your VOD platform and why you need a
Uscreen Alternative
How to Choose The Right VOD Platform Provider?
Are you looking to start your VOD business? Get to know the features to look out for, while choosing the best VOD app solution provider for global streaming & monetizing video content.
With multiple online video portals for business requirements, finding the right VOD hosting service is the herculean task.
VPlayed will be the best choice for designing a futuristic video streaming solution with 100% customization and a white label ott solution.
Stream videos or audios on-cloud and on-premises, manage uploads with VPlayed's in-built video CMS.
Increase the user engagement and improve viewing experience with the multi-device support and their adaptive web applications.
VPlayed's characteristic multiple video monetization platform are designed to improve the revenue prospects and maximize the power of your content globally across all mediums.
Conclusion
To sum up, Video On Demand platforms is an outstanding way to connect with your viewers and scale higher in business growth.
The right video hosting solution provider that integrates your content delivery will be the right choice in progressing the success ladder.
If you are interested to find out how VOD solutions can shift your business growth, check out CONTUS VPlayed for superior streaming solutions for any business needs.
If You're Ready To Incorporate Video on Demand Platform Into Your Video Content streaming,
Get In Touch With Us Right Away.
Frequently Asked Questions (FAQ):
1. What Is Video-On-Demand (VOD)?
Video on demand which is also commonly known as VOD, is an interactive video streaming system that provides on demand content where viewers can access any genre of content from a wide online collection of library. The engaging content is distributed across screens via a digital platform worldwide.
2. What Are The Benefits Of Building A Video On Demand Platform?
The major benefactors that determine the need of building a VOD platform starts with the liberty  to stream viewer-chosen content, pre-recorded videos can be shared at any time, can revolve around infinite topics, cater to specific section in the video through advanced navigation, and much more.
3. How To Monetize VOD Content?
You can now limitlessly monetize VOD content in best video on demand platforms by leveraging opportunities through numerous subscriptions, injecting ads within the content playbacks, or charge with a one-time fee for premium content using pay-per-view model. You can also rely on catch up TV model to monetize your missed content indefinitely & more.
4. How To Choose The Perfect VOD Platform Provider?
You can now choose the video on demand (VOD) platform providers for developing your business successfully with some key attributes. Some of these are: customizability to any extent within your streaming website, make sure to get whitelabelling facility for future growth, lifetime ownership becomes a must for elevating your business platform & lots more. 
5. Why Is Video On Demand Important For Your Business?
Video on demand VOD is Important because Video is a strongest medium that can be used to potentially convey any message across any industry. So there has always been a demand in the market. All the more, video on demand gives you lucrative chances to monetize any kind of video content consistently. It can be a collection of web series, business-like training videos, one-on-one personal workouts, etc.