As technology is advancing at a rapid pace, Smart TVs are becoming more and more popular among consumers. With the growth of Smart TV, the demand for Smart TV applications is also catching up the pace.
Nevertheless, Smart TV apps provide users with a number of features, such as online video streaming services, gaming, and social media, making them an attractive market for a number of business houses who rely on online video content.
However, developing Smart TV apps is not that easy, and it requires expertise and experience. That's where Smart TV app development companies come into the picture and shine well. Indeed, the video streaming app industry has earned $72.2 billion in revenue in 2021, and it's expected to grow to $115 billion by 2026. Seeing the projected growth, isn't that amazing?
To catch up with the growth, there are several Smart TV app development companies that offer Smart TV app development services at a very affordable pricing, and these companies can literally help businesses build custom Smart TV applications that meet their specific needs.
In this blog, we will discuss the 6 best platforms to develop your Smart TV app in 2023. Here, we will provide an overview of each platform, along with their features set so that you can come to a conclusion and make an informed decision that is best for your online video business.
Top 7 Smart TV Application Developers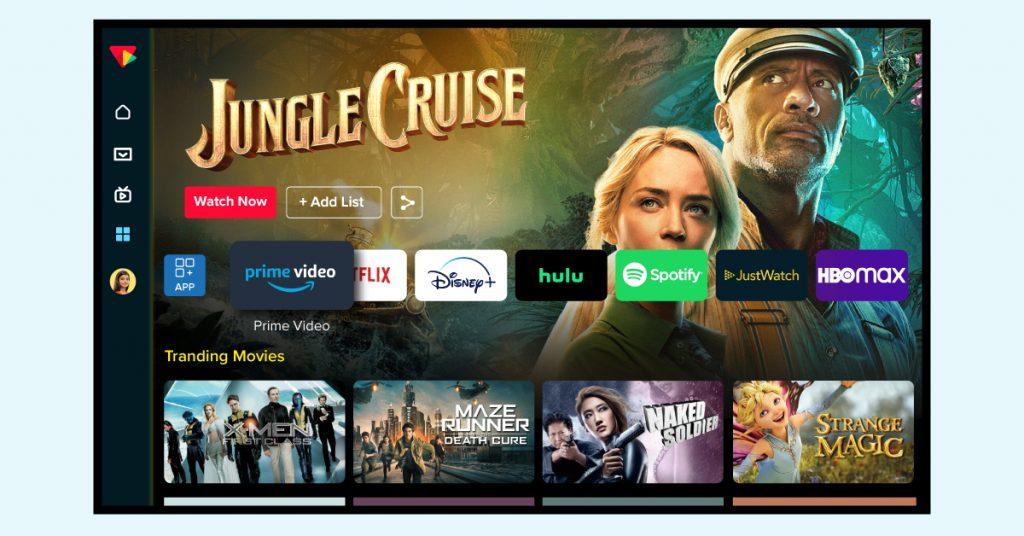 We all will agree that the emergence of Smart TVs has revolutionized the way we consume entertainment and connect with the world around us. As users increasingly expect more than just regular programs on their screens, app developers have been tasked with creating a range of applications that cater to every business need.
From entertainment to productivity, the possibilities are endless! To help you tap into this exciting new world of entertainment, we have put together a list of the top 6 Smart TV app development platforms that you need to know right away. Without further ado, let's dive right in!
---
🌟 Also Read: What is OTT? A Definition of OTT & Its Meaning 🌟
---
1. VPlayed
Next-Gen Smart TV App Development Solutions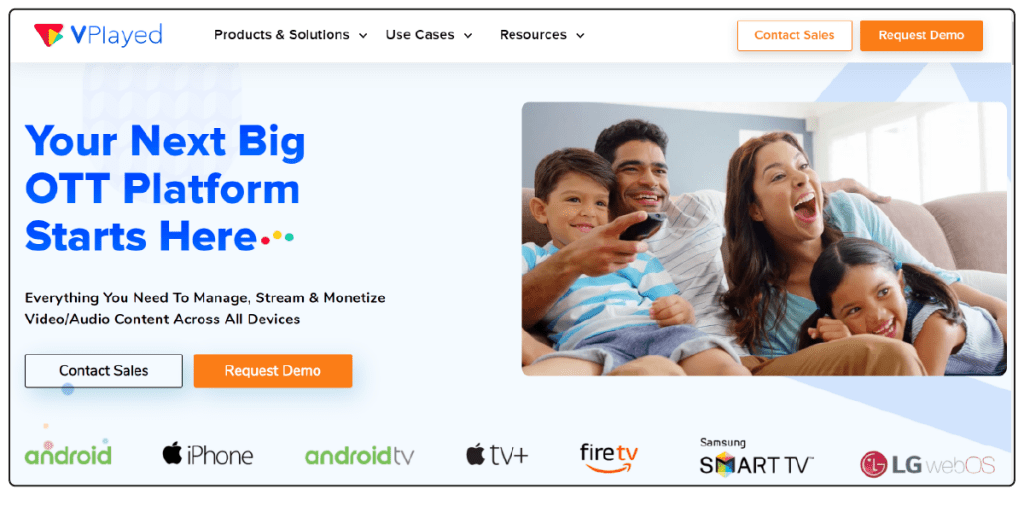 VPlayed is a versatile end-to-end OTT video platform that offers an extensive range of features for online video streaming business that caters to the needs of any audience. With its cost-effective licensing options, businesses can develop their own smart TV app without spending much, making VPlayed the perfect choice for any business needs.
With its advanced security features such as Digital Rights Management (DRM), access control, and end-to-end encryption, VPlayed ensures complete protection against unauthorized access. Also, content owners can choose between on-premise and cloud hosting depending on their business needs, giving them the flexibility to customize their Smart TV app as required.
All in all, one can say that VPlayed provides a comprehensive solution for Smart TV app development. With its customizable features and easy-to-use interface, businesses can create a tailored solution that meets their unique business requirements in the long run.
Some Of The Standout Features Of VPlayed Are As Follows
It supports various payment gateways for easy and secure transactions.

With a powerful HLS video player, the platform ensures high-quality video streaming.

Offers 100% customization to suit the specific requirements of different businesses.

It also allows in-app purchases to enable users to access premium content easily.

Offers a range of monetization models such as subscription-based SVOD, ad-supported AVOD, rental-based TVOD, and pay-per-view (PPV).

To enhance the viewing experience, the platform offers search options, the ability to add videos to favorites, and a watch history feature.
2. CONTUS Tech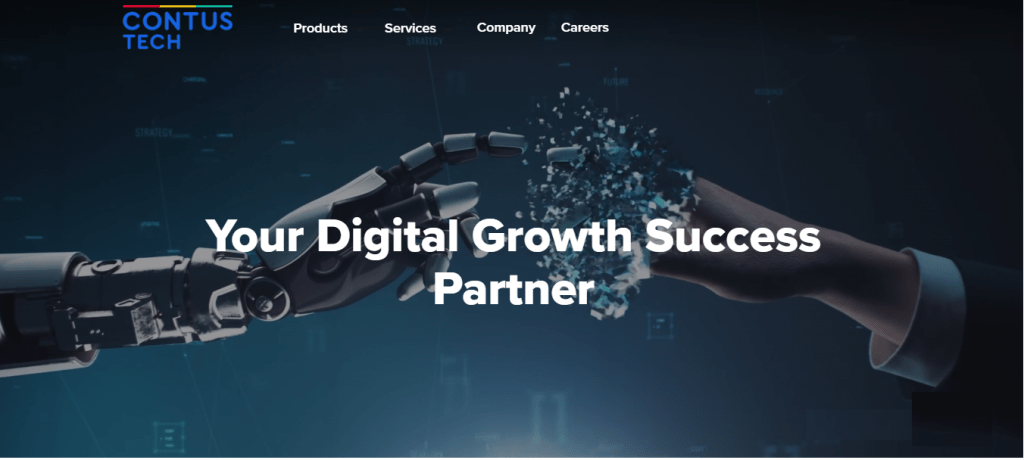 CONTUS Tech is a premier app development company for all things related to smart TVs, OTT, and streaming platforms. It caters to a diverse clientele of content owners, media, and production houses.
Going by its website, the developer also has a proven track record. It offers comprehensive smart TV app services, including cross OTT platform development, scalable cloud infrastructure, and impeccable UI/UX design. 
And its commitment to clients extends beyond mere functionalities. It encompasses complete platform customizations, ensuring a tailored and immersive user experience.
Contus Tech develops full-fledged, super-intuitive smart TV apps. That includes 10+ monetization models, an easy-to-use content management system, HLS streaming support, and seamless migration from your existing ecosystem. 
Notable highlights of Contus Tech's app development include
1. Flexible Hiring Model: Contus Tech's team gives you the freedom to hire resources as and when they are needed to develop your smart TV app.
2. Ready To Work Team: Contus ensures fast project initiation with skilled professionals, reducing onboarding delays.
3. 200+ Third-Party Integrations Support: Seamless connectivity with extensive third-party integrations for enhanced functionality and better compatibility.
4. Pay As You Use: Cost-effective payment model aligning financial commitments with actual resource usage. I.e., you pay only for your actual resource usage.
5. Faster Time To Market: Efficient processes ensure quicker smart TV app launches for a competitive edge.
3. Vimeo OTT
Monetize Your Video Content with Ease
Vimeo OTT is one of the leading platforms for developing Smart TV apps since its inception in 2004. Its advanced video streaming capabilities cater to a diverse range of audiences and offer a customized Smart TV app to meet the specific needs of businesses.
With powerful content management, analytics, and many other monetization tools, Vimeo OTT provides a variety of useful solutions for Smart TV app development of any size. It offers both extensive and simplified plans to cater to the requirements of creators and organizations alike.
As one of the pioneers in high definition streaming, Vimeo OTT is one of the top destinations for Smart TV application development and availing Smart TV app development services. Above all, Vimeo OTT's continued innovation and focus on providing top-notch Smart TV applications make it a go-to platform for developing video-based applications.
Some Of The Standout Features Of Vimeo OTT Are As Follows
Top-rated video CMS that simplifies content storage and management.

Provides robust tracking insights to analyze audience behavior & performance metrics.

Effective security tools and privacy settings to safeguard the content.

Allows creators to showcase their content through custom video gallery pages.

Provides personalization options to ensure a cohesive streaming experience.

Offers 100% customization options, allowing creators to personalize their streaming experience with on-brand aesthetics.
Tired of using Vimeo OTT?
4. Brid TV
Your All-in-One Smart TV App Developer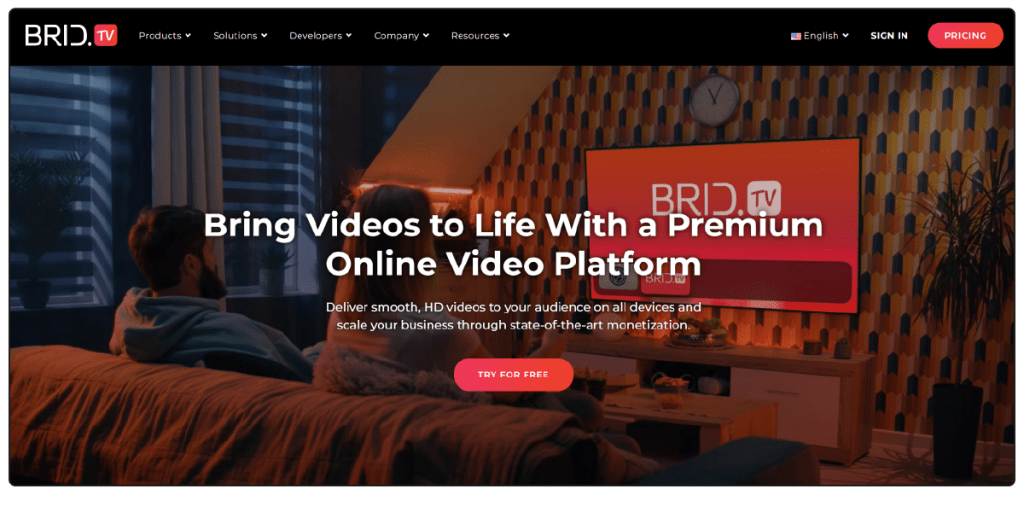 Brid TV is not only a reliable and smooth platform for streaming content on computers, mobile devices, and tablets, but it also provides an exceptional viewing experience on smart TVs. The platform has been working on smart TV applications, making it a top choice for content owners. With Brid TV, publishers can create a top TV app solution that provides an immersive experience.
If you're looking to develop a smart TV app, Brid TV can be considered as one of the top picks. They have smart TV app developers who can help you develop Smart TV apps that fit your needs. With Brid TV's easy-to-use UI, convenient search functions, and powerful filtering options, you can manage your video content and monetize it through ad-based monetization.
Above all, when it comes to top TV apps, Brid TV becomes an excellent choice for publishers who want to monetize their content. Its white-label enterprise-level Smart TV application makes it a top choice for publishers. Also, the analytics section helps you to access device analytics, user location, demographics, and video interaction, making it easier for you to make informed decisions about your content.
Some Of The Standout Features Of Brid TV Are As Follows
Search options and detailed analytics for individual end-users.

User profile data to gain valuable insights into audience behavior.

Live streaming and DVR capabilities for real-time content delivery.

Ability to import online content from other platforms.

Various monetization models are available, including ad-based monetization.

Advanced tracking insights to effectively keep a record of content performance.
5. Zype
The Enterprise-Grade Smart TV App For Every Business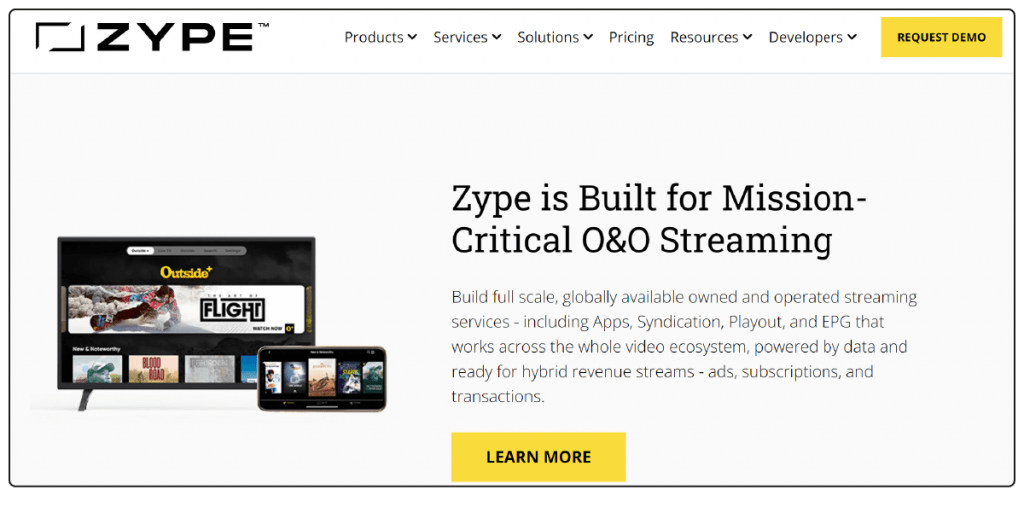 Zype is a solution provider that has experienced rapid growth since its mark in 2014, and now at present caters to a large number of customers across various industries, including fitness, education, media, and entertainment. Slowly and steadily, it is capturing the Smart TV application market.
The platform offers a complete video infrastructure for any over-the-top (OTT) streaming video business, includes a range of developer-friendly application programming interfaces (APIs) and an open framework for Smart TV development.
Zype's suite of tools is designed to simplify Smart TV app development by providing pre-built APIs for video encoding, player management, live streaming, and linear video. It also includes content and audience management, encoding, storage, monetization, and distribution to digital platforms, making it one of the ideal solutions for any Smart TV app developer seeking a comprehensive video streaming solution.
Some Of The Standout Features Of Zype Are As Follows
Native integration with other SaaS OTT platforms.

API endpoints that developers can use to create Smart TV apps.

Users can easily share content across multiple platforms and screens.

Over 28 video connectors for seamless distribution to major OTT/CTV platforms.

Content categorization is made easy with Zype, which offers search and filter options.

Enterprise-grade video CMS with automated workflows that can streamline the entire content management.
6. Streann
Elevate Your Video Streaming Experience With Ease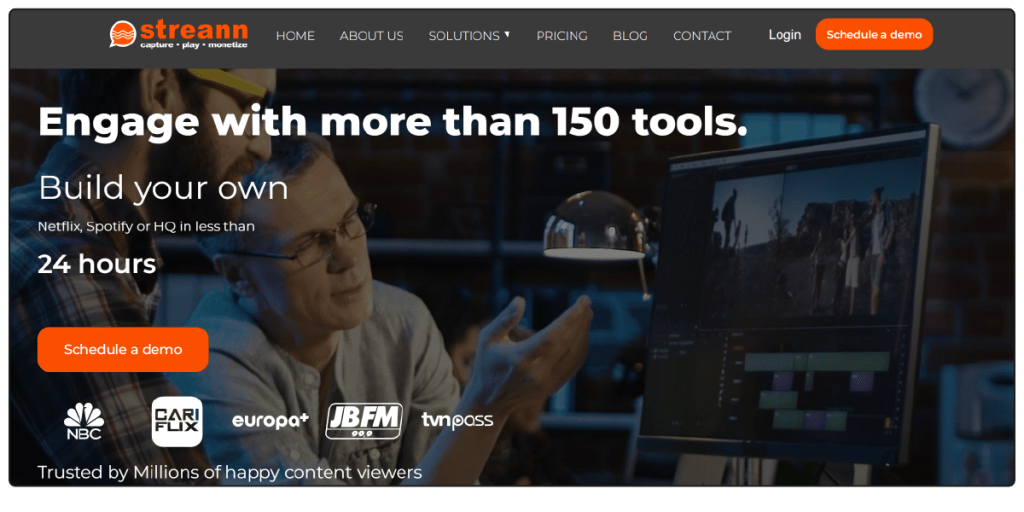 Streann platform is known and specialized in providing Smart TV app development services. The company offers a comprehensive suite of tools and solutions for content owners. Streann's Smart tv app development services usually cater to the needs of large organizations with sophisticated broadcasting requirements.
Streann's Smart TV app development helps broadcasters create engaging and interactive video experiences for their audiences. The company offers a wide range of Smart TV app development solutions, including Smart TV app Android and Smart TV app developer services, that are fully customizable to meet the specific needs of any medium to large size organization.
With Streann's Smart TV app development solutions, content owners can easily create and launch their own Smart TV apps that can be accessed by viewers on a wide range of network devices. Last but not least, one thing that is worth mentioning here is that Streann's Smart TV applications are fully customizable and designed to meet the specific needs of any enterprise.
Some Of The Standout Features Of Streann As Follows
Easily create and publish multilingual content in various audio file formats.

Improved analytics to help optimize and refine your overall content strategy.

Powerful video management tools ensure seamless delivery of high-quality content.

It is noted and experienced that the overall payment process is quick and easy.

Comes with enhanced content scheduling and publishing capabilities.

Allows users to add their favorite content to a personalized list for quick and easy access.
7. JWPlayer
Innovative Video Solutions for Every Business Need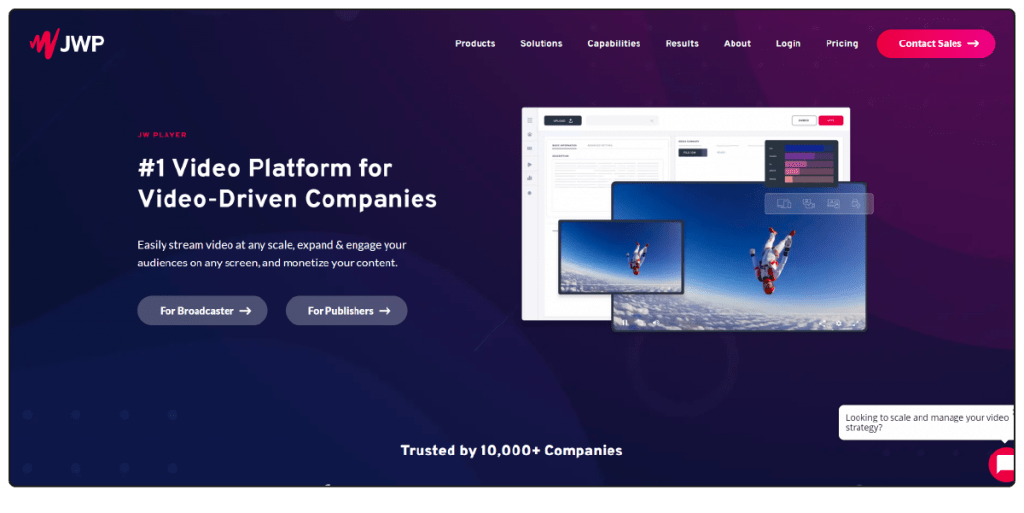 JW Player is one of the leading video platforms that specializes in creating innovative and engaging Smart TV apps for online video streaming ventures. Their expert team helps companies to manage, expand, and monetize their video content by developing Smart TV apps that provide a unified viewing experience across multiple network devices.
JW Player's focus on HTML5 video players allows for an immersive video experience on any platform, making them the go-to choice for those looking for the best TV app. With JW Player's Smart TV app development services, users can enjoy a personalized experience that is tailored to their specific preferences or taste.
Their video hosting services are highly compatible with the majority of OTT platforms, making them a reliable choice for companies looking to develop Smart TV apps. Above all, JW Player's fine-tuned features help deliver relevant content to end-users, making them one of the best Smart TV app development companies available in the market.
Some Of The Standout Features Of JW Player Are As Follows
Features a native SDK recommendation engine.

Advanced video intelligence to improve audience engagement.

Comes with an HTML5 video player that adapts to the current situation.

A comprehensive video management console that comes with several APIs.

Support for In-app purchase to enable monetization and video marketing.

Video CMS dashboard to manage video content from one centralized location.
Summing Up
In conclusion, developing a Smart TV app in 2024 is a very wise move for businesses who want to expand their reach and make connections with more customers. With the increasing popularity of Smart TVs, it is important to choose the right platform that can ensure a smooth and effective user experience.
The six platforms that we have listed in this blog – VPlayed, Vimeo OTT, Brid TV, Zype, Streann, JWPlayer – are all great options to consider. However, when choosing a platform, it is important to consider certain factors such as development tools, user interface design, ease of deployment, and compatibility with other network devices.
It is also essential to ensure that your Smart TV app passes all the technical requirements and follows the guidelines and policies. All in all, by selecting the right Smart TV app development company and following best practices, you can create a Smart TV app that engages your audience and helps your business succeed in this dynamic digital landscape.
If You Already Have An Idea About Launching A Smart TV App, Schedule A Free Demo And We'll Get You On The Road To OTT Video Streaming Success!