Video on demand viewing times are growing at a much faster rate while it is in comparison to live viewing times.
The statistical report indicates that video on-demand whether in apps or platforms, they provide average watching time of 17.1 minutes per session.
When it comes to analyzing maximum viewing times between on-demand and live streaming, it makes the trend more predictable.
Viewers actually spend 66% of their time watching on demand programming, much way ahead than the estimated figure which was around 59% the preceding year.
With this trend, the consumers are becoming quite choosy when it comes to consuming content which is of any type.
As a result, there lies a competitive edge which is faced by OTT video platform for them to satisfy the growing needs of viewers who multiply in demand.
Brightcove has come a long way in the world of video streaming. It is well-equipped platform that assist broadcasters to potentialize their online streams & bring them to life.
However, this whitelabelled video platform is mostly suitable for enterprises with large-scale budgets, which means that it is not ideal for broadcasters handling mid or small-sized business.
Through its award-winning technology, Brightcove has been assisting customers since 2004 in discovering and experiencing the extraordinary potential of video.
This has enabled organizations in more than 70 countries to reach audiences in daring and creative ways.
In this post, we will go over everything you require to keenly know about streaming with Brightcove Alternative which includes its top features
Top 9+ Brightcove Alternatives
What is Brightcove?
Brightcove video cloud is an all-in-one video hosting platform that reaches your audience with ease.
The high-end streaming solution delivered by Brightcove supports both live and on-demand hosting so creating TV apps becomes no more a worry.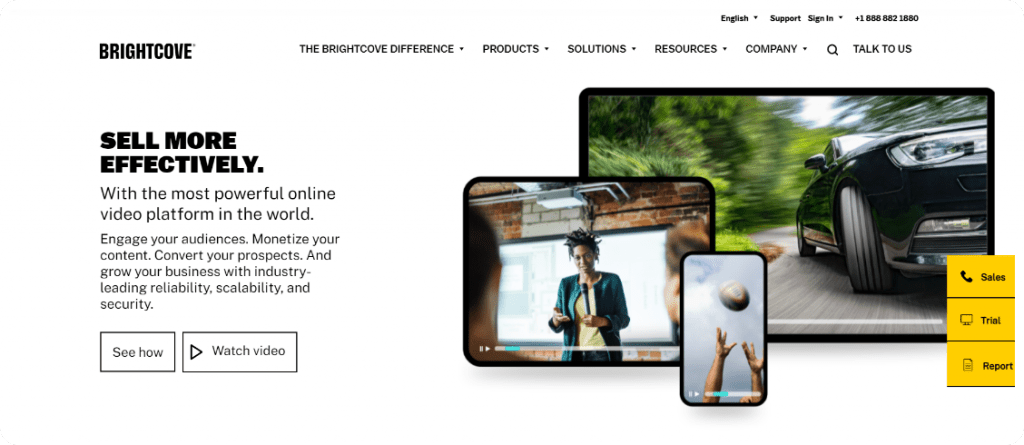 Video Cloud makes it easy to upload, manage and publish content all with an intuitive CMS.
Easily create content to deliver it through HTML5 first video player that loads quickly at a fast rate to stream across desktop, mobile platforms, etc.
Brightcove accomplishes this through creating previously unimaginable technology, offering customer service devoid of barriers or justifications, and utilising the knowledge and resources of a worldwide infrastructure.
Some of its key features are:
The default player is responsive by default resizing to fit web layouts

They deliver the best quality of streams with adaptive bitrate capabilities

Brightcove supports live streaming to outreach audiences globally

Offer specialized plans for video monetization to generate X+ revenue

Provide a consistent & seamless experience for viewers across platforms

Domain restrictions are inclusive in all Brightcove's video security plans
Top 9 Best Alternatives For Brightcove
Each of these options has different features and caters to diverse audiences. So we have reviewed and rated all of them based on features like monetization, white-labeling, security features, etc. and listed them below.
Some of the top Brightcove alternatives include CONTUS VPlayed, Kaltura, IBM Cloud Video, Panopto, Dacast, JW Player, Uscreen, Vimeo OTT, and Vidizmo.
End-to-End Streaming Capabilities That's Next Best Alternative to Brightcove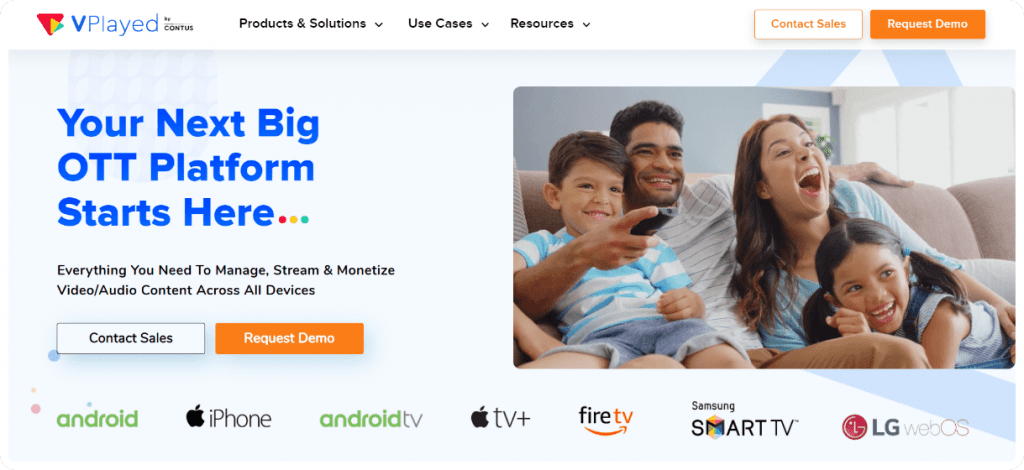 VPlayed provides all-in-one OTT platform that empowers content broadcasters, professional streamers or aggregators to stream live or on-demand media content literally anywhere around the world.
They offer an array of distinctive video on demand solution which are backed up by high-end streaming technologies like microservice architecture.
VPlayed gives the liberty to customize your own platform completely without any limitations.
Some of Its Key Features Include:
Gain 100% platform customization right from front-end to back-end

Grab maximum profit share with 6+ revenue-generating models

Power up your scalable platform with 150+ streaming features

Get a chance of flexible platform deployment options from VPlayed

Stream concurrently with nil disturbance via cloud transcoding solution
Top Alternative to Brightcove Providing a Compelling Medium
Hundreds of millions of people are engaged by Kaltura's live and on-demand video SaaS solutions at home, at work, and in schools. Thanks to its delivery to thousands of businesses worldwide.
It is found to be one among the competitors of brightcove that offer an array of video solutions which change the way organizations approach the field of training, collaboration, sales, etc. Moreover, they transform the learning experience by adopting the medium of video.
Some of Its Exclusive Features Include:
They provide solutions for varied industries like media & entertainment, telecom, etc

You can upload video files to stream create quizzes & screen recordings efficiently

Empowers broadcasters to use open-source streaming platform that's customizable

Kaltura also initiates a room to create videos for students with interactive tools

Broadcasters can monetize content via a variety of integrations making it hassle-free
Want To Choose The Best Brightcove Alternatives For Your Streaming Business?
Comparative Alternative to Brightcove
A scalable, cloud-based online video platform that offers a complete solution for delivering live or on-demand content to consumers outside your organization.
The built-in multi-CDN capability of IBM Video Streaming allows it to scale while supporting both simple and sophisticated setups.
It is controlled through a dashboard by account managers. Amongst the top-notch competitors like Vimeo, Uscreen or Brightcove the solution offered from IBM is is a best alternative that businesses can consider.
Some of Its Impactful Features Include:
Employee communication can be nurtured in virtual conferences

It gets resourceful with its live events like social gatherings, & more

You can readily stream VOD app with recorded broadcasts too

Own up your self-made and customizable channel page anytime

Video distribution converts viewers to customers effortlessly
Unified Video Communication Ecosystem Versus Brightcove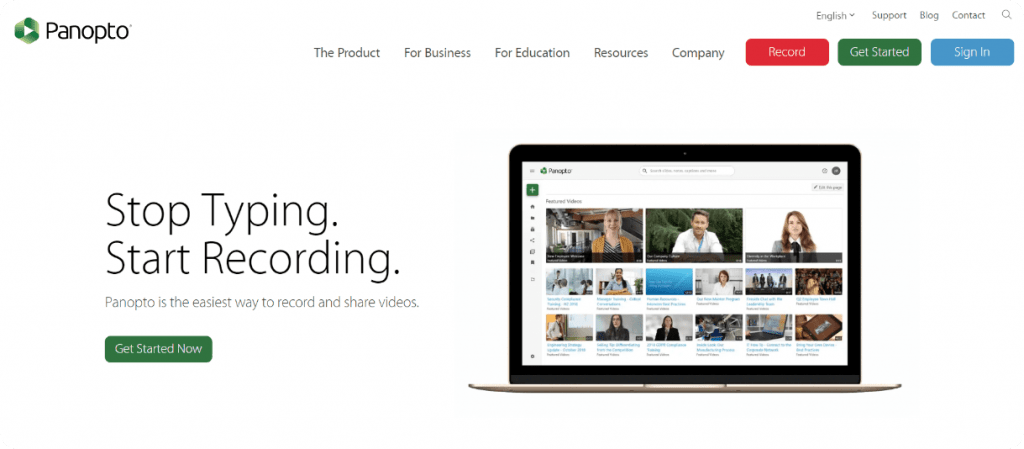 Another top creator in the field of managing video content is Panopto.
The flagship product and widely regarded as a good all-around choice is Panopto's OTT streaming services.
It is suited for the majority of web businesses for delivering video content due to its simplicity of use and flexibility.
Panopto also places a strong emphasis on security; it provides single sign-on integration and stringent access controls for all movies.
Some of Its Integrated Features Are:
Supports one-to-many live streaming

Creation & sharing of on demand recordings

Cut content from any part of streams & more

Live Q&A through chat in video player

Get comprehensive insights via video analytics
Stream With Unlimited Content and Monetize in Realtime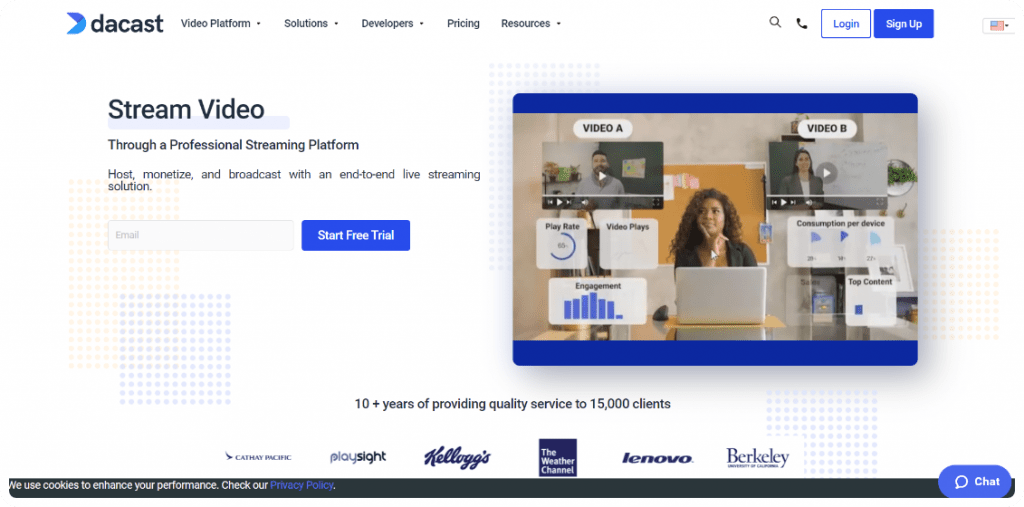 Dacast is also an alternative to Brightcove which has a business-oriented video hosting service that provides live streaming and video-on-demand (VOD) content that can be viewed on a website or distributed via social media.
Dacast was established in 2010 and provides over-the-top (OTT) and video-on-demand (VOD) services while hosting content for more than 300,000 broadcasters.
They help you for the purpose of storing your videos and embedding them into your privately owned media.
Some of Its Highlighted Features Are:
Dacast player make sure your branding is consistent

Creates own open source streaming to deliver live streams

Includes pre-recorded video on social media feeds

Adds pre, mid & post roll adverts to your VOD or live streams

Use paypal or dacast's own payment processing system
Tired of using Dacast?
See why Dacast is not suitable to manage your VOD platform and why you need a
Dacast Alternative
Next-best Brightcove Alternative with Custom Pricing

The JW Player team describes itself as "the most powerful & scalable video platform." They acquire this claim by offering a wide range of streaming services to their consumers.
It ranges from adaptive streaming and multi-bitrate streaming to video-on-demand (VOD) hosting and monetization.
Without any additional ad scripts, player bidding—the first step toward header bidding—is integrated into the video player. It streamlines the entire bidding process.
Some of Its Striking Features Include:
Create a link between your video inventory and ad-demand

sources
Provides feedback on data analysis & strategizes content for videos
Host of ad integrations provide the

best ad-fill rates to rev up quickly

In-built tools like article matching increase audience engagement

Allows high-quality real-time streaming preventing glitches
Topmost & Suitable Alterative that Beats Brightcove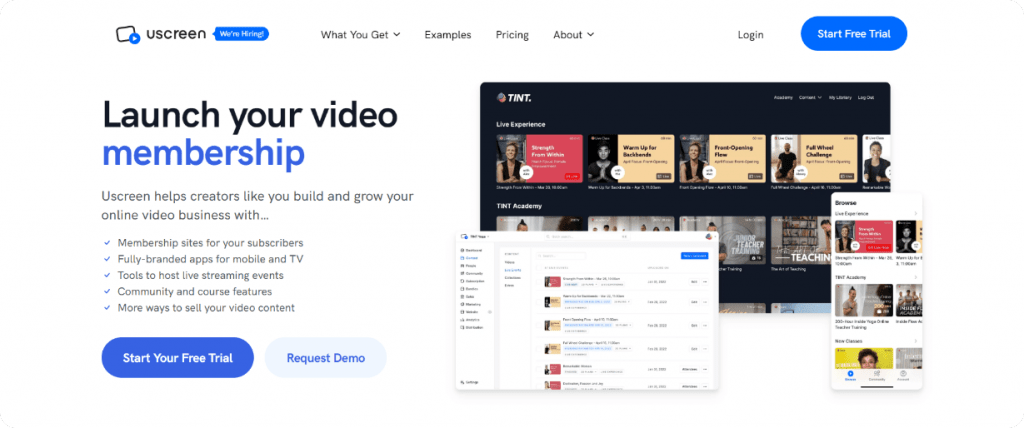 Uscreen is an all-in-one video monetization and over-the-top (OTT) platform that assists content producers in distributing their work commercially and safely online or via OTT streaming devices.
Over 11,000 authors and brands from various industries call our robust yet user-friendly platform home.
Our turn-key technology enables anybody to successfully monetise videos, from entertainment and instructional channels to fitness and yoga professionals.
Some of Its Innovative Features Include:
Its an all-in-one platform to sell and manage on-demand videos

Delivers white label app for branding and streaming content

Keep all of your revenue with no sharing via subscriptions

Inclusive of live broadcasting facility for online events

Developed with platform intuitivess for use & easy navigation
Tired of using Uscreen?
See why Uscreen is not suitable to manage your VOD platform and why you need a
Uscreen Alternative
Multi-tiered Video Platform to Access Live & on-demand Content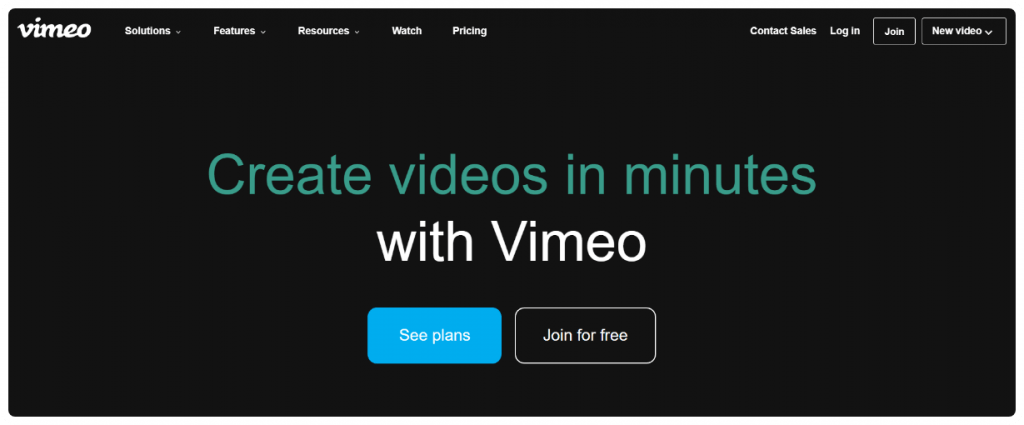 Vimeo is also one of the Brightcove alternatives assists users in the creation, streaming, editing, tracking, and monetization of videos with a focus on delivering high-definition content across all devices.
This platform which is added alternative to Brightcove, is headquartered in New York, & is useful for large organisations, startups, as well as creative content businesses.
The Vimeo team positions itself as a one-stop shop for VOD hosting and live streaming
Some of Its Significant Features Include:
Increases content distribution via high-quality live streaming

Enables users to auto-record their screens to create videos

Templates are instantly available that helps to make VODs

Access to in-built stock footage that assists to create content

Sell your content consistently via SVOD & TVOD models
Tired of using Vimeo OTT?
Comprehensive Video Streaming Platform Next Alternative to Brightcove
Vidizmo is an enterprise-grade video streaming platform that comprehensively furnishes both internal and external corporate content needs.
You can deploy of any sort when it comes to platform integration, whether it is on cloud or at premise. Also, they facilitate with desktop app that supports traceable offline playback.
Furthermore, they provide their support in streaming with 255+ different digital formats for various media types to ensure with optimized playback.
Some of its Top Features are:
They provide an easy-to-use interface for platform completeness

Delivers video content in a personalized way with multilingual support

Role-based access control with customized permissions in security

Users can upload content analyze insightful trends all in one place

Generates metadata automatically for media files using AI technology
Here's a table outlining some key features of each Brightcove alternatives:
Brightcove Competitors
Features
CONTUS VPlayed
OTT Platform, Live streaming, VOD multi-device support,
Monetization and more
Kaltura
Video management, live streaming, analytics
IBM Cloud Video
Secure video hosting, customizable player, analytics
Panopto
Video content management, lecture capture, analytics
Dacast
Live streaming, VOD hosting, monetization options
JW Player
Video player customization, analytics, ad integrations
Uscreen
Video on demand hosting, subscription management
Vimeo OTT
Video monetization, customizable apps, analytics
Vidizmo
Enterprise video platform, content management, security
Conclusion:
There are so many possibilities available in the video market that it can be difficult to choose just one.
Before selecting a platform, it would be wise to take a step back and make sure your objectives and top priorities are established.
You can more quickly compile your list of platforms to shortlist & pick one among them as a result.
These Brightcove alternatives can be used to meet your business strategy and income goals, even though Brightcove has outstanding tools for you to post and monetize your curative content.
Every business has a different deployment size. But picking a customized solution with a wide range of features will pay off in the long run.
If You're Ready To Incorporate Over The Top Platform Into Your Video Content Streaming, Get In Touch With Us Right Away.
Frequently Asked Questions(FAQ):