In recent years, the number of online video platforms has increased dramatically. Enterprise video platform provides solutions to meet an organization's specific demands for managing video content and video communication. Many online video streaming service providers have taken this opportunity to generate revenue from their content.
From USD 16.4 billion in 2020 to USD 25.6 billion in 2025, the enterprise video streaming platform is expected to expand.
In 2020, the worldwide online video platform market is valued at $6.13 billion.
A large percentage of marketers (92%) still consider video to be an "essential aspect" of their marketing strategy.
Enterprise video solution has benefited 82% of marketers improving dwell time.
94% of marketers claim video has helped them improve product or service awareness.
Why Do So Many Businesses Use a Corporate Video Platform?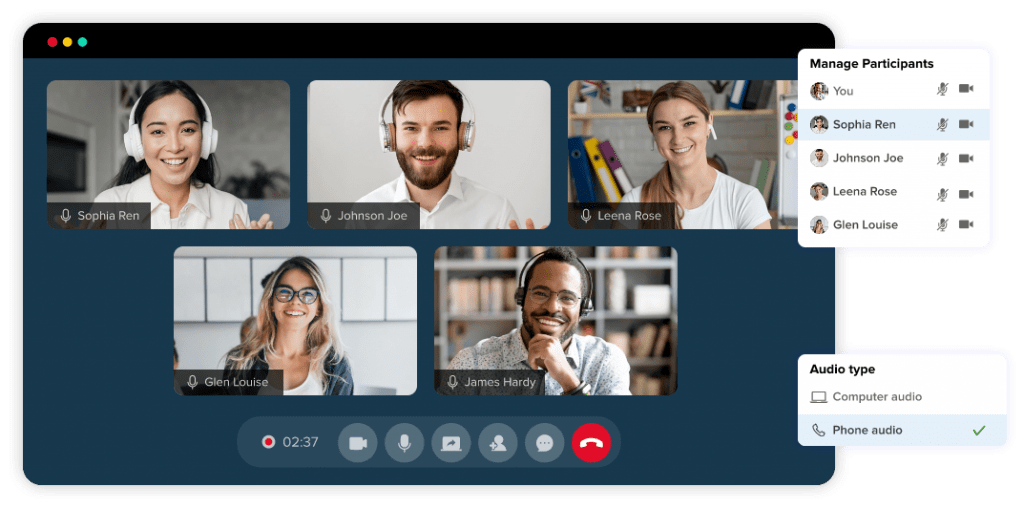 An enterprise video platform (EVP) is a software solution for managing and enabling video experiences across a business. Multi-facility live video distribution, user experience management, rights provisioning, asset management, device management, recording, and publishing are all considerations for the EVP.
Organizations engage in enterprise video streaming solutions to synchronize work processes and provide automation, which makes operations more seamless and efficient.
The best enterprise video platforms come with a powerful CDN to speed up delivery, a secure video streaming platform to ensure privacy, integrity, and authenticity. Moreover, they also provide multi-level access for user management, APIs and SDKs for integration and custom development, and a white-label OTT streaming service to help with internal branding.
Want To Know How To Choose The Right Platform For Your Corporate Communications?
Comparison Of Top 9 Enterprise Video Platforms In 2022
Here Are Some Of The Top Enterprise Video Platforms In 2022
Best Enterprise Video Streaming Platform For Corporate Communications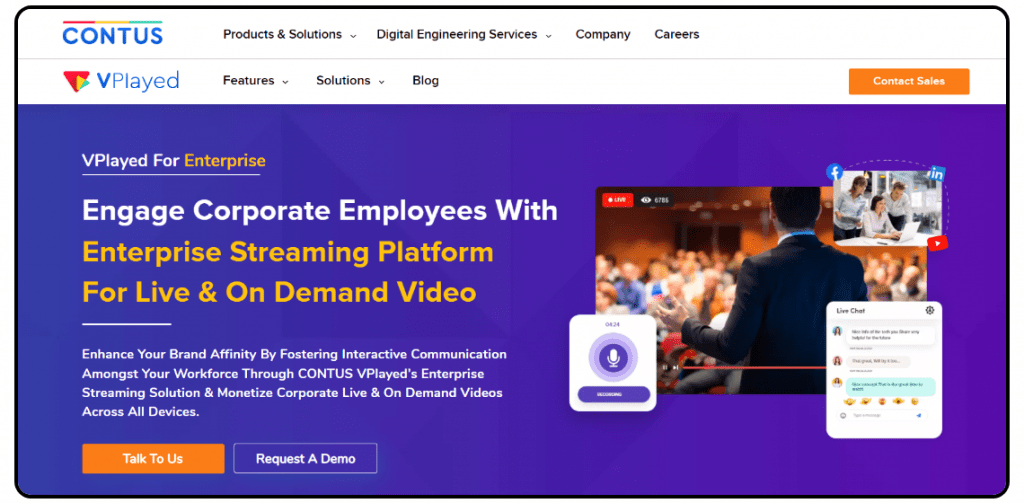 It's a flexible and dependable streaming solution provider with a single online video platform. VPlayed is one of the best enterprise video hosting platforms when it comes to streaming requirements. It provides multi-bitrate technology, numerous video monetization models. Moreover, it also offers comprehensive security tools, scalability, flexibility, and more.
Features Of VPlayed's Enterprise Video Streaming Solution
Live Webcasting
Video Management
Video Delivery
Video Analytics
Security and Privacy
Pros and Cons
Buffer-Free Streaming Capabilities
Comprehensive Monetization Options
In-Depth Video Analytics
Book Your Demo Session With VPlayed Now!
Create An Enterprise Video Platform For A Strong Connection With All Your Employees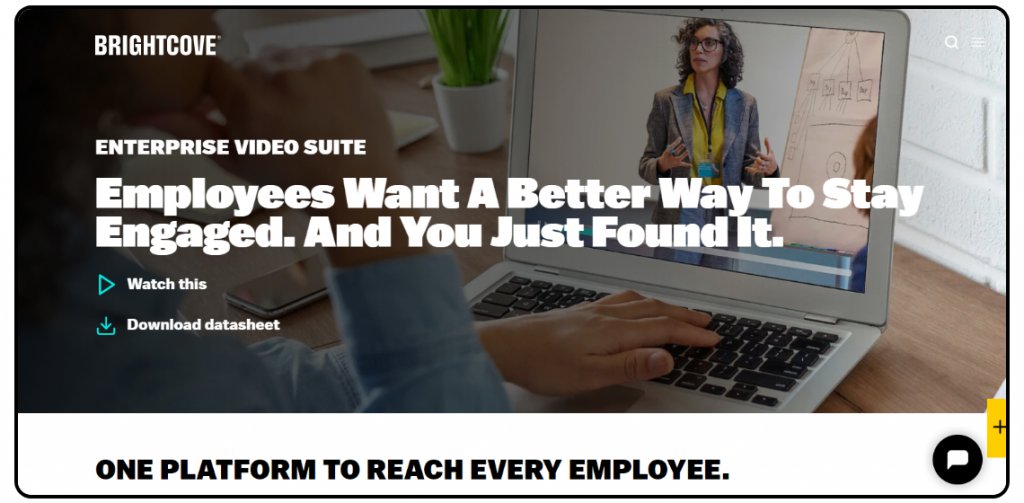 It is a corporate video platform aimed at large corporations. These comprise video player, OTT flow, video marketing suite, and a few others. This platform has an all-screen player and monetization capabilities.
Features Of Brightcove's Enterprise Video Solution
Multi-bitrate and adaptive streaming
Global content delivery
Video API access (only on custom-priced plans)
Security features (only available on custom plans)
Monetization options (only on custom-priced plans)
Pros and Cons
Includes custom video portals
CRM integration
High price point
No live streaming with packages under $499/month
Powerful Video-based Communications With Corporate Video Platform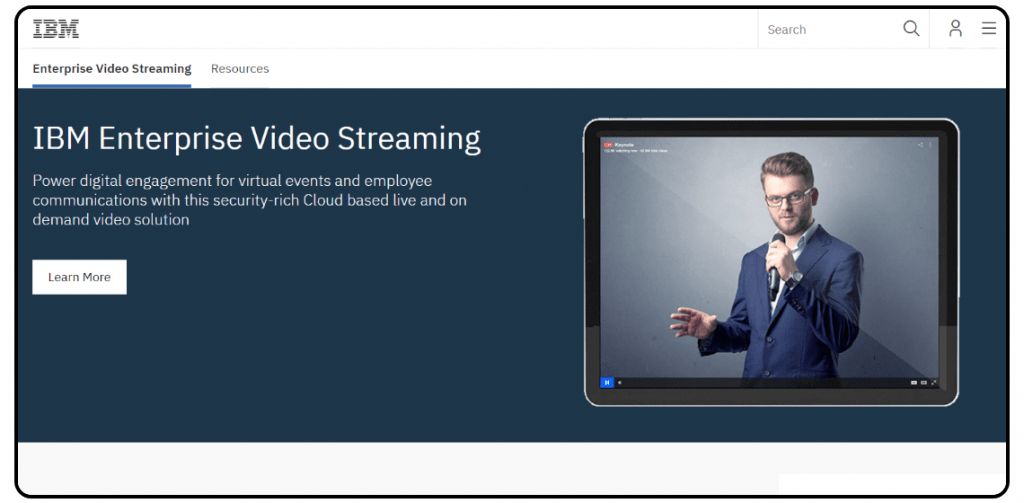 It provides phone support for enterprise users. Basic streaming accounts are free, and IBM Cloud Video is supported by advertising. Enterprise accounts include full custom branding, video analytics, numerous live channels, content syndication, and other features.
Features Of IBM Cloud Video's Enterprise Streaming Platform
Enterprise video streaming
Enterprise content delivery network
Video distribution and workflow
OTT video management
Monetization
Pros and Cons
Reliable platform
Suitable for larger clients
Wide range of features for broadcasters
Need to pay additional fees to stream above 720p resolution
Poor closed captioning support
Streamline Leadership Communications & Engagement With Secure Enterprise Video Hosting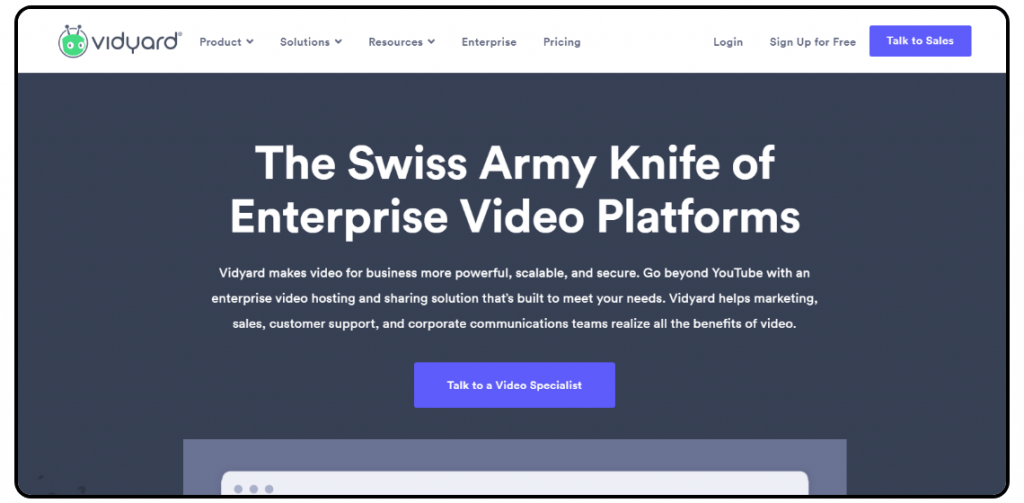 It has marketing and lead generation functions. It comes with capabilities to increase audience reach and engagement. It allows users to create qualified leads.
Features Of Vidyard's Corporate Video Streaming Platform
SEO, email, personalization, and analytics marketing tools
Interactive viewing and lead capture tools
Video organization and channels
Enterprise-grade security
Pros and Cons
Comprehensive professional broadcasting capabilities
Useful analytics
A large user community for additional help
Mixed user reviews and consistency issues
Complicated backend editing portal
Communicate More Effectively With Enterprise Video Platform At Any Scale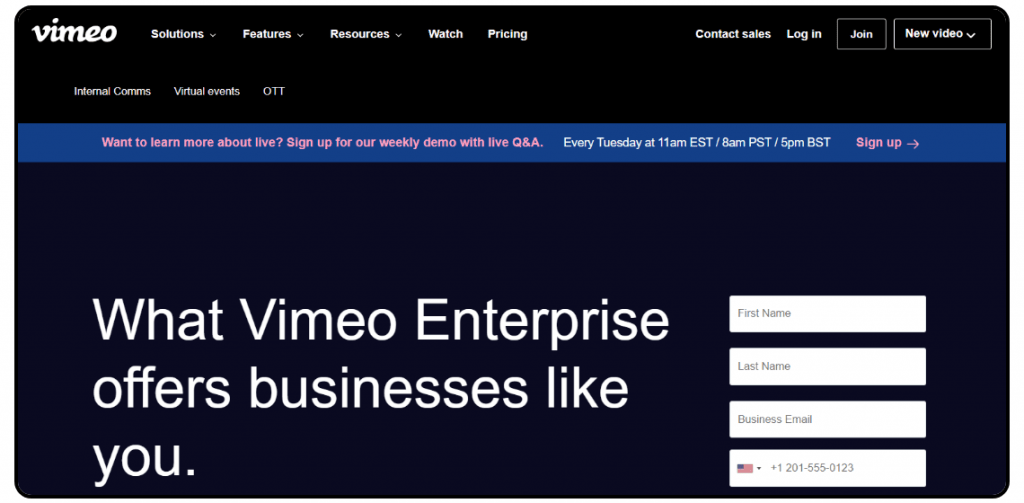 It provides video hosting as well as streaming services. Analytics, a video management platform, privacy settings, and other features are included in the basic functionality. Users must purchase a Premium membership to gain access to basic live streaming capability.
Features Of Vimeo OTT's Enterprise Streaming Platform
Video management service
High-quality videos and streams
Large storage capacity
Privacy options
Upload from anywhere
Pros and Cons
Unlimited events and viewers
No ads
Sleek and professional appearance
Pay-per-view option
Not generating as much traffic as other websites
Tired of using Vimeo OTT?
Simplify Video Streaming Without Compromising on Security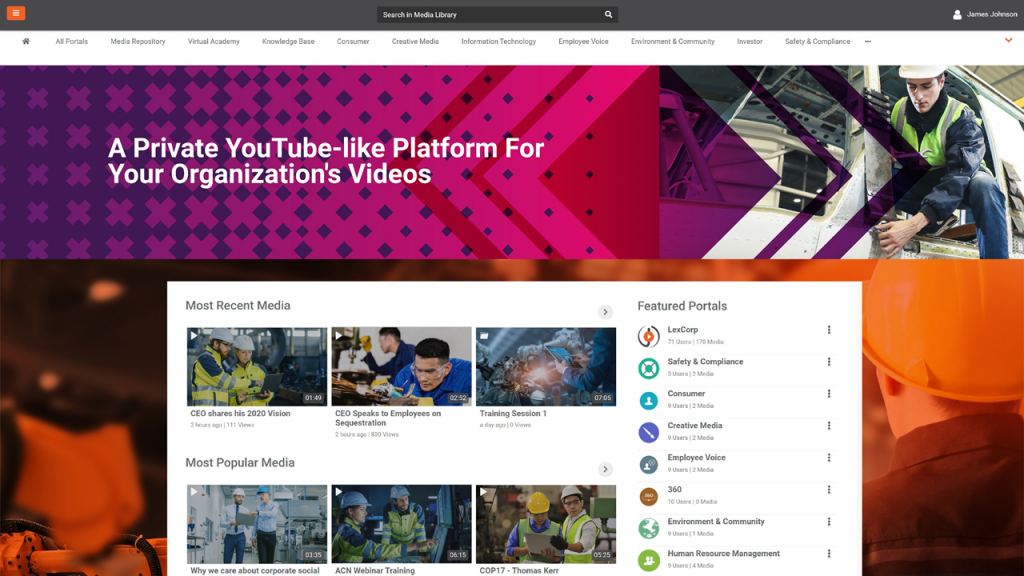 Recognized by Gartner, VIDIZMO enterprise video content management solution allows you to create your own private YouTube (for secure internal streaming or public streaming). It is designed to provide end-to-end live and on-demand video streaming, sharing and video content management for public and private use cases.
Features of VIDIZMO Enterprise Video Content Management System
Live & On-demand video streaming
Flexible deployment in any cloud, on-premise data center or hybrid infrastructure.
AI services (translation, transcription, tagging, smart search etc.)
Interactivity & video analytics dashboard
Integrations with zoom, MS teams, SSO, and API available
Pros And Cons
Easy to use YouTube-like interface
Broad coverage of major compliances
Highly configurable content management permissions and policies
Limited monetization options
Top Enterprise Video Streaming Solutions For Corporate Needs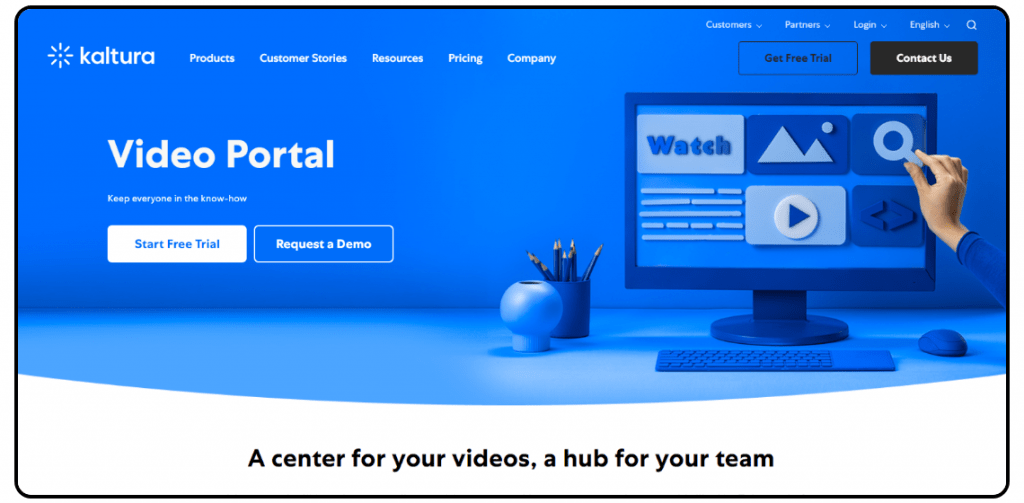 It has a unique concentration in the OVP market, with a video management base in its open-source software. While this corporate video streaming solution is free, it does require a video streaming server infrastructure to host and distribute it.
Features Of Kaltura's Enterprise Video Streaming Platform
Multi-bitrate and adaptive streaming
Using a hybrid CDN method to deliver global content
Video API access
Authentication and AES encryption are among the security options available
Options
Monetization
Pros and Cons
Many available features
Good monetization options
Robust security
No phone or chat support
Highly complex
Best Streaming Solutions For Enterprise Video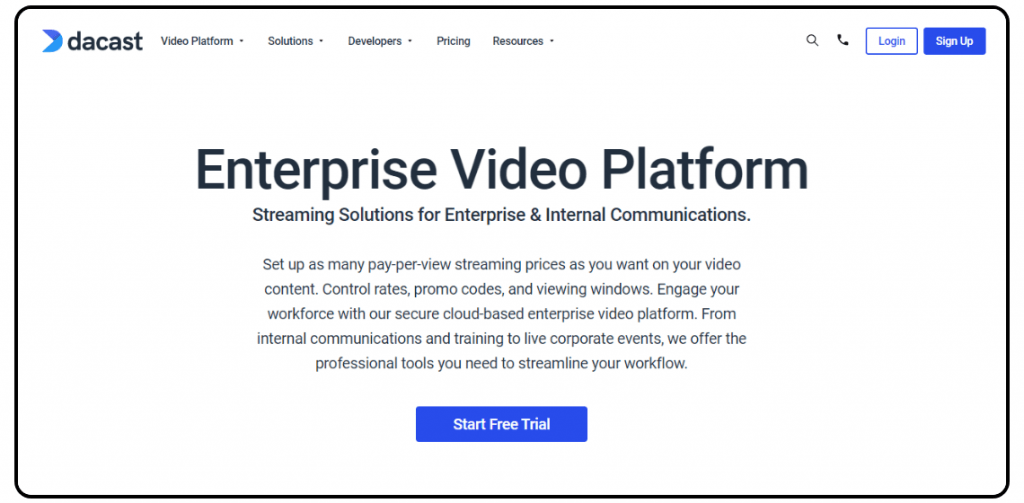 It's a self-service solution for live streaming and VOD hosting with a lot of features. It provides all of the benefits of professional enterprise-grade software at a low cost. Video is provided via a top-tier CDN and is designed for business professionals and enterprise use.
Features Of Dacast's Cloud-based Enterprise Video Platform
Reliable, worldwide content delivery with best-in-class video hosting
Zoom live streaming integration
Video security features
RTMP Encoder for ingesting HLS streaming
Video API access on premium plans
Adaptive multi-bitrate streaming
Pros and Cons
Live streaming and VOD streaming (only on Dacast pricing plans)
Unlimited concurrent viewers
Unlimited live channels
White label and branding control
Need some time to get used to
Tired of using Dacast?
See why Dacast is not suitable to manage your OTT platform and why you need a
Dacast Alternative
Most Impactful Live Enterprise Streaming Solution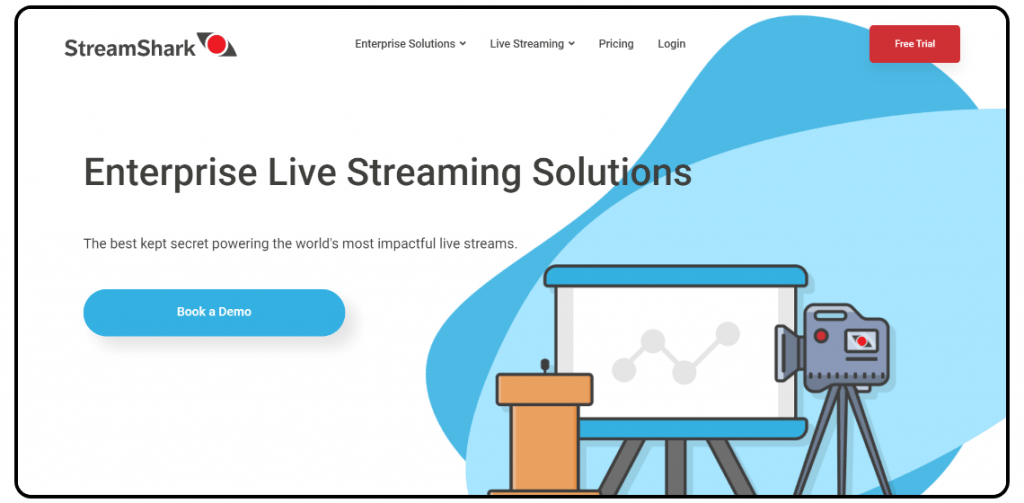 This enterprise streaming platform specializes in delivering timely and unique content. It excels in making large-scale, high-profile event live streams a huge success, with viewers having an exceptional viewing experience.
Features Of Streamshark's Essential Enterprise Live Streaming
SSO support
Global coverage via a multi-CDN network
Mobile-compatibility
Customizable live streaming video player
Privacy controls
Pros and Cons
Localized media ingestion
Encoding support
Video redistribution
Does not offer channels for video organization
No embeddable playlists
Stream Uninterrupted Communication With Enterprise Platform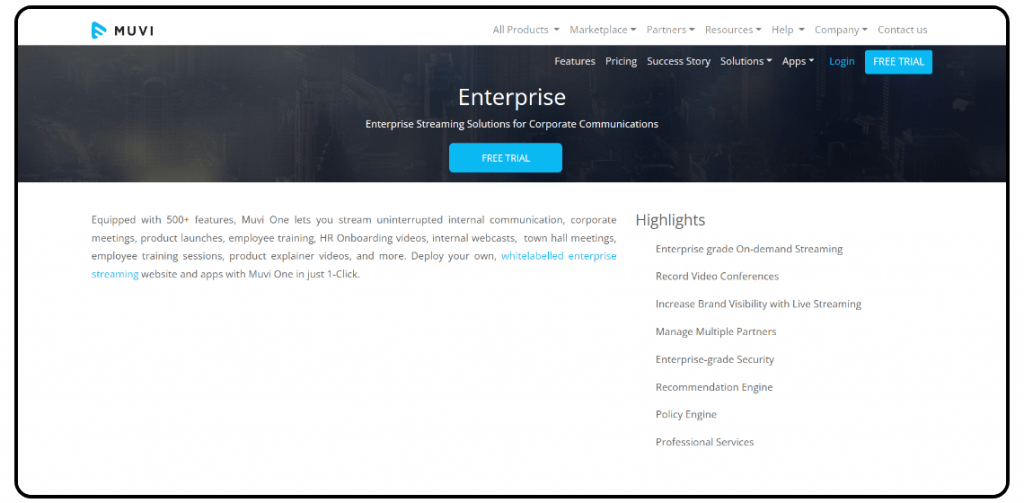 This corporate video platform is particularly well-suited to hosting OTT video. Their innovative design allows users to rapidly and simply establish their video or audio streaming platform. It also contains comprehensive and feature-rich web, mobile, and television apps.
Features Of Muvi's Corporate Video Platform
Customizable video player
HTML5 video player
Powerful video analytics
Video monetization tools
Secure streaming
Pros and Cons
White-label with branding customization
HTML5 video player
Monetization tools
DRM and security features
Hard to integrate or connect external app
CMS user interface is complex
How To Choose The Right Enterprise Video Streaming Solution?
Most Important Features to Look for in an Enterprise Video Platform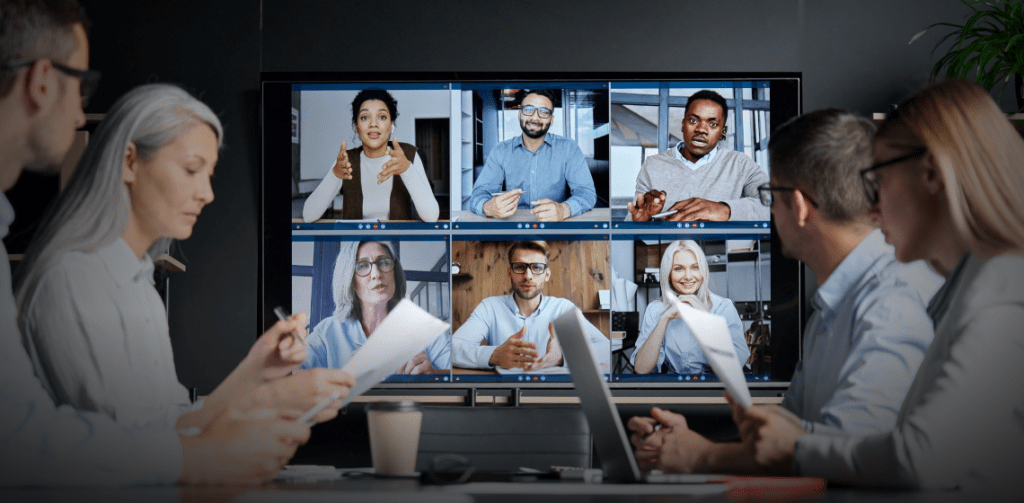 You will be able to reach your business associates or audience with ease if you are accessible on as many devices as feasible.
The use of a professional video platform will keep your content safe from piracy.
You should be able to change the look of a premium tool. You require entire authority over the colors used, the button size, the CTA button positioning, and so on.
From a technical perspective, the best video hosting platforms you choose should allow you to effortlessly share and transmit material.
Conclusion
The most efficient online video hosting platforms is one that allows you to upload videos and give a good end-user experience with the least amount of effort. We have compiled a list of some of the top enterprise video platforms on the market. VPlayed provides a best video streaming services. Increase your revenue potential and expand your business to the next level with VPlayed's flawless watching experience.
If You Already Have An Idea About Starting An Enterprise Video Platform, Schedule A Free Demo And We'll Help You Implement It!